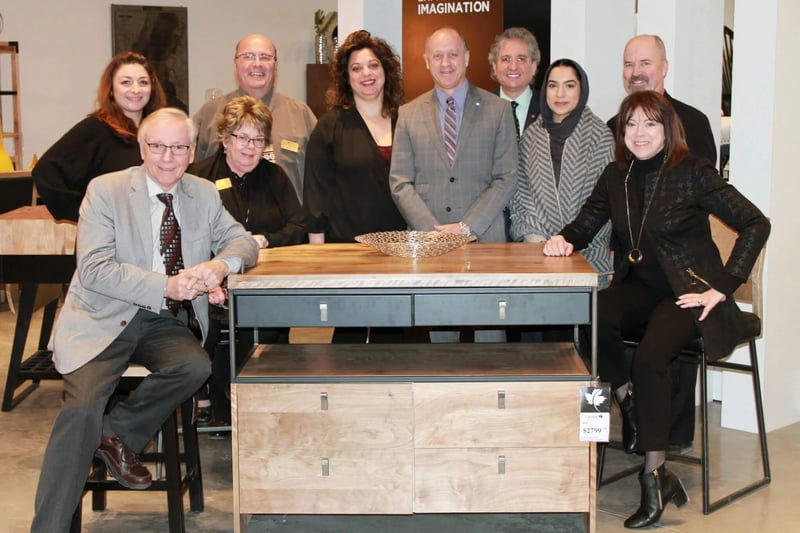 We need your passion
La-Z-Boy Careers
As Eastern Ontario's premium La-Z-Boy Furniture Gallery business, we believe that our people are our greatest asset – and we want you to join our team!
Our mission is to create customers for life…one stylish and comfortable room at a time. We do so by delivering an outstanding customer experience in an environment that fosters teamwork, honesty (we make mistakes too!), and continuous learning.
Why Work at La-Z-Boy?
Beyond a comprehensive compensation plan, a generous benefits package and paid vacation, our employees feel involved, appreciated and listened to. Here's other feedback we've gotten from our employees:
95%
Have a great relationship with colleagues and managers
88%
believe La-Z-Boy offers great flexibility for their lifestyle
100%
Are completely involved in their work
La-Z-Boy Culture
At La-Z-Boy, we believe the saying that 'culture eats strategy for breakfast'. If we don't have a strong, collaborative and caring culture, it doesn't matter what business strategies we employ. We look for individuals who are hungry, humble, and love working with people! After all, our goal is to provide a fantastic retail experience for our clients by finding them products that suit their lifestyle and home perfectly. Our culture is built on:
Personal Growth & Skill Development
Whether you want to learn a new skill or learn a best practice for something you've been doing for years, La-Z-Boy prioritizes growth in all employees. Our annual training program includes short 30-minute training sessions to online programs to full-day retreats. Topics such as Growth Mindset, Personality Theory, and Storytelling for Sales are just a few of the areas we feel passionate about.
Team Member Recognition
As we mentioned earlier, we'd be nothing without our employees! From summer BBQs to Holiday parties to monthly team dinners, we love a good celebration. This allows our teams to acknowledge the hard work and positive attitude they bring to our clients each day. We also like to celebrate success with an annual awards ceremony where all winners are nominated by their peers!

Community Involvement
As a socially responsible member of the Ottawa & Kingston communities, we take pride in supporting initiatives and individuals at both a store and corporate level. From sponsorships to free donations, we focus our giving on health (CHEO), youth (Kiwanis), and housing (Hospice Care). One of our favourite ways to help is to gather a group of employees and head to the Ronald McDonald House where we prepare a wonderful meal for the families staying in the home.
Hiring FAQs
How can I apply?
You can apply directly with us by sending your resume to

careers@lzb.ca

. We also post on job boards such as Indeed, Careerbuilder, etc.




What is the hiring process?
Once we receive your resume, we will issue an electronic request for you to complete an online exercise. From there, we will be in touch should we wish to move forward with an interview. Interviews consist of 1 phone discussion and 2 in-person interviews.
Why is there such a long wait to start in Sales?
We generally hire new Sales Consultants 4 times per year. We have found that training new Sales Consultants in groups works a lot better for their retention and learning. We want to ensure you are set up for success when you start serving our customers!
What is it like to work on 100% commission?
Working on commission can be very rewarding as there is a direct correlation between your effort/performance and your compensation. But we understand that it can feel a bit risky so rest assured that you earn a minimum of minimum-wage for the hours that you've worked. And we're here to help you maximize your income with training and coaching.
How long is the probationary period?
All positions in the organization are subject to a four month probationary period to ensure it's a good fit for both of us.
What does the benefits package include?
We offer a competitive benefits package that includes comprehensive health coverage (prescription drugs, physiotherapy, massage therapy, etc), dental coverage, life insurance, paid vacation and more.
How can I check on the status of my application?
Simply email

careers@lzb.ca

to follow-up on your application. We'll get back to you shortly to let you know.
Do I need to be bilingual to apply?
You do not need to have multiple languages to apply for our positions, however, we're always looking for employees that can serve those who speak French, Arabic, and Cantonese in their language of choice. Please make sure any additional languages are highlighted on your resume.




Product Info Request
Please provide us with your name and email and we'll get back to you as soon as possible regarding this item.