The Definitive Recliner Buying Guide: Everything You Need to Know
December 1, 2020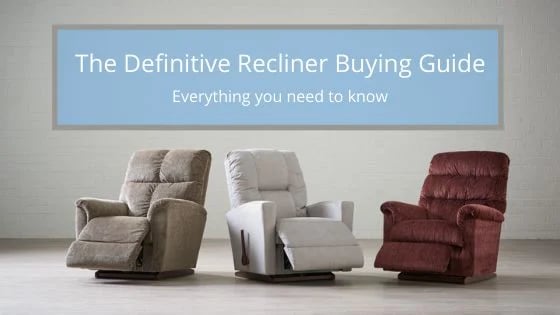 Are you looking to buy a recliner but not sure where to start? This Recliners guide will outline everything you need to know before you purchase your new recliner.
Each year, we at La-Z-Boy consult with hundreds of clients in the Ottawa and Kingston area concerning home furnishings. As a manufacturer and retailer of recliners for over 90 years, we often get asked: "what do I need to know when buying a recliner?"
There are many recliner options available, but which one is right for you? While La-Z-Boy has a wide selection of recliners to choose from, we understand that we may not be for everyone. To that end, our hope is that much of the information in this recliner guide is helpful regardless of what brand you end up choosing.
Eight Tips for Choosing Your Perfect Recliner
1. Consider Your Space
When choosing the right size recliner chair, you need to consider your space.
Before you head down to your local furniture retailer, take the time to consider the dimensions and the features of the room where your new recliner is to be placed.
Consider What Room the Recliner Will be Placed in
Will it be a family room where everyone gathers to watch tv, or will it be an adults-only room used for reading and hosting guests? Will it be for a den, an office, or are you considering it for a nursery?
Once you've answered these questions, you then need to decide where in the room you'd like to place your recliner. For more information on arranging your furniture, you can read our blog article on furniture placement.
Measure your Room
You will need to measure your room. Make sure to account for windows, doorways, and fireplace. Measuring is the only way to be sure your recliner will fit.
It can be deceiving when shopping in a furniture store. Showrooms are generally much larger spaces than your living and family rooms. The pieces that look great in the store may be too large for your space at home. Dimensions alone may not be enough if you haven't taken into account the flow of the room and any other space requirements you may have.
It's important to not only measure your space for fit but for the route your furniture needs to take to get to your room upon delivery.
Bringing the measurements with you to the store will enable the salesperson to help you find a good fit. If you can make a sketch of your room and or take some photos, this will be even more helpful.
To learn more, check out how to accurately measure your room in order to buy the right furniture.
Take Pictures
There is a saying 'A picture is worth a thousand words'. This can be true in furniture shopping as well. In today's world, many people have a smartphone. Taking a few quick snaps of your space before you go shopping can help immensely with understanding the layout of your room.
There are also a ton of 3rd party space planning tools including the La-Z-Boy augmented reality app. This app can be downloaded on your mobile phone to give you a sneak preview of what La-Z-Boy furniture will look like in your home.
Other Important Things to Consider in your Home:
What colour are the walls in the room? Are you planning to paint? Bringing a sample of the paint colour into the store will help match the chair fabrics.

Are there windows and doors in the room? You can place a chair in front of the window as long as it doesn't block the view.

What furniture is staying in the room, and what will you replace? Will the old stuff go with your new chair?

What types of flooring does the room have? Tile or scratch-resistant? Make sure you protect your hardwood floors with felt pads.
If your project becomes a large one and you're considering redesigning the entire room, you may wish to hire an interior designer.
To learn more, check out our article on how much an interior designer costs.
Some furniture retailers offer free or paid interior design services. For design assistance, La-Z-Boy offers a complimentary interior design service.
Our interior design experts, located in each of our four locations, will schedule a visit to your home. They will assess, measure, and make sure they understand your needs so they can provide a detailed 3D floor plan of your new room. There is also the option to schedule a virtual design appointment.
2. How to Choose the Right Recliner?
Are you purchasing a recliner for yourself, or is it for someone else in your household? Will you be sharing the recliner with another person? You may have to compromise if your heights differ. (Sometimes people will buy two recliners; each one sized for the person using it.)
Do you have children who may be using the chair? Do you have pets? Then spills and stains are a part of your vocabulary. Believe it or not, leather can be easier to clean than fabric, as you can just wipe it down. Some furniture brands offer performance fabrics that are designed to withstand wear and tear and can also protect against stains.
You may be interested in La-Z-Boy's iClean furniture protection fabric, a line of fabrics that repel spills and stains.
Check out our article on pet-friendly furniture for tips on how to create a safe environment for your pet with tips on saving your furniture from scratching, stains, and shedding.
Choosing the Right Recliner That Fits your Body Type (customize your comfort)
One size does not fit all when it comes to recliners. Finding the right chair means taking into account your personal dimensions.
From petite to extra tall, your goal should be to find personalized comfort and support.
Size

: Choose a size based on the height of the person who will be using the recliner most often.

Style

: Select a style that appeals to you the most, from casual to contemporary.

Customize

: Enhance your recliner with your choice of fabrics, leathers, handle options, and cushion upgrades.
For a step-by-step guide on how to get fitted for a recliner check out our article on how to find the recliner that is the best fit for you or watch this video!
At La-Z-Boy, you can choose from the following size charts to shop for the right size recliner.
Some of La-Z-Boy's Most Popular Recliners and Who They Fit Best
The Harbor Town recliner is a good fit for a petite body type because it has a smaller scale. It will also work well in a smaller sized room. To learn more, check out our detailed review of the Harbor Town recliner.
The Pinnacle recliner is an excellent fit for a medium-sized body type and is our best selling recliner. To learn more, check out our detailed review of the Pinnacle recliner.
The Astor recliner is one of our largest reclining chairs available and perfect for the extra tall individual. To learn more, check out our detailed review of the Astor recliner.
Just like Goldilocks, there's a chair that's 'just right' for you!
Some less expensive models with little to no back support can cause back pain. If you have a recliner that has space between the curve of the seat and your lower back, it will cause discomfort. Placing a small cushion in that space to support your lower back can help.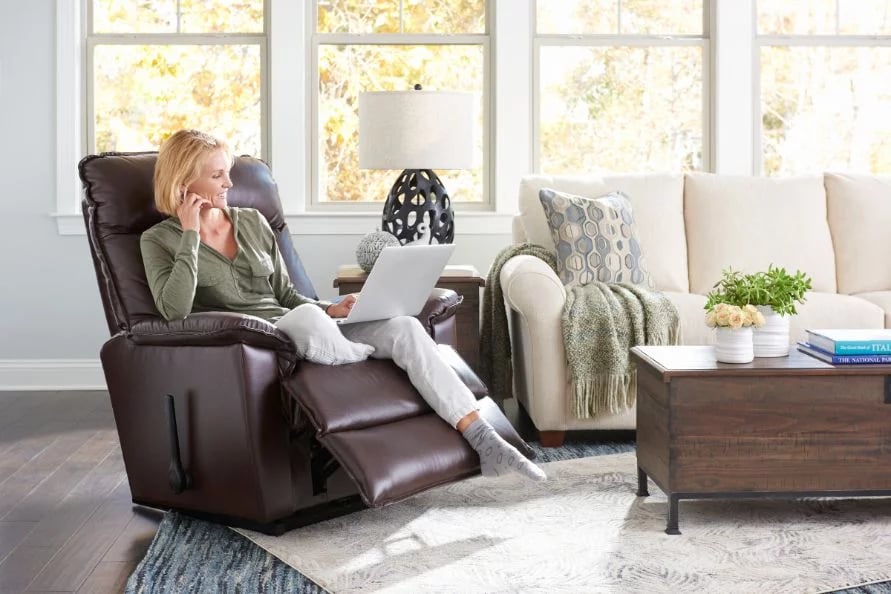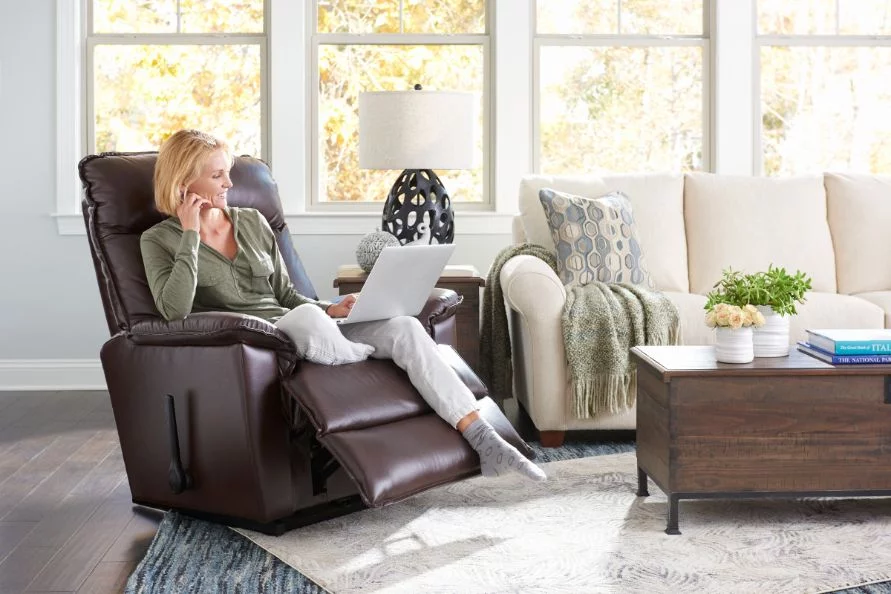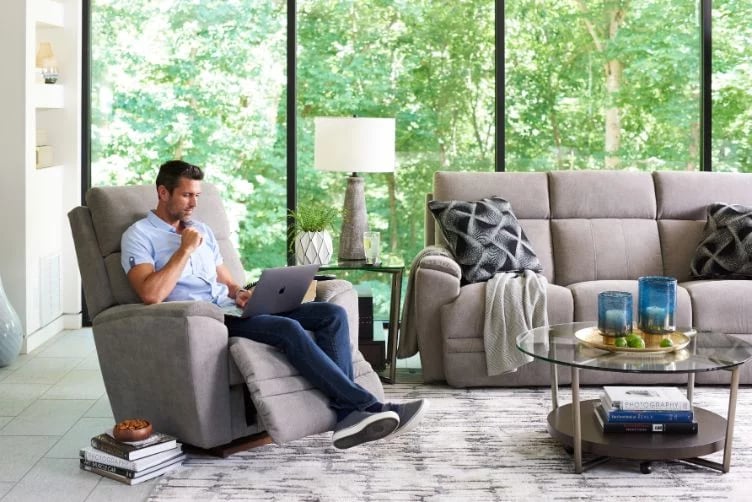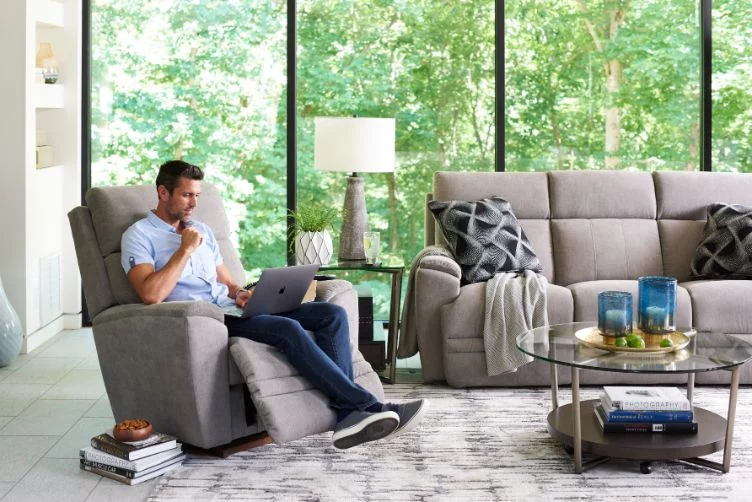 3.
How Will I Customize My Recliner?
Here are just some of the customizations available for recliners:
Swivel and glider or rocker

recliner

Wall away

chairs let you place the recliner inches from the wall and still recline.

Select a style

that appeals to you the most, from casual to contemporary. (There are so many different styles!)

Customize:

with your choice of upholstery, fabric or leather.

Cushion upgrades

such as Airform™ responsive cushioning.

Manual recliner

:

Two types, traditional with lever and the pushback model.

Handle type:

Left or right, wooden, silver ergonomic handle, or black handle.

Any special needs required

? What about a power recliner or lift chair? (Did you know that you can save the tax on a recliner

lift chair

when you provide a note from a doctor?)

Headrest & Lumbar:

a power reclining chair with independent support for your head, neck and lower back

Heat and Massage

recliner: The wand controller operates the adjustable heat and massage functions and 2-motor, 3-speed vibration massage.
Manual:
From introductory to premium mechanics, the manual recliner offers a chair that can maneuver into a reclining position. While most recliner handles are on the right side, some retailers provide a shorter lever or left-sided handle for the lefty in the family.
For those with shorter arms, some manufacturers will also offer elongated handles to ensure you are able to reach the mechanism. And of course, you could also choose the manual push-back model, which has no handle at all. With tension adjusters on many models, the manual recliner can be adjusted to almost any size and fit of any person.
It's important to ensure you have the strength to easily put the chair into the reclining position, and the only way to confirm this is to do the 'sit and recline' test while using the recliner in-store!
Power:
If you have mobility issues or strength limitations, then you'll need a power recliner. The motorized chair is more expensive but provides smooth movement at the touch of a button. The power recliner offers an unlimited number of leg and back movement options. When you take your finger off the button, the chair will lock into position.
Lift recliner:
If you require help moving from a sitting to a standing position, then a power lift chair is the best option. Press a button to get in or out, or to recline back fully. The one-piece seat and back move together, eliminating gaps and providing full-body support in all reclined positions.
Upgrades:
The power rocking recliner with headrest and lumbar support is perfect for those looking to rock and recline; it has an adjustable body and provides lumbar support at all times. The independent support for your head, neck, and lower back provides you with an unlimited number of relaxing positions. It lets you maintain perfect viewing angles for activities such as reading, conversation, or enjoying TV.
For a more detailed comparison between manual and power recliners check out power vs. manual recliners: the differences you should know.
Or check out our article on Top 7 La-Z-Boy power recliner questions answered and watch the video below.
4.
What Kind of Fabric/Covers are Best for Me?
Your choice of fabric or leather upholstery is a pivotal decision when selecting a recliner for your home. There are so many choices, where do you start?
First, you'll want to decide whether you want leather or upholstery.
Important Factors to Consider When Choosing your Chair Cover:
Comfort

Appearance

Durability

Maintenance

Cost
With its distinctive grain and texture, leather gets most of its value from being a natural raw material and the qualities it lends to furniture it enwraps. BUT not all leather is created equal. Many types of leather are used for furniture and the more processes it undergoes the less valuable it becomes. Make sure you know the type of leather used when selecting this cover for your sofa or chair. Top grain leather is the uppermost — top— layer of the cowhide and considered the most valuable, but it will cost you more.
If you decide on fabric upholstery, there are many options available. Natural or human-made fibres and the type of weave are among the upholstery options from which to choose.
Some fabrics on the market offer unique properties and should be considered when choosing textiles for your furniture.
They include:
Performance fabrics: designed to specifically withstand wear and tear while being simple to clean
Stain-resistant: technology that repels spills such as La-Z-Boy's iClean fabrics that provides peace of mind
Eco-friendly: sustainable textiles such as La-Z-Boy's conserve™ Sustainable Fabrics which are made from recycled water bottles
Antimicrobial: antimicrobial properties are woven into the fabric to protect against mould, mildew and odour-causing bacteria
Pet-friendly: tested to simulate the scratches and wear pets can cause, to ensure a durable and easily washable fabric
Next, it's time to make sure your colour or pattern choices coordinate with the rest of the furniture and accessories in the room. If you are purchasing more than just one recliner, you may want to enlist the help of an interior designer.
To learn more about fabric and colour choices check out these articles:
6 of the most common colour choices when it comes to home décor
Cool vs. warm colours used in home décor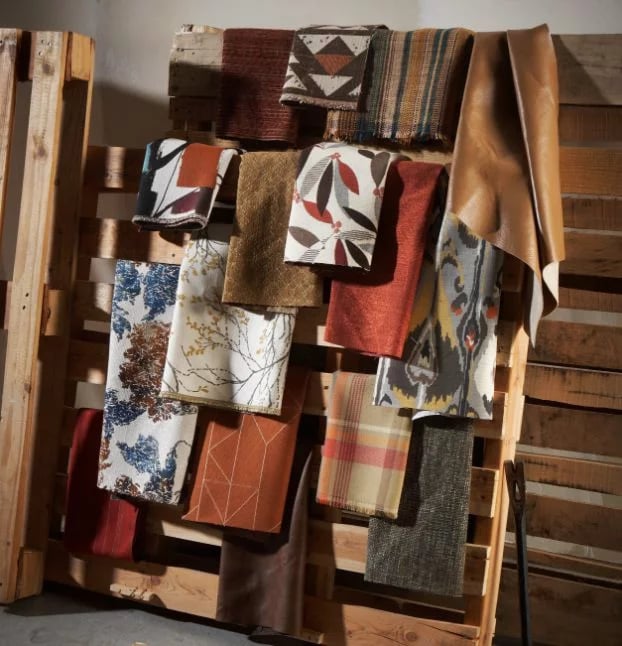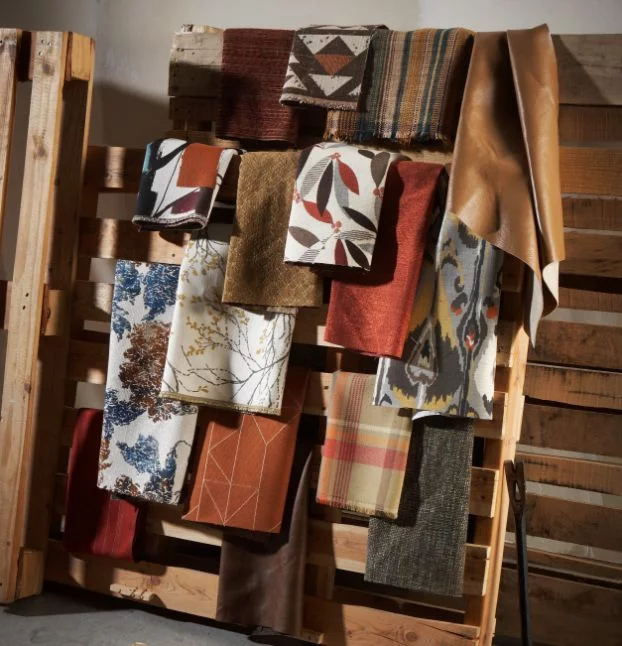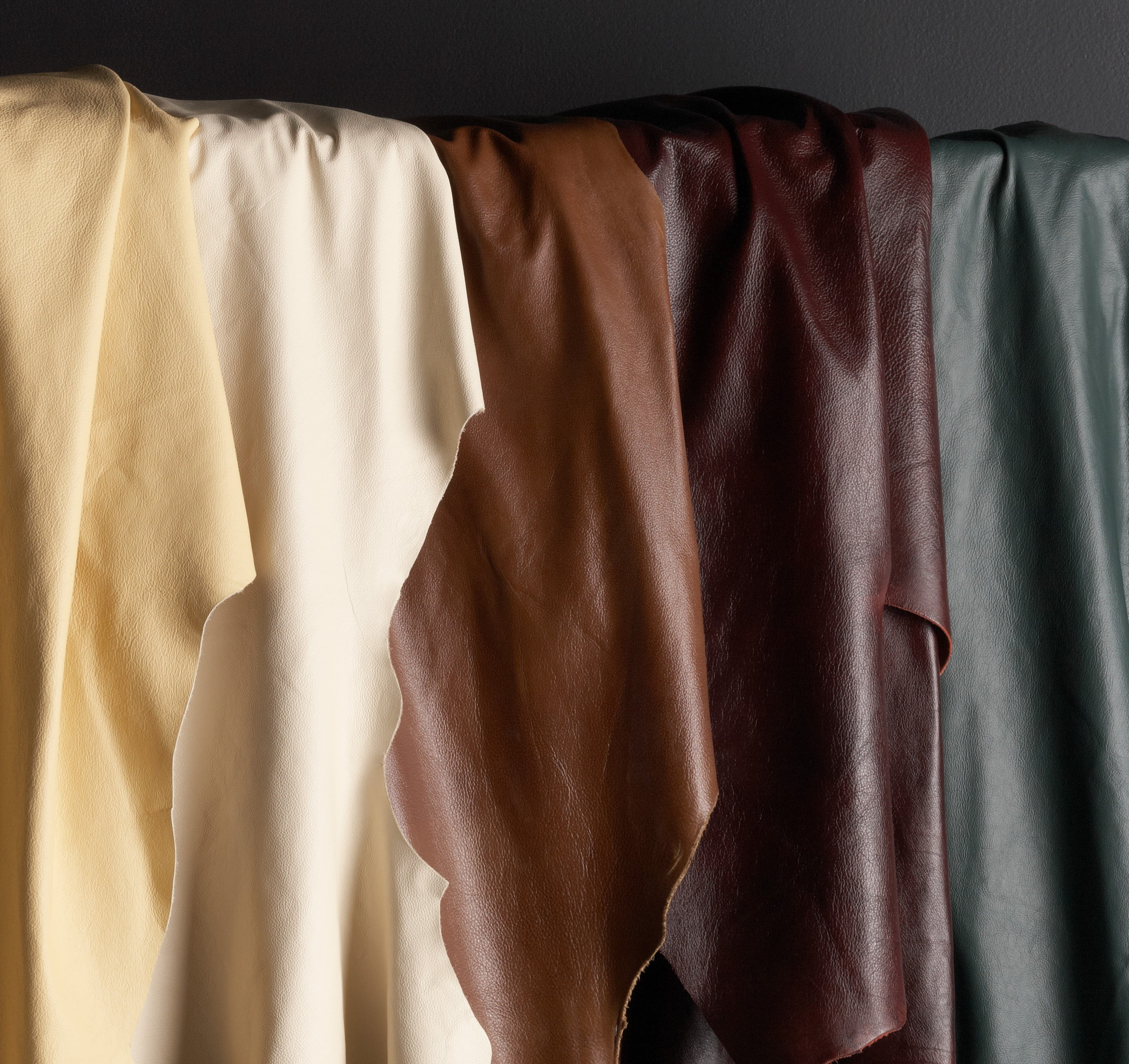 5. How Much Does a Recliner Cost?
Many factors influence the cost of a recliner. Quality, customization, and upgrades, to name a few. It's essential to keep in mind how often your recliner will be used and what purpose it will serve.
Quality furniture is essential if you require it for daily use, as it will be a staple in your home. You will want to find out details like what materials the manufacturer uses in construction and what features the recliner has, including options and fabrics available.
Warranty and protection plan information will also give you an idea of what your post-purchase protection will look like and is a great place to ask more questions about how your prospective furniture company will be able to deliver on those services.
If you are looking for recliners in the introductory price range of around $299-$399, La-Z-Boy may not be for you. You may be more likely to find what you're looking for at big box stores such as Costco or The Brick.
Got more questions about the cost of recliners? Read our article, "how much does a recliner cost?"
How Much do La-Z-Boy Recliners Cost?
La-Z-Boy recliners typically start at $1,309 and go up from there. Our specialty focuses on a broad selection of recliners in the mid to higher-end price ranges. To find out more information on the factors that influence the cost of a La-Z-Boy recliner check out how much does a La-Z-Boy recliner chair cost?
*All La-Z-Boy prices listed in this article are subject to change. We aim to update all cost-related articles twice per year. This article was last updated on October 24th, 2022. Please visit lzb.com and select an Ottawa or Kingston La-Z-Boy store location to view the most up-to-date pricing.
How does a La-Z-Boy chair compare to other well-known chair brands on the market? For more information on this topic check out Stressless vs. La-Z-Boy and Palliser vs. La-Z-Boy.
La-Z-Boy has a 4 sided-construction made out of kiln-dried hardwood.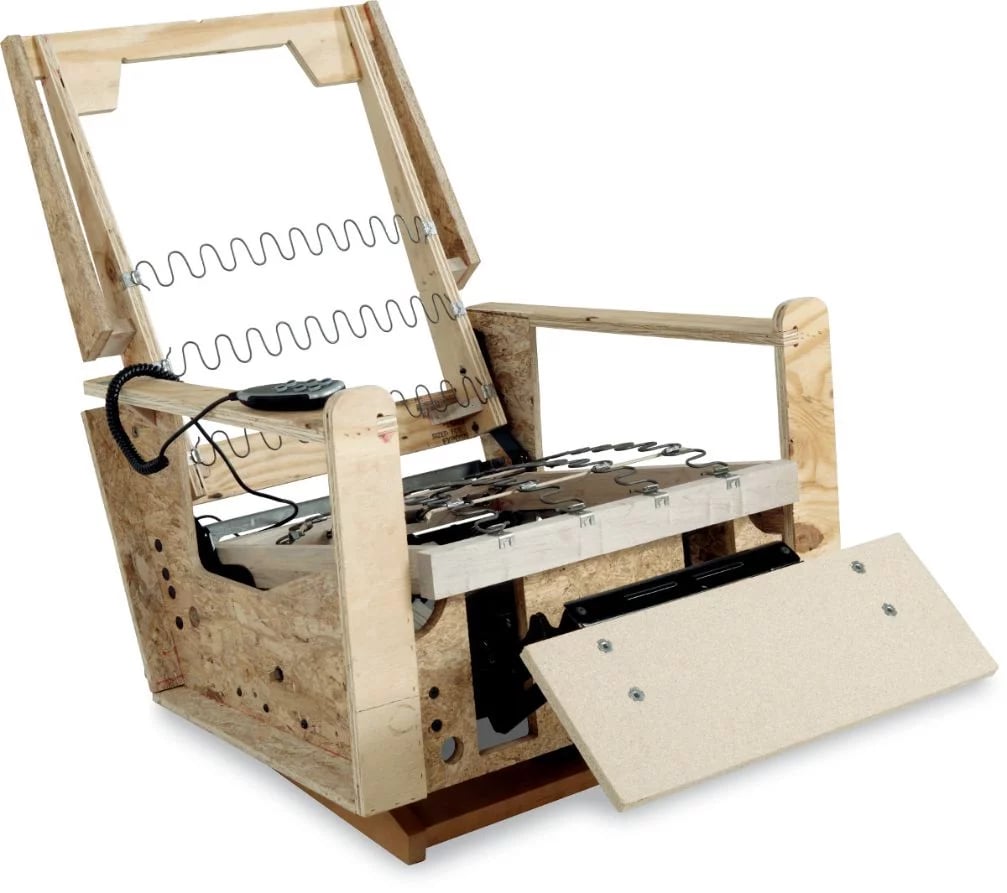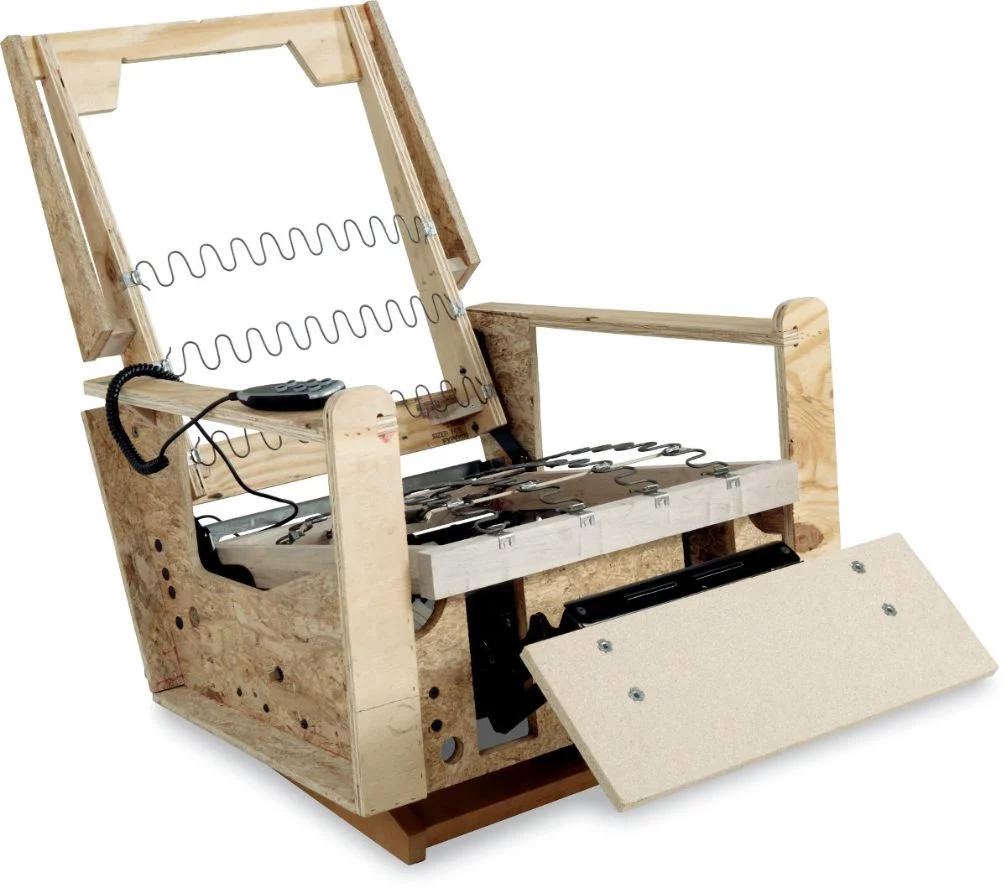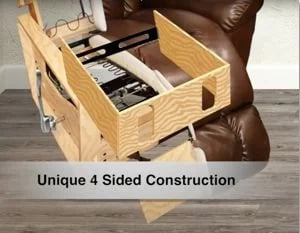 6.
Secret Recliners: Recliners That you Wouldn't Expect
You may be thinking yes, recliners are comfortable, I can relax and put my feet up, but is it stylish? Will it look good in my home?
Many peoples' first thought when they think of a recliner is: big and bulky. One of the biggest challenges for those looking for a stylish yet comfortable room is our existing preconceptions. These can limit our choices of what's possible.
The best way to avoid this is by being aware of all your options. When considering what are the best recliner options out there, it's essential to take the time and to truly see what's available in the marketplace. Online research makes this much more efficient and will help to narrow down your physical store visits.
La-Z-Boy has many styles of furniture, from traditional to contemporary. Most people who come into a La-Z-Boy showroom for the first time are pleasantly surprised by the range of styles and corresponding comfort level provided.
Here are Some Recliner Options you Might Not Expect from La-Z-Boy:
Urban Attitudes Collection
:
This is a fresh collection of furniture with a contemporary twist on classic styles. The recliners are designed to fit any room, style, and budget with clean lines and designer details. All Urban Attitudes furniture is easy to mix, match and is fully customizable.
To learn more about our Urban Attitudes Collection check out Urban Attitudes.
Duo Collection
:
Revolutionary sofas, loveseats, and chairs in traditional to contemporary styles with the power to recline. Space-saving designer recliners that are both comfortable and stylish.
You can place the recliner right up against the wall while still having the luxury of putting your feet up. There's nothing else like it on the market today. It looks just like a regular chair but performs like a recliner. Enjoy comfort without compromise.
To learn more about our Duo Collection check out our in-depth review of the duo® furniture Collection.
European Collection
These recliners are manufactured overseas and have a sleek and contemporary style. They are European-inspired recliners created for the European market who prefer small-scale furniture for their homes. These styles are gaining popularity in North America and particularly in Canada.
Available in several different leather colours, manufactured with the same quality materials as our North American models.
For more on recliners that don't look like recliners, check out these secret recliners.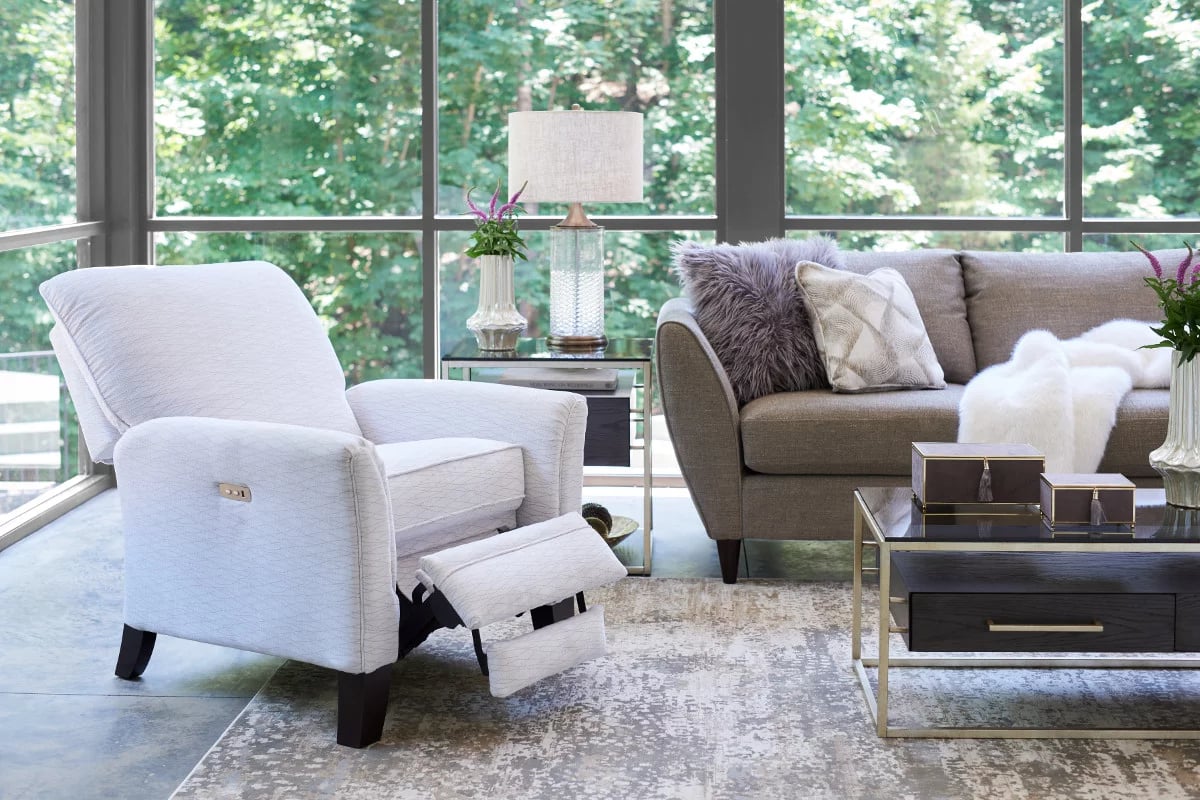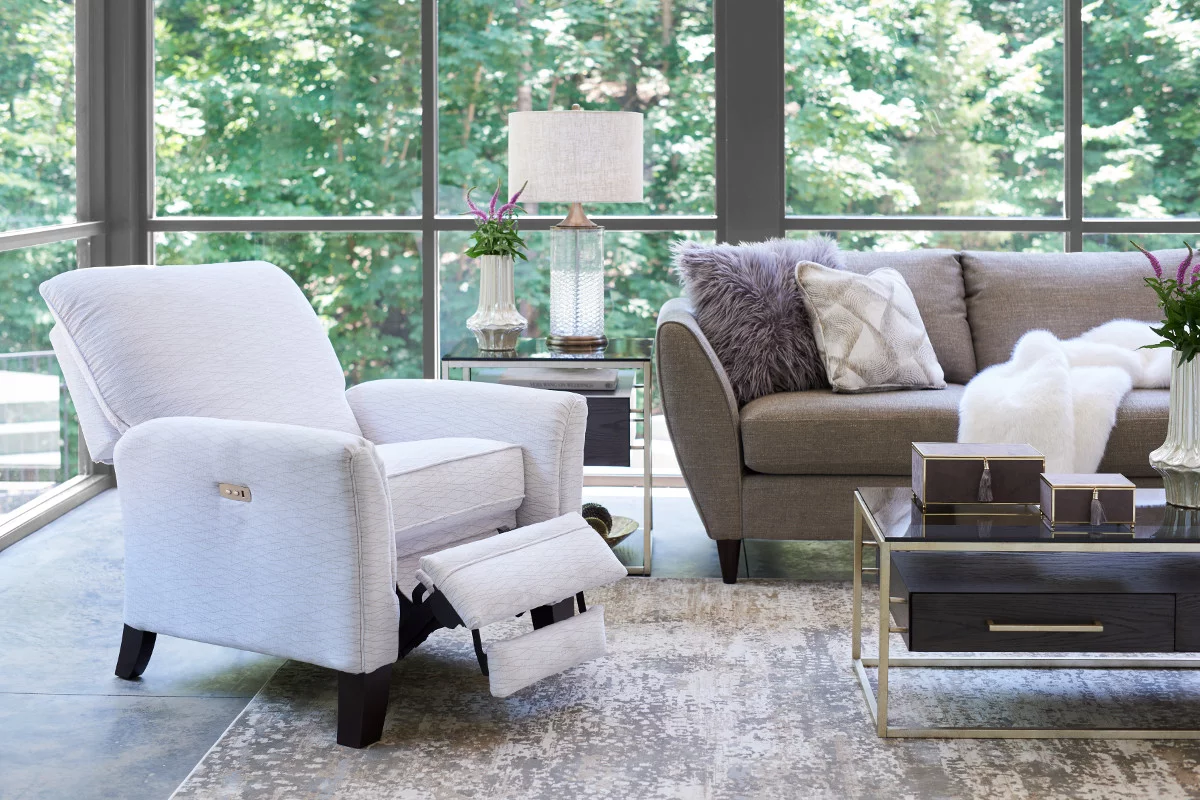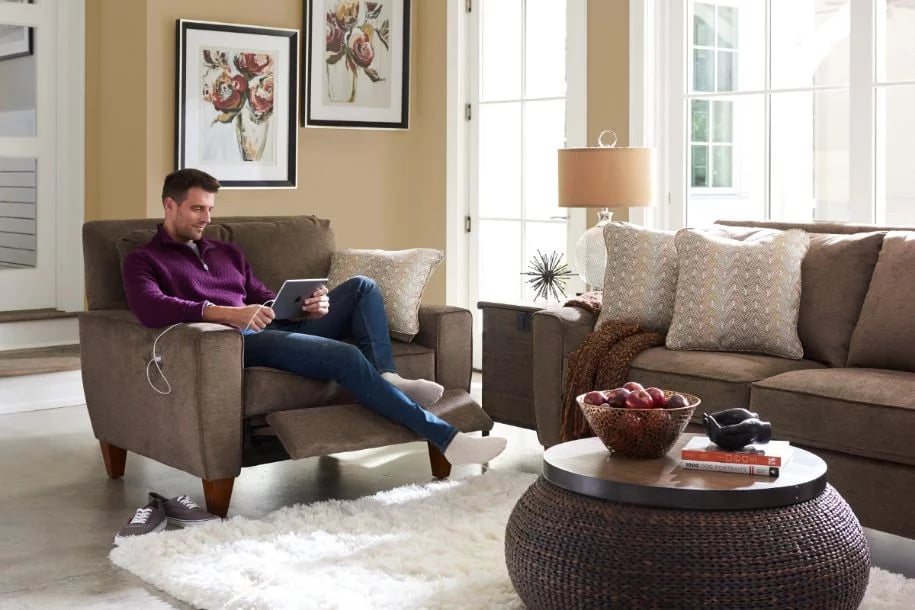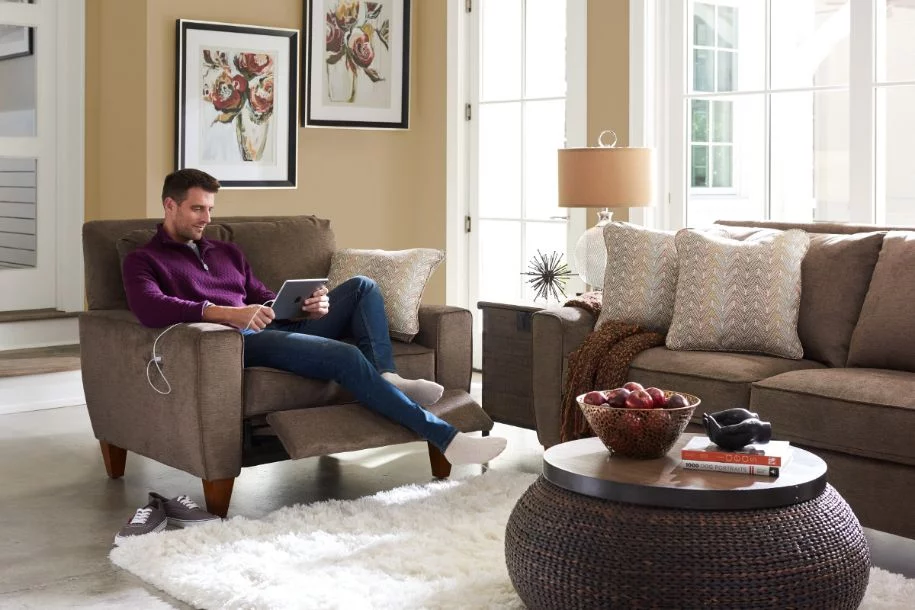 7. Recliner Delivery or Pick-up?
"When can I take possession of my new furniture?"
For custom furniture, you will have to wait a few weeks before you can pick up your recliner.
Most furniture stores will provide a delivery service if you live in the vicinity of their retail stores.
Recliners take a week or two for delivery if the chair you're looking for is in stock. Custom recliners can take anywhere from 6-14 weeks for delivery. These recliners are being custom-built for a client in their specific requirements. Then the recliner needs to be shipped to the warehouse from the manufacturer before subsequently being delivered to the customer.
There are three basic types of delivery that differ greatly. They all have a cost whether included in the price of your furniture or not.
Doorstep delivery

Standard delivery (placed in the home)

White glove delivery/full-service delivery (includes unpackaging and final assembly)
There is usually a fee, anywhere from $50-$200. Sometimes the cost is included in the price of the furniture, or you can get a discount with the more pieces you buy.
To find out more about the factors that affect the cost of delivery, check out how much does furniture delivery cost in Ottawa?
La-Z-Boy offers a white glove delivery service that includes set up, assembly, rearranging furniture, and disposal of old furniture at an additional cost.

At La-Z-Boy, local Ottawa & Kingston delivery costs $129.99, and out-of-town delivery costs $169.99. For an additional fee of $25 per furniture piece, we can assist with either moving out old furniture from different rooms or bringing it to the curb.
Save on delivery costs:
If purchasing just one recliner, it's possible to pick up your new recliner from the store as soon as the day of purchase. Some recliners come apart for easier transport.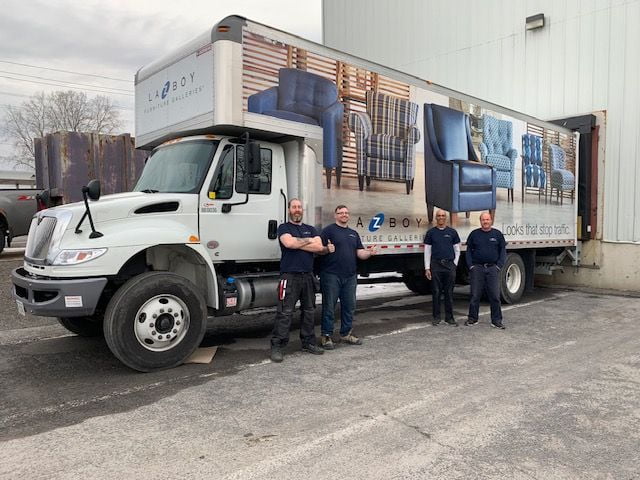 8. Recliner Checklist:
Please remember that buying a high-quality, comfortable recliner is only half the equation as you evaluate the various recliner brands. The furniture company you do business with is responsible for the successful delivery and installation of your new chair.
Furthermore, they provide supplementary services such as design and post-purchase support that will impact your overall experience.
To save you some time, we've created a list of must-haves when shopping for a quality made recliner.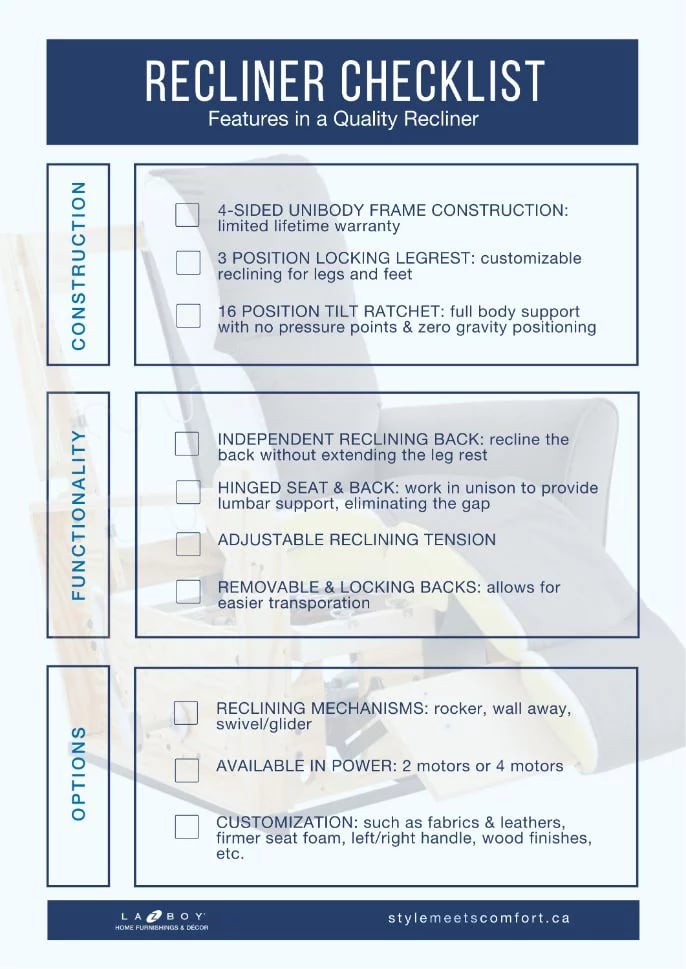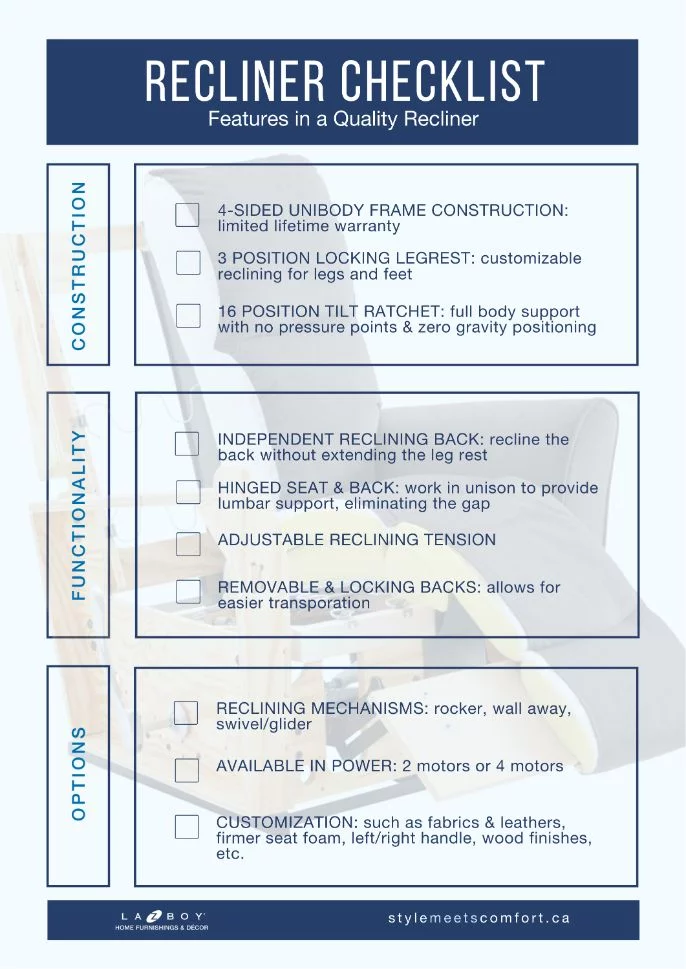 Fundamentally, recliners have several moving parts. Whether it is through heavy usage, misuse, or age, some of these parts can and do occasionally break down.
Knowing the quality of construction and features of a recliner will better help you understand the likelihood of this occurring.
Regardless of which manufacturer you end up selecting, it's worthwhile spending a few moments asking about what services are available when problems arise.
Most retailers will offer a warranty and protection plan with purchase. They should be able to service your chair and confirm what types of coverage you're entitled to.
Find out more about the coverage offered by La-Z-Boy Ottawa/Kingston; check out the article is La-Z-Boy's comprehensive protection plan worth it?
How to Prepare For My Visit to La-Z-Boy
Now that you have a better idea of what to look for in a recliner, you're probably ready to find the one that's best for you.
If you've looked at all your recliner buying options and decided to give La-Z-Boy a try, you can feel good knowing that La-Z-Boy has over 90 years of experience in furniture.
Our highly trained sales consultants are recliner experts; they will guide you through the purchasing process to help you find a recliner. The quality and variety of La-Z-Boy recliners will ensure you find the perfect match for your needs.
Below, we link to some of our top-selling La-Z-Boy recliners and reviews. There is a range of recliner sizes available.
We're happy to answer any of your La-Z-Boy recliner pricing questions at any one of our locations in the Ottawa and Kingston area or schedule a virtual or in-person consultation today.
Last Edited On June 22nd, 2022
Product Info Request
Please provide us with your name and email and we'll get back to you as soon as possible regarding this item.