La-Z-Boy Power Recliner Review: Lumbar and Headrest Feature
July 14, 2021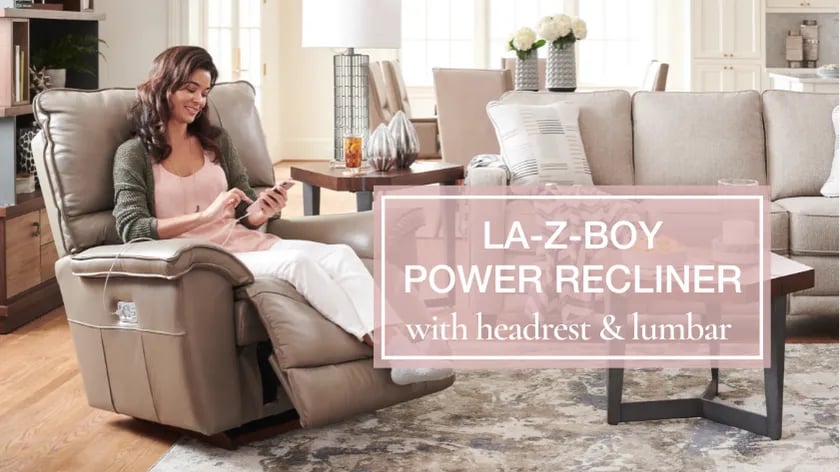 Est Reading Time: 8 Mins
How do you relax on your furniture? Is it by kicking your feet and sitting back in your reclining chair? Well, what if you could recline without cranking a handle but simply touching a button that does it for you?
You can do that with La-Z-Boy's power recliner upgrade with headrest & lumbar support!
Cliff Norman, a design consultant at La-Z-Boy Cyrville, explains, "many customer reactions to the recliner upgrade is excitement. I've been doing this job for over 15 years and witnessing a customer's reaction transform into amazement when they are sitting in a properly fitted recliner has never gotten old."
Along with the power recliner upgrade, adjust the lumbar support and headrest tilt independently to shape your body, completing the custom fit that La-Z-Boy promises!
So, what else is there to know about the power reclining upgrade with headrest & lumbar support? Read on for an in-depth review and what to expect when purchasing your power recliner from La-Z-Boy…
In This Article…
Unique Features
First things first, there are a couple of unique features you should know about when it comes to our power recliners.
Instead of pulling onto a convenient handle on the right side of the outside frame, you are greeted with a 4-side mounted control panel where the handle once was. This differentiation is crucial to determining which recliner is manual or powered.
When you upgrade from a manual recliner to a power recliner at La-Z-Boy, you get more than just the convenience of a control panel. You also have the ability to adjust the headrest to your desired position.
With this feature, you can adjust the top of the reclining back to independently maintain a line of sight without needing to move your head up from your position. The adjustable headrest can be angled anywhere from 0 to 55 degrees.
In addition to its adjustability, the headrest on our power recliners also includes a safety return feature. This spring action ensures that the head of the chair returns to the upright position smoothly and safely, protecting you from any potential pinching.
If you're looking for additional lumbar support, you must upgrade your power recliner even further. With the adjustable lower lumbar, you can independently move the recliner's lower back to match your lumbar spine's unique curvature.
The adjustable lumbar can push forward up to 3.5 inches, allowing you to feel more supported while sitting down. This option can be ideal for users with back pain or suffering from any chronic injuries. If you'd like to know which chairs are best for back pain at La-Z-Boy, check out this article.
While all movements are done thanks to the side-mounted control panel, you can always upgrade the control panel to turn it into a wireless remote control. If this interests you, learn more about
How to Use the Wireless Remotes
with this article.
La-Z-Boy has a wide selection of recliners to choose from in various shapes, sizes, and styles. That being said, not every recliner sold at La-Z-Boy can upgrade to power with a headrest and lumbar.
It's important to note that only 30 styles of La-Z-Boy power recliners come with headrest and lumbar support. While this may limit your options somewhat, it also ensures that each of these recliners is designed with the utmost attention to detail and comfort.
Within each recliner style, there are also 3 different types of recliners for which you can upgrade to headrest and lumbar.
If a recliner with a headrest and lumbar functionality is a consideration, you must first choose a recliner with the right fit.
Rocking Recliners
What is unique about the La-Z-Boy power rocker recliner is that it offers dual functionality. Not only can you recline, it allows you to rock back and forth gracefully when resting in the seated position.
These are not to be confused with gliding recliners, which share the same functionality as rockers, except they move in a linear motion, while rockers move in an arched motion. To learn more about the difference between Rocking and Gliding Recliners, take a look at this article.
Wall Recliners
Wall recliners allow you to place the recliner inches from the wall while still being able to recline fully. This type of recliner is ideal for anyone looking to save space in their home. If you live in an apartment or condo choosing a wall recliner might be a great way to experience comfort without crowding your limited space.
If you're interested in rocking and wall recliners but aren't sure which one is right for you, look at the difference between Rocking vs. Wall Recliners with this article.
Power Lift Recliners
Lastly, power lift recliners are special functioning reclining chairs with a handy remote that can help raise the recliner up or down from the ground. The remote can be used to raise or lower the recliner and adjust it to different reclining positions, making it easier for you to get in and out of the chair.
In addition to offering greater assistance for mobility, a power lift recliner can also provide enhanced comfort and relaxation. With its customizable settings and adjustable features, you can find the perfect position to alleviate pressure points and reduce stress on your body.
Whether watching TV, reading a book, or simply napping, a power lift recliner can help you feel your best.
To learn more about lift recliners, check out the article
What to Expect When Shopping at La-Z-Boy for Elderly People or People with Mobility Issues
.
Cost of Power Recliners with Headrest and Lumbar
A good-quality, comfortable, and stylish recliner is no small investment, let alone a power recliner with a headrest and lumbar support.
Power recliners will cost several hundred dollars more than traditional manual recliners. This is primarily due to the motor and mechanisms included in the construction. Each recliner style is priced independently, and the cost is subject to an increase based on customization and upgrades.
Generally speaking, upgrading a La-Z-Boy recliner from manual to power with headrest is an extra $750 for rocking recliners and $820 for wall recliners. The additional lumbar support upgrade costs $1,000 for rocking recliners and $1,070 for wall recliners.
According to Cliff, wall recliners will always be $70 more expensive than rocking recliners.
As for adding headrest and lumbar to power lift recliners, the cost will change quite a bit, with a $2,000 increase to the starting price.
To learn more about the Cost of a La-Z-Boy Recliner, take a look at this article.
All La-Z-Boy prices listed in this article are subject to change. We aim to update all cost-related articles twice per year. This article was last updated on April 25th, 2023. Contact your local Ottawa or Kingston location by phone or in person for up-to-date pricing.
Warranty
It is no secret that power recliners with headrest and lumbar are expensive. With this, you can rest assured that the value of your purchase is protected by La-Z-Boy's manufacturer warranty.
The La-Z-Boy manufacturer warranty covers the power recliner chairs' mechanical parts, spring assembly, and frame parts for a lifetime. The frame parts of lift recliner chairs are also covered for a lifetime.
Regarding the headrest and lumbar components, recliner electrical issues are covered for up to 3 years.
For full details of the Limited Lifetime Warranty, check out this full La-Z-Boy warranty breakdown.
If you wish for more peace of mind, you may consider purchasing La-Z-Boy Ottawa & Kingston's 5-Year Comprehensive Service Plan. This plan covers the labour and repair of the heat and massage electrical components for up to 5 years.
To learn more about the
Extended Warranty Plan
and if it's right for you, take a look at this article.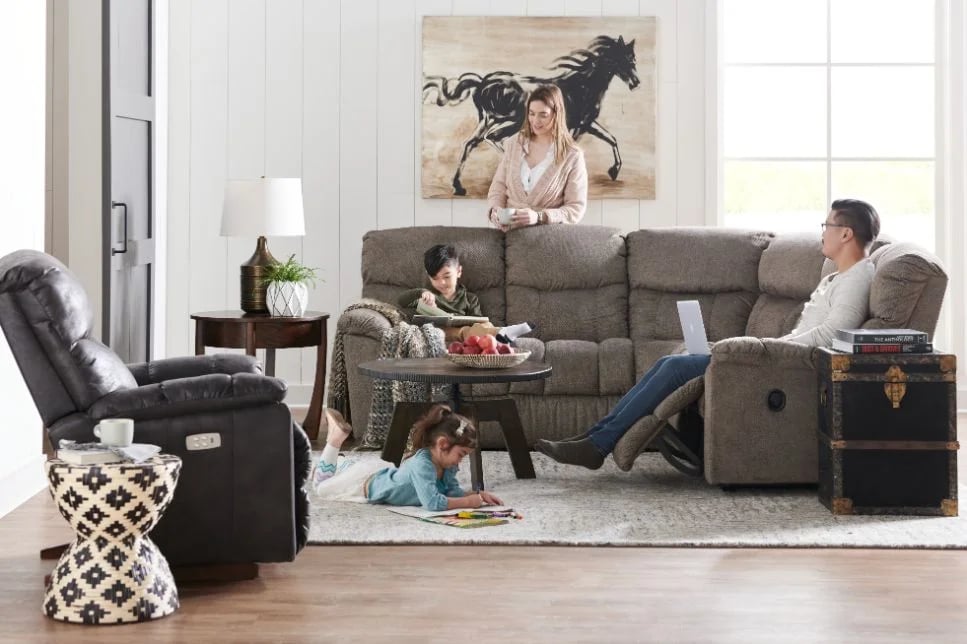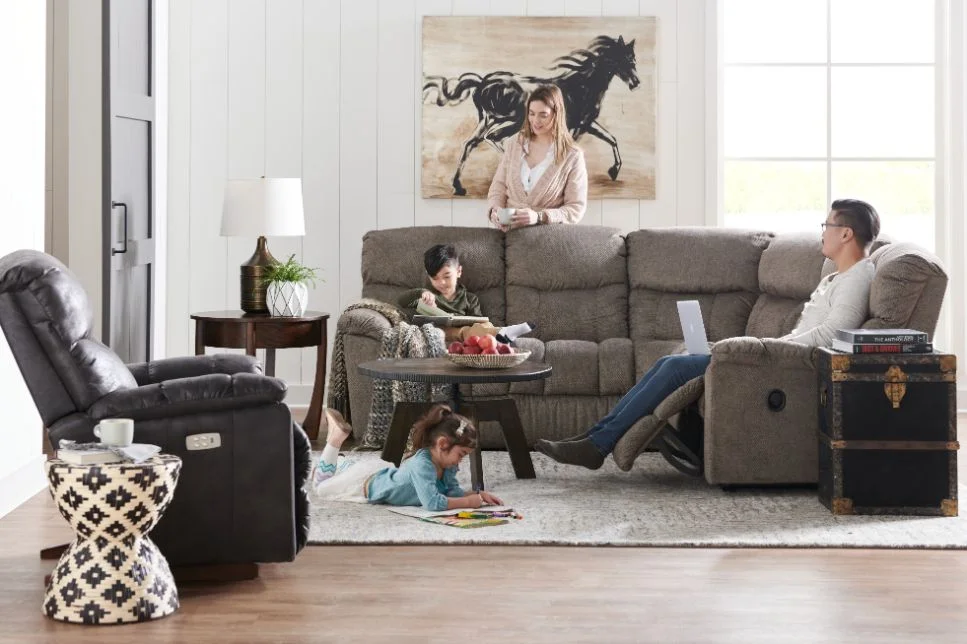 Is a La-Z-Boy Power Recliner with Headrest and Lumbar Right For You?
There is no doubt that power recliners with headrest and lumbar support offer superior customized comfort.
It is a great choice for anyone considering one of the dozens of styles available with the feature and is seeking added support and relaxation. It can further be enjoyed by clients who suffer from ongoing back pain or injury.
With furniture being a significant investment, you will want to make sure you make the right choice for your specific needs.
If the adjustable headrest option is something you're interested in, but lower lumbar support is not a priority, La-Z-Boy does offer reclining options with just the headrest functionality.
As mentioned, the same power recliner styles that offer the headrest and lumbar combo will also have a headrest-only option at about half the cost of lumbar and headrest together.
It is important to remember that purchasing a La-Z-Boy product will be an investment, no matter your choice, since our furniture tends to be more expensive than other furniture stores in the market.
This is due to the quality of materials used to construct the furniture, which is meant to be long-lasting. If you're interested in spending more and saving money down the road from repairs or replacements, purchasing a higher-quality item could be right for you.
Further, there is an argument to be made about some people wanting to stick with a manual over a power reclining option.
Reclining chairs that recline without electricity may be a better fit for those wanting to place a recliner in the middle of a room and avoid power cords. "Some people may not want to feel like their recliners are tethered to a wall. Maybe their living room has an outlet on only one wall but it isn't where they want to place their recliner," says Cliff.
For those interested in a power option but worried that their recliner couldn't move around much due to the power cord, La-Z-Boy also offers a cordless battery pack upgrade. To learn more about La-Z-Boy's Rechargeable Cordless Battery Packs, take a look at this article.
Power recliners also typically have a higher price point than manual recliners because they cost more to produce. To learn more about the difference between Manual and Power Recliners, take a look at this article.
What's Next?
At the end of the day, the recliner you choose is based on your lifestyle. A desired escape from the way you work. Beneficial relief for the way you play. And a fitting reward for the way you rest. It comes down to one simple question, what do you want from your recliner?
It is hard to find a recliner with all the right moves. But the ability of power recliners with headrest and lumbar to provide you with custom comfort is hard to beat.
If the highlighted features meet your needs, take a closer look at our selection of styles at any of our La-Z-Boy locations in the Ottawa and Kingston area or plan ahead by scheduling your visit online. The challenge will be when you find the perfect recliner style, will you be able to leave?
If you want to incorporate your new power recliner into an existing space or are redecorating a room, you may also consider taking advantage of our complimentary design services. Our skilled interior designers will help transform a room worthy of your new power recliner.
To see more of a selection from our Top Power Recliners with Headrest & Lumbar, take a look at our best-sellers list.
Related Links:
Review of the Trouper Reclining Sofa
Best Selling La-Z-Boy Power Recliners
Product Info Request
Please provide us with your name and email and we'll get back to you as soon as possible regarding this item.