La-Z-Boy Power Recliner Review: Lumbar and Headrest Feature
July 14, 2021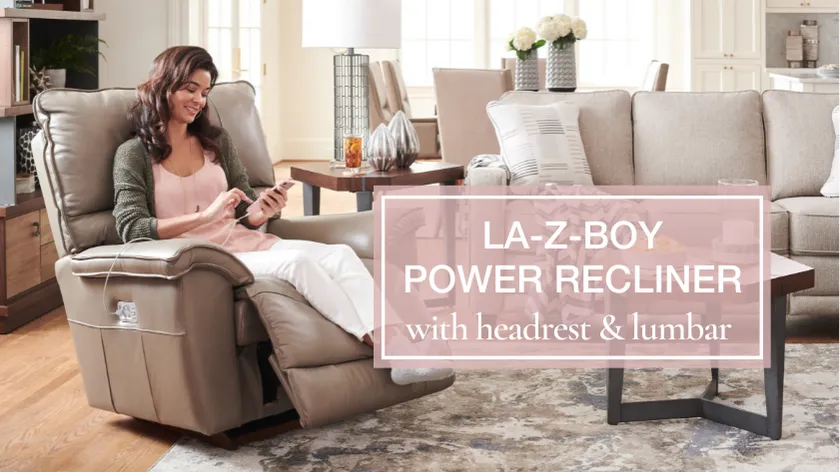 What could be easier than putting your feet up? How about doing it at the touch of a button with complete lumbar and neck support?
Cliff Norman is a La-Z-Boy design consultant at our Cyrville, Ottawa location. During his 15 years, he has helped fit hundreds of customers to their perfect recliner.
He explains witnessing customer's expressions transform in amazement when sitting in one of our power recliners with the headrest and lumbar feature. When you can adjust the lumbar support and headrest tilt independently to shape your body, you can experience a complete custom fit!
La-Z-Boy invented the reclining chair back in 1927. You can rest easy knowing your power recliner possesses 90 years of innovative design experience. Enjoy top-of-the-line power features and a new easy to use toggle control panel.
With seven patented recliner features, consisting of quality-manufactured frames, top-of-the-line mechanisms, and supportive cushioning, La-Z-Boy remains the #1 leader in reclining comfort.
Read on for an in-depth review of the headrest and lumbar upgrade on La-Z-Boy power recliners.
The functionality of the Headrest & Lumbar Power Recliner

The headrest & lumbar feature is offered on select power recliners at La-Z-Boy.
If you are looking for enhanced comfort from your power recliner, especially for those who suffer from a tired or overworked back, the La-Z-Boy headrest and lumbar combo feature might be exactly what you need.
Navigated by a toggle control panel, the power feature allows you to adjust the back, leg rest, headrest and lumbar areas of the recliner independently. This provides an unlimited number of relaxing positions. It lets you maintain perfect viewing angles for activities such as reading, conversation, or enjoying TV.
It may be apparent, but power recliners need an electric power source to operate. At La-Z-Boy, power recliners are plugged into a nearby wall socket. Alternatively, they can be powered with a rechargeable battery concealed under the chair.
Check out a detailed breakdown of the top 7 most common questions asked regarding power recliners or watch the video.
La-Z-Boy Power Recliners with the Headrest and Lumbar

If a recliner with headrest and lumbar functionality is a consideration, you will first have to choose a recliner with the right fit.
La-Z-Boy has a wide selection of recliners to choose from, in a variety of shapes, sizes, and styles. With this being said, not every recliner sold at La-Z-Boy has the option to upgrade to the headrest and lumbar.
More specifically, about 30 different styles of La-Z-Boy power recliners come with lumbar and neck support. There are various styles to fit different body types and complement any room.
Within each recliner style, there are also 3 different types of recliners for which you can upgrade to headrest and lumbar. They are the power rocker, wall and lift recliners.
Power Rocker Recliners
What is unique about the La-Z-Boy power rocker recliner is that it offers dual functionality. Not only can you recline but it allows you to rock back and forth in a graceful motion when resting in the seated position.
Power Wall Recliners
The wall-away series of chairs let you place the recliner inches from the wall and still recline fully. This type of recliner is great for saying space. If you live in an apartment or condo choosing a wall recliner might be a great way for you to experience comforts without crowding your limited space.
Power Lift Recliners
With an easy-to-use hand-held remote, you'll have the power to sit, stand or fully recline at the touch of a button. Power lift recliners are a comfortable and practical answer for people as they age or to anyone that requires assistance getting in and out of a chair.
Here are a few of your top-selling power recliner choices…
Cost of Headrest and Lumbar Power Recliners

A quality, comfortable, and stylish recliner is no small investment, let alone a power recliner with headrest and lumbar support.
Power recliners will cost several hundred dollars more than traditional manual recliners. This is primarily due to the motor and mechanisms included in the construction.
Each recliner style is priced independently and the cost is subject to an increase based on customization and upgrades.
Generally speaking, a La-Z-Boy power recliner costs, start at $1,779 and a La-Z-Boy lift chair costs start at $2,149.
The headrest and lumbar start from $2,369 for the power rocker and wall models as it has a secondary motor system. As for the lift chairs, the price starts from $3,539.
Your choice of fabric or leather upholstery is a crucial decision and can significantly affect the price of your recliner. With over 900 hundred cover options, you can custom-create a look that's uniquely yours.
*All La-Z-Boy prices listed in this article are subject to change. We aim to update all cost-related articles twice per year. This article was last updated on October 3rd, 2022. Please visit lzb.com and select an Ottawa or Kingston La-Z-Boy store location to view the most up-to-date pricing.
Warranty

It is no secret that power recliners with the massage and headrest and lumbar are expensive. With this, you can rest assured that the value of your purchase is protected by La-Z-Boy's manufacturer warranty.
The La-Z-Boy manufacturer warranty covers the mechanical parts, spring assembly, and frame parts for the power recliner chairs for a lifetime. The frame parts of lift recliner chairs are also covered for a lifetime.
When it comes to the headrest and lumbar components, electrical issues in recliners are covered for up to 3 years.
For more detailed information on the Manufacturer's Warranty at La-Z-Boy, take a look at the article Are La-Z-Boy Recliner Chairs Guaranteed for Life?
If you wish for more peace of mind, you may consider purchasing La-Z-Boy's 5 Year Comprehensive Service Plan. This plan covers the labour and repair of the heat and massage electrical components for up to 5 years.
Take a look at the article Is La-Z-Boy's Extended Warranty Service Plan Worth it?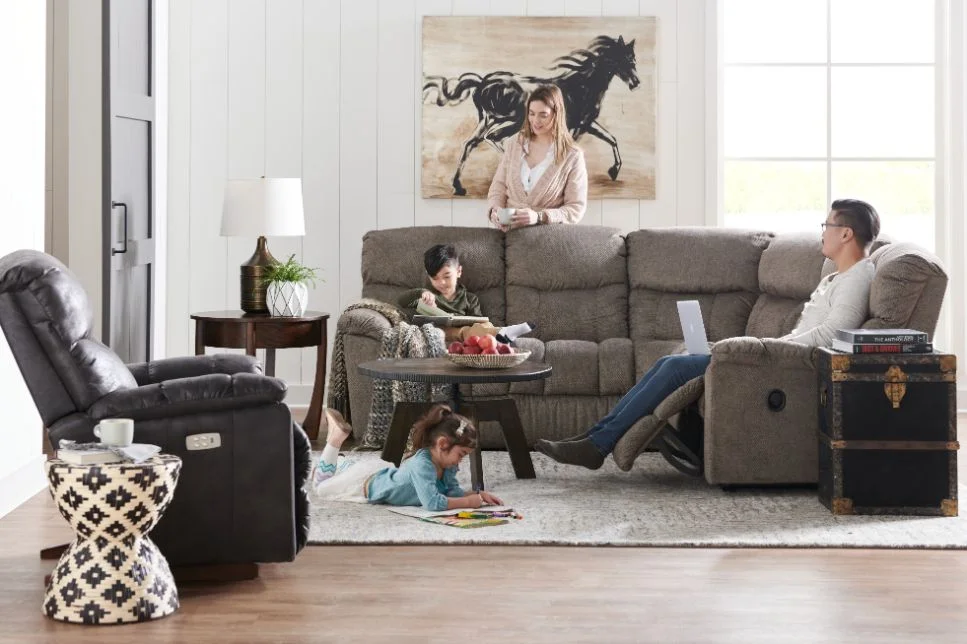 Features & Benefits

With style, you'd never expect and features you can't live without, La-Z-Boy recliners are more than just a place to put up your feet.
Standard power recliner features:
Patented four-sided unibody frame construction made of kiln-dried hardwoods. It provides greater durability and stability and comes with a limited lifetime warranty. Unibody also features solid side panels.
➊ The dual-motor drive and patented reclining mechanism allows independent leg rest and back movement
➋ Allows for zero gravity positioning. The recliner chair reclines back usually to around 170 degrees and elevates your knees in line with your chest. This position alleviates the force gravity exerts on your body and is a powerful means of pressure or pain relief
➌ Speed from upright to fully reclined position in 6 seconds
➍ Spring-tension leg rest safety release
➎ Battery backup in case of power outages

Features unique to Power Rocking Recliner with Headrest and Lumbar:
1. Adjustable headrest is independently powered to maintain a line of sight for more personalized comfort. There are an infinite number of angles between 0 and 55 degrees
2. Headrest safety return is a spring action that returns the headrest to the upright position safeguarding against pinching
3. Lower lumbar offers a wide range of extra lower back support for optimum comfort. It pushes forward up to 3.5 inches.
4. Anchored and pivoting lumbar support is a unique patented scissor-type mechanism. It provides superior lumbar support in any seating position and also flexes to respond to unique positioning and posture
5. Power toggle control is a right-side sitting panel. It contains all power adjustments with easy to use toggles. This control panel comes with a home button, two programmable memory positions, and a USB charging port.
6. Frame engineered with a deeper than average back and body to house the headrest and lumbar mechanisms.
With these features, the added headrest and lumbar support provide a relaxing experience unlike any other.
Upgrade Options

Recliner options are easy add-ons for minimal up-charges and a great way to make sure you are getting one that is precisely right for you.
1. Left Hand Side Control Panel ($89) – if you are a "lefty" or have impaired strength in your right arm this is available for $89
2. Remote Control Panel ($169) – allows you to control the recliner from anywhere in the room and comes with additional "find me" and do not disturb features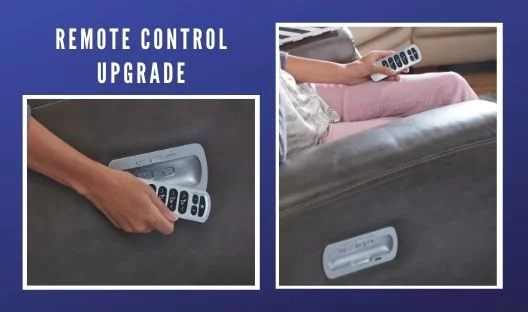 3. Battery Power Packs – this lithium-ion battery pack provides about five days of cordless operation when fully charged
4. Airform Seating – available on the seat, chaise and leg rest, it combines a two-inch layer of premium quality memory foam over a high-resiliency foam base for the perfect balance of personalized comfort and targeted support
5. Tall Base – adds 1.5 inches to the seat height and overall height of recliner
Customer Reviews

Here is what customers are sharing after purchasing the La-Z-Boy Power Lumbar and Headrest Recliner.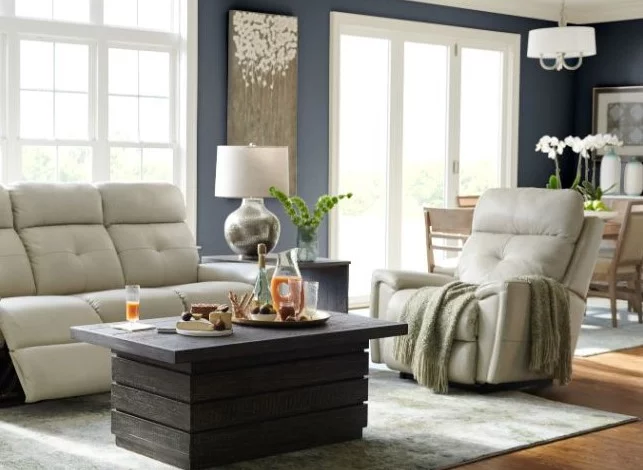 Is Headrest and Lumbar Right for You?

There is no doubt that power recliners with headrest and lumbar support offer superior customized comfort.
It is a great choice for anyone considering one of the dozens of styles available with the feature and is seeking added comfort and relaxation. It can further be enjoyed by clients who suffer from ongoing back pain or injury.
With furniture being a significant investment, you will want o make sure you make the right choice for your specific needs.
If the adjustable headrest option is paramount but lower lumbar support is not a priority, La-Z-Boy now offers a mid-tier power option with added headrest functionality. The majority of the same power recliner styles offering the headrest and lumbar combo will also have a headrest-only option at about half the cost of lumbar and headrest together.
There are a lot of additional recliner style options available other than those that offer headrest and lumbar functionality. This includes other power recliners as well as each style with a manual reclining method. Chairs that recline without electricity can be a better fit for those wanting to place a recliner in the middle of a room and avoid power cords unless upgrading to a battery pack.
Power recliners also typically have a higher price point than manual recliners because they cost more to produce.
To learn more about the differences between manual and power recliners, check out this article.
Next Steps
The power recliner is about your lifestyle. A desired escape for the way you work. Beneficial relief for the way you play. And a fitting reward for the way you rest. It comes down to one simple question, what do you want from your recliner?
It is hard to find a recliner with all the right moves. But the ability of power recliners with headrest and lumbar to provide you custom comfort is hard to beat. Norman, in the customer reviews, said it best "the only problem is I am reluctant to leave."
If the features highlighted meet your needs, then take a closer look at our selection of styles at any of our La-Z-Boy locations in Ottawa and Kingston area or plan ahead by scheduling your visit online. The challenge will be when you find the perfect recliner style, will you be able to leave?
If you are looking at incorporating your new power plus recliner into an existing space or are redecorating a room you may also consider taking advantage of our complimentary design services. Our skilled interior designers will help transform a room worthy of your new power recliner.
Product Info Request
Please provide us with your name and email and we'll get back to you as soon as possible regarding this item.