Is La-Z-Boy Furniture Good Quality?
August 9, 2021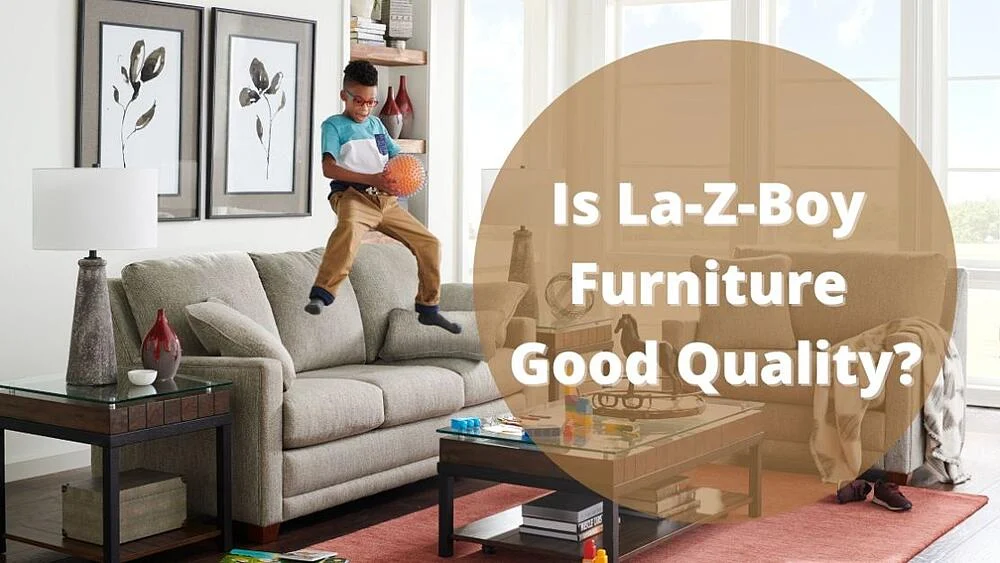 As the inventor of the first wood-slate chair, the La-Z-Boy name has almost become synonymous with the term recliner.
Since then, the company has maintained a high standard of innovation that results in long-lasting furniture, up-to-date style, and thoughtful customer service.
With this, we hope that the La-Z-Boy name also becomes synonymous with quality.
It is no secret that La-Z-Boy furniture can be a significant investment. As a result, many of our clients at La-Z-Boy Ottawa & Kingston want to know if this investment will be worthwhile. Is La-Z-Boy furniture good quality?
The short answer to this question is YES. But there are many factors that contribute to the quality of La-Z-Boy products beyond our recognizable name.
Our purpose in writing this article is to answer this question in more depth by describing the characteristics of La-Z-Boy furniture that impact the overall quality of our products. While we are confident in the quality that we offer, we also realize that we are not perfect and manufacturing mistakes do happen. In order to give you an honest description of La-Z-Boy quality, we will highlight both the good and the not-so-good aspects.
This article will dive into factors that impact the quality of La-Z-Boy furniture, including where it is made, materials used, methods of construction, product testing, customization options, the longevity of products, and additional services. Further, the article will outline common problems found in La-Z-Boy furniture.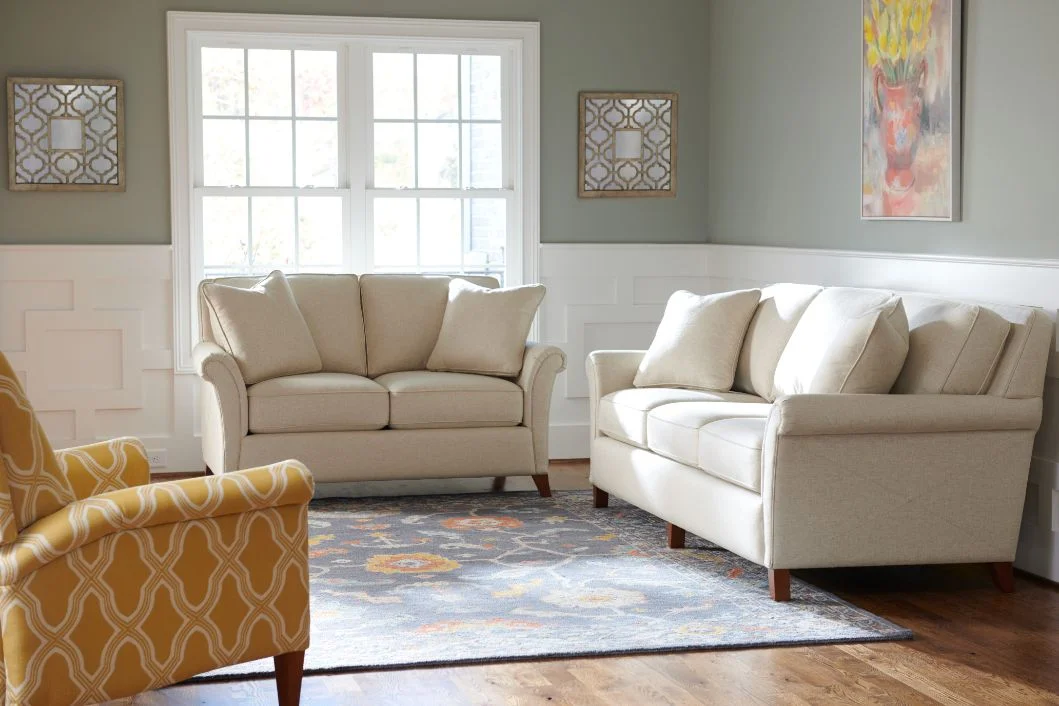 Made in North America
For many Canadians, a huge indicator of quality is where furniture is made.
As a global company, La-Z-Boy sources materials from all over the world, but much of La-Z-Boy furniture is assembled in North America.
More specifically, the majority of our recliners, chairs, sofas, and sectionals that we offer in our Ottawa and Kingston stores are manufactured in Dayton, Tennessee.
The final assembly process in Dayton is fairly labour intensive and requires skilled craftsmanship. This production process includes:
Lumber is received and cut to size and hand-assembled by the framer. It forms the main structure of the chair or sofa.

Metalworks department plays a crucial role in making the reclining mechanism

Fabric kits created by cut and sew centre.

Sub upholster places cut foam inside the fabric casing.

Upholsterer attaches the fabric to the frame.

A final inspection is done by the cell member called the validator. They will test the mechanism/motors and check for the correct colour.
These skilled workers carry La-Z-Boy's vision of quality and innovation in every piece of furniture they produce. Let's meet the makers …
Quality of La-Z-Boy Materials
While much of La-Z-Boy quality can be attributed to North American craftsmanship, we also ensure that our products are made from top-of-the-line materials.
Fabric & Leather
La-Z-Boy offers a range of fabric & leather upholstery covers that are both comfortable and durable.
When it comes to fabric options, we offer premium-grade specialty fabrics that protect your furniture from wear and tear while maintaining its original beauty.
Our Innovative iClean fabric is stain resistant. The iClean technology surrounds each fabric fiber, creating a barrier that repels spills before they turn into stains.
For those with pets, we also offer a pet-friendly fabric that is tested to simulate the scratches and wear that pets cause to ensure a durable and easily washable fabric.
The new antimicrobial fabric has properties that surround each fiber to protect your furniture from mold, mildew, and odor-causing bacteria.
Finally, for those seeking an eco-friendly option, we also have a soft and durable conserve sustainable fabric that is made from recycled water bottles.
As for leather, La-Z-Boy offers three types of quality leather: Authentic, Nubuck, and Performance.
Each type is premium top grain leather. After tanning, cowhides used in furniture upholstery are split into layers. Top grain is the uppermost top layer of the cowhide and is considered most valuable.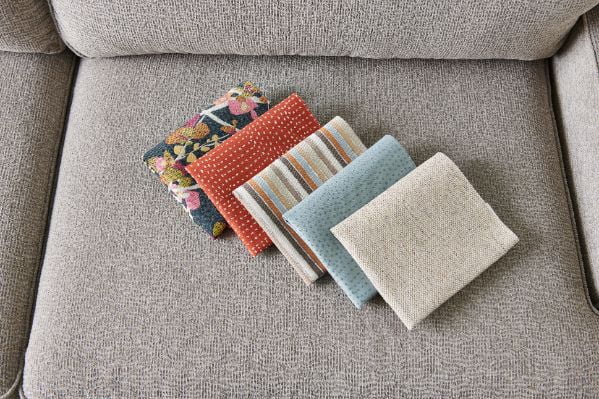 Cushions
La-Z-Boy cushions differ for reclining and stationary furniture pieces.
Reclining furniture at La-Z-Boy is made with contoured-cut polyurethane high-resiliency foam seats. These cushions are ideal for reclining furniture as they provide superior support and reduce tension placed on pressure points in all positions.
While most manufacturers fill their furniture arms with blown-in fibre, La-Z-Boy uses contour-cut foam padding. A fine wire machine is guided by lasers to cut the exact shape necessary from a foam block.
La-Z-Boy's contour-cut foam includes many benefits that enhance the overall quality of the furniture:
It doesn't compress or shifts away from pressure

Cut to the exact shape of the frame, so it keeps its shape and stays in place

Looks better, a more sharp and fuller appearance

Provides a greater level of comfort

Extends the lifespan of the sofa or chair

Tailoring is consistent in a particular style (so if you wanted to get two matching chairs, they would look similar)
When it comes to Stationary furniture, La-Z-Boy uses a patented ComfortCore® or ComfortCore® Gel cushion.
ComfortCore® cushions are built with a 7-layer zoned cushion technology that offers added support for the spine, hips, and behind the knees. This proprietary design features four different foam densities distributed to provide the best comfort and support level for various areas of the seat.
The optional Gel upgrade only enhances this comfort with gel-infused density memory foam.
To learn more, take a look at our Review of La-Z-Boy's Chair & Sofa Seat Cushions.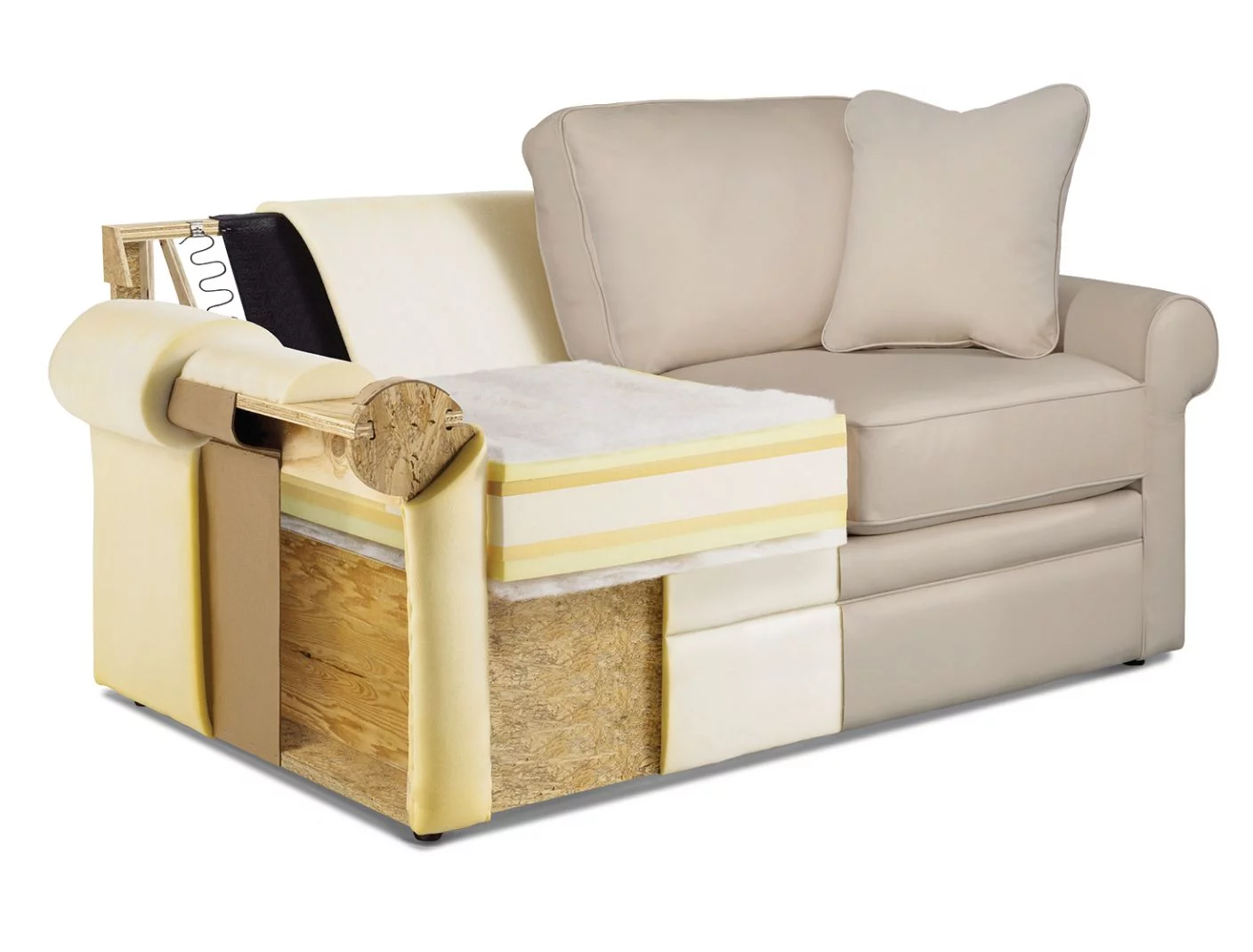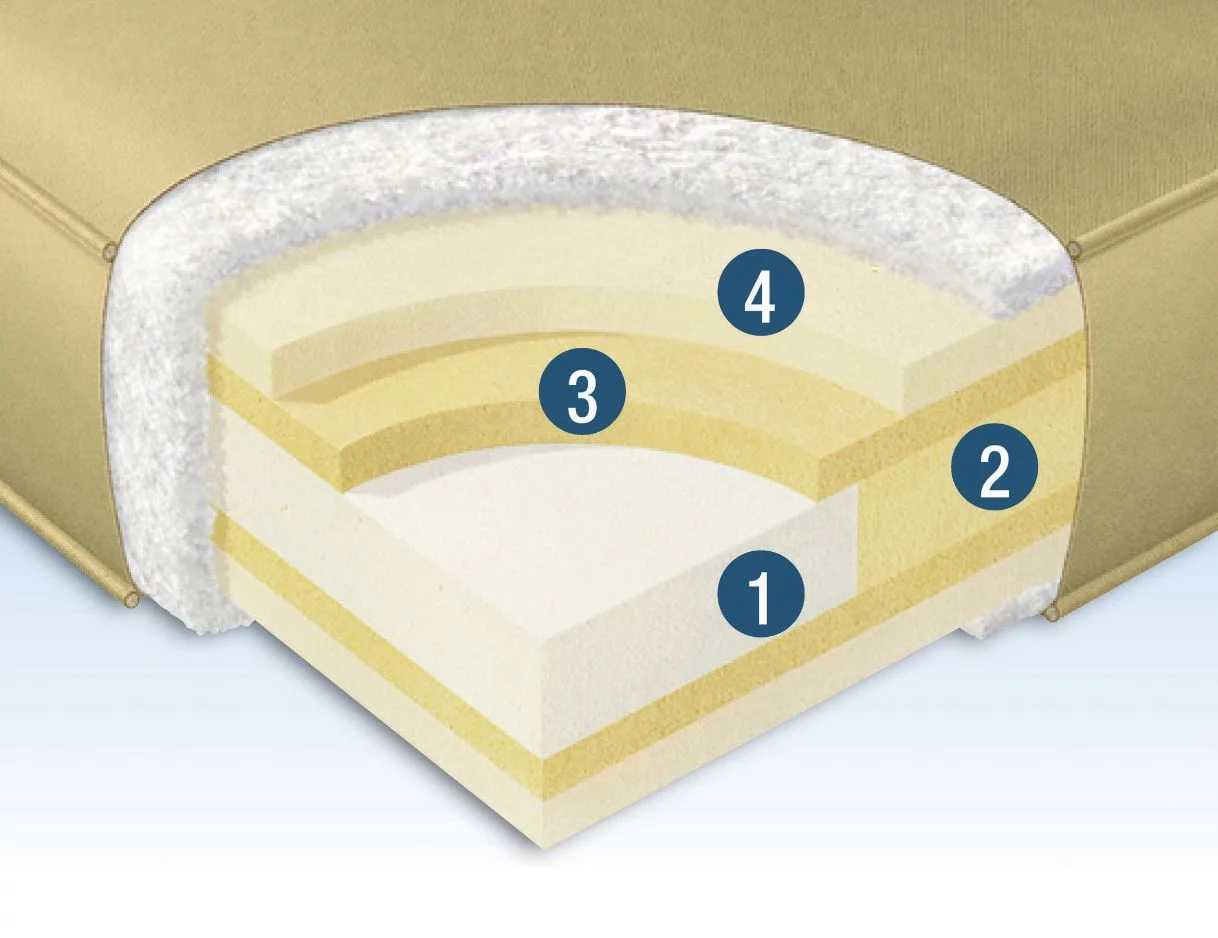 Wood Frame
To ensure quality and durability, La-Z-Boy uses a range of high-quality wood materials in the making of our furniture frames.
The primary wood material used in La-Z-Boy frames is oriented strand board (OSB). This OSB is unique to La-Z-Boy incorporated and was specifically engineered to meet our performance requirements.
OSB has many benefits contributing to overall quality:
Consistent and uniform material

Does not warp or separate

Does not have knots, knot holes, voids, or splits

Superior strength

Test results show OSB is equal to, and often outperforms plywood for strength, durability, and retention of adhesive and fasteners

Engineered material = a controlled material to our specific requirements
Otherwise, La-Z-Boy frames are made from a combination of maple, rubberwood, and plywood. Each material is used in a strategic part of the frame to ensure the utmost strength of each component.
For a more detailed explanation, take a look at an in-depth review of the Quality of Wood Used in La-Z-Boy Furniture.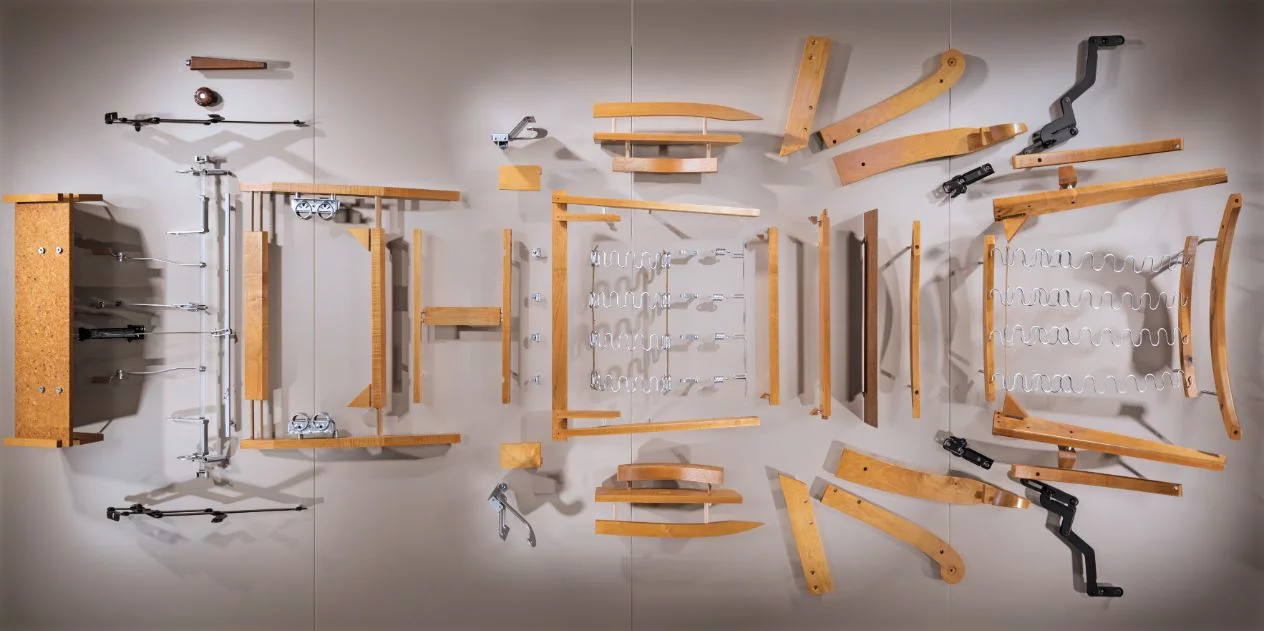 Mechanism
Finally, an important material that sets the quality of La-Z-Boy apart is our reclining mechanism.
La-Z-Boy power mechanisms are made from solid steel and are able to withstand significant pressure.
Each and every La-Z-Boy mechanism is tested in a laboratory to ensure quality and functionality are up to our standards. Our power products are tested for 100,000 recline cycles using a 300-pound user.
Much of our quality can be identified when comparing the Difference between the La-Z-Boy Power Reclining Mechanism with the Competition.
Quality of La-Z-Boy Construction Methods & Technology
As previously mentioned, La-Z-Boy prioritizes innovation. In turn, the quality of La-Z-Boy products are consistently improving with the most up-to-date methods of construction and technology.
In fact, many of La-Z-Boy's methods of construction are unique to the brand, setting us apart from other manufacturers in the industry.
Exclusive Features of La-Z-Boy Furniture
La-Z-Boy recliners are designed and crafted with 7 unique features making our recliners the most comfortable in the furniture industry. We call these the 7 La-Z-Boy Only's.
These seven unique construction features are available exclusively at La-z-Boy as they are patented by the La-Z-Boy brand.
1. Independent Reclining Back – Users can recline back without having to put their feet up.
2. Locking Three-Position Footrest – Multiple leg positions providing comfort for every user.
3. Double-Locking Footrest – Safety and longevity for the user and the chair.
4. Adjustable Height Leg Rest – 16 reclining positions with over a hundred options for comfort.
5. Hinged Seat & Back – Offers ultimate support from head to toe, especially in the lumbar region.
6. Four-Sided Unibody Frame – Unmatched strength and durability.
7. Adjustable Reclining Tension – Adjust the amount of back and reclining tension based on the unique weight and body size of the user.
La-Z-Boy Premier Construction
For most non-reclining frames, La-Z-Boy has developed a Premier method of construction. These stationary styles of sofas and chairs are built with premier features targeting the frame, spring system, cushion, and padding.
The standard features of Premier Construction include…
OSB, hardwood solids, and laminated hardwood frame construction

Fully padded outside back, outside arms, and front posts

No-sag wire seat and back springs

La-Z-Boy non-skid logo decking

ComfortCore Seat Cushions

Accordion lined toss pillows

Self-healing zippers
Longevity of La-Z-Boy Products
With North American craftsmanship, top-of-the-line materials, and innovative methods of construction, the quality of La-Z-Boy products is put to the test with use over time.
Ultimately, La-Z-Boy furniture is built to last.
Many La-Z-Boy clients report owning their La-Z-Boy products for over 20 years. When these clients eventually return, they rave about the condition of their products so many years later. For the most part, the quality of their furniture remains intact.
Tammy, a satisfied La-Z-Boy client, bought a leather La-Z-Boy recliner 24 years ago. She remembers rocking her newborn son on her comfortable chair. Tammy's son is now 24 years old and the chair remains in prime condition. She displays it in her front room and still gets lots of compliments on its new-looking appearance.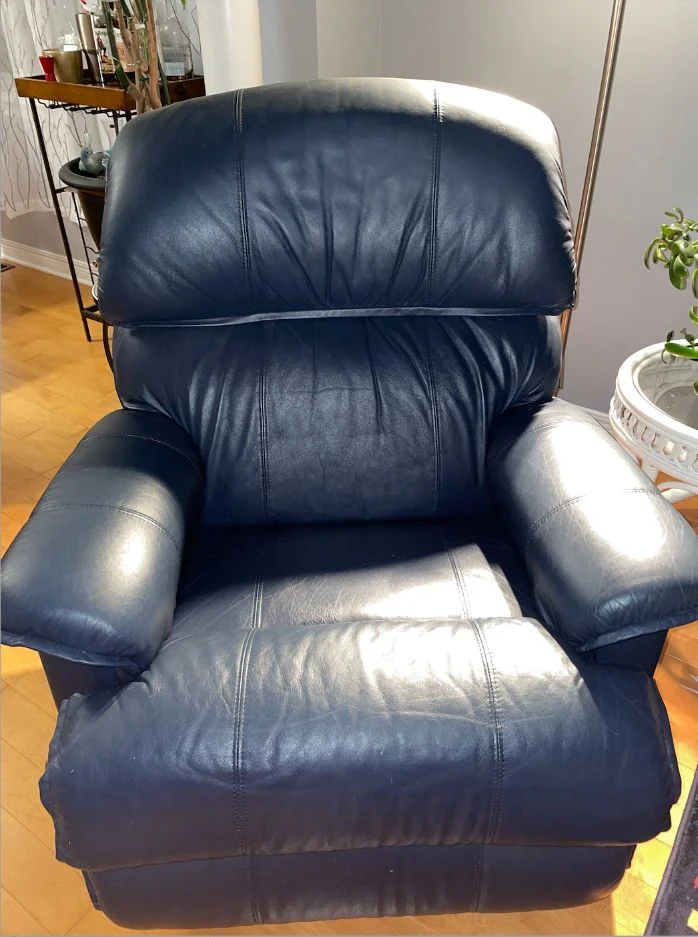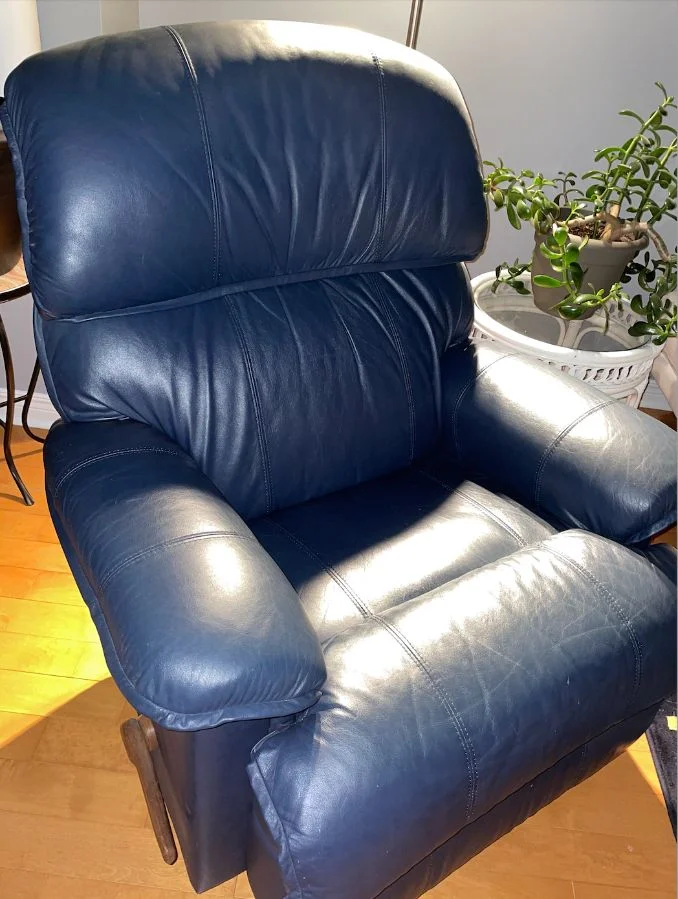 In fact, the primary reason for replacing La-Z-Boy furniture is not always due to wear and tear, but simply outdated style. When our clients do return, they are typically excited to purchase again.
"We have purchased furniture from LZB on at least three previous occasions and have always been pleased with the outcome. You have quality products with a wide variety of options. Your design sales consultant Clifton Norman was very knowledgeable and helpful in our decision to buy LZB again." Gary and Christine M.
La-Z-Boy Services
At La-Z-Boy, we realize that creating quality furniture is only half the battle. An important aspect of quality is offering services that contribute to the client's overall experience.
Customization & Design Services
Quality construction means nothing if you don't also love the look of your furniture. That is why at La-Z-Boy everything is customizable and we offer complimentary design services to ensure that the style of your furniture fits seamlessly with your home decor.
Financing
Quality furniture is no small investment. To take pressure off your pocketbook, La-Z-Boy has a partnership with Flexiti Financing in order to provide furniture financing options for our clients.
Warranty & Protection Plans
Speaking of investment, you want to ensure that your investment is protected. Although La-Z-Boy furniture is of good quality and built to last, manufacturer and accidental damage can happen.
In turn, La-Z-Boy furniture is covered by a manufacturer's warranty.
To further protect your purchase, La-Z-Boy offers an extended protection plan at an additional cost.
Our service department at La-Z-Boy Ottawa & Kingston is dedicated to helping you extend the quality of your La-Z-Boy products for a lifetime. In fact, members of the service team at La-Z-Boy have had experience replacing parts from reclining mechanisms sold over 20 years ago. Given that our mechanism had been updated since then, La-Z-Boy no longer had the part in stock, but the team was eventually able to track it down for the client.
White-Glove Delivery Service
It is important to ensure that your La-Z-Boy purchase makes its way safely and smoothly into your home.
At La-Z-Boy, we offer top of the line white glove delivery service. Our skilled delivery men will unpack, inspect, and set up the furniture in your home. The delivery team will also remove any waste.
Given that our delivery people are trained to work specifically for La-Z-Boy, our white-glove service is standardized ensuring a high level of care with every delivery.
Problems With La-Z-Boy Furniture
While La-Z-Boy is known for exceptional quality and service, we realize that our products are not perfect and we don't always get it right.
With this, there are some common complaints from La-Z-Boy clients that speak to the overall quality of La-Z-Boy products.
Style
Many people's first thought when they think of La-Z-Boy is a "big bulky recliner". Further, some clients associate our furniture with outdated and traditional style.
For the most part, this is a misconception. La-Z-Boy's products have evolved to offer an array of furniture styles including more sleek and contemporary-looking frames.
With this being said, comfort is still La-Z-Boy's primary goal. Our furniture may not satisfy those seeking an ultra-modern and minimalist appearance.
Size
Further, the frame of La-Z-Boy furniture is often considered too large for consumers. It can be difficult to achieve ultra-comfort when confined to a small frame.
With this, La-Z-Boy offers a range of furniture in medium to large-sized frames. For those living in small spaces, La-Z-Boy furniture may prove too big.
Fabric Pilling
After purchasing a piece of La-Z-Boy furniture, clients can be off-put to see that the fabric is pilling.
Fabric pilling is quite common in many upholstered fabrics. In fact, pilling is expected with the normal use of furniture. It's the result of excess fibre coming off the surface of the material.
Clunking Noise
La-Z-Boy recliners make a very loud clunking noise as they move from a reclined to an upright position. Clients find this noise disturbing as it can startle their guests and pets.
This noise is due to the mechanism inside the recliner which features a pawl and ratchet assembly. This mechanism allows the chair to recline back and forth. When returning the recliner to its upright position by releasing the handle, it can make a loud noise.
The weight distribution of your body and the type of floor surface can have an impact on the noise level. The sound you hear comes from the two metal parts rubbing against each other. La-Z-Boy has been using this mechanism for a long time. Some companies use materials such as plastic in their mechanisms. La-Z-Boy continues to use the metal because they know it lasts longer!
Fading Leather
Leather furniture is among the most expensive furniture covers, so it can be upsetting if the leather starts to fade.
While not everyone will experience this problem, it can occur with leather furniture more so than with fabric. Luckily, this problem can be prevented by properly caring for your leather furniture.
…
While disheartening, each of these problems have a solution, outlined in the article 7 Problems with La-Z-Boy Furniture.
Any further unexpected problems that may arise in La-Z-Boy products can be solved with the help of our in-house service department.
What's Next?
Quality matters! We hope that this detailed information will help you trust in the quality of La-Z-Boy products.
With that being said, we realize that our products are not for everyone. While we do our best to assure quality products, we admit that issues may arise in your La-Z-Boy furniture over time.
To that end, some clients may not be comfortable making a significant investment with that risk. Some customers may feel more comfortable purchasing lower-budget furniture that is easier to replace if problems of quality occur.
For alternative furniture retailer options, take a look at the 7 Best Furniture Stores in Ottawa.
If La-Z-Boy offers the type of quality you are looking for, why not start shopping today?
We offer a range of comfortable and stylish living upholstery furniture, including recliners, accent chairs, loveseats, sofas, and sectionals. Despite common knowledge, we are also proud to offer a range of case goods, bedroom, and dining room furniture.
We have everything you need to furnish a home with products that will last!
Visit us at a local Ottawa or Kingston La-Z-Boy showroom or plan ahead by scheduling your visit online.
If you prefer to shop from the comfort of your own home, we also offer virtual design appointments.
We look forward to meeting you and helping you find furniture that meets your standard of comfort, quality, and style.
Related Links:
Is La-Z-Boy Furniture Expensive?
What to Expect When Purchasing Furniture at La-Z-Boy Ottawa & Kingston
Product Info Request
Please provide us with your name and email and we'll get back to you as soon as possible regarding this item.