7 Features Exclusive to La-Z-Boy Furniture (The La-Z-Boy Only's)
December 21, 2020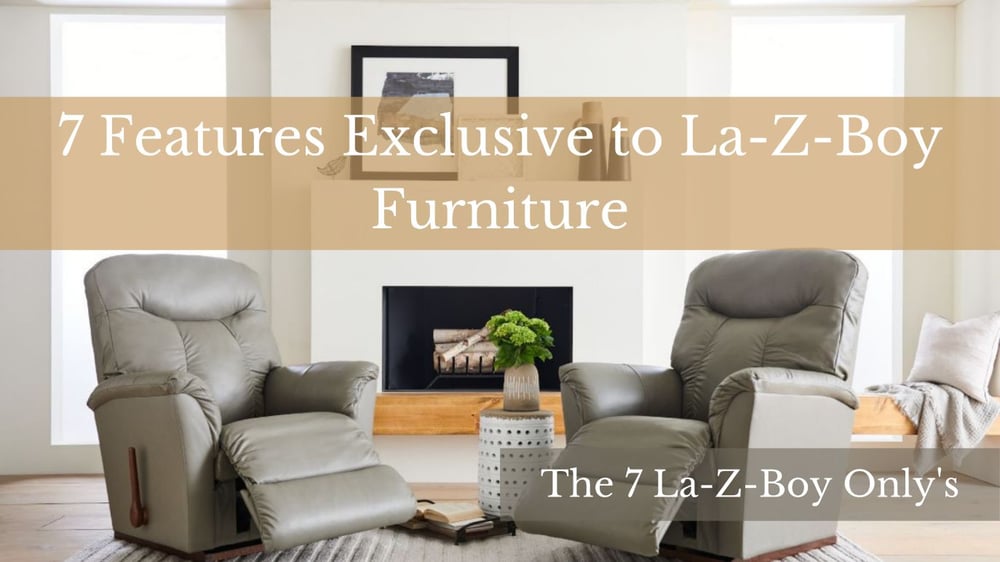 When you think of La-Z-Boy, you probably think RECLINER CHAIR!
It all started in 1927 when cousins Edwin J. Shoemaker and Edward M. Knabusch designed the reclining wood-slat chair in a Michigan garage. Now, and for over 90 years, La-Z-Boy is known as the inventor of the iconic and comfortable reclining chair.
With this, the La-Z-Boy brand takes pride in setting an industry standard when it comes to all home furniture, but more specifically, the recliner chair.
As the inventor of the recliner, La-Z-Boy is committed to producing the most comfortable recliner made with the highest quality craftsmanship.
So you may be wondering, what is it that sets a La-Z-Boy recliner apart?
La-Z-Boy recliners are designed and crafted with 7 unique features making our recliners the most comfortable in the furniture industry. We call these the 7 La-Z-Boy Only's.
This article will outline these 7 La-Z-Boy Only's and the benefits that they provide when it comes to the quality and comfort of the rocker recliner.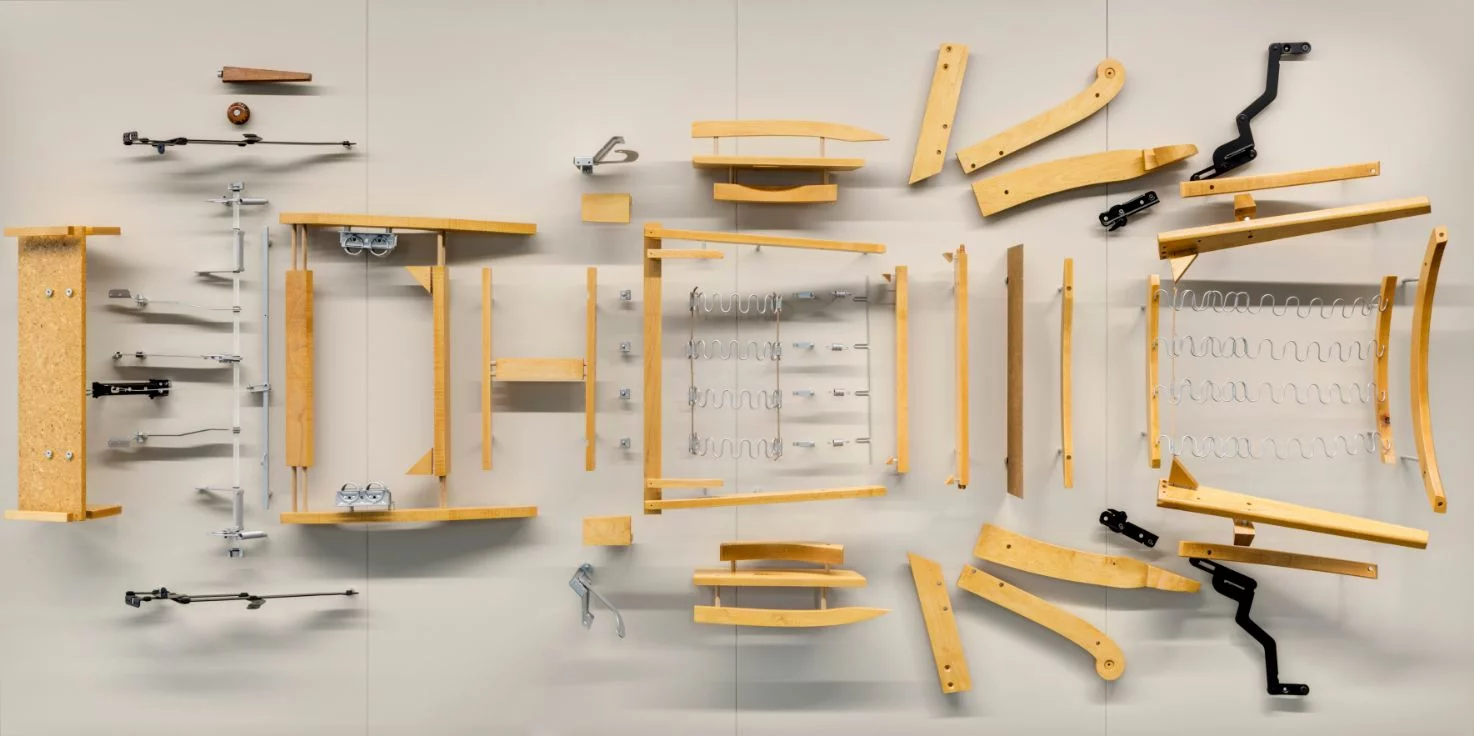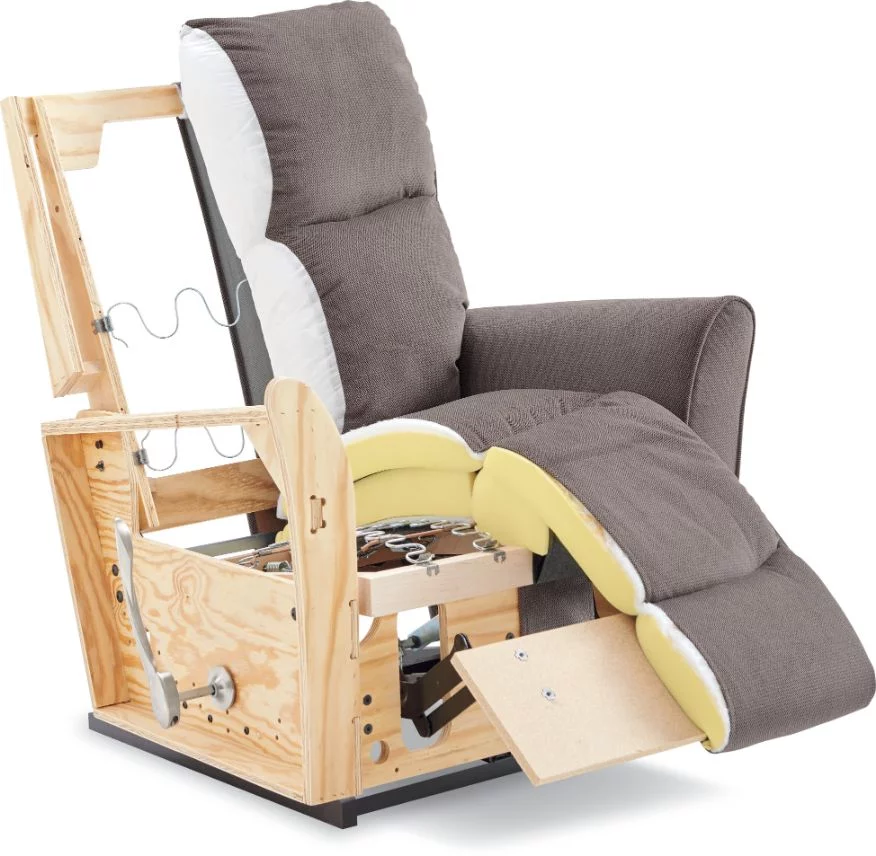 The 7 La-Z-Boy Only's
The 7 La-Z-Boy Only's are seven unique features that are available exclusively on the La-Z-Boy Rocker Recliner as they are patented for the La-Z-Boy brand.
These unique features are what set La-Z-Boy rocker recliners apart in the industry and makes them so comfortable.
Independent Reclining Back
The independent reclining back is the most significant of the 7 La-Z-Boy Only's. It is the most important and the most recognizable by the user.
This feature allows the user to recline and rock while in a seated position. This is unique because it allows the user to rock and recline at the same time without requiring the leg rest to be raised.
In comparison, recliners made by other brands require the leg rest to be raised in order to recline, causing an inability to recline back.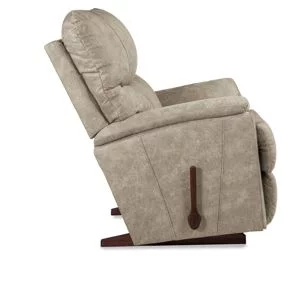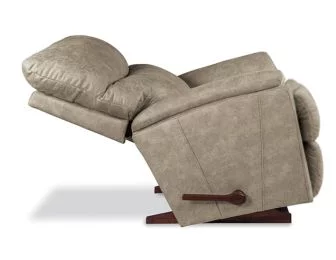 BENEFIT: Can recline back goes back without having to put your feet up.
2. Locking Three-Position Footrest
La-Z-Boy's recliner footrest locks into three unique positions. These locking positions allow the user to customize the comfort of their recliner to their personal preferences. Each position offers a different form of relaxation for the user.
Recliners made by alternate furniture brands only allow for two footrest positions: "open" and "closed."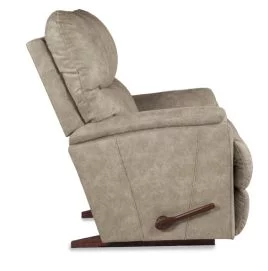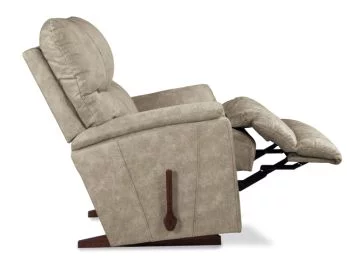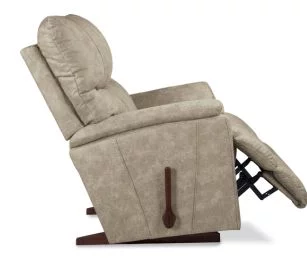 BENEFIT: Multiple leg positions providing ultimate comfort for every user.
3.

Double-Locking Footrest
La-Z-Boy recliners are made with a patented double-locking mechanism, which eliminates the potential for the footrest to drop abruptly.
The double-locking footrest is actually considered a safety feature as it allows the footrest to stay locked in the selected position. This way, the user doesn't have to worry as they ease their total body weight back into the chair.
This is specifically helpful for taller or heavier users.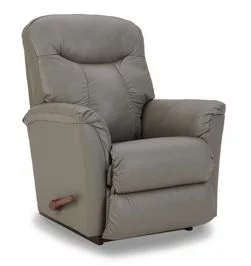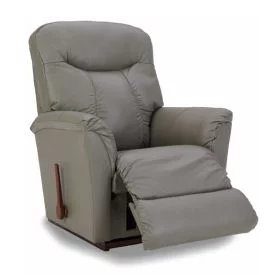 BENEFIT: Safety and longevity for the user and the chair
4. Adjustable Height Leg Rest
La-Z-Boy's adjustable height leg rest is built upon a patented mechanism that allows the user to recline back into a total of 16 different positions. This allows the user to recline back into a very specific position that they find the most comfortable.
The user can find this reclining 'sweet spot' by easing back and reaching a new position with each click of the chair. When fully reclined, the user will find themselves with their head and feet at the same height.
This fully reclined position is referred to as the "zero gravity zone," which provides the ultimate comfort and support for the user. In fact, experiencing relaxation in this position can provide the user with several health benefits as long as their recliner is the right fit for their body type.
For more information on the potential benefits of a recliner chair, take a look at the article Are Recliners Bad for your Back?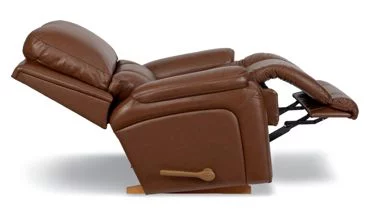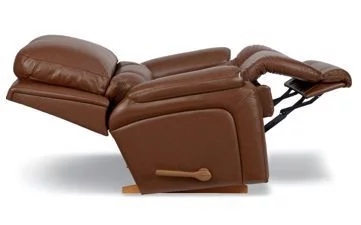 BENEFIT: 16 reclining positions over hundred of options for comfort!
5. Hinged Seat & Back
The hinged seat and back on the La-Z-Boy recliner offer full-body support and, more importantly, lower lumbar support to the user.
Essentially, the back and the seat are hinged together, ensuring that there is no separation between the two parts when the chair is fully reclined. When the user lays back into a reclined position, there is no gap.
This feature sets La-Z-Boy recliners apart in the industry as other brands built their recliner chairs based on a mechanism that creates a gap in the lumbar when fully reclined. This gap in the lumbar results in less back support and contributes to a less comfortable resting experience for the user.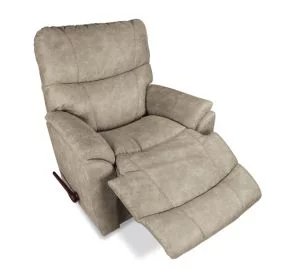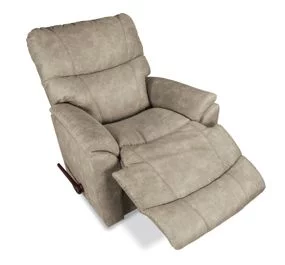 BENEFIT: Offers ultimate support from head to toe, especially when it comes to the lumbar.
6. Four-Sided Unibody Frame
Now let's look at construction.
La-Z-Boy recliners are constructed based on a unique four-sided unibody frame. This frame is patented for La-Z-Boy recliners only and is unmatched in strength and durability.
A four-sided unibody frame means that all four sides of the chair frame are connected. This ensures that any stress or pressure placed on the chair is evenly distributed throughout the whole frame.
With this, users will never experience a wobbly or weakened La-Z-Boy recliner. The user can recline back and sit up with ease for many years in their sturdy La-Z-Boy recliner.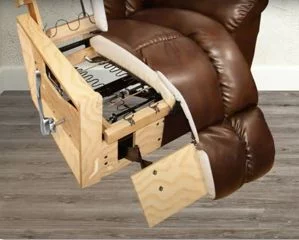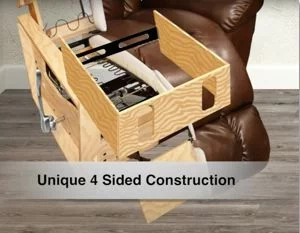 BENEFIT: Unmatched strength and durability.
7. Adjustable Reclining Tension
Finally, La-Z-Boy recliners are built with adjustable reclining tension. With this, the user can customize their own comfort by adjusting the amount of tension on the back of their chair. They can do so with a pair of wingnuts located under the seat.
Turning the wingnuts clockwise tightens, allowing the user to increase tension in the recline of the chair. Meanwhile, a counterclockwise adjustment loosens creating an easier reclining action.
The user of a La-Z-Boy recliner should make these adjustments based on their weight and strength in order to find a comfortable tension that matches their preferences.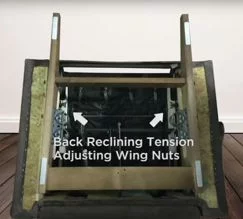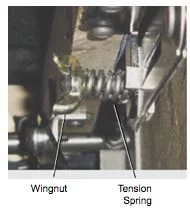 BENEFIT: Adjust the amount of back and reclining tension based on the unique weight and body size of the user
What's Next?
So now you are in on the secret. These 7 La-Z-Boy Only's are what set La-Z-Boy recliners apart in quality and comfort.
Each and every recliner is made with the same quality of care and craftsmanship to ensure that you can confidently kick back, relax, and enjoy your purchase.
Why not start shopping now?
Take the first step by reading the Definitive Recliner Buyer's Guide. This guide outlines everything you need to know about La-Z-Boy recliners before and after purchase.
When you are ready, book an appointment with a consultant or visit us at a local La-Z-Boy showroom to start shopping for your perfect recliner today.
A personal consultant will guide you through this shopping experience by helping you find a recliner that fits your style, comfort preferences, and budget. More importantly, the consultant will fit you for your recliner to ensure that you achieve the utmost comfort from your new chair.
Finally, we are proud to admit that our La-Z-Boy consultants are experts when it comes to the 7 La-Z-Boy Only's. When shopping for your recliner, a consultant will demonstrate what sets the La-Z-Boy recliner apart by flipping over the chair and showing you the unique construction mentioned within this article.
We look forward to helping you find your ideal recliner chair and contribute to your home comfort.
Product Info Request
Please provide us with your name and email and we'll get back to you as soon as possible regarding this item.