Leather Selections at La-Z-Boy
April 25, 2022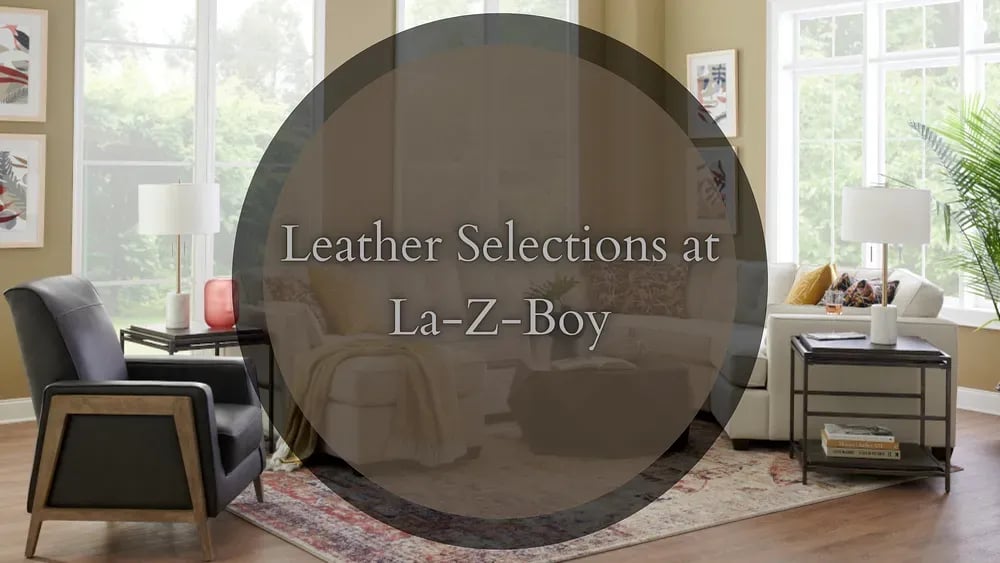 Est Reading Time: 9 Mins
You don't normally see leather furniture covers as often as fabric in a home. Why is that?
Is it because it's out of fashion? Has it lost its touch? Is it slowly fading away into nothingness? Well, not exactly. See, leather was a common purchase amongst family households when the modern trend emerged in the mid-1900s.
Everyone loved it because it was durable, sustainable, and stylish. However, these are still the same reasons why people choose to buy leather today.
At La-Z-Boy, we offer a wide range of living room furniture that looks great with leather upholstery. With this, we have multiple types of leather to choose from, each with its own charm and unique benefits.
This article will discuss everything that La-Z-Boy has to offer in terms of leather. We will go through the different types, the benefits, and how different the price is compared to fabric furniture.
In This Article…
The Process of Creating Leather
Before we list the different types of leather, let's explain the creation of leather in general. Leather goes through different manufacturing stages before it is considered acceptable for design purposes.
Only one-third of the hides produced worldwide are suitable for furniture upholstery. Whole hides with minimal imperfections are required, and about 5 percent of the supply meets the required aesthetic qualities.
Leather is first brought to a tannery, where it is tanned to preserve its look. After soaking it to remove the hair on the hide, most raw leather hides are split into layers of thickness.
Raw leather is split into two different portions:
The top layer is called the

top grain.

This portion is rough in texture and is considered the most valuable part of the hide due to its thicker quality. It is also more durable than other leathers and is less likely to get damaged.





The bottom portion is called

the split

. This portion is rougher than the top grain and is more susceptible to damage. Split-grain leather does not have the same qualities as top-grain leather, so it has more opportunities to get embossed, pressed smooth, and painted in other colours.
*La-Z-Boy only uses top-grain leather for our products because it creates more aesthetically pleasing and durable leather.
After inspection, leather hides are shaved for uniformity, and natural oils are used to replenish the hides to prevent any cracking, flaking, peeling, and tearing, even along seam lines. They are then stretched and dried again to ensure they have maximum elasticity.
Until now, most hides undergo the same leather conditioning and tanning processes. Any further processes are considered "finishing," which determines what type of leather the hide will become.
All leathers also go through a dyeing process through a drum dye method. Leathers are immersed in a full bucket of dye and rotated to cover the entire hide.
Types of Leather
If you're thinking about leather upholstery for your furniture, it's crucial to understand the different types available. By doing so, you'll have a better understanding of which type suits your lifestyle and needs best.
Aniline and Semi-Aniline Leather
Full aniline leather is dyed in a translucent water-based dye without any added pigments. The aniline dyes accentuate variations in the fibre, such as natural grains, pores, and markings, but its absorbency makes it prone to stains.
There is also semi-aniline, meaning a small amount of pigment or finish is added, which allows the hide's natural characteristics to still show through. Semi-aniline leather is still soft and warm and feels natural but has more coating than aniline leather.
Full aniline leather is dyed without added pigments, accentuating natural variations in the fibre but making it susceptible to stains. Semi-aniline leather has a small amount of pigment or finish, allowing for natural characteristics to show while providing more protection.
Nubuck
After aniline dyes are applied, top-grain leather can move on to a finishing process of gentle buffing and polishing that removes the top layer. The effect is a whisper-soft nap that resembles suede but is stronger and better quality as suede is made from split leather.
Buffing only slightly obscures the hide's colour variations and natural markings. A wax or topical coating may be applied during finishing for protection. Nubuck is less thick than full aniline leather and is susceptible to fading.
After aniline dyes are applied, top-grain leather is buffed and polished to create a soft, suede-like texture. This process only slightly obscures the hide's natural variations and markings. A wax or topical coating may be added for protection during finishing. Nubuck, which is less thick than full aniline leather, may fade over time.
Corrected/Pigmented Leather
Leathers may also undergo additional processing and colouration, creating corrected/pigmented leather. These are leathers with artificial graining achieved by sanding the natural markings and embossing new ones to create a more consistent grain.
In addition, the surface is sprayed or with a protective topcoat with colour in it. Adding this layer usually subtracts some of the natural softness and breathability of the leather hide but makes it able to withstand more everyday wear.
Corrected/pigmented leather undergoes additional processing and colouration, with artificial graining achieved by sanding and embossing new markings for a consistent appearance. The surface is then sprayed with a protective topcoat containing colour, which reduces the natural softness and breathability of the leather but increases durability.
Leather Selection Offered at La-Z-Boy
Leather furniture at La-Z-Boy is upholstered with genuine top-grain leather, expertly suited to your needs and style and comes in various types and colours.
Leather Program ar La-Z-Boy
La-Z-Boy has a leather program available to customers. Though not grouped up by level of quality, the higher you go in the leather selection, the more expensive they will be.
Leathers are classified under Select Leather, Custom Leather and Custom leather Plus.
Select Leather
Furniture styles available and displayed in our showrooms usually have select covers representing the most common leathers available.
La-Z-Boy typically offers 1-3 options for furniture frames with select leather. Select leathers are unique to those specific frames, meaning no other frame will have the same select leather option.
Not only is select leather the most affordable option, but you can choose between 2 different types of leather grades:
Full Leather (LL)

: Includes leather all around the furniture frame.

Leather Match (LM)

: Includes authentic leather on the touch points of the furniture (arms, seats and back). Synthetic leather (vinyl polyurethane) covers the back and sides of the furniture.
The phrase 'LB leather' is often used to describe the least expensive type of leather available for La-Z-Boy furniture, making it a budget-friendly option for those seeking leather upholstery.
Custom Leather
If you decide that the select leather options presented to you are unsatisfactory, this is where the custom leather tier comes into play.
Custom leather selections at La-Z-Boy are not associated with a specific furniture piece, so you can add them to most furniture frames that offer a leather option.
The custom leather program offers an additional 10 performance leather colours to choose from, each with a BL leather grade.
Custom leather also has LM (Leather Match) options available as well.
Custom Leather Plus
La-Z-Boy's Custom Leather Plus program provides full customization options with a range of rich colours and subtle textures. This program includes a variety of full leathers (LL) that can cover the entire furniture frame.
Because there is no leather match (LM) option, the premium Custom Leather Plus program incurs the most incremental costs. These authentic leathers (LL) are hand-cut to fit your specific frame and customized for La-Z-Boy sofa, sectional, and chair styles.
Specialty Leathers
Within the Customer Leather Plus selection, La-Z-Boy also has specialty leathers that act the same way as specialty fabrics.
The consistent overall colour and subtle markings of La-Z-Boy's performance or protected leathers are created by various techniques, such as embossing, corrective techniques and protective coatings, to improve resistance to soil and enhance their natural beauty.
The following options are available under specialty leathers…
iClean Leathers: iClean Technology™ surrounds the leather materials and creates a barrier of protection that helps repel spills before they become stains.
Antimicrobial

Leathers

:
Similar to the existing antimicrobial fabrics at La-Z-Boy, antimicrobial leathers help protect the surface from mould, mildew and odour-causing bacteria.
Crypton Leather Properties:

Crypton
has partnered with La-Z-Boy to create a performance leather that protects against UV damage, repels dust, dirt and stains, and helps replenish natural oils. This leather is also considered environmentally safe.
Leather Alternatives
La-Z-Boy has leather alternatives that are not included in any of the leather programs.
If you're looking for leather but find it exceeding your budget, or you prioritize durability and need something highly cleanable, below are some leather alternatives that might entice you. To learn more about Vegan Leather Options, check out this article.
Renew Leather
Renew is a performance fabric that mimics leather but is not actually leather. It is considered fade-resistant, highly durable, eco-friendly, and cleans well with the use of soap and water.
All outside layers of the furniture are bonded together, washed, and tumbled to have the same look, texture, and feel of genuine leather.
It is made out of urethane foam that is heat bonded to polyurethane film, poly-cotton substrate, and a minimum of 17% recycled scrap leather.
Faux Leather
Faux leather, also known as synthetic leather, is a man-made material that is designed to mimic the look and feel of genuine leather. While it is not as stretchable, breathable, or tear-resistant as real leather, it is still stain-resistant and easy to clean.

Cost
At La-Z-Boy, most leather furniture options come at an additional cost.
As previously mentioned, select leather will not increase the base price of the product. However, leather products will always be more expensive than select fabric options.
Custom leather and custom leather plus, on the other hand, will increase the overall cost depending on the furniture frame.
The table below explains the cost breakdown of each furniture frame and how it may differ in price.
| | | | |
| --- | --- | --- | --- |
| Category | Select Leather | Custom Leather | Custom Leather Plus |
| Recliners | Base Price | Additional $150 | Additional $420-$650 |
| Sofas/Loveseats | Base Price | Additional $500 | Additional $1180-$1850 |
| Double-Seats; Corner Pieces; Chaises | Base Price | N/A | Additional $500-1000 |
| Chair & a Half's | Base Price | N/A | Additional $670-$1320 |
| Consoles | Base Price | Additional $90 | Additional $170-$240 |
*All La-Z-Boy prices listed in this article are subject to change. We aim to update all cost-related articles twice per year. This article was last updated on March 16th, 2023. Please visit lzb.com and select an Ottawa or Kingston La-Z-Boy store location to view the most up-to-date pricing.
Is La-Z-Boy Leather Furniture Right for You?
As you can see, leather is a great cover material for furniture. But you might still be wondering, is leather the right furniture cover in your home?
While making this decision, you must consider some of the pros and cons before purchasing an item.
When considering the cost of leather as opposed to the price of fabric, it is more expensive. However, over time you will be spending much less money on repairs and cleaning because leather takes less maintenance than a fabric-upholstered furniture item.
Leather also lasts much longer than fabric. In fact, it last about 5 times longer and becomes more comfortable with age as it adapts to your room's climate and environment.
Regarding functionality, leather has great strength and elasticity, making it harder to rip or tear through. Its durability also makes it somewhat heat resistant, making it hard for it to burn or melt.
This, unfortunately, does not mean that it is completely impenetrable. Leather does not take kindly to sharp objects or animal claws that are easy to scratch and tear leather furniture.
If you do have sharp items in your household, it is strongly recommended to keep them away from leather furniture.
Also, even though leather can be considered heat-resistant, it is not temperature-proof. Since leather comes from the hide of animals, it acts similar to human skin–too much exposure to heat or cold may cause the leather to peel, crack or fade over time.
There are solutions to these issues, though, which you can learn more about in our article about Problems with Leather.
Lastly, the look of leather furniture plays a big role in a room's overall design. It can either complement or hinder a room's aesthetic.
This is especially true when considering coloured leather furniture. Ordinary colours like brown and darker neutrals are common for leather furniture. But when you mix in unique colours, it may be more difficult in creating the right flow for your space.
Ultimately, the decision is up to you to decide whether a leather sofa or recliner goes well with your personal style and compliments your home. If you would like a more detailed comparison of Leather and Fabric, take a look at this article.
What's Next?
After reading this article, you should have a detailed understanding of leather, including exactly what is offered at La-Z-Boy.
If you want a new piece of leather furniture for your home, why not check out our furniture and leather selection at La-Z-Boy?
If leather isn't something that interests you, we also have a range of different fabrics for your furniture piece.
Visit us at any Ottawa & Kingston La-Z-Boy location to browse our furniture options, whether in leather or fabric! You can also schedule a visit online before coming in.
Consider utilizing our Interior Design Services to find the perfect upholstery cover for your furniture.
Related Articles:
Cost to Reupholster a Chair: Dining, Living, Leather Chairs
2021 Furniture Care Tips (Leather, Fabric, Wood, & Rugs)
Product Info Request
Please provide us with your name and email and we'll get back to you as soon as possible regarding this item.