Cost to Reupholster a Chair: Dining, Living, and Leather Chairs
August 3, 2020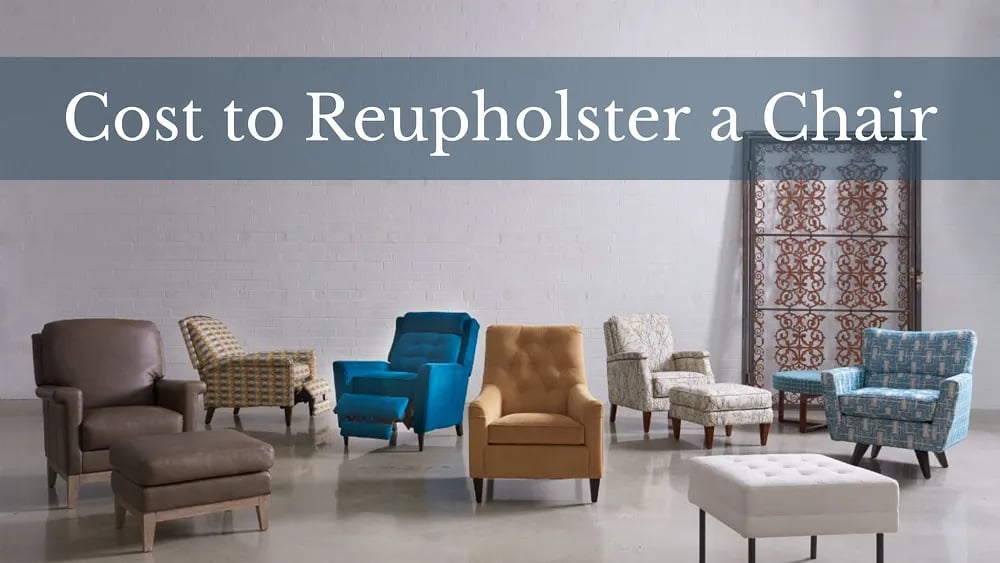 Est. Reading Time: 6 Mins
Reduce, Reuse, Reupholster!
Not exactly how that old saying goes, but reupholstery can be the perfect way to rescue your favourite comfy recliner from getting tossed away.
Not only can it save the life of a cherished furniture item, but It can also revamp a tired or outdated room and transform it into something completely different.
So if reupholstering is a great idea, what's preventing you from doing it? Perhaps you may be wondering how much it costs to reupholster a chair. Or, you may even be debating between the cost of reupholstery or buying new.
This article will help provide the necessary factors to consider when reupholstering different chairs in your home. After reading, you will feel confident in choosing to reupholster or not, with a good idea of how much each type of chair reupholstery would cost.
This article will include …
Is it Cheaper to Reupholster or Buy New?
Let's start off with the obvious question, what is the argument between buying new furniture vs reupholstering an old one?
Reupholstering is a great way to recycle and revamp your furniture, but it isn't always the most affordable option. Reupholstering furniture can sometimes actually cost more than replacing it.
You want to ensure that reupholstering is the right choice for you! Here are some things to consider.
When to Buy New

Reupholster cost does not include other costs associated with buying new furniture (ex: protection plans, delivery, etc.)




Irreplaceable family heirloom with sentimental value




Upholstery is worn out, stained, good quality, or out of style





Furniture is inexpensive, low quality and does not carry sentimental value




The piece is too small or too large for your space




If it has significant structural damage




If you generally don't like the furniture piece




If reupholstering is more expensive
If you are stuck on this choice and want to see a more detailed overview, check out the comparison article on
Repairing vs. Replacing Damaged Furniture
.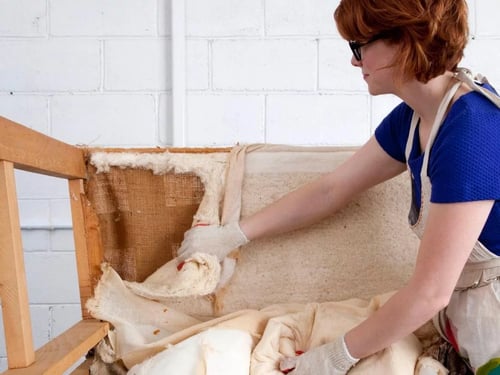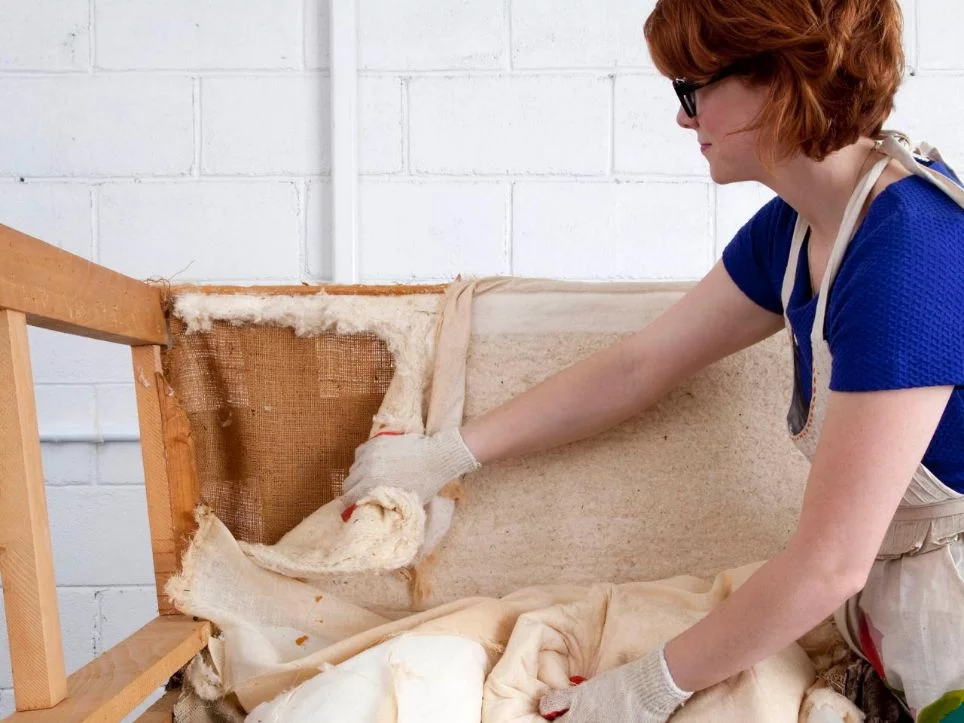 Cost Averages
Most Canadian homeowners spend an average of $388 to $1,702 per piece of reupholstery. Upholstery price averages consider both labour and fabric costs required for the project. These averages generally reflect an estimate of what you can expect to pay.
Average Upholstery Prices

| | |
| --- | --- |
| National Average Cost | $851 |
| Minimum Cost | $100 |
| Maximum Cost | $5,000 |
| Average Range | $388 to $1,702 |
These averages provide a generalized idea of what to expect when it comes to reupholstery costs. However, it becomes more specific when considering different types of furniture.
Average Chair Reupholstery Prices

On average, the Cost to Reupholster a Chair is between $60 to $2,000. In Ottawa & Kingston, it is estimated to cost around $300 - $1,000. These prices are dependent on a variety of factors and are subject to change. Some factors affecting cost can include:
The size of the piece (yardage used)

The quality of the fabric selected

Necessary repairs to the piece of furniture

Recovering stylistic finishes

Labor costs: can vary depending on the complexity of the project and the upholsterer you choose
Extra fees can also apply under specific circumstances. For example, when working with white, leather, shiny, or patterned fabrics, you may incur extra costs when matching patterns. Additionally, you can expect extra costs when recovering certain finishes such as welt trim, button tufting, skirts, or decorative nail heads.
It is also important to consider the costs of potential furniture transportation or in-home services required for the project.
Further, when considering the costs of reupholstering a chair, the price estimate can become more specific depending on the type of chair in mind.
Cost to Reupholster Dining Room Chairs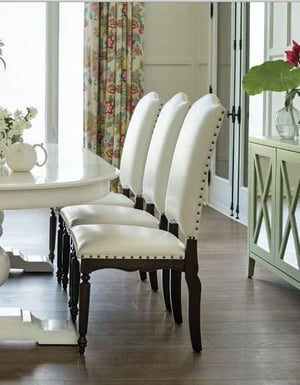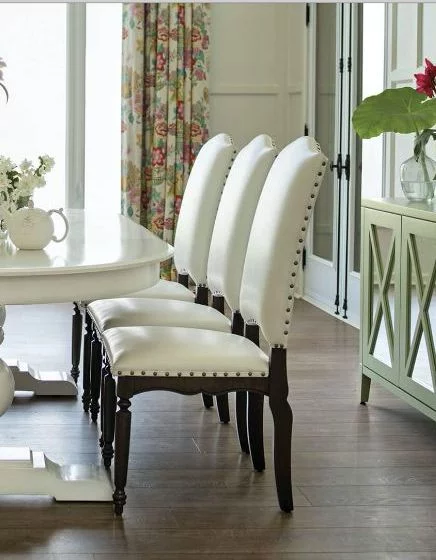 If your dining room feels outdated or worn, reupholstering dining room chairs can be a great way to re-energize your time spent in the dining room.
Reupholstering a dining room chair costs between $150 to $600 each. If the chair has cushioned backing, the cost of reupholstering is closer to $600.
Additionally, a wooden parson chair with unique trim would cost $350 to $700 to reupholster. A parsons dining chair is armless and has rectangular features with a fully upholstered back and cushion. The only wood exposed is the wooden legs.
If you're looking to reupholster each dining chair to match, this will be more expensive than just reupholstering one. On average, a traditional dining room table has 6 chairs. In this case, you are looking at
$900 to $3,600
in cost.
Cost to Reupholster a Reclining Chair
The average cost to reupholster a recliner is $400 – $2,000, depending on the quality of the unit. For example, the project of reupholstering a mechanical recliner would be much more complex as it involves navigating the power mechanisms embedded within the structure of the chair.
To learn more about the Cost to Reupholster a Reclining Chair, take a look at this article.
| | |
| --- | --- |
| Type of Recliner | Average Cost |
| Manual Recliner | $400 – $1,200 |
| Power or Antique Recliner | $1,200 – $2,500 |
| | |
| --- | --- |
| Other Types of Living Room Chairs | Average Cost |
| Chaise Lounge | $700 – $1,500 |
| Leather Living Room Chair | $800 – $2,000 |
| Wingback Chair | $600 – $1,500 Cost to Reupholster Leather Chairs |
Cost to Reupholster Leather Chairs
The cost to reupholster chairs covered in leather can differ compared to fabric. Leather costs between $40 to $250 per yard. To put it into perspective, most chairs take about 2 - 4 yards of upholstery. Reclining chairs, on the other hand, take about 6 - 10 yards, which can bring the price up significantly.
The cost of a piece of leather depends on the source, meaning how suppliers treat it and what finishes are applied to the final product. For example, many leather upholstered products are finished with decorative nails to secure the thick material.
On average, reupholstering a leather chair costs $800 to $2,000.
While leather upholstery can be quite expensive, it tends to last longer. Leather material is thick and tough, which proves to be durable despite frequent use.4
Finally, regardless of what piece of furniture is being reupholstered, it is important to consider the cost of labour since it can make up a significant portion of the overall cost.
Upholsterers typically charge $50 to $100 per hour. How much they choose to charge depends on the complexity of the project and the upholsterer's expertise.
If the upholsterer works on the furniture from within your home, you may have to account for service call fees, which can range from $70 to $120.
Alternatively, if the reupholstered works on the furniture in their own workshop, you may have to pay for transportation fees ranging from $100 to $300.
For a better idea, this table estimates labour costs based on the type of chair being reupholstered.
| | |
| --- | --- |
| Chair Type | Average Labour Cost |
| Recliner | $400 – $600 |
| Living Room Chair | $250 – $600 |
| Dining Room Chair | $250 – $600 |
| Wingback Chair | $350 – $600 |
What's Next?
You now have a better idea of how much it costs to reupholster chairs in your home. If the costs outlined in this article are out of your price range or you feel reupholstery is not for you, do not worry. There are many other ways to refresh your living space!
At La-Z-Boy, we offer various dining room sets and comfortable living room furniture. Visit us at one of our local La-Z-Boy Ottawa & Kingston locations to browse our wide selection of furniture.
You can also schedule an appointment online to meet with a personal consultant who would be happy to find you a comfortable and stylish replacement that is within your budget to revive the rooms in your home.
If it is a unique look that you are going for, consider taking advantage of the customization options at La-Z-Boy. All furniture offered online, or in-store can be customized to meet your specific style and preferences.
You can also use our complimentary interior design services to better advise you on revamping your home. If you are wondering about How to Keep Your Old Furniture Looking New, take a look at this article.
Related Articles:
How Long Does Custom Furniture Take to Build?
How to Disassemble a La-Z-Boy Reclining Sofa & Loveseat
Product Info Request
Please provide us with your name and email and we'll get back to you as soon as possible regarding this item.