Repair vs. Replace Damaged Furniture: How to Decide
May 26, 2020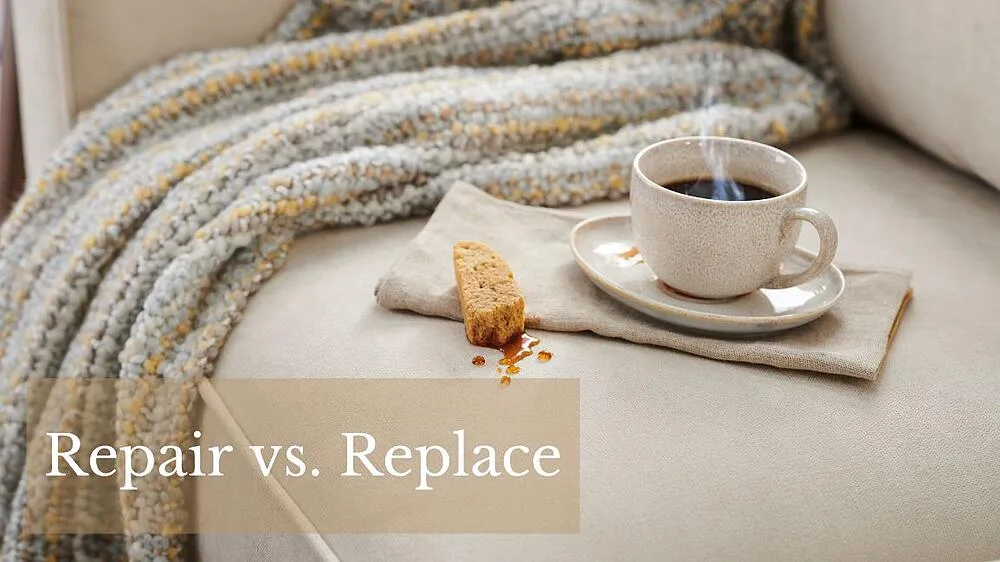 Your dog shakes out his fur after a long walk in the rain, your kid runs through the house with their muddy boots on, or your spouse spills a glass of red wine.
Over time, as you settle comfortably into your home, your furniture will have to endure some wear and tear. Unfortunately, no matter how well you take care of your home furniture, those spills will happen, and those dents and scratches will be made. Even sometimes, a piece of furniture that you just love and use so much becomes worn or outdated.
Eventually, it will come time to either repair those damages, restore an outdated style, or even replace your furniture entirely.
Given that furniture can be a costly investment and something that develops sentimental value in the home, the choice between repairing or replacing furniture can often be a tough one.
You might be wondering "Is it cheaper to repair or replace damaged furniture?"
This article will inform and guide your decision on whether to repair, restore, or replace your damaged furniture based on a variety of important factors.
Factors to Consider
Once you have made the realization that a piece of furniture is damaged or worn, it is time to decide if it is worth it to repair or restore that product, or to just kick it to the curb and trade it in for a newer model.
As previously mentioned, this can often be a tricky decision given that there are a variety of factors to consider.
Does this furniture hold sentimental value?
Before considering logistics and finances, first, it is important to determine what this piece of furniture means to you. Is this an antique dining room table that has been passed through your family for generations; the couch that you and your spouse bought for your first home together; or a coffee table made from a rare wood only found in specific parts of the world?
Without always realizing it, furniture can carry extremely sentimental value in your home and might be irreplaceable. If this is the case, it might be worth it for you to repair and restore a piece of furniture regardless of the cost, making your decision very simple.
BUT, if the piece of furniture under question is just that, a piece of furniture with a functional purpose, you will now need to consider additional factors that could affect the cost of restoration or repair. Of course, the goal is to identify the most cost-effective route!
What is the type of furniture?
Good quality and long-lasting furniture can be quite expensive, and so can repairing or restoring it back to its prime condition. With this, you will want to consider the differences in price based on the type of furniture in need of repair.
For example, the price of repairing a small bedside table might differ drastically from the cost of reupholstering an entire sofa. The price of repair can also greatly differ based on whether the piece of furniture is stationary or mobile given that mobile furniture requires the expertise of a technician.
What is the nature or severity of the damage?
Further, there can be a significant difference in cost depending on whether the required fix is cosmetic or structural.
Cosmetic fixes refer to damages such as minor dents and scratches; small frays, tears, and splits in upholstery; or minor cracks, stains, and spots on wood products. Generally, a cosmetic fix is relatively cheap in cost with the exception of reupholstery.
Structural damage, on the other hand, refers to large splits, cracks, and breaks in the wood; bent frames on sofas, chairs, and recliners; or broken springs. These types of repairs often require more time, tools, and resources causing them to be more costly.
DIY or hire a pro?
Finally, if you do decide that repair is the route that you want to take, you will have to consider whether or not to attempt this yourself or to employ a contractor.
Tackling furniture repair as a "Do It Yourself" project has the potential to significantly reduce costs. You will still need to invest in the necessary tools and materials, as well as your own time and effort. If you are feeling handy and up to the task, this may be the approach for you!
With that being said, some repairs require professional skills, proper training, and specialized tools. It is safe to say that hiring a contractor will ensure that the quality of repair is up to a high standard and will deliver a result that you will be happy with.
It is also important to consider the risk of injury when using the required power tools or chemicals. Repairmen are trained with the necessary skills to handle these mechanisms safely. It is sometimes a safer option to spend a little extra money and leave the repair in the hands of professionals.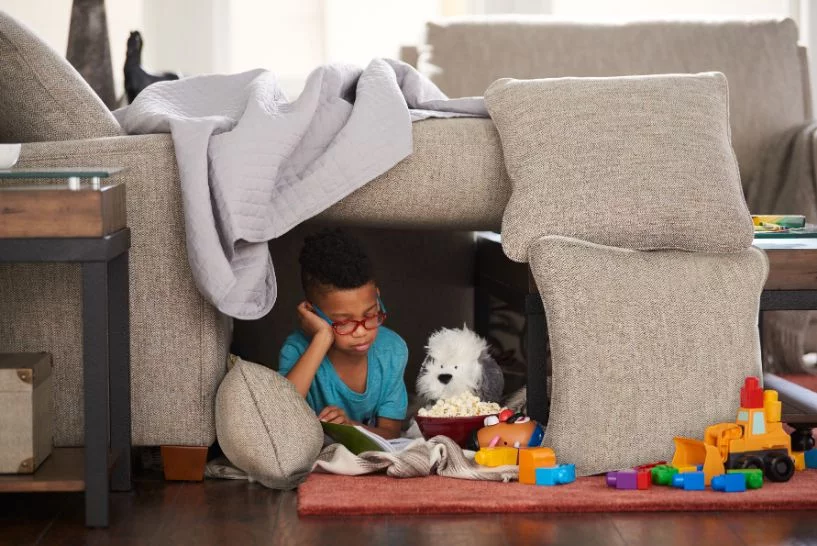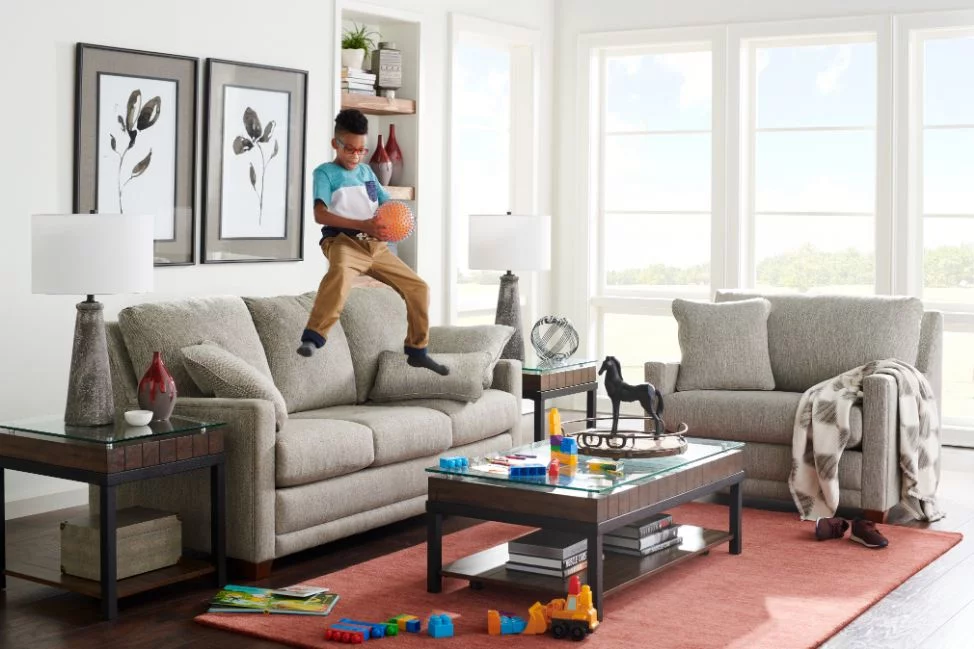 Dining Tables & Chairs
Dining room table sets can really go through a beating. This is where you eat, host dinner parties, and play board games.
Damage to a dining room table can vary from a small scratch or dent in the wood to an entirely broken leg. Perhaps the table is full of watermarks or completely worn. In this case, you might even want the entire table refinished. Depending on the magnitude of the repair, the cost can differ, ultimately determining your choice between repair or replacement.
When it comes to repairing a dining room table, it is typically cheaper to repair the damages. Although, in the case that you are considering reviving a worn table by refinishing the wood, it may be cheaper and less time-consuming to invest in a brand new dining set instead!
If you are leaning towards replacing dining room furniture, here is some more detailed information about the Cost of a Dining Room Chair and The Cost of a Dining Room Table.
Average Cost of a New Dining Room Table & Chairs

$1,100 – $2,800

This price can vary greatly depending on the size, style, quality of wood, and intricacy of design.

Scratch, Chip, or Gouge in the Wood

$5 – $20

Relatively easy to fix with an at-home scratch repair kit.

Broken Table or Chair Leg

$25 – $30/hour for repair

(plus the cost of materials)

Requires carpentry skills and a piece of matching lumber.

Refinishing

$1,200 – $3,200

Involves removing the existing finish and then applying new varnish or paint.
Cabinets
Sometimes when we are searching for that hidden snack, we can really swing open and slam shut our cabinet doors without realizing the damage we are causing. Kitchen cabinets and freestanding units can often get damaged or worn through rough and repetitive use.
Similar to dining room tables, it is more cost-effective to repair cabinet damages rather than replace the unit. Although, if you are considering revamping your cabinets by refinishing the wood, you may want to consider investing in something new. The cost of replacement and refinishing are relatively the same.
If you intend on replacing your kitchen cabinets, you may find some helpful information in the article How Much Does a Kitchen Renovation Cost?
| | | |
| --- | --- | --- |
| Replacement of a Single Cabinet Door | $268 – $390 | This price will vary depending on the type of material and fixtures. |
| Scratch, Chip, or Gouge in the Wood | $5 – $20 | Relatively easy to fix with an at-home scratch repair kit. |
| Replacement of a Glide on a Broken Drawer | $20 | A simple repair that most people can do themselves. |
| Refinishing | $250 – $350 | Involves removing the existing finish and then applying new varnish or paint. |
After countless pillow fights, afternoon naps, and movie nights, the living room sofas take it all. Over the years, it is typical for the fabric on your sofa to wear down and you may even find some tears in the fabric.
The cost to repair and reupholster furniture requires the service of a professional and can be quite expensive depending on the size of the unit, the shape of the unit, and the quality of the fabric.
If you decide to repair, learn more about the cost of re-upholstery in the articles Cost to Reupholster a Chair and Cost to Reupholster a La-Z-Boy Recliner.
If your sofa has leather upholstery, it is important to consider the common problems with leather and how they can be repaired or treated.
In the case of reupholstering an entire piece of furniture, it is more worthwhile to invest in a brand new sofa. When all is said and done, upholstery is often as expensive as purchasing something new. Why not save yourself the time and hassle by picking out something new in the store and walking out with it that day, rather than waiting for off-site repair.
Learn more about How Much a Sofa Costs!
Average Price of New Sofa

$1,500

This price will vary depending on the size, fabric, and quality of the sofa.

Professional Labour of Reupholstery

$40 – $50

per yard of material

This price will differ based on how much of the unit is being reupholstered.

Price of Fabric

$25 – $70

per yard

This price will differ depending on the quality or style of fabric.

Cost of Cleaning Upholstery

$127 – $164

In some cases, cleaning the upholstery may restore its original look.

Cost of Reupholstery (Total)

Average Couch/Recliner

$600 – $1,500

Large Sectional Sofa

$1,500 – $4,000

Involves time, materials, and removing the furniture to an offsite location.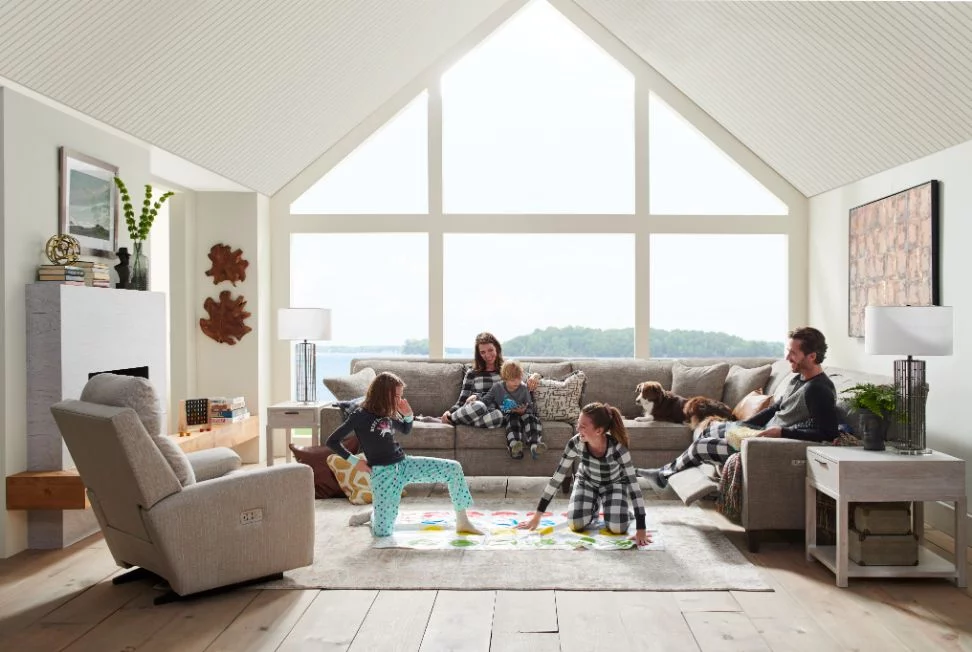 How to Make Your Furniture Last Longer
Now that you have either chosen to repair or replace your damaged furniture, you can see what a difficult decision this can be. Not only can it be tough on the pocketbook, but it can also be hard to part with a long-standing piece of furniture.
Check out the Furniture Care Tips article to help you keep your furniture in tip-top shape!
Also, take a look at La-Z-Boy's iClean High-Performance and Stain Resistant Fabrics. Investing in these high-quality fabrics may help you avoid the need to reupholster your furniture in the future.
La-Z-Boy Furniture Protection Plan
No matter how careful you are, when you are living comfortably in your home, accidents are bound to happen and furniture doesn't last forever.
That is why La-Z-Boy offers a Five Year Warranty Protection Plan on all La-Z-Boy furniture. This plan covers accidental rips, cuts, and tears; all structural and frame damage; mechanism failure; accidental stains; broken joints and springs; electrical malfunction; and seam separation.
According to Miriam Reniva, a member of the service department at our local Cyrville La-Z-Boy location, "after using your warranty for only two service orders, you already have your money back!"
Even without the Warranty Protection Plan, La-Z-Boy services are open to clients who are in need of repair. A consultant at one of our local locations would be happy to inspect any furniture damage and redirect you to a specialized La-Z-Boy technician.
Next Steps
After you have exhausted any options for repair, eventually it will come time to say goodbye to the old and welcome the new.
Take a look at the article What To Do With Old Furniture as a guide to parting with your furniture that is beyond repair.
Then, join us at one of our local La-Z-Boy locations to meet with a personal consultant or plan ahead by scheduling your visit online. If you prefer to shop from the comfort of your own home, we also offer virtual design appointments.
A member of our team would be happy to help you pick out a new piece of furniture that will fit seamlessly into your home.
Product Info Request
Please provide us with your name and email and we'll get back to you as soon as possible regarding this item.