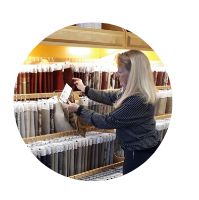 In-Home Designer
Mary Lee Smyth
Mary Lee has worked in the La-Z-boy Kingston Showroom since 2017. She consults with clients and the sales team every day. "Most of the questions I receive are from customers who know that their room is not working but are flummoxed at the process of Interior Design." She assists by answering questions about colour, fabric types, rug sizes, styles, lighting and more!
"Many years ago, when I was a newly certified Interior Designer, I had the privilege of apprenticing under Harold DeGroffe at his Atelier in the United States. Harold was an amazing mentor, very kind and generous, but also very strict. He shared so many of his design methods and secrets with me. I still rely on this lovely generous gift today when working with my customers."
Designer Mary Lee's in-store presentation
"This design was created for "empty nesters" who were looking to update their living room.
The owner has several lovely antique tables that I brought into the design. She is also a pianist and her instrument needed to be kept in the living room on the interior wall.
The house is an older cape style built in 1920 with gorgeous hardwood floors, abundant trim, and a hand-cut limestone fireplace.
We were trying to capture a light and airy feel with a touch of old-world elegance."
Questions & Answers with Mary Lee Smyth
What are your tips for customers looking for a new furniture piece?
Visit and take some time to simply sit on the new sofa or chair. Take your coat off and really make yourself comfortable. The sofa or chair comfort and style are your first decision.
What is the design tip you just can't stress enough?
Form follows function. In other words, the activities you and your family have in the room will help with the formation that the room and furniture should take.
How do you determine the right style for your customers?
I listen to my clients tell me about their life, their family, their hobbies and their plans.
What is your favourite part of designing a client's home?
When I see someone at the movies or in the grocery store, and they have to tell me how they "Love "their new room.
Where do you go to find inspiration?
I spend a lot of time outdoors. I hike, bike, kayak and trail ride. Nature has a wonderful way of showing us all types of beautiful colours and textures.
Name one thing that is on your bucket list and tell us why.
Riding the Rob Roy Trail in Scotland with my son. The idea of riding sturdy little Highland Ponies along the Scottish highlands from Inn to Inn and eating delicious food appeals to my Inner Scottish Warrior Queen.
What made you choose a career in interior design?
I actually started as a Fine Arts Major when I first attended University. During the summer, I met a woman who had her own Interior Design business. She shared her story with me, and I was hooked. I LOVE my job! Who wouldn't love playing with beautiful fabrics and carpet all day long!
What is a common question you get from customers regarding the design process?
Most of my clients have told me they don't know where to start when thinking about new furniture. I help them understand the design process. I walk them through the process step by step when my clients understand what decisions they need to make when their apprehension disappears!
Contact our interior designer at our Kingston location or schedule an appointment for a consultation.
Product Info Request
Please provide us with your name and email and we'll get back to you as soon as possible regarding this item.