How to Clean Leather & Use Leather Care Products
July 26, 2021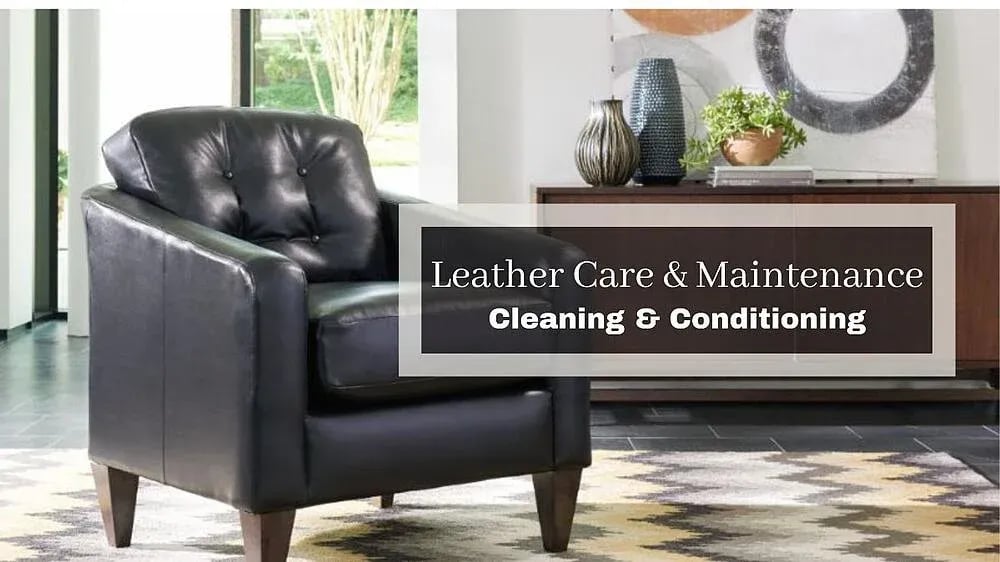 Est. Reading Time: 9.5 Mins
Leather furniture is sought after by many homeowners. Some people claim that its natural look and feel exude class, luxury, and good taste.
In fact, Zeina Badawi, the interior designer at La-Z-Boy Kanata, says that there's nothing more unique than leather furniture.
"The character of leather has its own statement that no fabric sofa can replace. Especially as a designer, leather is a fun texture to work with by pairing it with other materials in the house and textures in furniture," she says.
Although leather furniture can be a significant investment, especially in comparison to fabric upholstery, it is known to last much longer than other fabrics.
At La-Z-Boy, we have over 90 years of experience furnishing homes. However, many of our clients ask us if there's a proper way to clean and maintain leather furniture.
Luckily, you're in the right place! This article will outline general instructions on maintaining and how to clean leather furniture, as well as specific recommendations for La-Z-Boy leather products.
The Benefits of Leather Furniture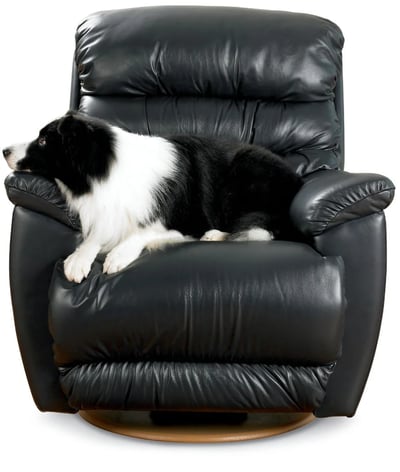 Before we discuss proper ways to maintain and clean your leather furniture, let's go over some quick points on what are the benefits of leather.
Quality
Leather is associated with higher-quality furniture products on the market. Its long history of versatility and durability is why consumers continue to use it.
Durability
Leather is naturally tough but flexible, allowing it to last about four times longer than fabric upholstery. It naturally resists punctures, tears, and spills, meaning cleaning up a mess is much easier.
Comfort
Providing superior comfort, leather is soft to the touch and naturally adjusts to body temperature. In fact, as the leather gets regularly used, it adapts to its environment and only becomes more inviting.
Appearance
Although authentic leather gives off a rich and luxurious appearance, each piece of leather is unique, with its own natural markings, grains, and blemishes. This can also add character to your furniture.
Hypoallergenic
Leather is a great choice for those who suffer from allergies as it doesn't harbour dust mites, pet dander, and other allergens as easily as fabric upholstery.
Cleanable & Reparable
Finally, and most importantly, leather is easily cleanable and repairable. As you enjoy your furniture with regular use, it is important to remember that leather maintenance is an ongoing task you should do throughout your furniture's lifespan. Cleaning and conditioning your leather furniture is simple, easy and worth it in the long run!
Leather Care Basics
Now that we have covered the benefits of leather furniture let's get into some leather care basics. As you approach leather maintenance, it is important to remember that leather is a natural material, almost comparable to human skin.
Because of this, the regular problems that arise with our skin can happen to leather. To learn more about Leather Problems, take a look at this article.
Do not let this frighten you! There are preventative measures to keep your leather furniture safe!
According to leather repair specialist Peter Wason, regular leather maintenance can help prevent common problems. Still, it cannot always guarantee the total longevity of your furniture.
"Proper leather care is like taking Vitamin C. While Vitamin C can be effective in enhancing our immune system, it doesn't always protect us from those nasty colds," he says.
Furthermore, every leather is different, meaning not all leather products should be treated equally. Each leather furniture manufacturer has its own specific recommendations for cleaning and conditioning leather products.
To get specific instructions, be sure to speak to your furniture salesperson to know exactly what to do to keep your leather furniture looking fresh.
Leather Care Rules
Even though every leather product is different, some general guidelines can apply to the care of all leather products.
Zeina shares some rules of thumb regarding basic leather care…
Break It In

: Let your leather acclimate when adding it to a new environment. See how the leather reacts first and start cleaning it after a week or two.




Keep It Clean

: All leather furniture can benefit from monthly dusting, vacuuming, and wiping.

Don't Forget Unseen Spaces:

When cleaning any furniture piece, it can be easy to neglect areas that are not visible. Be sure to clean the back, the arms and any creases or crevices you can get in between.

Tackle Spills Quickly

:

Even though leather is naturally resistant, it does not make it invincible. Make sure to clean spills immediately before permanent stains occur.

Avoid Direct Sunlight Exposure:

Although leather is also resistant to fading, prolonged direct exposure to the sun will cause any material to fade. On a sunny day, ensure your windows are covered to avoid any temperature imbalances on your leather furniture.

Keep Away from Heat Sources:

it Similar to the previous point, it is a good idea to keep your leather furniture at least

12 inches away from radiators and other heat sources.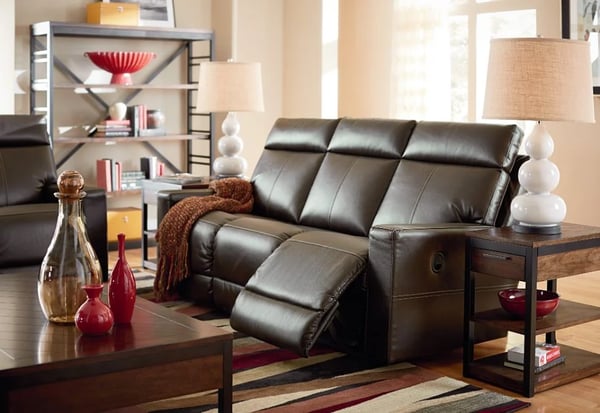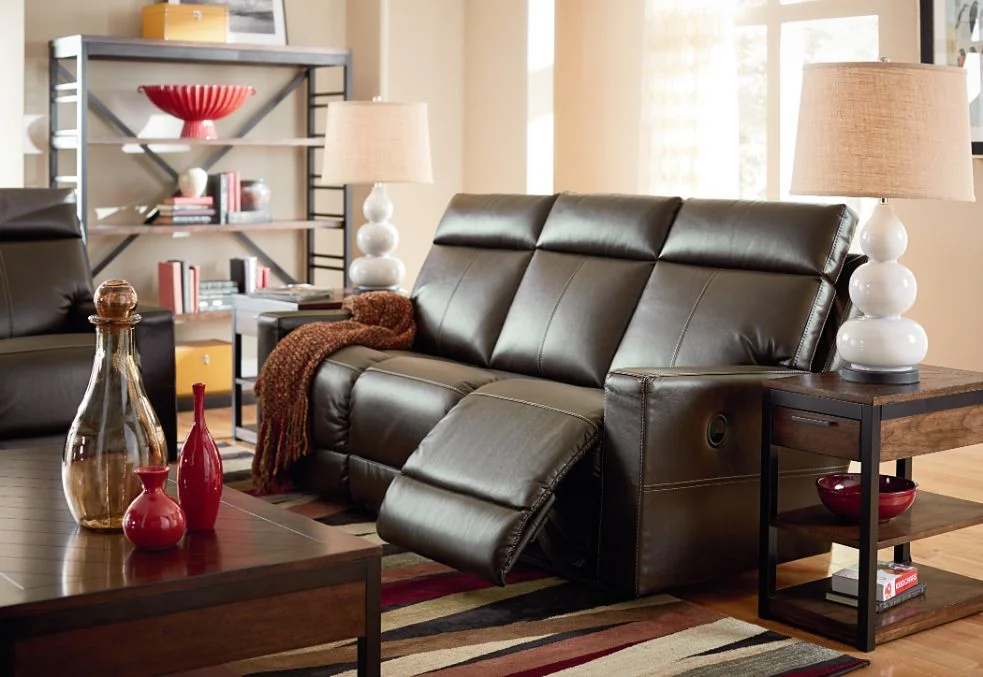 How to Clean Leather Furniture
As mentioned above, leather is easy and simple to clean. Whenever possible, it is always best practice to dust, wipe and vacuum your leather furniture.
When dusting, it is important to use a soft, clean, lint-free cloth that is slightly damp with distilled water. Gently wipe each exposed area weekly.
With vacuuming, use a small crevice tool to ensure you're fully getting into the seams. This will tidy up any dirt or crumbs left behind on your leather furniture.
And as for wiping, wipe down your leather furniture with a clean damp cloth. Mix distilled water and mild soap together and gently pat dry afterward. This homemade cleaning solution is recommended when cleaning La-Z-Boy leather furniture.
If you notice any tough stains that are hard to remove, you can also use your homemade cleaning solution with a sponge to blot the spill. Remember never to rub, as this can make stains worse.
If this doesn't work, some experts recommend using vinegar on leather stains. You can also contact a professional leather cleaner if you're worried about ruining your leather furniture.
Conditioning Leather Furniture
Regularly conditioning your leather is often recommended, but you may not be aware of what this actually entails.
Well, regular conditioning is another common approach to leather care. This care method is recommended by many experts and helps retain the natural oils and flexibility of leather.
Although many approaches exist to condition leather, Zeina recommends doing so when the seasons change. Making another comparison to the skin, Zeina compares leather specifically to our hands.
"While washing our hands is a great idea to do regularly, every now and then we want to moisturize to keep our hands feeling soft and avoid dryness and cracking. This is the same approach with leather, just in a longer form," she says.
To properly condition leather, apply a conservative amount of conditioning cream to a clean cloth. Then, apply the cloth to the leather in a light and circular motion, piece by piece.
Once you have covered all necessary spots, wait until the leather is completely dry before you use it.
Applying leather conditioner too frequently can actually harm the leather, so it's best to use it sparingly. Over-conditioning can cause the leather to become saturated, leading to damage over time.
It is important to clean and condition as individual steps and to avoid using "two-in-one" leather care products since they may cause more harm than good. Instead, care for your leather in this order: clean, rinse, and condition.
Some highly recommended leather conditioners are Lexol, which you find at Canadian Tire, and Zucora, which is the leather conditioner offered at La-Z-Boy.
With any leather care product, always ensure that the conditioner you're using is of good quality and is effective for the specific type of leather that you own.
When using any leather care products, it's important to ensure that the conditioner you choose is of good quality and effective for the specific type of leather you own.
Leather Upholstery at La-Z-Boy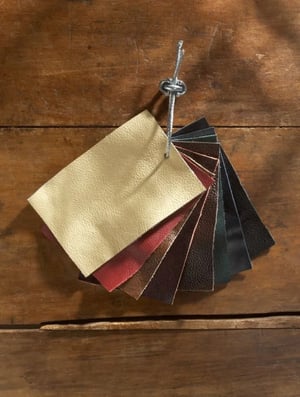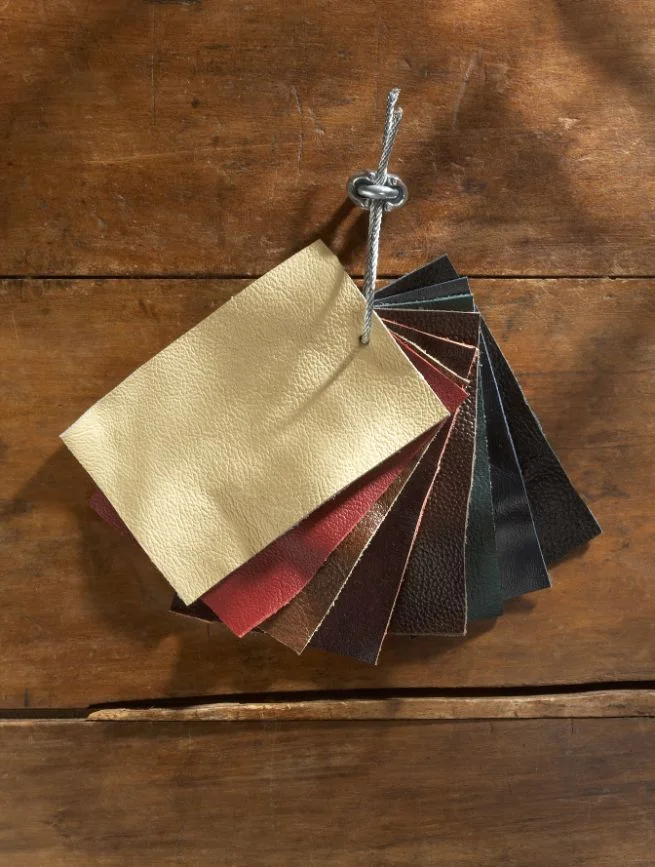 Now that we've covered how to properly care for leather furniture in general, what are the proper ways to maintain and care for La-Z-Boy leather?
At La-Z-Boy, we offer many types of leather, including...
Each type of leather has something unique to offer in grain and texture with various colours and finishes. The main difference between each leather type is how they have been processed for use in the home, which will ultimately impact how you care for it.
Authentic Leather
Authentic leather is not altered. Variations in colour, grain, and visible markings give each hide its distinct look. Authentic leather covers a broad scale of leather selections, but the most common one offered at La-Z-Boy is Aniline Leather.
Aniline leather is classed as the highest grade of leather. This type of leather has a protective topcoat that maintains the natural characteristics of the hide. It also has the least amount of protection and is highly susceptible to watermarks, grease stains, and fading caused by sunlight.
However, authentic leather is inherently durable. With proper care, including regular dusting, these leathers become softer and more lustrous over time.
When it comes to damage, such as colour loss or cracking, authentic leather can be more difficult to return to its original condition. With this, you may consider paying extra attention to the wiping and conditioning of this type of leather.
Nubuck Leather
Nubuck leather is top-grain leather that is slightly buffed or sanded to resemble soft suede or velvet. It is infused with pure, transparent dyes, giving it subtle colour variations.
However, Nubuck is less thick than authentic leather and is more susceptible to fading and oil damage. That is why it is extra important to keep this type of leather out of direct sunlight and away from a heat source. Further, being consistent with regular wiping and cleaning will help prevent oil damage.
For a deeper cleaning of Nubuck leather, use a clean white cloth dampened with distilled water. Air dry it thoroughly, and use a stiff sponge or Nubuck Cloth to bring back the softness. Repeat this process as needed.
Performance Leather
Performance leather is a top-grain hide that has been buffed, sanded, or embossed. This results in consistency in the grain and colouration, giving it a cleaner look.
Additionally, the surface is sprayed or rubbed with a protective topcoat with colour in it. This pigmentation allows the leather to withstand everyday wear.
In contrast to aniline leather, La-Z-Boy's performance leathers are dyed twice. The first dye is the aniline process, while the second is the pigmented or "painted" process. This allows the leather to become any colour you wish.
While occasional dusting and wiping are still important, this type of leather requires slightly less attention in its upkeep.
Caring for La-Z-Boy Leather Products
There are many approaches to caring for leather, but we at La-Z-Boy recommend keeping it simple with general dusting, vacuuming, and wiping with distilled water and soap solution.
When it comes to conditioning, we do not recommend nor advise against it. While conditioning can positively affect leather's longevity, over-conditioning can also cause problems. There is no guarantee that conditioning will work effectively, and for this reason, La-Z-Boy leaves this decision up to the client's discretion.
If you want your own leather conditioner, it is covered under our 5-Year Extended Protection Plan. You can also get free refills up until the protection plan's expiry.
For more information on the treatment of La-Z-Boy manufactured leather products, take a look at our webpage on Fabric and Leather Care.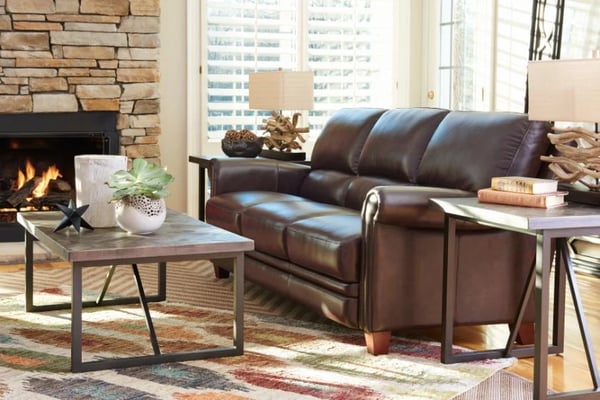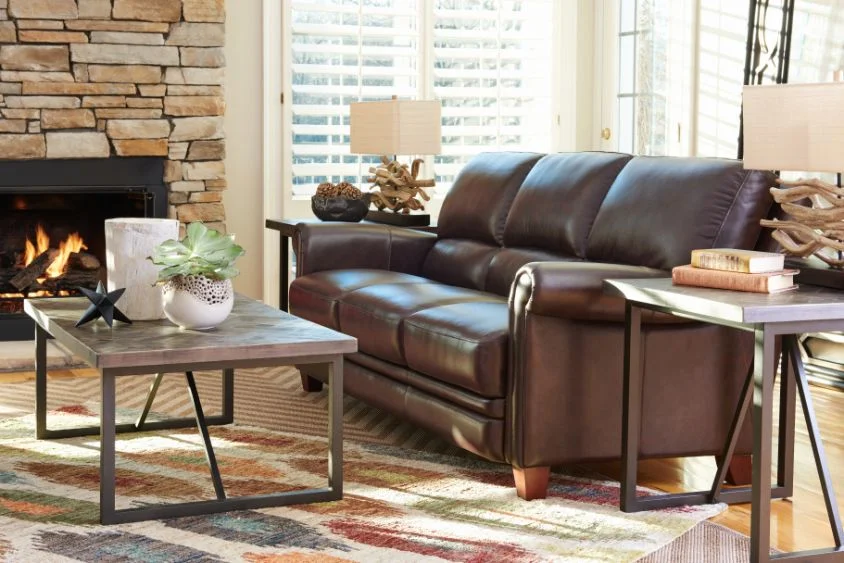 What's Next?
With detailed instructions on leather care and maintenance, you are now well-equipped to be a loving owner of your own leather furniture.
La-Z-Boy offers a wide selection of beautiful, comfortable, and high-quality leather furniture to suit any style and budget.
Take a look at our top-selling products, all of which can be customized in your choice of leather.
If you're interested in learning more about furniture maintenance, take a look at our Furniture Care Tips article.
Our design consultants are always eager to lend a helping hand. You can take advantage of our complimentary interior design services. Our team of interior designers can help assure that the furniture you choose fits seamlessly with your space and current home decor.
Visit us at a local showroom or schedule a visit online to get started.
We look forward to helping you find your ideal piece of leather furniture that will be worth maintaining for years to come!

Related Links:
Cost to Reupholster a Chair: Dining, Living Room, and Leather Chairs
All Things Fabric Pilling: Causes, Prevention, & Treatment of Fabric Pilling
Product Info Request
Please provide us with your name and email and we'll get back to you as soon as possible regarding this item.