Review of La-Z-Boy's Pet-Friendly Fabric
December 3, 2021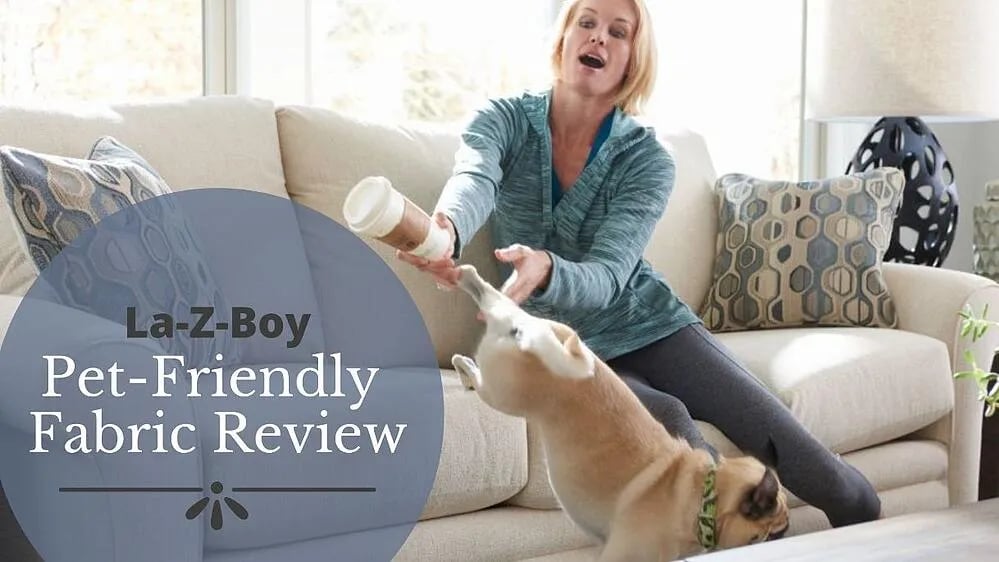 For many pet owners, it can be difficult to keep furry family members off of the furniture. Especially when they give you those irresistible puppy dog eyes!
With that being said, sharing furniture with pets can come with some concerns. Furniture is a significant investment and while we adore our animals, it is common to feel territorial over our expensive furniture.
Pets are known to be tough on furniture, leaving trails of fur, accidental scratches, pulls in the fabric, mysterious stains, and lingering odour.
To combat this, there are many creative ways to pet-proof furniture, such as:
Covering the furniture with blankets
Daily dust-busting
Leather polish
Taping the corners of the unit
Unfortunately, with many of these solutions, you have to compromise the true beauty of your furniture. In turn, some pet owners don't let their pets on the furniture at all! Now, where is the joy in that?!
What if there was a way that you could maintain the beauty of your furniture and snuggle up with your pets worry-free?
Introducing La-Z-Boy's Pet-Friendly Fabrics!
Read on for an in-depth description and review of La-Z-Boy's Pet-Friendly Fabrics.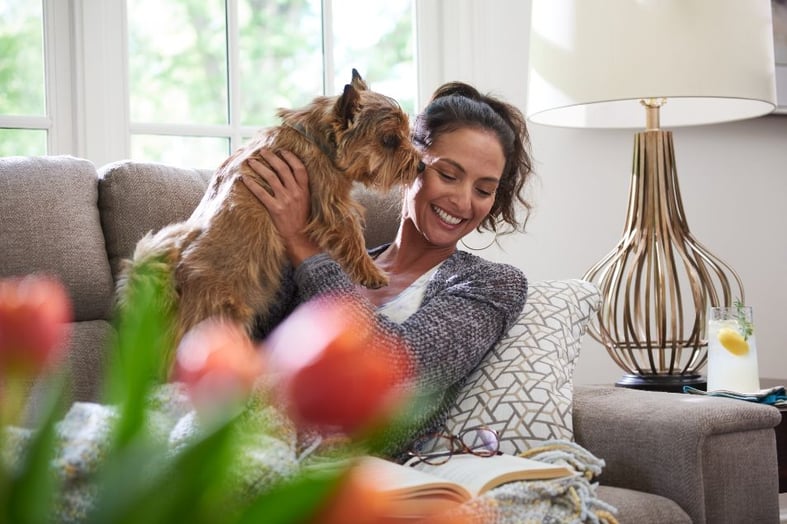 In this review ...
What is a Pet-Friendly Fabric?
Of the hundreds of fabrics available to customize La-Z-Boy furniture, an assortment is unique specialty fabrics made for everyday needs. They include:
Stain Resistant
Innovative iClean technology surrounds each fabric fibre, creating a barrier that repels spills before they turn into stains.
Antimicrobial
Antimicrobial properties surround each fibre to protect against mould, mildew, and odour-causing bacteria.
Performance
Superior stain and fade resistance properties make these fabrics easy to clean and incredibly durable.
Environmentally Friendly
Conserve Sustainable Fabrics are soft, durable, and made from recycled water bottles.
And finally, Pet-Friendly.
La-Z-Boy's Pet-Friendly fabrics are defined as performance-grade fabrics that meet the highest standards of cleanability and durability, while still maintaining a luxurious feel.
Further, all Pet-Friendly fabrics incorporate moisture repellent; they incorporate La-Z-Boy's iClean technology. Plus, some are also made of recycled water bottles or have antimicrobial properties.
Pet-Friendly Fabric Testing
Pet-Friendly fabrics undergo vigorous testing to ensure that they will be effective. This testing simulates the scratches and abrasion that pets may cause.
Water Repellency: must have a rating of 80% or higher
Cleanability: must have a cleanability level of ⅘
Fray/Flag: must pass 50 cycles of fraying/flagging
Abrasion Resistance: must have a grade of 5 at 15,000 cycles of abrasion test
Pilling: must have a grade of 5
Disclaimer Regarding Pet-Friendly Fabrics
Magaly Del Castillo, the interior designer at La-Z-Boy Cyrville, has almost 10 years of experience in the furniture industry and designing homes. As a pet owner herself, Magaly understands the importance of protecting your furniture while still enjoying your furry companion.
While La-Z-Boy's Pet-Friendly fabrics are a great solution, Magaly emphasizes that nothing is foolproof.
"This fabric is considered "Pet-Friendly" because it is easier to clean and tougher to scratch". With that being said, Pet-Friendly fabric can still fall victim to a persistent stain and or the sharpest of claws.
Consider Pet-Friendly Fabric as your best defence against your adorable, yet rambunctious, animals.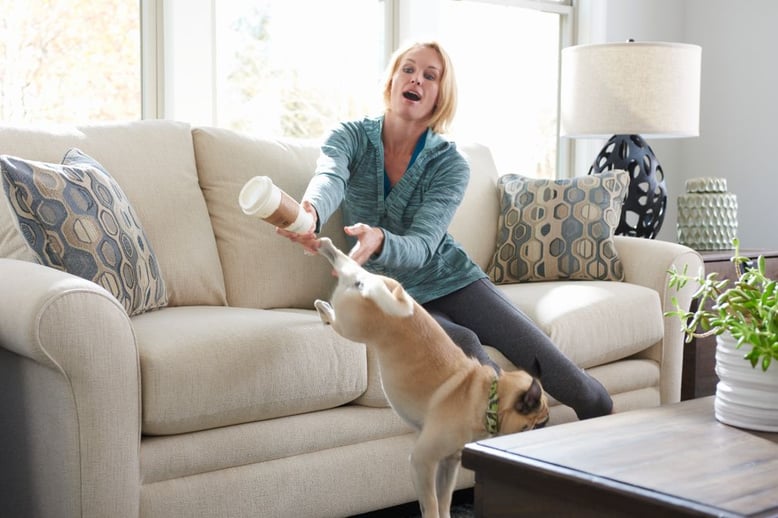 Available Pet-Friendly Fabrics at La-Z-Boy: Textures & Colours
Pet-Friendly fabrics allow you to share furniture with your pets without sacrificing style!
Customize your upholstered furniture by choosing from a wide assortment of Pet-Friendly textures and colours.
At the time of publication, La-Z-Boy's Pet-Friendly fabrics were offered in 12 patterns and numerous colours.
Pet-Friendly Patterns:
With experience under her belt, Magaly has identified her three favourite Pet-Friendly patterns.
First and foremost, Magaly loves i-Northwest. In fact, she says i-Northwest is the most popular Pet-Friendly pattern. She likes the tightly-woven knit texture. Further, "the way each fibre is dyed creates a very vibrant colour in the fabric", says Magaly. She adds that these are strong, rich colours that are easy to work with in design.
Magaly also recommends the i-Northwest texture and colours. She says, "the i-northwest comes in wonderful colours that mix well with warm and cool tones".
Finally, Magaly suggests the i-Outlier texture. She says it has a mottling throughout consisting of two or three tones of the colour woven together. This creates some excellent dimensions. Offered in a neutral colour palette, Magaly says, "the i-Outlier has a soft touch, almost like velvet."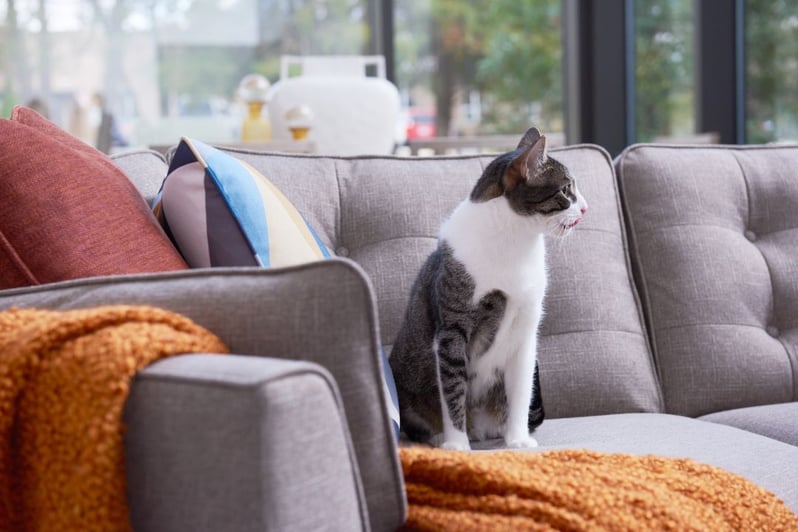 Take a Free Fabric Swatch Home ...
With so many options available, consider taking advantage of our free swatch program at La-Z-Boy.
Choose up to three of your favourite fabrics and La-Z-Boy will mail the swatches right to your doorstep.
With this, you have the opportunity to examine the look and feel of any given fabric. You can also ensure that the texture and colour coordinate well with other design elements in your space.
How Much Does it Cost?
As previously mentioned, Pet-Friendly fabrics are offered in a diverse selection of textures and colours. Among this selection, there are different grades of fabric.
Depending on the furniture frame and the grade of fabric, the upgrade to Pet-Friendly fabric can cost anywhere between $0 to $500.
Warranty & Coverage
All La-Z-Boy furniture is sold with a manufacturer's warranty in order to ensure the protection and satisfaction of your investment.
Pet-Friendly fabrics are covered by the manufacturer's warranty for three years for specific stains.
The following stains are covered: beer, chocolate syrup, coffee, washable magic marker, dirt, ice cream, jelly, juices, ketchup, milk, salsa, pop, tea, urine, and wine.
The following stains are NOT covered: oil-based products, wax-based products, ink marks, mustard, and blood.
A standard one-year fabric warranty applies to damages such as nap loss, seam failure and fabric separation. Labour of repair is covered for one year.
To further protect your purchase and investment in Pet-Friendly fabric, La-Z-Boy offers an extended warranty plan at an additional cost.
Recommended Cleaning Instructions for Pet-Friendly Fabric
Generally speaking, Pet-Friendly fabrics can be cleaned using a water-based cleaning agent or foam.
With this being said, the recommended cleaning instructions slightly differ depending on the type of stain you are dealing with.

Stain

Recommended Cleaning Instructions

Beer






When cleaning a liquid spill, immediately blot the fabric surface with a white cloth/towel to remove the spilled liquid.

Coffee

Juices

Milk

Soda

Tea

Urine

Wine

Chocolate Syrup






When cleaning a non-liquid spill, immediately remove the excess spilled material from the fabric by lifting the spilled material off the affected area with a butter knife and accumulating the spilled material onto a white cloth/towel.

Dirt

Ice Cream

Jelly

Ketchup

Salsa

Washable Magic Marker
To spot clean the liquid or non-liquid spill, soak a white clean cloth/towel in a soap and water mixture and clean the stained area in a gentle circulate motion. If needed, take a damp, clean white cloth, and go over the affected area to remove any soap residue from the fabric. Do not over wet the material.
If the soap and water mixture does not remove the stain completely, then repeat the above process using a multi-purpose cleaner (such as Woolite Fabric and Upholstery Cleaner).
Pile fabrics may require additional light brushing in the stained area with a non-metallic, soft bristle brush to restore the appearance of the fabric or to reset the nap/pile direction. On pile fabrics, the entire panel may need to be cleaned in a seam to seam fashion to restore the overall appearance of the fabric.
Cushion covers should not be removed or laundered.
For more information, check out the article Furniture Care Tips.
For uncovered stains, La-Z-Boy usually recommends a professional upholstery cleaner.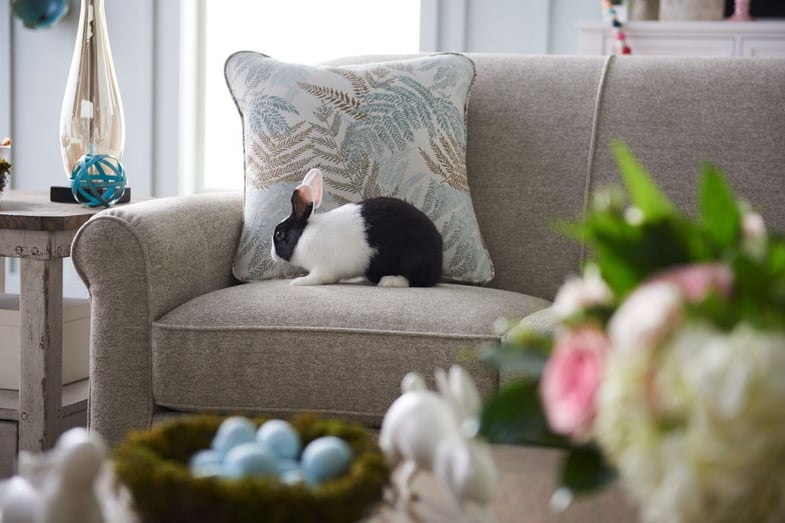 Customer Testimonials
Magaly has worked with handfuls of clients who have chosen Pet-Friendly fabric.
She says that clients are always amazed to see how effective iClean technology within Pet-Friendly fabric really is!
Magaly often demonstrates the stain-resistant properties for clients by pouring water on a Pet-Friendly fabric swatch. She describes the experience as"we watch the liquid dance on top of the fabric … nothing is absorbed!"
In fact, a client named Johnathan can attest to the effectiveness of the Pet-Friendly he chose for his La-Z-Boy Paxton Sectional. He was enjoying a nice glass of red wine while lounging on his sofa when his dog jumped up on him out of excitement. Johnathan spilled the entire glass of wine over his shoulder and onto the Paxton. With only a couple of gentle dabs with a damp cloth, Jonathan was able to clean the spill and the wine left no stain!
What's Next?
If you love your furniture, and you also love your pets, there is now no need to compromise! With a Pet-Friendly fabric you can share your furniture with your furry family members worry-free.
Our design consultants at La-Z-Boy would be happy to help you customize your upholstery furniture with one of our stylish, comfortable, and durable Pet-Friendly fabrics.
You may also consider taking advantage of our complimentary design services. An expert interior designer will ensure that your furniture and chosen upholstery fits seamlessly into your current home design.
Visit us at one of our local Ottawa or Kingston locations to meet with a consultant today. If you prefer, you can also book a consultation online to get started.
Last Edited On June 22nd, 2022
Related Links:
What are the Best Upholstery Fabrics for the Environment?
All Things Fabric Pilling: Causes, Prevention, & Treatment of Fabric Pilling
Product Info Request
Please provide us with your name and email and we'll get back to you as soon as possible regarding this item.