7 Problems with La-Z-Boy Furniture: Prevention & Solutions
June 30, 2021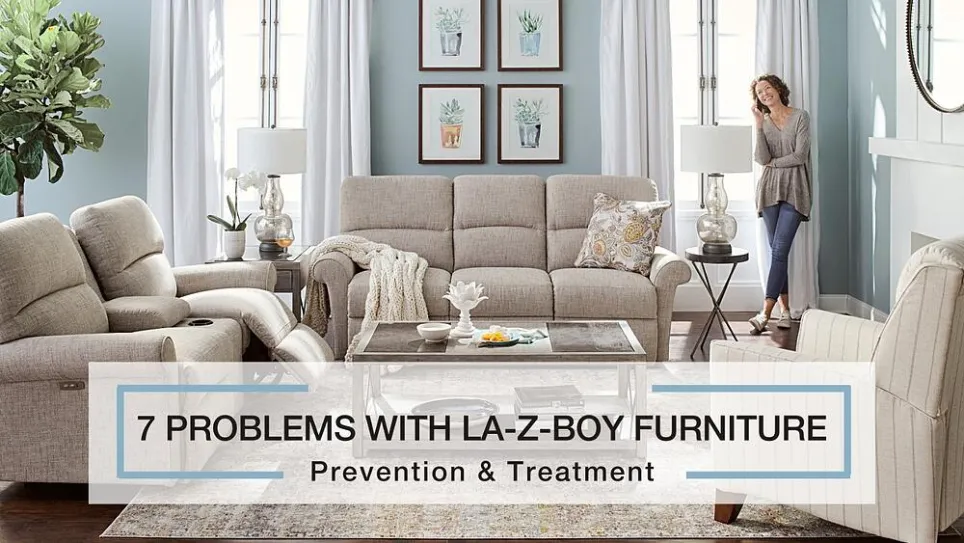 At La-Z-Boy, we've built our reputation on making and selling quality furniture in North America for almost a century. Of course, you know us for our iconic recliner, but there's a lot more to La-Z-Boy than recliners.
In the Ottawa and Kingston store locations, people sometimes ask us, "are there any problems with La-Z-Boy furniture? How do I make sure it's the right choice for my home?"
Buying furniture is an investment, and everyone wants to make sure they are getting good value for their hard-earned money! We not only understand that, but we'd like to make sure of it.
With over 90 years of selling and servicing La-Z-Boy furniture in the Ottawa and Kingston area, we know that problems can and do occur. In this article, we'd like to address some of those concerns so that you are informed before you make a purchase.
Knowledge is power when making your buying decision and knowing what to do if a problem ever does arise is your best defense.
1. La-Z-Boy Furniture Isn't Very Stylish?
Our preconceptions can sometimes be the biggest barrier to accomplishing our goals. In the case of furniture shopping, this is no different. La-Z-Boy has been synonymous with the 'Recliner' since its inception, similar to how 'Kleenex' is also synonymous with the tissue.
As a result, many people's first thought when they think of La-Z-Boy is an association with a big bulky recliner. For those clients looking for a stylish, yet comfortable room, one of the biggest challenges is our existing preconceptions. These can limit our choices of what's possible.
Solution:
The best way to avoid existing preconceptions is by being aware of your preferences and why you like what you like. While we may not all be as self-aware as we would like, it's important to keep an open mind. When considering what is best for your home and family, it's important to take the time and truly see what's available in the marketplace. Online research makes this much more efficient and will help to narrow down your physical store visits.
La-Z-Boy has many types of furniture styles to choose from, from traditional to contemporary furniture styles. Most people who come into a La-Z-Boy showroom for the first time are pleasantly surprised by the range of styles and corresponding comfort level provided.
Even more surprising is that roughly half of our business is custom-made furniture. This means our client might love the modern designs and sit but wants to change up the fabric, pillows, stain, nailhead trim etc., to ensure the custom piece will fit perfectly in with their personal style.
All that said, La-Z-Boy furniture isn't for everyone; if you are looking for ultra-modern style, you will have to have to shop elsewhere. Ultra-modern sofas and chairs are low to the ground with short backs. Although they look great, they don't support your body and frankly aren't comfortable for long sits.
To learn more about the furniture styles offered at La-Z-boy, check out our article about Furniture Styles Available at La-Z-Boy.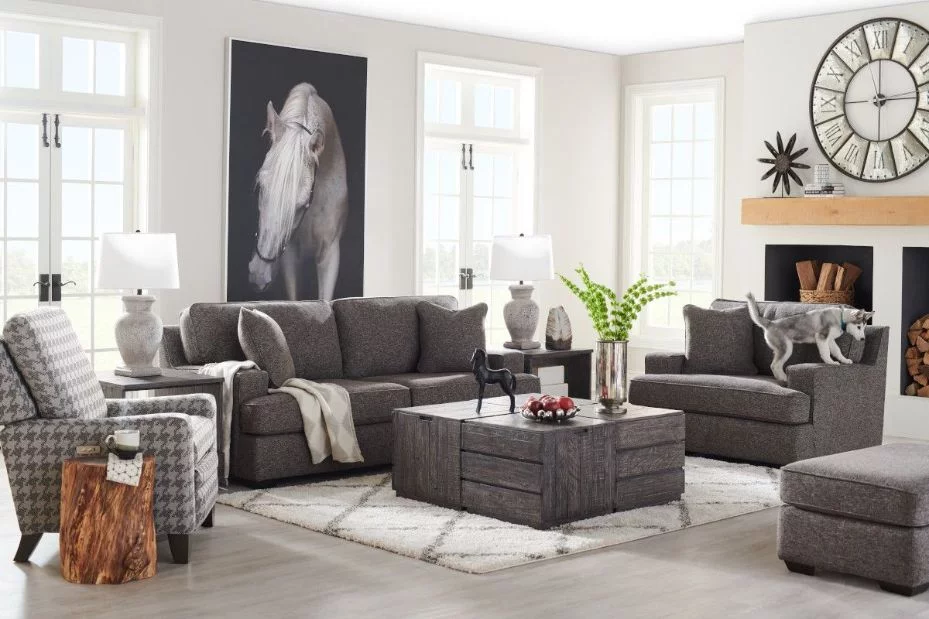 2. La-Z-Boy Furniture is Too Big for My Room!
Size furniture vs Space in your home
Furniture size is somewhat related to problem number one, as it's tough to achieve ultra-comfortable furniture in a very small frame. We carry several different sizes of furniture from very large to medium-small sized.
Solution:
The most important thing to remember when buying furniture is always to measure your space! Measuring is the only way to be 100% sure everything will fit.
It can be very deceiving when shopping for furniture as showrooms are generally much larger spaces than your living room. The pieces that look great in the store may be too large for your space at home. Dimensions alone may not be enough if you haven't taken into account the flow in the room and any other space requirements you may have.
We provide a complimentary interior design service that can help. Our design experts will come to your home, assess, measure and find out your needs. They can work miracles fitting La-Z-Boy furniture into small spaces. Our designers might also surprise you with room designs they're able to create in many Ottawa & Kingston homes.
To learn more about What to Expect from Our Interior Design Services, check out this article.
3. Why Does the Fabric On My Chair Pill?
After purchasing a quality piece of furniture, it can be off-putting to see that the fabric is pilling.
Pilling is quite common in many upholstered fabrics. It's the result of excess fibre coming off the surface of the material. This fibre in turn results in small balls or "pills" forming on the surface of the cover. The fabric mills don't warranty this condition because it isn't seen as a defect; it's merely the release of excess material. It won't damage or cause the fabric to disintegrate.
Solution:
The best way to resolve this issue is to shave the cover with a battery-powered fabric shaver.
A common and affordable option, approved by our senior service technician at La-Z-Boy, is the Conair Extreme Fabric Defuzzer. You can find this at retailers such as Walmart and Canadian Tire for about $24.
Shaving will restore the look of the cover surface. You may need to treat it 3-4 times before the pilling will begin to diminish and ultimately stop.
For more detailed information regarding fabric pilling, take a look at the article All Things Fabric Pilling: Causes, Prevention, & Treatment.
4.
Why Does My Chair Make a Clunkin
g Noise?
Picture this; you're enjoying a leisurely afternoon reclined in your La-Z-Boy chair with a good book and a cup of coffee. You go to reposition your recliner into its upright position and "clunk" it makes a loud noise and startles you and your dog. Why is the chair making this noise, and is there anything that can be done to soften the sound next time?
The mechanism inside the recliner features a pawl and ratchet assembly. This mechanism allows the chair to recline back and forth. When returning the recliner to its upright position by releasing the handle, it can make a loud noise.
The weight distribution of your body and the type of floor surface can have an impact on the noise level. The sound you hear comes from the two metal parts rubbing against each other. La-Z-Boy has been using this mechanism for a long time. Some companies use materials such as plastic in their mechanisms. La-Z-Boy continues to use the metal because they know it lasts longer!
Solution:
Essentially, this sound is normal but there are a few things you can do to reduce the noise level. Check out our blog article: Why does my recliner making a clunking noise? to learn more.
5. Why is La-Z-Boy Furniture so Expensive?
We understand that people don't shop for furniture very often. When they begin their search it can sometimes be a surprise to find out how much La-Z-Boy furniture costs. While La-Z-Boy certainly isn't the most expensive furniture on the market, it's also not the cheapest. La-Z-Boy has several modern furniture frames in the mid-market category. They offer a compelling value for anyone looking to furnish their homes with well-made furniture made to last.
That said, there can be quite a variation in pricing when comparing furniture stores in Ottawa & Kingston. Some people wonder why that is.
The simple answer to his question sums up in one word, quality! La-Z-Boy has been making furniture in North America for over 90 years, setting the standard for innovative design with numerous patents. From engineered OSB wood to custom-stamped steel parts and wear-tested fabrics La-Z-Boy designs furniture for optimum comfort. It has custom-cut multi-layered cushions, premium fibre and foam back support.
The manufacturing of the furniture and the fabrics you choose to cover it with are the significant factors in the price you pay. Whether you select motion or stationary furniture, upgrades like power and heat/massage are also contributing factors to the cost.
When considering the price you pay for your furniture, it is worth thinking about how long you wish to keep the sofa or sectional in your home, or how often you will use it. If you are looking at short-term or light use, cheaper furniture or rentals may be a better option.
La-Z-Boy expects its clients to have the use of their furniture for several years. We've had many clients come back in-store looking for a part for their 25-year-old recliner that they just can't part with! Looking at the price of your furniture in this context is useful when considering the value any store is offering.
(See: how much does a recliner cost, how much does a sofa cost?)
For a detailed explanation of La-Z-Boy Furniture pricing, check out our blog article, Why is La-Z-Boy Furniture so Expensive? Or watch the video!
6. Why is my Leather Furniture Losing its Colour?
Leather furniture is among the most expensive furniture covers, so it can be upsetting if the leather starts to fade. Here we'll discuss how discolouration can occur and how you can prevent it from happening.
While not everyone will experience this problem, it can occur with leather furniture more so than with fabric. It's something that you'll want to be aware of, the causes, and how best to maintain your leather to prevent this type of problem from occurring.
Before buying leather furniture at La-Z-Boy, it's essential to understand how leather is made.
Dying is the first step to introduce colour onto the raw cattle hides. The dye has the same effect on the hide as a stain does on natural wood.
The leather soaks in the solution until the colour has penetrated all the way through. Various parts of the hide accept the dye differently.
Finally, a finishing coating of pigment or clear topcoat of polyurethane protection is added to the leather to create a more consistent look. It acts as a barrier between the user and the 'skin' of the furniture.
Body oils and perspiration can affect your leather furniture. Body oils are salts, enzymes and fatty acids, which can amount to a PH level that doesn't gel with leather. Chemical reactions can occur when you sweat, and fingerprints touch your leather. Unfriendly PH oils can penetrate and build up, which can weaken as it keeps building. Eventually, the body oils can cause the leather to break down.
Solution: It's essential to take care of your leather!
When leather isn't adequately maintained, it can affect the finish. If properly cared for, leather will maintain its beauty and usefulness for many years. Different types of leather upholstery have various cleaning and maintenance requirements.
Periodic dusting and vacuuming is routine maintenance for leather furniture. Use a soft clean, lint-free white cloth dampened with distilled water. Cleaning spills on pigmented and corrective leathers with a top coat sealant are simply wiped away. Natural, aniline leather is much more absorbent and sensitive to scratching and staining and requires more care.
Direct exposure to intense light can cause any leather colour to fade. Place leather away from direct sunlight or protect it from the sun with window coverings. Keep leather products away from radiators or fireplaces to prevent damage.
To learn about more Problems with Leather Furniture to learn everything you need to know about leather furniture as well as more tips on prevention and treatment.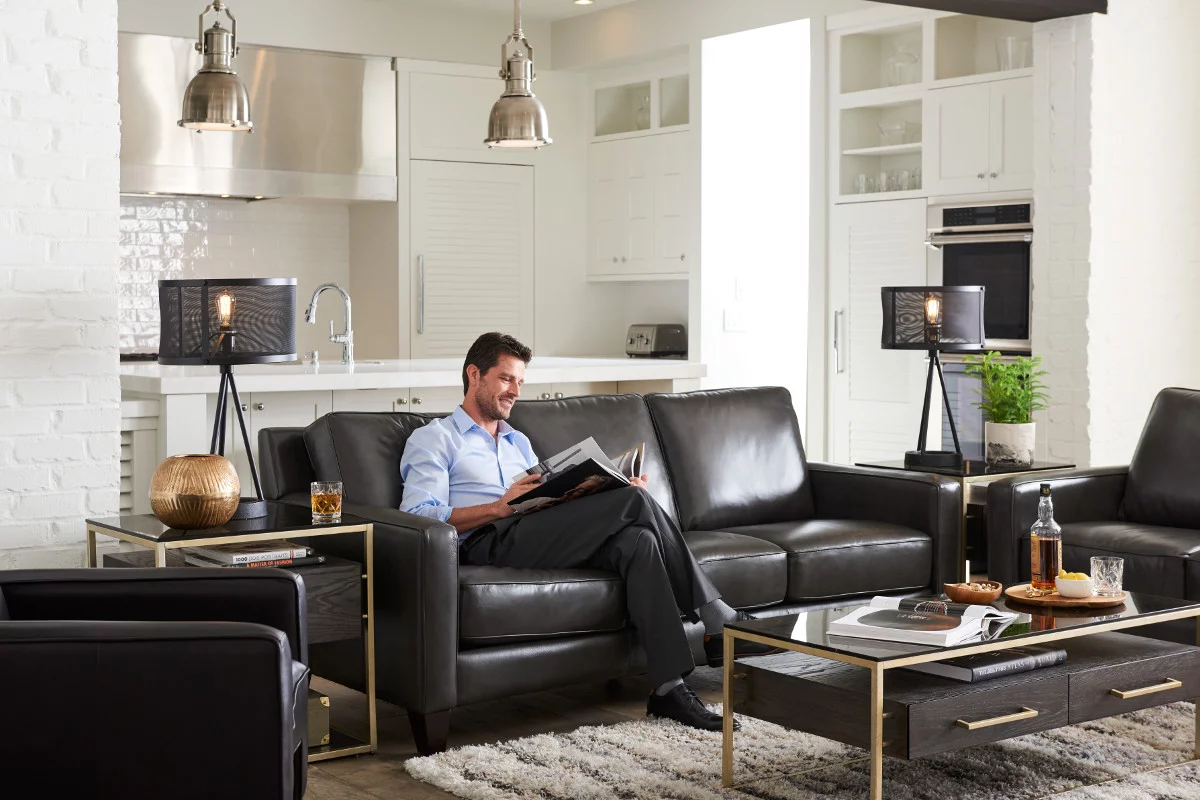 7.
Where is La-Z-Boy Furniture Made?
While almost everyone has heard the brand name La-Z-Boy, they aren't always sure where the furniture is made. Is production outsourced overseas as many furniture makers do today?
The reality is that La-Z-boy is indeed a global manufacturer with plants around the world, including Europe and Asia and of course, North America. We currently do not receive any furniture from China.
During the economic downturn in 2008, many manufacturers outsourced all of their furniture-making overseas to take advantage of lower-cost labour. La-Z-Boy did not follow this trend and maintained many of its plants in North America. Here in Ottawa and Kingston, we continue to have the majority of our La-Z-Boy recliners, chairs, sofas and sectionals manufactured in Dayton, Tennessee. They are shipped to Ottawa directly by tractor-trailer every week.
Made in Canada?
Some clients are concerned that La-Z-Boy products aren't made in Canada, or are made overseas, thereby impacting quality or local jobs. Our exception to this of course, is our line of custom dining furniture from Canadel that's hand-assembled and finished in Louisville, Quebec.
To learn more about Canadel's Customization Options, take a look at this article.
The reality is that when you see upholstered furniture with 'made in Canada' or 'Canadian made,' in almost all cases, this refers to the final assembly stage. The sub-components or fabric kits are most often made elsewhere in North America or overseas.
The quality of the subcomponents used dictates the quality of any product. The quality is also determined by the design of the piece itself and the process and craftsmanship used to assemble it. By handcrafting our furniture in North America, we're able to deliver custom pieces with the quality level for which the brand is recognized.
La-Z-Boy employs hundreds of people across Canada. With locally in-sourced technicians and delivery teams in Ottawa and Kingston, La-Z-Boy contributes directly to the Canadian economy. In addition to supporting local charities such as the Ronald McDonald House and CHEO, La-Z-Boy Ottawa Kingston brings a distinctive Canadian aspect to this iconic American brand.
Solution:
For more details on La-Z-Boy's manufacturing, supply chain and part sourcing, please have a look at 'Where is La-Z-Boy Furniture made
What to do if Issues Arise With my La-Z-Boy Furniture?
La-Z-Boy Ottawa and Kingston offer a comprehensive service plan that covers more than the manufacturer's warranty. Instead of one year, it provides a 5-year plan for the labour parts and in-home service.
'Who do you contact when there is a service issue?" This can be one of the most important questions you ask as a consumer buying a new piece of furniture.
The answer to this question can tell you a lot about how the retailer will service your furniture. It also gives you some insight into how their organization operates and what they value.
In keeping with our mission of building "Customers For Life," La-Z-Boy Ottawa & Kingston has developed an in-house service department. This department includes logistics, operations and trained technicians. Many retailers will outsource their service department and only provide you with a 1-800 to reach out to should you require service.
Maintaining an in-house service department is the most efficient way to provide the best customer experience possible.
When there's a problem, a technician will visit your home and repair your furniture. You don't have to bring the recliner to us; we'll come to you.
For inquiries within the Ottawa & Kingston area, you can Email or call 613-749-0001 to get in touch with our service department.
If you are located outside Canada please contact 1-800-375-6890 for inquiries/service.
Next Steps
Now that you are aware of the top 7 problems our customers sometimes face when working with La-Z-Boy, your furniture decisions should be that much easier.
La-Z-Boy has over 90 years of experience in crafting and manufacturing furniture. As the creator of superior motion upholstery, our furniture frames and cushions are designed for lasting durability and exceptional comfort. So go ahead, sit, jump, lay, pile—we've got you covered.
How long you intend to keep your furniture and how you'll use it will help you determine what kind of investment you are willing to make. If you've decided you'd like to purchase well-made custom furniture that will last you a lifetime, you've come to the right place.
We'd be happy to answer any of your product, pricing, and warranty questions at any one of our four La-Z-Boy locations in the Ottawa Kingston area.
Related links:
Repair or replace damaged furniture: How to decide
Are La-Z-Boy Recliners guaranteed for life?
Is La-Z-Boy's furniture protection plan worth it?
Product Info Request
Please provide us with your name and email and we'll get back to you as soon as possible regarding this item.