What to Expect From the Service Department at La-Z-Boy Ottawa & Kingston
November 14, 2022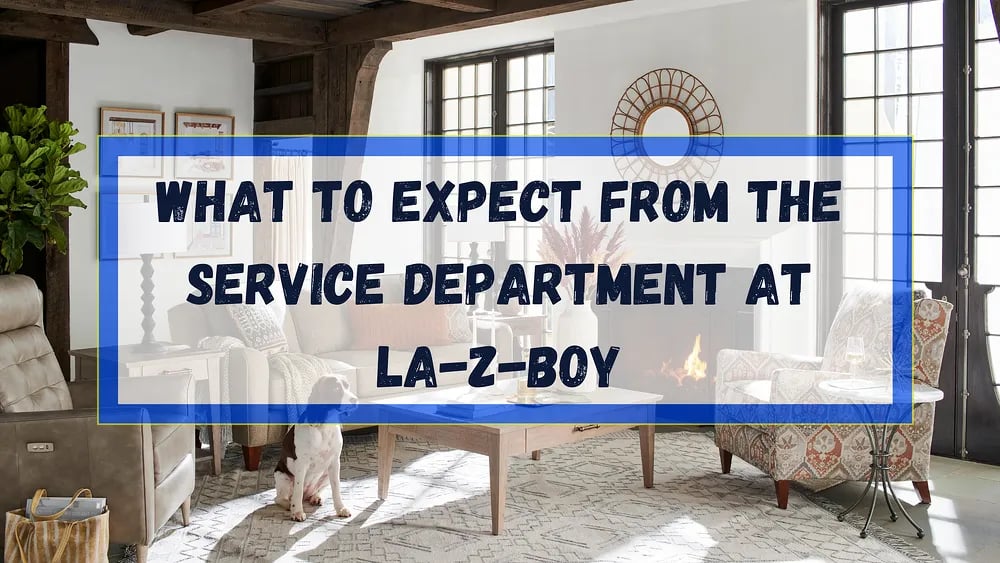 Est. Reading Time: 7 Mins
Whether we like to admit it or not, accidents will inevitably happen. Damages to our beloved possessions will, unfortunately, always be plausible.
On the subject of furniture, some common accidents or problems that people face are manufacturing defects, delivery damages, old parts needing replacement, or furniture reupholstering.
These are the types of issues that Storm Shields faces in her job. Storm is a service department supervisor at La-Z-Boy Ottawa & Kingston, and she comes across many issues from La-Z-Boy clients.
"Even La-Z-Boy, which sells high-quality furniture, isn't safe from experiencing common furniture problems," she says.
At La-Z-Boy, we acknowledge that our furniture isn't always perfect, which is why we have multiple articles that outline the potential problems and solutions relating to our furniture. These topics range from Leather Furniture, Power Recliners, Sofa Beds, and La-Z-Boy Furniture in General.
When a problem does occur, what does the service department do to help accommodate La-Z-Boy customers? What specific actions does our service team take to keep everyone living life comfortably?
This article will outline exactly what to expect from the service department at La-Z-Boy Ottawa & Kingston, from when a problem occurs to when the problem is solved!
In This Article…
Step 1: Detail Your Furniture Problem with the Service Department
The La-Z-Boy service department is here to assist you with any problem with your La-Z-Boy furniture. With this, the first step is to detail your problem with La-Z-Boy Furniture Galleries correctly.
Currently, there are two different ways that people can do this. You can either visit an Ottawa & Kingston location in person and speak to a customer service representative, or you can fill out our service form online.
Storm says that La-Z-Boy's service department works through a ticketing system. "Whether you're talking to someone in person or filling out the form online, we see your problem on our side through what we call a 'ticket', which thoroughly describes your problem to us."
To solve your problem quickly, the service department needs 3 important pieces of information:
Your Personal Information (Name, Contact Information and Address)
Your

Furniture ACK Number

, which you can find out how to find through this article.
A Highly Detailed Description of Your Problem.
Storm says that the more details you give to the La-Z-Boy service department, the easier it will be to solve your problems quickly.
As you detail your problem, Storm recommends asking yourself the following questions:
What is the exact issue?
When did this issue begin?
Where on the unit is the issue?
Once you're finished filling out the form, you can expect to hear an update from the service department within 5-10 business days.
Step 2: Asking for More Information (Optional)
Sometimes, with a specific problem, like manufacturing defects or part replacement, the service department will ask for more information.
Storm explains, "We want to make sure that we're able to see exactly what the problem is in order to fix it."
To help make this process easier and faster, it is always a good idea to provide the service department with photos of the problem. Since the service team will want to know where the issue is, take a picture of the spot on your furniture. That way, they can have a visual of the situation.
Step 3: Determining the Solution to the Problem
Depending on the problem, there are different routes that the service department takes.
Storm says that some of the most common problems that the service department tackles are part replacement, delivery damages, and cushion compression. Certain uncommon problems that the service department receives are fabric and leather reupholstering.
If your problem is covered under the La-Z-Boy Limited Lifetime Warranty or the 5 Year Extended Protection Plan, the repair and replacement of necessary parts will be covered by La-Z-Boy.
It is important to note that once your warranty expires, there will be costs to parts that are not guaranteed for life.
What if My Furniture Is an Older Model?
Given that La-Z-Boy furniture lasts a long time, the service department receives problems relating to furniture of all different ages. "Sometimes you get a call about a recliner that's 5 years old, and other times you get one that's 25 years old," Storm says.
If a product is many years old, specific parts like cushion materials and upholstery covers might be discontinued. Even the furniture product itself could now be discontinued.
With that being said, an older furniture item can still be fixed if, for example, a core component of the furniture item needs replacing. Under La-Z-Boy's warranty, certain parts, like reclining latches and levers, are guaranteed for life.
Other La-Z-Boy core components guaranteed for life are certain metal internal components and anything frame related. "These types of parts can sometimes be 'one-size-fits-all," Storm says.
So, if a core component of an old furniture item needs replacing, chances are, you are in luck!
What If the Problem Can't Be Fixed?
Whether in the initial stages of the service department's process or the middle, sometimes a problem with furniture is revealed as unfixable.
Certain problems, like a part replacement, are easy to understand. However, other damages, like cushion compression, might be more difficult to fix if the furniture item is older. "Those types of problems may come associated with a cost, since the warranty only covers it for a certain period of time," Storm explains.
If the problem cannot be solved, the service department does offer additional external resources that clients can use to help fix their issues.
For example, the cover reupholstery problem is not an issue that La-Z-Boy can fix. Instead, the La-Z-Boy service department will recommend a third-party company, like FibreNew, which offers leather repair, and plastic, vinyl, and fabric restoration.
Reupholstering a furniture item can be expensive. To learn more about the Cost to Reupholster a La-Z-Boy Recliner, take a look at this article.

Step 4: Bringing a Technician On-Site (Optional)
When the furniture damage is unclear, the service department will send a technician to your home to properly assess the issue.
This works by communicating with the client and arranging an in-home appointment for the technician to see the furniture piece themselves.
"This helps us determine any additional information that may have accidentally been left out. Sometimes we find out more about the furniture that the client had no idea about, so this resource is helpful when we need an extra set of eyes on something," Storm says.
Once the technician returns to the store, they fill out a report that confirms details of the furniture piece, thus leading into the next step.
Step 5: Speaking with the Manufacturers
Once the service department knows there is something La-Z-Boy can do to help fix the problem, the next step begins.
La-Z-Boy's manufacturers know La-Z-Boy furniture like the back of their hands. After all, they are the ones who build the furniture as is shown in our stores.
When figuring out how a problem can be fixed, La-Z-Boy presents the client's issue to the manufacturer to see what they can do to solve it.
Sometimes the problem is as simple as ordering a new part and waiting, but if it is a specific issue needing to be solved, that's when the service department speaks to the manufacturers about the issue.
Storm says that the negotiation between the service department and the manufacturer is usually asking for a specific part or requesting the replacement of a furniture item if there's a manufacturer's defect.
"We, as the service department, act as a liaison between the customer and the manufacturer. We act as a voice for the customer and advocate for them when talking to the manufacturer," Storm says.
Storm says they follow this same process for products like Canadel, Kincaid, Hammary, and American Drew.
Unfortunately, there is no clear answer regarding how long the process takes to negotiate with manufacturers. However, Storm says this step typically takes no longer than a week as long as no unexpected problems arise.
"From the moment we receive the ticket explaining the problem, we usually have everything sorted out after four weeks," she says.
Step 6: Advising Next Steps
Once the manufacturers and the service department have negotiated, the service department will inform the customer of the next steps toward resolution. Often, they will arrange for a technician to return to their home to repair the furniture or perhaps order a new part.
Overall, communication is a key factor in keeping the customer in the loop with the situation. Storm says there is a lot of back and forth between the customers and the service department.
There are at least four times that a customer receives updates on their situation:
When they have to book an appointment
When a step has been completed, and if there are additional steps
When the service department has reached out to a supplier
When a part has been ordered.
"We try to keep everyone updated as much as we can throughout the process and let them know when the situation has been resolved or if we're unable to fix the problem and advise of other possible options."
*It is important to note that the service department is currently experiencing higher call volumes than usual, which they are currently working on fixing. With higher call volumes, some communications may take longer than usual. But Storm reassures us that everyone is equally informed about their problems as soon as possible.
What's Next?
After learning about La-Z-Boy's service department, you now have the knowledge and understanding of what to expect when requesting help with damaged or defective La-Z-Boy furniture.
If you are experiencing an issue with a La-Z-Boy product, do not hesitate to reach out to our service department within the term of your warranty or protection plan.
If your furniture is beyond repair, maybe it is time to replace the old with some new ones! Start by getting familiar with the Furniture Styles that we offer at La-Z-Boy. Also, check out some of our best-sellers:
Visit us at a local Ottawa & Kingston location or schedule a visit online. We look forward to meeting you!
Related Articles:
Do You Tip a Furniture Delivery Person?
Product Info Request
Please provide us with your name and email and we'll get back to you as soon as possible regarding this item.