2021 Review of the Canadel Dining Collection (+ Canadel Design Tips)
November 9, 2020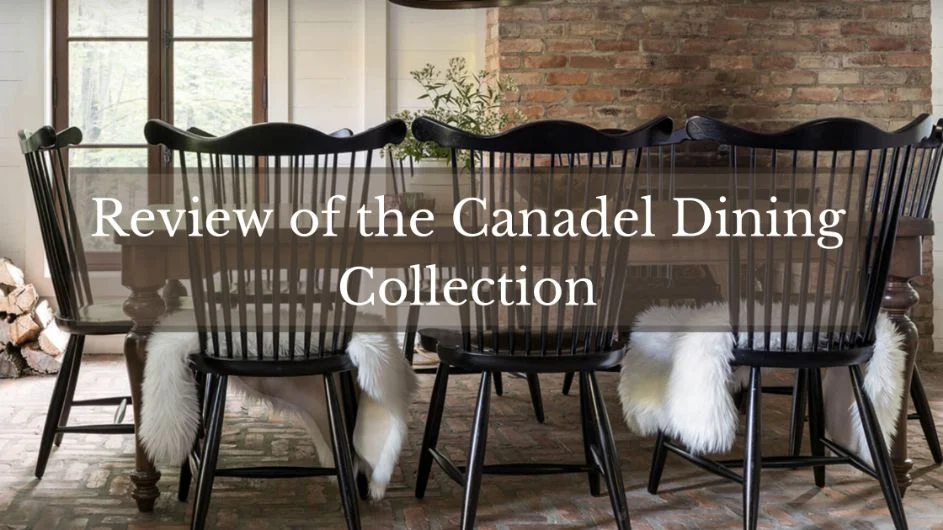 Some of the most memorable moments take place in the Dining Room.
A Dining Room is the place where your family and friends gather to share meals, experiences, and occasions.
It is essential to choose a dining set with as much love and care as the memories that will be created around it.
Look no further! Canadel is the perfect place to find your ideal Dining Room set.
With limitless possibilities in shapes, sizes, finishes, and upholstery, at Canadel, you have the opportunity to design a dining room that embodies your specific tastes, preferences, and personality.
Before you start shopping, there is so much about Canadel to explore. This article will provide an in-depth review of the Canadel company, and more specifically, the Canadel Dining Collection.
This review will include:
A Little Bit About the Canadel Company
Established in 1982, Canadel is a family-owned company based out of Quebec, Canada.
Canadel specializes in manufacturing handcrafted, high-quality, and customized dining room furniture.
All Canadel products are handcrafted and manufactured in North America and distributed throughout Canada and the United States.
As makers of authentic birch wood dining room sets, Canadel operates with a vision of creating meaningful family heirlooms that will be passed down through generations.
When it comes to Canadel products, the brand offers a variety of dining room styles that are characterized by six main collections:
Each collection offers its own take on the traditional dining room in the form of unique style elements and trends. Whether you live in a modern downtown flat or a traditional family home, there is a Canadel collection to meet each and every taste or preference.
What is the Canadel Dining Collection?
While each division of Canadel is noteworthy, this article will focus on reviewing the Canadel Core Dining Collection.
The Canadel Core collection is the primary collection in which the brand is built upon.
This dining collection is described as "updated classics," in which an element of softness is added to the tradition of dining. From core, to classic, to farmhouse chic, the Canadel collection is an elevated take on the common dining room.
Although it may be considered the most basic in terms of style or trend, it is actually the most complex and versatile when it comes to customization.
In fact, the Canadel Core collection is "the most personalized division of all the Canadel divisions," according to Nadine Moreau, Canadel consultant.
The Canadel collection has a very wide range of options when it comes to shapes, sizes, and finishes. Based on your personalized customization, pieces from the Canadel collection can fit seamlessly into a variety of design styles.
Further, pieces from the Canadel collection are often a neutral, yet sophisticated, centerepiece in the dining room. With this, these dining sets have the capability of remaining timeless while allowing for creativity and bold statements in the decor around it.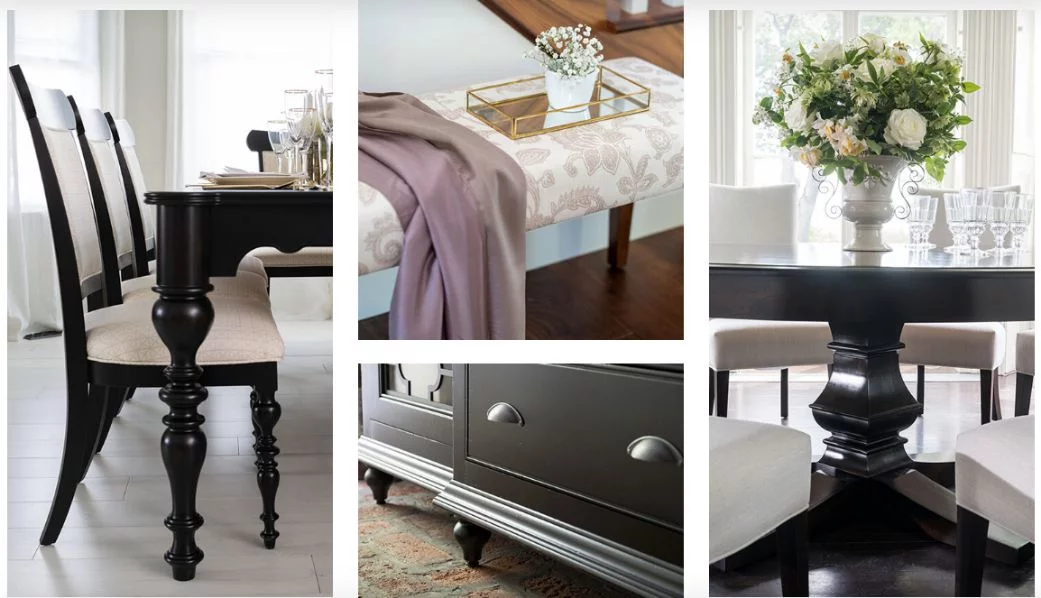 Collection and Product Features
The Canadel Dining collection offers a variety of high-quality and simple, yet timeless, dining room furniture.
As previously mentioned, this collection allows for the most variation and customization. It can also be mixed and matched with several other collections given such versatility.
Each division of the Canadel collection offers a selection of solid birch dining room tables and dining room chairs. Further, every style has matching stool, buffet, bench, and accessory options.
Core
The Core style within the Canadel collection offers the most elementary and simple dining room furniture selection.
Given that this look is so traditional, pieces from this part of the collection can complement furniture of many different styles.
The core style of the Canadel dining collection offers the most options for customization out of the entire six collections.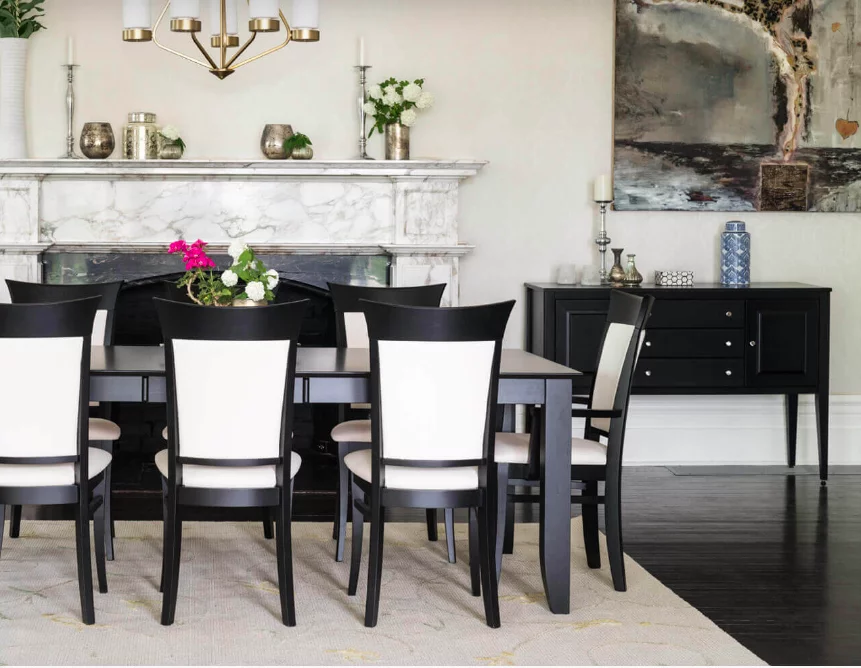 Classic
The classic style within the Canadel collection is designed to never go out of style. This furniture embodies the elegance and sophistication that you would expect in a formal dining room.
The majority of this style is designed in black and white. With this, classic dining pieces complement several different types of pairings and accents. The stark black and white can pair well with anything from a fire engine red to a lilac purple.
The classic style is typically the most popular style among clients. These dining pieces tend to be a great investment for consumers because their traditional style stands the test of time.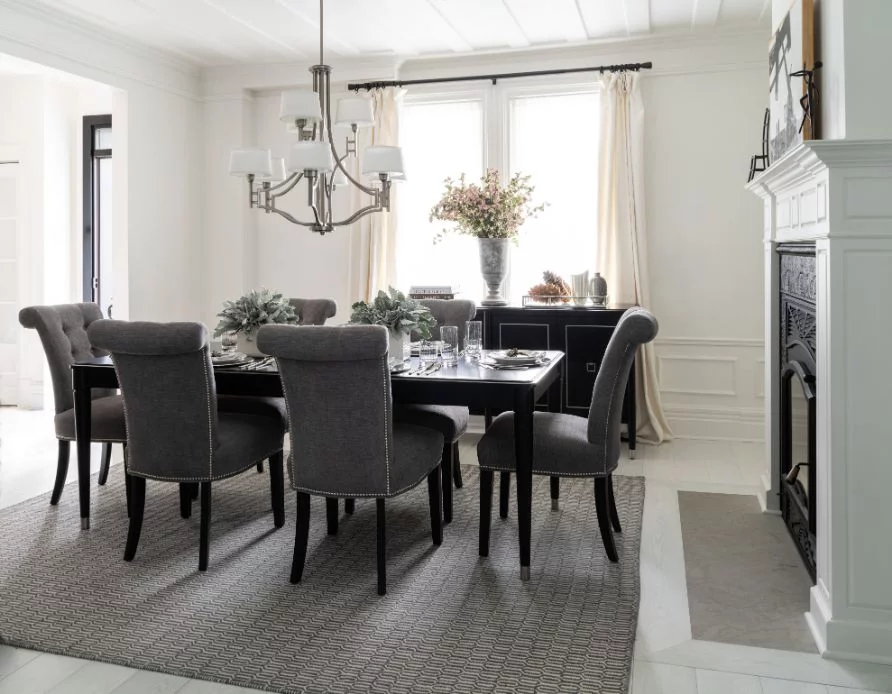 Farmhouse
The Farmhouse chic style within the Canadel collection is still based in tradition, yet it appeals to current trends.
The rustic farmhouse look and the use of shiplap have recently proven to be very popular in home design. The dining pieces of the farmhouse style play into this trend by use of a heavier build, twisted legs, and patterned upholstered chairs.
Although this style targets current trends, it still remains true to the sentiment of the Canadel collection by portraying elements of traditional dining.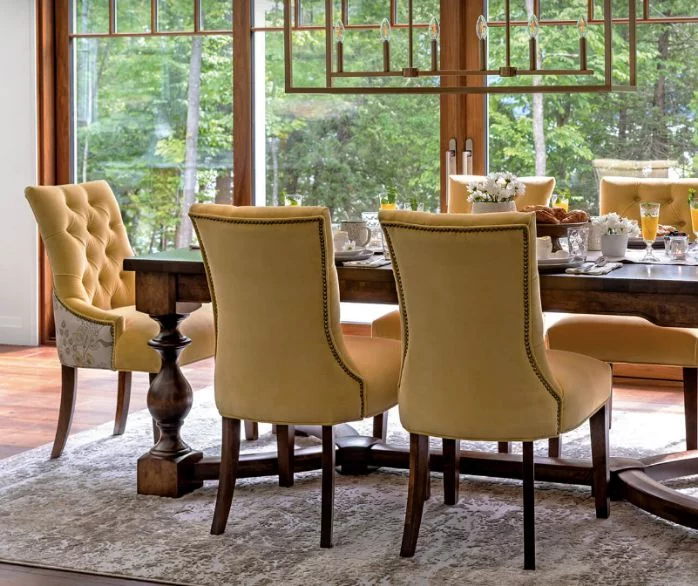 Modern
Modern by Canadel embraces the timeless quality and aesthetic of the midcentury design. This collection is defined by elegance and simplicity. Beautiful style and fine craftsmanship are the foundation of these distinctive pieces created with sleek lines and graceful curves.
The modern dining pieces feature minimalist and crisp architectural lines. Further, you will find warm hues, genuine wood, and lustrous gold.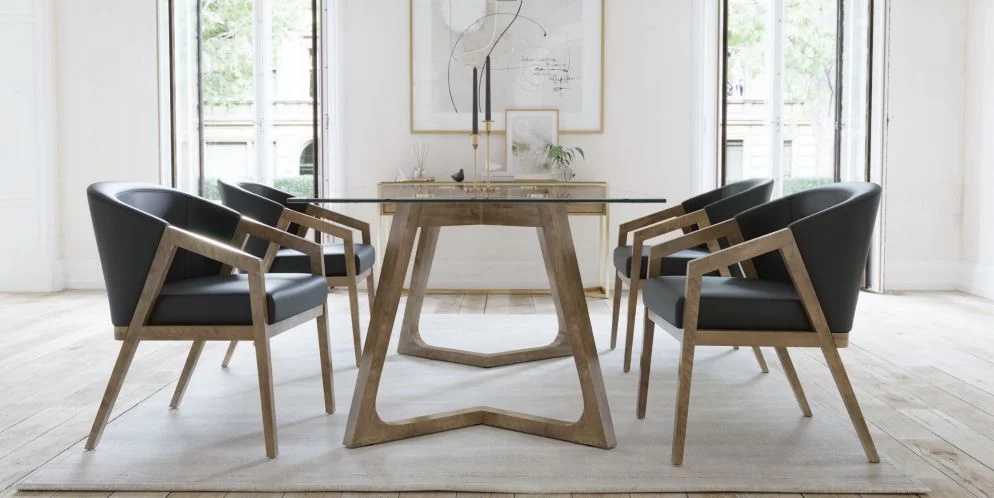 Designing your Canadel Dining Room & Making Customizations
What sets the Canadel company apart is the ability for such personalized customization.
Specifically, when it comes to the Canadel dining collection, this collection allows for the most flexibility in customization options.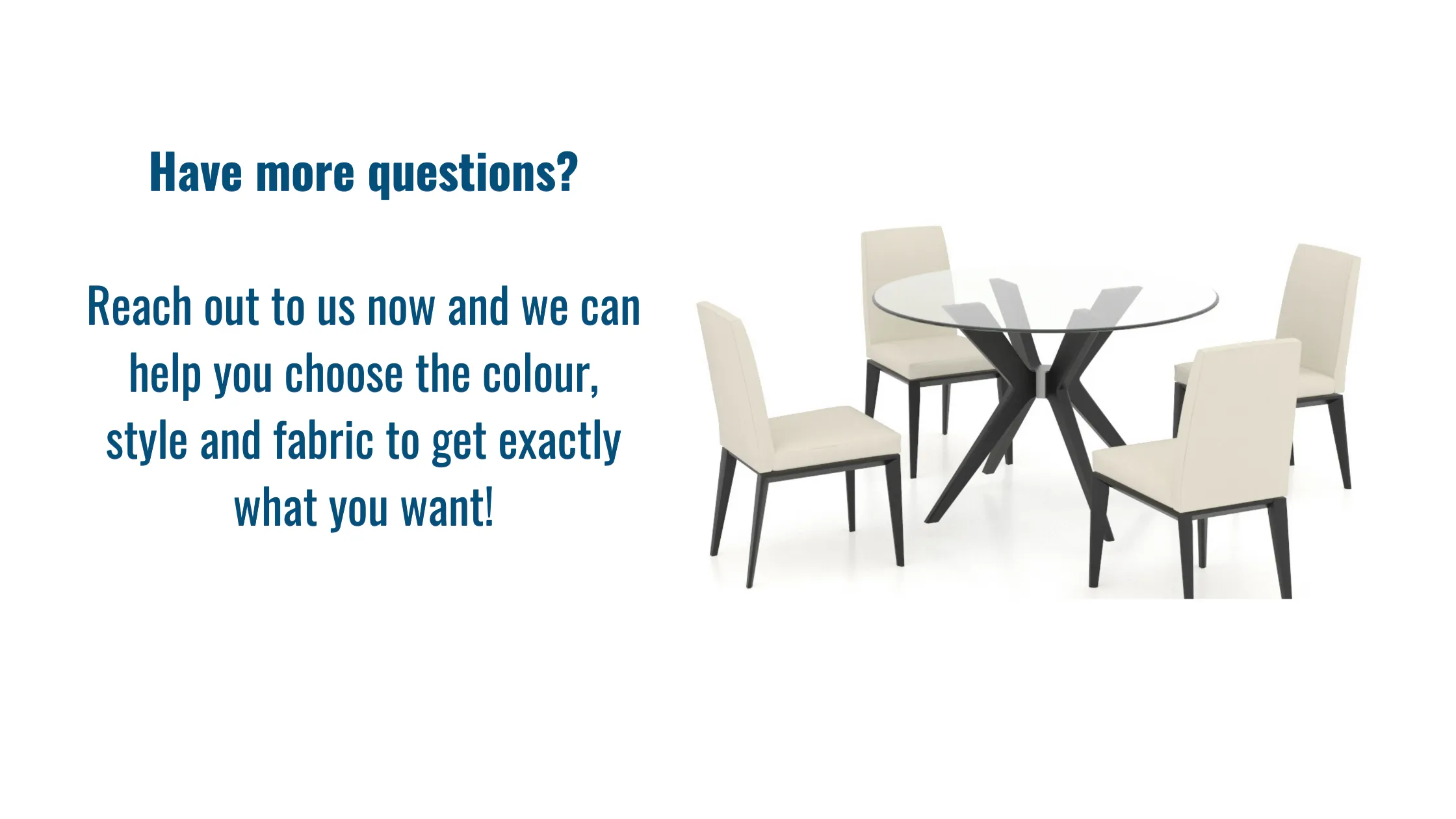 From start to finish, you have the ability to tailor design your entire dining room furniture set based on your specific taste and preferences.
Step One: Select your Dining Room Table
First, you will begin by selecting the most essential part of the dining room: the dining room table. This is the most important piece as it will determine the style and placement of all of the surrounding furniture.
Any given dining room table can be customized in height, shape, size, top edge, leg options, pedestal options, top colours, body colours, and the finish.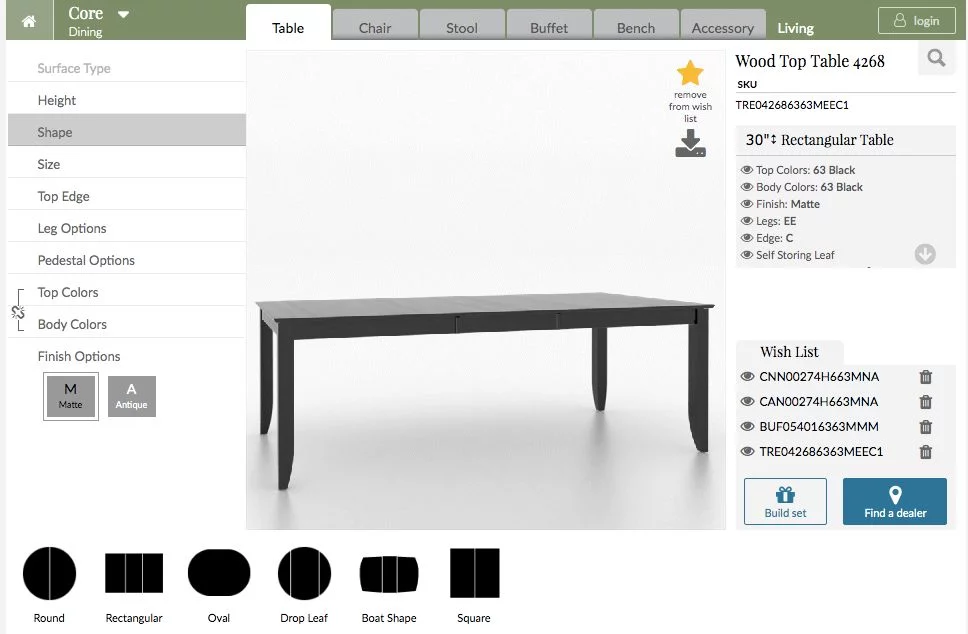 Step Two: Select your Dining Room Chairs
Next, it is time to select the dining room chairs to sit around your chosen dining room table.
Depending on the chair you choose, you have the option to customize the legs, nails options, body colours, seating material, back material, and the finish. Further, you may have the possibility to add arms or a swivel to the chair design.
You will then select the number of chairs you will need based on the size of your chosen table.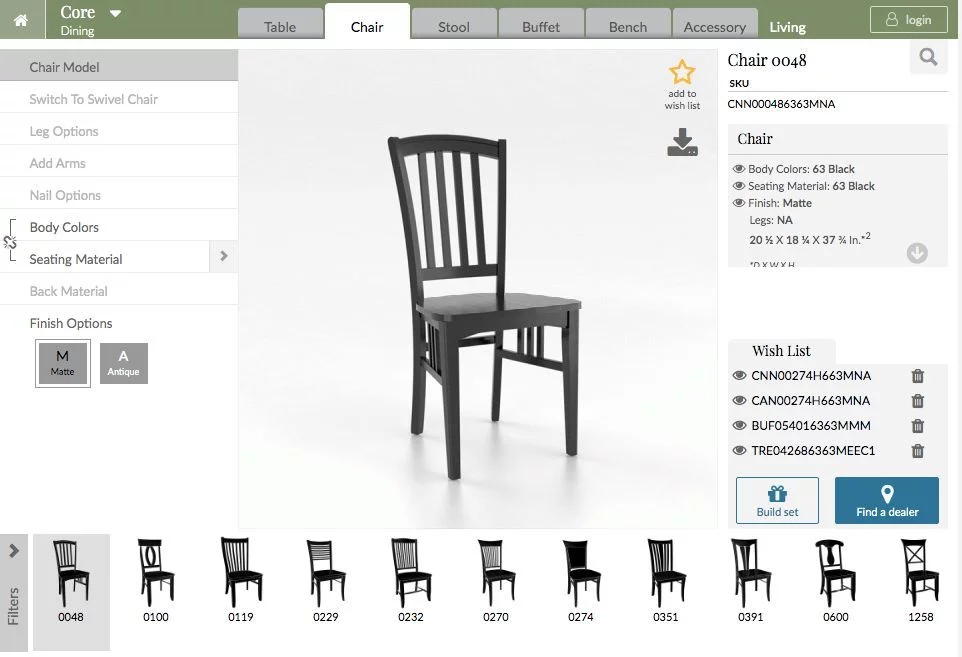 Step Three: Mix & Match with a Stool or Bench
Step four involves the possibility of mixing and matching a stool or bench into your dining room set.
You may have chosen to customize the height of your dining room table to be a high top. In this case, you may want to consider placing stools around the table instead of dining room chairs.
Some decide to replace chairs on one side of the dining room table with a long bench instead.
When it comes to customizing a stool, you can adapt the original model by changing the leg options, the arms, the nail options, body colour, seating material, and the finish.
Benches can also be customized in their legs, buttons, nails, body colour, seating material, and finish.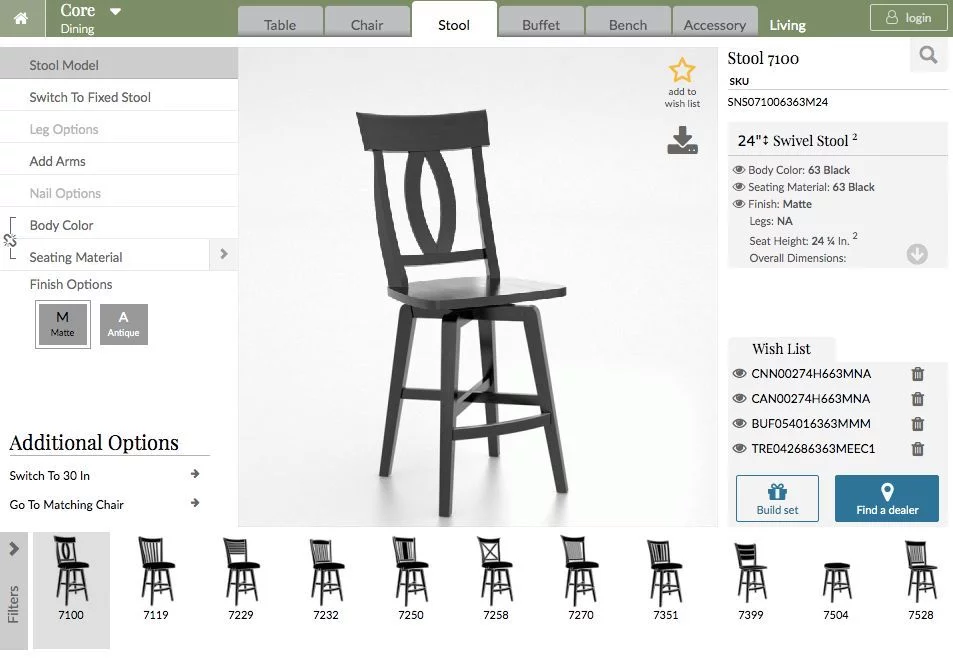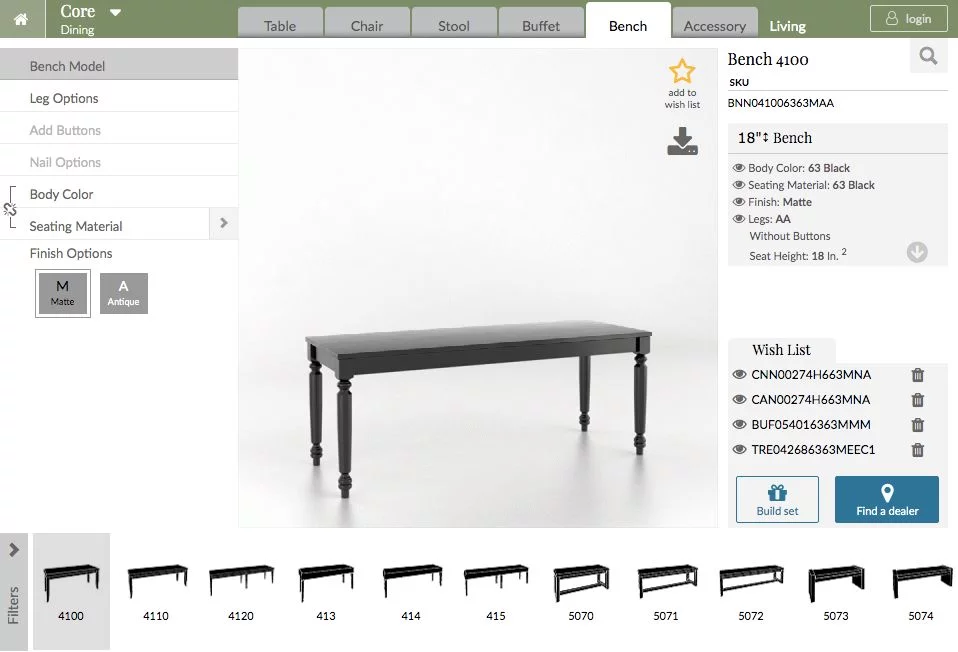 Step Four: Complete your Dining Room with a Buffet
Finally, all styles within the Canadel collection offer coordinated buffets. A buffet may be the perfect way to tie your selection together and turn your dining pieces into a complete dining room.
The buffets come in a variety of shapes, sizes, and patterns in which the accent colour, body colour, and finish can be customized.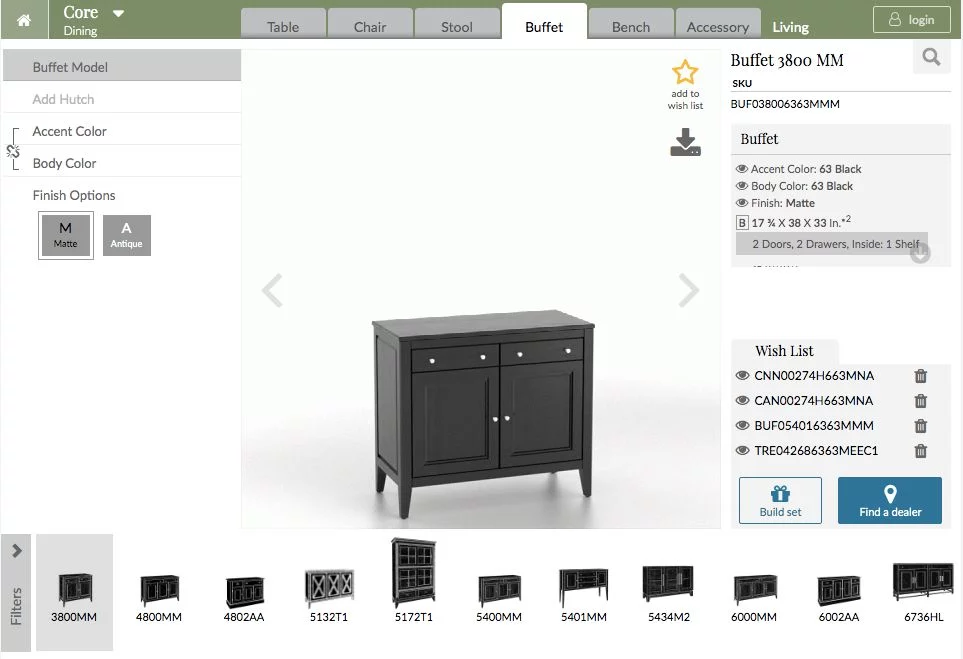 Take Advantage of Canadel Online Tools
With such a wide range of selection and options for customization, it may become difficult to visualize how each dining piece will appear and coordinate together.
With this, Canadel offers a very helpful digital design tool in which you can customize and preview your selections and designs.
By utilizing this tool, you have the option to play around with your customizations on your own timeline until you find the perfect choices and combinations for you.
Once you have completed the design of your individual dining pieces, you can submit a request for a preview of how the entire room will appear together. If there is something about the overall design that you don't like, this gives you the option to go back and make changes to your custom choices.
This tool is available to anyone online or in-store with the help and expertise of a personal consultant.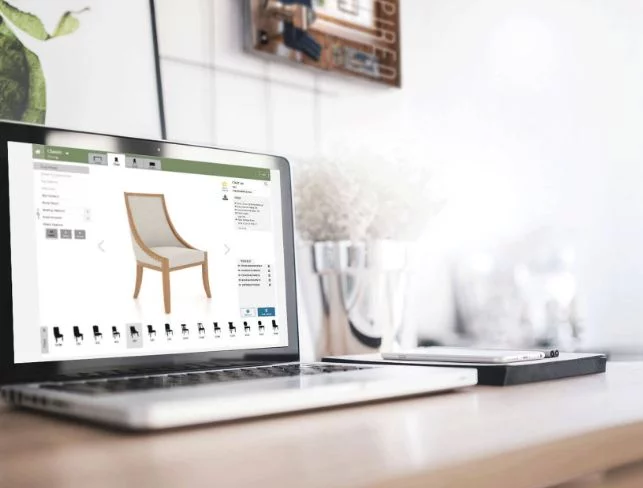 How Much Does it Cost?
When it comes to the cost of the Canadel dining collection, this furniture is meant to be a long lasting investment in timeless heirlooms.
The cost reflects the quality of the materials used, detail and precision that goes into hand crafting these pieces, and the unique customization that goes into every individual order.
Generally speaking, the Canadel dining collection falls within the high price range category.
To get a more specific idea of costs, this chart outlines the starting price of each piece of a dining room set. These prices are subject to change and can go up substantially based on personalized customizations.
| | |
| --- | --- |
| Furniture Type | Starting Cost (subject to change) |
| Dining Room Chair | $499 - $1,029 + |
| Dining Room Table | $1,139 - $4,029 + |
| Stool | $499 - $1,379 + |
| Bench | $299 - 1,249 + |
| Buffet/Storage Units | $2,369 - $6,819 + |
*All Canadel prices mentioned in this article are subject to change depending on customizations and general increases. We aim to update all cost-related articles twice per year. This article was last updated in October, 2022. Please contact a design consultant at La-Z-Boy Ottawa or Kingston for an accurate and up-to-date quote of the product(s) you are interested in.
What People Are Saying About the Canadel Collection
Michelle MacLellan, an in-home designer at the Canadel showroom in Kanata, says that she has had customers come back over 25 years later to replace their Canadel dining set.
"They aren't coming back because their dining set was worn down or damaged, they are only coming back because they want to update the styles to match more current trends." Michelle says, "Most people that buy Canadel dining furniture become repeat customers because they love the product quality so much."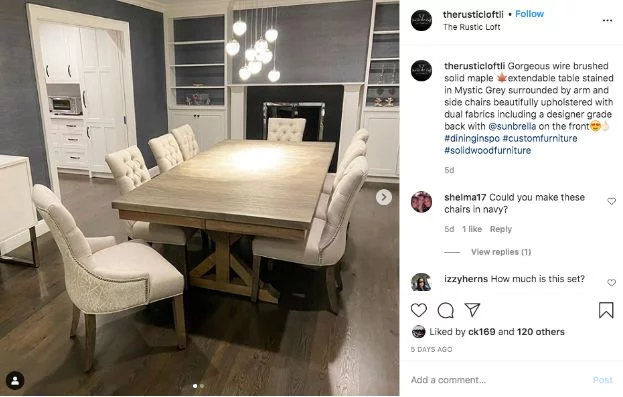 Although the Canadel collection receives many positive reviews from new and ongoing clients, Candle dining furniture may not be the right fit for everyone.
There are a few factors, such as cost or the lengthy delivery time for custom hand-made furniture, that might not be ideal for all budgets or timelines.
What's Next?
The Canadel Dining Collection allows you to make limitless design decisions and customizations. Ultimately, you have the opportunity to hand pick a dining set for your home that encompasses your unique lifestyle and personality.
To experience the Canadel Collection in person, visit the Kanata Canadel showroom where you can meet with a personal consultant.
Further, the Kanata Canadel store is attached to a locally owned La-Z-Boy showroom. Between both stores, a consultant will care of all of your design and home furniture needs, beyond just the dining room.
Why not start shopping today?
Visit us in-store or schedule a visit in advance to begin the process of designing your personalized Canadel dining set.
Product Info Request
Please provide us with your name and email and we'll get back to you as soon as possible regarding this item.