Review of the Canadel Modern Collection
June 1, 2022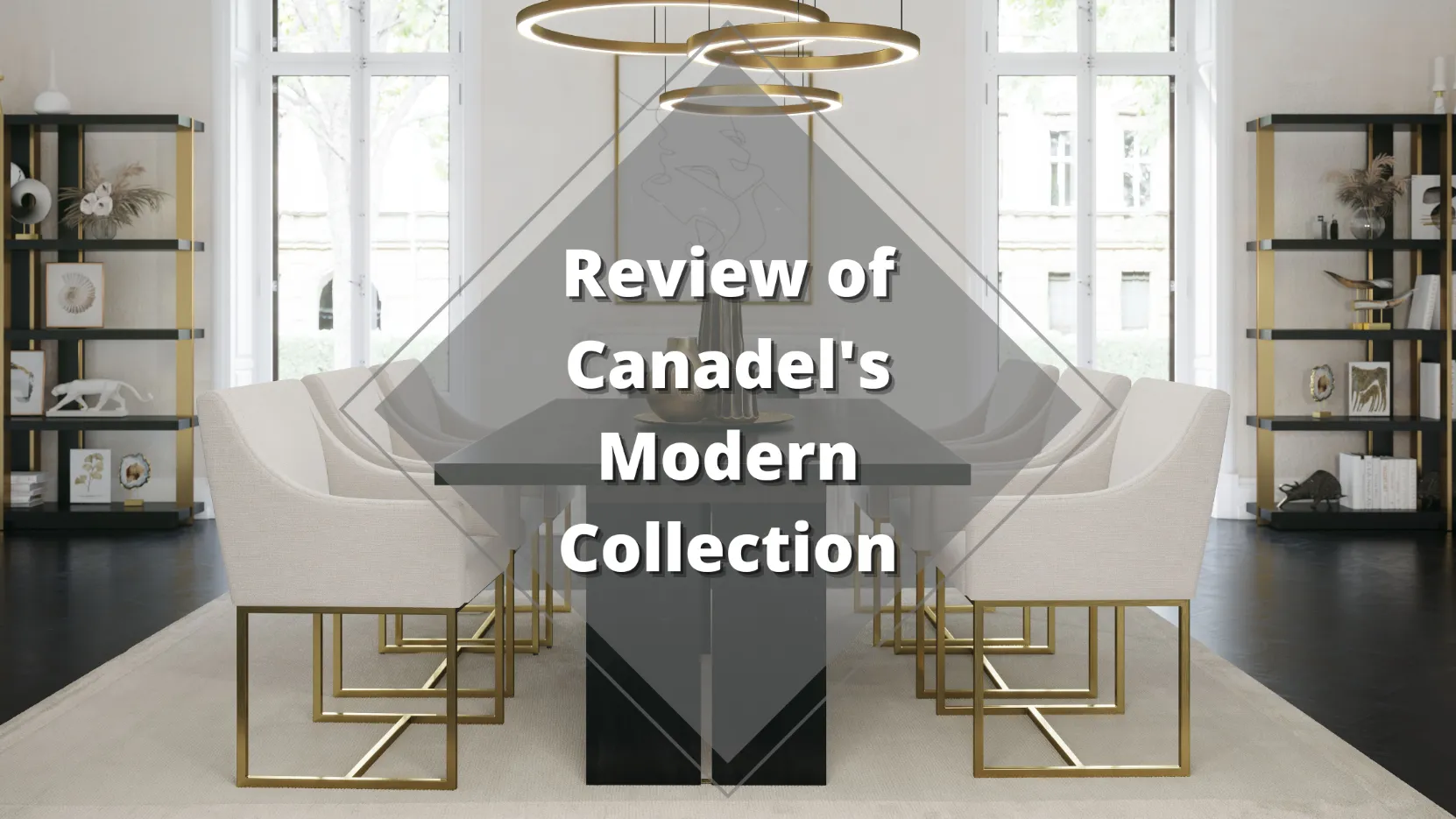 Est. Reading Time: 7 Mins
When going bold, think gold! More specifically, gold accent colours. This is what the new style in Canadel's flagship collection is embracing.
It seems as though people are looking for more unique and dynamic furniture this year. Moving on from a monochromatic field of furniture, people are now looking for a splash of colour in any shape or form.
With the Canadel Modern collection, a homeowners' desire for bold accent colours is being fulfilled in a drastic way.
Michelle MacLellan, an interior designer at La-Z-Boy and Canadel expert, says that the Modern collection is "very dramatic. Customers are looking more for something that pops in their dining room and the Modern collection effortlessly does this."
Though this might sound appealing, is the Modern dining collection right for your dining room?
This article will cover everything you need to know about Canadel's Modern dining collection including unique features, options & customizations, cost, and warranty.
In This Article…
Brief Description of Canadel
Canadel is a Canadian furniture company that has been in business for over 30 years. They specialize in making high-quality and custom-made dining room furniture.
One thing La-Z-Boy customers may not know is that Canadel Custom Dining is a part of our dining selection at La-Z-Boy Ottawa & Kingston, with a flagship Canadel showroom attached to the La-Z-Boy Kanata showroom.
Much like La-Z-Boy, Canadel prides itself on selling high-quality furniture. In addition, they provide extensive customization options, made easier with the Canadel UDesign tool, which provides the online customer with over 9 million furniture combinations and options to choose from.
Canadel offers a variety of dining room styles that are characterized by six main collections: Champlain, Loft, Gourmet, East Side, Downtown, and Canadel, the flagship collection.
Each collection offers its own unique twist on traditional dining room sets, taking on stylish and eye-catching appearances. Whether you live in a modern downtown flat or a traditional family home, there is a Canadel collection to meet each and every taste or preference.
About Candel's Modern Dining Collection
Style & Unique Features
All Canadel Dining Furniture is handcrafted in North America. The Modern Collection, which falls under the Canadel flagship collection, is custom-made with solid Canadian birch and eco-friendly hevea wood.
Each piece of dining furniture is properly detailed based on each customer's customization choices, made easier by Canadel's UDesign tool.
As previously mentioned, the Modern collection is under the Canadel flagship collection, simply named Canadel. This collection covers four main styles of furniture, the other three being Core, Classic, and Farmhouse. The Modern collection is the newest style to be featured in this bigger collection.
Modern's main feature showcased in almost all of its furniture is the brass gold accent colours, which, according to Michelle, are gold-coloured metal rods that help accentuate the modern aesthetic.
Given that the brass gold rods are the main feature, there is a lot of metal featured throughout this collection, especially in the dining chairs, stools, and benches, according to Michelle.
"This is the only line of furniture at Canadel that has bold metal accents for their dining seating," she says.
Dining Furniture Selection


There are many different dining furniture pieces featured in Canadel's Modern collection. Within the collection, Modern has 5 different styles of seats, as well as 4 tables, 3 stools, 1 bench, and 4 buffets/storage units.
Michelle's top picks for Modern include glamorous designs, which heavily showcase the gold metal accents. Canadel's Modern collection also has glass tabletops, which look similar to the Downtown collection.
When comparing the Modern and Downtown collections, they both showcase modern designs and their glass options are more emphasized than other collections.
However, Downtown is more inspired by mid-century modern design, which is where the two differ. Downtown is also the only collection to feature round glass tabletops.
Canadel also has living room furniture featuring occasional tables and media units. The Canadel flagship living room selection has three different occasional tables to choose from. These options include a coffee, end, or sofa table.
There are also media units to choose from, which are usually storage units made for holding larger TVs. Media units have almost the same design as dining buffets.
Options & Customizations
It is important to note that all available options and customizations to the Modern dining collection can be explored on Canadel's UDesign tool, which is easily accessible on the Canadel website.
You can also learn more by checking out the article Everything You Need to Know About Customizations at Canadel Custom Dining.
Dining Tables
With dining table shapes, these are only limited to round and rectangular options, meaning Modern isn't the most versatile collection in terms of dining table shape.
Other flagship styles, like Core, feature table shapes like square, oval, drop-leaf, and boat.
Glass table options only come in rectangular shapes in the Modern collection. Michelle distinctly notes that the glass rectangular dining table with any pedestal base stands out greatly in this collection, making anyone who loves a simple, clean, and modern look love this furniture piece.
It is also one of the only collections to feature glass rectangular tables with pedestal options, along with Downtown.
Dining Seats
Modern is the only collection to have metal legs for all of its dining seating options. All dining chairs, benches, and stools come in either brass gold accent legs or in a plain wood finish.
Dining seating also comes upholstered or unupholstered depending on your choices. There are also back or backless options as well as swivel or non-swivel options to choose from.
Dining Buffets
As for dining buffets, brass gold accent legs or wooden legs are also available. Modern's buffet selection, though minimal, does carry a lot of variations.
One of the dining buffets is a lot smaller and carries less storage than most buffets in any collection. Because of this, it can be used more as a console or coffee table, according to Michelle.
One other dining buffet is larger, and can be used as a bookcase to store not just dining essentials, but also books to help elevate the level of sophistication in your house.
Wood Finish, Glass & Upholstery Options
There are many different colours and finish options that the Modern dining collection offers.
The Modern collection has an abundant selection of wood finish colours available, displaying over 5 wood finish colours; the most out of any collection.
If you opt for a dining table with a glass top, the glass options include 7 types of clear glass, as well as 6 frosted glass options.
The wood finish and glass colours are all interchangeable with the other three styles in the flagship collection.
Moreover, upholstered dining seating options, such as chairs, benches, or stools, are offered in a huge array of fabric and velvet options. Modern, unlike other dining room collections, does feature leather options, as well as faux-leather options.
Cost
According to Michelle, dining furniture from the Modern collection falls within the mid-high price range, in terms of cost. "This is because of the gold metal options," she says, which is an expensive material to use.
There is no specific price assigned to any Canadel product until you customize and personalize your chosen furniture. Once you have selected all of your customization options, a design consultant at the Canadel store will be able to tell you the exact cost of your furniture.
The final cost depends on the materials used within each piece of furniture. All Canadel prices are subject to change depending on the options and customizations you choose.
Warranty
The Modern Dining collection is covered by Canadel's 1-year warranty, which covers the repair or replacement of chair frames, tabletops, fabric tearings, or any unforeseen circumstances that would be covered under Canadel's warranty.
Given that each piece of furniture is quality-crafted and built to last a long time, Canadel also offers an extended 5-year warranty plan, at an additional cost.
This not only goes to further protect your purchase but it is also transferable when you purchase new Canadel Furniture if you are looking to replace old additions.
Is the Canadel Modern Dining Collection Right for You?
The Modern collection may be described as glamorous and dramatic, but is it the right furniture collection for you? The answer to this depends on your budget, lifestyle, and design preferences.
As mentioned before, prices for the Modern collection are higher than other collections. This is not only because of the metal gold-coloured materials used but also because Canadel is a higher-quality furniture store.
Purchasing high-quality furniture is an investment, so if you're willing to pay for something that lasts longer than other furniture products, it might be worth it in the long run.
Alternatively, if you are looking for something that is affordable or temporary, furniture from the Canadel Modern collection may not be the right choice for you.
In terms of style, somebody who likes contemporary and clean lines in their furniture style will love this collection. "Anything that looks clean with a timeless style," says Michelle.
With that being said, you don't normally see brass gold metal bars on all pieces of furniture so if you're looking for something more unique with a dramatic flair, this is the furniture collection for you.
In contrast, sometimes people are looking for toned-down furniture items, meaning less dramatic and more neutral. If this is the case, Modern's shining brass might not be the right choice for your dining room.
Finally, when considering the practicality of your dining room, this dining room collection is not meant for everyone.
Because of the bold accent colours, these furniture pieces are more stylish in nature. This means if you love to host dinner parties and want your dining room furniture to be an attention grabber, this furniture collection is right for you.
However, because these furniture pieces are more elegant looking and offer a more high-end look, those who own younger children may not enjoy the Modern collection. This especially goes for the glass table tops if you want them to maintain their clean aesthetic.
What's Next?
After reading this article, you have learned everything you need to know about Canadel's Modern Dining Collection. So, why not check it out for yourself?
Canadel has an intuitive tool to help you discover what each collection has to offer, thanks to their UDesign platform. Make sure to check out the UDesign tool so you can discover Modern, other Canadel flagship styles, and other dining room collections in detail.
If you require assistance navigating the UDesign tool, check out this helpful article for a step-by-step tutorial.
La-Z-Boy also offers design assistance on all things Canadel custom design. By visiting an Ottawa or Kingston showroom, or the Canadel Kanata showroom, you can receive one-on-one assistance in selecting and custom designing your Canadel dining furniture.
You can also book an appointment with our interior design experts for any burning questions you may have.
Related Articles:
2021 Review of the Canadel Dining Collection
Canadel Dining Room Furniture for Small Spaces
Product Info Request
Please provide us with your name and email and we'll get back to you as soon as possible regarding this item.