What You Need to Know About Round Glass Dining Tables
April 14, 2022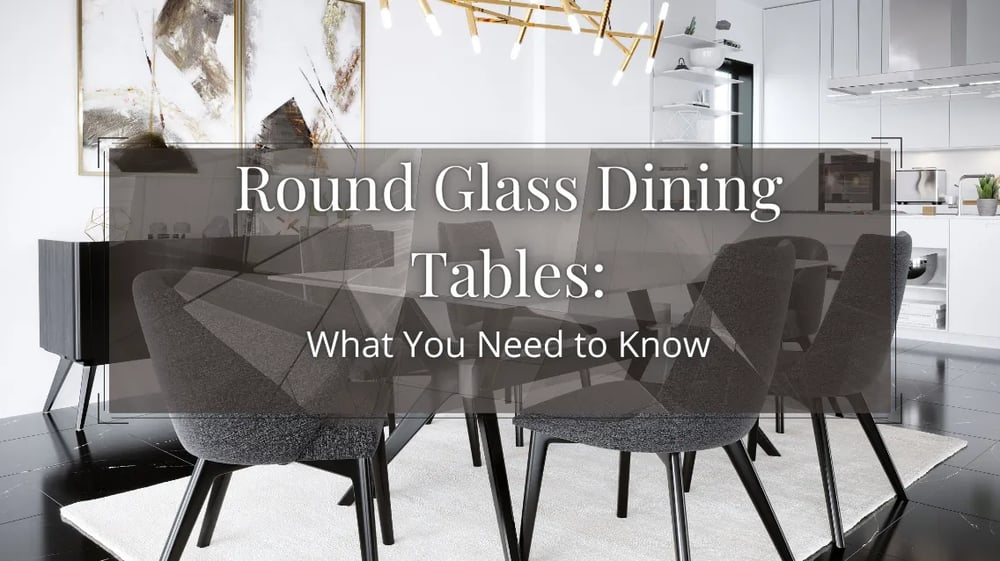 Est. Reading Time: 10 mins
When you think of a dining room table, what is the first thing that pops into your head? Most people might give off the description of a long rectangular wooden table with either legs or pedestals that support it.
However, recently there has been a new shift in popularity, with homeowners choosing to go with round glass dining table options, rather than the traditional wooden dining table.
Glass round dining room tables work just like any other dining room table you would encounter. The only difference is that it incorporates glass into the construction of the table instead of wood.
With that being said, while glass dining room tables may have the same use, they add a whole different look and feel to your dining room experience.
This article will tackle everything you need to know about a glass round dining table, including pros & cons regarding style, quality and functionality. After reading this article you will be able to determine if a glass round dining table is right for you and your dining room design.
In This Article…
The Glass Round Dining Table Trend
Glass round dining room tables are currently picking up steam for homeowners everywhere. But you might be wondering why this is the case. Why glass round tables specifically?
Believe it or not, the trend of having a glass dining room table is not anything new. In fact, interior designers have always praised glass tables for their simple, yet diverse style and looks.
Though they aren't the most obvious choice, glass round tables create a clean and eye-catching aesthetic that is sure to please any modern dining room. Further, glass dining tables are able to make a house look more open, giving open concept spaces an even bigger appearance.
Even though there aren't as many customization options compared to wood dining tables, glass dining tables are able to compete with them, in terms of having multiple unique styles and designs.
Another reason glass dining tables are being noticed more is that they complement contemporary styles of furniture, which has become a popular aesthetic amongst homeowners.
This is why glass dining room tables are slowly growing in popularity. Homeowners are starting to realize the versatility that a glass dining table has.
Though most people may think that glass dining tables can only do sophisticated and contemporary looks, there are many looks they can have, which we will talk about later.
How to Incorporate Glass Dining Room Tables Into Home Design
When most people look at a glass dining table, they tend to think of it as a fancy, or a more sophisticated-looking piece.
And because there are fewer of them in the wooden-dominated industry, a glass dining table may be considered an attention grabber in home design.
While this is the case, people are also drawn to glass tables because of the airy and elegant look it brings to a room.
As previously mentioned, glass dining tables give off the illusion of having a bigger space because the tabletop is transparent, as opposed to a wood table, where things might seem more bulky and big.
With glass round dining tables specifically, more people are beginning to find unique ways of incorporating them into their home design. There are 3 popular ways to incorporate a glass table into home design:
1. Glass dining tables are utilized in small dining spaces to make the room feel larger.

2. Homeowners are using glass dining tables as a stylish way to fill an open space. For example, a small nook in the corner of your house no longer needs to be unused. Instead, it can be turned into a casual eating area throughout the day.

3. Glass round tables have versatility, meaning they can always be used as not just a dining area but a workplace for your at-home workspace. It can also be a place to display knick-knacks and other things in a clean way.
Glass vs. Wooden Dining Tables: Factors to Consider
Although glass tables are catching the attention of more homeowners, there are several factors to consider when choosing between a glass dining table vs. a traditional wooden dining table.
Luckily, we got you covered. Here are 5 important factors to consider, including pros & cons, when making your decision.
1. Customization Options & Versatility
Given the vast customization options that wood dining tables hold, wooden dining tables can complement nearly any design style.
When it comes to style, glass dining tables seem to fit most with contemporary and mid-century modern aesthetics, which can be versatile in its own right but leaves fewer choices than wooden tables.
Most dining room furniture stores sell both wooden and glass dining table options. However, there is always a more abundant option of wooden dining tables as opposed to glass dining tables.
This is because wood dining tables offer more versatility, in terms of design, compared to glass dining tabletops.
This versatility of wooden dining tables refers to a variety of wood species, wood paints, and wood stains that can drastically change the look, feel, and quality of a dining room table.
In comparison, glass dining tables typically have a couple of "colour" options or a frosted colour option. However, tabletops are not everything included in a dining table.
Another thing to consider with versatility is the leg and pedestal options. Yes, glass table tops aren't very exuberant in variety. But, what the top of the table lacks in choice, the bottom of the table makes up for.
Leg and pedestals for glass tables can create an aesthetically pleasing contemporary look or an ornate and shabby chic appearance, complementing the niche french country style nicely.
Sometimes less is more, and some people may feel too overwhelmed with the amount of wooden table options there are. With so many wood finishes, choosing between them might seem more difficult than expected. But choosing between a clear or frosted glass tabletop might not be too hard of a decision for those looking for a glass table.
2. Table Top Cleanliness
Something that definitely stands out from having a glass round dining table is the fact that it is easier to clean than wooden dining room tables.
As mentioned above, wooden dining tables come in different wood finishes, meaning some finishes can have a more matte or distressed finish, depending on the style.
If the table has a more distressed wood finish, certain foods and liquids might either stain your table or be more difficult to clean out.
With glass dining tables, however, surfaces are easier to clean. In fact, most glass table tops can be cleaned with the simple wipe of a damp cloth or a Lysol wipe.
However, even though glass table tops are easier to clean, many homeowners don't account for the number of things a glass table picks up, which are fingerprints, watermarks, and cloudy areas from hot items.
Certainly, that is something to consider when thinking of the high maintenance a glass dining table requires in order to maintain a nice and presentable dining area.
There are also ways to prevent this, however.
Certain retailers offer tempered glass alternatives, which means your glass table can be heat resistant, thus creating fewer cloudy spots.
Tempered glass table tops also last longer than regular glass tabletops, which is something to consider if you are looking for a long-lasting piece of dining furniture.
3. Dining Table Durability
There's no doubt that glass dining tables are more delicate than wood dining tables. Certain houses that have energetic children or pets might not be well suited to be around these fragile furniture pieces.
If broken, glass tables can cause serious cuts that result in very painful injuries, which can be dangerous for children and animals. Further, if your glass table shatters into millions of small pieces, the mess might be harder to pick up than the simple break of a drinking glass.
Even deep scratches on a glass table might ruin its design for good.
In contrast, wooden dining tables tend to be more durable, and when damaged, wooden tables are much easier to restore. In fact, most damaged dining tables only require the simple fix of sanding.
So, when looking for a glass dining table, make sure to take into account your lifestyle and who might be using this fragile piece of furniture.
4. Comfortability
On the subject of people sitting at the dining room table, the materials and shape of a table also play in the comfortability of the dining room.
Along with wooden tables, glass table edges might not be the most comfortable for people to sit against, especially if you have more guests at the table.
Sharp glass table edges are also more dangerous when kids are in the same environment, due to the risk of them getting bonked in the head.
That is why round glass tables are safer and more comfortable than rectangular-shaped glass tables. Not only will everyone feel more comfortable sitting at a table, but the circular shape removes the concern of a child or guest banging into a sharp, pointy edge of the dining table.
If a glass round table doesn't compliment your space, there are safe and comfortable rectangular or square glass table options. Consider getting rounded table edges so you don't have to worry about discomfort or injury.
5. Cost of Glass vs. Wood Dining Room Tables
Something most people may not notice is that glass dining room tables are significantly cheaper than wood dining room tables.
This is simply because glass takes less time and effort to manufacture than wood given that wood typically incorporates more complex designs and finishes.
However, as mentioned before, glass tables can have hefty prices attached to them, should homeowners choose to upgrade to a specialty glass tabletop, like tempered glass.
There are also extendable glass tables available on the market, similar to leaf or jack-knife extensions on a wood table. These upgrades to glass dining tables also come at an additional cost, so make sure to take that into account as well when purchasing a glass dining room table.
To learn more, check out the article How Much Does a Dining Table Cost?
Is a Glass Dining Table Right For You?
To summarize the previous sections, there are a lot of advantages and disadvantages to glass tables as a whole.
When considering a glass dining table for your dining room, you must consider the functionality, the overall cost, and design preferences.
In terms of functionality, glass dining tables are not meant for everyone. You must consider who will use it and how it will be used.
If you have small children and animals in your house, there are dangerous situations that might occur if something extreme happens, like shattering the tabletop.
Further, if you intend on putting your glass dining table through heavy use, be sure to consider that even small scratches and permanent marks can ruin a glass table for good.
Glass dining tables also require more regular cleaning, especially when it comes to maintaining a clean aesthetic. This not only means wiping the tabletop with a damp cloth but also dusting or vacuuming underneath the table.
With wooden tables, in comparison, you can ignore the dust bunnies that like to group under the table, but with glass tables, they are always exposed for everyone to see.
In terms of cost, although glass tables can be less expensive compared to wooden tables, certain upgrades like tempered glass and frosted glass options can up the price significantly. It is up to you to decide if you are willing to spend more money on these options and upgrades.
With that in mind, glass dining tables offer a range of design opportunities. More specifically, glass round tables are versatile and seem to work in small apartments or nooks, as mentioned before.
Bigger spaces can also benefit from them as well if your aesthetic has an elegant, modern, contemporary, or sophisticated appearance.
Glass dining tables might seem more niche than other dining table options, but with all of this to consider, you can make a more knowledgeable decision on if you think a glass table is the right choice for you.
Glass Dining Table Options at Canadel
Canadel Custom Dining has been in the dining room furniture business for over 30 years, perfecting its craft for many to enjoy.
With custom dining room furniture being their specialty, Canadel has over 9 million customization options to choose from, which you learn more about in our article Everything You Need to Know About Canadel Customizations.
With that being said, Canadel does have glass dining table options available in all of their collections, excluding Champlain. The glass dining table selection is more prominently featured in the Downtown collection, which also happens to be the only collection that features glass round tables.
What's Next?
Now that you know what to expect when buying yourself a glass dining room table, the choice is now up to you.
Does this piece of furniture match what you're looking for? If yes, why not shop for one right now?
La-Z-Boy and Canadel have been furniture partners for quite some time now, meaning you can shop for all things Canadel by visiting any of our La-Z-Boy Ottawa & Kingston locations. You can also visit Canadel's flagship store at our Kanata location.
Canadel isn't the only dining room furniture partnership La-Z-Boy has. We also have dining room furniture from American Drew, Kincaid, and Hammary to choose from, which you can learn more about through their respective review articles.
While you're at a La-Z-Boy showroom, you can also check out La-Z-Boy's selection of high-quality furniture items we have in store for all your living room needs.
For personalized shopping advice, book an appointment online or talk to an interior designer in person.
Related Articles:
Do Area Rugs Belong in a Dining Room?
How to Decorate Your Dining Room: 6 Simple Steps to Follow
Product Info Request
Please provide us with your name and email and we'll get back to you as soon as possible regarding this item.