Do Area Rugs Belong in a Dining Room?
September 13, 2021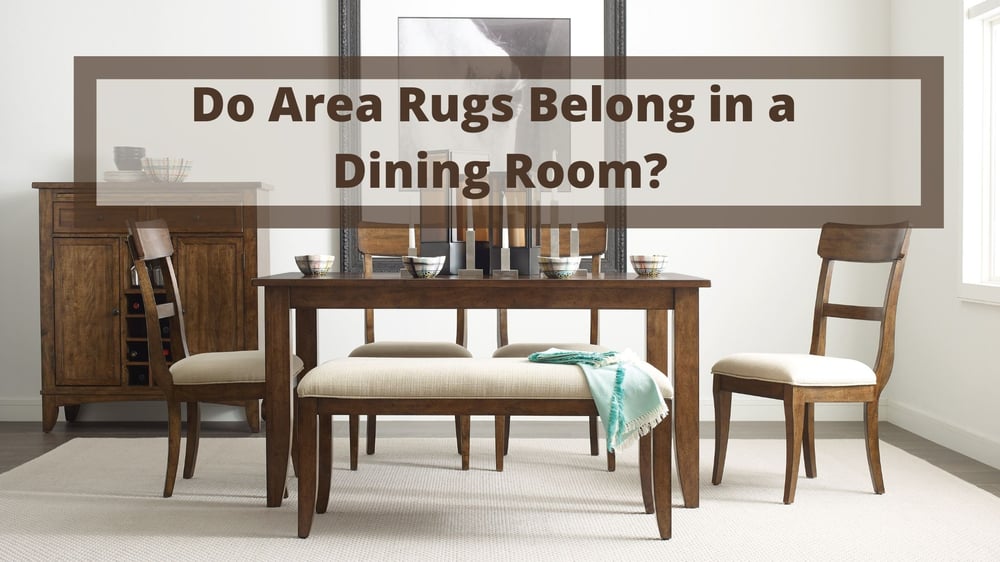 Do area rugs belong in a dining room? This seems to be a heated debate in the world of home design!
For some, incorporating an area rug in a dining room is absolutely crucial. In contrast, many prefer a more minimalist dining room design. Others simply aren't sure.
At La-Z-Boy Ottawa & Kingston, we are well-versed in all things furniture and home design. In turn, many of our clients face this dilemma and come to us looking for advice.
While there are pros and cons to both approaches, the decision to place an area rug in your dining room solely depends on your unique space, design preferences, and lifestyle.
There is no right or wrong answer!
With expert advice from Mary Lee Smyth, the interior designer at La-Z-Boy Kingston, this article will guide you in realizing which side of the debate you land on.
Read on for an outline of important factors to consider when making the decision between rug or no rug, as well as obvious pros and cons. If you are leaning towards incorporating an area rug, this article will also provide helpful tips on how to choose the right rug for your space and lifestyle.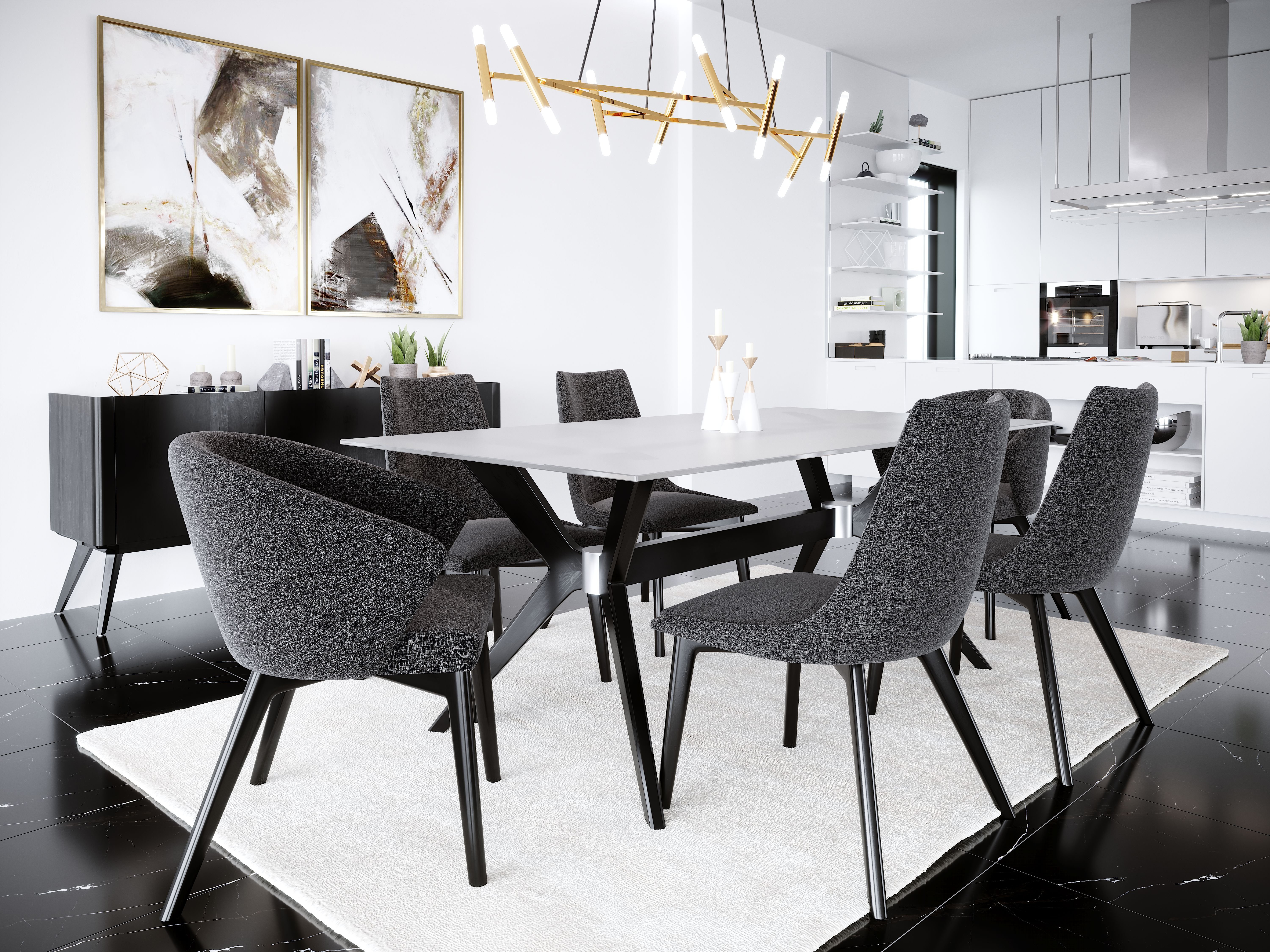 In this article ...
1. Rug or No Rug? Factors to Consider ...
2. Five Tips For Choosing a Rug for your Dining Room
Rug or No Rug? Factors to Consider ...
Lifestyle & Practicality
Right off the bat, much of this decision depends on your lifestyle and the practicality of your dining room.
What will your dining room be used for? Is this an occasional dining space or an everyday eating area? Who will be using the dining room? Do you have young children and pets? What will you be eating?
Mary Lee says that it is important to make the distinction between a casual eating space and a formal dining room. This will ultimately determine how the dining room is used and who uses it.
A casual eating space, or what Mary Lee calls a "breakfast nook", is typically in close proximity to the kitchen or even right up at the island counter. Casual eating spaces are used for everyday quick and easy meals. This is where we "squat and gobble" says Mary Lee.
Mary Lee suggests tile or hardwood, as opposed to an area rug, in casual eating spaces as they are easier to clean on a regular basis. This is a crucial consideration if you have messy children or sloppy pets running around.
In contrast, a dining room typically has its own designated area and is reserved for more formal dining occasions. "The dining room is a place to celebrate friends and family; this is where we go to slow down", says Mary Lee.
With this in mind, Mary Lee is a strong advocate for placing an area rug in a formal dining room setting. Especially if this room is used by adults for celebratory occasions, the elegance of an area rug is a great way to mimic the importance and sophistication of the gathering.
Assuming this formal dining room will primarily be used by young adolescents and adults, big messes and irreversible spills should not be a major concern.
Finally, Mary Lee also suggests considering the type of table you will be setting. Casual meals like wings, chips, salsa, and beer are best kept to everyday eating areas with easily cleanable surfaces. The last thing you want is a salsa stain on a lovely white wool carpet.
Alternatively, if you intend on serving a delicious steak dinner and red wine with your finest china and silverware, then why not jazz this space up with a beautiful and decorative area rug?
| | |
| --- | --- |
| PRO | CON |
| Area rugs can create an elegant and sophisticated look in your dining room … ideal for formal dinner parties and occasions. | Area rugs can be difficult to keep clean, especially if you have children or pets. |
Space
With lifestyle and practicality aside, it is also important to consider your space.
In a large space full of hard surfaces, an area rug can add warmth and texture to a dining room.
Further, area rugs can be a great way of clearly designating a dining area in an open floor plan. Similarly, area rugs are also helpful in making a large space appear filled, pulling together an entire furniture arrangement.
Not only can an area rug complete a space and create an overall feeling of warmth, it can also provide a level of comfort, says Mary Lee.
Especially in harsh Ottawa and Kingston winters, the floor of your home can get cold on your feet as you eat. A rug adds a nice layer of protection making you feel warm and comfortable as you enjoy your meal.
It is also important to consider how an area rug, or lack thereof, will affect the sound in your space. Area rugs can effectively absorb loud and echoing sounds, according to Mary Lee.
Without an element of upholstery, hardwood floors, large windows, and solid surfaces can contribute to high noise levels and booming acoustics. Mary Lee says eating in a large dining space without an area rug sounds comparable to eating in a church.
On the flip side, area rugs can make a small space look smaller. In this case, it might be wise to opt out of incorporating an area rug in order to create a more open and spacious look.
Moreover, area rugs can create a tripping hazard, especially if they are not large enough for your table and room. It is possible for chairs, doors, or other pieces of furniture to get caught on the rug.
PRO

CON

Add warmth and texture to a space
Clearly designate a dining area in an open floor plan
Make a large space appear filled
Protect hardwood from scratches and damage
Keep noise levels at a minimum

Make a small space look smaller
Create a tripping hazard
Budget
Simply put, incorporating an area rug into a dining room will add to the total cost of furnishing the room and exceed the price of simply incorporating a new dining table.
The total cost of an area rug depends on a variety of factors such as size, materials, construction, style, and overall quality. You can spend anywhere from $20 to over $4,000.
With a wide selection of price points on the market, you don't necessarily have to break the bank on a rug for your living room. With this being said, you will likely need a generously sized rug to compliment the size of your dining table. You will also want something somewhat durable to avoid wear and tear caused by the shuffling of dining room chairs.
Although an area rug will add to the overall budget of your dining room, keep in mind that this investment may save you some money in the long run by protecting your wood floor.
PRO

CON

Wide variety of rugs on the market at multiple price points
Rugs can protect flooring, potentially saving you money in the long run

Add to your overall dining room budget
Dining Room Style
Finally, take into consideration the intended design style of the dining room.
If you are trying to achieve a traditional or mid-century modern dining room style that portrays warmth and texture, an area rug can contribute to this look.
Conversely, if you are designing an industrial, modern, or minimalist dining space, an area rug may not suit your room.
For more dining design inspiration, take a look at the article How to Decorate Your Dining Room in 6 Simple Steps.
| | |
| --- | --- |
| PRO | CON |
| A rug can enhance the overall look of your space and help achieve your desired design style | In a more minimalist, industrial, or modern furniture arrangement, a rug may not suit the desired style |
5 Tips for Choosing a Rug for your Dining Room
If you are leaning in the direction of placing an area rug in your dining room, consider 5 tips for choosing the right one.
1. Bigger is Usually Better
When it comes to choosing the size of your dining room area rug, air on the side of bigger!
According to Mary Lee, a dining room rug should have at least 24 inches of extra room on all sides of the dining room table. An even wider border is ideal. This allows enough space for all guests to pull out the dining chairs without tripping over the rug.
Below are some other size recommendations from Mary Lee …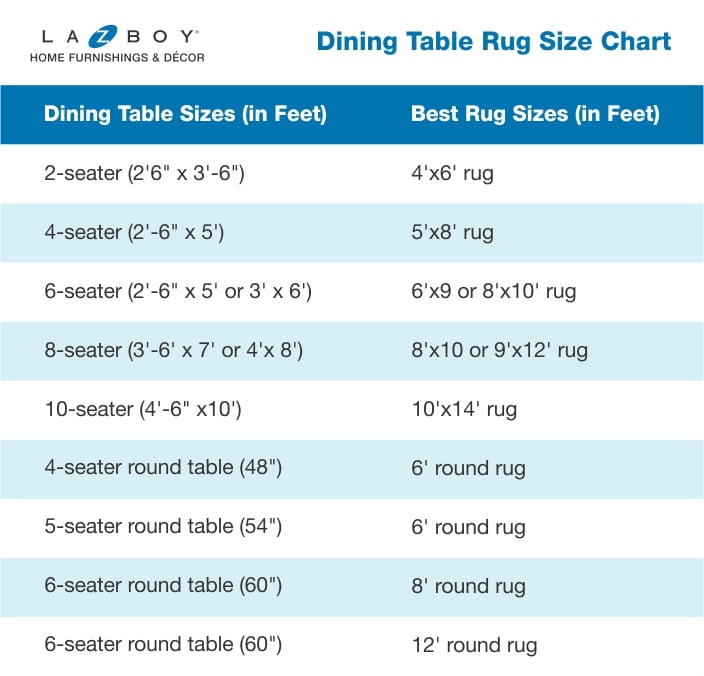 To ensure you are choosing the correct size rug, first measure your dining table. From these measurements, add 24 inches or more on each side of the table. Next, mark the ideal perimeter of the area rug on your floor with painter's tape. If the marked areas fall well inside your other dining room furniture, such as a buffet or bar cart, consider sizing up.
For more tips on accurate measuring, take a look at the article on How to Measure Your Room to Buy the Right Furniture.
2. Match Rug to the Shape of the Room or Table
While choosing the right size is crucial, it is also important that your area rug complements the shape of your space and dining table.
Echoing these shapes in the room creates a pleasant feeling of structure and nicely frames the dining room table.
Square dining rooms and dining tables pair nicely with a square or round rug. Rectangular dining rooms or dining tables look great with rectangular or oval rugs.

3. Choose Easy-to-Clean Materials
While avoidable, an eventual spill or two is inevitable in a dining room.
To this end, it is a good idea to choose an area rug with easy-to-clean materials. More specifically, Mary Lee recommends "bulletproof materials" such as polyester or polypropylene.
For detailed instructions on how to clean an area rug, refer to our article of Furniture Care Tips.
4. Pick a Flat Weave or Short Pile Rug
Building on the last point, it is also recommended to choose a flat weave or short pile rug.
Spills aside, a dining room area rug is bound to accumulate some crumbs over time. A flatweave or short pile area rug is much easier to vacuum than a shaggy, thick, or fluffy area rug.
5. Avoid Light Colours
Finally, it is best to avoid white and light-coloured hues in choosing an area rug for your dining room.
Light and pale colours will show dirt, crumbs, and spills sooner than a deeper, rich area rug colour or pattern.
What's Next?
So there you have it. That is the great debate of area rug vs. no area rug in the dining room!
At the end of the day, it is a personal choice and an area rug is not a must-have. With both perspectives in mind, take your time to decide what side of the debate you fall on. Consider all the factors in determining which option is best for your dining room and lifestyle.
If you decide an area rug isn't for you, there are other ways to spruce up your dining room. Consider incorporating a chandelier or a beautiful centerpiece.
On the flip side, if an area rug is what you desire for your dining room, we are here for you at La-Z-Boy!
At La-Z-Boy Ottawa & Kingston, we offer a wide range of Surya area rugs. Amongst this selection, we have a variety of shapes, sizes, colours, textures, and patterns, that suit all spaces and budgets.
La-Z-Boy makes comparing your options easy by offering stock samples of Surya rugs. Access the look and feel of the available Surya rugs by browsing the 18' x 18' inch stock samples.
By taking advantage of our complimentary design services, our expert interior designers can help ensure that the area rug you choose compliments your space, furniture selection, and desired home decor.
Visit us at a local Ottawa or Kingston location to get started today. If you prefer to plan in advance, schedule an appointment online.
We look forward to meeting you and helping you find the perfect rug for your dining room!
Related Links:
2021 Review of the Canadel Dining Collection
How to Decorate your Dining Room: 6 Simple Steps to Follow
Product Info Request
Please provide us with your name and email and we'll get back to you as soon as possible regarding this item.