How to Decorate your Dining Room: 6 Simple Tips to Follow
August 14, 2020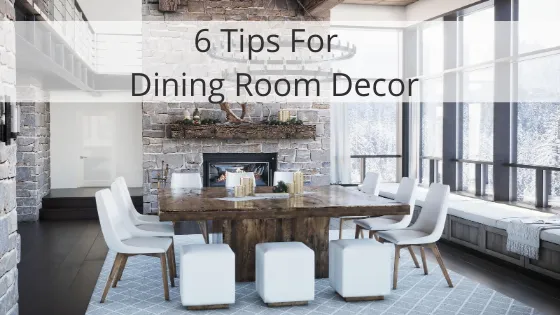 We've had a lot of time the last couple of years to think about what's important in life. Now more than ever, we understand the benefits of connecting with our loved ones… in person!
If you think about it, dining rooms are indeed the heart of our homes. They are the spaces where we share good times with family and friends and indulge in everything entertaining, from cooking delicious meals to enjoying lively conversation. A beautiful dining area — one that reflects your taste and style — makes the experience even sweeter.
Now, imagine the perfect dining room decor. Whether it's a stand-alone room or part of an open concept, your dining area should be practical, functional – and beautiful! Here are six tips to get you started:
1. Allow the architectural details of your home to guide you
Always pick the style of wood and fabric that mimics the design of your home. It will add character to your room and make a statement!
This doesn't mean if you live in an 1820 country house that you may not have a contemporary dining room! Mixing interior design styles and times works as long as the contrasting style is visually contained within the room.
If you have a lovely stone farmhouse and long for a glass and chrome dining set, go ahead. However, perhaps add some french doors to the dining room to confine the style within the room.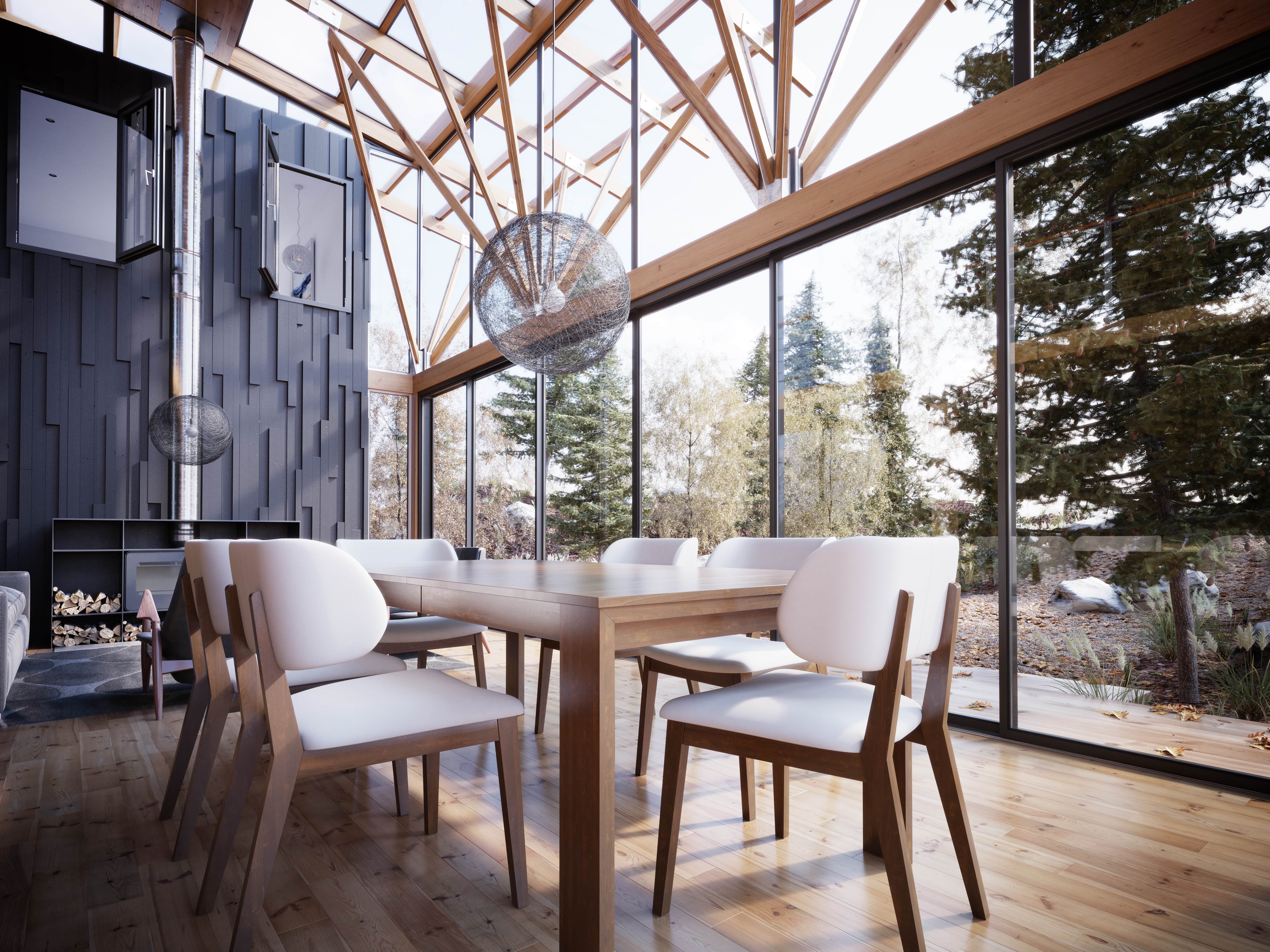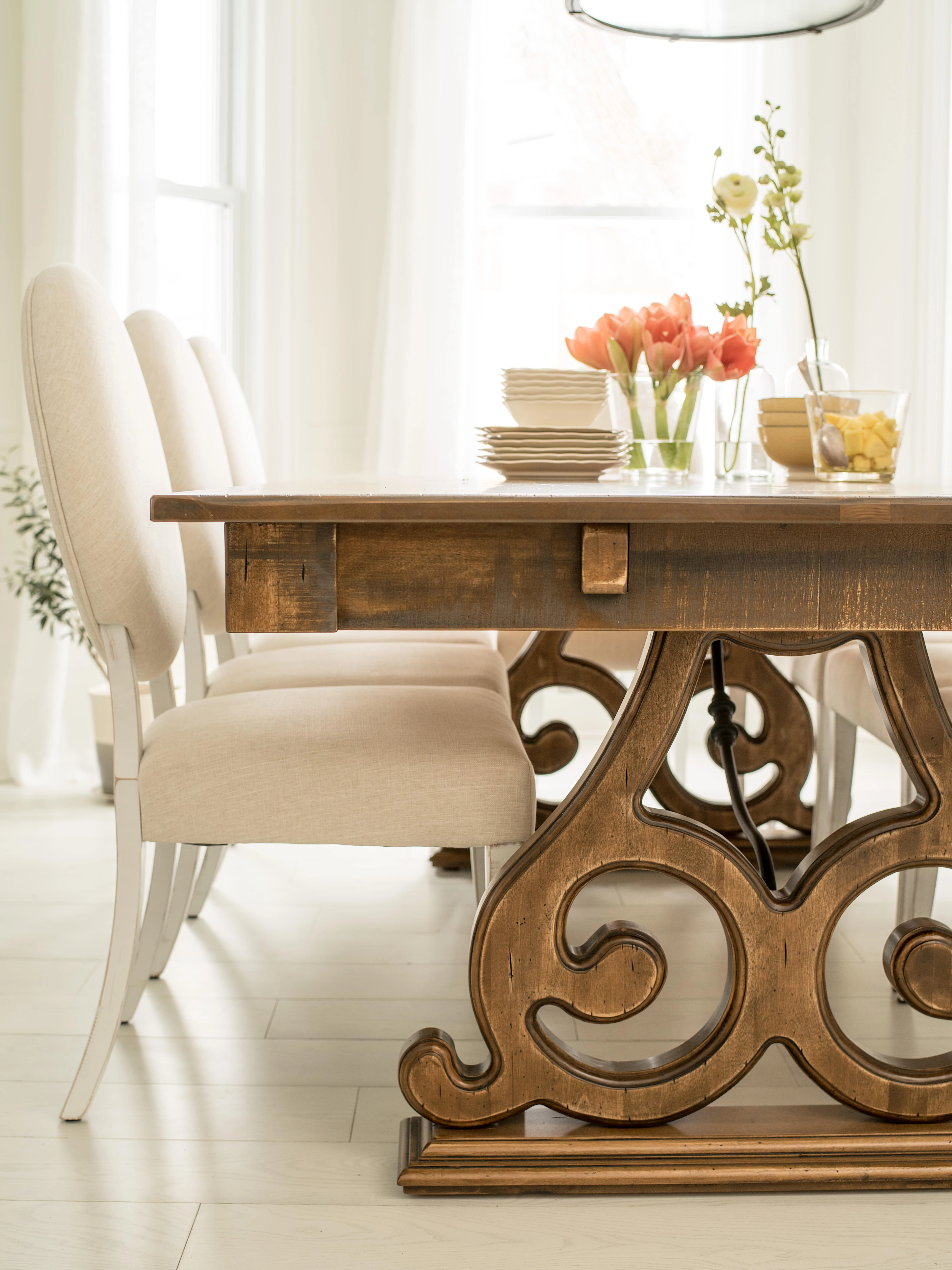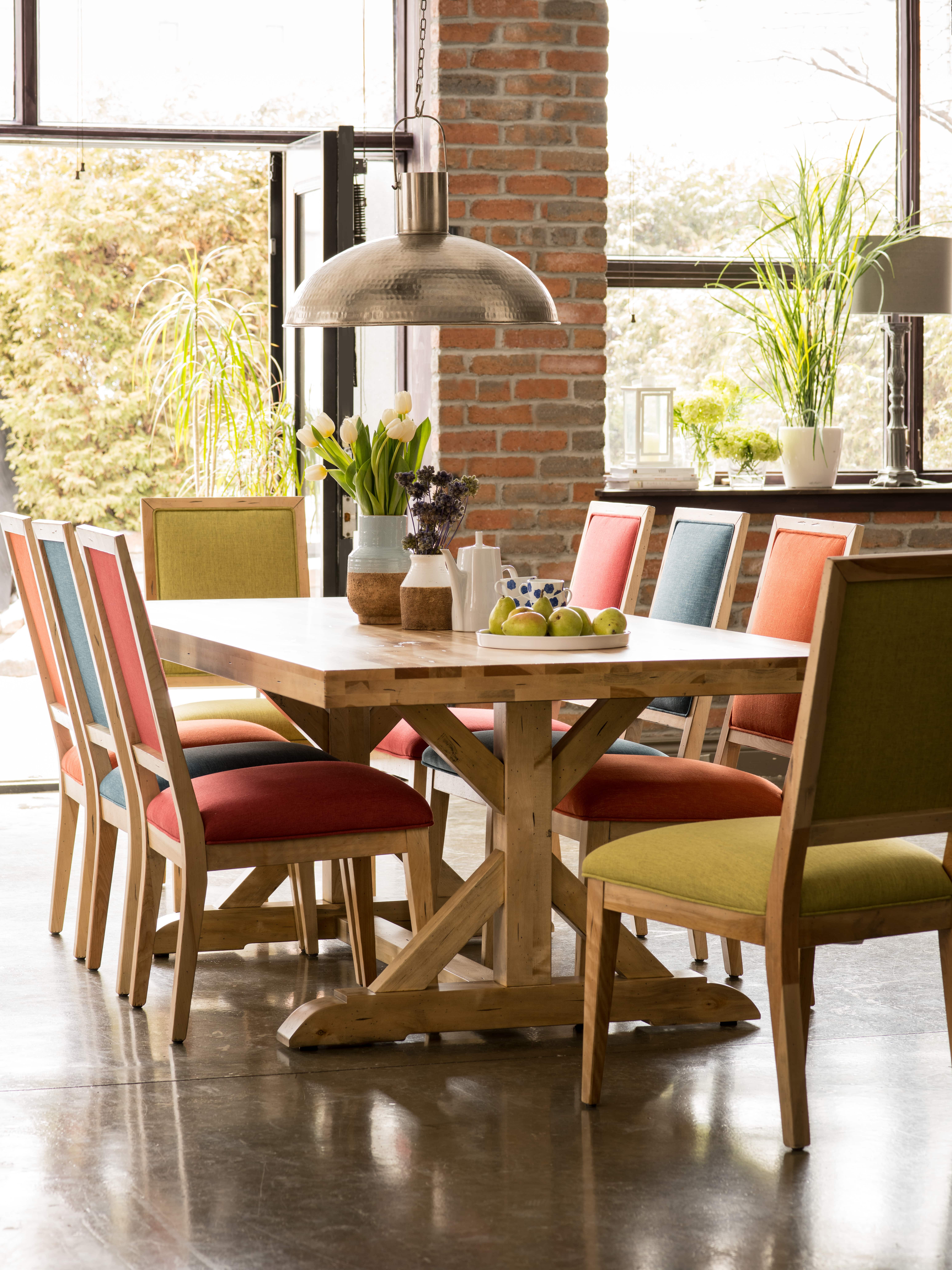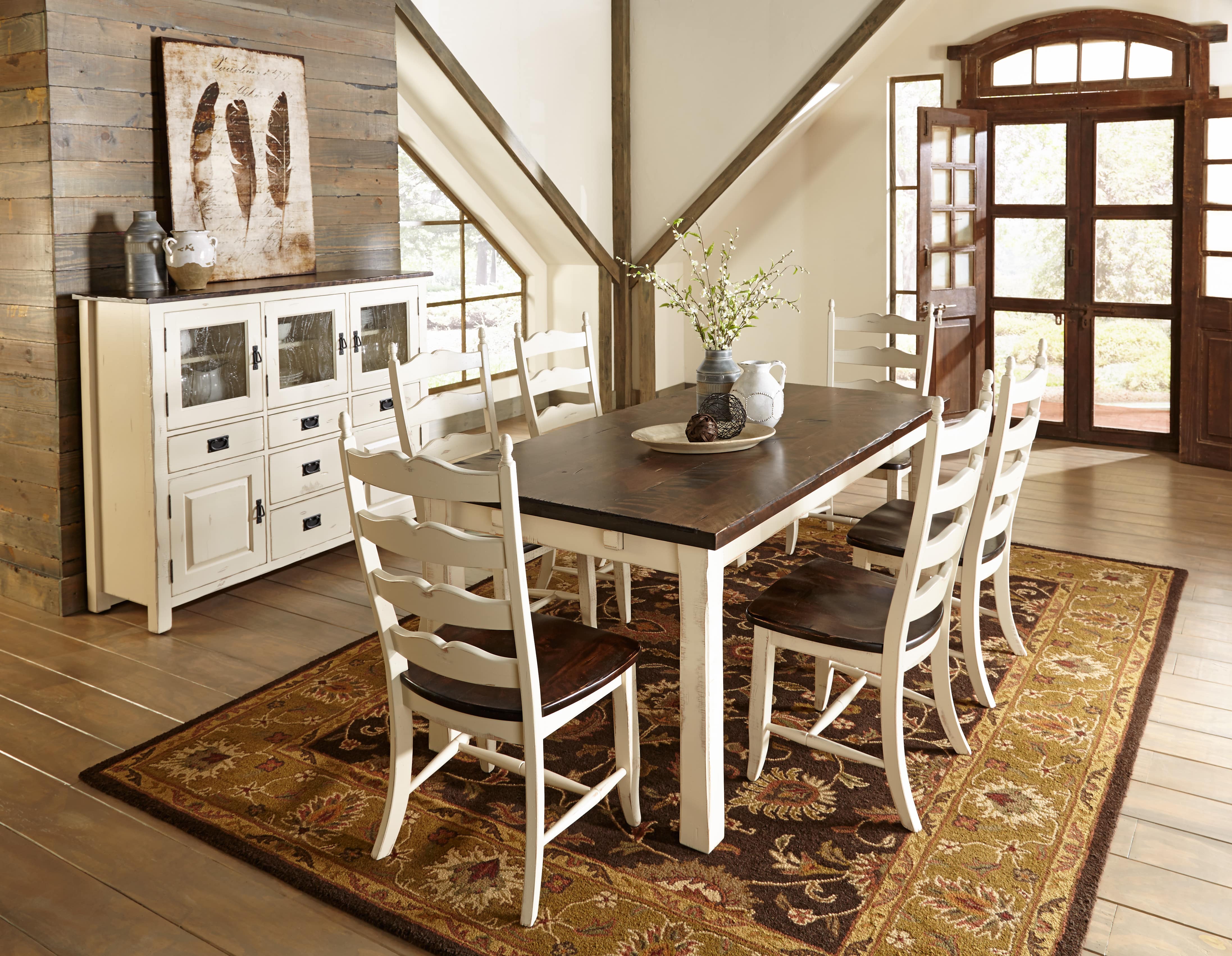 2.
Think of space and scale
You might find it challenging when you begin planning your new dining room, but furniture placement can be painless if you create a wishlist and a plan. Your planning process will be much easier if you think of the shape of the room and your traffic pattern.
What's the perfect table size?
Designer Zeina Badawi says 42 '' is the ideal width for a table; it allows for the perfect table setup. Including dishes, table centrepieces, glassware, candles, wine bottles, and great conversation.
Remember, a dining room without a dining table is only a room. That's why it's essential to decide what the purpose of your room will be. Is it for eating & entertaining only, or will it be multi-functional, such as using the room as a workspace or gaming area? Your decision will help you determine the size and shape of the table and other pieces you will need for the space.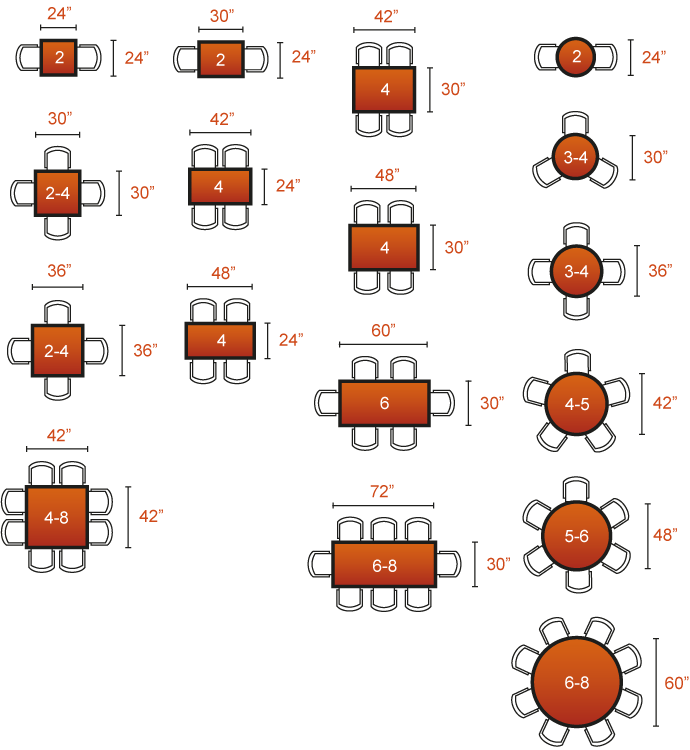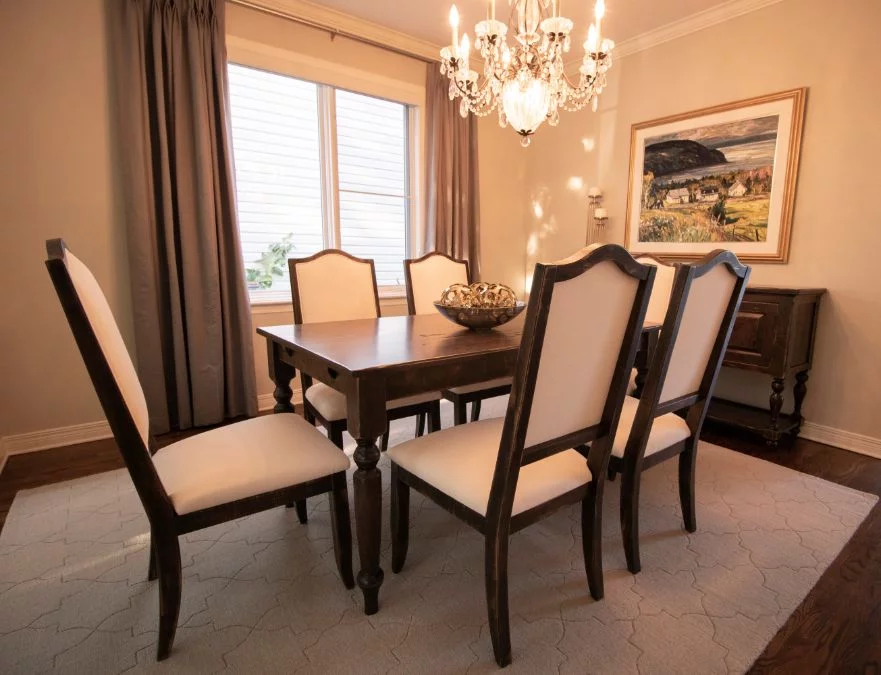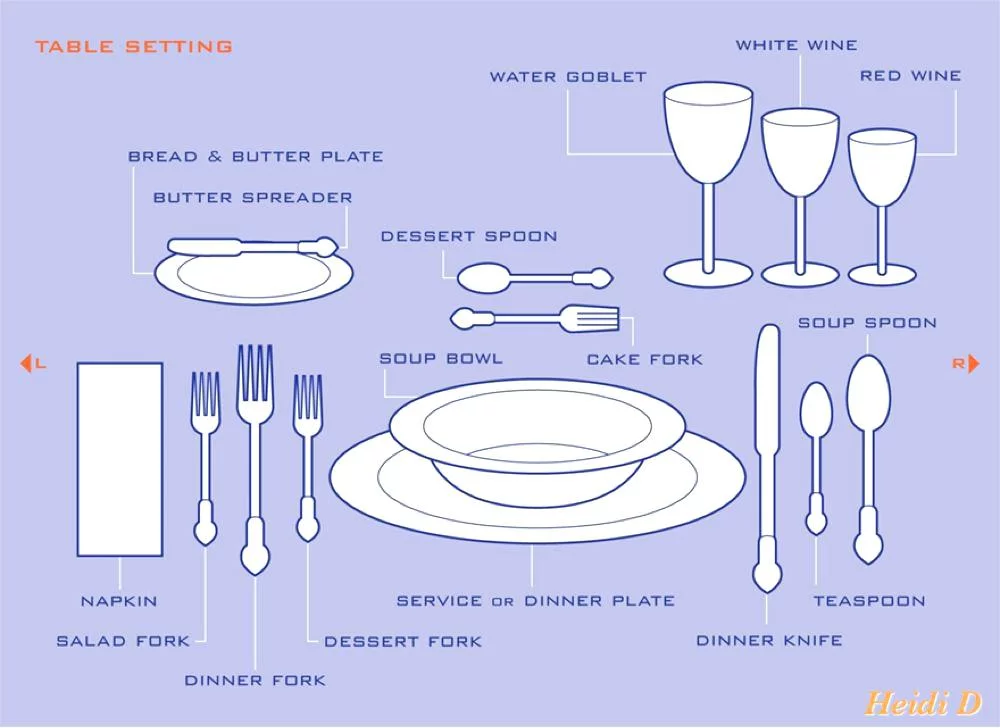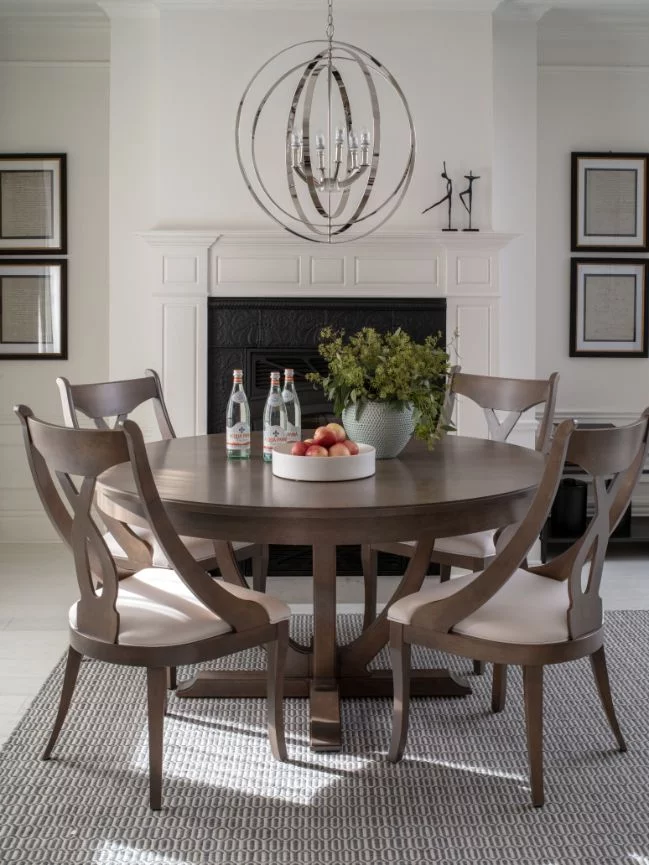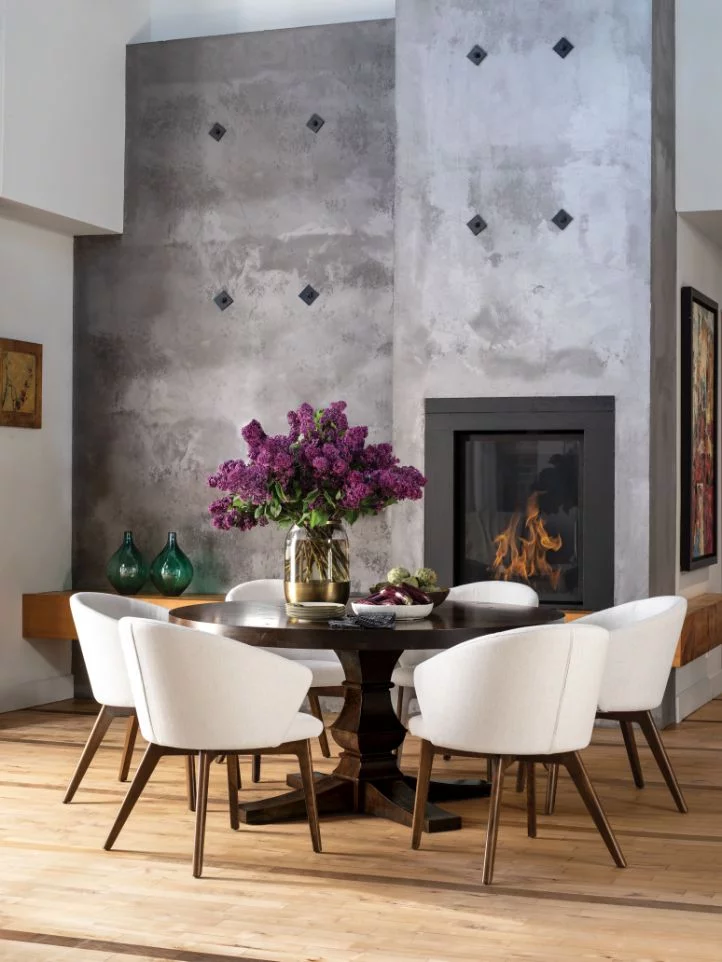 It's important to keep in mind the number of people you will be hosting at one time. A leaf extension or butterfly leaf is a great option when you have a few extra guests for dinner.
The butterfly leaf is available on the Canadel (farmhouse), East Side and Downtown table styles.
3. Mix different styles of furniture
Interior design has come a long way; you don't always have to have the traditional table with six matching chairs. You can mix and match dining furniture in several ways. Try matching the middle chairs with two captain chairs at each end of the table. Another option would be to line three sides of the table with the same style of chair and then insert a long, upholstered bench on the fourth side. To get even more creative, mix three different types of seating!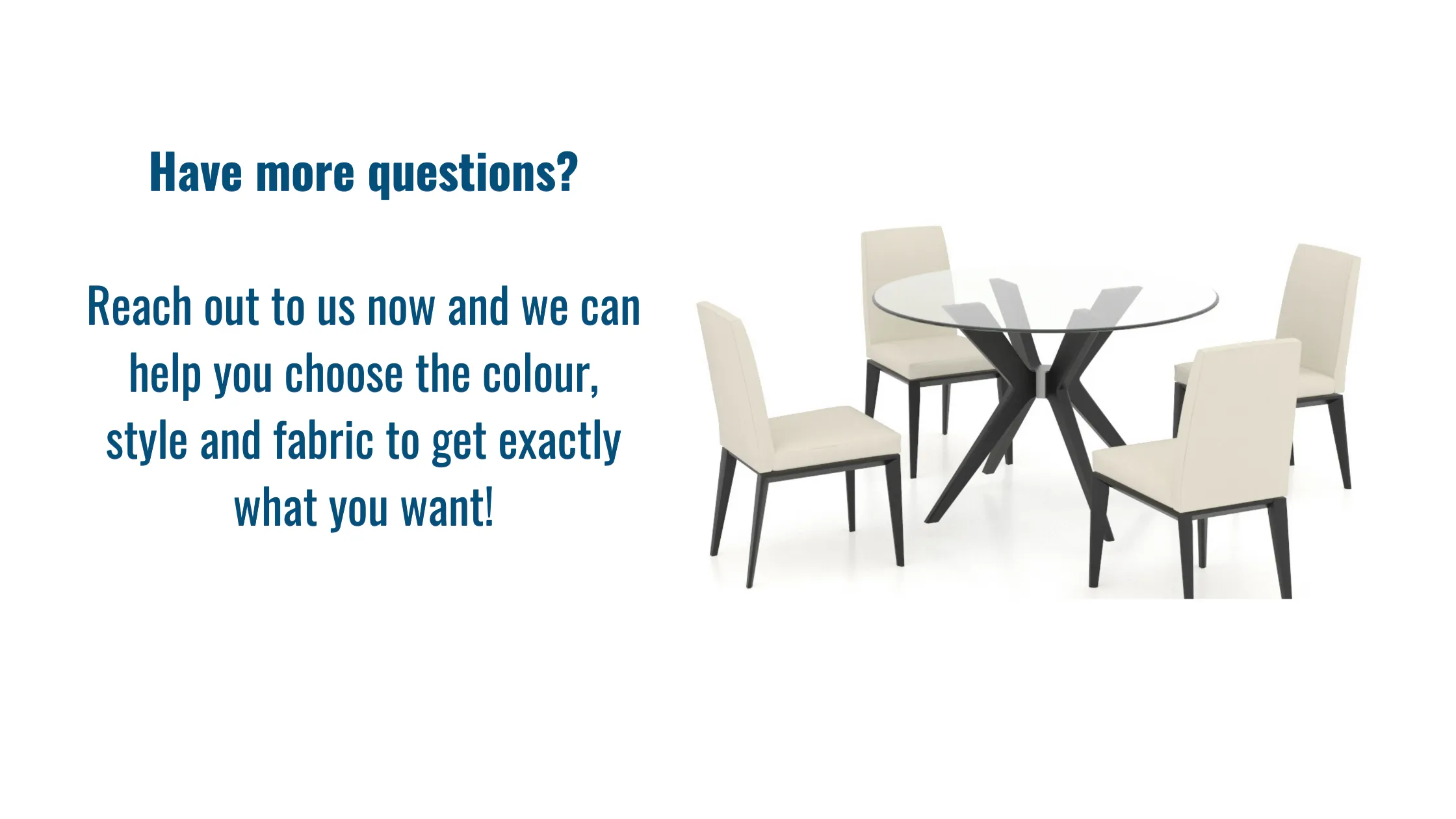 Mixing can go beyond furniture. Today's interior design rules say we can mix different wood colours as long as they have the same undertone. You can combine different patterns and fabric colours as long as they follow the colour wheel rules.
All you need to do is think outside the box!
Your home is such an intimate space and should reflect your personality with style. In order to be successful in achieving this, you must put the time and effort into determining your preferred design style.
Check out How to Create a dining room that Reflects your Lifestyle to learn more.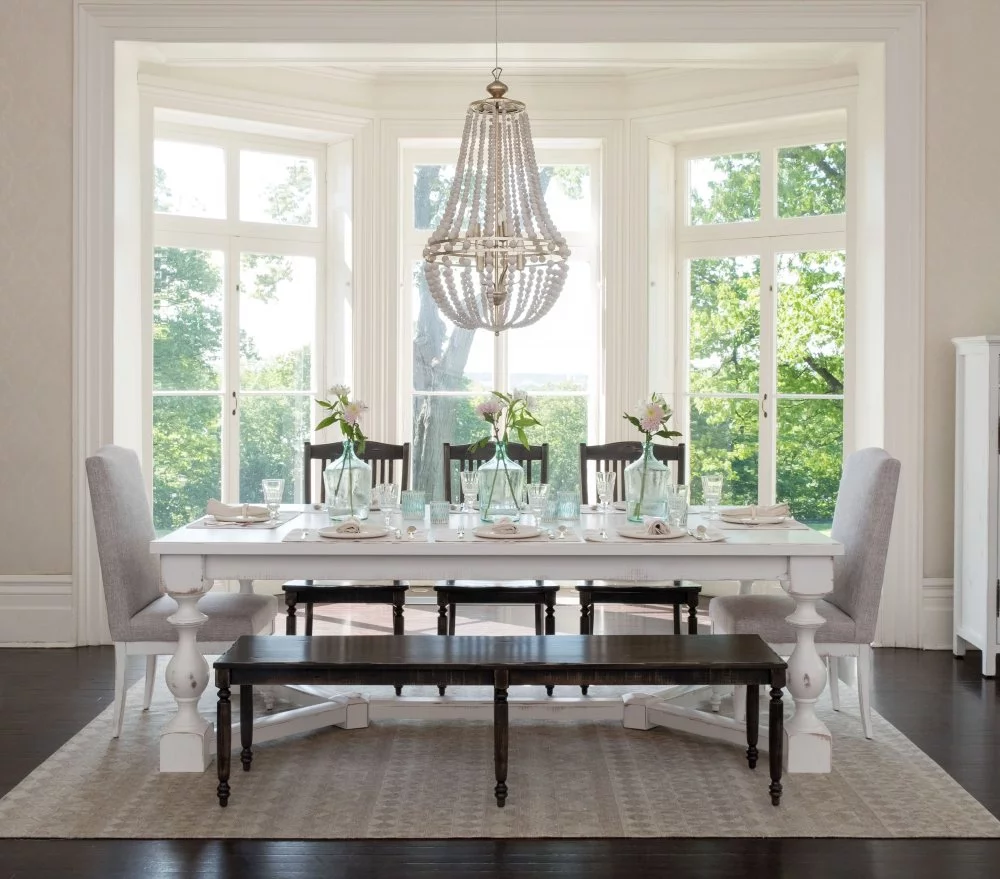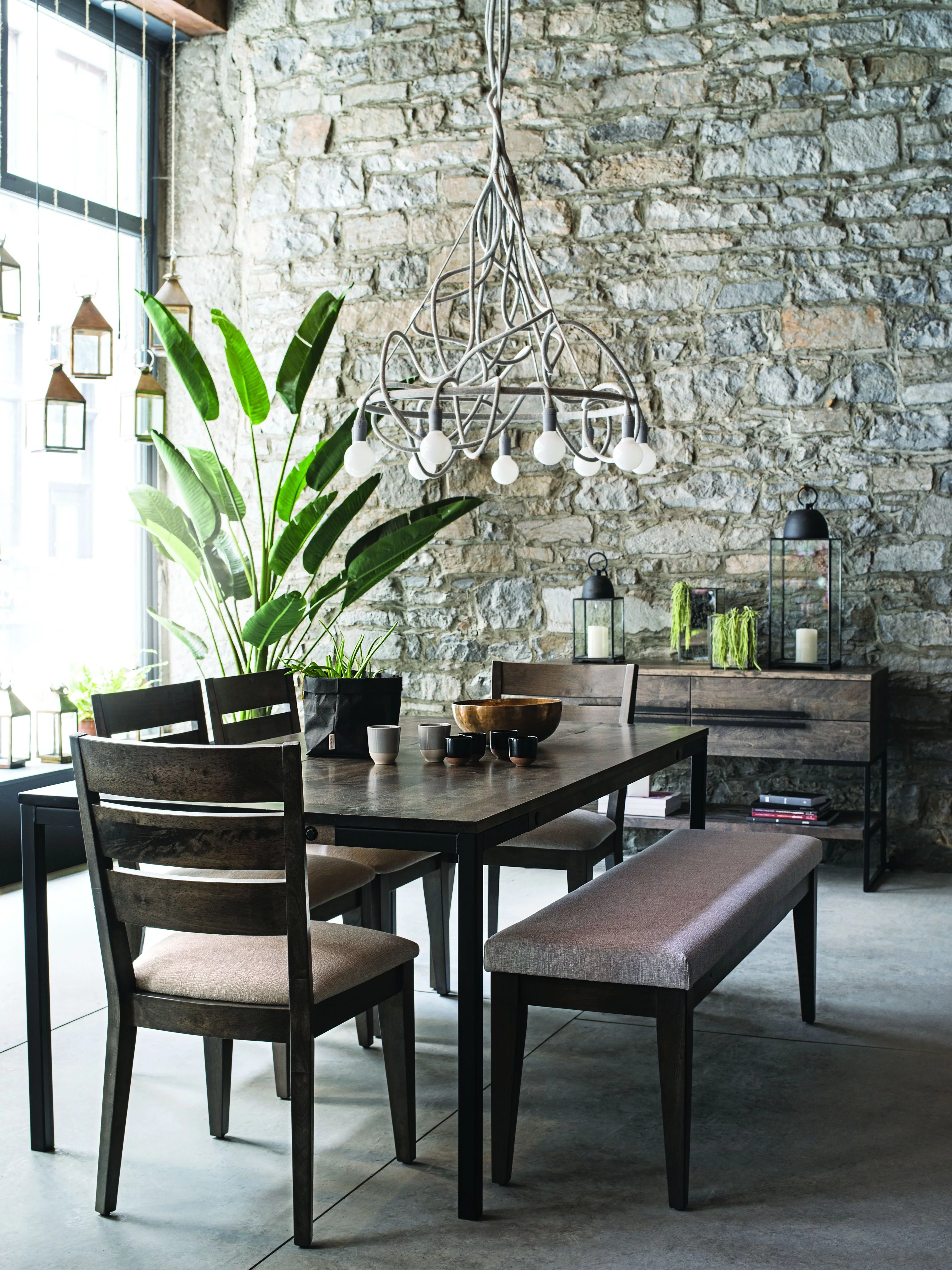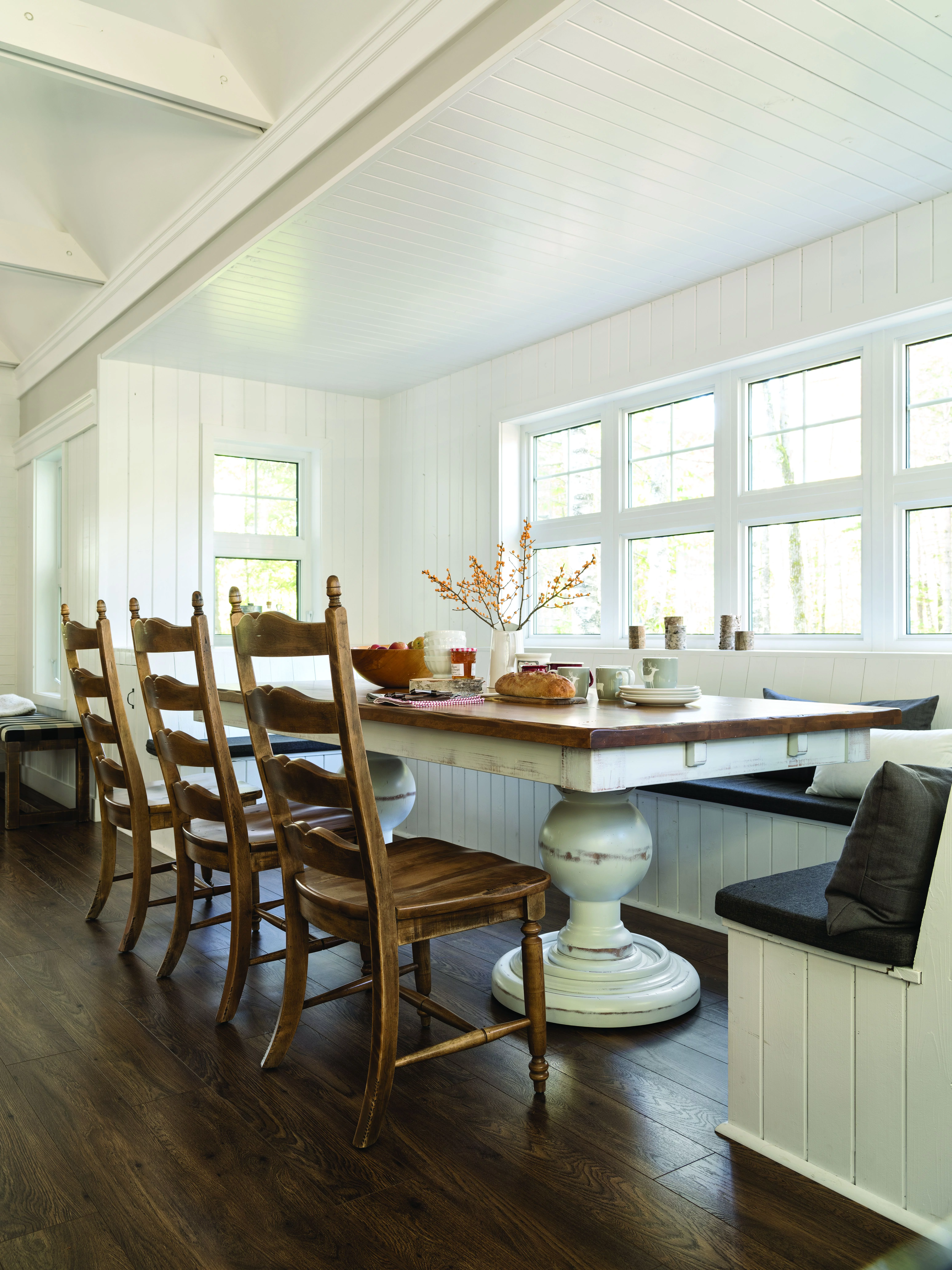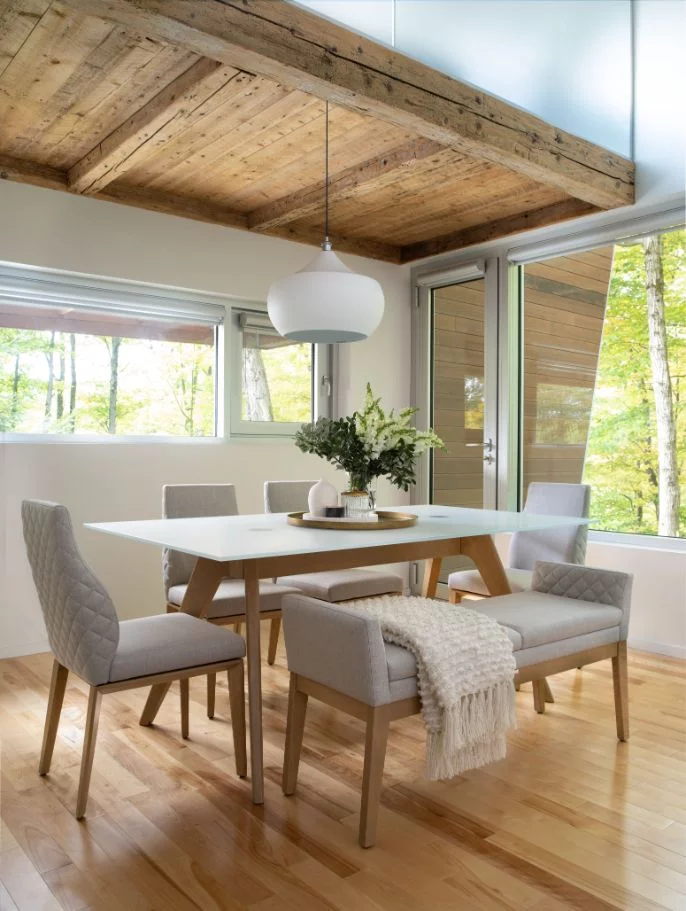 4. Find the perfect area rug for your dining table
An area rug will define your dining space. Pick a material that is easy to clean like wool or hair-on-hide and then make sure you get the right size rug.
The dining room area rug should be large enough for the table and chairs to fit about 2 feet of additional carpet around the table. Of course, we're talking about your dining room on a day to day basis. We're not talking about a couple of occasions a year when you have to break out the table leaves for guests.
If the dining area doesn't allow for the rug to be big enough, it's better not to have an area rug under the table at all.
When the space is open-concept between the living, dining, and kitchen areas, you sometimes have limited room. The carpet is lovely to have to define each zone and achieve separation. The dining room rug should not overlap into the other areas.
To learn more about choosing the right size rug for your dining room, and the importance of texture, check out how to select the perfect area rug.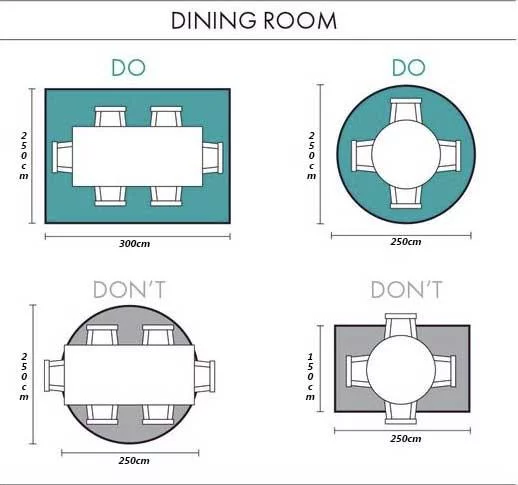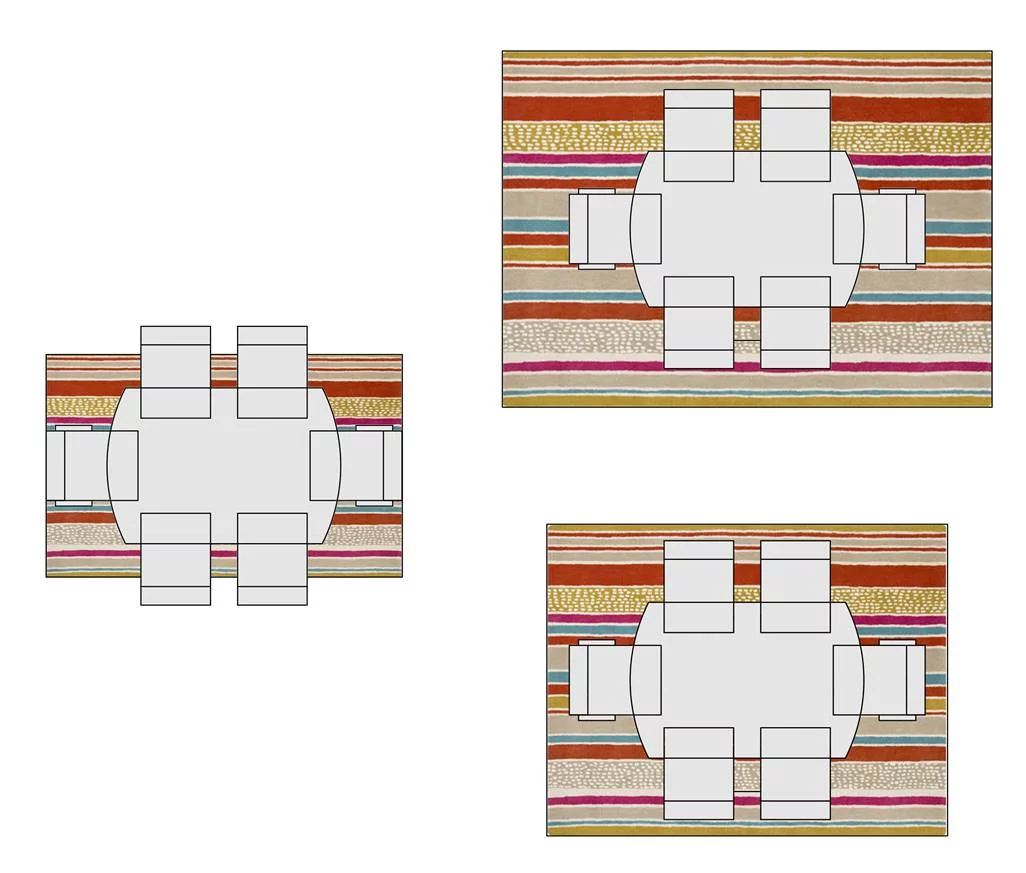 5. Dining room light fixtures
Designer Mary Lee Smyth recommends to her clients that a dimmer switch should control the main light in any dining room. The dimmer allows you to turn up to full wattage when you need to clean and set up the dining area. Then dial the light back down when you need to create a more intimate evening.
Your dining room chandelier is the main focal point or the "pièce de résistance" of your dining area. From contemporary to traditional, there are many options and styles to suit your room design.
The light over your table should reflect the table style and other furniture in the room. Your chandelier needs to be hung low enough so as not to have "bulb glare" in the eyes of your seated guests, yet not so low as to interfere with the conversation across the table.
Sometimes cove lighting is installed in older homes or dining rooms with high ceilings.
This type of installed lighting offers a lovely flattering light around the perimeter of a room.
Wall sconces work well as accent lighting in dining rooms. They adapt to any space and can create a romantic atmosphere, especially when paired with candlelight.
Finally, you can add lamps to your sideboard or buffet. These lamps are traditionally slightly taller than a table lamp and are called Buffet Lamps.
There's a reason that restaurants turn down their lighting. Everything looks more appetizing, and people look their best in low lighting. A pendant light and some table lamps on the mantle can make all the difference.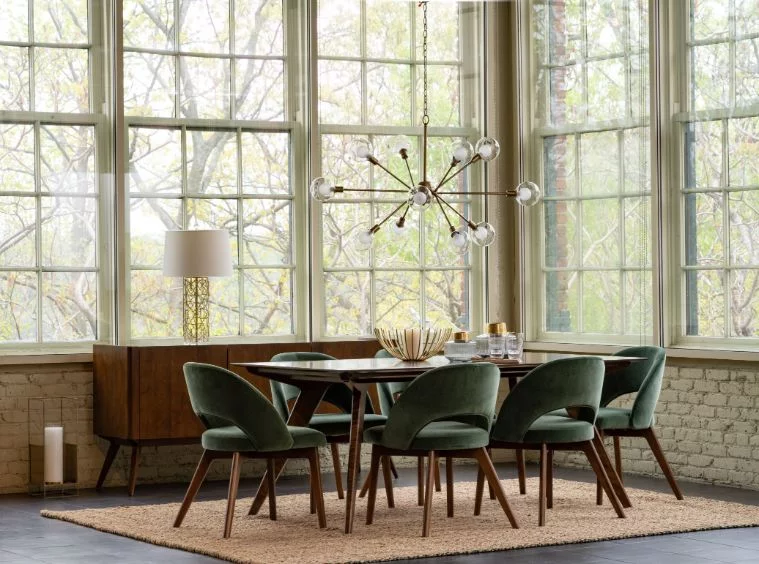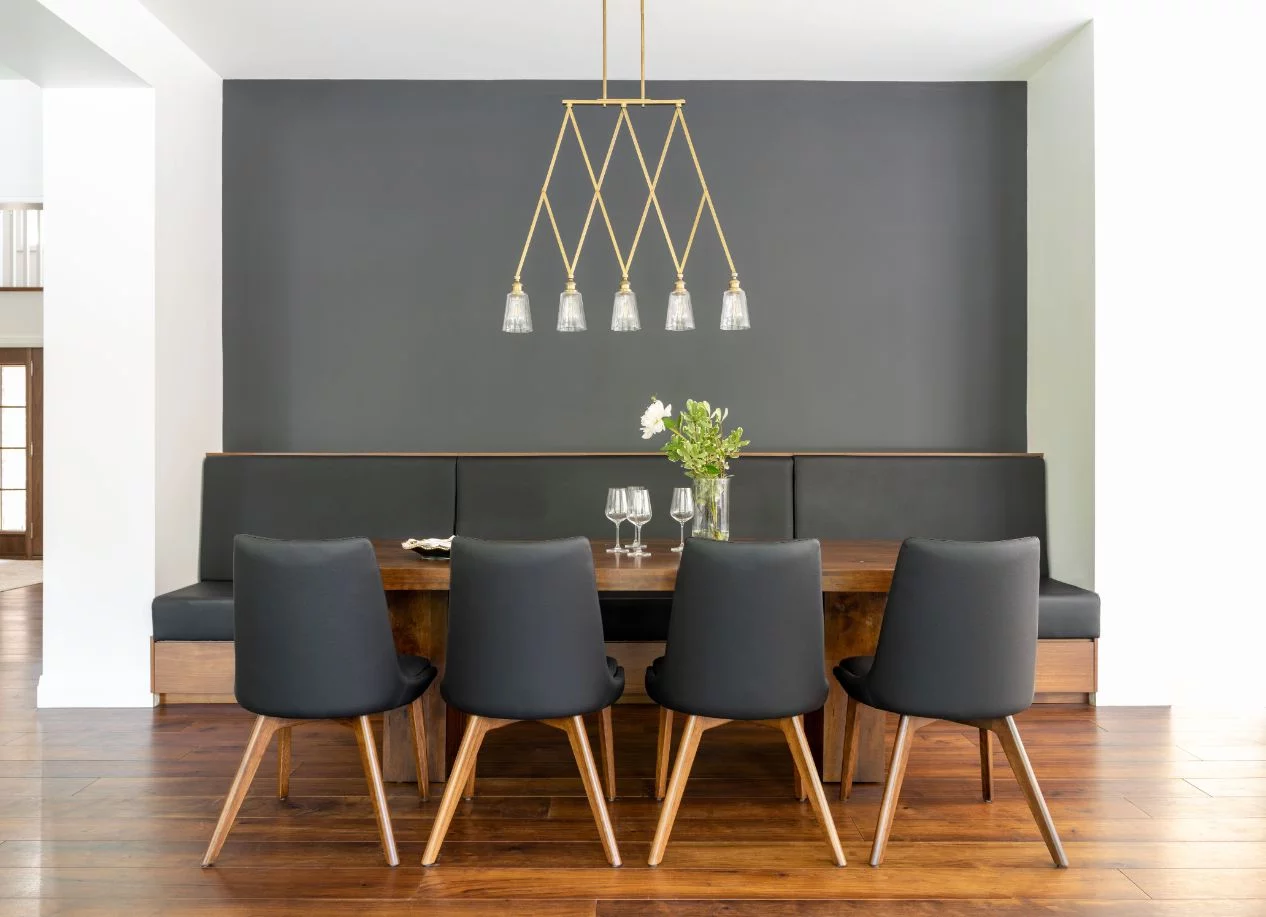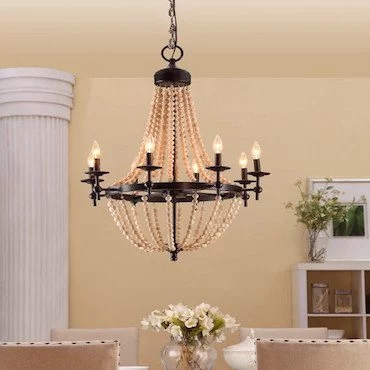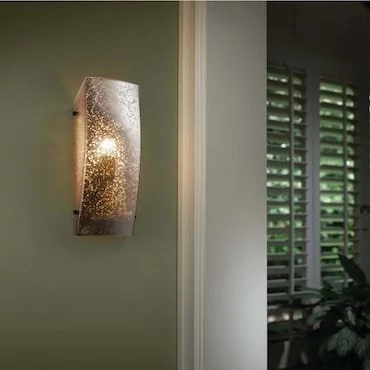 6.
Dining room wall decor
Your particular taste is what makes it your personal space. The art in your dining room should be something you LOVE! All you need to know are the walls' measurements so that your specific art choices will fit.
Assemble the pieces you have for space and review your selection. Watercolours, original prints and photographs should generally be located away from direct sunlight. This said, often these pieces are framed using a special glass that protects the image from sun damage.
Begin your process by analyzing your available wall space. Generally, a small piece of art looks better when "contained" on a thinner wall.
There are many art display options to choose from for dining rooms.
A gallery wall

A Large mirror

Patterned Wallpaper

A Green wall

A chalkboard

Family photography

Typography artwork

A plate collection

Shelves

A patterned window treatment

A big plant



Or a mix of two of the above.
The artwork for a room should be the last element placed in your space. Wait to hang your pieces until your area rug, hutch, cabinet, tables, chairs, and lighting are all in place.
Don't be afraid to add mirrors and sculptural bits into the mix. Remember, this is YOUR home. It is a reflection of you and your family. When grouping pieces of art or accessories, don't forget the rule of three.*
Check out tips on how to hang art… properly for more ideas.
*The rule of threes say that things arranged in odd numbers look more appealing, and memorable than even-numbered groupings. Three seems to be the magic number, but 5, 7, and 9 work nicely as well.
Choose three objects of varying height and place on shelves, sideboards and any other surface.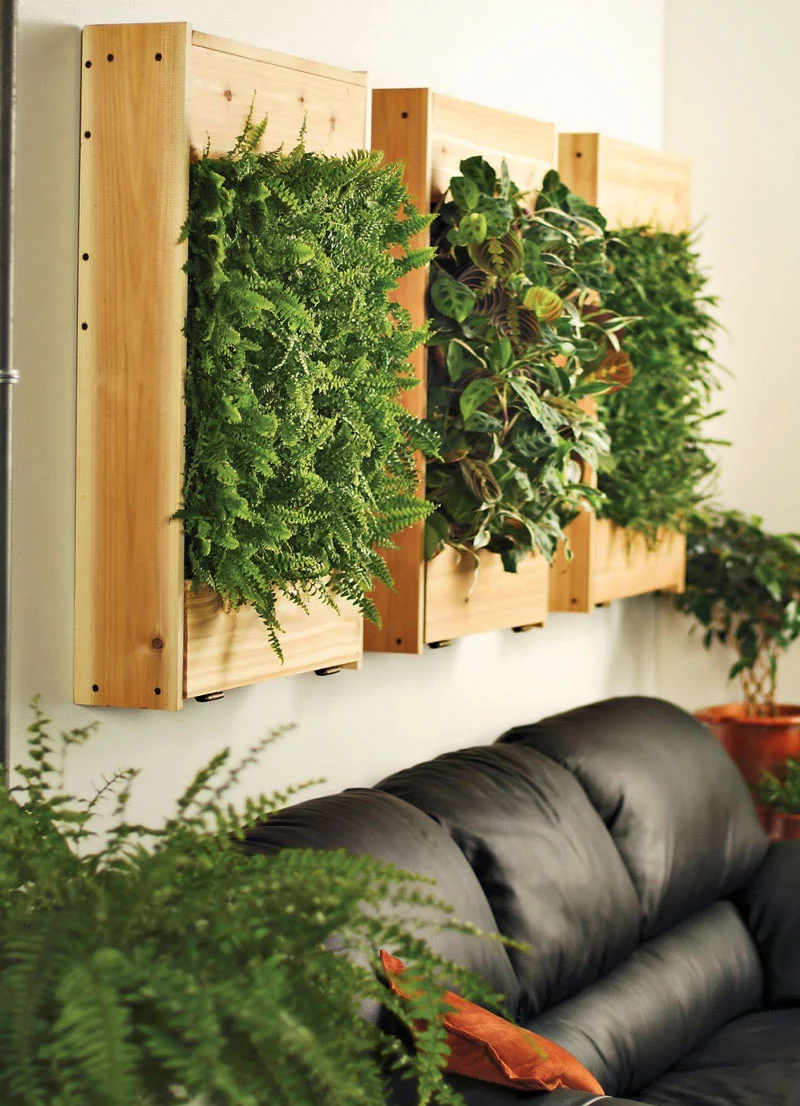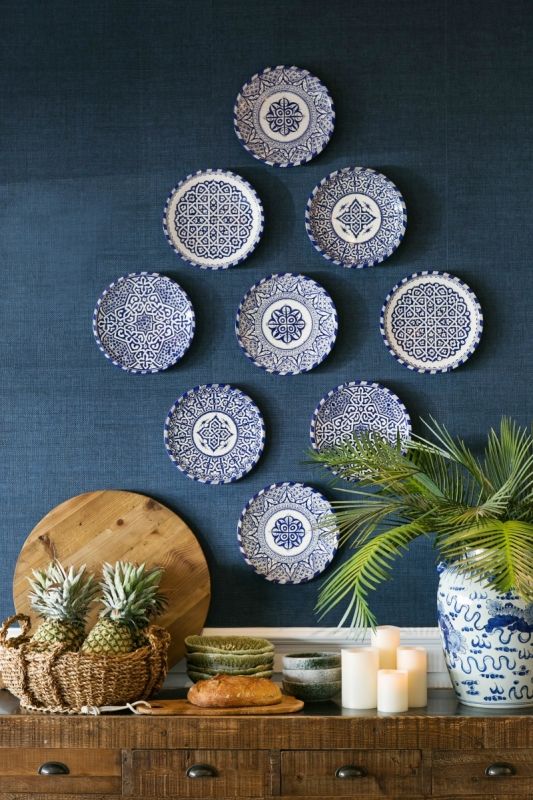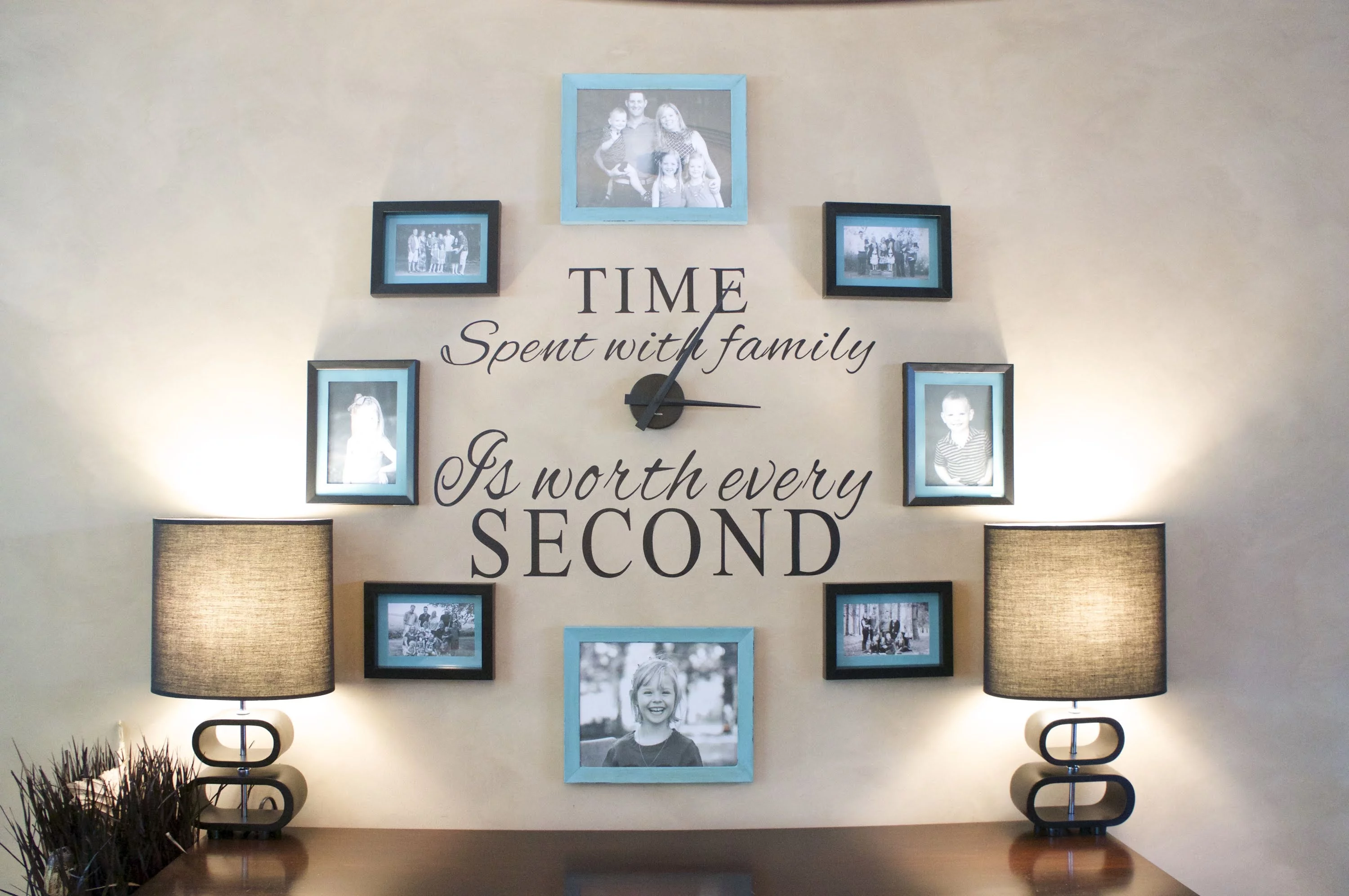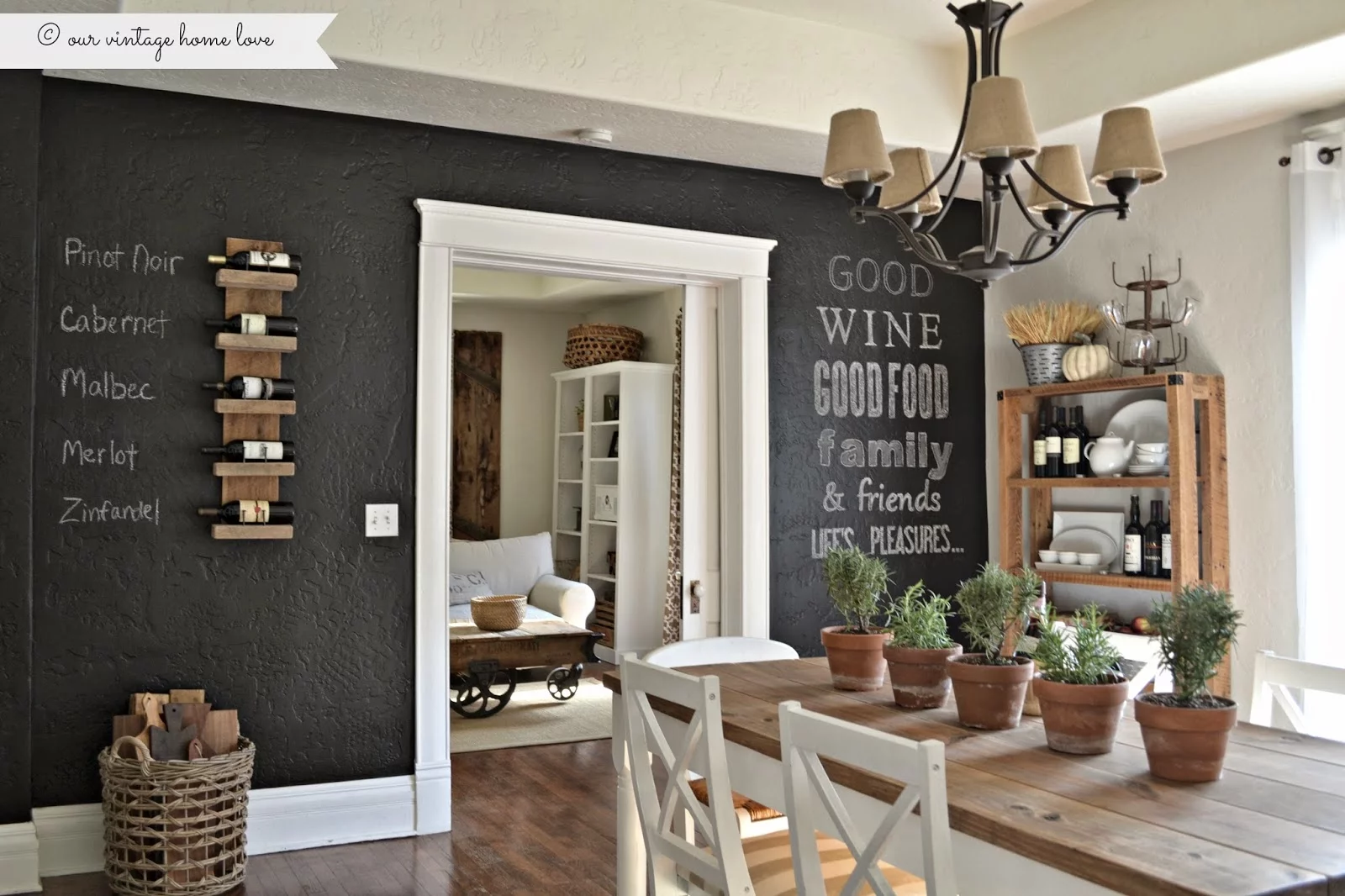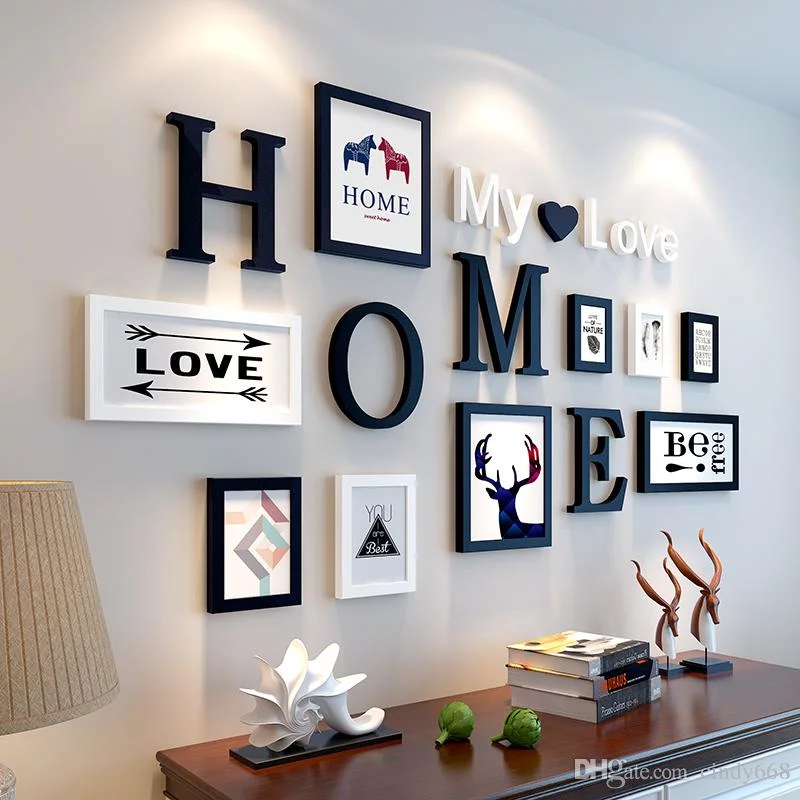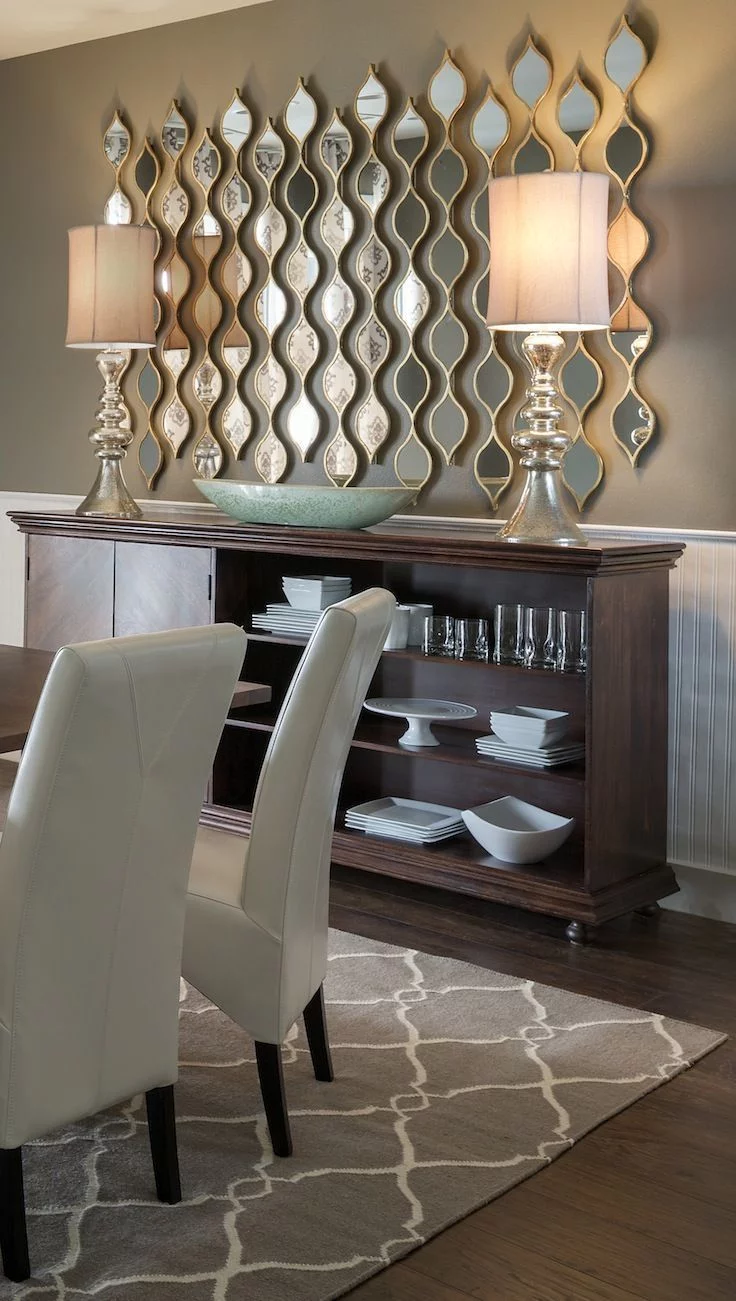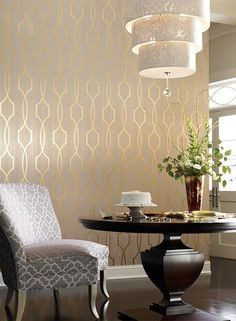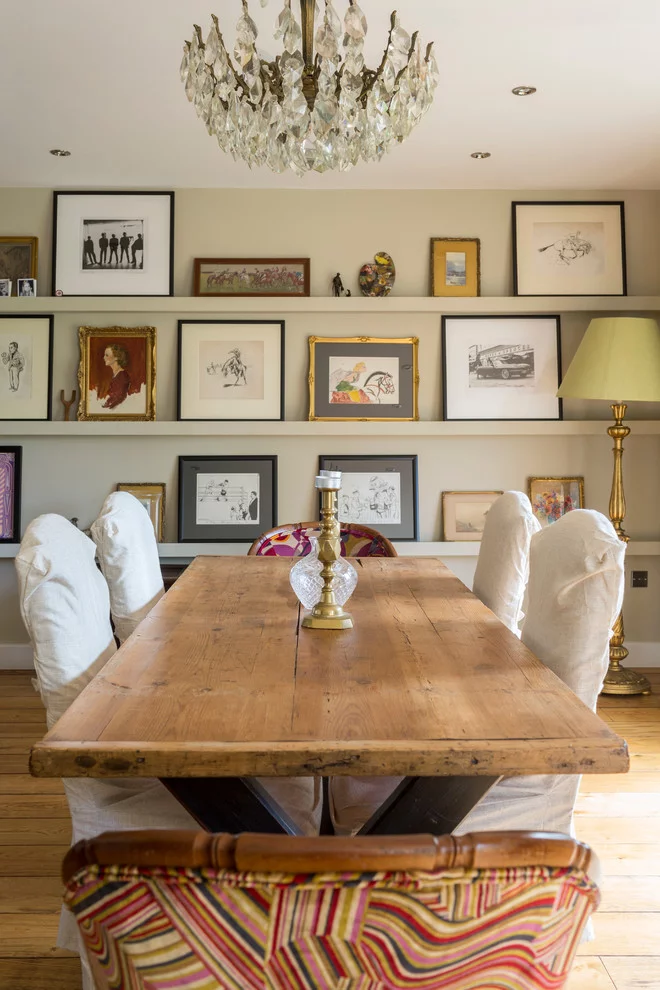 Next Steps
Sometimes your eye wants one thing and your budget wants another but art and decor don't have to be expensive! Layering in decor can be done with any kind of budget, what really matters are your colour combinations and proportions. From there you can take any room in your house to the next level.
Did you know that La-Z-Boy Ottawa & Kingston sells Canadel custom dining furniture?
With Canadel, you can customize every aspect of your dining room set: materials, size, shape, leg design and wood finish.
We're happy to answer your dining set pricing questions at any of our La-Z-Boy locations in the Ottawa and Kingston area including our Canadel store in Kanata.
Or, schedule an in-person or virtual consultation.
We know that functionality is essential in building a comfortable life, not just a stylish one. That is why we offer complimentary in-home design service should you need help designing the room of your dreams!
Product Info Request
Please provide us with your name and email and we'll get back to you as soon as possible regarding this item.