How to add lighting to your living room using table lamps
September 28, 2020
How to add light to your living room using table lamps
I am always disheartened when a client tells me that they don't need living room lamps. "Oh, we have pot lights," they exclaim. "We will use those"!
At this juncture, I have to stop my clients and explain why pot lights and most ceiling-based lighting are at best insufficient for a finished living room and very unfriendly lighting for most people.
Pot lights or recessed ceiling fixtures are a common renovation choice and often included as a highlighted feature in new homes. They are relatively inexpensive to install and run. Plus, recessed fixtures offer the ability to throw a massive amount of visible light over a great expanse.
But recessed light fixtures do not offer the best lighting for specific tasks common to our living rooms, nor are they a flattering light for "ahem" ladies over a certain age. Pot lights highlight every facial flaw and offer a harsh colour tone. Even when placed on a dimmer to control their aggressive lumens, having an unfiltered light source directly overhead can stress and contribute to eye fatigue.
So how do you add lighting to a living room without overhead lighting?
Table lamps correctly chosen for a finished living room will add an inviting gracious ambience to your space. The filtered light quality will aid in creating a warm and relaxing place for you to share with your guests.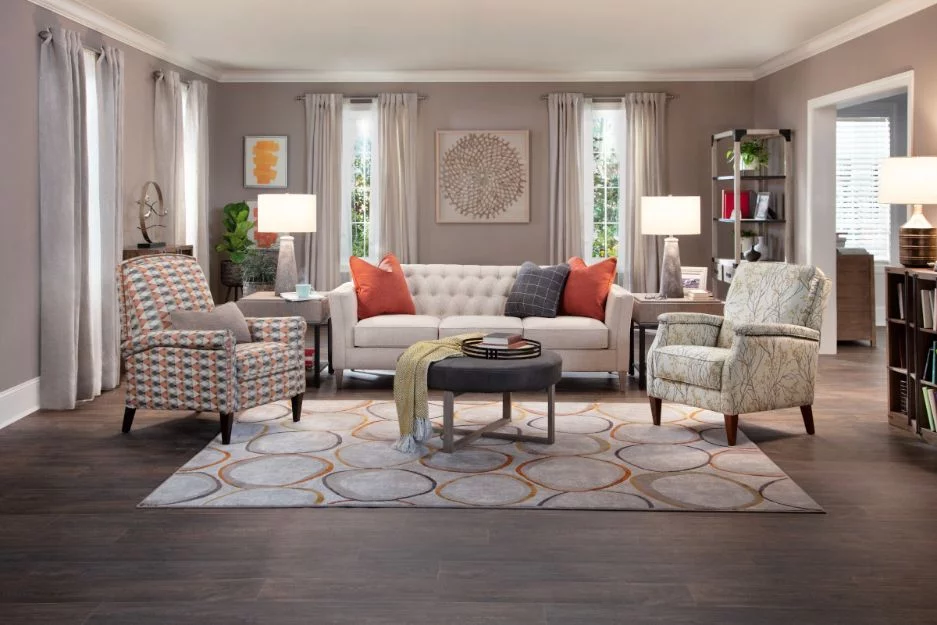 Consider what your lamp will be used for?
How to light a living room with lamps. Are you looking to improve your room's ambiance, or do you require some accent or task lighting for an activity such as reading or knitting? Maybe you need both?
Many of my clients want to know what are the best kinds of LED bulbs for their lamps. Instead of an unflattering blue light that feels clinical, a warm white is more favourable and provides complimentary lighting for living rooms and bedrooms.
If you want to create a cozy feel in the room, you should try dialling down the wattage. Instead of using 150 watts, try 100 or 60 or use a tri light.
You will also need to consider your surroundings and the best location for your lamp. Do you want to place it on a side table next to a chair, or will it go on a shelf or bookcase? Another placement that gives a soft "over the shoulder" light is on a console or sofa table. (Remember to ensure safety and tuck the power cords away.) Placing the lamps behind the seating also offers the ability to create "rooms" in an open concept home.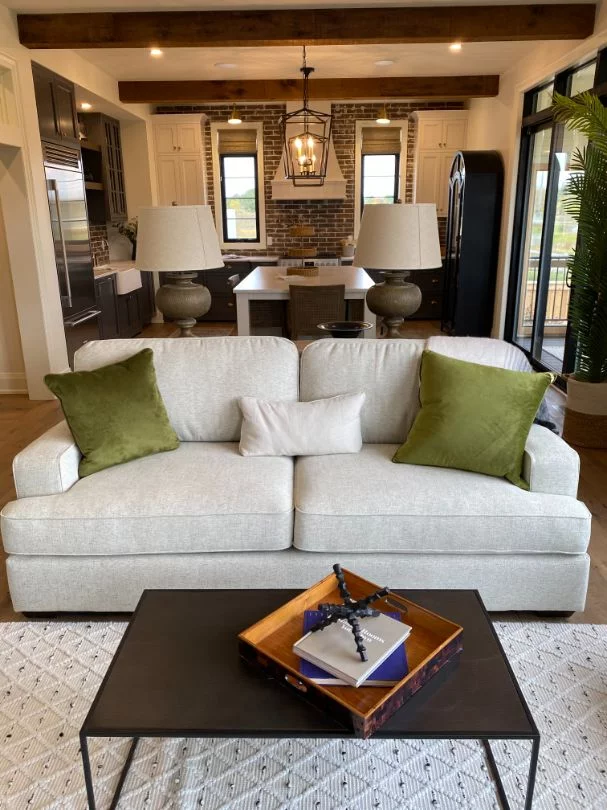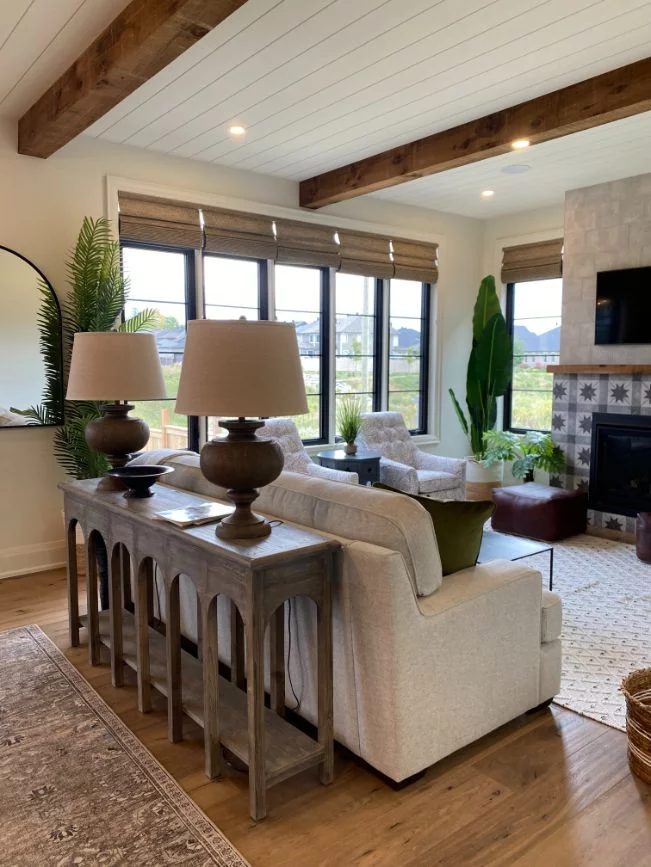 Here are the three main types of living room table lamps and their best uses
Mini lamps are small (18″ or less) with low wattage. These lamps are best for casting ambient light in your living room. They can also be placed in a bookcase or on a shelf, hence their nickname of 'bookcase Lamp.'
Sofa lamps or true table lamps Many people want to know, "how tall should a table lamp be?" Generally, they are about 24-30 inches tall. These lamps are often equipped with a three-way switch, allowing illumination at three wattage points (generally 40/60/100 watts).
They can be fitted with various types of shades designed to throw the majority of light upwards and downward. The shades on this type of lamp are designed to filter the brightness of the bulb. They cast a softer, more flattering light on the face of the person sitting next to the lamp.
Buffet lamps. These are taller table lamps (34″ & up). Originally used to light the buffet table at elegant Victorian suppers, they are designed so that the shade is protecting the eye of the person standing rather than sitting. These are fabulous on buffet tables or the entertainment console flanking a television. They are generally too tall to be used effectively in a living room next to a seating area.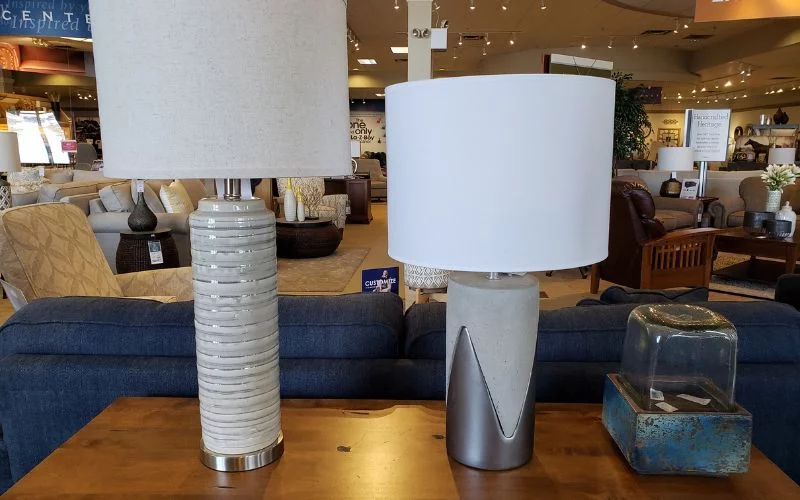 Left to Right: Buffet Lamp – Table Lamp – Bookcase Lamp
Choosing a table lamp
I advise my clients to think of lamps as the "jewellery" of the room, along with artwork and accessories. Before selecting a lamp, I need to consider the seating style and "case pieces" or tables for the room.
This consideration is because the lamp must mirror and compliment the sofa or chair's style and proportions. A generous overstuffed leather sectional will require a more robust style lamp than a small delicate love seat. A large lamp will overpower a small sofa or side table, and conversely, a dainty lamp will appear comical next to a voluminous overstuffed couch.
I find it helpful to think of a table lamp as an opportunity to introduce textures into a room. If the space is a sleek, urban and monochromatic* atmosphere, I look for a lamp that includes glass or a reflective chrome. A Bohemian room with layers of colour and textures might benefit from an antiqued brass lamp with a hobnail pattern. A rustic cottage or lodge is best when complemented with a whitewashed wood base.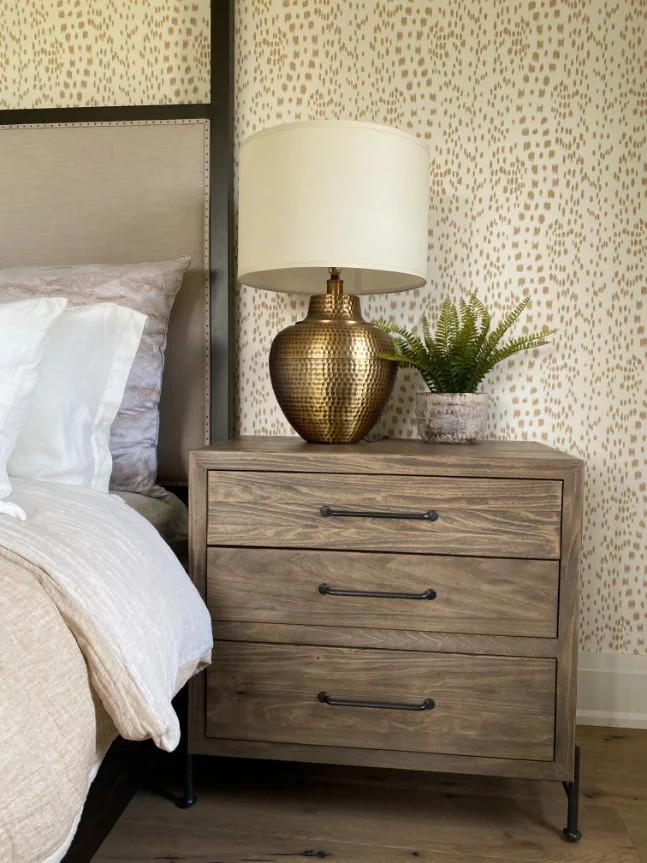 Lamp Shades
Finally, the last thing to consider is the lampshade. I like to coordinate the lampshade colours and texture with the room's overall colour/texture palette.
Is the room accented with crisp white trim? If so, then a white shade with a fine linen weave will look better than a more casual barley colour with a coarse burlap weave. The more elegant and formal a room, the more it will require a more stylized shade.
Understand that the colour of the shade will also affect the quality of light in a room. A bright white shade with white lining will offer a more crisp and brilliant light than a barley shade with a darker liner. The barley will still provide good task lighting but offers a softer and warmer tone.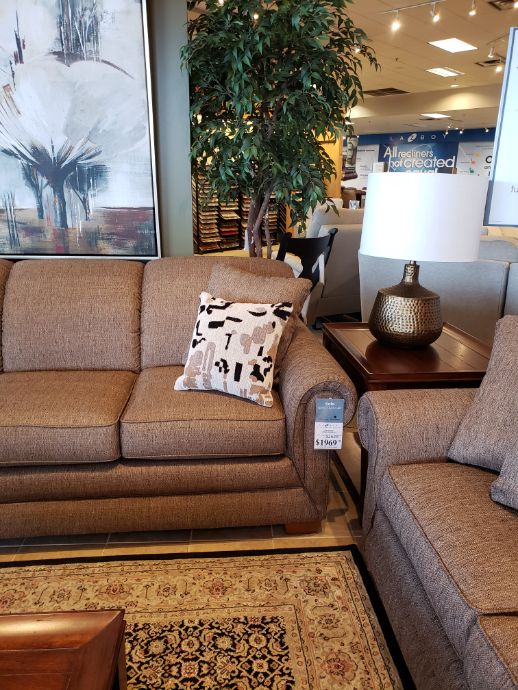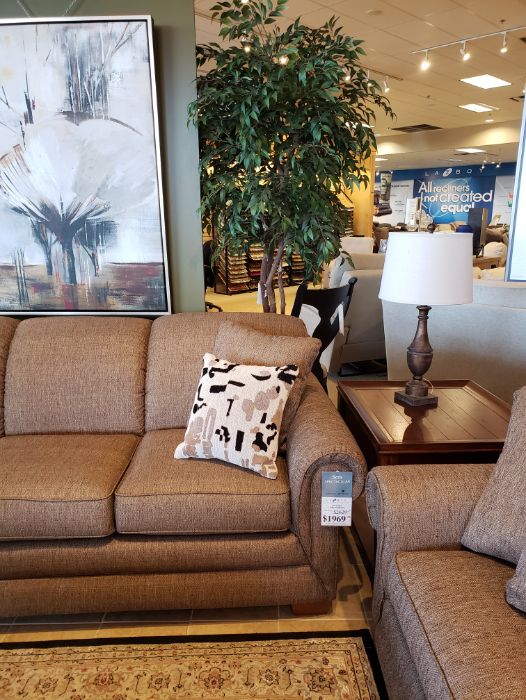 See above: Nice hobnailed design with rich textural shade balances the sumptuous wood and twill palette. Compare to a less robust base with a smaller visual presence.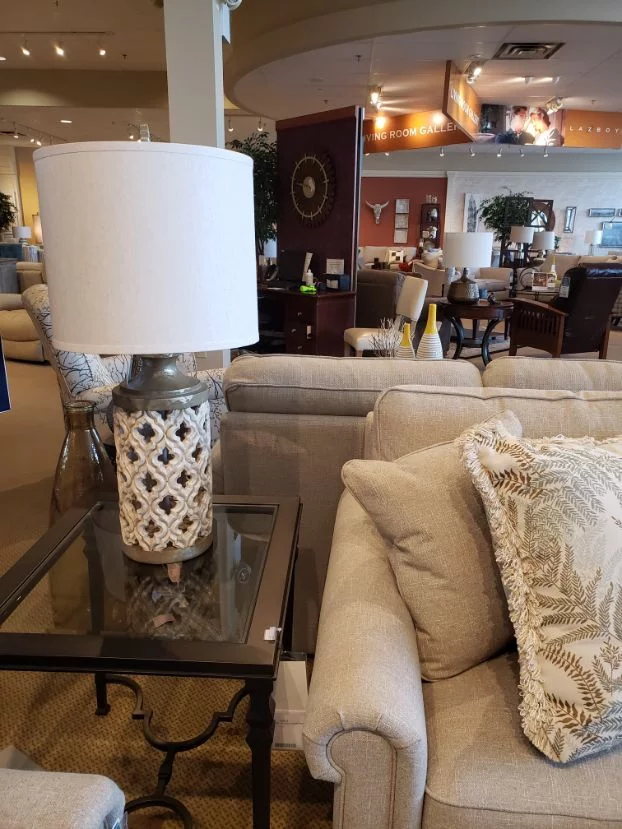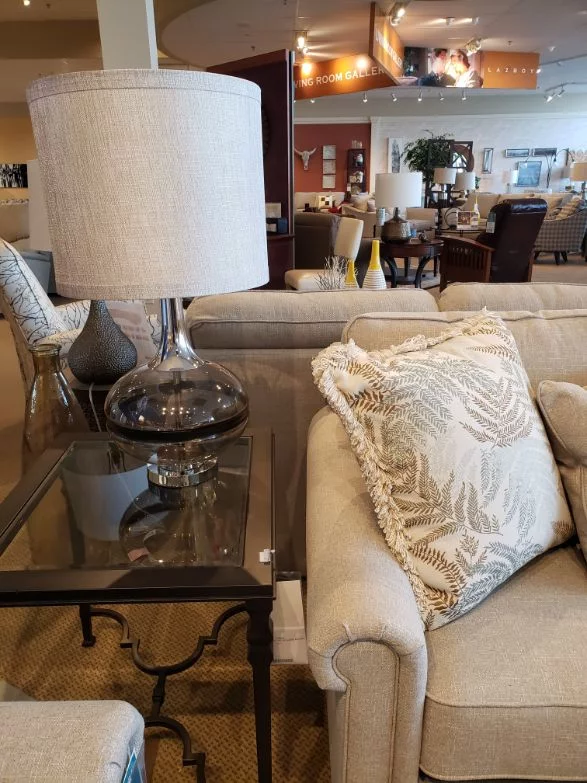 (In the first photo above)
Notice how the latticework lamp repeats the colours and patterning in the pillows.

The cylindrical shape is proportional to the rolled arm.

The design style echos the traditional styling of the room.
(In the second photo above)
The second lamp, although sleek and elegant seems to visually fade and not integrate with the overall style.

It is too contemporary and visually not textured enough.
More tips about lamps
Always treat your lamps like the fine artwork they are. Never pick up a lamp by the harp (the metal piece that holds the base). The harp is only pressure fitted into the u- bracket and could slip out of place and cause the lamp to fall and break. Always move your lamp, holding the base firmly.
Remove the protective cellophane covering from your lampshades once you get them home. The cellophane is a protective covering for the shade while in transport. However, It can mark or discolour your shade's fabric and even smoulder if left on for an extended time when exposed to sunlight or incandescent light.
Use only the wattage specified on the socket of your lamp. Too high of a wattage may damage the socket, liner or shade material. Inspect the cord and plug regularly to ensure there's no damage that might result in an electrical short.
Finally, if you see a lamp, you love BUY IT! Good lamp designs are produced in limited quantities, and a lamp you loved from last year may not be available this year.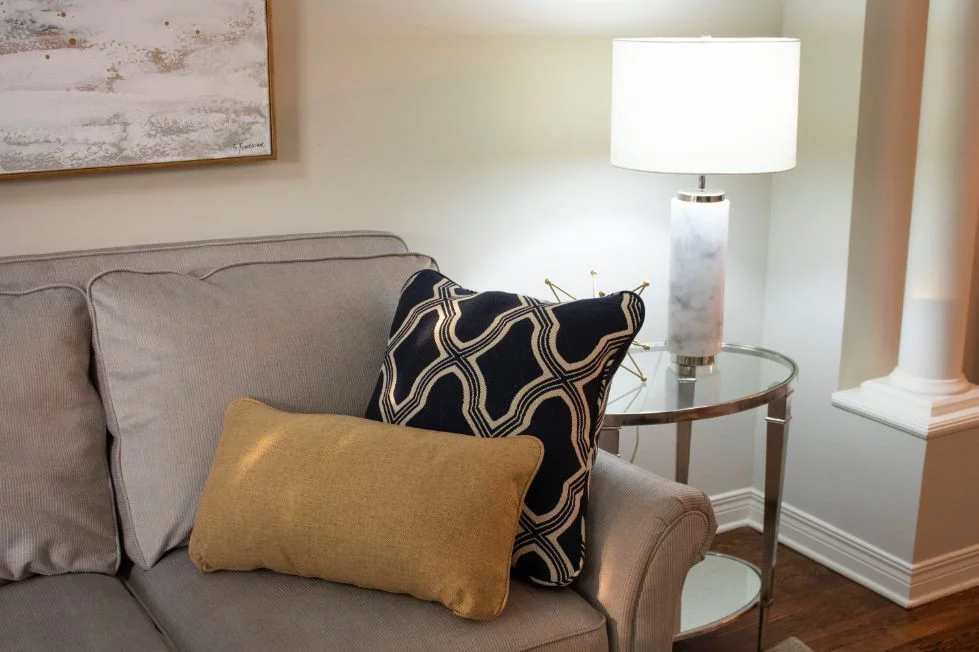 Product Info Request
Please provide us with your name and email and we'll get back to you as soon as possible regarding this item.