How are Area Rugs Made? From Materials to Methods & Styles.
September 14, 2020
The art of constructing an area rug spans across time, cultures, and geography. Traditionally, area rugs have been made by hand, but technology has revolutionized the process of manufacturing rugs with the use of machines.
You may wonder, how are area rugs made? You may also wonder if how it is made should impact your purchasing decision?
The answer is yes! In fact, the way in which an area rug is made and the materials used to make it can significantly impact a rug's look, feel, and cost.
It is important to understand exactly how an area rug is made in order to make an informed purchase and know that you are choosing the right rug for its intended purpose in your home.
After reading this article, you will learn everything you need to know about the making of area rugs in order to choose the perfect rug that will match your decor, your lifestyle, and your budget!
Material Used to Make Area Rugs
Finding the perfect area rug for your home begins with understanding the materials that are used to make it.
The material of an area rug can have both decorative and practical implications in your space. While the material used to make a rug can contribute to the feel and ambiance of a room's decor, there are also practical sensibilities to consider when choosing one type of rug over another and deciding what it will be used for.
Area rugs are typically made with either natural fibers or synthetic fibers. These materials differ in cost, style, and durability.
Natural Fiber Rugs
Area rugs made with natural fibers are typically used in the construction of hand-made rugs. Additionally, natural fiber rugs are often made with the finest quality materials and tend to be very durable.
It is also interesting to know that natural fibers release no harmful gasses into your home environment over time. If you are someone who experiences sensitivity or reacts to harsh chemicals or emissions, a rug made of natural fibers may be the right choice for you.
Wool
Wool rugs are very popular among homeowners because these rugs are durable and versatile; perfect for families with an active schedule.
Wool is one of the most durable natural fibers and can withstand heavy foot traffic. It is also repellent to liquid, which can allow for easy and quick cleanups. Moreover, wool is a very versatile fiber that reacts well to dyes. For this reason, wool rugs are sold in a wide variety of colours.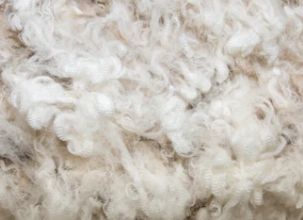 Cotton
Cotton rugs are a good choice for families on a budget. Cotton rugs are durable but less expensive compared to wool rugs.
These fibers also dye easily and come in many colour options. In the case of spills, there is nothing to worry about as cotton rugs are machine washable.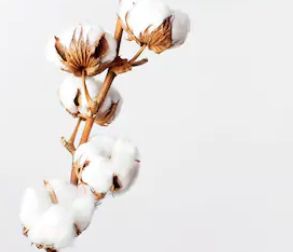 Jute & Sisal
Jute and sisal fibers create tough and durable rugs. The tough texture of these materials is more coarse on the bottom of your feet, making them great for entryways that withstand outdoor footwear.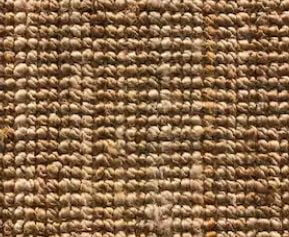 Silk & Viscose
Alternatively, silk and viscose are very soft and light fibers. These materials are very absorbent and are easy to dye.
Although these materials can be versatile by taking on many colours, these fibers are not very durable. These rugs give off a beautiful appeal but are less practical.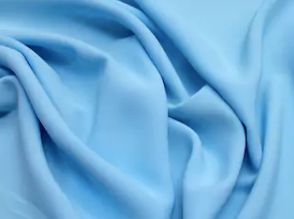 Natural Hide & Leathers
Finally, rugs can be produced from natural hide, furs, and leathers. These types of rugs are known to follow certain style trends while offering warmth and richness to certain spaces.
These natural materials are typically sourced from meat processing plants, in which the furs and hides are recycled. These materials then go through a tanning process in which the hide, fur, or leather is properly dried out. Once the material has been tanned, it is finished using animal-print stencils, acid washes, and colour dyes.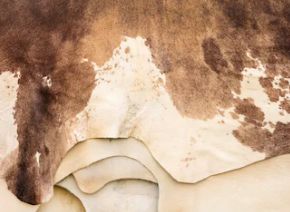 Synthetic Fiber Rugs
In contrast to rugs made with natural fibers, synthetic rugs are typically machine-made and mass-produced. With this, these rugs are easily customizable in size, colour, and patterns.
Nylon
Nylon is a fiber that can be manufactured in a limitless amount of colours. This material is a durable fiber that can withstand heavy foot traffic and can be cleaned easily.
Nylon also has a silky appearance that can contribute nicely to the decor of a room.
The only downfall to nylon rugs is that they are acid dyed, which can lead to fading and wearing over time.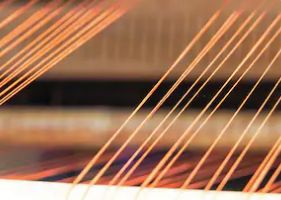 Olefin (Polypropylene)
Olefin is the most commonly used materials in the making of area rugs. The texture of this fiber is soft like wool, it is stain-resistant, holds colour, and is affordable. Although this fiber is durable, it is not resilient. Olefin is very difficult to repair once it is damaged.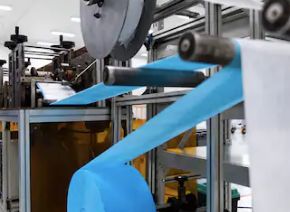 Polyester
Polyester rugs are very popular among manufacturers because this fiber is durable and inexpensive. Polyester is also solution-dyed, making it resistant to bleaching, fading, and other wear and tear.
However, solution dying is a difficult process, and therefore polyester rugs are limited in colours and patterns. Further, polyester fibers are not oil-resistant, which can lead to permanent stains.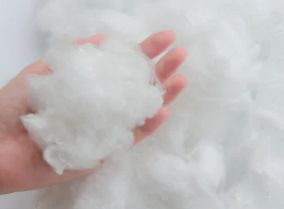 Dyes
The dying process is what changes the natural colour of any rug material. Like the fibers used to make rugs, the two existing dyes are natural and synthetic.
Natural Dyes
Natural dyes have been around for centuries and come from a variety of sources such as plants, animals, and minerals. Natural dyes are found to retain their intense and vibrant colours over a lifetime.
Like natural fibers, natural dyes are drawn from natural resources and are a great option for those who suffer from allergies to the harsh ingredients in synthetic dyes.
With this, it is also important to keep in mind that the process of natural dyeing is a more demanding process compared to synthetic dyeing. This can result in a more expensive product.
Synthetic Dyes
Alternatively, synthetic dyes were created in order to produce rugs with more colours at a lower cost.
Given the convenience of these synthetic dyes, they are used in the making of most rugs sold today.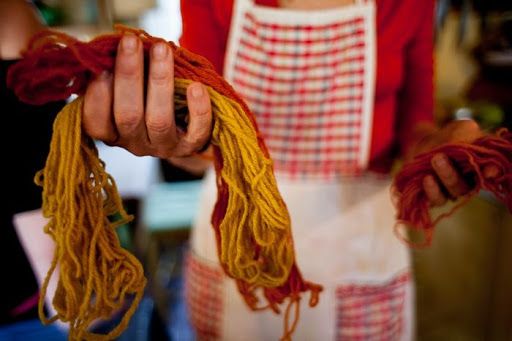 How are Area Rugs Made?
Now that you have an understanding of the materials used to make rugs, you may be curious to know how area rugs are actually made.
The construction of area rugs can be described as a story of "man versus machine." Every rug is either made by hand or made by factory machines.
Rugs made by hand require a significant amount of time and attention to detail. These rugs are much more labour intensive but offer a more unique appeal, as no two hand-made rugs are ever the same. In fact, hand-made rugs are often custom made based on one-of-a-kind designs that incorporate creative use of colour and patterns.
Alternatively, machine-made rugs are mass-produced, offering a wide spectrum of designs, colours, and sizes. These rugs are typically less expensive given that they are easily and efficiently made.
Whether an area rug is made by hand or by a machine, the basic techniques, and principles used to make area rugs have lasted for hundreds of years.
There are five basic rug types: Hand-knotted, Tufted, Hooked, Flat-Woven, and Braided.
Hand-Knotted
The hand-knotting technique is the most labor-intensive technique. Essentially, the weaver ties individual knots to the warp yarns, and this eventually makes up the length of the rug. The knots eventually form the entire surface or structure of the rug.
The more knots that the weaver ties into the rug, the more durable and valuable the rug will be. Further, because this type of rug is hand-made, every hand-knotted rug is unique.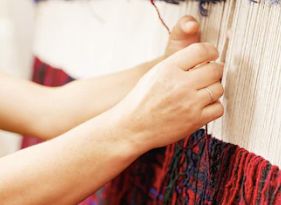 Tufted
Tufted rugs are made without knots and therefore easier to manufacture. Instead of using knots, tufted rugs are made by pulling loops of yarn through the backing of the rug's material. These loops are formed over and over to create a smooth, cut-pile surface.
Tufted rugs can be made either by using a hand-held tool or by machine. Given that less work is involved in the making of tufted rugs, they are produced quickly and inexpensively.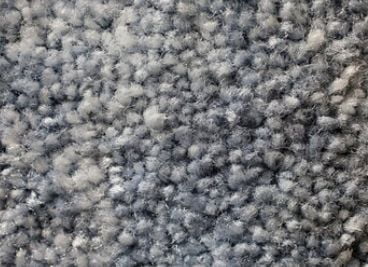 Hooked
Hooked rugs are similar to tufted rugs in that the yarn is pulled through the rug's surface, but the loop of yarn remains intact. Instead of being cut, this long loop is left alone, creating a bumpy, embroidered look.
Similar to a tufted rug, the loop of yarn can be consistently pulled through the rug's backing material by either a hand-held hooking needle or by a machine.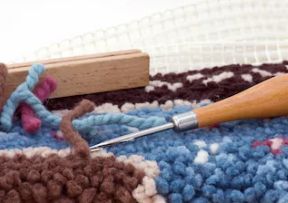 Flat-Woven
In contrast to the techniques mentioned above, flat-woven rugs do not make up a pile of yarn. Instead, these rugs are made up of vertical yarns which are simply woven through horizontal yarns and lay flat.
Flat-woven rugs can also be produced by hand or by machine.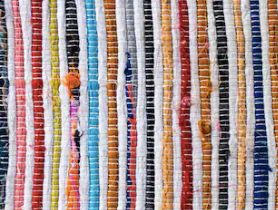 Braided
Braided rugs are similar to flat-woven rugs in that they do not pile, instead, they also lay flat. Yarns are braided into one continuous rope that is eventually sewn together in a spiral fashion. This type of rug is usually reversible. This technique leads to the creation of very strong and durable area rugs.
Braided rugs can be produced by hand or by machine.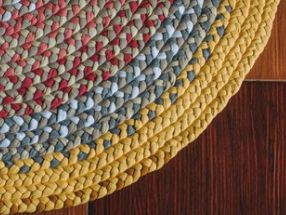 Surya Rugs at La-Z-Boy & How They are Made
At La-Z-Boy, we offer a variety of world-renowned Surya rugs.
Surya rugs are produced by hand in North East India by skilled craftsmen. A significant amount of hard work and precision goes into the making of these rugs, ultimately taking hundreds of hours. More specifically, one medium-sized, hand-tufted rug takes about one week to complete while a 5x6'' area rug can take over six months to complete. Moreover, one square inch of a rug requires a team of 3 skilled artists full day of work to produce.
Surya rugs are made with unrefined, raw wool sourced from New Zealand. Before starting construction, the wool is examined by hand. Next, the craftsmen take their time painting colours and patterns by hand and eventually map these sketches out onto the fabrics.
The craftsmen use several techniques, such as hand-knotting and hand-tufting, to construct the rugs by hand.
Surya rugs are offered at La-Z-Boy in several shapes, sizes, and styles. With over 3,000 patterns and colours painted by hand, you can be sure to find a beautiful Surya rug that will be a treasured centerpiece in your home.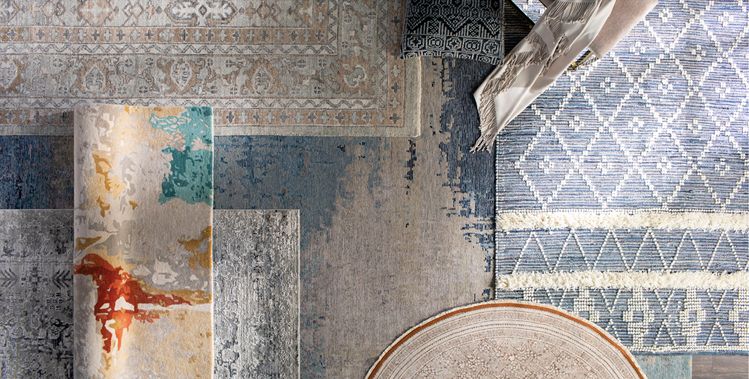 Product Info Request
Please provide us with your name and email and we'll get back to you as soon as possible regarding this item.