Area Rug Selection at La-Z-Boy: Comparison of Surya & Feizy
July 8, 2022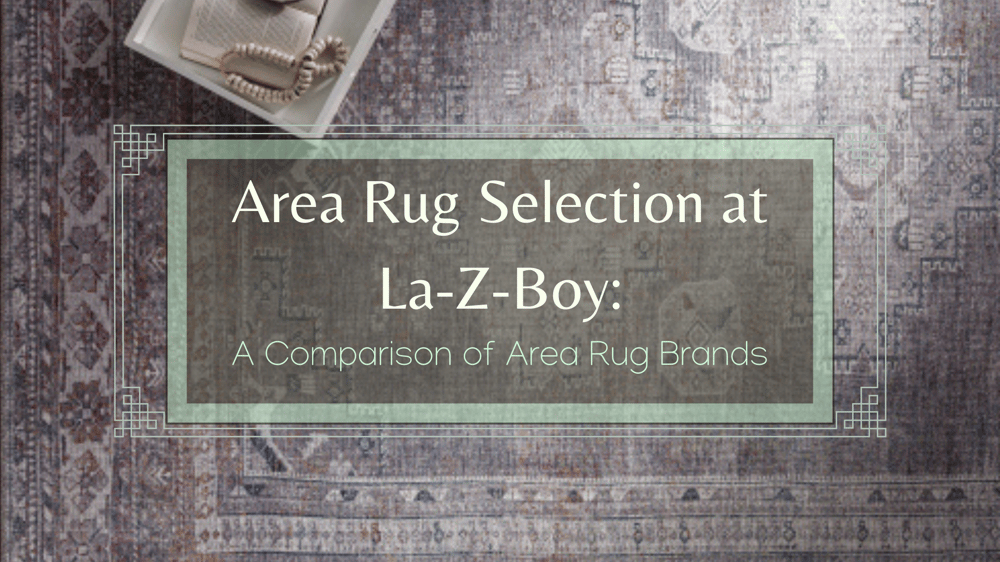 Est. Reading Time: 7 Mins
Have you ever felt like a room is incomplete, but can't seem to place your finger on what is missing? Often, what a room is missing is an area rug!
In fact, when Magaly del Castillo, an interior designer at La-Z-Boy Cyrville, is designing a room, she shows clients a comparison of their room with and without an area rug. After seeing the room with an area rug, most clients are pleasantly surprised.
Area rugs are a subtle, yet effective design element. They are the cherry on top of any room to add an extra dimension, colour, or style to enhance your furniture pieces.
At La-Z-Boy Ottawa & Kingston, we sell a wide variety of area rugs from multiple different brands. The two main brands that we are from are Surya and Feizy, with a smaller selection from some other brands as well.
Each brand has something unique to offer, and it is important to understand the differences between each brand and its products before choosing an area rug from La-Z-Boy.
This article will help you differentiate between the different area rug brands that La-Z-Boy carries with the help of Magaly and Will Antoine, a design consultant at La-Z-Boy Cyrville. More specifically, we will outline how they compared to each other in terms of price, types of rugs, and abundance.
In This Article…
Surya Area Rugs at La-Z-Boy
About Surya
Surya is an area rug manufacturer that has been around since 1976. Starting off as a small supplier for hand-knotted rugs in North India, Surya has grown quite significantly.
As a manufacturer, Surya makes a variety of home-inspired products, such as pillows, lighting, wall decor, and, of course, area rugs.
Surya is La-Z-Boy's main supplier for area rugs. Among the other brands that La-Z-Boy carries, this one has the most variety in terms of styles, colours, collections, and more.
In fact, Magaly says that Surya is well-known in the design world and is the main supplier for furniture brands on a global scale. "They carry so many rugs from traditional to very modern to contemporary–the possibilities are truly endless."
Surya Area Rugs Selection
When it comes to area rug selection, Surya has plenty of shapes and sizes to choose from.
Surya's area rugs are not only meant for the living room but can be used in multiple rooms of the home, including hallways or entranceways, according to Will.
Area Rug Shapes & Sizes
According to their website, Surya offers the following shapes for their rugs:
Rectangle
Round
Square
Oval
Runner
Octagon
Star
Hearth
Kidney
Among these shapes, Surya area rugs also come in a variety of different sizes. The sizes range from as small as 2'x3' to as big as 12'x18'. According to Will, the most common area rug sizes are 5'x8' and 8'x10'.
Area Rug Materials
In addition to a range of shapes and sizes, Surya rugs are also made with a wide selection of materials, such as:
Hair on hide, Sheepskin
Hute, Seagrass, Sisal
New Zealand Wool
Polypropylene, Olefin, Polyolefin
Polyester, Acrylic, Polyacrylin, Nylon
Tencel
Viscose
Wool-Felted
Wool
Magaly also mentions that the hair-on-hide area rugs mean they have leather rugs as well. She does warn, however, that these types of area rugs are quite pricey because leather hides are usually more expensive than fabric materials.
You can learn more about our Leather Selection at La-Z-Boy by checking out this article.
Area Rug Unique Features
All of Surya's area rugs can come with rug grips that make the rug stay in place, rather than letting it curl or fold in your room.
They also have indoor-outdoor rugs that you can place either on your patio outside or in your living room inside. These types of area rugs might also be better for sunrooms, which you can learn more about How to Furnish and Design a Sunroom in this article.
Surya also recently introduced washable area rugs to its selection. Now, instead of getting your area rugs professionally cleaned, you can easily put your area rug in your washing machine. After it is done in the washer, it can be hung dry, and it'll be as clean as new.
How Surya Area Rugs Are Made
Surya rugs are made with a variety of materials that provide a multitude of styles and textiles. Further, Surya has several different locations where these rugs are made. These places include Turkey, India, Egypt, China and Belgium.
Magaly mentions that some of Surya's area rugs are made with natural fibres and materials. These types of materials include raffia, jute, wool, and other non-synthetic items.
With that being said, most of Surya's rugs are not machine-made but hand-made. Hand-made rugs are made by many methods of construction, including hand-knotted, hand-woven, and hand-tufted.
Magaly also mentions that they have all types of non-natural-made area rugs like performance rugs, which are more durable than regular area rugs. There are also textile rugs for those who are looking for something less patterned and more "touchy-feely," as Magaly says.
Cost of Surya Area Rugs
Surya area rugs fall within the mid to high price range on the market. With that being said, the cost of a Surya area rug can range drastically depending on the shape, size, and material, and is mostly dependent on how it was made.
Less expensive rugs are machine-made, being seamed and woven together with minimal effort. More expensive area rugs are hand-made, requiring much more time, effort, attention to detail, and a high level of craftsmanship.
The size and shape of the area rug also play a significant role in cost because this determines the number of materials required to make it.
Will says that a Surya area rug can range from as low as $200 to as high as $15,000. A 5' x 8 foot Surya rug is sold at an average price of about $1,000. An 8' x 11' Surya rug is sold at an average price of about $1,600.
If you want to learn more about How Area Rugs are Made, check out this article.
Key Differences
The majority of Surya's rugs are handmade, which means more of them will be more expensive than other area rugs that have either less detail or are machine-made.
This is where the main difference is with Surya, compared to the other area rug brands at La-Z-Boy. Because most of them are handmade, these rugs are more uniquely designed and have "more interesting styles to them," according to Will.
Will does assure us that if someone likes a handmade area rug but they can't afford it, there is sure to be a machine-made area rug in Surya's selection that matches or is similar to the design of a handmade rug.
The amount of thickness of these area rugs is also something to be considered. Because they are thicker, they are made to last longer.
If you want to learn more about Surya Area Rugs, check out our review articles.
Feizy Area Rugs at La-Z-Boy
About Feizy
Feizy is another area rug brand that has been around for almost 50 years. The company was first founded by John Feizy, a man with a passion for rug making which can still be seen today with every knot and tuft of their area rugs.
Feizy is a higher-quality area rug brand than Surya that has revolutionized the area rug industry because of its innovative and unique designs. Not only do they have unique fashion-forward, hand-woven, hand-tufted, and hand-knotted pieces, but they have collections from designers.
Specifically, the Thom Felicia area rug line from Feizy offers dynamic and bold colours to add to your sophisticated and modern lifestyle. Since Feizy is more traditional, this collection adds a different perspective to Feizy's brand.
Magaly mentions that Feizy has area rugs for all kinds of furniture styles. "Area rugs need to match the environment that they're in," she says, "and you can definitely place a Feizy area rug in a bohemian, coastal, Persian household, you name it."
Some of Feizy's rugs are transitional, according to Magaly, but most are "traditional and global," which is probably why Feizy's rugs can fit so many different styles and looks.
Feizy Area Rug Selection
Feizy is known for creating handmade, machine-made, and one-of-a-kind rugs for anyone to uniquely personalize. These rugs all have are meticulously handpicked and designed to showcase eclectic and dynamic looks.
Feizy displays a wide array of shapes and sizes for their area rugs. The following shapes can be found on their website:
Rectangular
Square
Round
Runner
There are also many different sizes to choose from, all ranging from 1'6" to 18'. Similar to Surya, Will says that Feizy's common size for area rugs is 5'x8' and 8'x10'.
Area Rug Materials
In addition to a range of shapes and sizes, Feizy rugs are also made with a wide selection of materials, such as:
Cowhide, Leather face
Jute
P.E.T. Yarn
Polyester
Polypropylene
Viscose
Silk
Wool
Acrylic Pile
These materials can be combined to create more contemporary or transitional area rugs.
Area Rug Unique Features
Like Surya, all of Feizy's rugs also can come with rug grips so that your rug can stay in its place.
How Feizy Area Rugs Are Made
Feizy's area rugs are made from all different types of construction methods. According to their online area rug selection, most of their rugs are made in Turkey and India.
All of Feizy's area rugs are either machine-made, hand-knotted, tufted, or hand-woven, with most of their area rugs also being hand-made, like Surya.
One of Feizy's main area rug selections is high pile rugs, while still producing other area rugs. A high pile rug means a rug that has taller and loose fibres that appear to be more fluffy but still hold as well as a low pile rug.
A great example of a high pile rugs is shag carpets, which have loose loops in the seams but are still as durable as other rugs.
Cost of Feizy Area Rugs
As previously mentioned, Feizy has the most expensive area rugs offered at La-Z-Boy. Although the price range is higher, Will says that much of Feizy's selection is still comparable to Surya's price range.
With that being said, the cost range for Feizy's rugs can be as low as $5,000 to as high as $15,000. The cost is much more expensive due to the fact that very few of their area rugs are machine-made.
In fact, almost all of Feizy's area rugs are hand-made with the names of well-known designers attached to their products.
Key Differences
Feizy's main difference as mentioned before is their price. Will says, "Most of Feizy's area rugs are handmade and have a very high pile to them, and the ones I've come across have a traditional look as well, but very similar to Surya's top-end line."
The other main difference is Feizy's aforementioned selection of high pile rugs. This selection also contributes to the higher price range because high pile rugs are more expensive than low pile area rugs given that they take more materials to be made.
Other Area Rug Brands at La-Z-Boy - Citak Rugs
As previously mentioned, the area rug selection at La-Z-Boy consists of mostly Surya and Feizy options.
With that being said, there are other area rug brands that La-Z-Boy does carry, but they are not as abundant as the other big two that we have discussed in this article.
An example of an area rug brand that La-Z-Boy carries in less abundant selection is called Citak Rugs. Their style of rugs is mostly contemporary and transitional, which means they pair great with any La-Z-Boy furniture piece.
Citak area rugs are mostly not made with a high pile, like Surya, but they still hold because of the higher-quality materials they are made with. Further, Citak Rugs mostly makes their products by machine, with their manufacturers located in Belgium.
Of the Citak area rug selection, there are 22 collections to choose from. These collections all have ranging themes from arctic colours, and aquatic colours, to even more known aesthetics like urban and European.
Given that there is less Citak selection at La-Z-Boy, you might not find all of the collections that are displayed on their website.
Magaly explains that the main reason why La-Z-Boy doesn't have a more abundant selection of Citak rugs is probably due to their style. "It seems as though less and less people are asking for Citak's rugs."
Another difference when it comes to Citak rugs is that they can seam two small rugs together to make an even bigger area rug. So, if you like a certain size but feel as though you want to double that size, Citak can do that!
Although La-Z-Boy does not carry a wide range of Citak rugs, you can still find Citak's entire selection of area rugs on their website.
What's Next?
Now that you have a better understanding of our area rug selection at La-Z-Boy, why not discover some of our area rugs in person?
You can start shopping for area rugs, living room furniture or other home decor products at one of our showrooms located in Ottawa or Kingston. You can also schedule a visit online before coming in.
Our design consultants are always eager to lend a helping hand. Further, you can take advantage of our interior design services and work with an interior designer to see which area rug is right for your home.
If you're looking to match an area rug with some of our furniture products, check out our Best-Seller's list here:
Related Articles:
Cost of an Area Rug: When to Spend & When to Save
How to Select the Perfect Area Rug For Your Home
Product Info Request
Please provide us with your name and email and we'll get back to you as soon as possible regarding this item.