Review of Surya Rugs: Sold at La-Z-Boy Ottawa & Kingston
April 12, 2021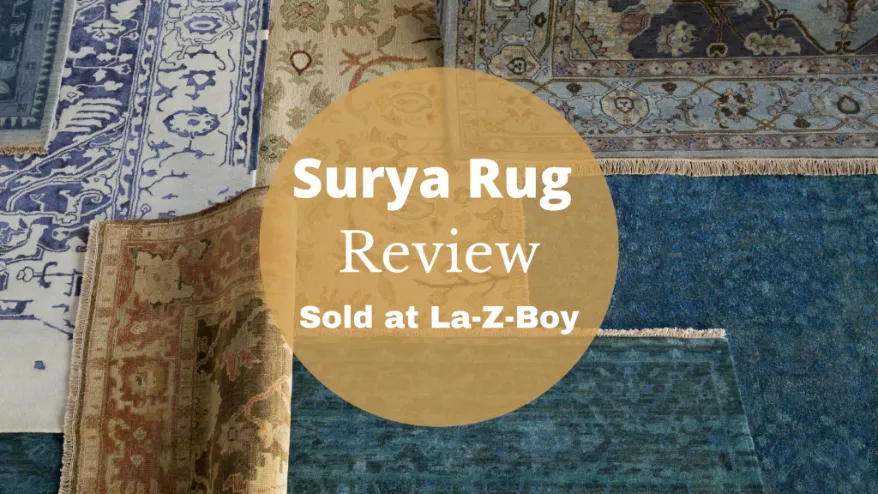 Choosing the perfect area rug isn't always easy!
An area rug has the power to completely transform a space and bring a furniture arrangement together with a single focal point.
To make the right choice, you will need to take many factors into consideration, such as style, size, and cost. You may also wonder how and where the area rug was made, not to mention the overall quality and durability of the product.
All of these individual factors are determined by one source, the manufacturer. To narrow down your decision in finding the perfect rug, start by finding the manufacturer that meets all of your area rug requirements and preferences.
Surya is an established manufacturer of quality and stylish area rugs. Sold and distributed throughout North America, Surya Rugs are offered at La-Z-Boy Ottawa & Kingston in coordination with our quality and comfortable furniture products.
Magaly del Castillo, the interior designer at La-Z-Boy Cyrville, says that Surya area rugs can be considered as a piece of artwork in your room. "The fibers are well-dyed, there is a great colour selection, and they are made beautifully." She adds that "the wide variety of rugs are reflective of different areas of the world."
Further, Magaly shares that La-Z-Boy clients have wonderful things to say about Surya rugs. With such a wide selection, "Surya rugs offer something for every La-Z-Boy client", says Magaly.
Is a Surya area rug the right choice for you?
Read on for an in-depth review of Surya area rugs to determine if they manufacture the perfect rug for your home!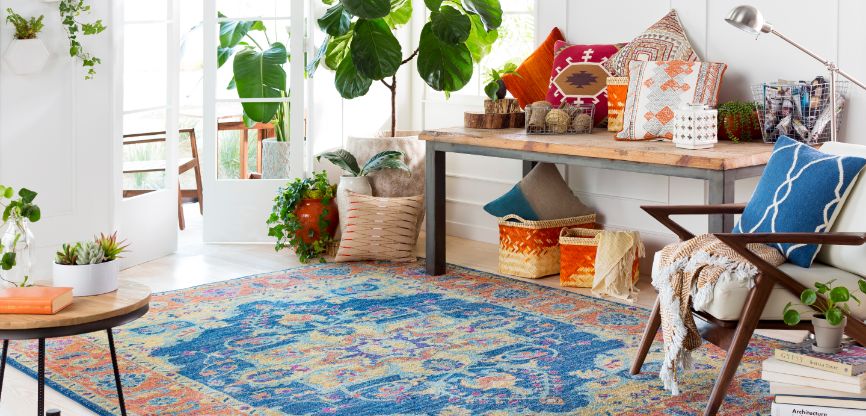 About Surya
Surya was first established as a small supplier of hand-knotted rugs in 1976 in North India. The company has since expanded with the goal of becoming "the go-to resource for coordinating fashion-forward home accessories".
Surya has now expanded to become a manufacturer, distributing their products through retailers across North America. The Surya headquarters and 1 million square foot distribution center is located in White, Georgia.
As a manufacturer, Surya makes a variety of home-inspired products such as rugs, pillows, lighting, wall décor, accent furniture, decor, and bedding.
Surya aims to translate the most relevant apparel and home decor trends into fashion-forward products that cater to a range of styles and budgets.
From classic to contemporary, Surya products are fresh, colourful, and current, not to mention, high-quality.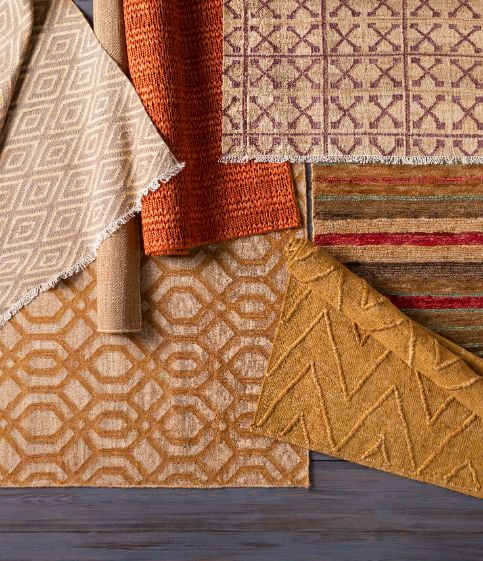 Where are Surya Rugs Made?
Surya rugs are made in several locations overseas such as Turkey, India, Egypt, China, and Belgium.
Surya promotes ethical business practices at all levels of the supply chain, including the communities in which they operate.
Every Surya product is made by individuals of legal employment age who are voluntarily employed, earn fair wages, and work in clean and safe environments. Surya claims to treat their employees with "fairness, dignity, and respect" and they require that all contractors and vendors adhere to fair labour practices.
How are Surya Rugs Made?
The method and materials of an area rug play a significant role in determining its overall look and feel. Further, the way a rug is made also determines its strength and durability.
Surya rugs are made with a variety of materials and methods of construction to provide varying styles and textures.
Surya emphasizes that their rugs are made from the finest materials (listed below) which are reflected in the overall quality of their products.
Materials

Methods of Construction

Hair on hide, Sheepskin

Hute, Seagrass, Sisal

New Zealand Wool

Polypropylene, Olefin, Polyolefin

Polyester, Acrylic, Polyacrylic, Nylon

Tencel

Viscose

Wool-felted

Wool

Hand-knotted

Hand-tufted

Hand-hooked

Hand-loomed

Hand-woven

Hand-crafted

Machine-woven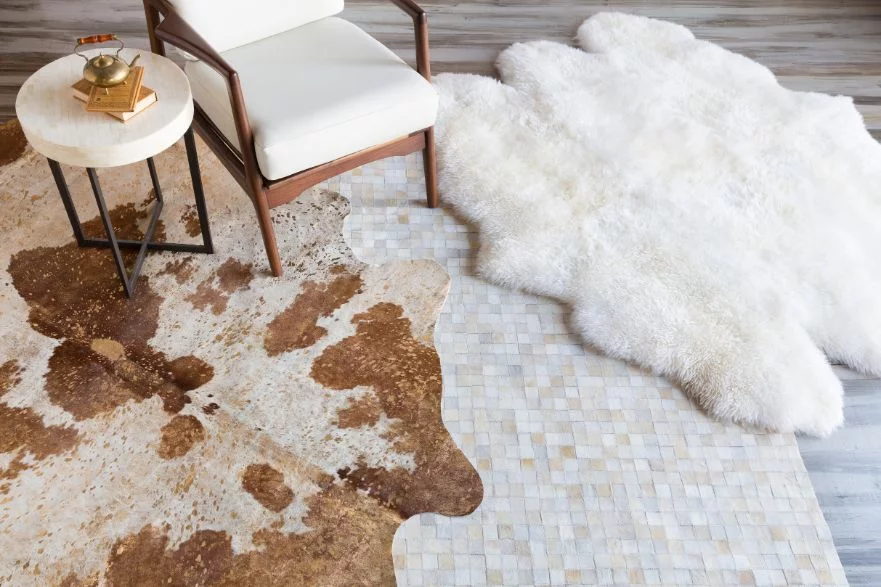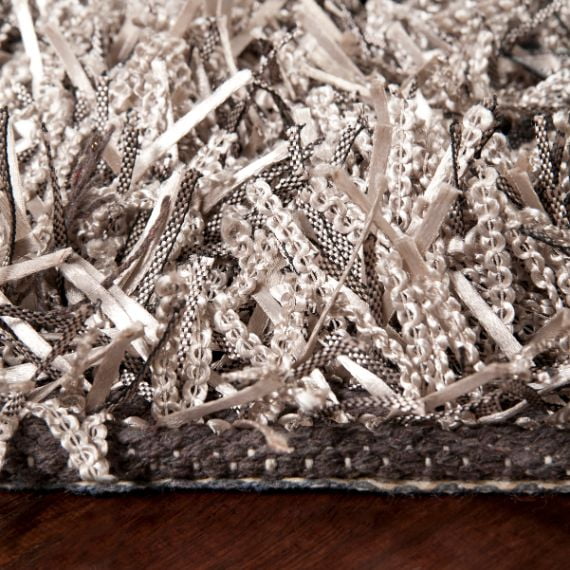 To learn more about materials and methods of rug construction, take a look at the article How Area Rugs are Made. This article breaks down materials and methods of construction in the making of rugs, and how this impacts quality.
Surya Rug Styles, Sizes, & Shapes
In order to cater to a wide range of requirements and preferences, Surya offers an exceptional variety of rug styles, sizes, and shapes.
Style Categories
With 12 available style options, Surya ensures that they offer a rug for everyone.
Coastal

Cottage

Global/Bohemian

Hide/Leather/Fur

Indoor/Outdoor

Modern

Natural Fiber

Rustic

Shag

Solid & Border

Texture

Traditional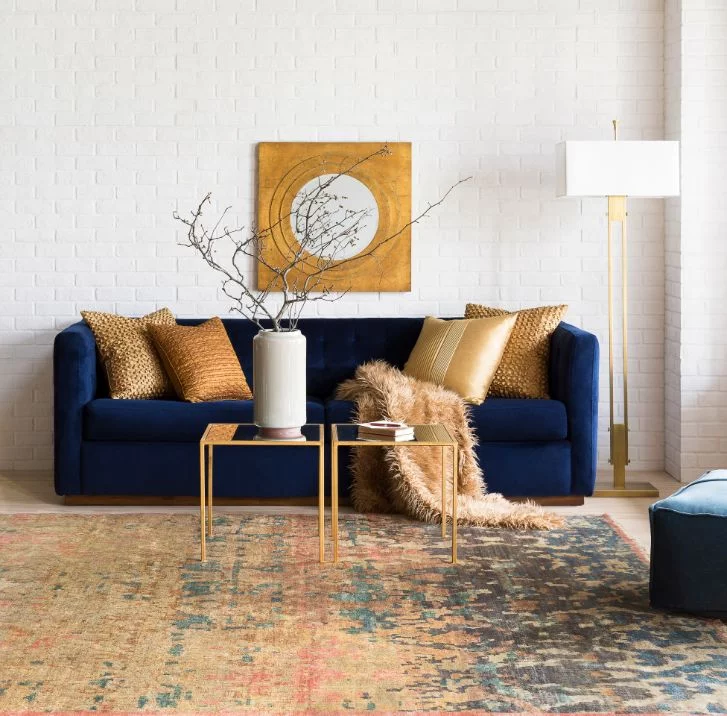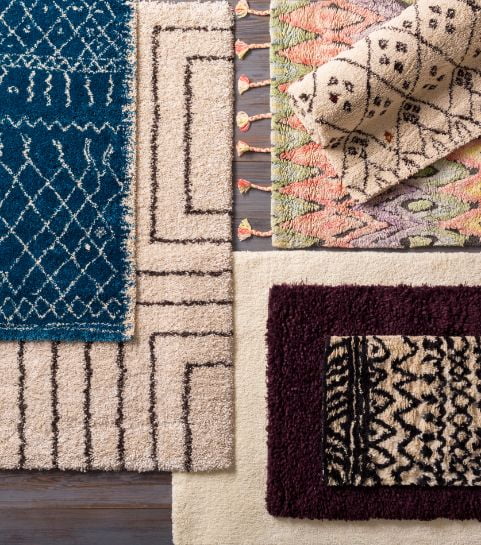 Sizes
In addition to style, Surya rugs come in a variety of sizes in order to fit seamlessly within any room or furniture arrangement.
Surya organizes their size options based on the room it may be placed in. These size options are based on standard sizing but they do offer additional specialty sizing.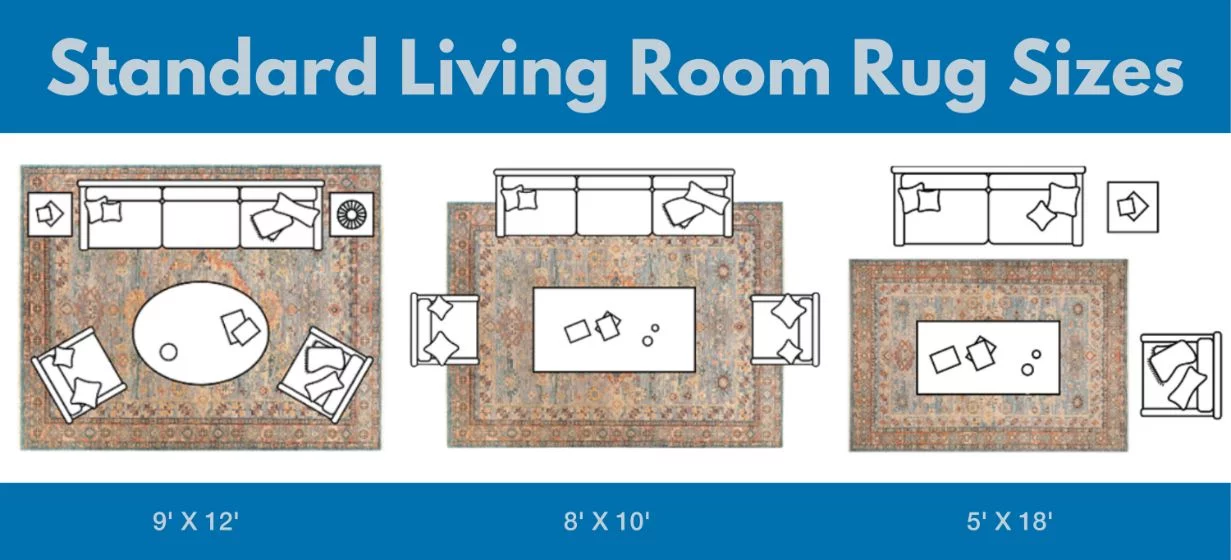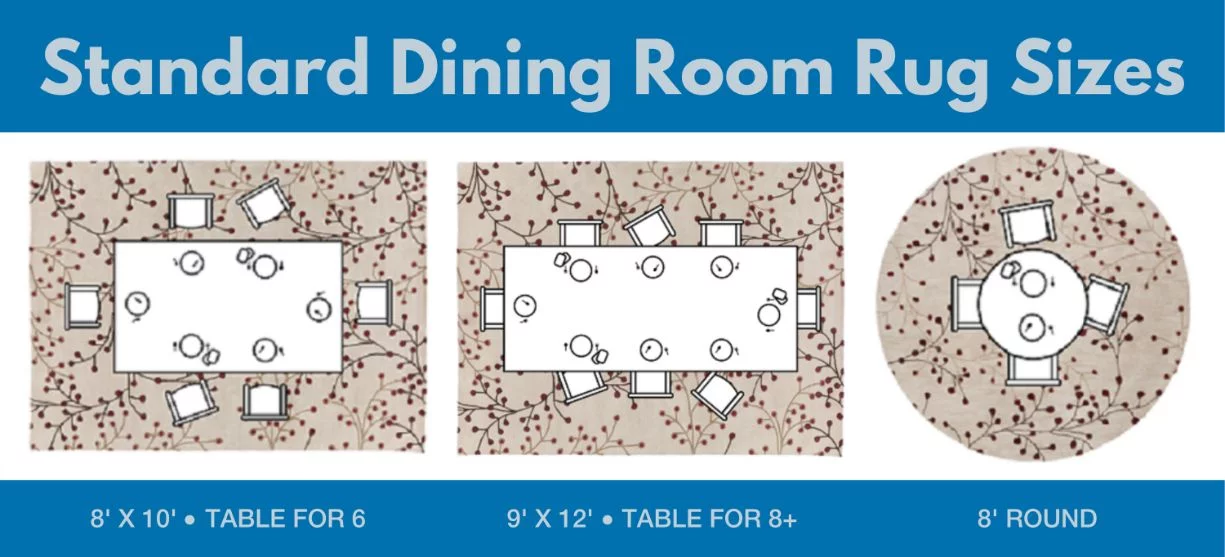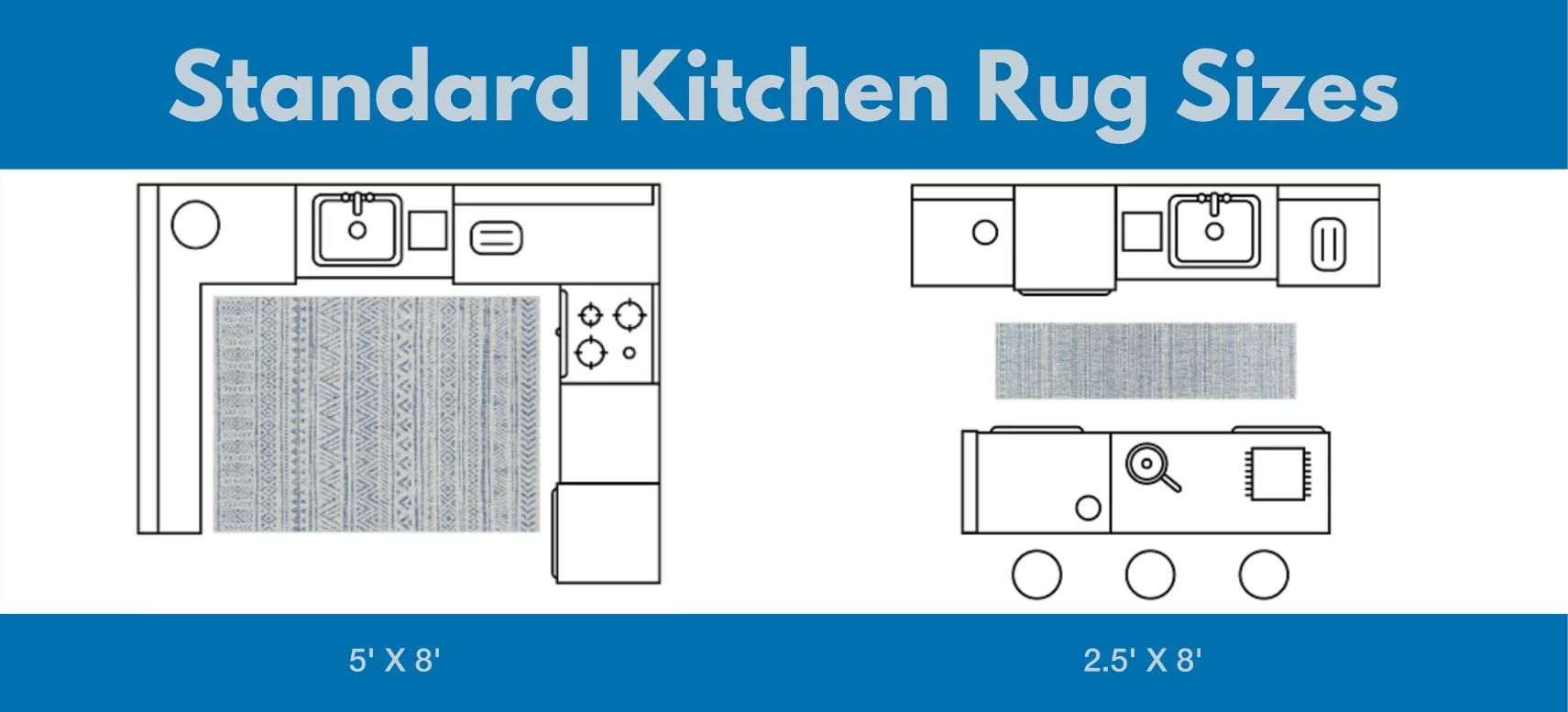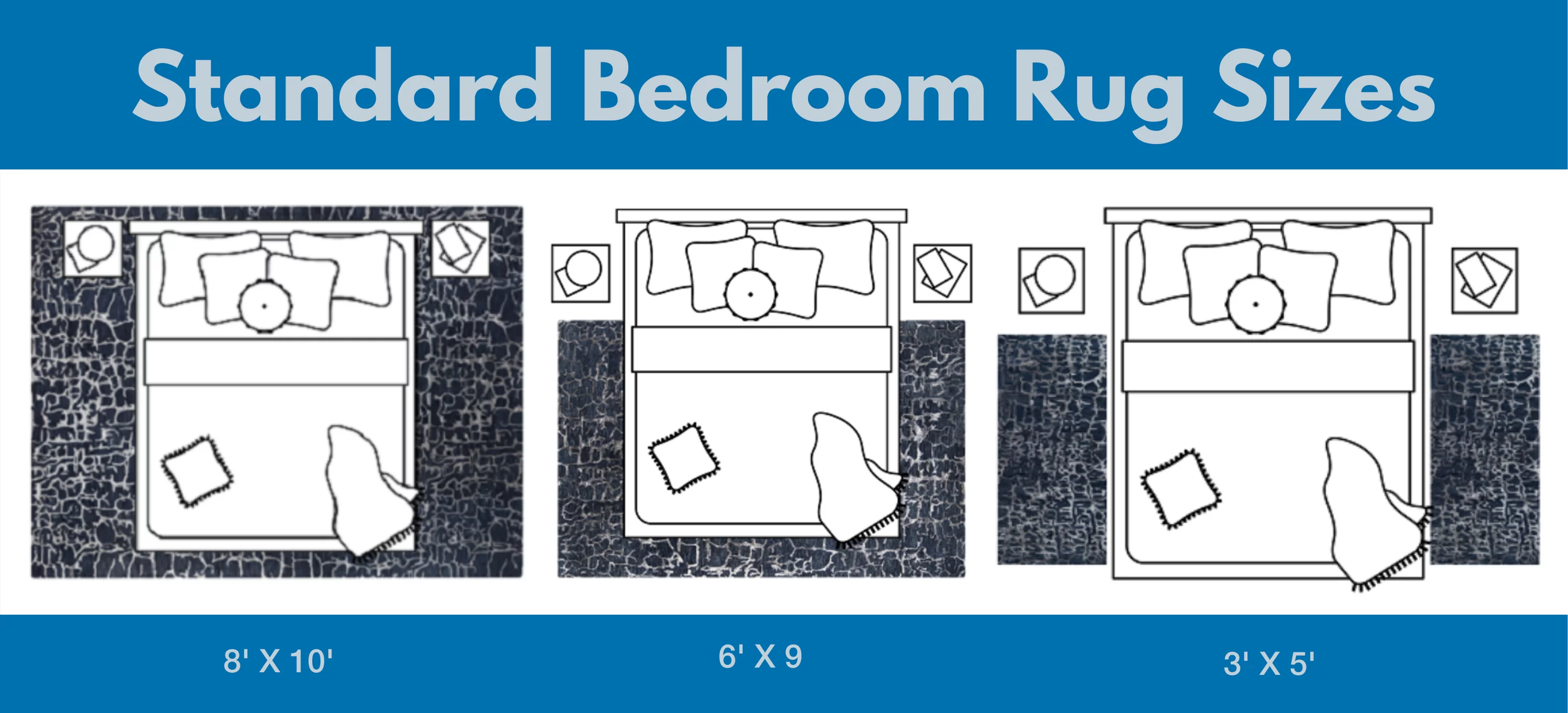 Shapes
Surya rugs are offered in a variety of shapes in order to accommodate many different types of spaces and furniture arrangements.
Rectangle

Runner

Round

Square

Oval

Octagon

Star

Hearth

Kidney
Cost
Surya rugs fall within the mid to high-end price bracket of rugs on the market. The retail cost of any given Surya rug is determined by the retailer.
The cost of Surya rugs sold at La-Z-Boy ranges from about $600 to $10,000 and more depending on the quality of materials and construction method used.
The 5' x 8 foot and 8' x 11 foot are the most popular sizes of Surya area rugs sold at La-Z-Boy. To get a better understanding of cost, a 5' x 8 foot Surya rug is sold at an average price of about $1,000. An 8' x 11' Surya rug is sold at an average price of about $1,900.
The cost of Surya area rugs ultimately reflects the quality of the materials used and the high level of craftsmanship that goes into making these products.
As you consider the cost of Surya rugs, take a look at the article Cost of an Area Rug: When to Spend and When to Save.
*All La-Z-Boy prices listed in this article are subject to change. We aim to update all cost-related articles twice per year. This article was last updated in October, 2022. Please visit lzb.com and select an Ottawa or Kingston La-Z-Boy store location to view the most up-to-date pricing.
Delivery
Surya rugs are delivered through the delivery services offered by the retailer that you purchase with.
If you purchase a Surya rug through La-Z-Boy, in-stock delivery is estimated to take 2 to 3 weeks.
If the purchased rug is not in stock, the estimated delivery time is dependent on several variables. Luckily, Surya is known to provide quite accurate lead time estimates in these scenarios.
A custom rug order can take anywhere from 7 to 9 months to be delivered.
Local delivery at La-Z-Boy Ottawa and Kingston is charged at a flat fee of $129.99. Out-of-town delivery costs $169.99. This includes an all-encompassing white-glove delivery service in which our skilled delivery men will unpack, inspect, and set up the rug in your home.
Additionally, we offer the option to dispose of any old furniture in a local landfill at an extra charge of $50 / per furniture seat.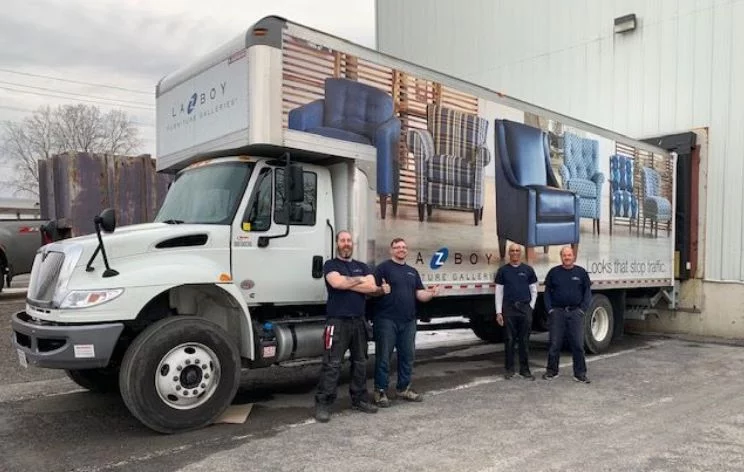 Warranty
Given that a Surya rug is an investment, you want to ensure the protection of your purchase.
As a manufacturer, Surya offers a 1 Year Limited Warranty with the purchase of any Surya rug.
The warranty covers any manufacturer defects that may occur within the first year of use. If a manufacturing defect has been identified upon receipt of rug or develops under normal conditions of use, Surya will repair or replace the damaged rug without charge.
The warranty does not cover any accidental damage to a rug. Further, there are external elements that may affect the appearance of a Surya rug over time, such as changes in shape, colour, and/or shedding. The Surya warranty does not consider such a manufacturer's defect.
Care & Cleaning
Although some damage and wear are unavoidable over time, there are ways to care for and clean your Surya rug, as recommended by the manufacturer.
Surya has a comprehensive Rug Care and Cleaning Guide that offers tips that can be applied to several types of rugs.
Vacuuming
Surya recommends using a canister vacuum without a beater bar as the optimal type of vacuum to use on rugs. Brooms and manual sweepers are also gentle and effective.
It is recommended to refrain from running the vacuum over the edges of the rug. If a rug is reversible, remember to vacuum both sides.
Cleaning Spills
When a spill occurs, it is important to clean the spill immediately. If you wait too long the stain will set in and become very difficult to clean.
Scrape off any food or debris with a dull instrument. Blot a spill with dry cotton or a clean paper towel. Work from the outer edges of the spill towards the center to prevent the spreading of the stain.
Never rub a spill as this will force the spill deeper into the rug.
Professional Cleaning
Handmade rugs require a different cleaning process, so be sure to hire a professional expert for this job.
Outdoor Rug Care
Outdoor products require regular care and cleaning and should be stored inside when they are not in use. Leaving an outdoor rug indirect, or even indirect, sunlight outdoors will cause rapid fading.
Further, leaving an outdoor rug in rain or humid weather will cause rapid deterioration and mold.
Special Care Based on Construction
Hand-Knotted Rugs require extra caution and care when cleaning due to the high value of these rugs.
Hand Woven (Flat Weave) rugs require regular vacuuming on both sides of the rug to remove any grit that may cause premature wearing.
Hand Woven (Shag/Texture) also requires extra caution and care when vacuuming, but alternatively, you can take the rug outside to shake it out.
Special Care Based on Material
| | |
| --- | --- |
| Wool / NZ Wool | Mix a small amount of dish soap with cold water to help remove stains; regular vacuuming will help to curtail shedding sooner. |
| Polypropylene / Olefin / Polyolefin | Mix a small amount of dish soap with cold water to help remove stains. |
| Polyester / Acrylic / Poly Acrylic / Nylon | Mix a small amount of dish soap with cold water to help remove stains |
| Jute / Seagrass / Sisal | Regular vacuuming will help to curtail shedding sooner. |
| Viscose / Tencel | Never clean these rugs with water or any other liquid. |
Reviews
La-Z-Boy clients love Surya rugs, says Magaly.
In fact, Surya rugs are such a hit that they are showcased in the CHEO Dream Home, furnished by La-Z-Boy.
Designed by Tanya Collins, the bohemian interior design of the 2020 dream home was brought to life by the use of Surya's globally inspired area rugs and animal hides.
Take a look at how Surya rugs were seamlessly incorporated into the beautiful home, ultimately enhancing the interior decor.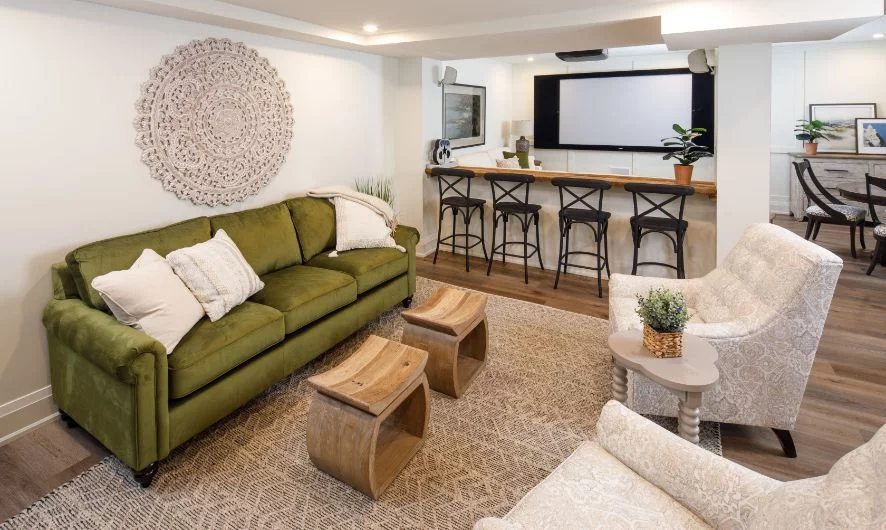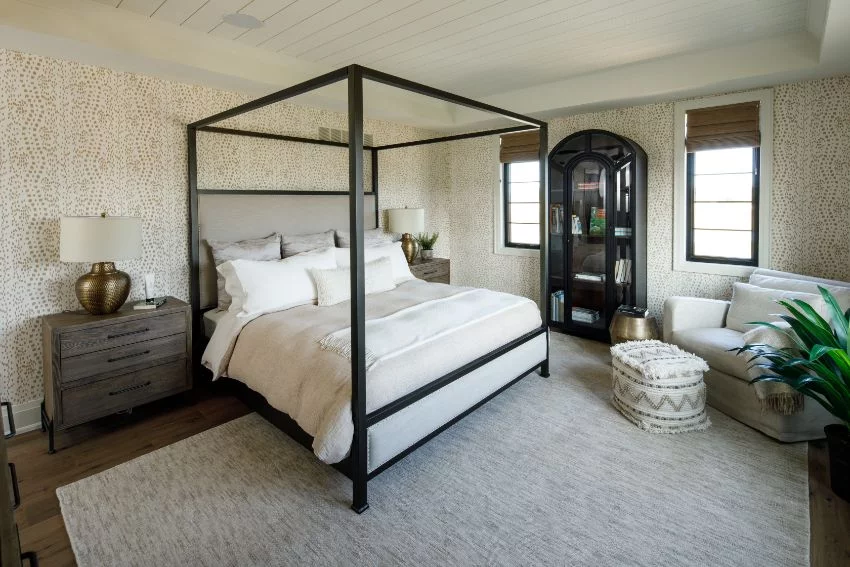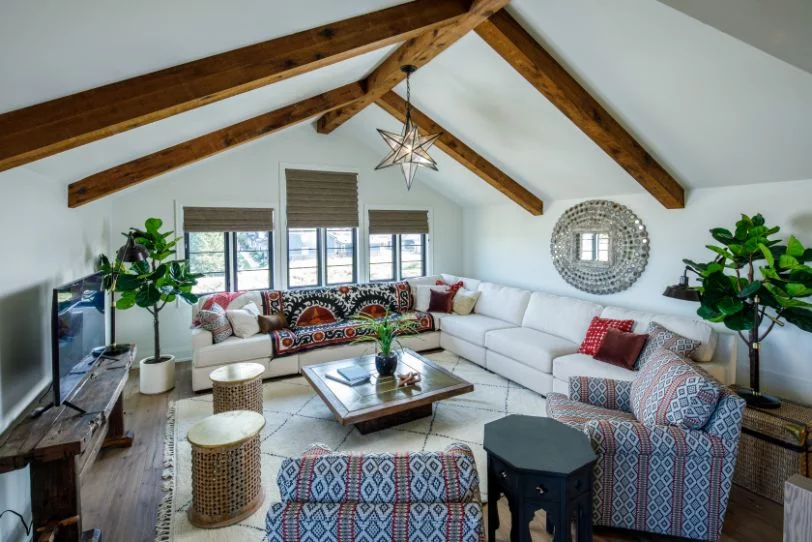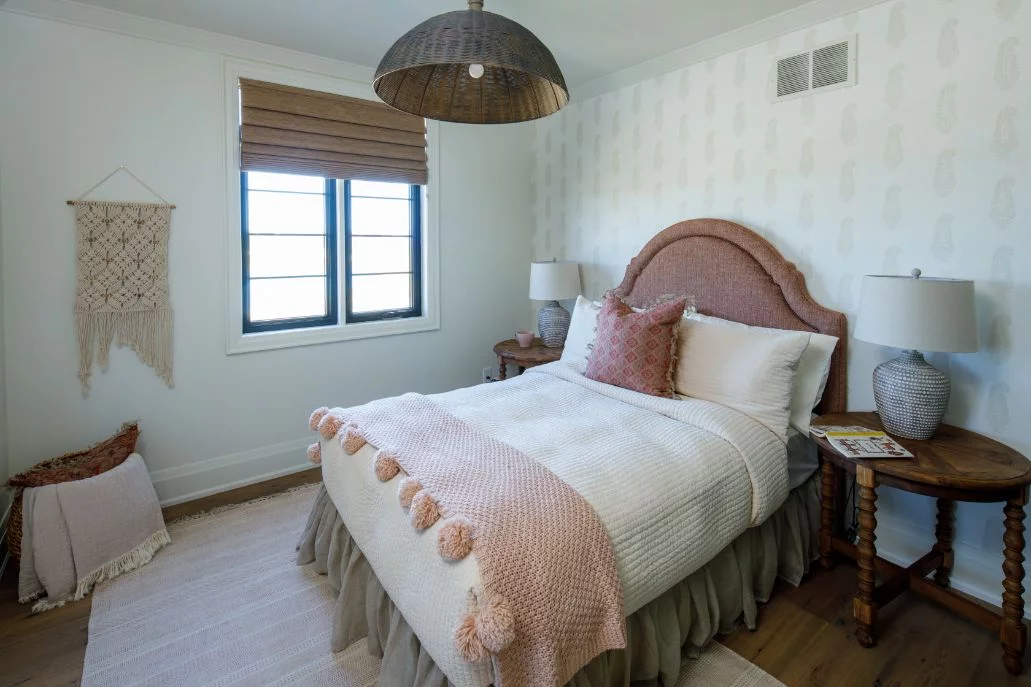 Find these Surya rugs in the Catalog of the Furniture in the 2020 CHEO Home.
Common Concerns
While many clients adore their Surya rug, some clients have also expressed some concern with their products.
Design, Colour, Size
Many Surya rugs are handmade. It is important to keep in mind that handmade rugs may have slight variations in colour, design, and size over time. Additionally, machine woven rugs may slightly vary in size.
Although some customers complain about this, it is not considered a defect.
Shedding & Sprouts
Another common complaint in Surya rugs is shedding. Shedding is normal for rugs but the severity of the shedding can vary depending on construction and content.
Luckily, the shedding will usually subside over time. Typically it takes 20 to 25 time vacuuming to curtail shedding.
You may also experience sprouting, which is when loose yarns are pulled up above the surface of the rug. This is also normal and can vary depending on construction and content.
Simply use scissors to carefully trim and remove sprouting.
Creases
When the Surya rug first arrives, some customers complain about creasing.
Creasing can occur due to the way in which the rugs are rolled for storage and shipping purposes. Within a week or two of the rug being unrolled and laid out flat, the creasing should disappear.
Odor
The dyes, yarns, backing, and packing material used in the manufacturing of Surya rugs all have natural odours.
These natural scents can be magnified after being sealed for storage and shipping, which is sometimes a complaint from Surya rug owners.
Any odours should dissipate within a week of unpacking.
Fading
Finally, the colour of Surya rugs will fade over time, even if the material is resistant to fading.
In order to slow down the natural effect of fading, try to keep your Surya rug away from direct sunlight. To equally distribute the fading, rotate your rug every 3 to 6 months.
Purchasing a Surya Rug at La-Z-Boy
Known primarily as the inventor of the iconic recliner chair, many consumers don't realize that La-Z-Boy provides a wide range of home furnishing products. With over 90 years in the home furnishing market, La-Z-Boy has partnered with similar innovative experts in the field, such as Surya.
Magaly says that La-Z-Boy furniture coordinates well with Surya rugs because both brands value comfort and things that last!
La-Z-Boy makes comparing your options easy by offering stock samples of Surya rugs. Access the look and feel of the available Surya rugs by browsing the 18' x 18' inch stock samples.
Magaly says that at the Cyrville location she has about 120 to 150 Surya rug samples for clients to choose from. If you want a specific pattern that is not found within the store samples, a La-Z-Boy designer can have Surya send that specific sample to the store.
Once you feel comfortable with your choice, a La-Z-Boy designer or consultant will place the final order.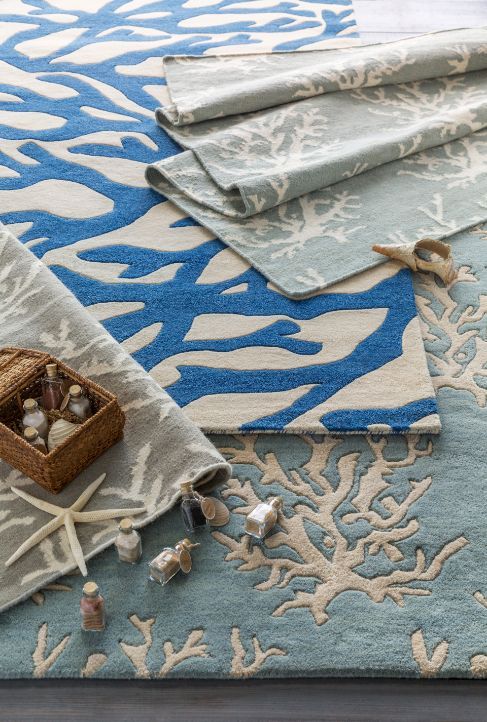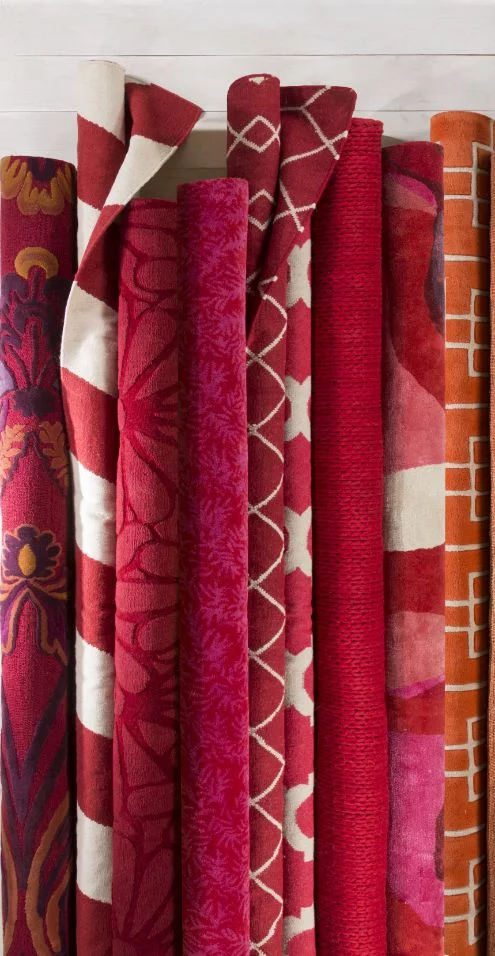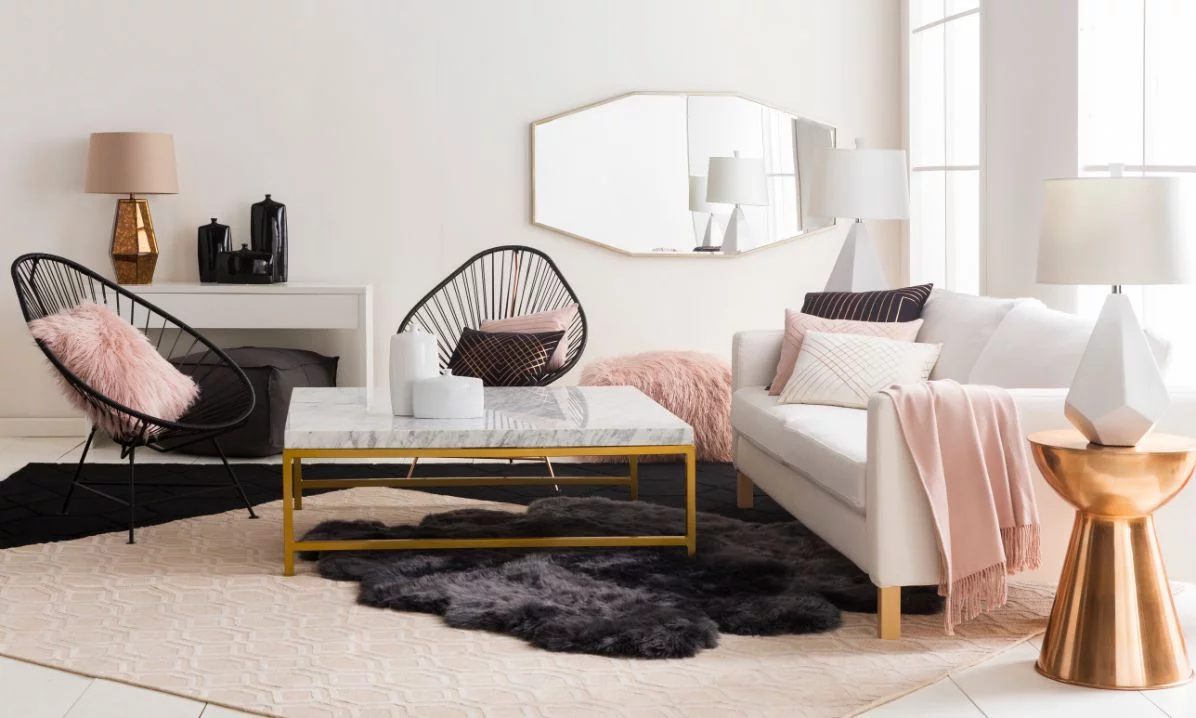 Product Info Request
Please provide us with your name and email and we'll get back to you as soon as possible regarding this item.