How to Mix & Match Wood Furniture
August 13, 2021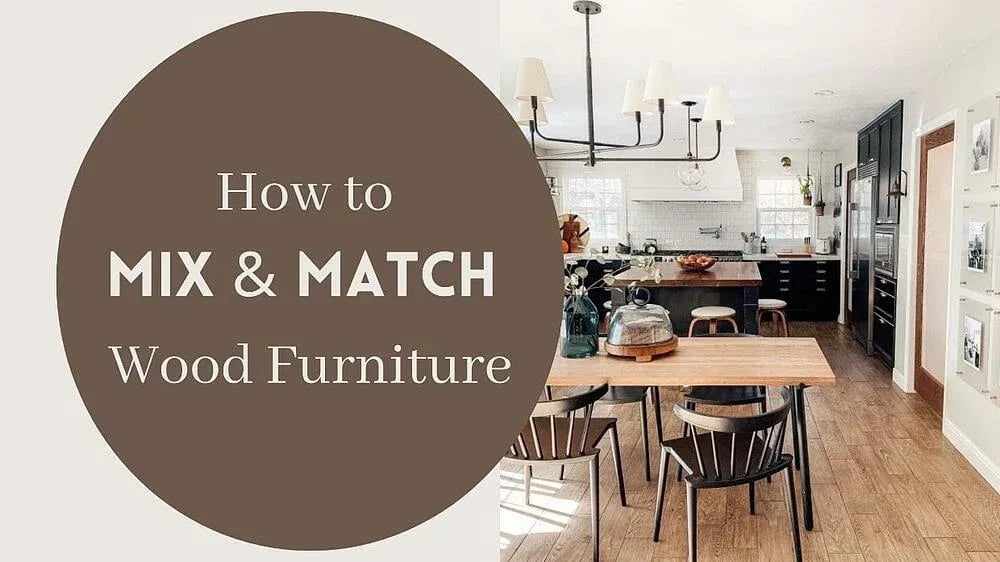 The era of matchy-matchy is behind us!
Home decor trends are beginning to embrace the mixing of patterns, textures, and colours in the home, creating enhanced layers of dimension and visual interest.
With this being said, homeowners are still timid when it comes to mixing woods, when in fact, mixing tones of wood can be just as beautiful as the other mixed materials in a room.
Think of a forest! A variety of trees, in all shapes, sizes, AND COLOURS, live in harmony in the forest … and they can live in your home too.
In fact, when every tone of wood in a room resembles the other, the dimension of the room falls flat. Alternatively, a room filled with diverse wooden tones organically lends to more texture and depth.
Magaly del Castillo, the interior designer at the La-Z-Boy Cyrville location, is an expert in all things home design … including mixing and matching wood furniture. With years of experience in design, she has some helpful tricks up her sleeve that will make mixing wood seem simple.
Read on for eight easy tips for mixing wood furniture in your home!
Eight Tips for Mixing Wood Furniture
Before we get started, we must change the way we think about wood.
Typically in design, Magaly notices that people tend to think of wood as a colour, but in reality, wood is not a colour it is a bark. Barks hold texture, curvature, and dimension. They give off an array of colour with hues of greens, browns, and golds.
With this, we must let go of treating wood like the colour of your sofa or walls. Instead, Magaly suggests thinking of wood as the backdrop of your room. "Wooden elements and furniture create the backdrop for which we are painting". We then can build upon this backdrop with area rugs, furniture, and accents to paint a beautiful and complete picture!
With this new perspective in mind, you can now follow these simple tips to confidently mix wooden furniture in your home.
1. Casual or Classy?
The easiest way to approach mixing wood is to first decide between casual woods and classy woods, says Magaly.
This decision will ultimately depend on the overall look you are going for.
A combination of casual woods, such as birch, pine, oak, or reclaimed wood, will give off a more light, airy, and rustic feel.
In contrast, more "classy" or formal woods, such as cherry, mahogany, and walnut, create a more deep, rich, and elegant look.
Although it can be done, it is best not to mix casual and classy woods as it can make the style of the room look confused. With that being said, you can sometimes get away with a very light and dark contrast, but this may be a bold approach for beginners.
2. Pick a Dominant Wood Tone
Once you have decided between an overall casual vs. classy style of wood, it helps to choose a dominant wood tone as a guide for choosing other pieces.
Think of this dominant wood as an anchor in the room. A large and obvious element of wood furniture. This concept is similar to choosing a dominant pattern in a room of mixing patterns.
If you have wood floors, this is typically the best choice for a dominant wood tone. With this, you can get creative with contrasting and coordinating the furniture and flooring. "Just like a patterned occasional chair, a unique and contrasting piece of wood furniture can become its own accent piece".
Otherwise, choose the largest, statement piece of wood furniture. Perhaps a desk, dresser, or dining table.
Once you've made your choice, consult this dominant wood as you pick other types of wood for the space.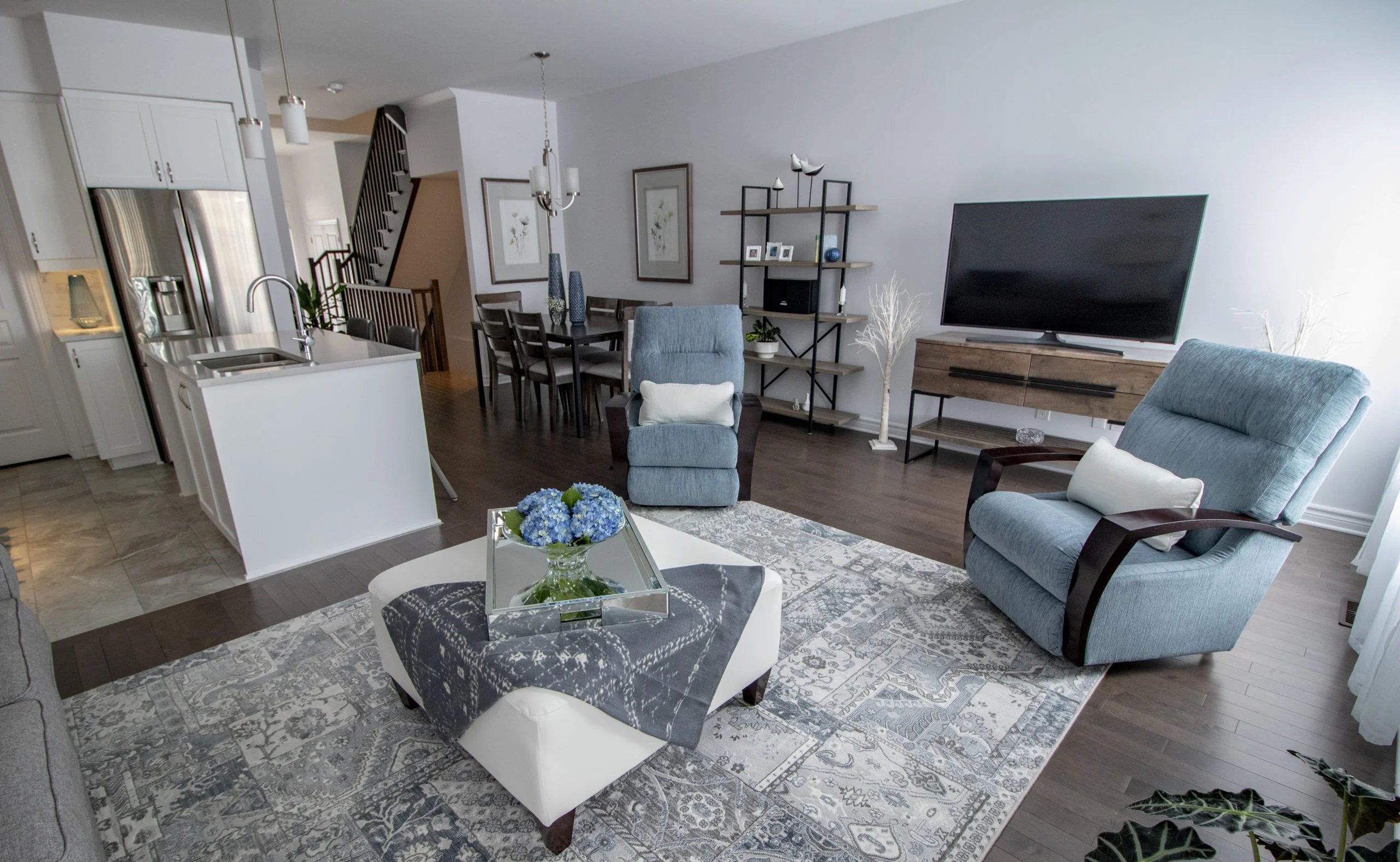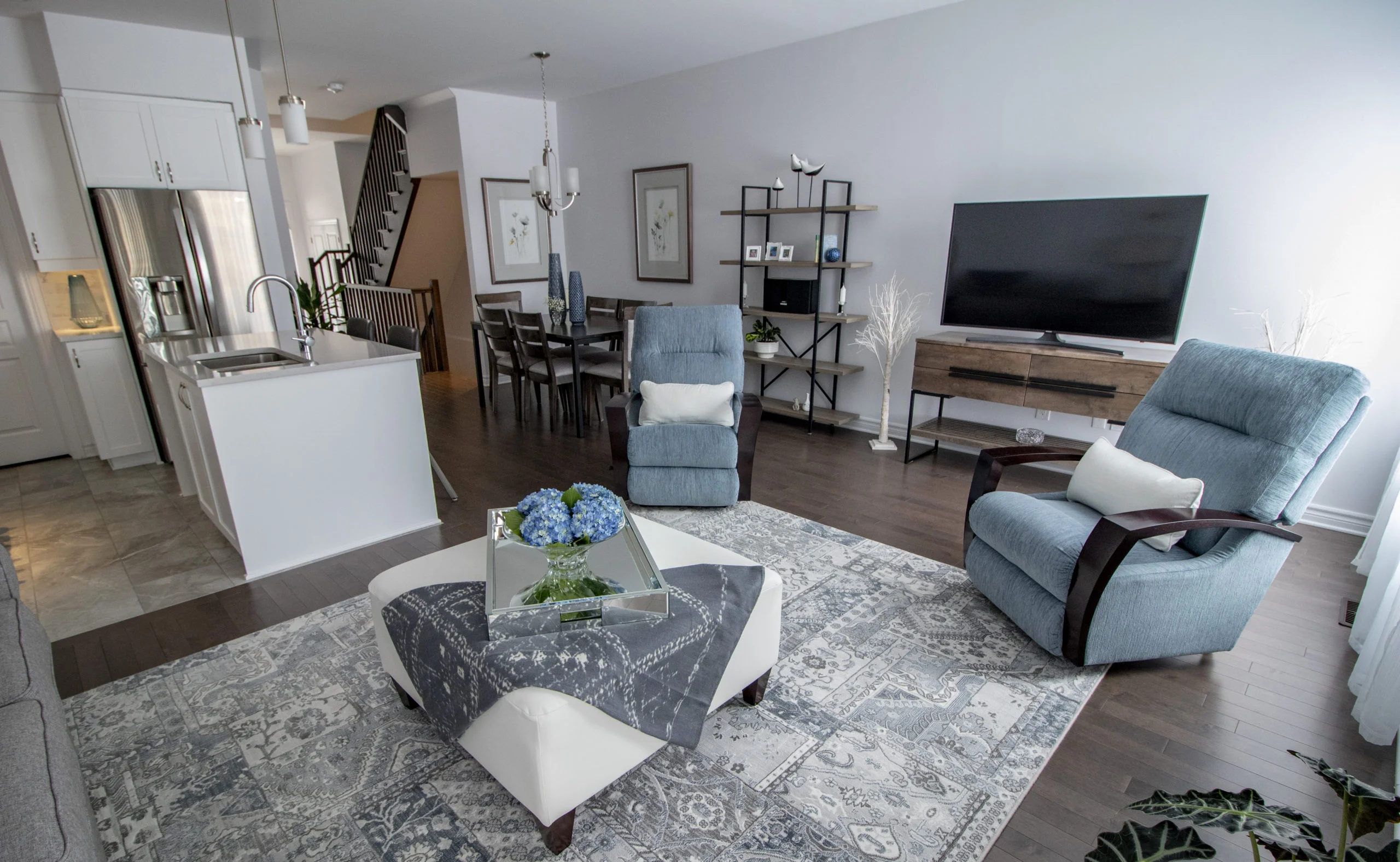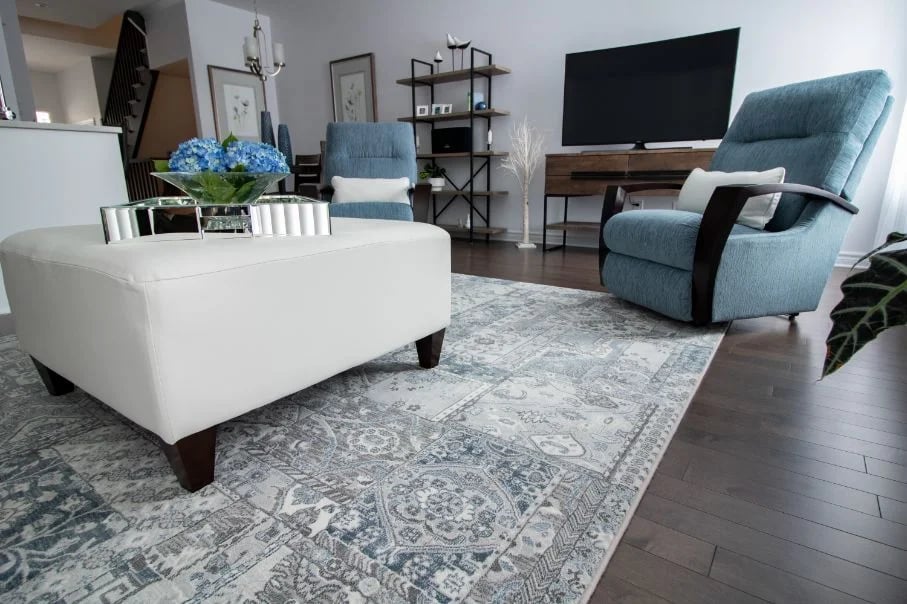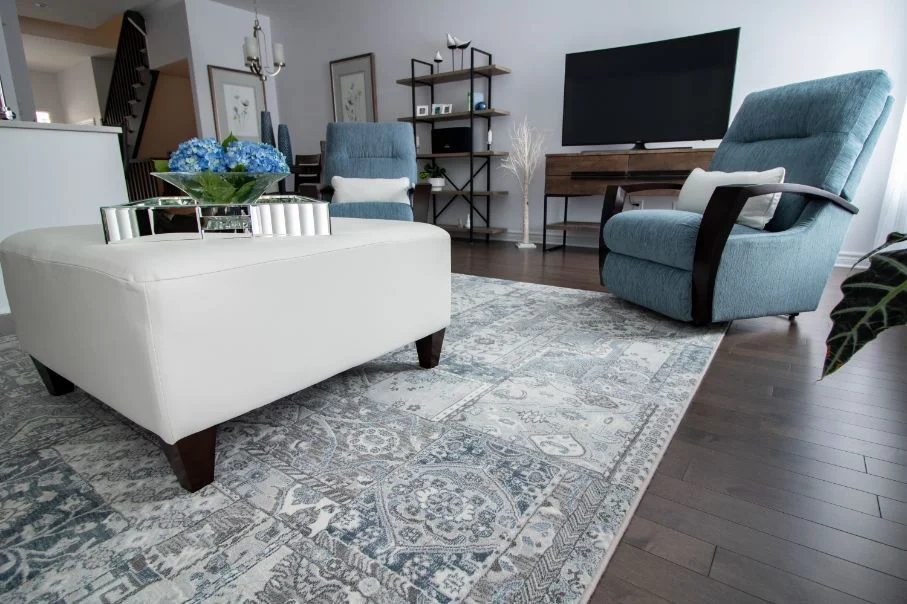 3. Coordinate the Undertones
As previously mentioned, Magaly says that not all woods have to match … in fact, it is beautiful when they don't! But what you do have to pay attention to is the style and undertone.
For example, oak tends to have a yellow undertone and that doesn't coordinate well with cherry, says Magaly.
For those who enjoy cosmetics, coordinating undertones can be a lot like choosing makeup products. As you sift through shades and shades of foundation and blushes, what you want to look for are shades with undertones that complement your skin tone. This can make a huge difference in creating a glowing and natural makeup look.
Is your dominant wood tone warm, cool, or neutral? Once you determine the undertone, stay in the same undertone family to create a consistent look in your room.
If you are feeling more fearless and want to mix tones, be sure to go for very high-contrast shades. For example, light wood floors can complement a dark walnut chair, if paired correctly.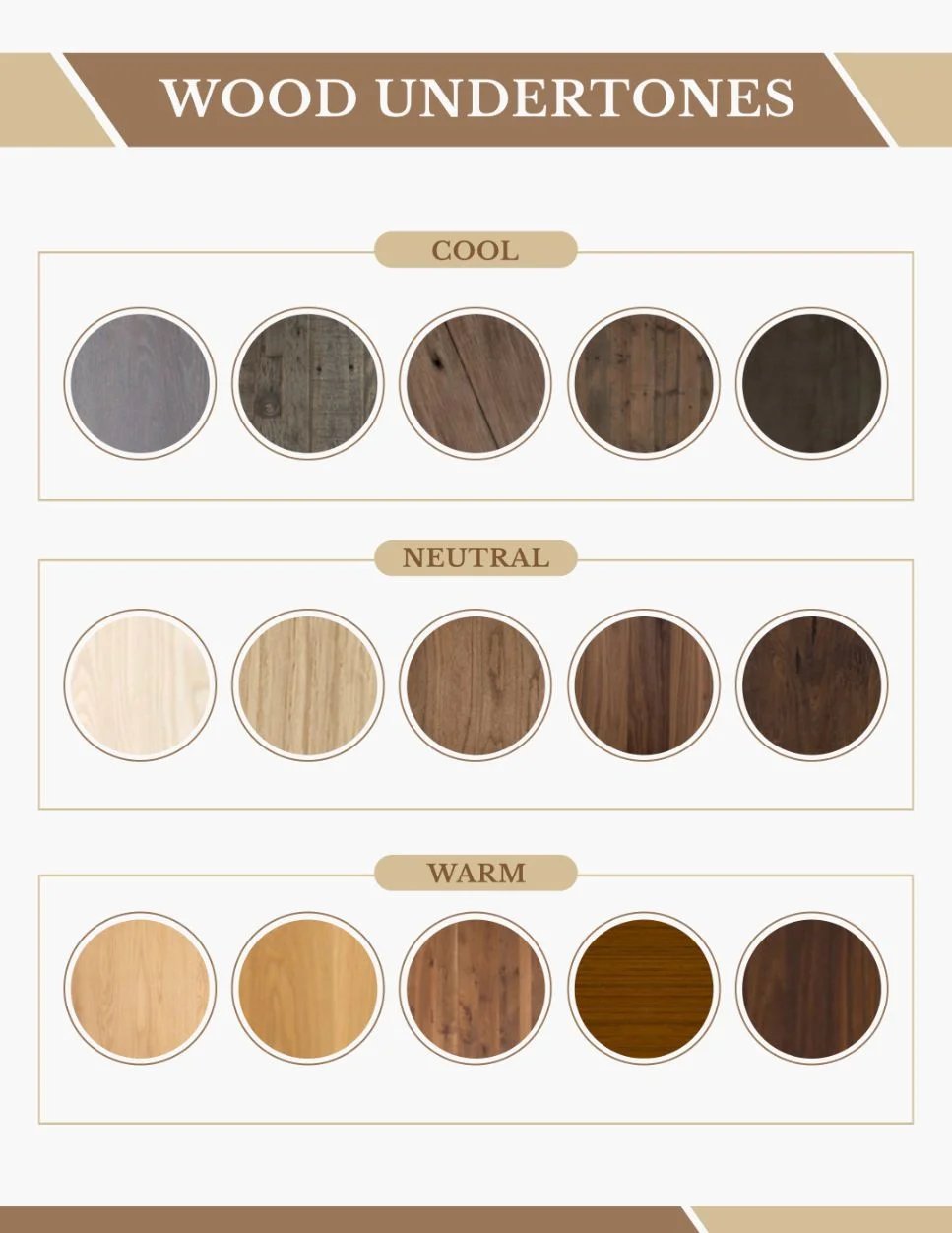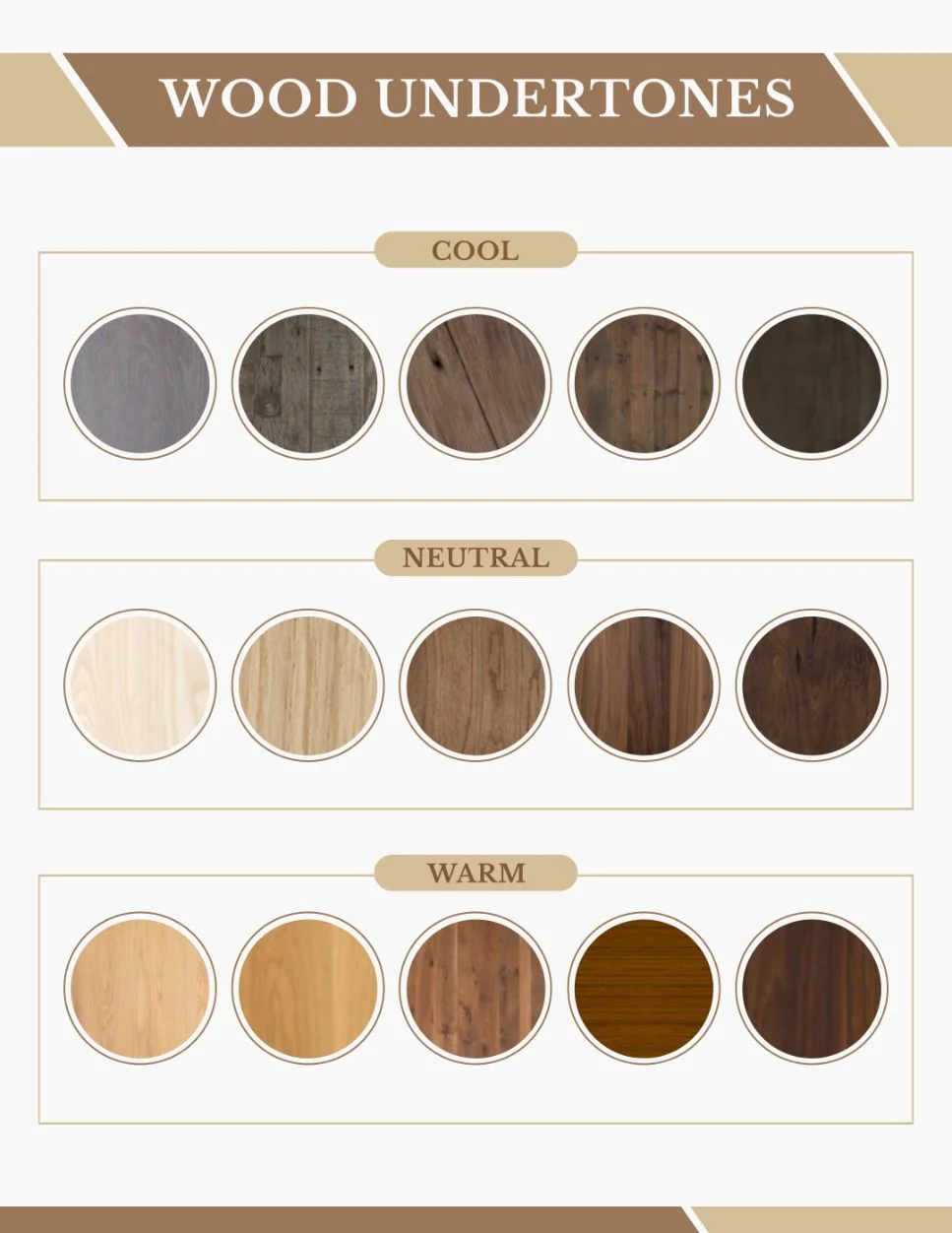 4. Create Consistency with Finish
A wood finish can completely transform the original look of a wood piece.
Wood furniture can be grainy, matte, glossy, rustic, or reclaimed, all achieving a unique style.
In turn, it is a good idea to be consistent with not only the wood tone, but also the wood finish. If your hardwood floor is glossy, the rest should follow suit. And if your grand dining room table is matte, so should be the chairs and buffet.
5. Consider Incorporating a "Bridge Wood"
If you plan to take the route of high-contrast, pairing extreme lights and darks, or mixing tones, it is helpful to use a "bridge" wood to pull the room together.
You can find wood furniture that displays a marble-like feature that presents a range of colours. A piece like this is a bridge between the light and dark woods in a room.
6. Break It Up With a Rug
Previously, Magaly compared the wood furniture in a room to the backdrop of a painting. Building on this, Magaly emphasizes that an area rug is like the frame. It transitions the eye from the wood to the drawing on top of it, in this case, the other furniture and textures in the room.
Area rugs can make a huge difference when it comesto breaking up wood tones, especially if your wood flooring and furniture have a similar tone.
Further, if your wood flooring and wood furniture are drastically different in tone, a patterned statement rug will help minimize that contrast.
Magaly also encourages the use of an area rug to incorporate another accent colour in the room, so that the eye transitions from one piece to the next with ease.
For area rug inspiration, check out a Review of Surya Rugs at La-Z-Boy.
7. Tie in an Accent Colour
Speaking of accents, another way to achieve continuity throughout the room and amongst contrasting wood is to utilize a bold accent colour.
With colourful throw pillows, lamp shades, and stools, you can use accessories to tie tones, finishes, and styles together. This creates a harmonious flow of colours and textures.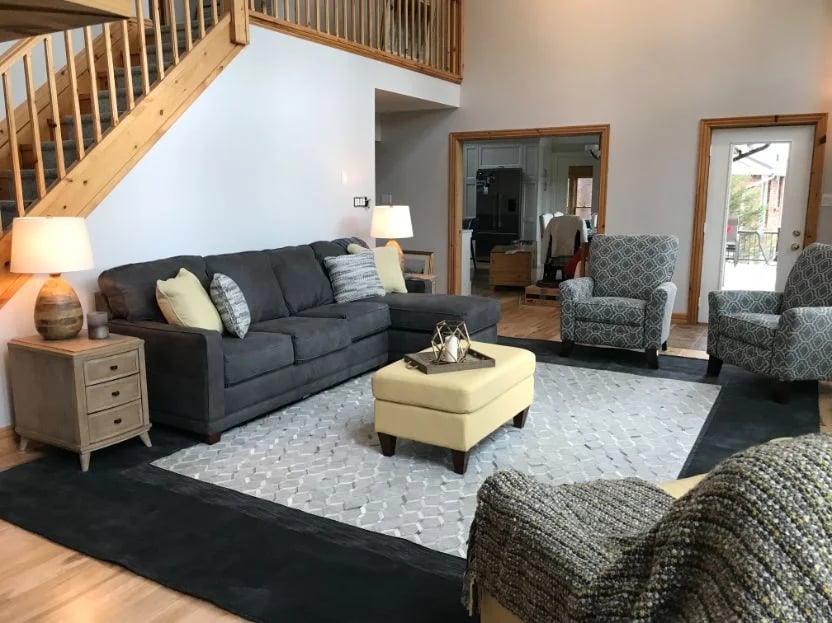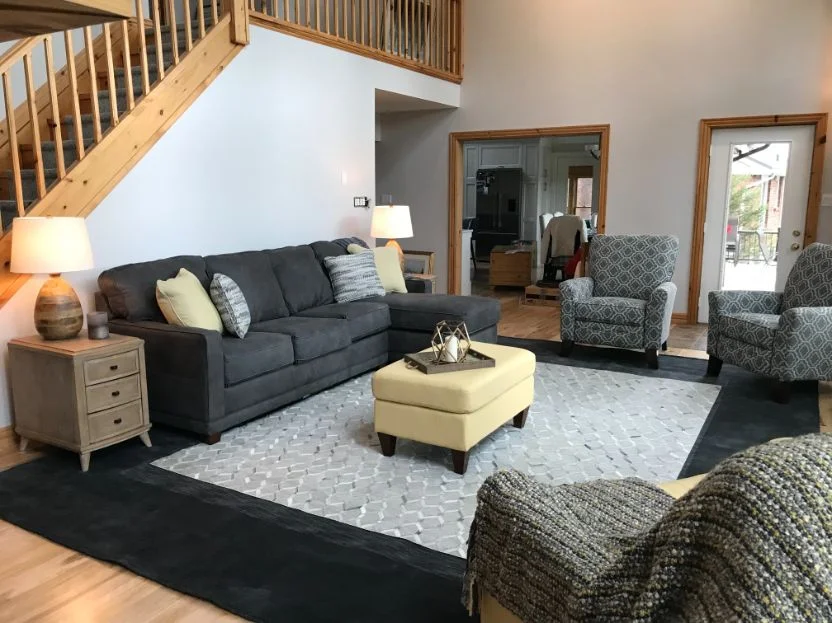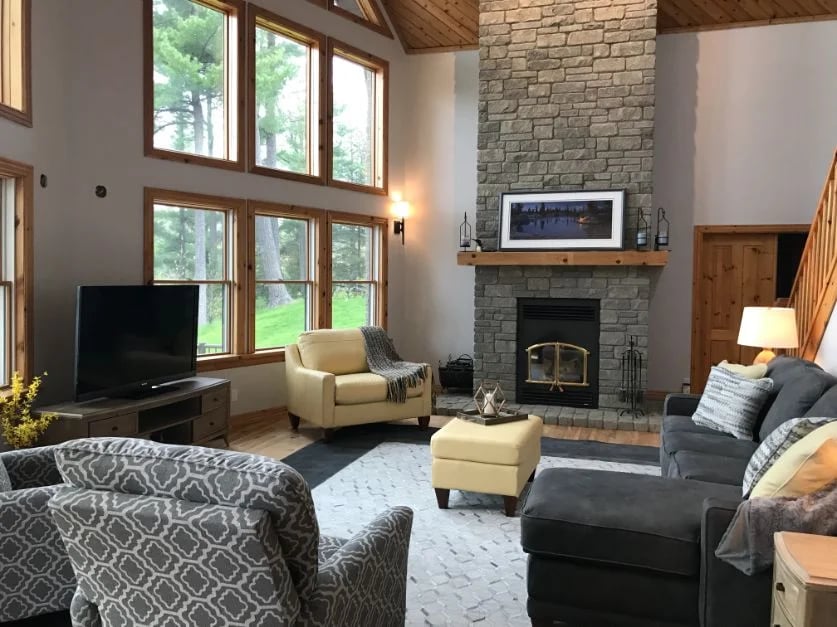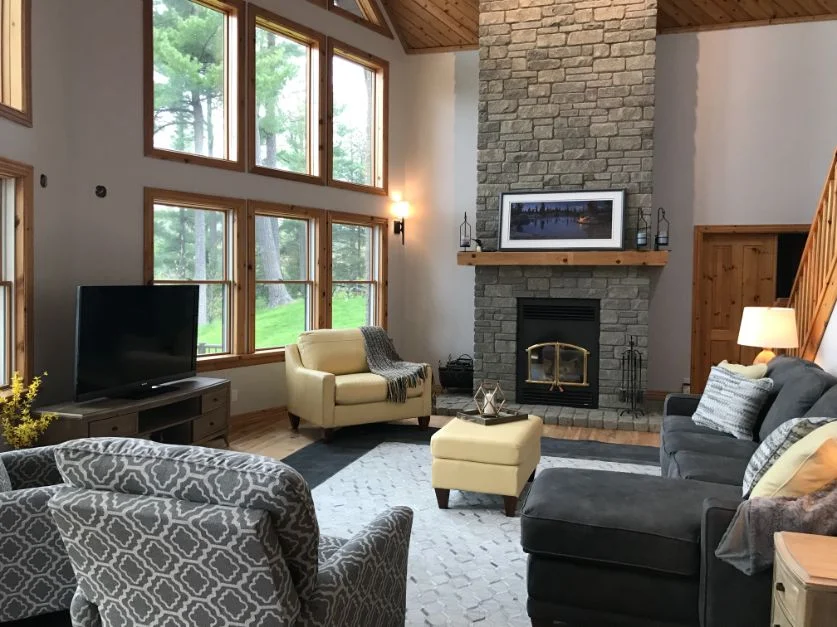 8. Keep it on Repeat
Finally, once you have found a couple of different wood shades that work, keep it on repeat.
While this article is meant to encourage mixing different wood tones, please don't misinterpret that for having 10 different tones of wood in one room.
Perhaps choose 3 to 4 recurring wood tones to provide a contrast, yet overall continuity and structure to your space. As a rule of thumb, try to repeat a shade of wood a minimum of 2 times.
What's Next?
You have just taken a crash course in mixing and matching wood furniture!
Hopefully, these tips gave you the knowledge and confidence you needed to try something new in your home design.
At La-Z-Boy, we are primarily known for our selection of comfortable and quality upholstery furniture, but what many homeowners don't know is that we sell a wide range of case goods as well.
American Drew, Hammary, and Kincaid are sub-divisions of La-Z-Boy incorporated, and with these La-Z-Boy brands, we offer a variety of occasional tables, bedroom, and dining room furniture. Further, La-Z-Boy Ottawa & Kingston is closely connected to Canadel Custom Dining, a custom dining store specializing in solid wood dining furniture.
Amongst this product selection is a spectrum of wood furniture in different tones and finishes, perfect for mixing and matching.
Visit us at a local Ottawa or Kingston La-Z-Boy showroom or plan ahead by scheduling your visit online.
If you prefer to shop from the comfort of your own home, we also offer virtual design appointments.
As you browse our vast selection of wooden furniture, you may consider taking advantage of our complimentary interior design services.
Although you may have learned many tips in this article, we understand that you may not be a pro yet. Our talented interior designers can help you find the ideal wood pieces for your space and help you mix tones seamlessly.
Related Links:
4 Designer Tips: How to Mix & Match Furniture
Interior Design Trends of 2020
Product Info Request
Please provide us with your name and email and we'll get back to you as soon as possible regarding this item.