Review of Canadel's Champlain Collection
March 28, 2022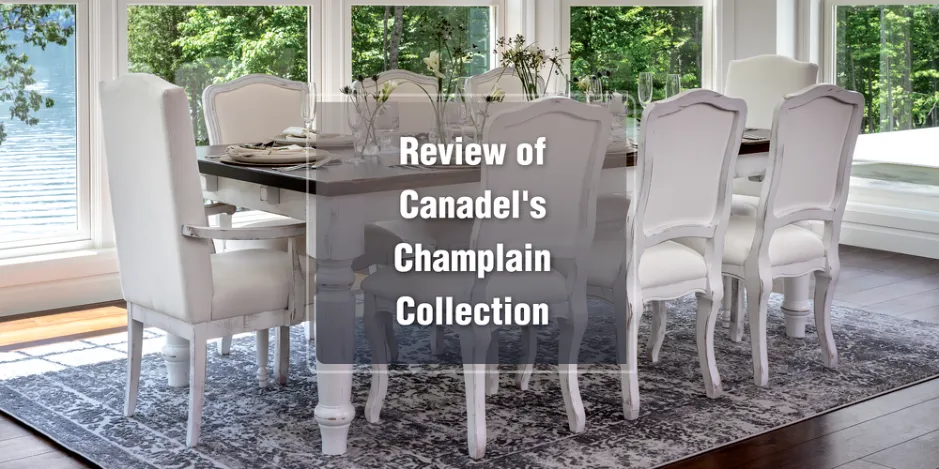 Est. Reading Time: 6 Mins
There's no denying that people love going to a cottage. Enjoying downtime while surrounded by greenery is something many people look forward to.
With that being said, though some people love being one with nature, the trend of owning a cottage is slowly decreasing in popularity, and it's all because of inflation. Not many people can maintain the financial responsibilities of owning a cottage and a house at this time.
But what if I told you that you can achieve the rustic cottage ambiance in your home without owning two properties? Enter Champlain, one of Canadel's most popular dining collections.
Michelle MacLellan, an interior designer at La-Z-Boy and a Canadel expert, says that Champlain is "the most rustic collection of all Canadel collections. Sort of reminiscent to a french country aesthetic."
Though the Champlain dining room collection does sound appealing, is it the right collection for you?
This article will cover everything you need to know about Canadel's Champlain dining collection, including unique features, options & customizations, cost, and warranty.
In This Article…
Brief Description of Canadel Custom Dining
Canadel is a Canadian furniture company that has been in business for over 30 years, specializing in making high-quality custom furniture.
A fun fact about Canadel furniture is that it is part of our dining selection at La-Z-Boy Ottawa & Kingston, with a flagship Canadel showroom attached to the La-Z-Boy Kanata Location.
Much like La-Z-Boy, Canadel prides itself on selling high-quality furniture. In addition, they offer extensive customization options, made easier with the Canadel UDesign tool. This platform provides the online customer with over 9 million furniture combinations and options to choose from.
Canadel offers a variety of dining room styles characterized by six main collections: Canadel, Downtown, Loft, Gourmet, East Side, and of course, Champlain.
Each collection offers its unique twist on traditional dining room sets, taking on stylish and eye-catching appearances. Whether you live in a modern downtown flat or a traditional family home, there is a Canadel collection that meets every taste or preference.
About Canadel's Champlain Dining Collection
Style & Unique Features
All Canadel Dining Furniture is handcrafted in North America. The Champlain Collection, like all other collections, is custom-made with solid Canadian birch and eco-friendly hevea wood.
As mentioned before, Champlain is an elegant dining room collection, which also takes on a rustic appearance. Showcasing refined lines and distressed finishes, it effortlessly evokes the charm of a country home.
With this, in crafting the Champlain dining furniture, artisans imitate cracks and imperfections in the wood without actually damaging the material. Further, Canadel's employees sand and distress each board with unique tools detailing each customer's customization choices.
Complimenting any casual look, this type of design is inspired by early colonial craft techniques, taking on a more woodland appearance. This is indeed the perfect rustic dining set for anyone who loves a cottage aesthetic.
Many are attracted to Champlain's handcrafted decorative dining table base, which you can personalize with Canadel's extensive UDesign tool. Such customization gives you the opportunity to draw attention to these decorative details.
Dining Furniture Selection
There are many different dining furniture pieces featured in Canadel's Champlain collection. Within the collection, Champlain has 23 different styles of seats, 13 stools, 4 benches, and 4 storage units.
Many table options are available, which you learn more about in the options and customizations section.

Champlain also has living room furniture featuring occasional tables and media units. The Champlain living room selection has three different occasional tables to choose from. These options include a coffee, end, or sofa table.
There are also media units to choose from, which are usually storage units made for holding larger TVs. Media units have almost the same design as dining buffets.
In Canadel's Top Picks for Champlain, they showcase upholstered or wooden-based chairs, which come with uniquely crafted legs. Tables, occasional or dining, also come with unique legs and rounded or rectangular-shaped tops.
The main tables Champlain showcases are their Harvest Tables, which are an excellent example of rustic chic.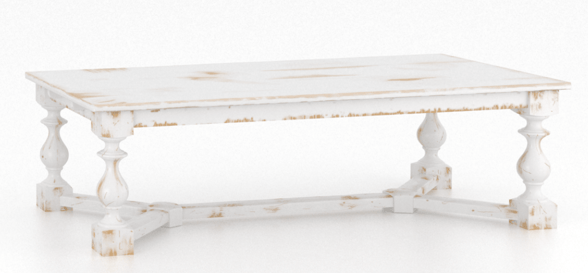 Options & Customizations
It is important to note that all available options and customizations to the Champlain dining collection can be explored on Canadel's UDesign tool, which is easily accessible on the Canadel website.
Dining Tables
Champlain's dining tables have precisely 15 different sizes and 2 height options to choose from, making it one of the most versatile collections in terms of table options. In addition, to the customization options, customers can choose from up to 5 leg styles and 6 pedestal options.
Pedestals in Champlain can either come in a solid wood option or a combination of wood and wrought iron. The wrought iron design is unique to the Champlain collection and not featured in other Canadel collections.
Dining tables are also offered in a variety of body and top colours, allowing homeowners to showcase more rustic wood finishes in their dining rooms.
Moreover, select dining tables from the Champlain collection can come with optional table extension leaves, connected to the end of the table. This means the extension pieces are not self-storing leaves.
Champlain only offers this type of table extension, meaning no jack-knife extensions are included in this collection.
Lastly, top edge options for dining tables are also available. Customers can choose either a square edge or a thick square edge–the difference in thickness is about 1½ inches. Michelle says that the thicker table edge option is more expensive, giving the table a more substantial and solid look.
Dining Seating
When it comes to dining seating, chairs and stools can come in upholstered or wooden options. Dining chairs also can come with arms, if customers choose to include them, and many decorative back designs as well. Further, stools also have the option to swivel and have backs.
When it comes to dining benches, customers can choose between small or long options with upholstered benches coming with one, two, or three cushions.
Wood Finish & Upholstery Options
As mentioned above, there are many different colours and finish options that the Champlain dining collection offers.
The Champlain collection has about 16 wood finish colours. Unlike other Collections, Champlain does not offer any glass dining tabletops.
Moreover, upholstered dining seating options, are offered in a massive array of fabric and velvet options. Champlain, unlike other dining room collections, does feature leather options, as well as faux-leather options.
Cost
According to Michelle, dining furniture from the Champlain collection falls within the high-end price range on the market.
This is proven by the different customization options, like the thickness of the table and pedestal selections. These are more expensive because they require more materials to be made. Further, pedestal options will always be more costly than leg styles by a significant amount.
It is important to note that no specific price is assigned to any Canadel product until you customize and personalize your chosen furniture. Once you have selected your customization options, a design consultant at the Canadel store will be able to tell you the exact cost of your furniture.
The final cost of Canadel dining products depends on the materials used within each piece of furniture. Therefore, all Canadel prices are subject to change depending on the options and customizations you choose.
Warranty
The Champlain Collection is covered by Canadel's 1-year warranty, which covers the repair or replacement of chair frames, tabletops, fabric tearings, or any unforeseen circumstances that would be covered under Canadel's warranty.
Given that each piece of furniture is quality-crafted and built to last a long time, Canadel also offers an extended 5-year warranty plan at an additional cost.
This not only goes to further protect your purchase, but it is also transferable when you purchase new Canadel Furniture if you are looking to replace old additions.
Is the Champlain Dining Collection Right For You?
The Champlain collection may be described as stylish, but is it the right choice for your dining room? The answer to this depends on your budget, lifestyle, and design preferences.
As previously mentioned, the dining furniture from the Champlain collection is considered high-end in terms of cost. This is ideal for someone with a healthy budget that is ready to invest in dining furniture that will be a long-term investment.
Alternatively, the high price tag of the Champlain collection may not be aligned with someone who has a smaller dining budget and is looking for more temporary dining furniture.
When it comes to lifestyle, Michelle says this collection is a great investment for those who enjoy hosting large groups. This is due to Champlain's unique pedestal option which offers much more room for seating compared to dining table legs.
Finally, the Champlain collection offers a rustic cottage aesthetic. Michelle tells us that Champlain's furniture is "reminiscent of the french country, rustic, and cottage styles and will grab people's attention. And the fact that it looks like an old family heirloom from your grandmother gives off a relaxed and elegant feel to the overall dining room set."
This specific style is ideal for those who want to achieve a lived-in, yet sophisticated dining style. While Champlain's style is beautiful to some, it may not be for everyone, specifically those who are seeking a more modern or industrial dining room design.
What's Next?
After reading this article, you have learned everything you need to know about Canadel's Champlain Dining Collection. So, why not check it out for yourself?
Canadel has an intuitive tool to help you discover what each collection has to offer, thanks to their UDesign platform. Make sure to check out the UDesign tool so you can find Champlain and other Canadel dining room collections in detail.
If you require assistance navigating the UDesign tool, check out this helpful article for a step-by-step tutorial.
La-Z-Boy also offers design assistance on all things Canadel custom design. By visiting an Ottawa or Kingston showroom, or the Canadel Kanata showroom, you can receive one-on-one assistance in selecting and custom designing your Canadel dining furniture.
You can also book an appointment with our interior design experts for any burning questions you may have.
Related Articles:
2021 Review of the Canadel Dining Collection
How Much Does a Dining Room Table Cost?
Product Info Request
Please provide us with your name and email and we'll get back to you as soon as possible regarding this item.