Tutorial of How to Use Canadel's Custom Dining UDesign Tool
March 11, 2022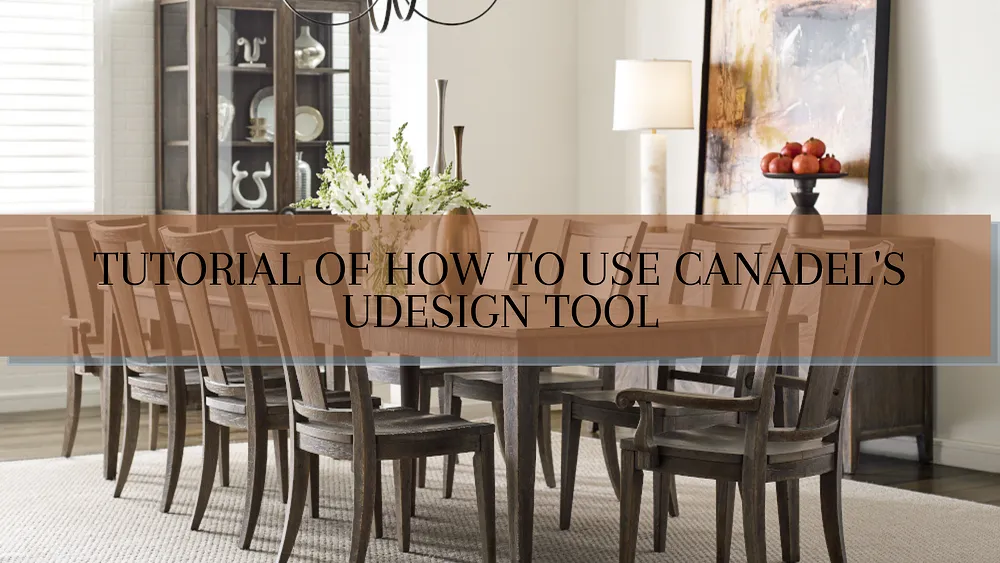 Est. Reading Time: 9 Mins
The dining room is the most communal place to socialize in a house, besides the living room.
It's the place where everyone can enjoy a nice homemade meal together, the setting of almost every game night, and the place where great memories are made.
Like any room in the house, everyone wants a dining area with furniture that matches their unique taste and style. Whether it be rustic, mid-century modern, or traditional, there are many different dining styles that might appeal to you.
So, where should you go to get dining room furniture that showcases unique styles? There are many places in Ottawa & Kingston to choose from, but Canadel offers an interesting shopping experience, unlike other companies.
Canadel is a Canadian furniture company that specializes in custom dining room furniture. They have been in business for over 30 years, perfecting their craft for many to enjoy; they are also part of our dining selection at La-Z-Boy Ottawa & Kingston, with a flagship Canadel store in Kanata.
Much like La-Z-Boy, Canadel prides itself on selling high-quality furniture. In addition, they provide an extensive customization option, made easier with the UDesign tool, that provides the online customer with over 9 million furniture combinations and options.
You might have already come across Canadel's UDesign tool if you are a former Canadel customer, but you might not have learned everything there is to know about what you can do with this virtual program.
Luckily, we've got you covered! Here is our tutorial on everything you need to know about navigating Canadel's UDesign Tool to curate your ideal dining furniture selection.
In This Article…
Welcome to Canadel
This is Canadel's homepage, which most people would typically be directed to when you look up the first result of "Canadel" on Google.
On Canadel's homepage, you can discover their different furniture collections, find various products from each collection, check out their magazine, or find any Canadel stores or dealers.
Something interesting to note is if you choose a La-Z-Boy store before clicking the UDesign section, users will be directed to a custom UDesign interface with our Kanata location.
If you haven't noticed it, there is a black icon in the menu bar that says "Customize." This is where the UDesign section is!
After clicking "Customize" from the homepage, you will be directed to the UDesign interface.
If you have an account with Canadel already, you can choose to log in to your account and even save your information for efficiency when you want to look at it again. If you do not have an account, you can still experience the UDesign tool as a guest.
With this, you can either choose to "Start Customizing" right away or if you are unfamiliar with the UDesign tool, you can choose to click on "Tour," where it will tell you the key steps you need to know about UDesign.



Before we get to the "Tour" section, let's see what happens if you click on "Start Customizing." If you click on this first, the screen will scroll down automatically to the six different categories, each varying from popular styles that people love to choose from.
The six categories included are:
Bespoke, Versatile, Stylish;
A Rustic Look With Elegance;
Sophisticated and Trendy;
Easy to Stay on Trend;
Inspired Entertaining;
and Getting the Industrial Edge.
You'll also notice a drop-down menu under the aforementioned two buttons. Right now, our screen shows that we're under the "LifeStyle" selection, which displays the six different styles mentioned above. However, if you click the arrow on the right, you can choose to customize by choosing either from lifestyles, collections, tables, chairs, islands, benches, stools, buffets, or media units.
By choosing either one of the nine options, you will be directed to the main focus of today's article: the UDesign Interface.
How Canadel's UDesign Tool Works
This is what the UDesign Interface looks like. Here, you can choose any style from any furniture collection that Canadel offers.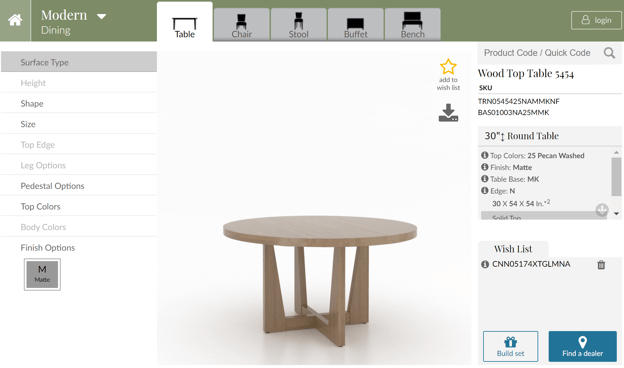 The Tour
Before we talk about each section in detail, let's take a look at the "Tour" option, which you can find either on Canadel UDesign's homepage or by clicking "Start Tour" at the bottom of the interactive tool section.
As mentioned before, Canadel's UDesign Tour incorporates three main steps in creating your customized furniture.
In the first step, Canadel tells you to "Customize Your Item." As you can see, there are many options available in the side menu to customize, which we will get to later.
You can choose to change the options available by clicking on the side menu for different options or by selecting another piece of furniture from the top menu altogether.
The next step is "Adding to Wish List," which essentially means you are currently adding this item of furniture to your cart. Canadel doesn't call it a cart because you aren't purchasing the furniture simultaneously as you are customizing it.
Why can't you purchase your Canadel furniture immediately, you ask? Because it is customizable furniture; once your order is placed, it requires time to be manufactured with the proper materials before you can physically have it.
Once Canadel notices your unique furniture in their queue and sees what materials are needed in order to build your furniture, they will then tell you what the price of your furniture is.
So with that being said, instead of using the term "Cart", Canadel uses the term "Wish List". After you are satisfied with your choices of styles and furniture, you add them to your "Wish List". Your Wish List actually appears on the right side of the screen, so you can keep track of which items you've put in there.
Once you've finished adding items to your Wish List, you can then move on to the next step, which is "Building a Set".
We will talk about this section in much more detail later, but this is the place where you can find a store and send your order to a location so manufacturers can get started on building your unique furniture.
Exploring Canadel Selections Through UDesign
As mentioned before, Canadel's UDesign tool has over 9 million options to choose from, making it impossible to show you every single option available. However, we'll explore these different possibilities by explaining the selections available.
The Collections
Firstly, you'll notice that there is a top menu that shows a collection and tabs of different categories of furniture to choose from. In this image, you can see that we are currently in the "Farmhouse Dining" collection of Canadel's dining room furniture.
There are plenty of other collections to choose from, which you can find by using the drop-down arrow on the left side of the furniture selection menu.
Canadel has 6 different collections in their wheel barrel of choices, including Canadel (Core, Classic, Farmhouse, Modern), Champlain, Loft, Downtown, Gourmet, and East Side.
The collections have varying amounts of options for customization with Canadel's UDesign tool, just with different furniture styles.
Customization Menus
Each piece of furniture chosen–whether it be a Table, Chair, Stool, Bench, Island, or Buffet–has different customization options. You'll also notice the two menus on the lefthand side and at the bottom.
These show you the customization possibilities available depending on which item you've chosen and which collection you are currently in. Any choice you make with these two menus automatically updates the center picture displayed on your screen.
This explains why some of the selection options are blurred out in the left-hand side creation menu. As you can see with Canadel's Gourmet Stool, some options like "Leg Options," "Add Arms," and "Nail Options" are not available because that collection does not provide those options for their stools.
Some Canadel Core Stools, however, do provide the option to add arms, should the user choose to. The collection and the style of furniture you choose will determine which options are available.
Matching Your Selections
During your exploration of the UDesign tool, you might have noticed that certain furniture pieces have "Seating Material" and "Back Material" options with some of their own drop-down menus.
These are where all the different kinds of wood and fabric combinations are hidden! There is a wide variety of fabrics and wood finish colours to choose from, with each collection varying in choices.
You can either choose to check all of them to see what Canadel has to offer, or you can select the specific patterns and fabrics to narrow down your selection and save time.
Unfortunately, the wood menu only has the "All Wood" selection to choose from, so you will have to go through each type of wood to see which one you like the most.
There is also a special linking feature you can enable so the Body Colours, Seating Materials, or Back Materials match, instead of them being a different colour or material. You can choose to link them by clicking on the link icon if available.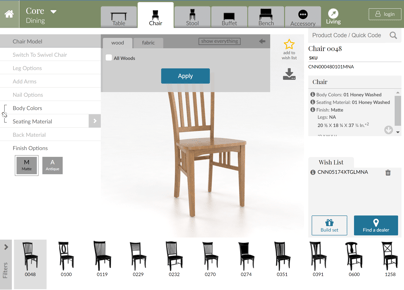 Further, there is an "Additional Options" menu in the bottom left corner that is available for some pieces of furniture, just like you can see here with Canadel's East Side Chair.
Say you were customizing the perfect chairs for your dining room and also wanted to customize stools that would match your chairs. Canadel allows you to do this with some of their furniture options.
Once you're done customizing your chair or your stool to match your unique style, simply click on "Go to Matching Chair/Stool" to see what the other looks like in that exact style. A very handy tool to help coordinate your furniture!
You can also choose to see different inches of stools by selecting "Switch to [number of inches]" in the Additional Options menu.
Canadel's Dining vs. Living Selection
Canadel not only provides dining room furniture but also has a limited selection of living room furniture as well. Limited meaning they only offer Occasional Tables or Media Units.
It is also limited in the fact that not all of Canadel's collections are offered in living room furniture; only Canadel Core, Champlain and Loft have living room options available.
With this, you can either choose the top-left drop-down menu to get to them or if you are in the Canadel Core, Champlain or Loft furniture menus, you can easily switch between the dining or living furniture by clicking the "Dining" or "Living" arrow on the right side of the furniture menu.
Canadel's Occasional Tables are offered as a Coffee Table, Sofa Table, or End Table. The Media Unit Table is normally used to support large TVs.


With all of these selections to choose from, you might be wondering how big this furniture really is. Luckily for you, you can see the dimensions of each piece of furniture by looking at the right side of your screen.
Along with the selections you've made to customize your furniture, you'll notice the size and dimensions of your furniture by clicking the button on the small menu. Sometimes you might have to scroll down to see them, but they will always be there to lend a helping hand
Measurements are very important to any homeowner when purchasing furniture. That is why it is crucial to measure your space and take into account the furniture dimensions to visualize how big the pieces would be in your room.
After Customizing Your Canadel Furniture
You might've also noticed in the previous photo that your Wish List is located right underneath your furniture information. This is to help keep track of which pieces of personalized furniture you wish to see in your home.
You can add items to your Wish List by selecting the yellow star shown above. Each item has its own special barcode to identify which item is which. You can go back to any item by selecting the item in your Wish List, should you feel like making changes to anything.
After you are finished customizing your furniture, make sure to take one last look at your Wish List to ensure that everything is there before proceeding to the next step.
Once that's complete, you will be directed to a brand new page that has all of your customized furniture displayed.
Build Your Dining Furniture Set
At the bottom right-hand of the UDesign interface you will see a "Build Set" button which will take you to the "My Set" configurator page.
There are a few actions you can do here before completing your Canadel UDesign experience. By selecting "Request a Preview" in the top left corner, you can preview your furniture with the option of a few configurations. It requires creating an account and providing your email address and first name.
In the top right-hand corner, you have the option to download a PDF of your list of furniture or print a physical copy. This information would be ideal to bring to a retailer should you wish to proceed with an order.
And finally, you can choose a store by clicking "Find a Dealer" at the bottom right of the screen to finalize your selections.
After this is done, you will be directed to a map of Canadel stores or Canadel associated stores in your area to complete your order. Our La-Z-Boy Ottawa locations are included in the list of associated furniture companies with Canadel.
There is also a Canadel showroom located next to La-Z-Boy in Kanata, so you can choose to visit that store if you are interested in seeing Canadel's furniture in person.



It is important to note that customizable furniture takes longer to build than premade furniture. This is because manufacturers must assess your order and see what kind of materials they'll need in order to complete your demands.
This is also why you cannot receive a quote for pricing until you are finished customizing your furniture. Needless to say, the wait time between making your furniture and having your furniture is worth it, especially when you know your furniture is handcrafted with high-quality materials that will last a long time.
What's Next?
Now that you have all of the information you need to properly use Canadel's UDesign tool, why not test it out for yourself?
Canadel has endless possibilities to choose from online and in person. You can discover more options by going to their Kanata location, right next to La-Z-Boy's Kanata showroom.
La-Z-Boy also knows a thing or two about customizing and personalizing furniture to your specific needs.
If you would like to know more about Canadel's endless options, or if you are interested in La-Z-Boy furniture, come to any of our store locations or you can book an appointment online to talk to any of our Interior Design Experts. They are happy to answer any questions involving La-Z-Boy or Canadel furniture.
Related Articles:
2021 Review of the Canadel Dining Collection
A Review of the La-Z-Boy Urban Attitudes Collection
How Much Does a Dining Room Table Cost?
Product Info Request
Please provide us with your name and email and we'll get back to you as soon as possible regarding this item.