Quality of Wood & Craftsmanship at Canadel
April 11, 2022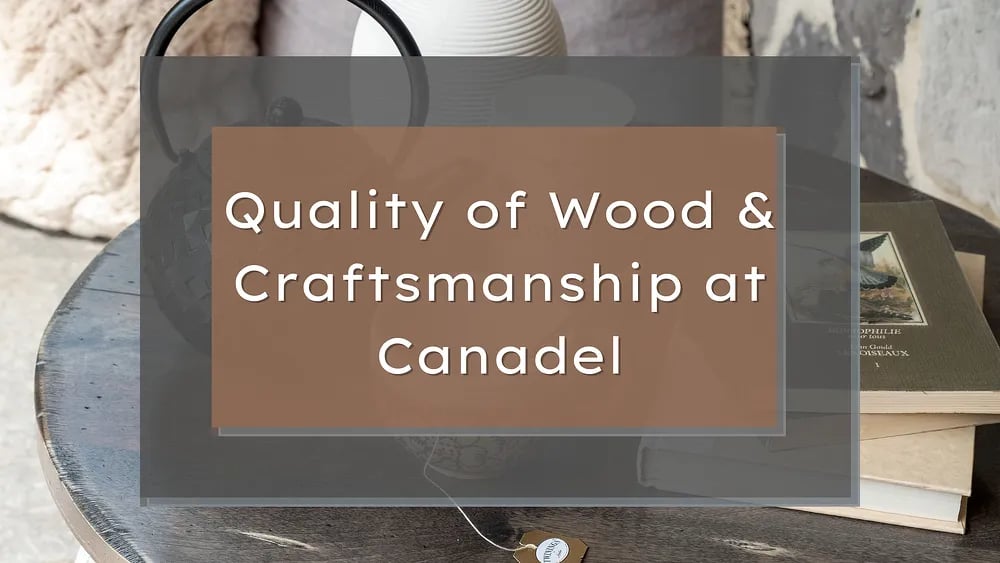 Est. Reading Time: 8 Mins
High-quality furniture is not the easiest thing to find, especially custom-made furniture.
In fact, there is a relatively new rise in demand for custom furniture, and as much as people want more furniture companies to offer this, not all furniture companies can.
Custom furniture takes more time to produce, and not every company has the financial stability to bring these personalized creations to life. Thankfully, the subject of today's article, Canadel, can produce high-quality custom dining room furniture with ease.
Canadel has been specializing in creating custom dining room furniture for over 30 years. Throughout Canadel's existence, they have been able to perfect their craft and partner with other furniture companies, such as La-Z-Boy, for many to enjoy.
While Canadel has experience in producing custom furniture, you still might wonder about the overall quality of materials and craftsmanship of their products? How do their manufacturers make all this unique furniture?
All of these questions, and more, will be answered by reading this article!
This article will cover the Canadel brand as a whole, what their factories do to create good quality furniture, and precisely the type of wood they use since it is the primary material used to create their dining room furniture.
In This Article…
About Canadel Custom Dining Manufacturers
As mentioned in Canadel's Youtube video, Canadel is the largest custom dining brand in North America, with more than 2,000 stores across Canada and the United States.
Their core values are all about creating high-quality, bespoke, and beautiful dining room furniture.
Canadel estimates that over 200 dining tables and over 1000 dining chairs are handcrafted every day for customers all around the continent.
These dining furniture pieces, along with their buffets, accent tables, media units, benches, stools, and kitchen islands, are all built to order at its 6 production plants located in Louiseville, Quebec.
Each production plant, excluding the fifth plant, specializes in finished goods made under the Canadel brand. Below is a more detailed breakdown of what each production plant specializes in …
Plant 1 produces buffets and kitchen islands, as well as occasional tables;
Plant 2 produces all Canadel dining tables;
Plant 3 is the wood-turning plant used for chairs and table legs, and also specializes in wood bending;
Plant 4 concentrates on chairs and upholstery;
and Plant 6 is the product warehouse used to keep all sustainable products safe.
In addition to the 6 production plants, Canadel also has two wood transformation plants in St. George de Beauce, Quebec.
Quality of Wood Materials Used in Canadel Dining Furniture
Now that you know where these furniture pieces are being made, let's take a closer look at the type of wood used to make Canadel dining furniture.
First, Canadel is mainly made with solid birch wood, locally sourced from North American forests.
Over at the Louiseville production plants, these pieces of wood, and other materials, get turned into custom-made furniture seen in our showrooms and on Canadel's website.
The solid birch wood that Canadel uses to make dining room furniture is sanded by hand and shaped into any wood finish needed for an order.
Many of these wood finishes are "washed & semi-washed finishes," meaning the pigmentation of the wood is more defined in specific furniture designs. This adds a more unique touch to wood finishes compared to some other retailers who don't do this practice.
Although there are many wood finishes to choose from within Canadel's collections, each wood finish has the option to colour match. This means that if customers decide to pick a tabletop colour that is different from its pedestal or leg colour, Canadel offers the ability to colour coordinate these wood finishes.
This is just one of the many benefits of seemingly unlimited customization choices. You can learn more about how to explore these customization options by discovering the UDesign tool found on Canadel's website.
Furthermore, Canadel specializes in 6 different wood finish options. Each wood finish has a different look and feel to it, making your choices broader as a consumer.
In addition, these wood finishes are selected to complement the style of each Canadel dining collection.
Matte: This is the smoothest wood finish offered at Canadel. It is the most versatile wood finish and can be seen in almost every collection.


Antique: Created to look like slightly-aged wood, resulting in a slightly rigid texture.


Distressed: Created to mimic a wood's natural appearance. The contours of the finish are uneven, and artisans purposefully create imperfections within the design. Knots and natural variations are treated with brushing and filing for long periods. The wood is then dried in a kiln to finish the distressed appearance.


Heritage: Shares the same characteristics as the distressed wood finish. The only difference is the colour, which features a burned look to the edges. This, along with the distressed wood finish, are exclusive to the

Champlain collection

.


Rustic: Exclusively found in the

Loft collection

. Highlights the industrial aesthetic. Natural wood characteristics are highlighted, and you can see colour variations between each wood plant. You can notice this design more in lighter stains.


East Side: Exclusively featured in

t

he collection of the same name. This finish has a more moderate distressed finish than the rustic finish found in Champlain.
After the wood finish has been applied, Canadel manufactures their wood using catalyzed coating with synthetic lacquers modified with nitrocellulose. This means all products can be cleaned easily with a damp cloth.
Further, dining chairs are made with Teflon glides, meaning they won't create any scratches on your floor. They're also made with extra lumbar support compared to other dining room chairs. Artisans also add finger-jointed groove corners to help support the web seating system.
Quality Craftsmanship at Canadel Custom Dining
Canadel's primary focus is paying attention to detail on their dining furniture pieces.
With all of their dining furniture being hand-crafted in North America, Canadel artisans create unique furniture specified to the customer's personalized choices. As a result, each product is different from the last, while still crafted within a set project time frame.
If you look closely, the artisan's attention to detail can be spotted by the naked eye. For example, if you look at Champlain's tables, you can see that manufacturers create a well-defined distressed look amongst the french country style, shown above with the wood finish options.
Compared to other collections, like Downtown, the attention to detail is entirely different. For example, Downtown mainly showcases glass tabletops, meaning each table must have a pristine and clean look to its design.
The same thing goes for other furniture pieces. For example, when it comes to chairs, the attention to detail is mostly on the wooden back and the legs. Canadel has a wide variety of legs and chair/stool back options to choose from, meaning the artisans must know each style like the back of their hand in order to perfectly re-create them.
This detail-oriented craftsmanship also applies to the upholstered dining furniture. There are multiple different fabric patterns and leather stitch patterns to choose from. Regardless of the type of upholstery, Canadel artisans apply the cover with the same level of care.
Though each collection is different and individually crafted, pieces from various collections can coordinate with each other. This is because all dining collections at Canadel include a variation of the same materials including birch, assorted hardwood, glass, birch veneer and metal.
In fact, mixing and matching dining furniture among collections is not only possible but encouraged! You mix and match collections by using the Canadel Signature Program, which allows customers to make more specific choices with their customization options.
You can learn more about this program, and what is offered by checking the article Everything You Need to Know About Canadel Customizations.
Canadel Quality Testing
Following the manufacturing process, Canadel does quality testing on all of their dining furniture before they are delivered to customers. These vigorous tests on all of their furniture are why there is a less than 1% defect ratio.
The list below outlines what the dining chairs, buffets, and dining tables at Canadel go through before they enter the customers' homes:
Dining Chairs:
In the laboratory, a rocking motion is simulated for any chair. This lasts for several hours, and the reason behind it is to verify if the chair's assembly is solid and durable so that it doesn't break.

A hammer test is involved to see if a chair breaks or falls in a certain way. Canadel tests this by kicking the chair onto the floor, repeating this several times and checking for any breaks, cracks, or joint damages.
A heavy press is used to ensure that the weight distribution is fit to withstand over 450 pounds of mass. They test this by putting a heavy metallic press on the seat of the chair while pulling on the backrest to assure the assembly's strength.
Buffets:
Moving onto dining buffets, Canadel ensures that all drawers and cabinet doors are stable and working smoothly by opening them and sliding them continuously.

Tip testing is also required, which proceeds by putting a weight on one of the opened buffet drawers to make sure buffets can withstand a lot of items in them. The weight perfectly imitates a full drawer.
Weight is also put on buffet doors. While open, the weight tests the strength of a door to affirm its sturdiness.
Dining Tables:
Finally, dining tables are tested by using a heavy press, similar to chairs. Heavy pressure is exerted mechanically by a heavy metallic press on the table's base to ensure a table can hold heavy items. Self-storing leaves and jack-knife extensions are also subjected to the same testing to test the strength of the hardware.

Weight is also placed on the corners of each table, with tests on the stability of the product. This test is supposed to simulate a person's pressure who could lean on the table or get up.
There is also a side impact test used to test the overall strength of the assembly. The process is done similarly to the hammer test, which is done with chairs to see if they break by falling to the ground.
Delivery & Warranty at Canadel Custom Dining
Canadel has an average 4-6 week delivery time, making this a faster delivery time than other custom furniture stores.
Most custom furniture companies have an average delivery time of 6-10 weeks, making Canadel truly ahead of the custom furniture delivery game.
Moreover, Canadel's defect ratio is less than 1%, meaning that Canadel's products are rarely defective because of the level of care and maintenance each furniture piece goes through.
Should there be any defects within any purchase, customers are encouraged to follow up with Canadel's service department to fix any issues. Canadel will do its best to provide the best possible care with any furniture issue.
With this, there is a 1-year warranty that covers any necessary repairs or replacement of chair frames, tabletops, fabric tearings, or any unforeseen circumstances, like manufacturer defects.
However, there are limitations to this warranty, as with any other manufacturer's warranty. For example, the warranty will not cover these repairs if any Canadel representative finds that the dining room furniture has been abused, neglected, or misused.
Also, the Canadel warranty will not help cover the repair of any furniture that has undergone normal wear and tear, or furniture that has seemingly been exposed to harsh temperatures. This includes any hot or cold items that touch the tabletops or any watermarks that might be leftover from liquids.
To prevent this from happening, always make sure that hot or cold items do not directly touch surfaces. That way, your table and other furniture pieces can stay in tip-top shape.
If you are satisfied with Canadel's warranty, you do have the option to extend your warranty to an additional 5 years at an additional cost to protect your purchases further.
What's Next?
You now know everything about the quality of materials and the level of craftsmanship that Canadel uses within its manufacturing process. If you are satisfied by this level of quality and care, why not browse through the Canadel dining collections today?
Canadel has 6 different collections to choose from, all easily accessible through the UDesign tool or by visiting any La-Z-Boy showroom in Ottawa and Kingston. There is also a flagship Canadel location next to the La-Z-Boy Kanata store for anyone to visit.
While you're at a La-Z-Boy showroom, you can also check out La-Z-Boy's selection of high-quality furniture items we have in store for all your living room needs.
You can also book an appointment online or talk to an interior designer in person.
We hope to see you real soon!
Related Articles:
How to Decorate Your Dining Room: 6 Simple Steps to Follow
Dining Buyers Guide: Learn How to Furnish a Dining Room from Scratch
Product Info Request
Please provide us with your name and email and we'll get back to you as soon as possible regarding this item.