Is La-Z-Boy Furniture Expensive?
December 20, 2019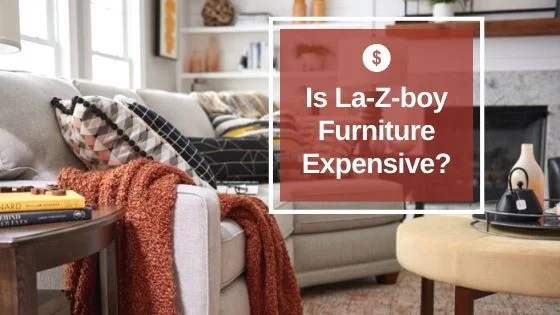 Is La-Z-Boy Furniture Expensive?
Are you looking to buy comfortable and stylish furniture in Ottawa/Kingston? Have you been surprised by some prices and question whether La-Z-Boy furniture is expensive?
Picture this…
You've been searching for months for a new sofa. The hide and seek game you play with your current couch and strategically placed throw is getting old. You're tired of hiding the peeling faux leather cushions, or coming up with explanations for its appearance, such as your cat suffers from severe dandruff.
You've been searching for something that not only fits in your space but matches your personal style. Something so comfortable that the rumbling of your stomach, making it impossible for you to focus on the TV is your only motivation to get up.
Then one day, your search comes to an end! You discover your perfect seat on an impromptu visit to a furniture store (to set the scene, let's say the Hunt Club La-Z-Boy Home Furnishings & Decor location following a lunch at the Mandarin – again with the food!).
On the other hand, maybe you visit the CHEO Dream of a Lifetime Home and fall in love with the modern, wide arm sectional in the media theatre room (also La-Z-Boy furniture 😉).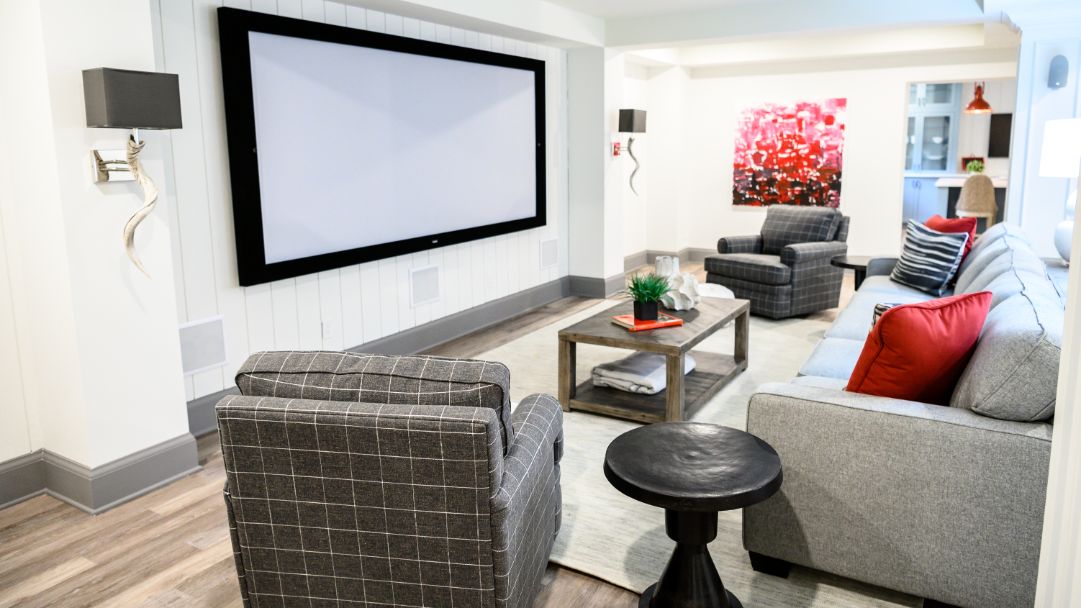 You are so relieved and excited at the thought of replacing your worn-down and somewhat embarrassing sofa! Then, of course, the first thing you do is look for the price. And you find yourself a little shocked. You start to ask yourself, "how much should a sofa really cost? Can I find a similar, less expensive one? Am I getting the best value for my money?"
Knowing what to expect before you walk into a store or start researching furniture online can make your purchasing decision easier. How long you intend to keep your piece of furniture and how it will be used will determine what type of investment you are willing to make.
For you to make an informed decision concerning La-Z-Boy product and pricing, we will review:
• Innovation and Quality
• North American Made
• Product Testing
• Options and Upgrades
La-Z-Boy certainly isn't the most expensive furniture on the market, nor is it the cheapest. The furniture costs are primarily in the mid to high-end price range. Consequently, along with other furniture at this price point, there are several customizations and upgrade options, including over 900 fabric & leather covers. You'll discover La-Z-Boy has competitive prices and select models that are "special buys" purchased in bulk at a lower cost and discounted for the consumer.
La-Z-Boy Prices start at:
Recliners: 1,309$
Stationary Sofas: 2,459$
Reclining Sofas: 3,449$
Sofa Beds: 3,699$
*All La-Z-Boy prices listed in this article are subject to change. We aim to update all cost-related articles twice per year. This article was last updated in October 2022. Please visit lzb.com and select an Ottawa or Kingston La-Z-Boy store location to view the most up-to-date pricing.
Innovation and Quality
Since inventing the reclining wood-slat chair back in 1927, La-Z-Boy was founded on the principle of innovation. They strive to strike a balance between design creativity and consumer acceptance. It is important to make sure designs are fresh and reflective of today's marketplace.
The iconic brand stays innovative by continuously looking at new things so that their furniture has features that others in the market do not. From the latest comfort solutions and power options to advances in fabrics and cushioning, the team of designers, engineers and craftsmen are committed to creating what's next.
Some of these unique features are highlighted below.
Recliner Unibody Frame Construction
La-Z-Boy's patented Unibody construction is the industry's only four-sided frame, providing the strongest design and longest useful life. Unlike other recliners, where the arms, seat and back are simply bolted to the mechanism.
Most people will push on the arms of their recliner when it's time to get up. This can cause the frame to expand apart on recliners with only two or three sides.
Unibody frames also feature solid side panels. Frames are constructed of kiln-dried hardwoods, high-quality furniture grade laminates and oriented strand board (OSB). It comes with La-Z-Boy® Limited Lifetime Warranty, which covers all-wood frame parts and springs.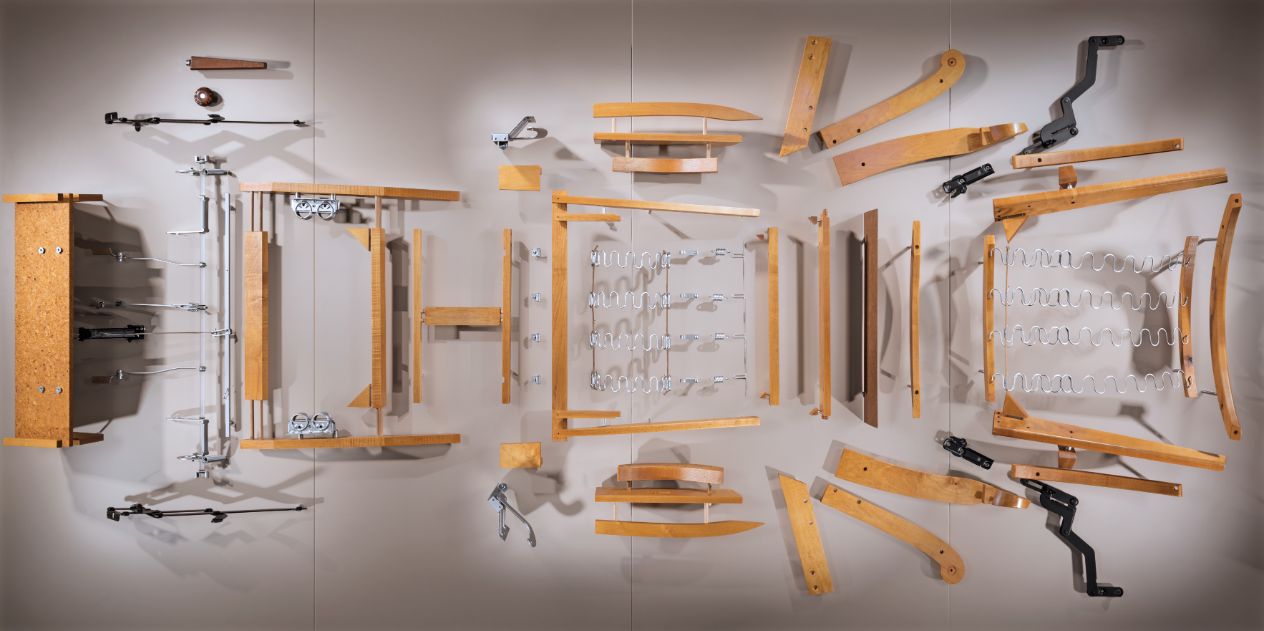 Independent Reclining Back
A patented mechanism that allows you to recline your back without having to put your feet up (can recline and still rock). Other recliners require you to raise your footrest to release and recline your back cushion.
Hinged Seat and Back for Full Body Support
La-Z-Boy invented and patented a reclining system that gives you complete lower back and body support in every position.
When you recline, the back and seat move in unison to support the lower back. Additionally, it provides lumbar support and eliminates the gap. Other chairs will develop a gap between the back and seat when you recline. This leaves your lower back unsupported and strained.
3-Position Footrest
A patented locking footrest allows you to angle your feet in three different positions to customize your reclining comfort. It eliminates the footrest from drooping for tall or heavy-legged users and is a built-in safety feature if children or pets climb up.
Contour Cut Foam
La-Z-Boy uses a solid block of contour-cut foam in all of its recliners. Other recliners are often constructed with fibre stuffing.
Furthermore, some select sofas come standard with ComfortCore seat cushions. This proprietary design boasts seven layers and four different foam densities to provide the best comfort and support level for various areas of the seat. ComfortCore carries a three-year warranty.
Self Healing Zippers
These zippers can be fixed effortlessly by zipping and unzipping past the point of misaligned teeth or where it has popped open with usage.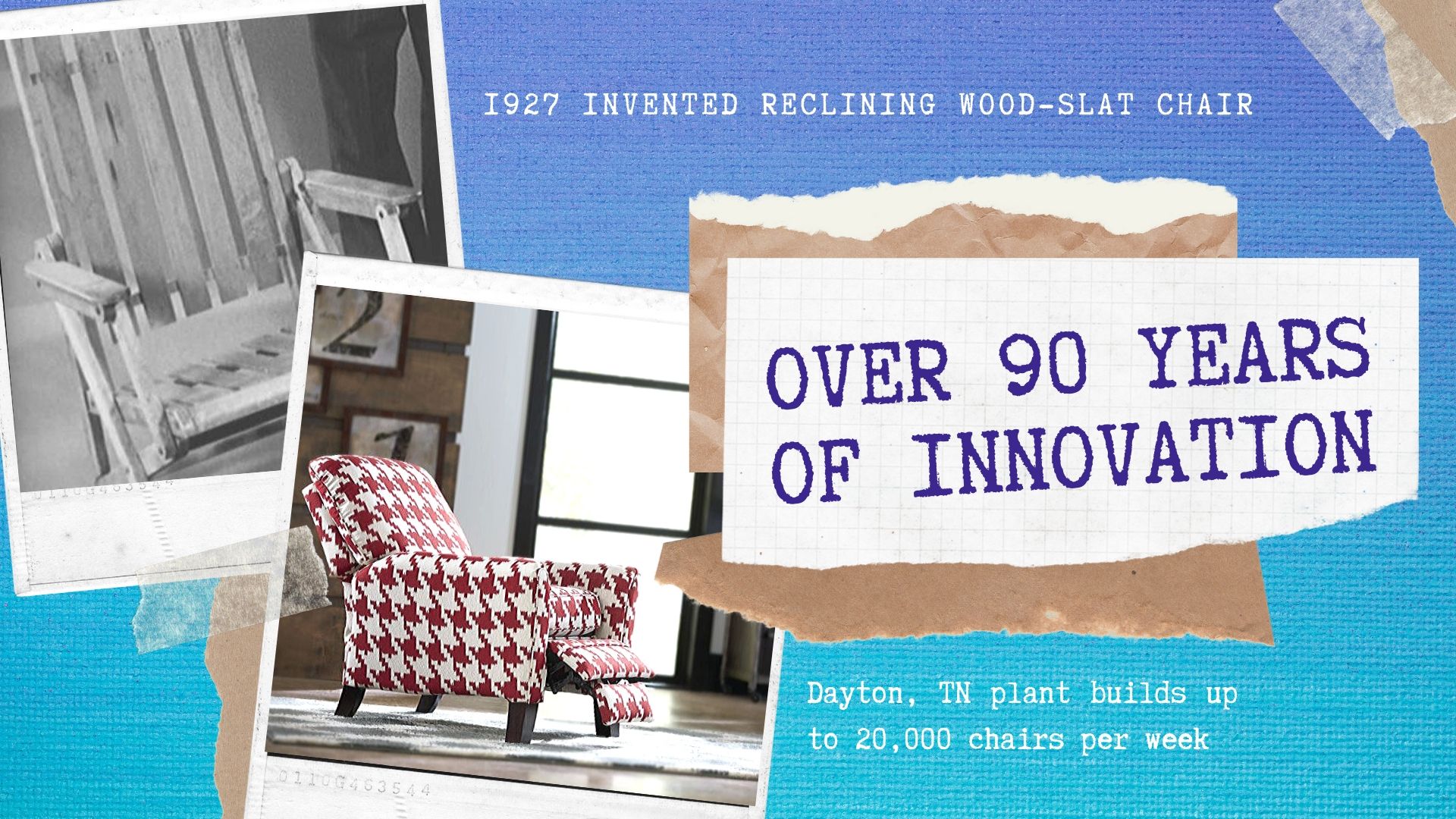 North American Made
Although a global company with plants all over the world, much of the La-Z-Boy fleet of furniture is assembled right here in North America.
During the economic downturn in 2008, many manufacturers outsourced all of their furniture-making overseas to take advantage of lower-cost labour. La-Z-Boy did not follow suit and maintained many of its plants in North America. Here in Ottawa and Kingston, we continue to have the majority of our La-Z-Boy recliners, chairs, sofas and sectionals manufactured in Dayton, Tennessee. They are shipped to Ottawa directly by tractor-trailer every week.
It is worth mentioning that the final assembly process for furniture continues to be fairly labour intensive. Craftsmanship remains an integral part of the assembly. Furniture at the plant is built within a cell.
The cell consists of a unit of six workers that each play a role in product construction. Most of the furniture is custom ordered, so the cell provides the ability to deal with each customer on an individual basis. Those in the cell work as an efficient team to deliver the highest quality product. The production process includes:
1. Lumber is received and cut to size and hand-assembled by the framer. It forms the main structure of the chair or sofa.
2. Metalworks department plays a crucial role in making the reclining mechanism
3. Fabric kits created by cut and sew centre.
4. Sub-upholster places cut foam inside the fabric casing.
5. Upholsterer attaches the fabric to the frame.
6. Final inspection is done by the cell member called the validator. They will test mechanism/motors and check for the correct colour.
These workers share a common vision of craftsmanship, innovation and American heritage, because where and how your furniture is made matters.
With hundreds of employees across Canada and over eighty (80) in Ottawa and Kingston alone, La-Z-Boy retail also plays an integral part in this process. It is our local warehouse location that receives the product and inspects and prepares it for final delivery. Each item gets uncrated, tested, powered (if applicable) and checked as part of the final preparation process.
In-sourcing service technicians and delivery teams are also a key component for continued process quality and providing exceptional customer service.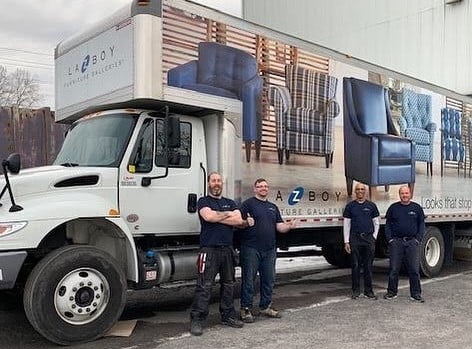 Product Testing
La-Z-Boy frames and cushions are designed for lasting durability and exceptional comfort. In the early stages of design, furniture goes through rigorous testing. The mechanism, frame and even fabric go through years of abuse in a matter of hours. For example, the reclining mechanism is tested for 100,000 recline cycles using a 300-pound user.
All fabrics are tested in La-Z-Boy's accredited testing facility in Monroe, MI. The abrasion test involves rubbing the fabric. The Wyzenbeek rating is the result of this test. Passing 20,00 double rubs is widely considered the minimum for residential wear in our industry. The majority of La-Z-Boy fabrics available today surpass the standard rating or are rejected. Recliner and motion furniture only incorporate fabric with a rating of 30,000 double rubs or higher.
La-Z-Boy is also a participating member of the American Home Furnishings Alliance (AHFA). The organization was tasked with developing standards and guidelines for upholstery fabrics and leathers. Fabric and leather sourced and purchased by La-Z-Boy must meet all of the guidelines set forth by the committees. Plus, due to La-Z-Boy's stringent quality expectations, there are several additional quality standards that are unique to their fabric testing.
The goal of testing is to gain a more intimate understanding of how the consumer uses the product. This will help ascertain that the product has the durability to last through the duration that the end consumer is going to own it.
Options and Upgrades
By handcrafting our furniture in North America, we're able to deliver custom pieces in a few short weeks. Create a look all your own with over 900 fabrics and leather cover options. Choose from multiple wood finish options and designer details like nailhead trim and contrasting welt. Then select a custom cushion option to suit your body for your utmost comfort.
At La-Z-Boy Home Furnishings & Décor, we offer a wide selection of options & upgrades:
• Swivel Base
• Power or Manual Recline
• Heat & Massage
• AirForm Cushions
• Handle on Left or Right
• Extended Handle
• Silver Arc Handle
• Glide Instead of Rock
• Recline Away from Wall
• Upgrade to Down Fill Feathers
Take some time to investigate your options so that your chair or sofa doesn't just suit your home; it suits your way of living.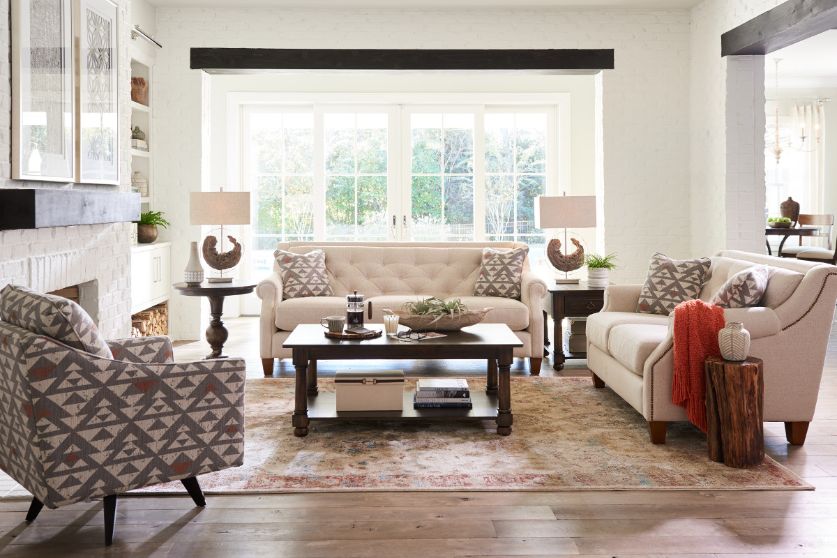 Next Steps
It is not unusual to hear stories of people using their father or mother's La-Z-Boy recliner because it is still in good shape and the mechanism still works. At La-Z-Boy Ottawa and Kingston, we're proud to provide comfortable and high-quality furniture that will span generations.
A lot of the processes and components described above influence product cost, and hence why La-Z-Boy tends to have prices in the mid-range and upwards. While introducing some lower-end price points through "special buys", clients do have the option of more attractive pricing on the same great furniture. The trade-off typically is fewer fabric options to select from as they are bought in bulk to pass on the savings. As you look at the pricing of furniture in the market, it is crucial to keep these elements in mind when considering the value.
If you feel the information we shared on La-Z-Boy's 90 years of innovation and quality is a product you would like to invest in, we are here to help. We're happy to guide you through the process of furnishing your home at any of our Ottawa and Kingston La-Z-Boy locations. Choose from dozens of sofa and chair styles to create a custom look you'll cherish for years to come.
Here are some additional resources you may want to check out:
• 7 Best Furniture Stores in Ottawa
• 5 Best Selling La-Z-Boy Recliners
• 5 Best Selling La-Z-Boy Sofas
Product Info Request
Please provide us with your name and email and we'll get back to you as soon as possible regarding this item.