How Much Does a La-Z-Boy Recliner Cost?
August 31, 2020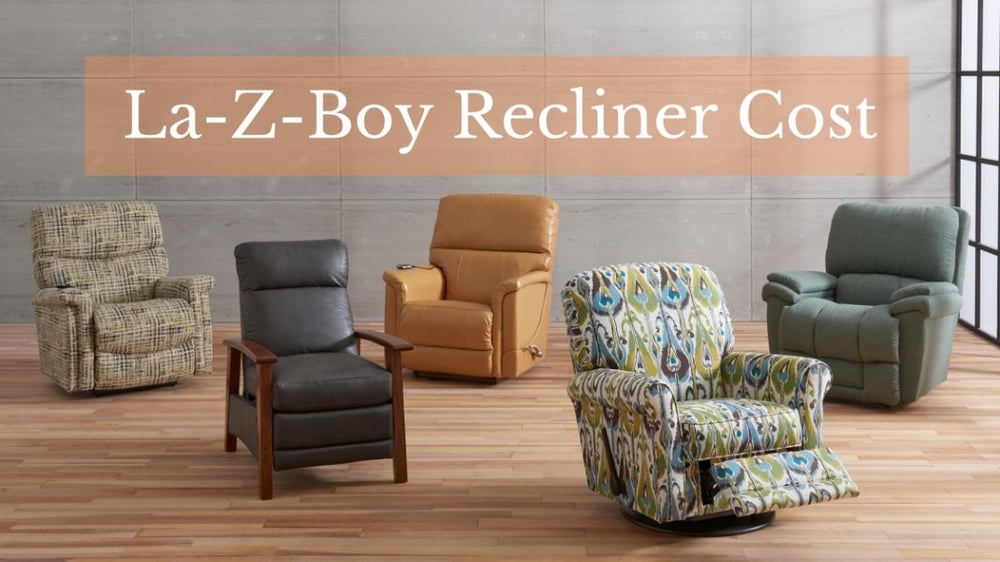 Do you suffer from back or joint pain? Or do you simply just need a comfortable place to kick up your feet and relax after a long, hard day?
There is no better place to relax and put your muscles at ease than in one of our very own La-Z-Boy recliner chairs.
As the inventor of the iconic recliner chair, at La-Z-Boy, we pride ourselves on setting an industry-standard in comfort, quality, and style.
It all began in 1927 when two young cousins, Edwin J. Shoemaker and Edward M. Knabusch, revolutionized the comfort and enjoyment of a chair; with this, the world was introduced to the first-ever recliner chair! Now, after 90 years of innovative design, La-Z-Boy has a recliner to fit every room, style, and budget.
Speaking of budget … you may be wondering how much you should expect to spend on this comfortable new addition to your home. At La-Z-Boy, we have a team of qualified and talented consultants who can help you find the right recliner chair for you.
After reading this article, you will have a better understanding of what recliners we offer at La-Z-Boy and how much our recliners cost. And why? Because you will understand what they are made of and what goes into making them.
What we offer at La-Z-Boy
Type of Recliners
The ultimate goal of a recliner chair is to experience comfort and relaxation in your home. But, there are some practical considerations to make when choosing the right recliner chair for you.
Whether you are looking for a stylish recliner to fit seamlessly with a room's decor or looking for a recliner to rock your newborn baby to sleep, La-Z-Boy offers a wide variety of recliner options to meet all of comfort preferences and lifestyles.
Power Lift Recliner
The power recliner is electric providing you with the utmost convenience and comfort. If you require mobility assistance, the La-Z-Boy power lift recliner is the perfect choice for you. With just the touch a few buttons, you can recline and relax with ease and eventually return to an effortless standing position.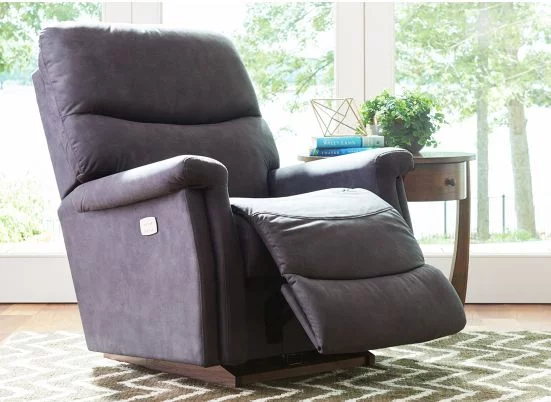 High Leg Recliner
The High Leg Recliner offers a twist on our traditional recliner by resembling the appearance of a traditional chair. This option can add a classic touch to any room. While appearing sturdy and stylish, this chair can also recline back with ease allowing you to kick your feet up and relax.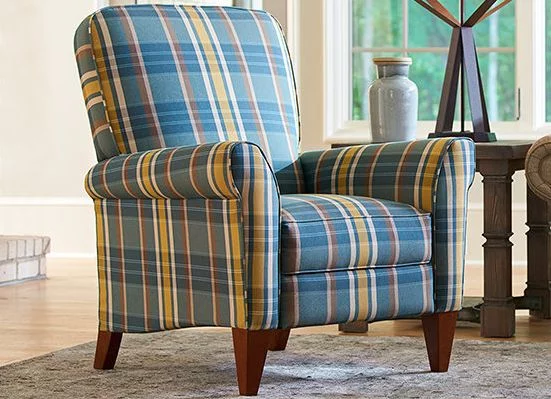 Duo Recliner
Similar to the High Leg Recliner, our duo recliners also embody style and structure yet recline with unexpected comfort.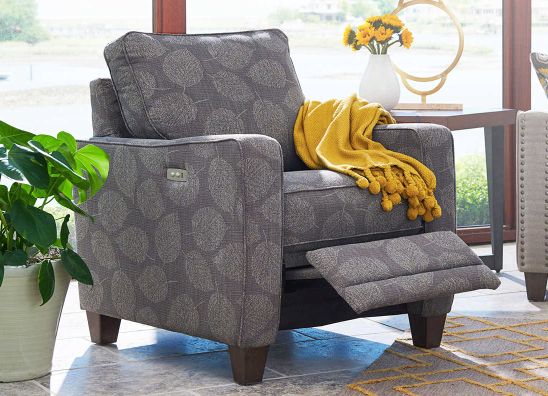 Rocker Recliner
The Rocker Recliner is perfect for those who wish to not only recline but also rock back and forth. While experiencing total body comfort and lumbar support, the Rocker Recliner offers a gentle rocking motion while resting in the reclined position.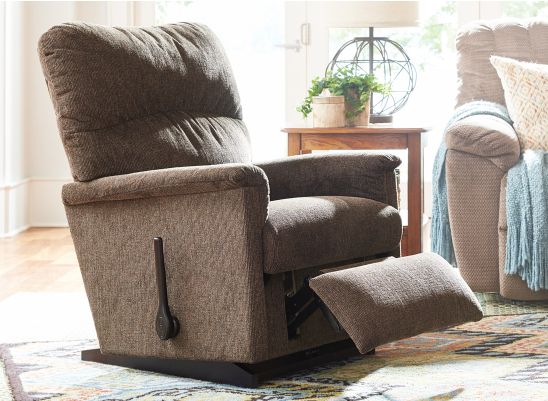 Wall Recliner
The Wall Recliner is the perfect way to achieve comfort in a small or confined space. Don't let a small living space hold you back from experiencing the relaxation of the reclined position. The Wall Recliner allows you to kick back, even when the chair is close to a wall.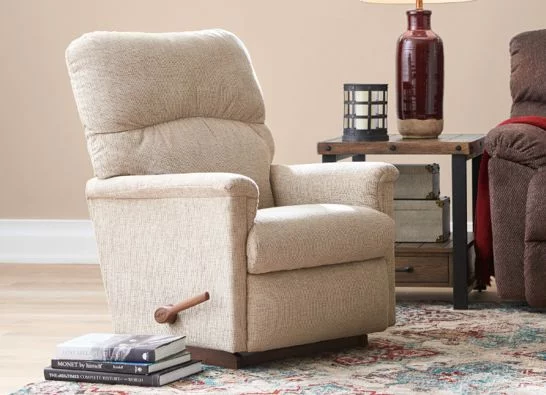 Swivel Recliner
If you prefer to relax in a position with ease of motion, the Swivel Recliner allows you to recline back with a twist. You don't have to worry about getting too stuck in that relaxing reclined position because in the Swivel Recliner you can glide in a smooth motion and remain apart of all the action going on around you.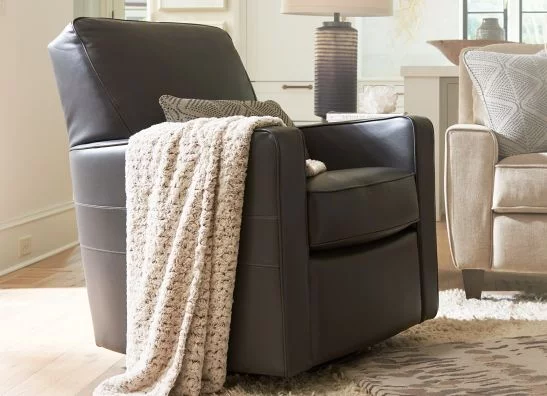 Nursery Gliders & Recliners
Now if you are a new mother, the Nursery Glider or Recliner is for you. There is no better way to lay back and fall asleep with a newborn than in the comfortable rocking recliner and glider chair. You can remain in that laid back position while gently soothing the baby with the rocking motion.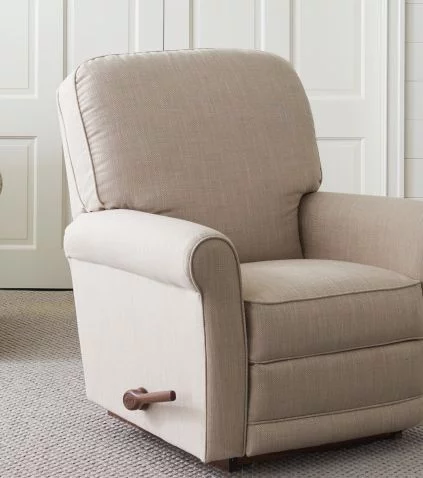 Recliner Styles
Technical features aside, we understand that the recliner you choose should fit seamlessly with your current decor and home design. With this, we offer recliners that are inspired by four main style categories: family, favourites, comfortably casual, classics revisited, and modern retreat.
Family Favourites
Our Family Favourites collection is designed to provide comfortable and versatile recliner chairs. This style appeals to the look of natural elements, bringing the outdoors inside. With this, Family Favourite recliners are typically offered in leather or in neutral colour pallets.
Comfortably Casual
The Comfortably Casual collection is designed by combining the richness of the past with the clean styles of the present. Our comfortably casual recliners embody both modern and traditional style elements in a combination of textures, rich colours, and strong patterns.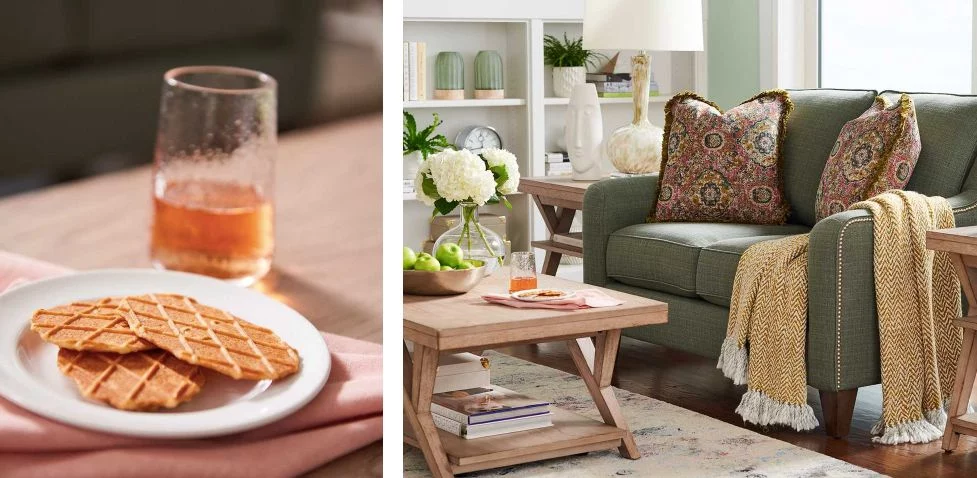 Classic Revisited
A recliner from the Classics Revisited collection typically gives off a warm and cozy appeal encompassing the past and the present. When it comes to our Classics Revisited collection, the design is in the details and it's all about accents. A Classics Revisited recliner is often sturdy yet stylish.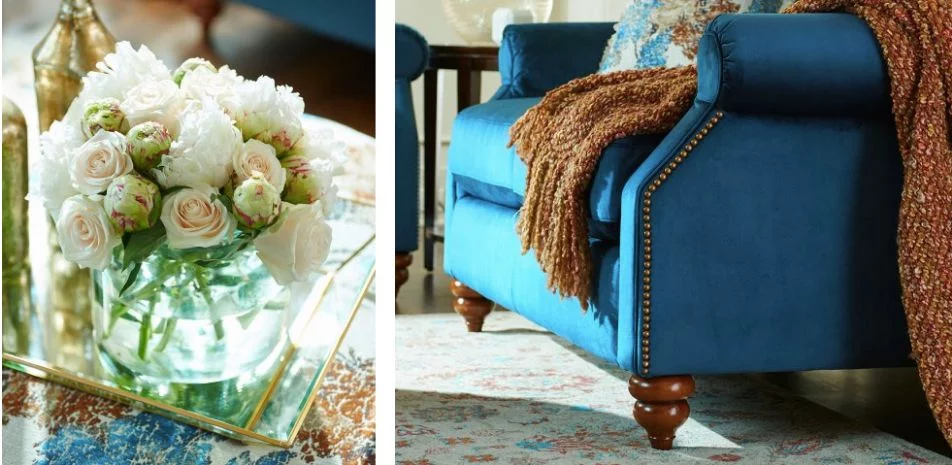 Modern Retreat
Our Modern Retreat collection emphasizes clean lines and accessory-free spaces. Recliners designed for this line are offered in a variety of textures but appeal to an uncluttered and functional space. These recliners are designed with simplicity.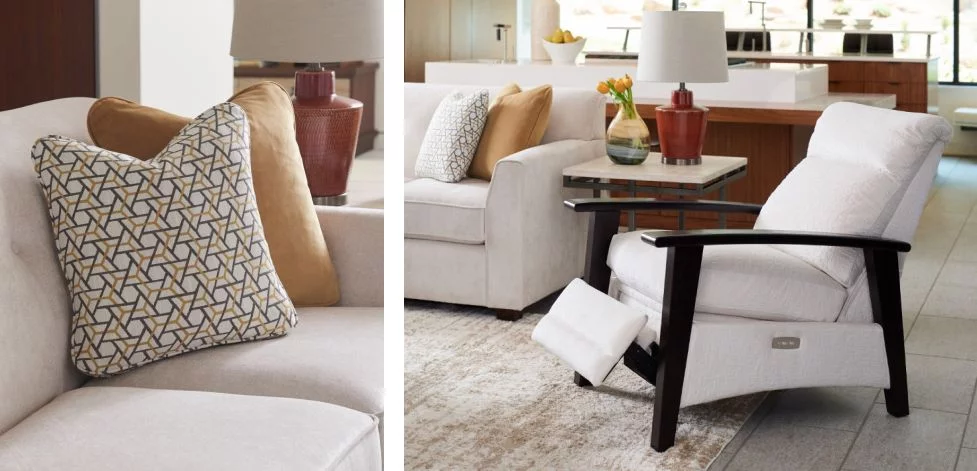 How Much Does a La-Z-Boy Recliner Cost?
At La-Z-Boy, the cost of our recliners ranges from $899 to $3,569.
*All La-Z-Boy prices listed in this article are subject to change. Please visit lzb.com and select an Ottawa or Kingston La-Z-Boy store location to view the most up-to-date pricing.
Take a look at this video for an explanation of recliner costs …
This price range is subject to change based on any customizations or upgrades you make to your chosen recliner chair … but we will get into more detail about that later in the article.
For now, let's give you a better idea of how much our La-Z-Boy recliners cost by outlining some examples of recliners in a few different price categories. There are key differences in the materials used as well as the labour that goes into making these different models, which ultimately determine the differences in cost.
Least Expensive
The Vail Recliner
Manual Vail Recliner: approximately $1099
Power Vail Recliner: approximately $1,689
The Vail Recliner is a great example of a La-Z-Boy recliner that falls into the low price range category. This recliner is great for anyone that is seeking high-quality comfort on a budget. The Vail Recliner is built petite and you can really sink back into its plush back and padded arms.
This model falls into the least expensive price category because it is a relatively simple chair to upholster and there is not a lot of careful sewing required. With this being a popular model, the fabric used to upholster the Vail Recliner is bought a thousand yards at a time, ultimately lowering the cost.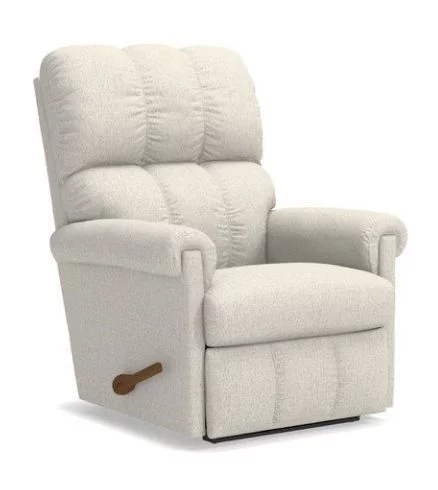 Mid-Range
The Finley Recliner
Manual Finley Recliner: approximately $1,339
Power Finley Recliner: approximately starting at $1,839
The Finley Recliner is a high-quality, contemporary recliner that falls into the mid-price range at La-Z-Boy. This recliner's modern lines, sleek track arms, and tall foam back gives the chair a unique and structured look. The Finley chair is great for letting your body rest in a continuous zone of comfort.
The Finley model falls within the mid-range price category because it requires more tailoring to the arms and back. This model is also upholstered with mid-range fabric and leather, and coupled with colours to keep the cost lower.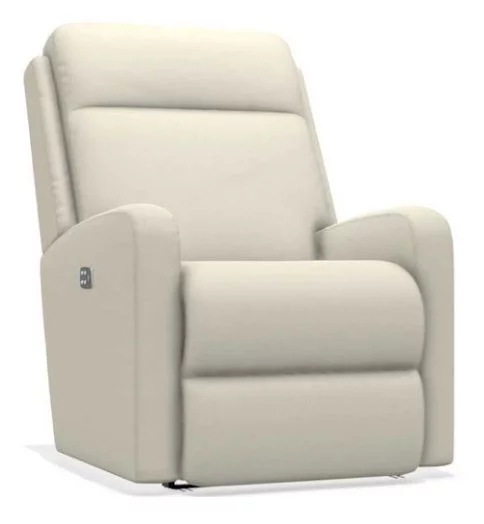 High-End
The Neal Recliner
Manual Neal Recliner: approximately $1,679
Power Neal Recliner: approximately $2,179
The Neal Recliner falls into our high-end price category at La-Z-Boy. This recliner offers oversized comfort without the overstuffed look. This recliner is easily customizable to fit all body types and allows any user to recline into a wide range of relaxing positions. The Power Neal Recliner also has a built-in USB port to conveniently charge your phone or tablet.
The Neal Recliner is considered high-end because this model involves a lot more sewing detail and takes significantly longer to upholster. Additionally, this model is built with extra heavy-duty springs and a standard firm seat option. This model is often upholstered with our Harmony leather which is a domestic leather, dyed, and manufactured in the United States. The domestic leather adds to the cost compared to imported leather from Mexico or China.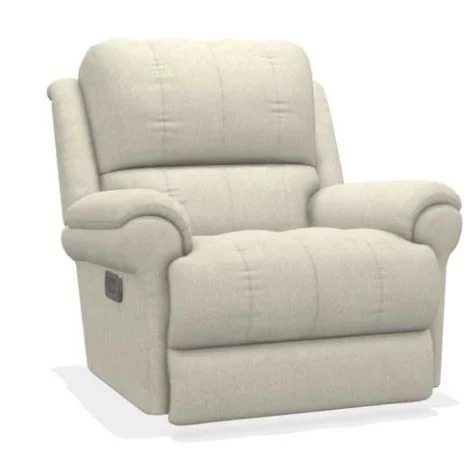 Customizations and Upgrades Available for a Recliner and How it Affects Price
When you take home your recliner chair, we want to ensure that this recliner is absolutely perfect for you, your style, and your preferences.
While we have many great recliner models and styles to offer at La-Z-Boy, it is common for shoppers to make some customizations and upgrades to their recliner chair before taking it home.
These customizations and upgrades can make the world of a difference, but they do come at a cost.
Size
Believe it or not, it is very important that your recliner fits your specific body type in order to provide you with the utmost comfort and relaxation. At La-Z-Boy, we recommend getting fitted for your recliner chair in order to make sure you have chosen the right size and shape for you.
At La-Z-Boy, our sizes come in …
Petite: 5'4 and under

Small: 5'5 – 5'9

Tall: 5'10 – 6'2

Extra Tall: 6'3 and up



Given the difference in material and labour required to construct these different sized recliners, this customization may impact the overall cost of your chosen recliner chair.
Materials / Upholstery Cover Options
The textiles that you choose to cover your recliner chair can greatly impact its look and feel. At La-Z-Boy, we offer a variety of hundreds of fabric, pattern, and leather options to choose from.
At La-Z-Boy we offer …
Fabric

Performance

iClean

Leather

Renew
Depending on the quality of the textile that you choose, this can impact the final price of your recliner chair.
Optional Finishes & Contrasting Welt
In order for your new recliner to match the aesthetic and style of your home, you may consider making additional customizations to the wood finish or welt trim of your chosen recliner chair.
These customizations have the ability to increase the total cost of your recliner chair.
Arc Handles & Hand Wand
If you choose a manual recliner, you may want to customize the shape or feel of the handle in order to make the push/pull motion as comfortable and convenient as possible.
You may choose to customize the handle and it's placement on your chair, ultimately impacting the total cost of your recliner.
Additionally, in the case that you choose a power recliner, you may also wish to make customizations of the electric hand wand. This too might impact the total cost of your recliner chair.
Additional Warranty
As you can see by now, purchasing the perfect recliner chair is a significant investment. That is why it is important to protect that purchase and ensure that your chair is covered by a warranty plan.
La-Z-Boy products are sold with a manufacturer's warranty that covers 1-3 years of damage caused by manufacturer error or workmanship.
At an extra cost, you may consider purchasing La-Z-Boy's additional comprehensive service protection plan that covers up to 5 years of accidental damage.
Learn more about the furniture protection plan offered by La-Z-Boy in the Ottawa/Kingston area.
Financing
While you may be ready to kick back and relax in your brand new recliner chair today, your pocketbook may beg to differ. Given that purchasing a recliner chair is a significant investment, it is quite common for customers to finance this purchase and pay it off over time. Depending on the financing plan you choose, and how long you take to pay it off, this option could result in additional fees.
To learn more about furniture financing, check out the article Furniture Financing: Everything you need to know.
Delivery Costs
Finally, if you require a delivery service, expect an additional charge for the final delivery of your recliner chair.
At La-Z-Boy, we offer a traditional white glove delivery service. Local Ottawa & Kingston delivery costs $129.99 and out-of-town delivery costs $169.99. We provide an all-encompassing delivery service that includes the delivery and set-up of furniture as well as the removal of any waste.
If you are wondering about the cost of tipping a delivery person, take a look at the article Do you Tip a Furniture Delivery Person?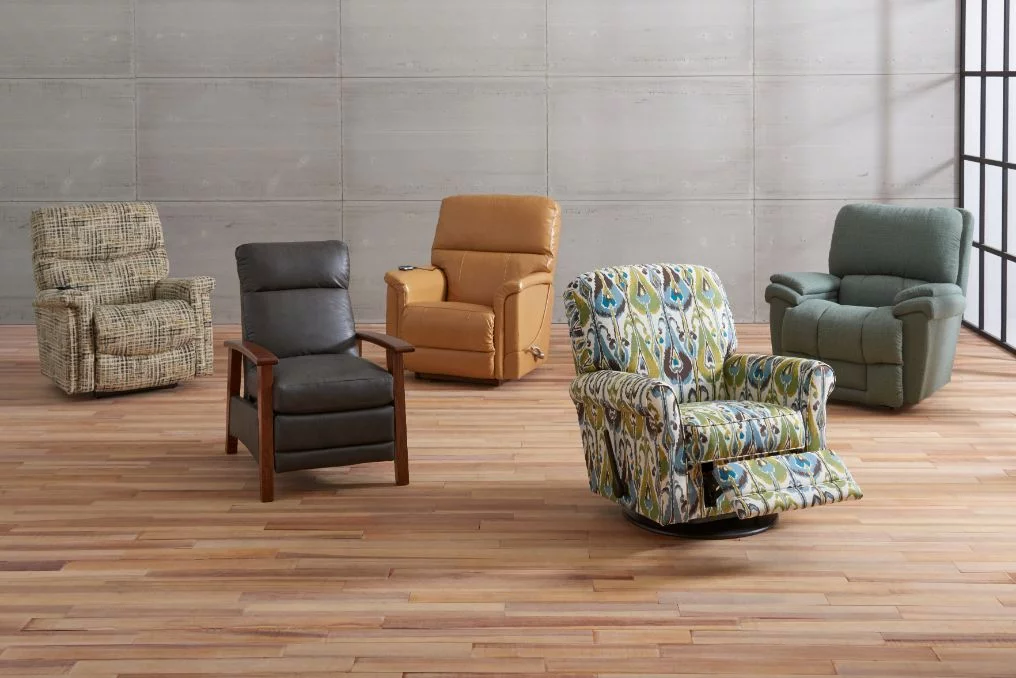 Ready to Find your Perfect Recliner Chair?
After reading this article, you are now aware of the recliners that we offer at La-Z-Boy and how much you can expect to spend.
Now, with your budget, style, and preferences in mind, it's time to start shopping!
To get the shopping process started, take a look at our Recliners Buyer's Guide, which outlines everything you need to know before purchasing your new recliner.
Then when you are ready, come visit us at one of our local La-Z-Boy locations in Ottawa & Kingston or book an appointment online to meet with one of our personal consultants.
We would be happy to help you find the recliner you are looking for and fit you for your perfect chair.
Here is what to expect when getting fitted for your very own recliner …
Product Info Request
Please provide us with your name and email and we'll get back to you as soon as possible regarding this item.