Review of La-Z-Boy's Lennon Furniture Family
March 30, 2023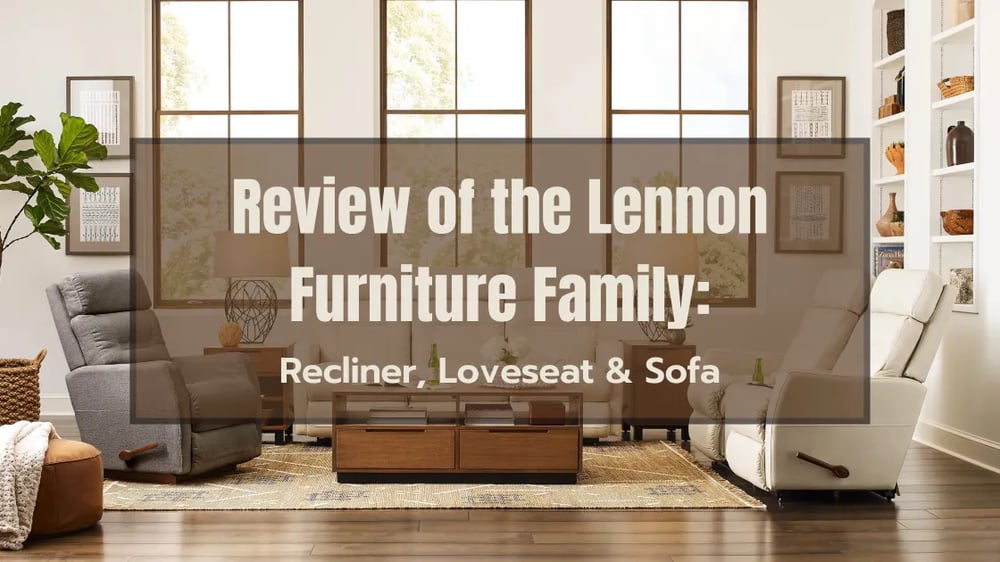 Est. Reading Time: 11 Mins
So, you're thinking of getting a new furniture piece for your living room. If you're looking for something that's relaxing and will last a long time, you're definitely in the right place.
Elaina Sollychin, a design consultant at La-Z-Boy Hunt Club, tells us, "The Lennon has an interesting design that definitely speaks to a wide range of audiences."
If you're interested in discovering whether the Lennon family is the ideal choice for your reclining furniture needs, stick around to get a comprehensive review of the product!
In This Article…
Lennon Furniture Family (Available Frame Options)
Before we dive into the world of Lennon furniture, it's important first to understand what's included in this family. This will give us a better idea of the scope of their offerings and what we can expect from their products.
Lennon Recliner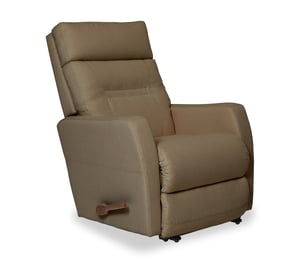 If you're looking for a single seat in your room, the Lennon recliner is made for individualized comfort.
Simply use the convenient handle on the outside right arm to place it in a reclining position. At an additional cost, you can request the handle to be on the left side.
The Lennon is available as a rocking recliner or a wall recliner. The Rocking Recliner has the ability to rock in a smooth and graceful motion while not reclining. The Wall Recliner can fully recline while still inches away from a wall.
Lennon Reclining Loveseat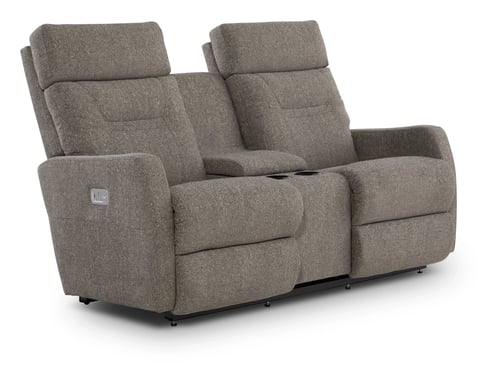 The Lennon Loveseat with Console is a great choice for couples who want dedicated reclining seats while still being able to sit close together.
Aside from offering individualized reclining options, the Lennon Loveseat's built-in console–which is normally an upgrade–provides various practical features. These include cup holders, extra storage space for small items like remotes or video game controllers, and an electronic charging input on top for added convenience.
Lennon Reclining Sofa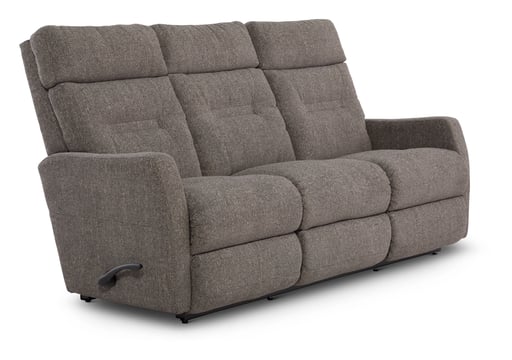 The Lennon Recliner Sofa is a versatile three-seater option for any family-oriented seating arrangement. Like the loveseat, the sofa features a latch on either end, which can be used to raise the leg rests and recline in the outer seats.
Unique Features
Now that we are familiar with what is included within the Lennon furniture family, let's take a closer look at its unique features.
The Lennon offers a sleek appearance with a contemporary style. Although the size of the furniture is scaled down, the style is amped up, making for an enticing and desirable look.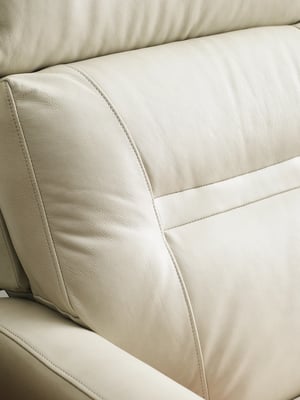 What makes this look contemporary is that it features track arms and a more streamlined silhouette, which not all recliners offer. The Lennon Reclining Sofa stands out with its contemporary design, featuring track arms and a streamlined appearance not often found in other recliners.
The Lennon also has topstitching details, meaning it is versatile and can go with many different looks. "Because the styling is different from our other slim-looking recliners, people are starting to notice this recliner more than the Finley or the Liam," says Elaina.
She also says that the unique rectangle-shaped outline in the middle is only for vanity reasons and does not do much to offer any support to the user.
Sizes & Dimensions
Taking a look at the sizing of the Lennon, there are certain things to consider before purchasing this type of reclining chair.
As mentioned before, the sizing of this reclining furniture family is slimmed down, meaning it is not as bulky as other recliners. Because of this, the Lennon may be good for smaller spaces, depending on the room size.
It's worth noting that reclining furniture, no matter how compact, will always be larger than stationary furniture due to the internal mechanisms required for the reclining function. This is because these mechanisms take up more space than other furniture components.
Elaina notes that in addition to its stylish design, the Lennon is a versatile furniture family that can accommodate a range of body sizes. Its normal height scale ensures comfortable seating for individuals between 5'4" to 5'9" in height.
While your height can be a considerable factor, it is important to note that height guidelines are NOT set in stone. The way you sit in a furniture item can drastically affect how someone might find a seat comfortable.
Ultimately, we always recommend coming in for a sit test to see if the Lennon is comfortable for your body type. To learn more, take a look at How to Find a Recliner That is The Best Fit For You or How To Find the Right Sofa for Your Size.
Lennon Recliner Dimensions (Inches)
Rocking/Wall Recliner Weight: 79/89 lbs.

Body Depth: 39.5"




Body Height: 43"




Body Width: 32.5"

Seat Depth: 21"




Seat Height: 20"




Seat Width: 21"
Lennon Loveseat Dimensions (Inches)
Loveseat Weight: 159 lbs.

Body Depth: 39.5"




Body Height: 43"




Body Width: 72"

Seat Depth: 21"




Seat Height: 20"




Seat Width: 61"

Lennon Sofa Dimensions (Inches)
Sofa Weight: 197 lbs.

Body Depth: 39.5"




Body Height: 43"




Body Width: 80"

Seat Depth: 21"




Seat Height: 20"




Seat Width: 69"
Options & Upgrades
Compared to other La-Z-Boy furniture families, Lennon has plenty of customization options to choose from. Keep in mind that the cost of the Lennon furniture will increase with your selection of options and upgrades.
Fabric & Leather Options
With over 800 fabrics and leathers to choose from, customers have a wide variety of colours, textures, and patterns.
When choosing fabrics, the Lennon comes in 10 select fabric covers with 2 different textures. Customers can choose between the Benevato fabrics, which have a cleaner look to them, or the York fabrics, which have a more rough texture.
There are also 2 select leather options available, including ice and charcoal.
Select fabrics are specifically chosen to match a particular furniture frame and do not affect the starting price.
La-Z-Boy offers alternative leather options such as leather match and recycled leather. It's important to remember that choosing any type of leather will result in additional costs for the furniture.
Please note that this article's leather or fabric options may be discontinued or unavailable without prior notice. We recommend contacting your local Ottawa or Kingston La-Z-Boy store by phone or in person to confirm availability. We apologize for any inconvenience caused by any changes to our upholstery selection.
In addition to the cover options mentioned above, the Lennon is available in specialty fabrics and leathers with unique features and benefits…
Stain Resistant Covers
Innovative iClean Technology surrounds each fabric and leather fibre, creating a barrier that repels spills before turning into stains.
Tested and formulated to withstand the scratches and wear that a pet can cause to ensure a durable and easily washable fabric.
Antimicrobial properties surround each fibre to protect against mould, mildew, and odour-causing bacteria.
Performance
Superior stain and fade resistance properties make fabrics easy to clean and incredibly durable.
Eco-Friendly
Conserve Sustainable Fabrics are soft, durable and made from recycled water bottles.
Energy Restoration
Restore by Nanobionic® features a mineral-based fabric coating that transforms natural body heat into energy using infrared technology.
Cushion Upgrade
For an extra charge, the cushions on La-Z-Boy's Lennon furniture can be upgraded to a firmer option that will conform to your body over time, enhancing comfort. This could be a great option for people with mobility issues, allowing you to get in and out of your furniture more comfortably.

​For more information, view our Motion Furniture Collection catalogue.
Optional Swivel Base
If you're interested, the Lennon rocking recliner is available with a swivel base for an extra cost. La-Z-Boy's swivel bases provide a 360-degree rotation, allowing you to easily turn and face any direction.
You can also upgrade your swivel base into a power swivel recliner, which can recline at the touch of a button. The power swivel base, however, only rotates 165 degrees to prevent the power cord from getting tangled within the furniture frame.
To learn more about our Swivel Chair options, check out our list of Swivel Accent Chairs.
Handle Options
To add more style to your La-Z-Boy manual recliner, you have the option to customize the length and material of the convenient reclining handle.
At an extra cost, you can opt to elongate the handle if you find it too short for your comfort. Additionally, you can choose from a variety of materials for the handle, including wooden, brushed nickel, or matte black. The chrome handle can also be elongated, matching the wooden one in size.
What's more, for all left-handed users, you can change your handle from the standard right side to the left. This also comes at an additional cost.
Power Upgrade with Adjustable Headrest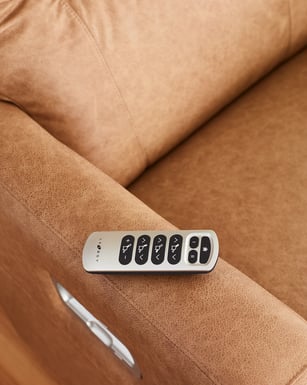 You can upgrade the Lennon Recliners, Loveseat, and Sofa to power.
Instead of using a handle or a latch, like with manual furniture, the power recliner has a wireless remote on the right side of the chair. With this, you can recline at a touch of a button, as well as control the adjustable headrest support.
The adjustable headrest allows you to move the head of the recliner from 0-55 degrees, giving you more range of motion with your reclining positions.
What's more, the recliners have USB ports next to the control panels to charge your electronic devices, as well as two memory settings that allow you to save any of your favourite relaxing positions. This way, you can easily recline back to the position you favour quickly and accurately.
If you need help with learning about the controls, check out La-Z-Boy Power Furniture: How to Use the Control Panel & Remote.
All power upgrades can be cordless, thanks to our rechargeable battery pack. With this, you can place your power recliners anywhere without worrying about plugging them into an electrical outlet.
To learn more about battery packs, read this Review of the Rechargeable Battery Pack offered at La-Z-Boy.
Adjustable Lumbar Support
In power, the Lennon rocking and wall recliner, loveseat, and sofa can further include adjustable lumbar support.
Like the headrest feature, you can control the lower lumbar area of your recliner with the wireless remote. In this case, the lumbar support can expand 3 inches out or deflate to perfectly match the unique curvature of your lumbar spine.
To learn more about the headrest & lumbar upgrade, check out the Review of La-Z-Boy Power Recliners with the Headrest & Lumbar Feature.
Heat & Massage Upgrade (Rocking Recliner Only)
The Lennon Power Rocking Recliner is the only frame that can be upgraded to include Heat & Massage.
Customers can enjoy this incredibly comfortable lift recliner with two high & low heat settings and six motor-massage settings for their back and thighs.
PowerReclineXR® is also included in this upgrade, which lets the user experience full reclining comfort in any position, thanks to an independently operating back and leg rest.
To learn more, check out a Review of the Heat & Massage Upgrade at La-Z-Boy.
Cost
In terms of cost, the Lennon furniture products fall within the mid-price range at La-Z-Boy.
While the cost of the Lennon furniture is considered standard at La-Z-Boy, it is important to note that La-Z-Boy furniture is considered more expensive on the market. This cost is reflected in our products' quality of materials and craftsmanship, a worthwhile investment if you are looking for long-lasting furniture.
Lennon Rocking Recliner

Lennon Wall Recliner

Lennon Loveseat

Lennon Sofa

Manual

Starting at




$1,279

Starting at




$1,349

Starting at




$2,889

Starting at




$2,889

Power

Starting at




$2,029

Starting at




$2,099

Starting at




$4,389

Starting at




$4,389
*All La-Z-Boy prices listed in this article are subject to change. We aim to update all cost-related articles twice per year. This article was last updated on June 20th, 2023. Contact your local Ottawa or Kingston location by phone or in person for up-to-date pricing.
Warranty
The Lennon is covered by La-Z-Boy's Limited Lifetime Warranty. This warranty covers the repair or replacement of the frame, spring systems, and mechanism, given that they are quality-crafted and built for long-lasting comfort.
For full details of the Limited Lifetime Warranty, check out this full La-Z-Boy warranty breakdown.
While still quality-crafted, other aspects of the product, such as fabrics, leather, and cushion, are not meant to last a lifetime. However, these parts are still covered by the La-Z-Boy Manufacturer's Warranty for a given period of time.
To further protect your purchase, La-Z-Boy Ottawa & Kingston offers an extended warranty plan at an additional cost. To learn more about the Extended Warranty Plan and if it's right for you, take a look at this article.
Is the Lennon Furniture Family Right For You?
Although you now have the information you need to make an informed decision about purchasing the Lennon furniture, you may still have concerns regarding your budget, the furniture's functionality, and its overall style. So, is the Lennon the right furniture for you?
Let's take a look at a few last-minute factors to consider before leaving you with your decision.
Firstly, it is important to know that La-Z-Boy furniture is an investment, meaning you will enjoy it for a long time. Because our furniture is meant to last, our products can outlast most furniture products on the market. That is why there is a hefty price to the total.
If you're willing to spend more upfront to save money in the long run, the Lennon furniture might be a good choice. La-Z-Boy also provides furniture financing, allowing you to make payments over time instead of paying the full amount at once.
In terms of functionality, the Lennon is smaller than other recliners and great for average-height users. If you feel as though your space is of average size and you're not too short or too tall, the Lennon might be right for you.
However, if you are shorter or taller than the recommended, you may not feel as comfortable with the Lennon as you would with other furniture pieces. Instead, take a look at some reclining options for Short People or Tall People with these articles.
Finally, if you're after a unique piece of contemporary furniture with a modern flair, the Lennon is a great option. However, if you have a specific furniture style in mind or are trying to achieve a certain theme in your room, such as traditional, the Lennon may not be the right choice for you.
What's Next?
Now that you have a better understanding of the Lennon furniture family, why not discover it in person?
You can start shopping by visiting one of our local showrooms located in Ottawa or Kingston or schedule a visit online before coming in.
Our design consultants are always eager to lend a helping hand. Take advantage of our interior design services to see how one of the Lennon furniture frames could fit in your home.
If the Lennon wasn't what you were looking for, take a look at some of our other furniture family reviews:
Related Articles:
Best-Selling La-Z-Boy Power Recliners
Are La-Z-Boy Recliners Guaranteed for Life?
Product Info Request
Please provide us with your name and email and we'll get back to you as soon as possible regarding this item.