Top 5 La-Z-Boy Recliners for Small Spaces
July 9, 2021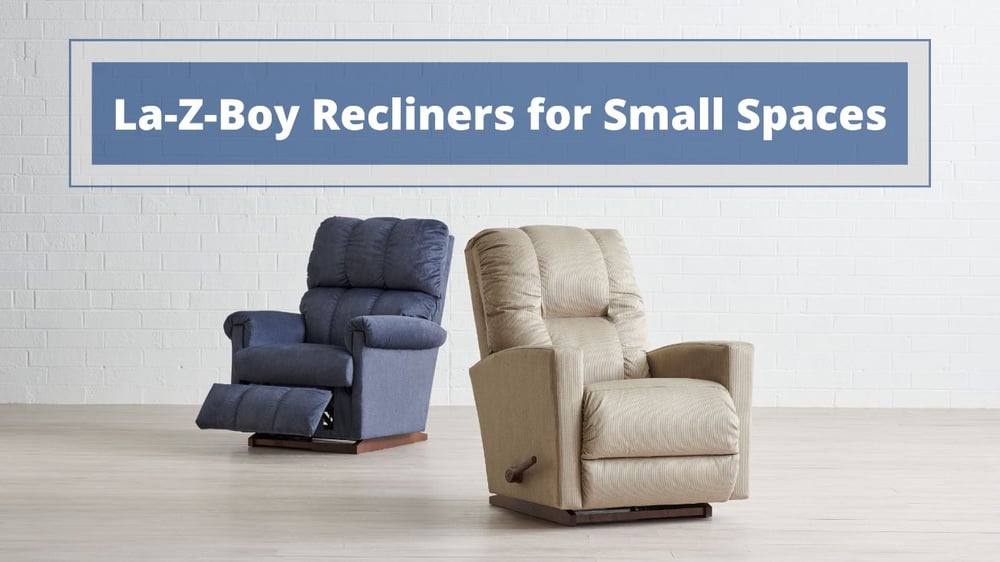 Condo and apartment living have many redeeming qualities! Enjoy beautiful views of the city, hands-off garbage disposal, and a shovel-free winter season.
With this, you may find some difficulties enjoying a smaller space. As you optimize your storage space and plan your minimalist furniture arrangement, the one thing that you should not have to downsize is comfort!
Before you sacrifice the comforts of a recliner chair, consider purchasing a recliner suited for smaller spaces.
Although many recliners have big, bulky, and plush features, there are alternatives to this traditional model. In fact, there are many quality, stylish, and small recliners on the market that can provide you with relaxation without occupying too much space.
As the inventor of the iconic recliner chair, our clients at La-Z-Boy Ottawa & Kingston often ask us about recliners for smaller spaces.
This article will outline the characteristics to look for when shopping for a small recliner, tips on how to properly measure your space, and a list of the top 5 recliners at La-Z-Boy for small spaces.
Characteristics of Recliners Suited for Small Spaces
As you sift through the wide variety of recliner options available, there are certain features to look out for as you seek a recliner ideal for your small space.
Slim Arms

Narrow Frame

Wall Recliners (non-rocking) – can place this recliner mere inches from a wall and still have the ability to recline
Average Dimensions
Besides the characteristics listed above, look for recliner measurements within a few inches of these smaller recliner average dimensions.
Body Depth:

36.5

Body Height: 40.0

Body Width: 31.0

Seat Depth:

20.0

Seat Height: 19.0

Seat Width: 21.0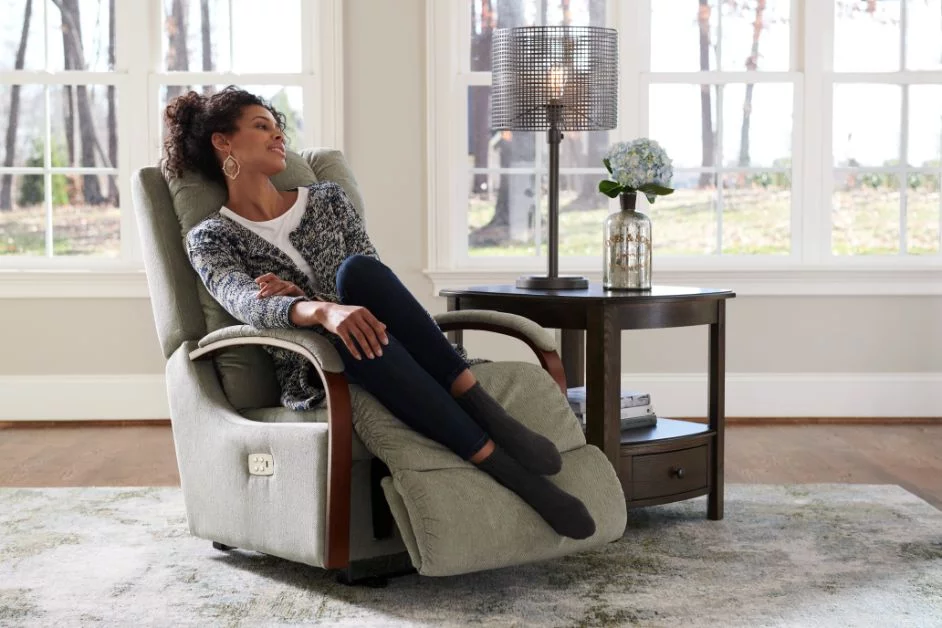 Don't Forget to Measure your Space
Finding a quality, stylish, and small recliner chair is only half of the equation.
Every small space is unique and it is important you ensure that the recliner you choose is ideal for YOUR small space.
As such, it is a good idea to measure your room before shopping for a recliner. With detailed measurements in hand, you will have a much better idea of the space you are working with and the room you can afford to allocate to a recliner chair.
While taking room measurements may seem like a daunting task, it is very manageable once broken down into simple steps.
Step One – Gather your Tools
To measure your space, you will need a tape measure, paper, a pencil, and a handy helper.
Step Two – Make a Rough Outline of the Shape of the Room
From a bird's eye view, make a simple sketch of your room. Don't worry about producing straight lines. You can polish this sketch at a later time.
If you prefer, you can opt to transfer your drawing and measurements to a 3D online room planner.
Step Three – Wall Measurement
With your measuring tape, measure the length of each wall from corner to corner. Write down the measurements on the corresponding wall drawn on your sketch.
Next, repeat this step except measure and record the height of each wall.
Step Four – Include Doors, Openings, & Window Measurements
Now you will indicate where the doors, doorways, windows, or any other openings in the walls are located.
Measure and record the height and width of each feature.
Step Five – Document Additional Details
Finally, don't forget to account for additional details in the room:
Ceiling fixtures or fans

Fireplace details/hearth

Light switches

Outlets

Ductwork

Floor or wall vents

Radiators

TV
For more detailed instructions, take a look at the article How to Measure a Room for Furniture.
With this sketch of your room, make note of the space that is currently occupied, and take note of how much space you have left for your new recliner. Measure this leftover space and use it as a parameter for the dimensions of your chair.
*Don't forget to account for the space between furniture.
While you are now equipped to choose a recliner of the right size, you also want to ensure that you are not sacrificing quality. To ensure that your chair still offers excellent comfort and longevity, look out for the following characteristics:
Construction

Reclining Mechanism

Functionality

Fabric Durability

Cushion Density
To learn more about choosing a recliner, take a look at our in-depth Recliner Buyers Guide.
1. The Wall Casey Recliner
The Casey Wall Recliner combines contemporary style with classic reclining comfort falling within the family favourites style at La-Z-Boy. It features clean, modern lines, so it's ideal for smaller spaces and contemporary decor. Casey's chaise seat and leg rest, multichambered back, and gently flared and rounded track arms cradle your body in comfort without a big, bulky silhouette.
Casey Dimensions:
Body Depth:

36.000000

Body Height: 40.500000

Body Width: 33.0

Seat Depth:

20.000000

Seat Height: 19.000000

Seat Width: 22.000000
​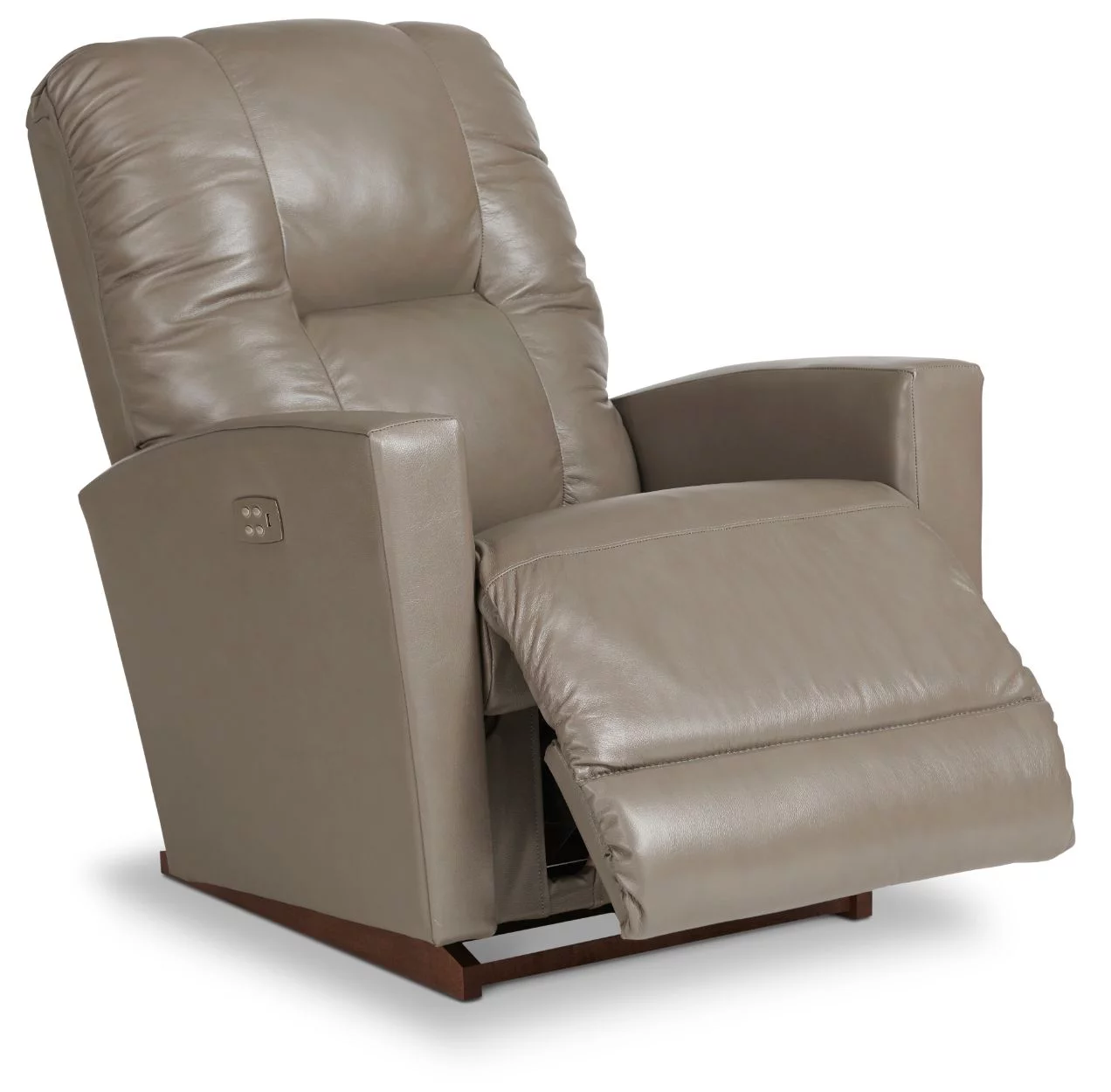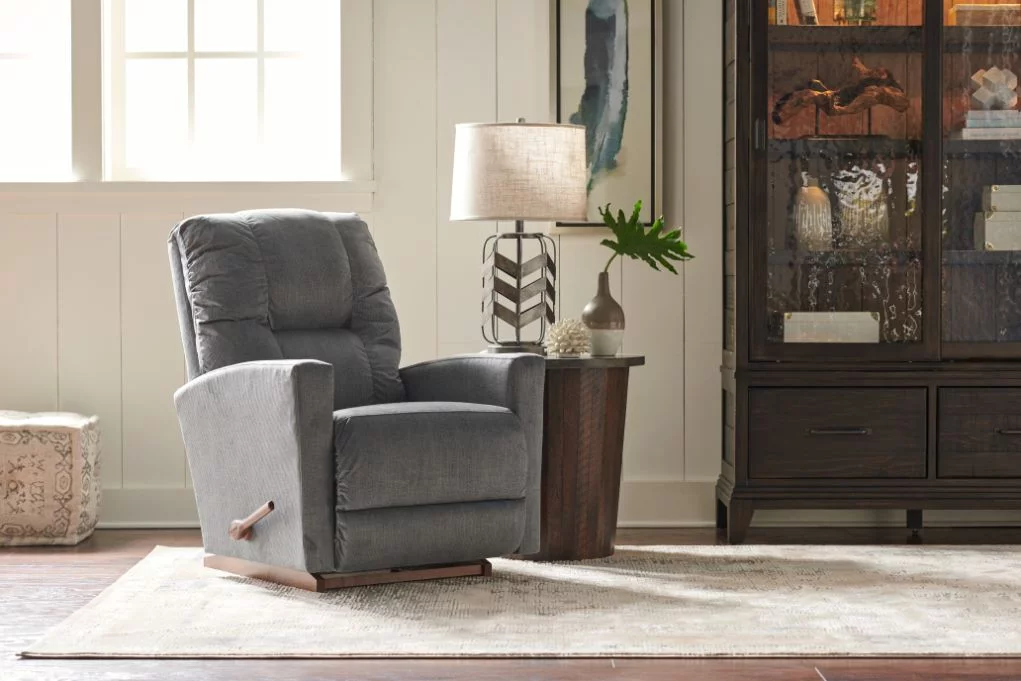 2. The Harbor Town Wall Recliner
Designed for smaller rooms, the Harbor Town Wall Recliner gives you the comfort of a recliner with a lighter silhouette and a sleek, stylish frame that's truly transitional. It features a channel-stitched back, a cushioned headrest, and decorative bentwood arms topped with pillow-like padding.
To learn more, take a look at the Review of the Habor Town Recliner.
Harbor Town Dimensions:
Body Depth:

37.000000

Body Height: 41.000000

Body Width: 30.0

Seat Depth:

19.500000

Seat Height: 19.000000

Seat Width: 23.000000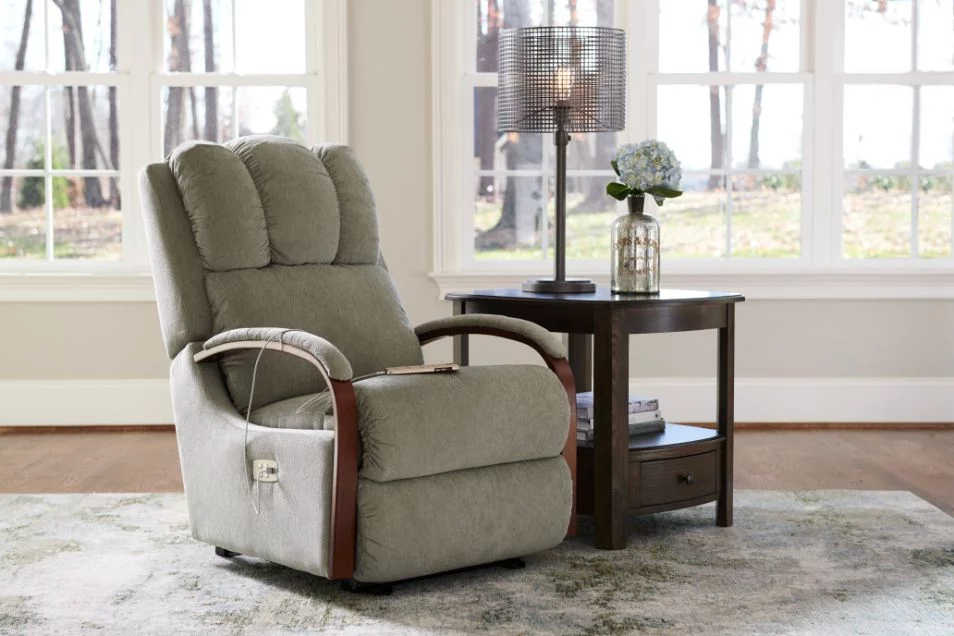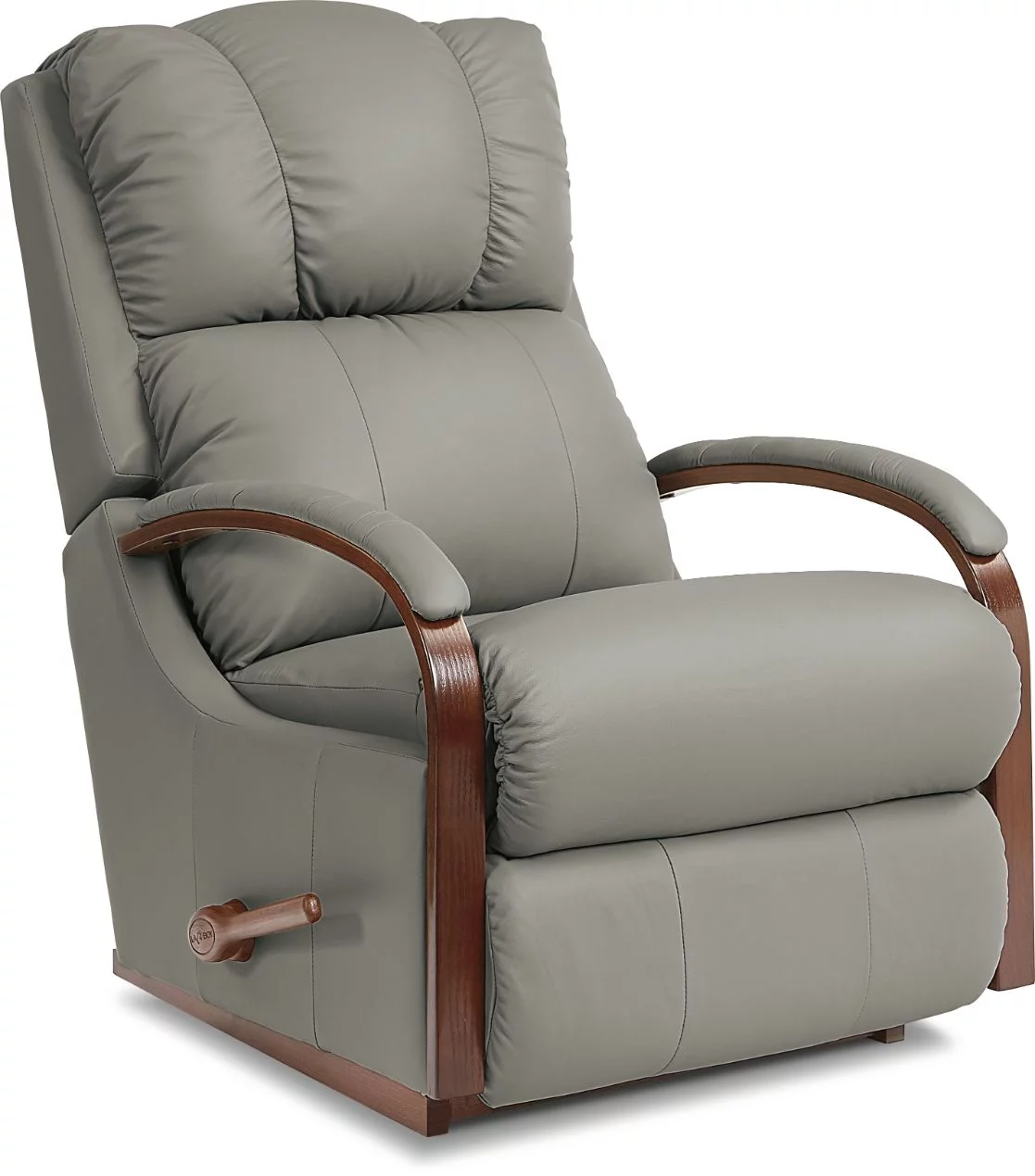 3. The Scarlett High Leg Recliner Chair
The Scarlett is comfortably casual! With its fresh, clean silhouette, our new Scarlett High Leg Reclining Chair gives you unlimited possibilities to create the perfect room. This versatile chair features casually tapered arms and tall wooden legs. Not only is the Scarlett fitting for smaller spaces, but its stylish look also features the unexpected ability to recline.
Scarlett Dimensions:
Body Depth:

37.000000

Body Height: 39.000000

Body Width: 33.0

Seat Depth:

21.000000

Seat Height: 19.500000

Seat Width: 21.000000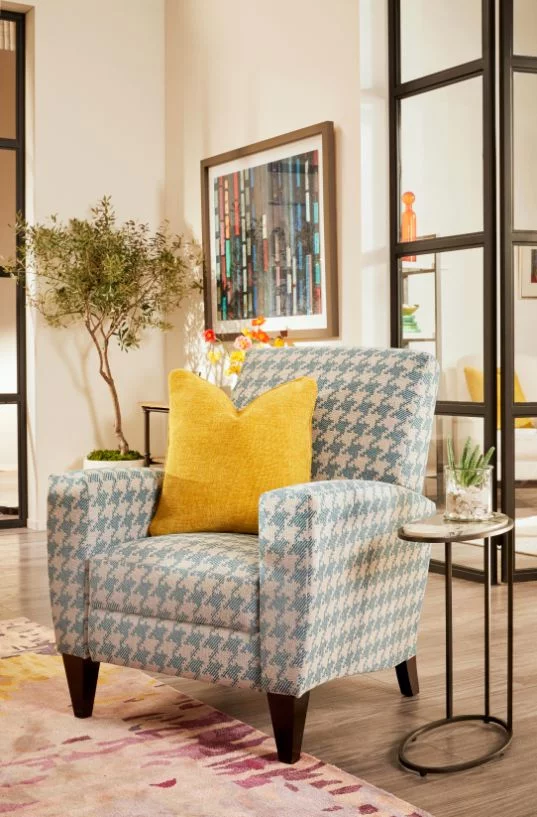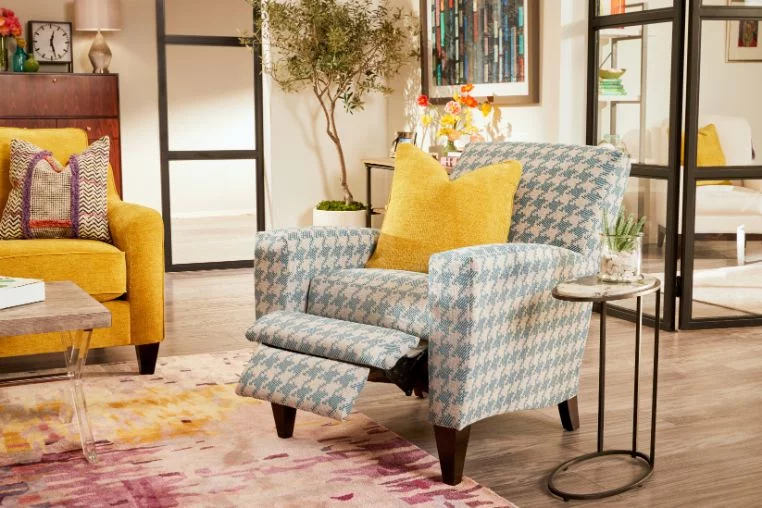 4. The Norman Wall Recliner
The Norman Recliner is a part of the inspired, updated, and modern European collection. With a slim frame, tall back, curved metal arms, and unique stitching, the Norman stands out in any home, yet fits seamlessly in small spaces. The long handle is hard to miss, allowing you to recline with ease.
To learn more about the Norman, take a look at the Review of the European Collection.
Norman Dimensions:
Body Depth:
36.0
Body Height: 41.0
Body Width: 30.0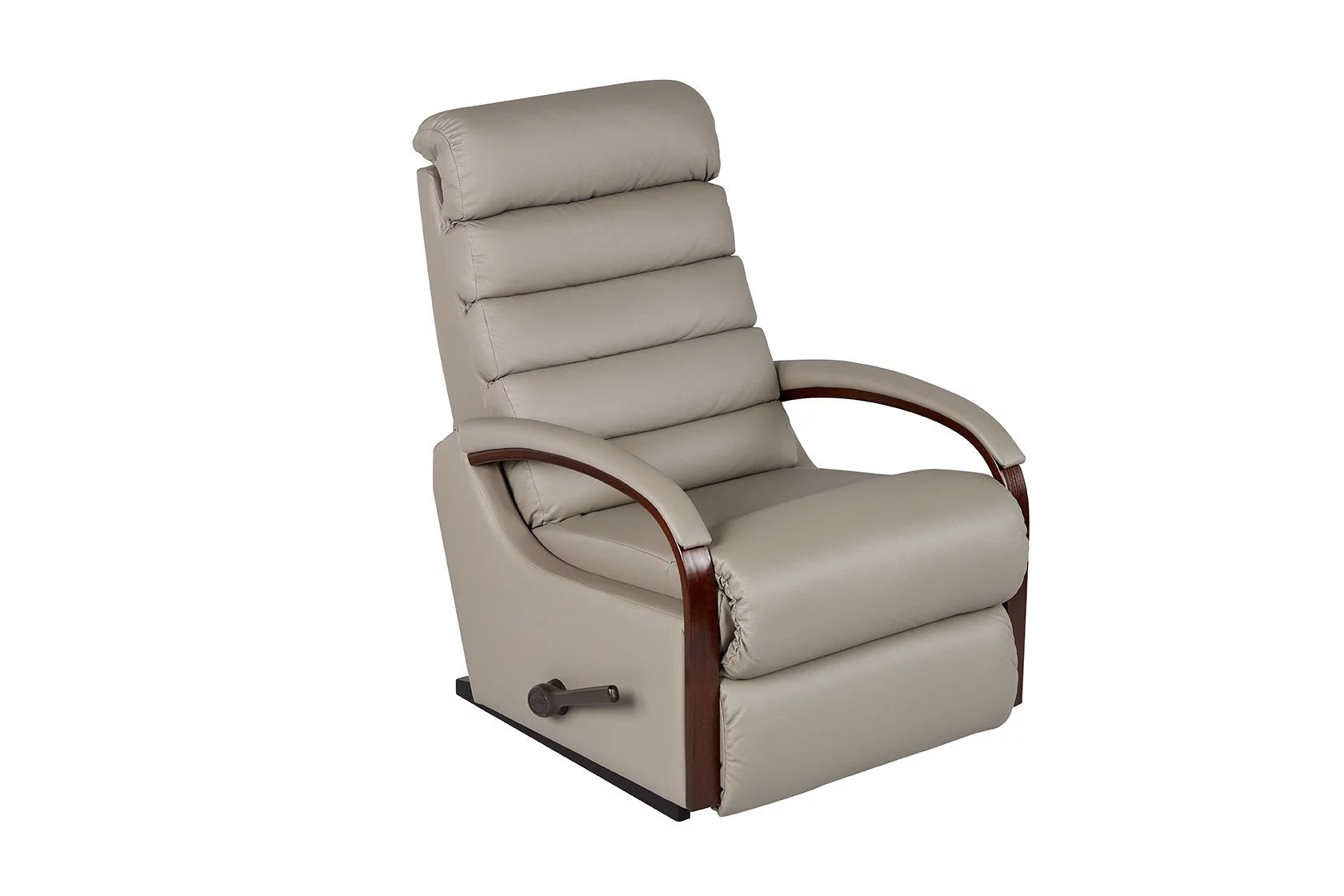 5. The Kimberly High Leg Recliner Chair
The Kimberly High Leg Recliner is known as a secret recliner as it is stylish with the unexpected ability to recline. It is a great choice for small spaces. With a new spin on a classic look, the Kimberly combines timeless style with modern reclining technology.
Simply push back to enjoy two positions of instant reclining comfort. With its softly-tailored wing-back, padded-rolled arms, and graceful cabriole legs, Kimberly can be dressed up for traditional décors or go casual for a more laid-back look.
Kimberly Dimensions:
Body Depth:

37.500000

Body Height: 41.000000

Body Width: 29.5

Seat Depth:

20.500000

Seat Height: 19.000000

Seat Width: 20.500000