Canadel Dining Room Furniture for Small Spaces
May 2, 2022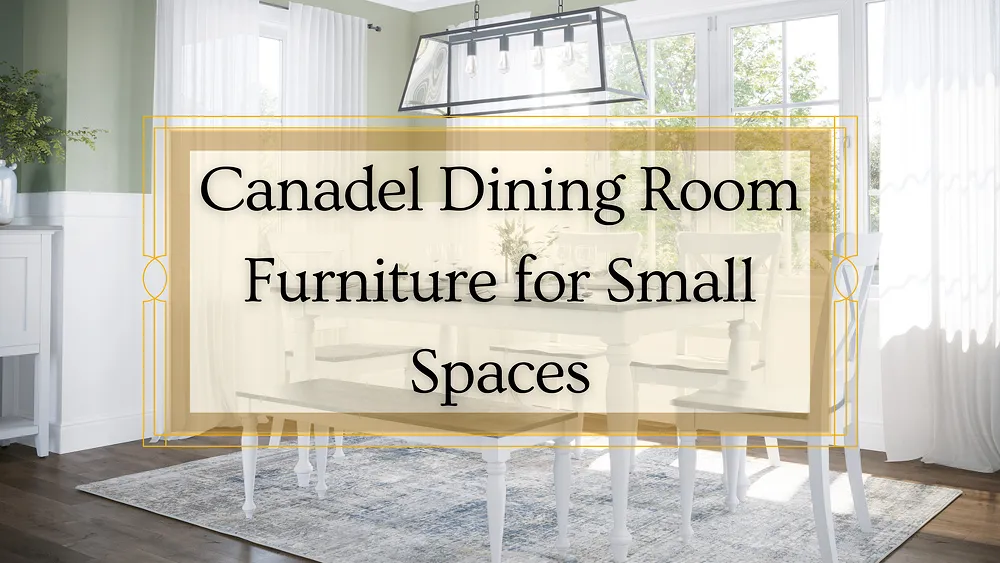 Est. Reading Time: 8 Mins
OPEN CONCEPT SPACES!!!
Now that I have your attention, let's talk about the exact opposite! It seems as though everyone loves the trend of having an open-concept space in their home.
Rooms separated by walls in common living areas are becoming less known in designing a home. Everyone wants their kitchen, dining room, and living room merged into one big room so that everyone can see everything.
But what about those who live in small living spaces that don't have open-concept rooms? What about those who live in, say, suburban apartments, condos, and townhomes that have wall-enclosed rooms? Is there still furniture out there for those individuals?
Yes, there is! Michelle MacLellan, an interior designer at La-Z-Boy, recommends Canadel as an excellent option for small space dining room furniture.
Canadel is a furniture retailer that specializes in high-quality custom dining room furniture. With so many choices at your disposal, you can quickly see that there are many different options for anyone living in a big or small space.
This article will look over what kind of small space furniture Canadel has in-store while also highlighting key factors to consider when furnishing a small space.
In this Article…
What is Considered a Small Dining Space?
Before we discuss the Canadel dining furniture suited for a small space, let's take a look at what a small space truly is.
Unfortunately, there is no hard rule or definition of a small space because everyone has their own interpretation of what a small space means to them. It is a matter of perspective!
At first, though, apartments may be the obvious answer for some of the smallest living spaces someone could live in. Apartments aren't exactly known to have a grand ten-person dining area.
Moreover, most apartments don't typically feature open-concept floor plans suitable for bigger pieces of dining furniture. That is why those who live in apartments typically seek smaller furniture options that complement the shape and size of your room.
With this, apartment residents often have to get creative. Perhaps utilize a kitchen island that doubles as a dining room table or create a small dining nook in an empty corner.
For more ideas, check out the article Small Space Design for Condos and Apartments.
Michelle also mentions that downsizing is becoming an upward trend. With many homeowners looking for smaller homes to live in, people are also looking for smaller furniture items to fit into those small living spaces.
For example, if a homeowner is decided to downsize from a large home to a more compact townhouse, they may lose the space for a dedicated dining room. Instead, families living in these spaces would have to make do with the additional space left in their kitchen to place a functional dining table set.
6 Factors to Consider When Furnishing a Small Dining Area
When working with minimal space, there are some factors to consider.
1. Measuring Your Space
First and foremost, measure your dining space! This is a crucial step prior to purchasing dining room furniture, especially if your space is limited.
By taking proper measurements of your dining area, you will have a clear understanding of what dining room furniture will fit. For detailed instructions, check out How to Measure a Room for Furniture.
2. Three is the Magic Number
Michelle also mentions that in a very small dining space, you can get away with only three dining seats. She says, three seats is the minimum for a true dining room set to function.
With that being said, lower traffic areas, such as corners, could even function with a 2½ piece seating arrangement. 2½ seating means that you have an additional seat that can be added or taken away when needed.
3. Don't Underestimate a Drop-Leaf Extension
Dining room tables with a drop-leaf extension are perfect for 2 ½ to three-person seating given that they compact and expand as needed. They also look good placed up against a wall which is a space-saver in dining room design.
4. Select Furniture with a Simple Design
It is a good idea to choose dining tables and chairs with a simple and compact design. You want a dining table that fits in your space and dining chairs that comfortably tuck under the table.
This means that you should want to look for smaller-looking chairs so that your small dining room doesn't look too crowded.
More specifically, Michelle recommends staying away from dining chairs with arms, puffy upholstery, and tall backs to avoid a "bulky" appearance.
5. Your Dining Furniture Should Compliment the Shape of the Room
Dining room furniture should also complement the shape of a room.
For example, if your room is more rectangular, it is a good idea to mirror this shape with a rectangular dining table. This will also create a full appearance of the room without impeding traffic flow.
6. Complete the Small Space with a Small Area Rug
Finally, Michelle mentions that area rugs can be a great addition to a small dining room space due to the fact that they'll make a room look full and decorated.
You can learn more about Area Rugs in Dining Rooms by checking out this article.
Canadel Dining Furniture for a Small Space
Now that you are aware of what might be considered a small space, let's see what small or multifunctional dining furniture Canadel has to offer.
Canadel Dining Tables for Small Spaces
When it comes to Canadel's dining table selection, there is a lot of variety and style put into each and every design displayed.
Canadel loves to showcase unique styles and complex ideas within its collections. However, when it comes to dining furniture for small spaces, simple designs might be the best option.
Complex design typically demands a bigger canvas, and the bigger the table, the more complex the look can be. For example, though stunning, rectangular, boat, and oval-shaped dining tables are typically too long for a small space.
Instead, square and circular dining tables work better, especially when it comes to table extensions. Longer tables tend to have bigger extensions while square or circular tables have more compact extensions, which is more ideal in a small space.
Speaking of table extensions, dining tables from Canadel's flagship collection, simply named Canadel, offers tables with non-storing drop-leaf extensions. These extensions hang below the edge of the actual table waiting for the opportunity to be used. When the drop-leaf extensions are not in use, the table is rectangular; when they are in use, the table is round.
These tables are increasingly popular in old resident homes, which are also considered small living spaces. They fit nicely in these small spaces because they are easily slidable, meaning they can be put against a wall and it would still look good.
Although drop-leaf tables are popular for some, others still seek out smaller tables with traditional leaf extensions. Luckily, most Canadel dining table styles are customizable in size meaning you can select a table you like and shrink it to your desired dimensions. With this in mind, 36" is the narrowest table width that Canadel offers.
Glass dining tables are also a great addition to a smaller dining space. Glass tables give off the illusion of opening up your space because these tables are transparent and appear less heavy, unlike wood tables.
The Downtown collection, specifically, holds an independent spot in Canadel when it comes to showcasing round glass dining table options within this collection.
You can learn more about Round Glass Tables by reading this article.
Canadel Dining Seating for Small Spaces
Moving onto dining room seating, Canadel offers dining chairs, stools, and benches in all shapes and sizes. It is important to choose the right seat that will compliment your room in a big (and small) way.
Michelle recommends that customers will want to stay away from bulkier-looking seats because they might take up more space than anticipated. This rule especially applies if you choose a dining table with a pedestal base. Bulky seating options, like upholstered dining chairs with arms, might have a harder time tucking fully underneath the table.
You can learn more about dining tables with pedestals by reading our comparison article of Canadel's Dining Tables with Legs vs. with Pedestals.
Moreover, armless options for chairs and backless options for stools are ideal for small space dining room design, according to Michelle. This way, you are able to optimize your dining space and seat more people comfortably.
Another great option that Michelle recommends is dining benches. While these are not the traditional seating style for dining room tables, dining benches are able to tuck fully underneath the table so that you can take full advantage of this extra space while not in use.
If you consider benches too long for your dining room, some collections offer dining benches in the shape of cubes, giving you an even smaller seating option to fully maximize your dining area.
Dining benches may not seem like the most comfortable piece of furniture to sit on. However, Canadel has cushion options available to keep your bottom comfortable.
Other Compact Dining Furniture Pieces
Along with dining tables and seating, you might appreciate a multifunctional dining buffet or hutch, if you have the extra space of course.
If you have any space available, a dining room buffet or hutch can be a stylish way of achieving extra storage space, which is always key when living in a small space.
Some collections like Loft and East Side carry small buffets that hold storage spaces, and that can even double as bookshelves.
What's Next?
Now that you know what kind of dining room furniture works well in a small space, why not check it out yourself?
La-Z-Boy is a proud partner with Canadel. Further, American Drew, Kincaid, and Hammary are subdivisions of La-Z-Boy incorporated that offer a wide range of dining room furniture. With such a large selection, we have much to choose from for small dining room spaces.
Visit Canadel's Kanata Location, as well as the La-Z-Boy Ottawa & Kingston Locations to find some of the best high-quality furniture pieces to add to your dining room.
For personalized shopping advice, book an appointment online or talk to an interior designer in person.
If you're also looking for small space furniture for your living room, check out these articles:
Related Articles:
Cost to Furnish a Dining Room: Budget & Cost Breakdown
Everything You Need to Know About Canadel Customizations
Product Info Request
Please provide us with your name and email and we'll get back to you as soon as possible regarding this item.