Everything You Need to Know About Customization at Canadel Custom Dining
April 4, 2022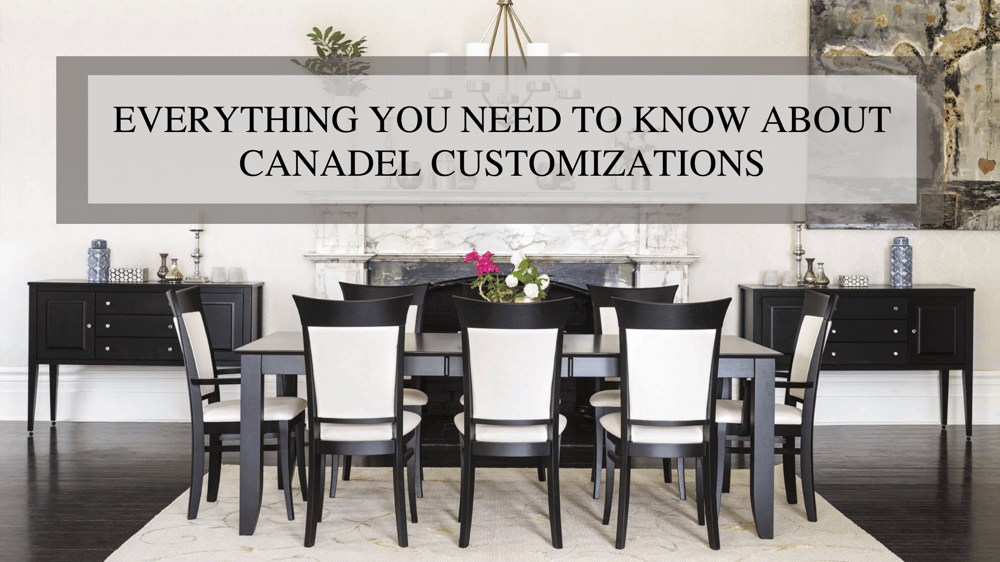 Est. Reading time: 12 Mins
Custom furniture offers the ability to personalize your desired pieces of furniture however you want.
Though it may come at an additional cost, custom furniture is becoming more highly desired, and in turn, furniture retailers are making it more affordable and accessible.
Take Canadel Custom Dining, for example! Canadel has been in business for over 30 years, making them experts in crafting unique and personalized dining room furniture for many to enjoy. They also happen to be part of La-Z-Boy's Ottawa and Kingston dining selection, with a flagship Canadel store in Kanata.
While some stores may have the option to change the size or shape of a dining table, Canadel has a unique way of bringing custom dining room furniture to another level with, what can feel like, infinite customization options.
While this seems very promising, you likely have many questions. What kind of customizations does Canadel offer? How can I visualize my dining furniture design? How do Canadel's customization options differ from other dining furniture stores?
Not to worry! This article will break down everything you need to know about Canadel's customization options, from the array of options to the interactive UDesign tool and more.
In This Article…
Deep Dive into Canadel's Customization Options
Canadel has 6 collections to choose from: the self-titled Canadel collection, East Side, Gourmet, Downtown, Champlain and Loft. Each displaying unique design and styles, the 6 collections are similar in their ability to be customized.
Each collection has its own number of furniture options available, some more abundant than others. Canadel's Flagship collection, for example, has the most number of furniture options to choose from because it has 4 different styles showcased in that collection (the other collections only have one distinct style).
Further, some Canadel collections may not feature certain furniture items as prominently as others. For example, Gourmet is truly the only collection to feature a versatile kitchen island within its collection. Other collections don't have kitchen islands, and if they do, they are mostly featured in the buffet section of the UDesign tool.
Alternatively, some Canadel collections go beyond just dining room furniture, showcasing occasional living room options.
Lastly, style obviously plays a big factor in choosing furniture as well. If you're looking for unique furniture, you're already in the right place, but finding out which style speaks more to you is a different story.
Certain styles are featured more prominently than others. For example, Champlain has a more distressed look to their tables, making them look like an old family heirloom. As for East Side, it features a live edge option, which makes the furniture look more like it came right from a forest tree trunk.
You can learn more about each collection by checking out the following review articles:
But for now, let's take a deep dive into the specific customization options offered at Canadel.
Dining Table Customizations
The dining room table is the centrepiece of any dining room. With that being said, Canadel offers numerous dining table customization options allowing customers to create unique tables that suit their own style and preferences.
Dining Table Shape & Size
The shape and size of a dining table play a big factor in choosing the right table for your dining room, and there are many different table shapes to choose from.
Table size is especially important to look out for. Some collections offer more options than others, but, depending on the type of style you want, it is up to you to decide if you need a longer, shorter, narrow, or wide table.
Canadel has many different dining table dimensions, which can all be found in the UDesign tool.
One of the bigger dining table options is Champlain's harvest tables, which can seat well over 10 people. So if you love hosting, or have a larger family to feed, this table might be more suitable for you.
When it comes to shape, Canadel has the following shapes to choose from …
Round
Rectangular
Square
Oval
Drop Leaf
Boat
The shape options available vary among the different Canadel collections.
most collections in Canadel offer round and rectangular dining table options. However, collections like the flagship collection and Gourmet have square, oval, and boat. So, if you're looking for a more uniquely shaped table, these collections might be more enticing for you.
Once you have chosen a shape and size for your dining room table, these dimensions will come in handy if you decide to incorporate an area rug into the room as well. Check out our article Do Area Rugs Belong in a Dining Room?
Dining Table Tops
All Canadel collections mainly have two tabletop options to choose from, those being wood and glass.
Some collections feature these options more prominently than others. For example, Downtown is heavily praised for its glass table options, because of the overall look of the furniture.
It is also important to note that Champlain's tabletop options do not feature any glass options and only wood. The reason being is because the style of french country does not quite match well with glass tables.
Some collections, like Gourmet, also feature the option to select a table top with a wood finish that contrasts that of the legs or pedestals. This means you have the choice of colour coordinating or mixing wood finishes. This offers more variety of colours within your dining room collection, which we will talk about later.
Dining Table Legs & Pedestals
Every collection has a different number of leg and pedestal options to choose from.
The difference between legs and pedestals is that leg options are offered usually with rectangle-shaped tables, whereas pedestals are usually offered in round-shaped tables. Moreover, the live edge option in the East Side collection is featured more prominently in its pedestals.
Certain collections also have double pedestal options, which share the same purpose as legs and pedestals, but are featured in longer tables to create a more stylish and sturdy look.
Dining Table Edges
Dining table edges offer the option to change the design on the edge of your Canadel dining table. Keep in mind that not all collections have customizable table edge options, but some of them do.
The flagship collection has 5 different edge options to choose from, which are displayed on the right.
Gourmet also shares these edge options (excluding the thicker table edges), whereas Champlain has only the thicker square edge option–the difference in thickness is about 1½ inches.
Every collection listed has table edge options that vary in thickness, shape, and design.
Dining Table Height
Table height is also very important to take into consideration, especially when it comes to choosing your dining room seating. You wouldn't want to pair a common dining room table with bar height stools. Or alternatively, pair a bar height dining table with a low sitting bench.
When it comes to choosing a dining table height at Canadel, not all dining collections have abundant height options. However, most of them have generous choices, like bar height options, if that's what you're looking for. The only collection to not feature a bar height dining table option is East Side.
Canadel offers the following dining table heights across all collections. Each height is measured by inches off the ground:
30" dining height (regular seating)
36" dining height (barstool seating)
As previously mentioned, it is crucial to coordinate the height of your dining table with dining seating, especially stools. Check out our Guide to Choosing the Right Stool Height.
Dining Table Extensions
Finally, dining table extensions are always a great choice when you are looking for a medium-sized table that can occasionally expand to host guests.
Jack-knife extensions and self-storing leaves are available in almost every Canadel dining collection. Each dining table extension offers at least another chair's length, giving the dinner party extra space for two additional guests.
East Side's jack-knife extensions are uniquely placed on one side of the dining room table, giving off the element of surprise.
Keep in mind, that leg and pedestal options on a dining table play a factor in your table's ability to include an extension. For example, self-storing leaf extensions in Gourmet are available for dining tables, but only if they have legs. The same thing applies to Downtown's self-storing leaf extensions.
Dining Seating Customizations: Chair, Stool & Bench
Out of all the different dining seating options available, customers can choose between wood or upholstered seating.
More specifically, dining chairs at Canadel have a lot of different customization options available. You can choose from an array of uniquely styled back designs, arms or armless options, and there is even the option to choose a nailhead trim on the upholstered back of a chair.
Dining chairs and stools in the Downtown collection also have the added option of quilted or non-quilted upholstery.
Speaking of stools, dining stools mostly all have the same options available, along with different height options for barstools, back or backless options, and swivel or non-swivel options. All collections also have wooden stool choices, except for Loft, which is the only collection where metal stools are available.
As for dining benches, these options are a little different than the choices offered with chairs and stools. Benches can either be long or short. Cube-shaped dining benches are typically popular with more small and casual-looking dining room tables.
These are just some of the many chair model options available at Canadel!
Dining Seating Upholstery Fabric Customization
By now, it is clear that all dining seating at Canadel has the ability to be upholstered. With this, Canadel offers a range of fabric options to choose from.
Canadel has many different fabric booklets and catalogues that salespeople can reference. A popular catalogue many customers find enticing is the Sunbrella catalogue, which includes different colours like the ones shown below.
Dining benches in certain collections also have the option to have velvet, leather, and faux-leather covers. It all depends on which collection you're looking at and what they offer.
Dining Buffet Customizations
The customization options for Canadel dining buffets depend on the specific collection.
Certain collections either have ample storage options, like bookcases in East Side, or small kitchen islands, and some can be as small as a shelf and two cabinets.
Some collections, like Loft, have different styles for their buffets. For example, the Loft collection has a unique charcoal colour available to accentuate its rustic-industrial aesthetic.
The dining buffets shown below are from Canadel's flagship collection.
Kitchen Island Customizations
Kitchen islands are not very abundant among Canadel collections, and in turn, neither are their customization options. Most of these kitchen islands are offered as buffets because there isn't as much versatility to them.
The only collection that does have a stellar kitchen island is Gourmet, which grants the family chef a seemingly expert-level cooking station at their disposal.
Not only does the Gourmet island have extra counter and storage space, but it also has the option to be stationary or mobile. Wheel options are available and are ideal for someone who loves hosting outside.
Gourmet's island also has different countertop options available, ranging from a full wooden top to half stainless steel, to including a leaning bar counter so you can make it a true island with Gourmet's matching barstools.
Occasional Customizations
Canadel's flagship collection, Champlain, and Loft all have occasional living room table and media unit selections if you are looking for furniture beyond the scope of the dining room.
Though Canadel's occasional furniture selections aren't as vast as dining room furniture selections, the occasional furniture items still have many different customization options.
Three different table options are available within each occasional selection. These choices include coffee, end, or sofa tables. You can also change the shape and wood finish colour of any occasional table you wish.
There are also media units to choose from, which are usually storage units made for holding larger TVs. Media units have almost the same design as dining buffets.
Wood Finishes & Glass Options
As mentioned above, Canadel has an enormous range of wood finishes and glass options available to help personalize your dining room furniture. Each collection has a uniquely styled booklet that Canadel salespeople can reference to help choose which colour is best for you.
The table below shows how many wood finish and glass colours are available in each collection:
Canadel Collections

Wood Finishes

Glass Colours

Canadel

56 wood finishes

7 clear glass colours




6 frosted glass colours

East Side

11 wood finishes

7 clear glass colours




6 clear glass colours

Gourmet

20 wood finishes

6 clear glass colours




5 frosted glass colours

Downtown

52 wood finishes

7 clear glass colours




6 frosted glass colours

Champlain

16 wood finishes

N/A

Loft

10 wood finishes

7 clear glass colours




6 frosted glass colours
What Sets Canadel Apart from Other Dining Stores
Many dining room furniture stores offer "custom furniture", but not all customized dining furniture is created equal in terms of the available options.
As previously mentioned, something that sets Canadel apart from other custom dining furniture stores is its vast selection of customization options. At Canadel, you can more or less design your very own unique dining furniture, within the scope of Canadel's very wide selection.
Given that every piece of customized dining furniture is unique, Canadel's furniture is 'made-to-order'. This is a testament to the level of detail and quality of craftsmanship that goes into making each and every Canadel product.
Canadel's UDesign Tool
As mentioned before, Canadel's seemingly unlimited customization options are made easy with its very own UDesign tool.
This organized and interactive interface was created by Canadel to allow online users and Canadel salespeople alike to easily customize the materials used to make their dining room furniture.
Users are able to roam freely from collection to collection and choose the selections they want, while it displays what your furniture will look like.
While many furniture retailers offer custom dining furniture, very few offer a helpful tool like UDesign. Other dining room stores that offer custom dining furniture do not have a similar tool like UDesign. However, this does not mean there aren't any terrible options out there to choose from.
Amisco, for example, displays its dining room furniture like La-Z-Boy's interface, where the online user filters their selections and customizes the options shown by choosing the materials used and the colours of the fabrics. Along with fabrics, customers can also choose a wood finish for leather option, if those options are listed.
There is one problem that sticks out when comparing the UDesign options with this type of custom dining room interface, however. The amount of customization options is not as abundant as Canadel's UDesign tool.
Yes, there are numerous fabric and wood finish options to choose from, but, most places do not offer height adjustments, leg or pedestal replacements or the ability to choose arms or no arms for seating options like UDesign does.
In fact, most custom dining furniture stores, such as Amisco, display their dining furniture selection on a traditional interface organized by products and categories. With basic customization options available, the only way to ask for these personalizations is by visiting a store and going in person and talking to a salesperson to see if they can possibly do it for you. This, however, is never a guarantee.
There are also some dining room stores that offer custom options, like Polanco and BluePrint Home. While these stores offer high-quality products, their website is even less intuitive as they do not display or promote customization options at all on their website.
The only way to ask for customizations is to go in person to see what their customization options are. This is not always the better option because some users may not be able to go in-store if the location is not easily accessible.
Some stores like Dufresne and Valley Squire carry dining furniture from exterior brands and manufacturers, so the customization options are dependent on the specific brand. With this, only select dining furniture at these stores is customizable. Although different brands are offered, these companies may not offer customizations, simply because they do not specialize in them.
Nonetheless, this gives lesser-known furniture stores an opportunity to shine and let their voices be heard. Canadel is actually one of the options available at both Dufresne and Valley Squire.
Disadvantages to Canadel's UDesign Tool
Although UDesign is a very intuitive tool with a lot more options compared to other custom dining websites, some individuals who aren't as technological might struggle in operating this tool.
More specifically, the vast amount of customizations might feel overwhelming and confusing to navigate. Those who aren't as technologically inclined might not enjoy UDesign because of the many options it has. There is a quick tour that UDesign offers newcomers, but it does not show everything that the tool can do. With the UDesign tool, you might even miss certain furniture options available if users do not click on each option shown.
With so many options to choose from, some users may not fully see what Canadel has to offer. In comparison, other retailer interfaces with more simple customization selections might provide a more simple experience. With the UDesign tool, you might miss certain furniture options available if users do not click on each option shown.
Time also plays a factor in choosing your furniture. Using the UDesign tool, rather than using a simple filtering option from other websites, might take longer due to the number of customizations and options there are. It also might take longer because, as mentioned above, there are a lot of options available within each collection.
While the Canadel UDesign tool is undoubtedly complex, there is a way to use this tool with ease. Make sure to check out our UDesign Tutorial article to find out how to properly go through each section that UDesign offers.
Canadel Signature
Not only is Canadel unique in its wide variety of customization options and one-of-a-kind UDesign tool, Canadel also offers options for customers who do not feel satisfied with their customization choices.
Canadel's Signature program allows customers to modify existing Canadel products to satisfy any home furnishing needs. Customers can choose to modify any furniture from any Canadel collection to a specific style or modification, should they feel unsatisfied with the selections displayed in the UDesign tool.
The main factor used in the Signature program is that you can mix and match options and customizations from different collections, something the UDesign tool does not allow you to do. So, if you find something from one collection enticing but also see something that would look great within another collection, you are able to combine customizations and styles.
Below are the customizations available for each piece of dining furniture in any collection:
For chairs, you are able to add nail heads (or change them), add additional foam, add finishes from other collections, and add arms (if applicable). You cannot design a completely new chair, colour match or rescale a chair.
For tables, you are able to alter the dimensions, alter the type of wood used (clean, distressed, etc), and add options from different collections. You cannot resize legs or pedestals.
For buffets, you are able to add more than one colour to the design (wood finish), add different finishes that aren't included in certain collections, add wood/glass doors (if applicable), and add shelves and lights. You cannot design a new buffet from scratch.
For stools, you are able to add nail heads (or change), add additional foam, and add more than 2 fabrics and more than 2 colours. You cannot make stools taller, add rungs, design a new stool from scratch, or change dimensions.
For benches, you are able to add nail heads (or change), add buttons to the fabrics, and add different wood finishes. You cannot modify the width of the bench or design a new bench from scratch.
Since the signature program is custom, each request a customer makes has to be filled out via the online Signature request form. The request form determines if the modifications are possible to be made by Canadel's manufacturers.
It is important to note that once your request form is submitted, there are no cancellations, changes or holds permitted. There are also no 3D images or drawings provided with the requested items.
Further, the delivery time for these products may take more time than regular Canadel products because they are more specific. Custom furniture already takes longer to manufacture than generic furniture items. On top of the average 4-6 week lead time, Canadel furniture designed with the Signature Program may take an additional 2-3 week delivery time.
What's Next?
Now that you know everything about the customization options available at Canadel, why not check them out yourself?
From reading this article, you can tell that Canadel's UDesign tool offers plenty of customization options. Make sure to check out the UDesign tool so you can find all Canadel dining room collections in detail.
If you require assistance navigating the UDesign tool, check out this helpful article for a step-by-step tutorial.
La-Z-Boy also offers design assistance on all things Canadel custom design. By visiting an Ottawa or Kingston showroom, or the Canadel Kanata showroom, you can receive one-on-one assistance in selecting and custom designing your Canadel dining furniture.
You can also book an appointment with our interior design experts for any burning questions you may have.
Related Articles:
How to Decorate Your Dining Room: 6 Simple Tips to Follow
How Much Does a Dining Room Table Cost?
Product Info Request
Please provide us with your name and email and we'll get back to you as soon as possible regarding this item.