Dining Room Tables: Which Shape & Size is Right For Your Space?
May 16, 2022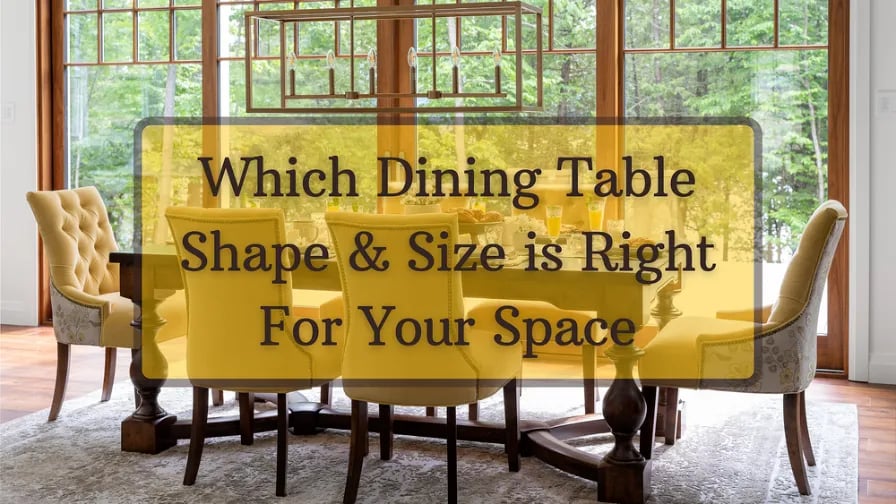 Est. Reading Time: 8 Mins
A dining table is the focal point of any dining room. With so much opportunity to express yourself within a piece of furniture, some might struggle in knowing what might be best for them.
When it comes to Canadel dining tables, there are so many customization options to choose from. From round dining tables, to square, to even boat-shaped tables, Canadel has it all.
But you might be thinking to yourself, "what table shape is best for me?" or "how many table shape options are there?" You may even be wondering, "what the heck is a boat dining table anyway?"
Zeina Badawi, an interior designer at La-Z-Boy, tells us that "there is a lot to think about when trying to pick the right dining table for your space." And that is exactly what we are going to cover in this article.
To help better clarify which dining table is right for you, we will discuss the types of table shapes you can find, the advantages and disadvantages of each table shape, and some big factors to consider when finally purchasing a dining room table.
In This Article…
Types of Dining Tables: Shapes & Sizes
When going to a retailer that sells dining room furniture, shoppers can easily find 4 main types of dining table shapes: Square, Round, Rectangular, & Oval.
Although there are more possible shapes for a dining table, we will be focusing on the 4 main table shapes to keep things simple for you. Below is a quick overview of each common dining table shape you can find anywhere.
Square Dining Room Tables
Square-shaped dining tables, though not as common as rectangular tables, are pretty versatile in their own way. Along with round dining tables, square dining tables do have the ability to change shape, with the right table extension.
Square dining tables can transform into rectangular tables when extended while round dining tables can change to oval tables. Although they can change shape, however, the extensions might not always be enough to accommodate someone who would want a longer table.
Table extensions tend to add about 10" inches to a dining room table, on average.
Square dining room tables work well, coincidentally, in square shaped-dining rooms, due to them complementing the room design and filling the space nicely.
Square tables also provide added intimacy for a smaller crowd, something that longer tables cannot do. When it comes to smaller groups of people, the satisfaction of sitting closer to them is much better than feeling spread out or dispersed.
Round Dining Room Tables
Similar to square dining tables, Round dining tables are also the perfect size for smaller rooms and intimacy.
Zeina says that round dining room tables "create the illusion of a table looking smaller." This means that this particular table shape compliments a smaller space much better than a square-shaped dining table.
If you are looking to accentuate the illusion of a round dining room table, glass round dining tables are also perfect to create an airy and spacy look to a room. You can learn more about Glass Round Dining tables by reading this article.
Rectangular Dining Room Tables
Rectangular dining room tables are the most common table shape you can find in any house. These tables hold a lot of versatility within them, more so than any other table shape.
Since they are not square-shaped, rectangular tables are able to seat more than 4 people and can typically come with table extensions to further increase the number of people at the table. In turn, the number of people sitting at a table can be an enormous amount.
The ideal rectangular dining room table has a width of around 36-42 inches; anything more narrow or wide can cause dimensional problems within the room. This is assuming, of course, that this is an average-sized dining room.
Narrow tables can cause placement problems within your dining room, possibly requiring the help of a dining buffet to help hold food items. The wider the table, the more awkward and square shape it'll look.
Oval Dining Room Tables
Oval dining room tables seem to have a lot of versatility as well. While keeping the endless length of a rectangular table intact, it also holds the illusion of looking smaller than other tables with its round table edges, like a round dining table.
With this, oval tables may be considered the perfect meeting of the aforementioned rectangular and round dining table shapes.
While oval dining tables are long and curved, they, unfortunately, have less surface area than rectangular tables, because of their rounded corners.
While this may not be too much of a problem, this difference might be more noticeable if there are a lot of people seated at an oval table.
Types of Tables at Canadel
Canadel has been creating custom dining room furniture for over 30 years for families all over North America, handcrafting all of their high-quality furniture for many to enjoy.
Along with the 4 main dining table shapes we've previously discussed, Canadel has a 5th dining table shape which we will discuss shortly. Along with this other table shape, we will also discuss the different dining table dimensions you can find at Canadel.
Boat Dining Room Tables
One of the lesser-known dining table shapes is the boat dining table. While less common than the other tables mentioned before, this dining table is not too far off from rectangular and oval-shaped dining tables, pulling attributes from both.
The only downside to this table shape is there isn't a very huge number of boat dining tables at Canadel. The only collection at Canadel that features a boat-shaped dining table is the flagship collection in the Core style.
Other than that, no other collection offers anything other than the 4 main shapes.
Dimensions of a Canadel Dining Room Table
Canadel has only two height options for all dining room tables in all of their collections. Customers can choose either the standard 30" table height or a bar table height of 36".
When it comes to width, Canadel's narrowest dining table option is 36" and its widest is 84".
Finally, when discussing length, tables can be as short as 26" or as long as 96". All of these dimensions do not include any table extensions, however, which can add an extra 10" to a table's length, as mentioned before.
Canadel's dimensions are not as concrete as they seem. Since Canadel is all about customization, even their dimensions can be customized, thanks to the Signature Program.
This program gives customers the opportunity to incorporate more specific customizations through an online request form. Signature dining room furniture can surpass the displayed dimensions of the tables at Canadel, should the customer choose to want this.
Be warned, however, that if your customization requests are too specific, your furniture request can be denied. This can be due to manufacturers not being able to execute these requests.
5 Factors to Consider When Buying a Dining Room Table
Zeina mentions 5 different factors to consider when someone wants to purchase a dining room table but isn't sure what kind of shape or size they may be looking for.
Zeina says that these factors will help you decide clearly which dining table shape is right for you.
1. What is the Shape of My Space?
The space where your dining table is going matters a lot.
When looking at your space, is it big or small? Is it wide or narrow? Is the room open-concept, or not open-concept? There are certain shapes and sizes to a table that will complement your dining room really well.
Rectangular and oval-shaped dining tables complement a space that is bigger and longer, whereas a square or round dining table might look better in a smaller space.
One thing people also must know is where your dining room furniture is going to be placed. Obviously, a dining room set would be placed in a dining room, right? Well, some houses don't always have a designated dining room.
Instead, a dining area might be in a part of the kitchen or near a nook in the house. In a small space, square and round dining tables thrive, especially when they have dining benches that can easily tuck under the table for optimized space.
You can learn more about Small Space Dining Room Furniture by checking out this article.
2. What Are Your Room Measurements?
This one is a no-brainer, but you must know how big or small your space is.
You want to ensure that the size and shape of your dining room table fit comfortably into the size of your dining room. More specifically, it is important to leave room for effortless traffic flow around the table and space to pull out and tuck in dining chairs.
In fact, Zeina mentions, that this factor is important when it comes to discussing the shape and size of a table but also the types of chairs you can fit into your dining room.
If someone wants captain's chairs (head chairs with arms) or dining benches, oval or round dining tables might not be the right choice, since they might look a little dysfunctional or busy.
"Instead, customers would want to consider rectangular or boat tables for benches and captain's chairs," says Zeina.
Taking room measurements isn't always easy. Learn more by reading How to Measure your Space for Furniture.
3. How Many People Will be Sitting at My Table?
Do you live by yourself? Do you have roommates? Live with a significant other? Have children? Or even animals?
Okay maybe not animals… but, considering how many people will be eating at your dining room table will determine what shape and size you will need.
If you live by yourself or with 1 or 2 other people, you might feel like a square or round table will better suit your space. If you have a family with children, perhaps a rectangular or oval-shaped table is better suited for you.
Zeina says it takes about 2 feet (24") for someone to sit comfortably when sitting at a dining room table. So, keep that in mind when looking at the inches of a dining room table.
Zeina breaks down the number of people at a table and the ideal length of a table like this:
Canadel Dining Tables

Number of People

Length of Table

2 People

24"-36"

4 People

48"-60"

6 People

72"-84"

8 People

96"-108"

10 People

120" +
4. What Aesthetic Do I Want?
The style and the aesthetics, while not as important as one may think, also play a big part when choosing the right dining room table.
Choosing something that compliments the style of your home will make your dining room look and feel consistent, according to Zeina.
When looking at a dining room table, people tend to notice a lot more than you think. From the base, the wood finish, and the shape to even the legs or pedestals of the table.
Speaking of legs and pedestals, there are many benefits and disadvantages to consider for each of these choices, which you can learn more about in our comparison article on the subject of Pedestals vs Legs.
5. How Expensive Is It?
The bigger the table, the more expensive it'll be. When it comes to the materials being used, Canadel uses high-quality materials to craft their furniture. So it is already considered more expensive than many other dining retailers.
But it isn't just the size and quality of a table that plays a part in the pricing. There is also the thickness of the table, whether you choose to put legs or pedestals, if you choose a glass tabletop or a wooden tabletop, and even the type of extensions you want to add.
All of these customization options are included at Canadel by accessing the UDesign tool.
What's Next?
Now that you know everything about dining table shapes and sizes, you have more knowledge about which shape might be the best fit for you. With that being said, why not check out some of Canadel's dining tables yourself?
La-Z-Boy continues to partner with Canadel to sell high-quality furniture. Visit one of our La-Z Boy Ottawa & Kingston stores today or the Canadel Kanata showroom. You can also schedule a visit online before coming in.
La-Z-Boy offers not just Canadel dining furniture in showrooms, but also has dining furniture options from American Drew, Kincaid, and Hammary that are available to browse in detailed catalogues.
If you would also like to learn more about Canadel's UDesign tool, check out this helpful tutorial.
Our design consultants are always eager to lend a helping hand. Take advantage of our complimentary interior design services to see how your dining room furniture could fit in your home.
Related Articles:
Review of Canadel's Gourmet Collection
Review of Canadel's Downtown Collection
Product Info Request
Please provide us with your name and email and we'll get back to you as soon as possible regarding this item.