Small Space Design for Condos and Apartments
October 21, 2020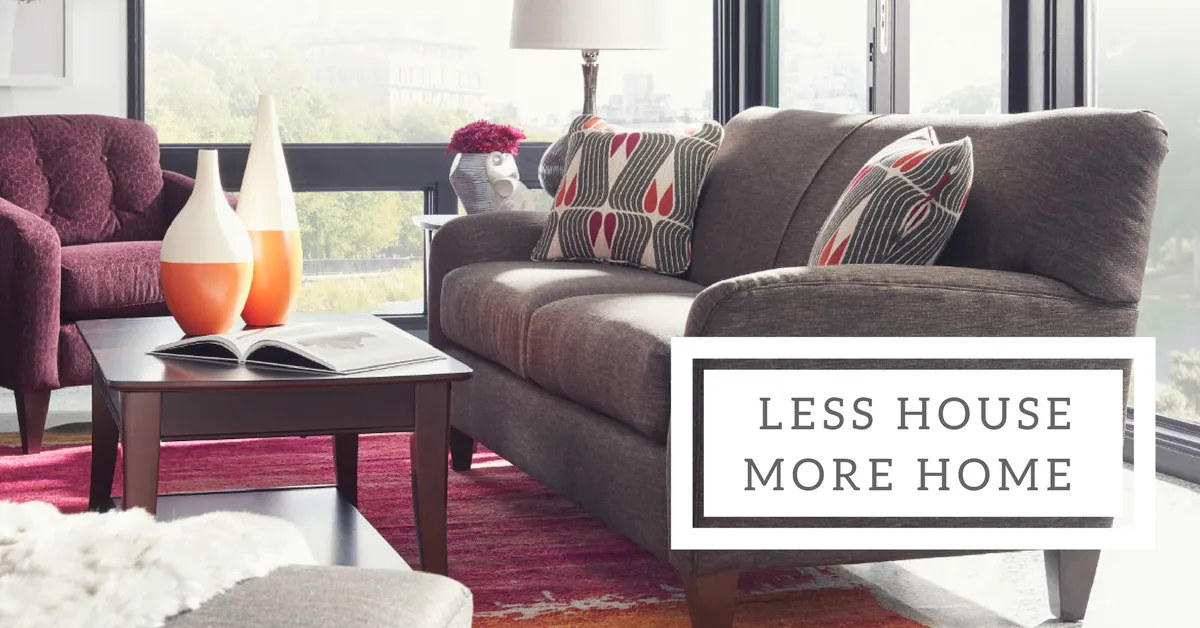 Interior Design for Small Spaces
We often think of moving to a smaller home like a suburban apartment as a means of retiring and living with less (AKA downsizing). In reality, young adults also live in small homes when they first start their education or career.
In this article, we're going to talk about all kinds of small space design, not only from a professional point of view but also from a personal one. As an interior designer who has just moved into her first 2-bedroom condo, I have plenty of first-hand knowledge on the subject.
Think of your small space as a box. Obviously, the smaller the box is, the less it can fit. Common sense, right? But in order for this box to become a home, it needs to accommodate all your day-to-day activities; such as sleeping, eating, entertaining, working, watching TV… etc. With a small space, however, we need to be a little bit more creative when designing for such functionality.
Small Kitchen & Dining Layout
When it comes to a small kitchen and dining room, you really do have to prioritize and see what is most important to you. There's probably only one or two people living in the space, so technically, you don't need a lot of furniture on a day-to-day basis.
You just have to find solutions for when you entertain and have people over. For example, in open concept condos, you will have a kitchen island that can be utilized for dining purposes. It will fit 2-3 people, so maybe you don't need a dining table after all.
Or, maybe expandable tables are the way to go in your kitchen. They don't require a lot of space and they give you the flexibility to make them larger when needed.
For instance, a 36" round dining table is enough for 2 people and can fit 4 people if you add a 16" leaf, making it 36" X 52". This would be very handy when you're entertaining and when you need some extra surface space for working, studying or doing crafts.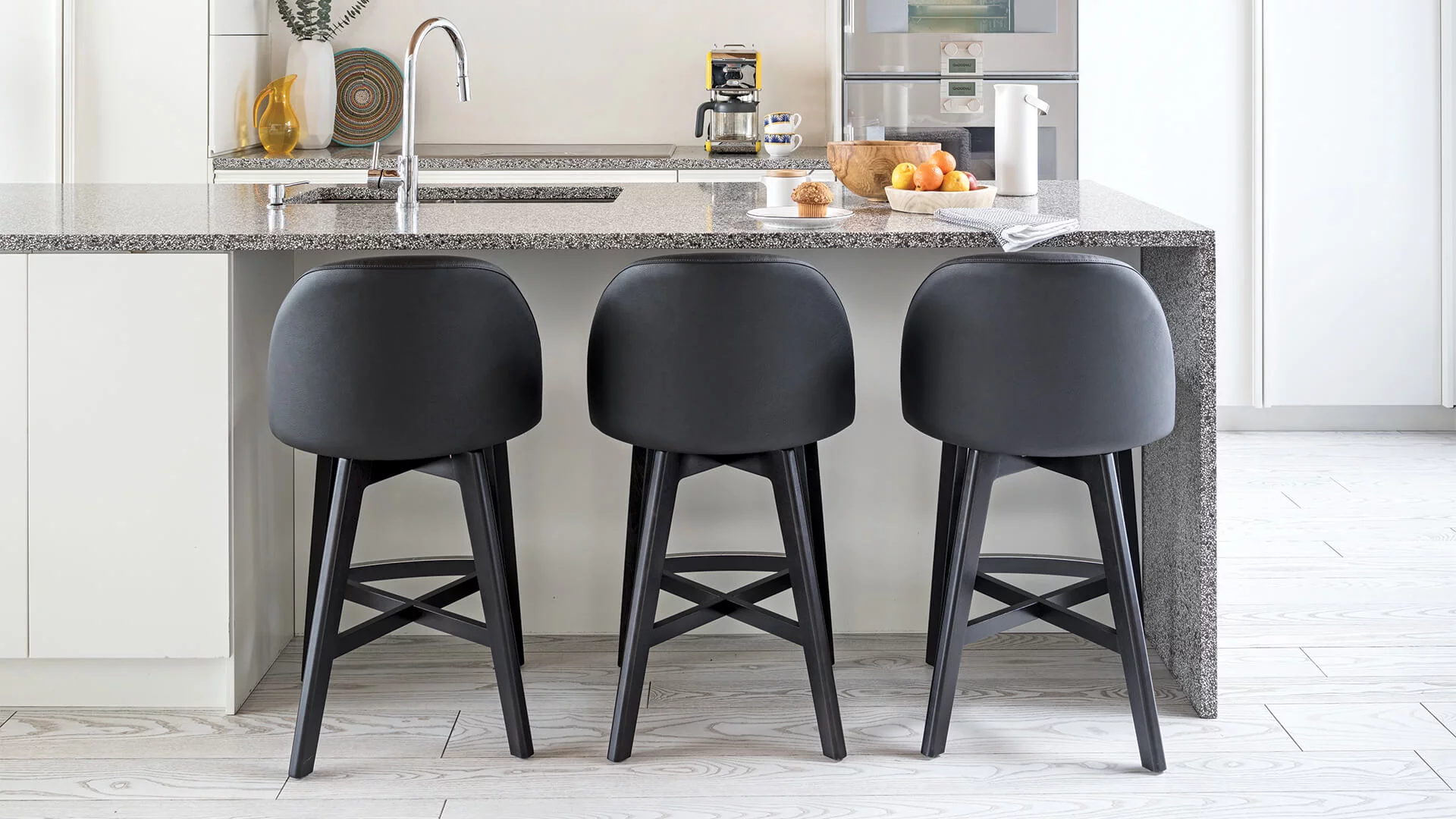 Kitchen Island as a main eating space.
Use visual separation of functions in your living space
I often see individuals using a big bookcase to separate the dining room or office corner from the rest of the living room. This might be the number one mistake people tend to make in a small living room.
While this is a great idea in concept, implementing it means that the room is going to get smaller. These tall elements are considered visual barriers and can divide your room and make it look crowded.
The best way to separate the different areas you have in an open-concept space is to opt for area rugs. An area rug adds interest to the room, defines the space and grounds the furniture together. Furthermore, a rug used within a seating area makes a statement. It clearly identifies that the zone serves a different function than, for example, the dining room or office space which can share the same room.
To learn more about how to define your space with an area rug, check out How to select the perfect area rug.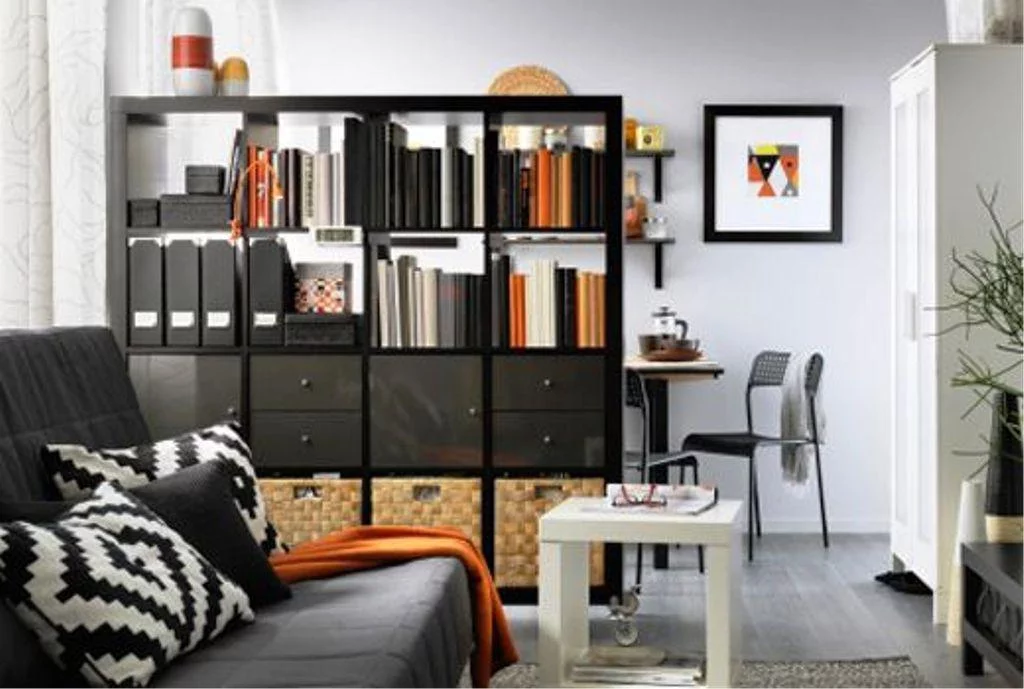 Tall bookshelf used as a room divider and is a physical barrier. (what not to do)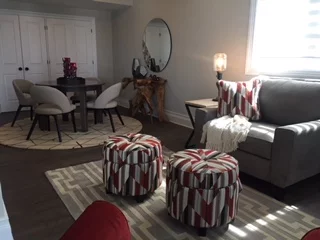 Area rugs used to define the eating area from the living area (visual, non-physical, separation).
Small Space Furniture: Storage and multipurpose pieces
You can never go wrong with having more storage space; trust me on this one! A great way to maximize space is to include furniture pieces that combine different features. Whether we're talking about a TV stand, a coffee table or a bed frame; almost all furniture pieces can have some sort of storage element. Multipurpose furniture combines two or more features into one piece, hence, they take up a smaller footprint.
An ottoman that offers you storage space, has a tabletop, and can also be used as an extra seat for when you have guests over. Your TV stand can also be used for storage. Utilizing your small space for storage is very easy, especially when you do so without taking away from the layout space
Whether the furniture has a storage compartment or lots of drawers, extra storage space is great. I will let the pictures below do the talking:
Floating furniture for small spaces
Another tip we want you to think about is accessorizing your space. You want to add these little elements to your home to make it cozier, but you're skeptical because you think it will take up too much space.
When talking about furniture in small areas, a great trick is to take it into the air. Yes, you heard correctly. We mean floating furniture, floating cabinets, lamps with tables, and floating shelves for your accessories.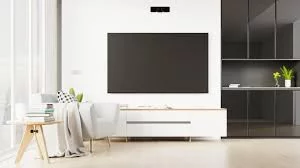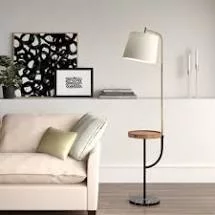 Using colour when designing small spaces
So you've chosen your main pieces. Now you need to think of colour! Your choice of colour has a significant impact on the openness of your room. You can never go wrong with white walls.
Moreover, make sure your essential furniture pieces, like your sofa or sectional, are a light beige or grey colour. These choices will simplify your space, creating an illusion of a larger area. If you're the type of person who doesn't usually opt for basic neutral tones, you can always incorporate your colours in your throw, accent pillows, and other accessories.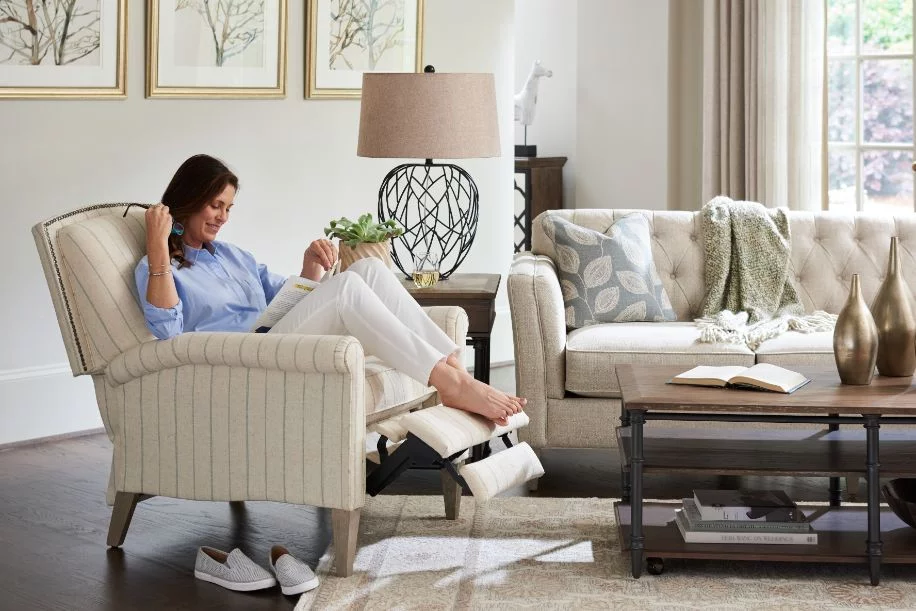 Make room for overnight guests with a sofa bed
One final way to save on space is with a Murphy bed or a sofa bed. A murphy bed works well in a very tight space when there's no need for extra seating. They can be great space savers when you don't have an extra guest room.
A pull-out couch in the den or office can quickly transform the space into a cozy bedroom for friends & family. The sleep sofa serves a dual purpose and allows for extra seating during the day.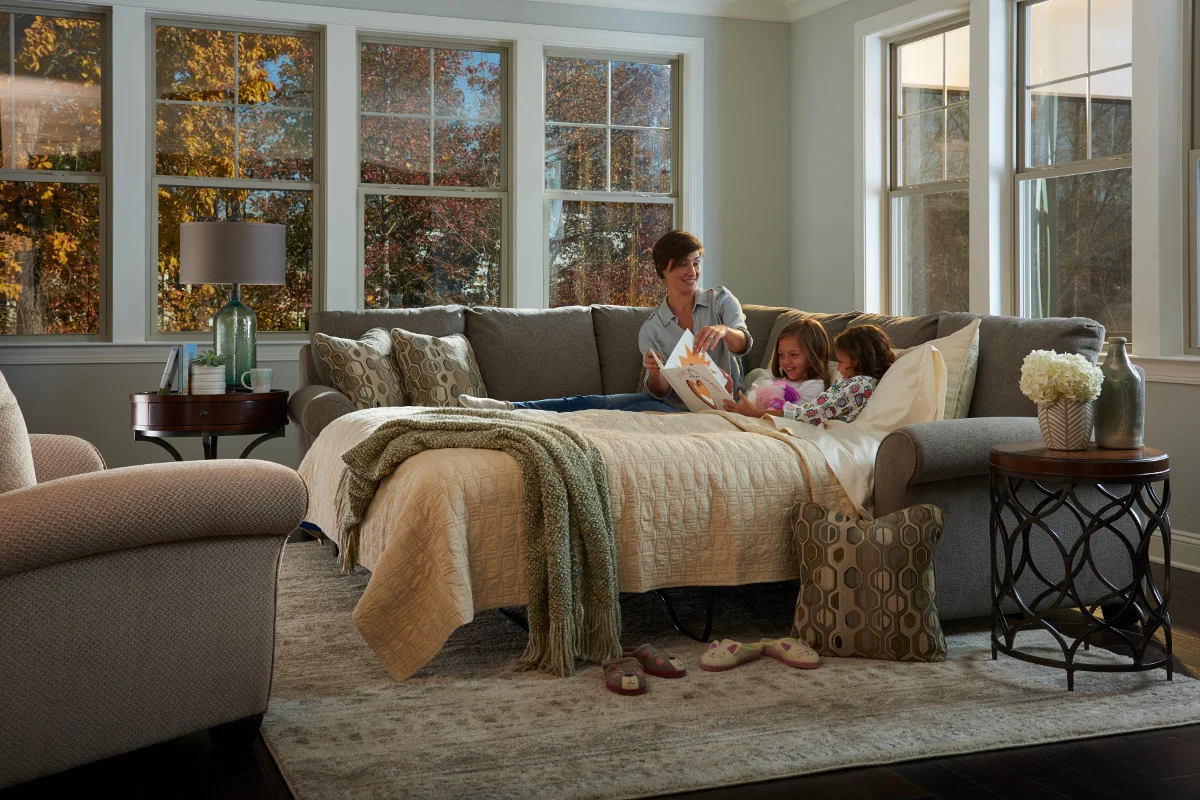 Next Steps
As we're all Looking for ways to make our homes cozier this season, improving our small space design can make all the difference, especially now that we're heading into the colder months and spending more time indoors.
La-Z-Boy offers more than just comfortable and stylish furniture. We offer everything you need to decorate your apartment, including rugs, cushions, and other accessories. Whether you're changing up the entire space or just a few key pieces, we would be thrilled to help you match your style preferences within your budget.
Visit us in one of our local Ottawa or Kingston locations today to get started. You can also book ahead and schedule an appointment with one of our consultants online.
We know that functionality is essential in building a comfortable life, not just a stylish one. That is why we offer complimentary in-home design service should you need help designing the room of your dreams!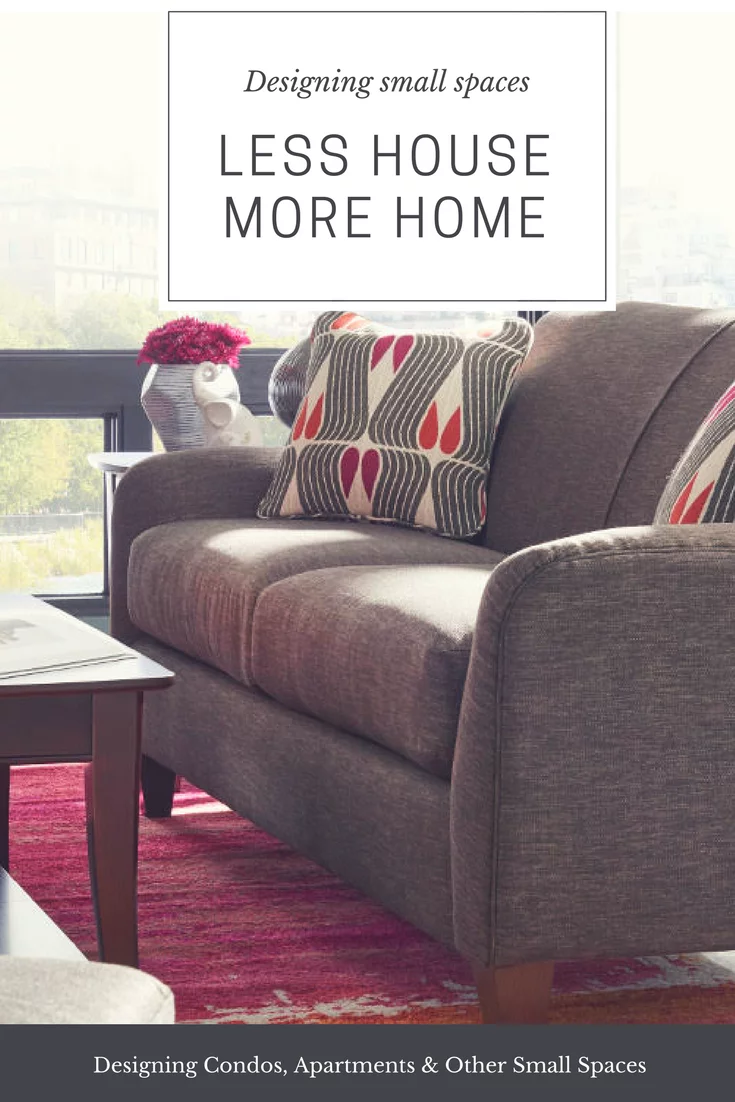 Product Info Request
Please provide us with your name and email and we'll get back to you as soon as possible regarding this item.