What is Traditional vs. Contemporary Furniture Style?
October 4, 2021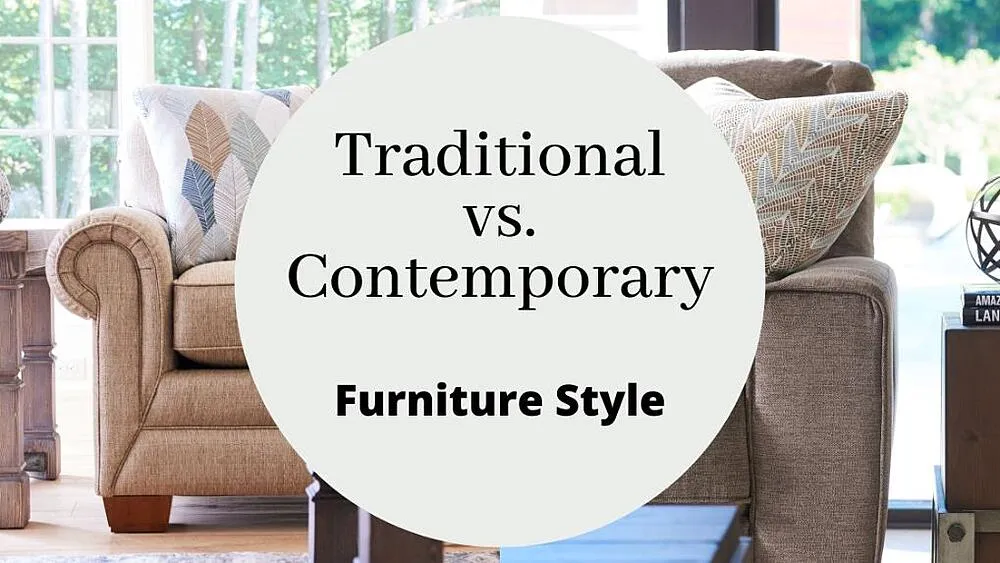 In the world of design, traditional and contemporary furniture styles are, in a sense, opposites.
While traditional furniture is ornate and indulgent, contemporary furniture is simple and understated. Traditional furniture embodies elegance and romance. Contemporary furniture is subtle and gives off an urban appeal.
Each furniture style has unique characteristics offering its own unique charm.
As you consider the interior design of your own space, you may naturally lean more towards one style over the other. You may also appreciate a delicate balance of both.
Regardless of your preference, it is important to understand the distinction between traditional and contemporary design as you attempt to achieve a particular style in your own home.
With the expert input of Mary Lee Smyth, the interior designer at La-Z-Boy Kingston, this article will define the traditional furniture style vs. contemporary furniture style. In addition, it will highlight five pieces of La-Z-Boy furniture, representing both traditional and contemporary looks.
Table of Contents ...
2. Contemporary Furniture Style
3. Design Services at La-Z-Boy Ottawa & Kingston
Traditional Furniture Style
Traditional furniture can be widely described as elegant, luxurious, and ornate.
Featuring design elements evolved from historic styles trends, most consumers refer to the Victorian period when referencing "Traditional" style according to Mary Lee.
Generally speaking, traditional furniture arrangements emphasize heavy figures, multiple patterns, elaborate carvings, and imposed detail.
While traditional furniture does not have to be huge, it often has a heavier, wider, and thicker silhouette, contrasting sleeker models of modern-day aesthetics.
According to Mary Lee, some common indicators of the traditional style are an arched back, rolled arms, cabriole legs, claw feet, wood trim, a dark finish, nailhead design, and decorative knobs. It's all in the details … and many details at that!
Traditional design and furniture arrangements tend to appear visually busy. Rooms often combine figured wallpaper, multiple upholstered patterns, a painted floor or multi colour carpet, and elaborate window treatments.
Traditional Furniture at La-Z-Boy
With this description in mind, a visual display can be helpful in fully grasping the essence of traditional furniture.
Mary Lee has chosen five pieces of La-Z-Boy upholstery that embody this traditional described look, while still remaining up-to-date.
The Mackenzie Furniture
Traditional yet on-trend, the stationary Mackenzie furniture features a sophisticated look. Its rolled, pleated arms, and foam back offer comfort and support for a long sit. Decorative wood legs and welt trim add another touch of tradition to complete the look. The Mackenzie also offers the option to choose a decorative cord trim or embellished fringe trim on the pillows for an extra touch of elegance.
The Mackenzie is offered as an ottoman, chair, loveseat, sofa, and sleep sofa.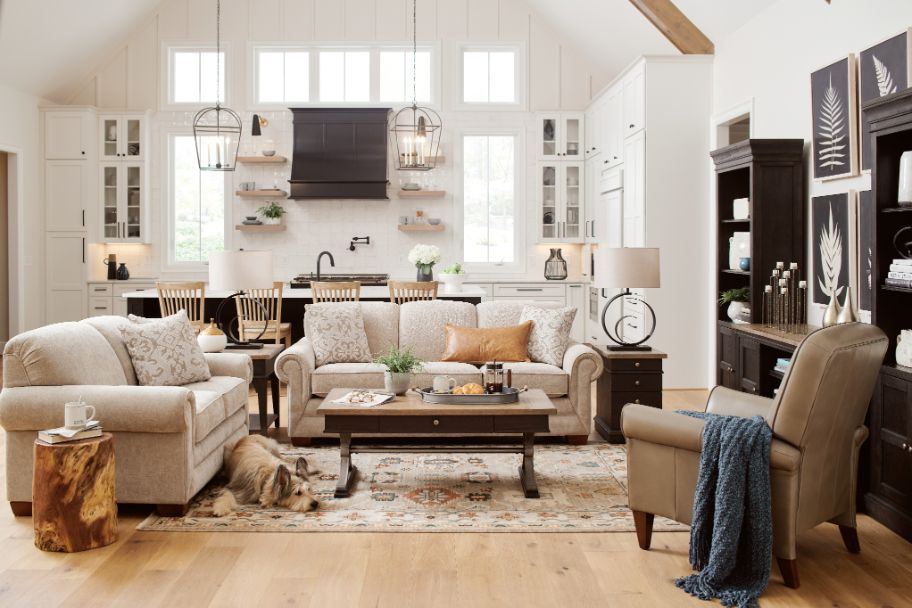 The Alexandria Furniture
As a part of the Urban Attitudes collection, the Alexandria furniture offers an updated take on the traditional Hepplewhite sofa design. Its tight back features button tufting in a complex diamond pattern that's both distinctive and unique. Extra cushioning softens Alexandria's tuxedo-style arms while the slender, tapered wood legs complete the stately silhouette.
The Alexandria is offered as a stationary loveseat or a sofa.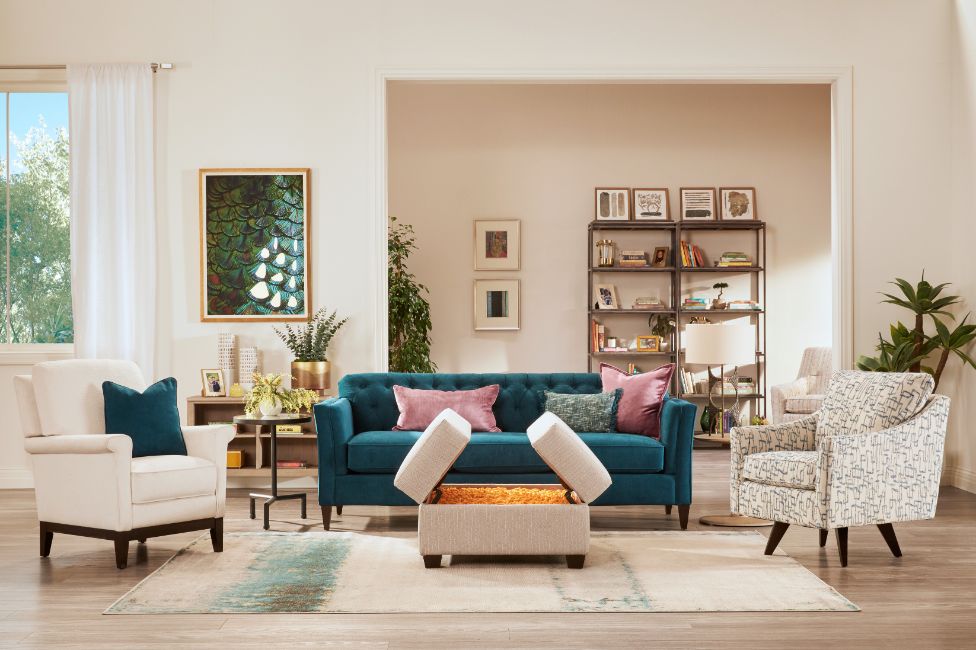 The Collins Furniture
The Collins furniture is classic for both the living room and the family room! With simple lines and put-together tailoring, the Collins is not only stylish but comfortable. Featuring semi-attached pillow backs, over-scaled rolled arms, and box seat cushions with welted trim this sofa is designed to look good and offer deep comfort at the same time. For a distinctive look, the welting can be custom ordered in a contrasting colour.
The Collins is offered as a stationary chair, loveseat, sofa, sectional, and ottoman.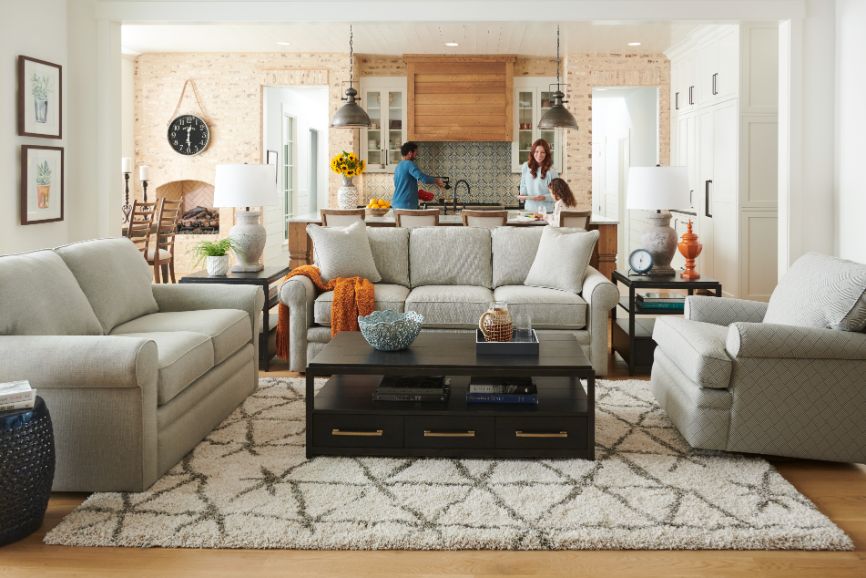 The Colby
duo® Furniture

The Colby furniture is a part of the La-Z-Boy duo collection. It features traditional elements with the unexpected ability to recline. Colby has graceful rolled arms, decorative wood legs, padded outer arms, and back. Colby's versatile frame can be dressed up for a formal setting, or dressed more casually for a family room. The Colby satisfies the desire for a traditional silhouette without sacrificing the comfort of a recliner.

The Colby is offered as a reclining chair, loveseat, and sofa.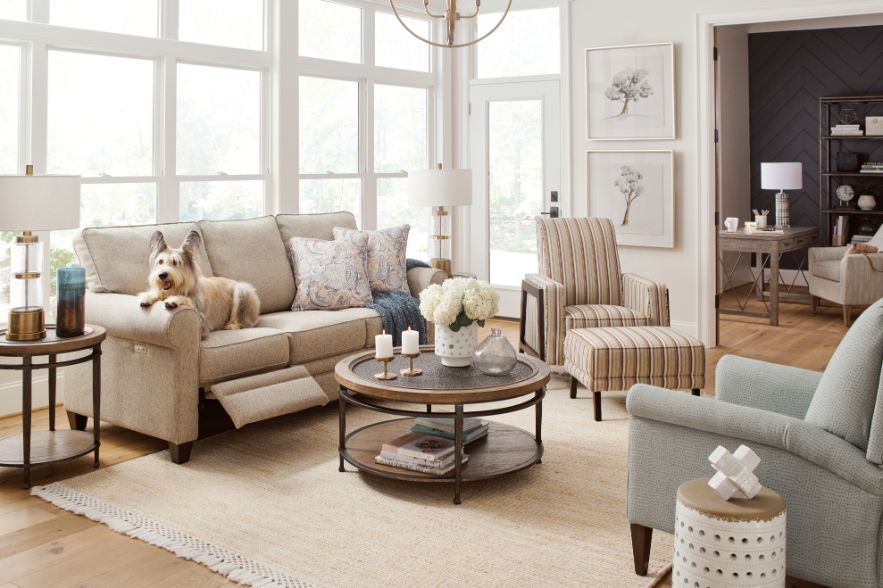 Contemporary Furniture Style
In contrast with traditional furniture, the contemporary design style took off at the beginning of the 20th century.
Mary Lee says that the emergence of contemporary was a response to people being tired of the overly decorative look of the elaborate Victorian style and as a growing fascination with sleek "aero-dynamic" silhouettes evolved.
After the end of the Second World War the contemporary style began to offer a new mid-century take on home furniture with clean lines and non-decorative surfaces. Coming out of the industrial revolution, much of the contemporary furniture reflects an industrial look. New materials such as bent plywood and plastics were added to the materials used to create this new look.
In general, contemporary design can be described as sleek, understated, and subtle.
A contemporary designed space features simplistic elements, a minimalist furniture arrangement, and a monochromatic colour pallet. With that being said, it is common to find one accent colour in a contemporary design, says Mary Lee.
In contrast to the traditional style, a contemporary furniture arrangement will feature multiple textures rather than colours and patterns.
The structure of contemporary furniture is uncomplicated and "distilled down into its essence", says Mary Lee. Contemporary furniture has clean, soft, seating with angled legs and arms that are narrow and simple. Low to the ground, contemporary upholstery usually has no skirts, minimum tufting, buttons, or nailhead design.
Contemporary furniture typically consists of light colours and light woods, while incorporating other materials like stone, metal, and glass.
Contemporary Furniture at La-Z-Boy
From traditional to contemporary, we offer furniture in a range of styles at La-Z-Boy.
To this end, Mary Lee has also chosen four pieces of La-Z-Boy upholstery that represent the contemporary furniture style.
The Edie duo® Furniture
As a part of the La-Z-Boy duo collection, the Edie collection has an understated style with the unexpected ability to recline. It has clean and casual design features such as track padded arms, a padded back, tapered wood legs, and welt trim.
The Edie is offered as a reclining chair, 2-seater sofa, and sectional.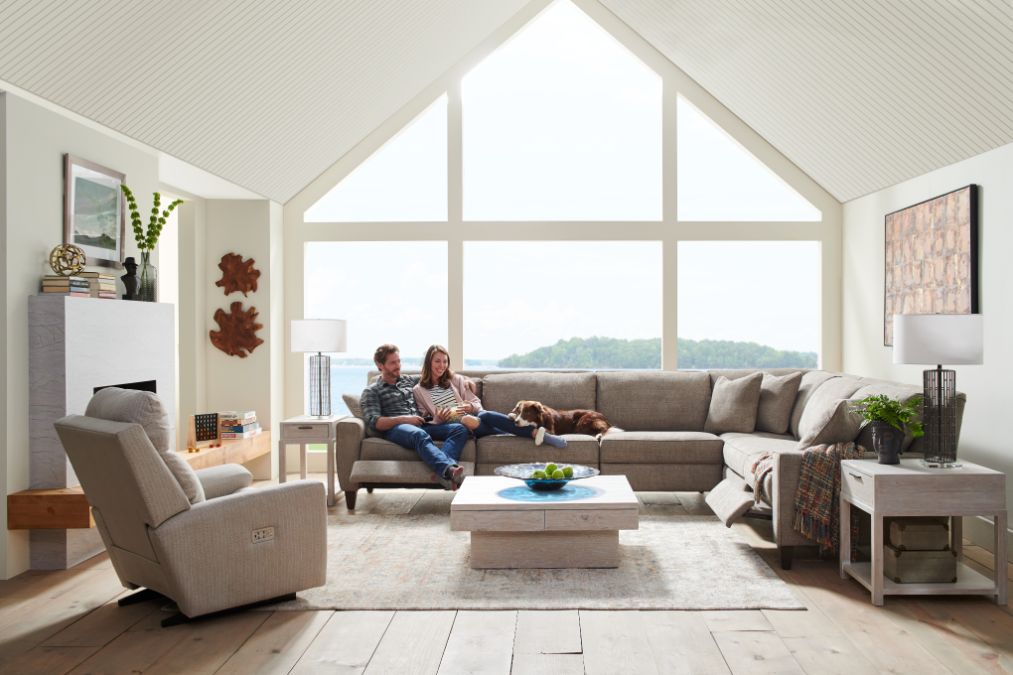 The Alani Sectional
Sink into comfort in the Alani sectional. The Alani features deep, wide seats and a loose pillow back. This clean-lined, casual design looks at home in any space with subtly rolled arms, welt trim, and decorative wood legs. The Alani sectional also offers the option of a unique "Cuddler" perfect for those who like to snuggle up to watch tv or get lost in a good book.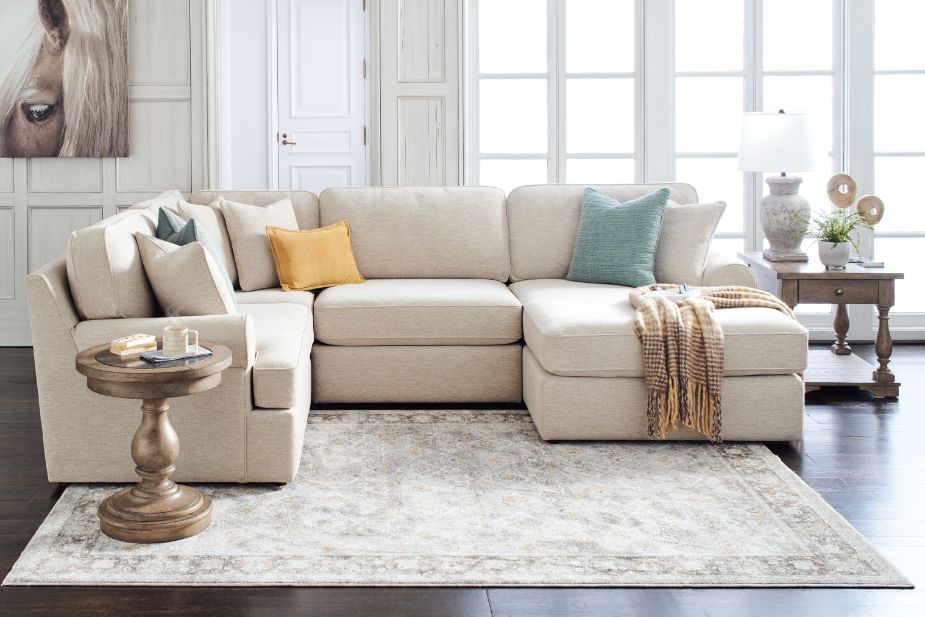 The Paxton Furniture
The Paxton furniture is the quintessential contemporary sofa- casual and relaxed. Its clean lines and crisp welt trim give it a neat and structured silhouette. Paxton features deep, T-shaped seat cushions, low-profile wood legs, and loose pillow back cushions.
The Paxton is offered as a stationary chair & a half, loveseat, sofa, sectional, and ottoman.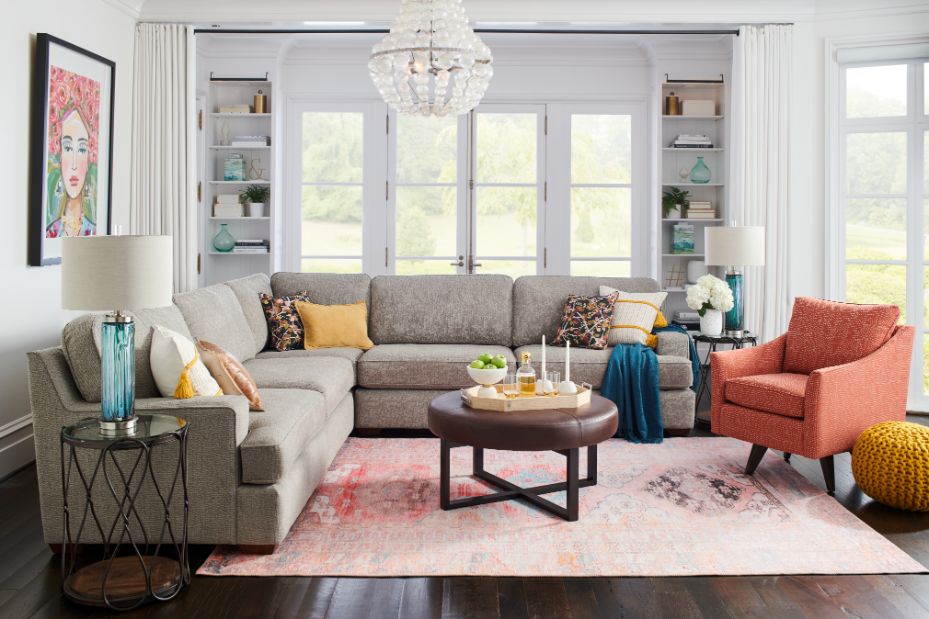 The Riley High-Leg Recliner Chair
With an artful, sculptured shape and a sophisticated flair, the Riley High-Leg Recliner Chair is perfectly paired with a contemporary sofa. The Riley features an angled back, subtly flared arms, and tall tapered wood legs. Its inviting curves and luxurious cushioning is not only stylish but comfortable too.
The Riley High-Leg Recliner Chair is offered in both manual and power.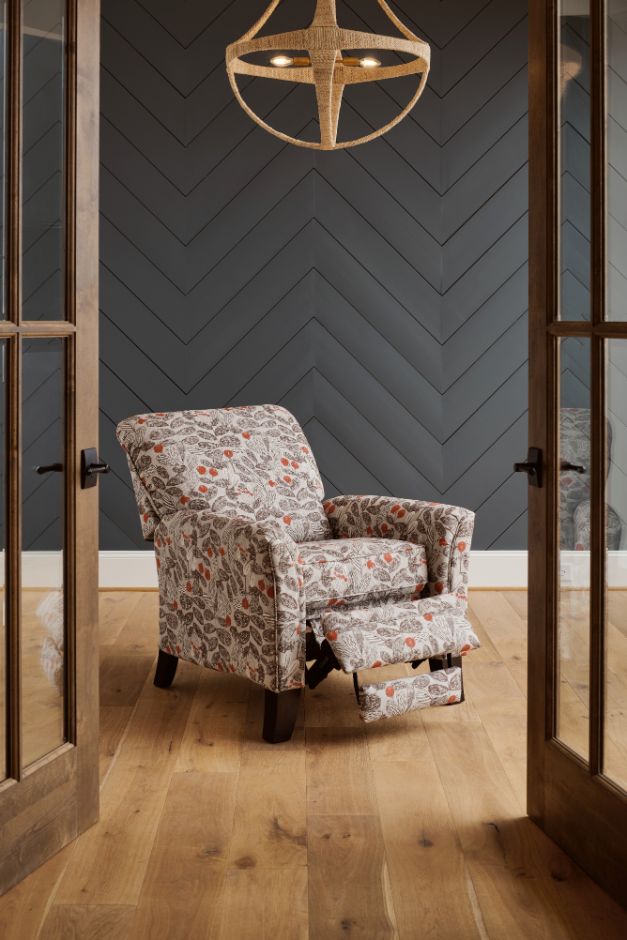 What's Next?
With an understanding of the distinction between traditional and contemporary furniture, Mary Lee says that you don't necessarily need to choose one or the other.
"If you have a traditional sofa and a contemporary accent chair, you don't have to go to divorce court", says Mary Lee. In fact, she insists that traditional and contemporary furniture can live in harmony if paired correctly.
With this being said, it can be difficult to mix and match furniture styles if you don't have an eye for design. That is where the help of an interior designer comes in. Luckily, most furniture stores offer interior design services.
At La-Z-Boy, we offer complimentary design services to ensure that the furniture you choose suits your preferences and fits seamlessly into your home design. One of our expert designers, like Mary Lee, can help you create a room design that reflects both traditional and contemporary styles by pairing multiple pieces of furniture.
Take a look at our article about In-Store Design Presentations at La-Z-Boy: What to Expect.
Perhaps neither the traditional or contemporary furniture style is for you. Not to worry because we have a wide selection of furniture at La-Z-Boy in a range of alternative styles.
Visit us at a local Ottawa or Kingston location to get started today. If you prefer to plan in advance, schedule an appointment online.
We look forward to meeting you and helping you bring your interior design vision to life with whatever furniture style that may be!
Related Links:
What is Traditional Kitchen Design?
Product Info Request
Please provide us with your name and email and we'll get back to you as soon as possible regarding this item.