4 Designer Tips: How to Mix & Match Furniture
February 4, 2020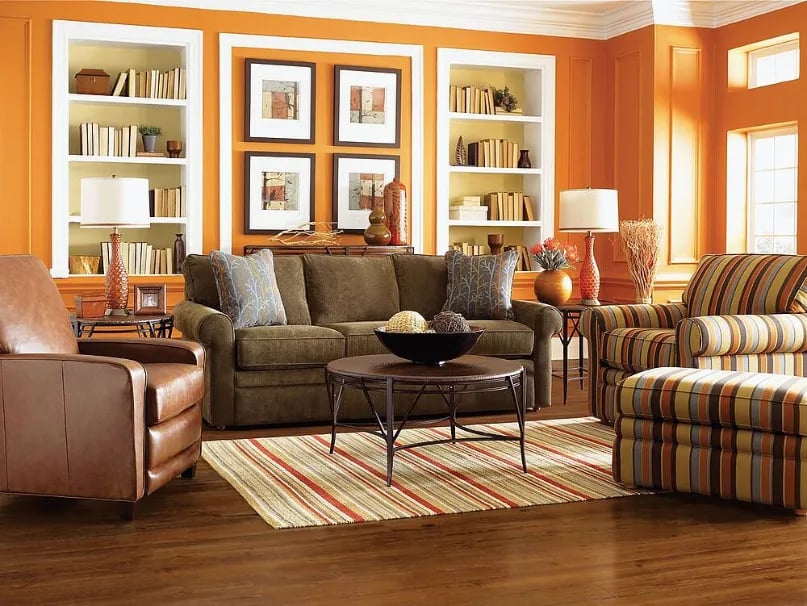 How To Mix And Match Furniture
Incorporating new furniture into your home can be hard. How do you mix in new pieces to match the furniture you already own so they appear coordinated? You have to consider colours, styles, patterns, and balance, all of which can be confusing and overwhelming.
The Problem – Coordinating & Matching New Furniture with the Old
Sometimes you simply have no choice but to mix and match furniture. For instance, you invested in a good quality living room set several years ago.
Included was a sofa, loveseat, and chair, which you may have purchased all in the same fabric. In addition, a coffee table and side tables in the same style, colour, and finish completed your décor.
Now, your beloved furniture set is discontinued, but you must replace one of the pieces that fell victim to a little more abuse and needs replacing.
Alternatively, you want to update the look you have but cannot afford to start over! Or, you're downsizing and the square footage of your new bedroom is not big enough for your matching dresser and oversized nightstands.
As you begin your search, you may be wondering how to get rid of old furniture in Ottawa and Kingston.
Does My Furniture Need to Match?
The days of needing to buy perfectly matching sofas and chairs are long gone. In fact, you can often find this expired rule on lists of top decorating mistakes and what not to do.
Your tables, shelves, chairs, and other furniture don't even need to be the same colour or wood tone to coordinate. There may be different coordinating styles, finishes, and fabrics involved to make up a cohesive and well-designed room.
But you may be overwhelmed by the sheer volume and furniture options available today. Whether you need to make a quick match or are merely trying to stay on budget, we have four designer tips on how to mix and match furniture.
1) Matching Furniture Fabric or Leather Colour
Barbara Patton has worked as a design consultant at our La-Z-Boy location in Kingston for nearly ten years. She has had countless clients visit the store, trying to match a fabric colour they have in their home.
Although La-Z-Boy has over 800 fabrics and leathers, her goal would not be to find an almost identical colour match. Barbara says in doing so, "it will look like you tried but failed to match colours."
It has been her experience that choosing something to complement and contrast their existing fabric colour makes the room look much more welcoming and tied together.
"Fabrics have so many colour variances and textures," Barbara explains. "In a different light, it can propose different undertones depending on what's going on in the room."
For example, the image below is a small sample of different grey fabrics. With so many grey tones it would be difficult to try and find a perfect match.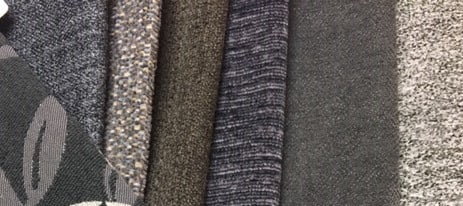 Similarly, two red leather colours at first glance look to be the same. However, picking a contrasting leather colour creates some interest yet still coordinates beautifully.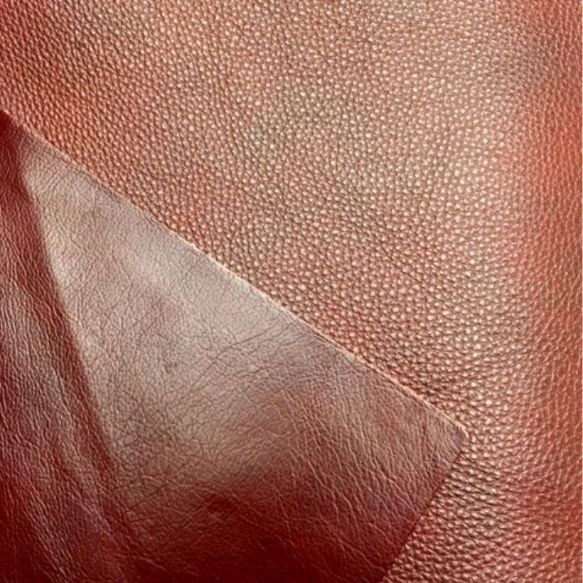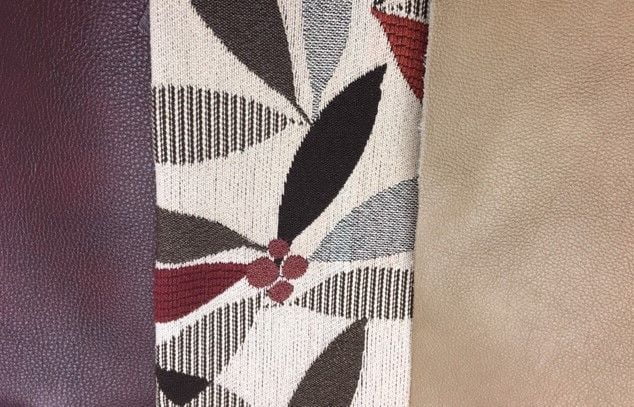 Also, the addition of a patterned fabric creates interest. You want to find something that ties your two colours together for a truly cohesive look.
How To Choose Colour When Mixing & Matching Furniture
Researchers and experts have made a few important discoveries about the psychology of colour and the effect it has on moods, feelings, and behaviours.
Your feelings about colour are often deeply personal and rooted in your own experience or culture. On the other hand, some colour effects have a universal meaning, such as cool versus warm colours.
COLOUR SPECTRUM
Colours in the red area of the colour spectrum are warm colours such as red, orange and yellow. They make you think about sun and fire and evoke emotions from warmth and comfort to anger. They work well in the social rooms of your home.
Cool colours on the blue side of the spectrum include blue, purple and green. They bring to mind the sky and cold water which are soothing and calming.
As a new world dawns, Pantone's 2020 colour of the year is 19-4052 Classic Blue. Based on Pantone's colour word association studies, safety, protection, and stability are the first automatic reactions to the blue colour family.
When you understand how the temperature of colour affects how it's perceived, you can use that knowledge to design colour schemes that work for you.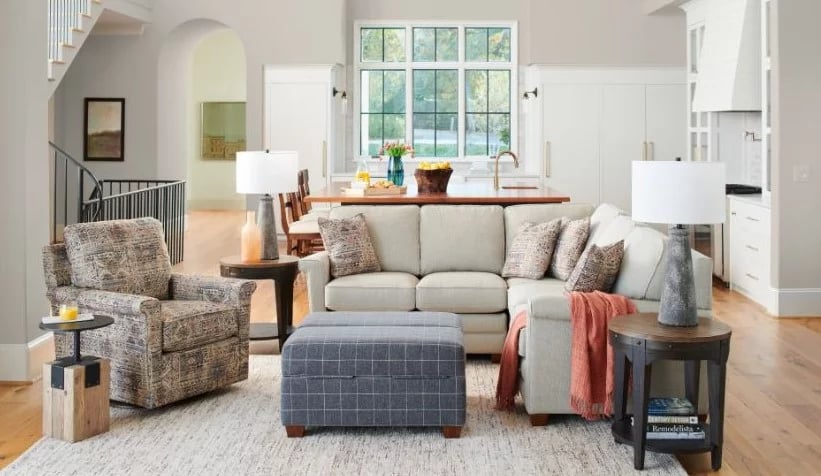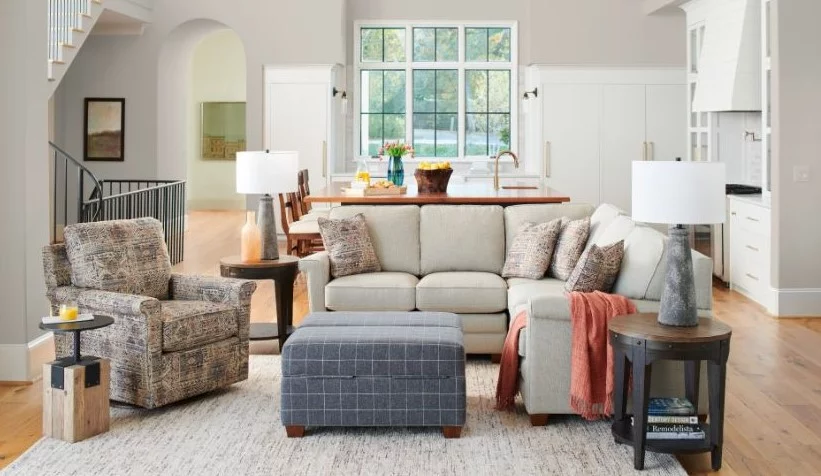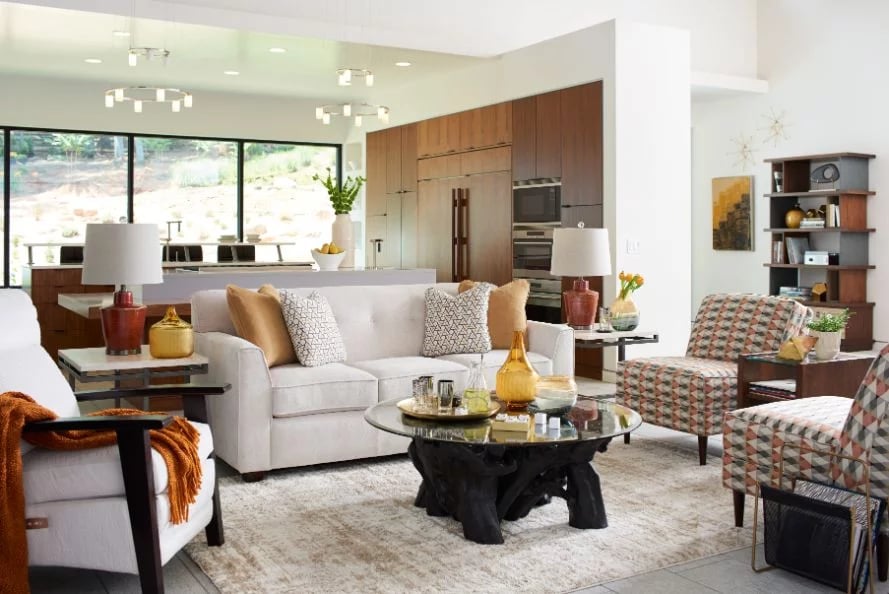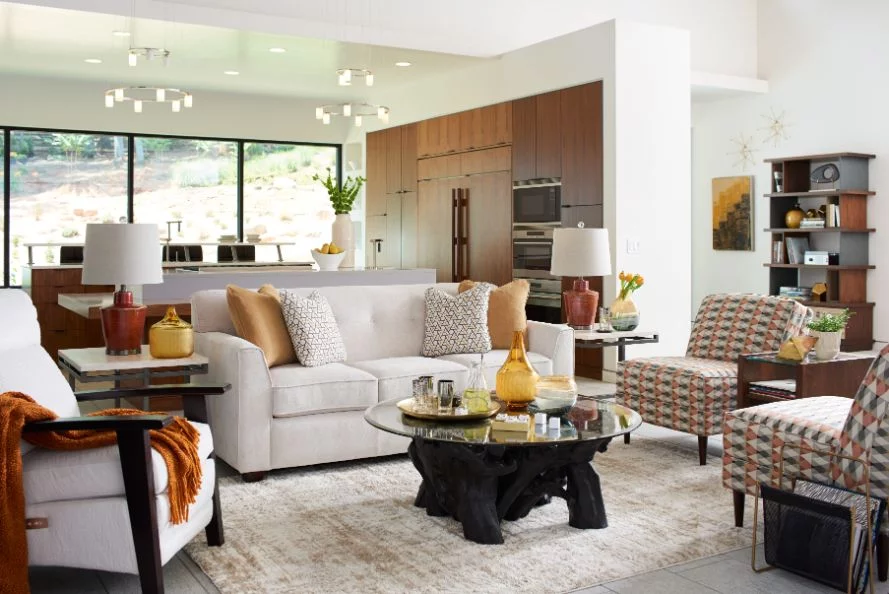 QUESTIONS YOU NEED TO ASK
Baraba believes it is essential to ask as many questions as she can. This allows her to better understand her customer's goals before suggesting coordinating colours.
To choose successfully, ask yourself the following questions:
• What mood do you want to create?
• Which colours will help you achieve that mood?
• Is it a room for socializing or a private room?
• What do you currently love about your room?
• Is the room warm or cool?
• What is your favourite colour, and how long has it been your favourite?
• How much do you have invested in the current style of your home?
• Are you afraid of change?
A great tool to help you pick your coordinating colours is the Adobe Colour Wheel. By starting with a base colour (your existing fabric colour), it will provide you with a full-proof colour palette. For example, using complementary colours on the wheel will guarantee a match and take out some of the guesswork in trying to find the perfect shade.
Likewise, you could find a fabric you love with lots of colours. For example, below is Van Gogh J132678, Barbara's favourite fabric. As long as it coordinates or includes your existing colour, you now have a rainbow of colours you can then introduce.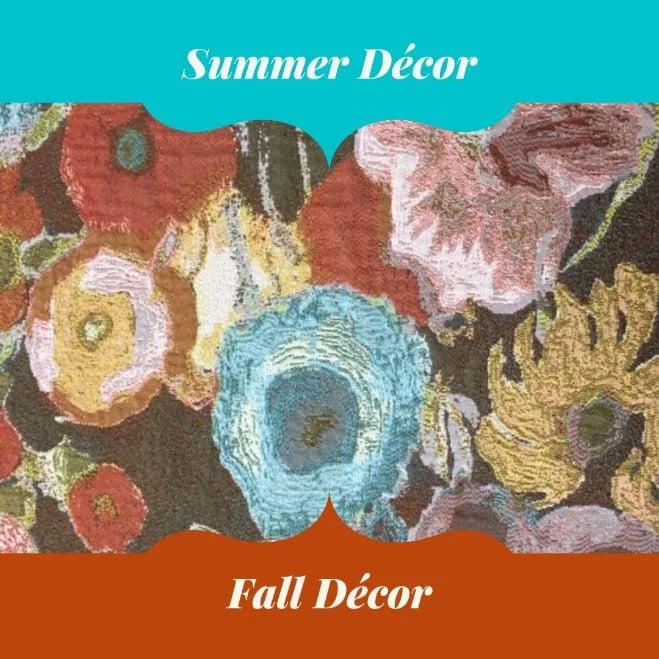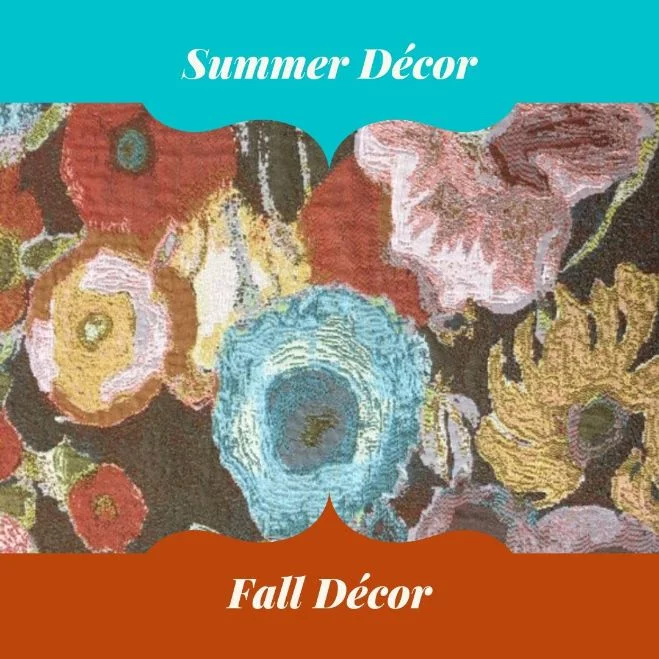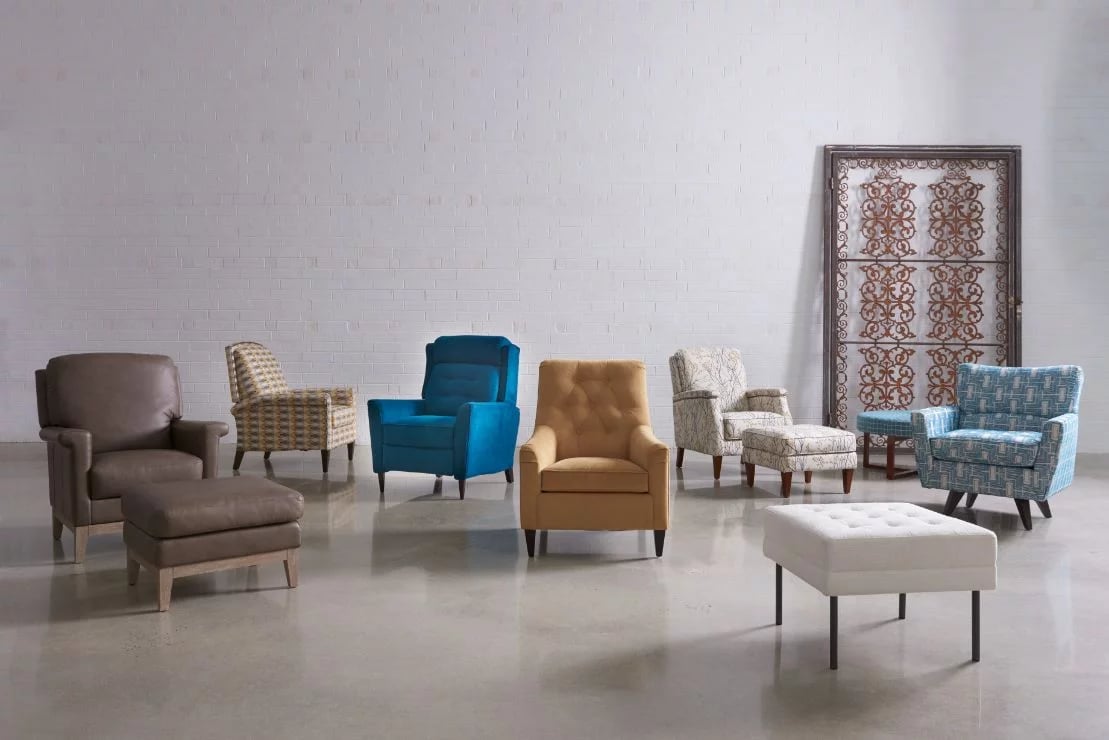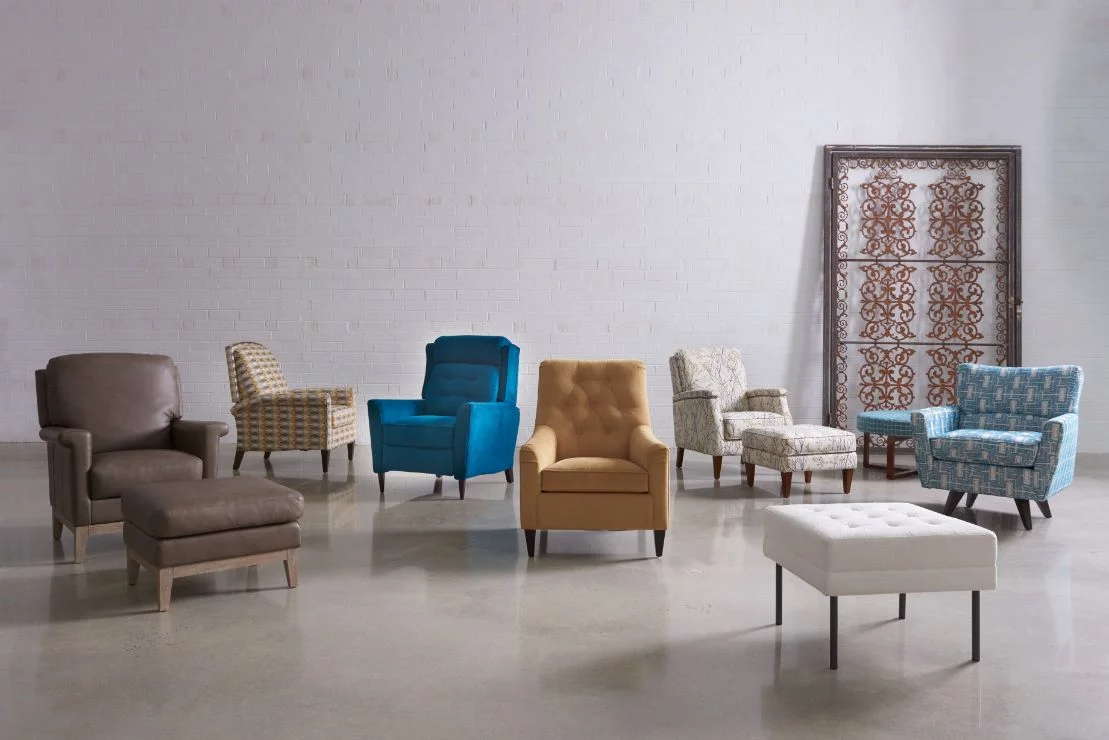 This one is so versatile and will allow you to change accent colours in the room to decorate for the seasons. For example, mustards and oranges for fall, and teals or pinks for the summer.
Matching the Furniture Colour You Have?
Both fabric and leather colours are equally hard to match. Even if your original fabric is still available, dye lots can vary which will affect colour. Also, the wear and tear and sun exposure your furniture has endured will change its original colour.
If you are dead set on matching the fabric colour you have, Barbara has some tips:
(1) Take a small clipping of fabric where the upholstery is attached to the frame
(2) If you have them, bring matching pillows with you to the store
(3) Take fabric samples you are considering home to see what it looks like with your lighting
2. Mix and Matching Furniture Styles
Homes that layer in different styles are dynamic and interesting. Too much mixing and your eye doesn't know where to go and winds up confused and unhappy. The most successful rooms seek some common ground, where everything finds a way to get along.
It's hard to combine a beautiful mix of furniture, especially when it's about his & hers chairs! A stationary sofa and a recliner chair; different pieces and wood finishes.
Here are a few tips about how to mix different furniture styles without getting a raised eyebrow.
FURNITURE STYLE
Most styles are a blend of several different eras and periods, which allows for mixing well. However, you should try to stick to a given style, at least for the main furniture pieces in the room.
FURNITURE SHAPE
Using clean lines in all pieces, rounded backs, or even similar leg/foot shapes in furniture can tie them together. Shape or motif used throughout the space can bring a room together and keep décor from appearing scattered. It helps to unify the varying styles.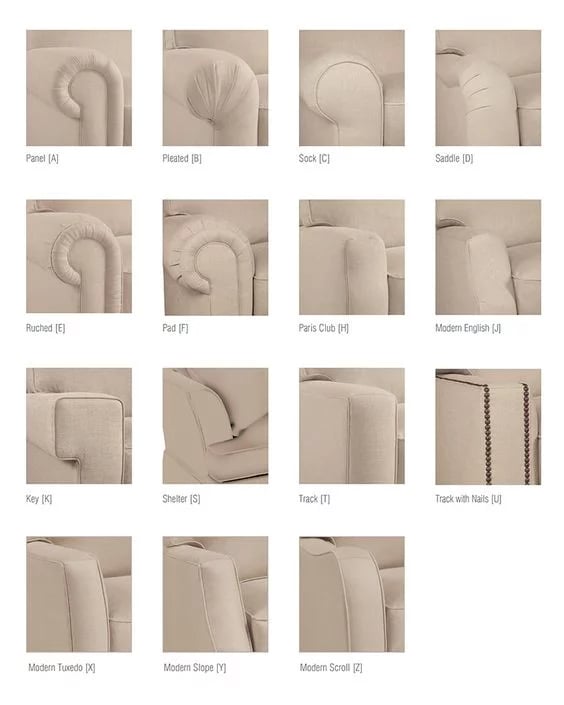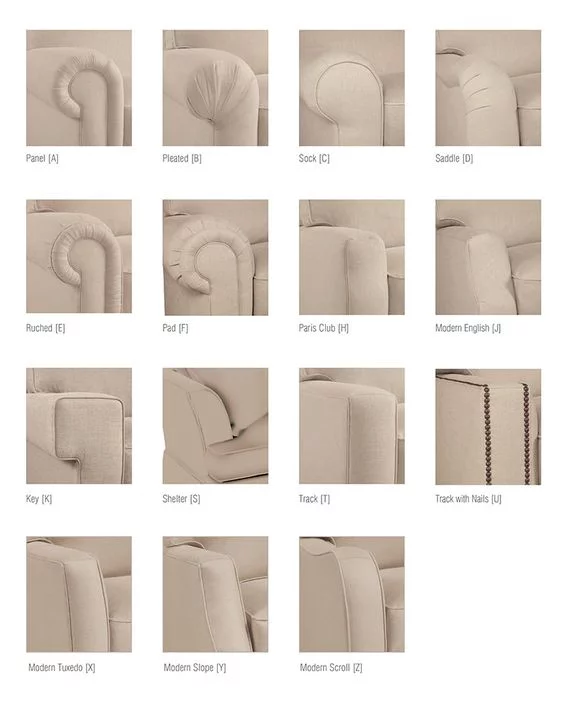 SCALE
Using "apartment-sized" pieces or "oversized" pieces generally will work, but mixing the two can create a problem with balance. When we pair pieces that are different together, we want to think about how they can at least complement each other in scale. Two objects or pieces of furniture ought to be relatively the same size and proportion.
3. Incorporating and Mixing Patterns
Mixing colours & patterns can be daunting, especially when presented with hundreds of choices. You can mix way too many patterns or colours, and your room may end up looking like a toddler's Lite Brite game gone wild! But if you do it right, you'll end up with a beautiful space, with a "wow" factor that oozes the mood you wanted to create.
Here are some tips on how to mix patterns, so they look perfectly paired:
(1) Edit your colour palette – pick 2-3 colours that you want to work with
(2) Use colours that are the same intensity/hue – don't mix pastels with jewel tones
(3) Mix the scale of pattern – use the squint eyes test to make sure your small scale pattern is not too similar to larger scaled one so they don't compete
(4) Limit the number of patterns – two or three on a sofa and a maximum of 5 in the room
(5) Spread out the patterns – they should be evenly distributed around the room
Don't forget the solid colours. Fabulous patterns shine brighter in a room where the eye has a place to rest, such as on a neutral wall or a solid sofa.
4. Strike a Balance: Focal Point and Furniture
An ideal room layout will focus on its primary function and focal point. In most cases, an imaginary line can be drawn from the focal point, dividing the room.
If you have an inspirational piece you want to spotlight, it should usually be placed at this middle line. You can use this divide to determine where to place additional furnishings to strike a balance in the room.
Secondary pieces of furniture can bring balance, layers and functionality to your room. Determining what your needs are will help you select the right furniture to use in your space.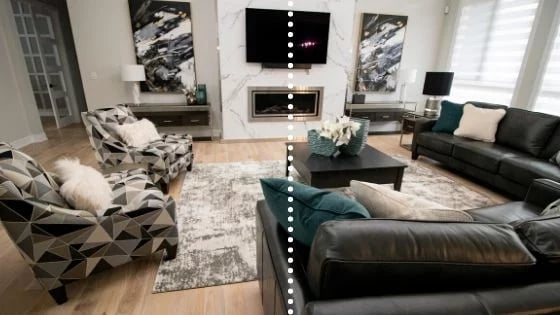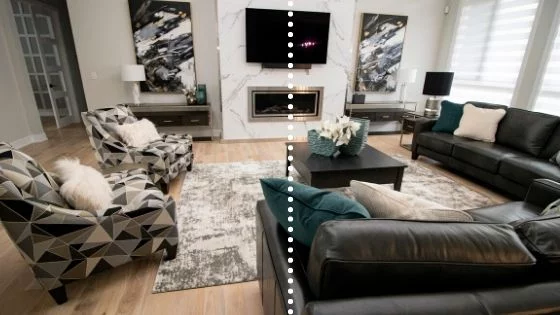 Lesson Learned and Next Steps
Coordinated pieces do not need to match! A contrasting mix of elements and furniture make a room more captivating and unique.
Hopefully, you have a better understanding of how you can introduce new pieces to mix and match furniture in your home. You might even find that you love your traditional pieces even more than you thought once you pair them with a fresh new colour or pattern.
La-Z-Boy has over 90 years of experience in furniture. We offer furniture sets in various shapes, styles and sizes. Not to mention over 800 fabric and leather choices that let you customize every detail. The quality and variety you'll discover at any one of our Ottawa & Kingston La-Z-Boy locations will ensure you find the perfect match for your needs.
We offer a complimentary in-home design service. With a designer comes the knowledge of how to choose the right furniture and determine patterns and colours that work well together. They have the expertise to guide you through the process and help you create that space you've always wanted.
Product Info Request
Please provide us with your name and email and we'll get back to you as soon as possible regarding this item.