Review of La-Z-Boy's Riley High-Leg Recliner
May 7, 2021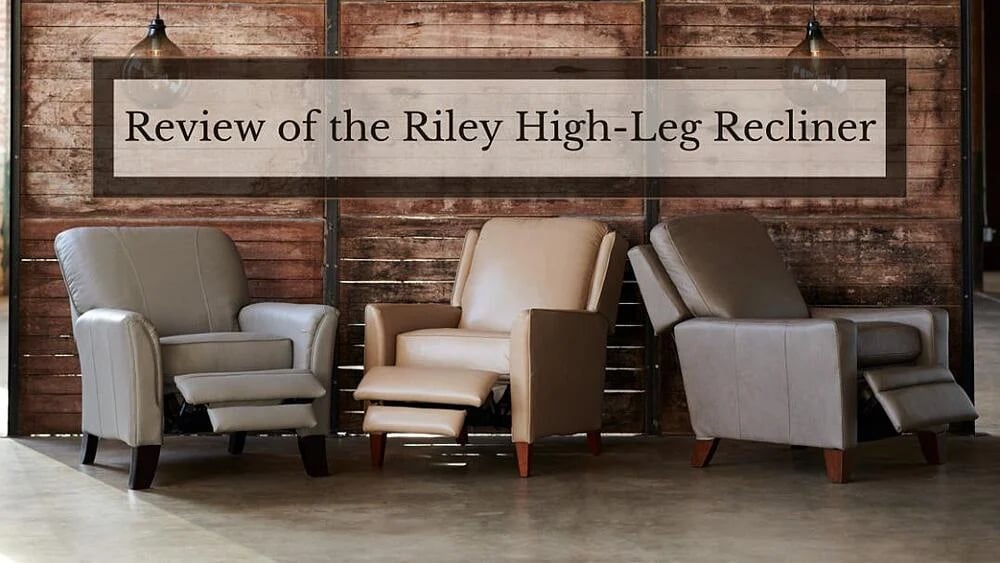 The Riley Recliner exhibits a balanced dance between comfort and style.
An artful, sculptured shape with a sophisticated flair, Riley is perfectly at home partnered with your contemporary sofa or left to showcase a corner entirely on its own. Comfortable too, you'll appreciate the inviting curves and luxurious cushioning.
The Riley is a welcomed addition to any room. In fact, Racha, a design consultant at La-Z-Boy Hunt Club, says that "the Riley Recliner is one of the most presentable chairs that we have". She adds that the Riley looks amazing in both fabric and leather.
Not only is the Riley recliner appealing to the eye, but it also doesn't fall short in the comfort department. With high curved legs and a tall back, Racha says the Riley provides exceptional back and neck support, with the unexpected ability to recline.
If you are looking for a chair that can choreograph easily into your decor and accentuate your room without having to sacrifice comfort, the Riley may be exactly what you need.
Read on for an in-depth review of the Riley High-Leg Recliner.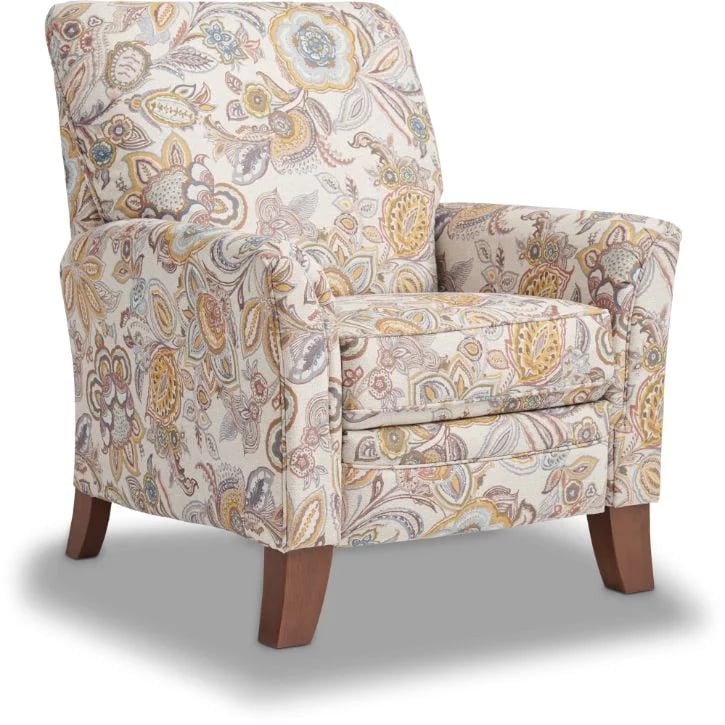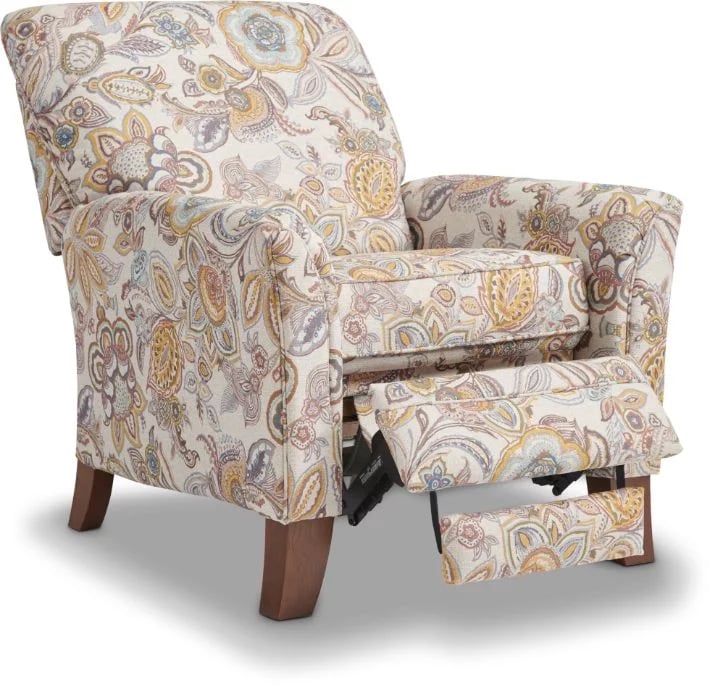 Unique Features
The Riley High-Leg Recliner is casually elegant featuring a tall angled back, subtly flared arms, and tall tapered wood legs.
The Riley is often referred to as a Secret Recliner because it appears as a stationary accent chair, yet has the ability to recline and has the ability to recline back in both manual and power options.
In manual, the Riley has a push-back feature; simply recline by pushing back into the chair. This 3-position lounger features a full-layout position for the ultimate reclining comfort.
In power, you will find a silver-tone controller with a built-in USB port that allows you to effortlessly adjust the back and leg rest to your preferred reclined position.
It is important to note that, in both manual and power, the back and leg rest do not recline independently. The leg rest kicks up while the back lays back, all in one smooth motion.
Whether you are upright or watching TV, the plush cushions on the Riley provide extra softness and support.
Finally, the Riley is completely customizable available in a variety of fabrics and leathers.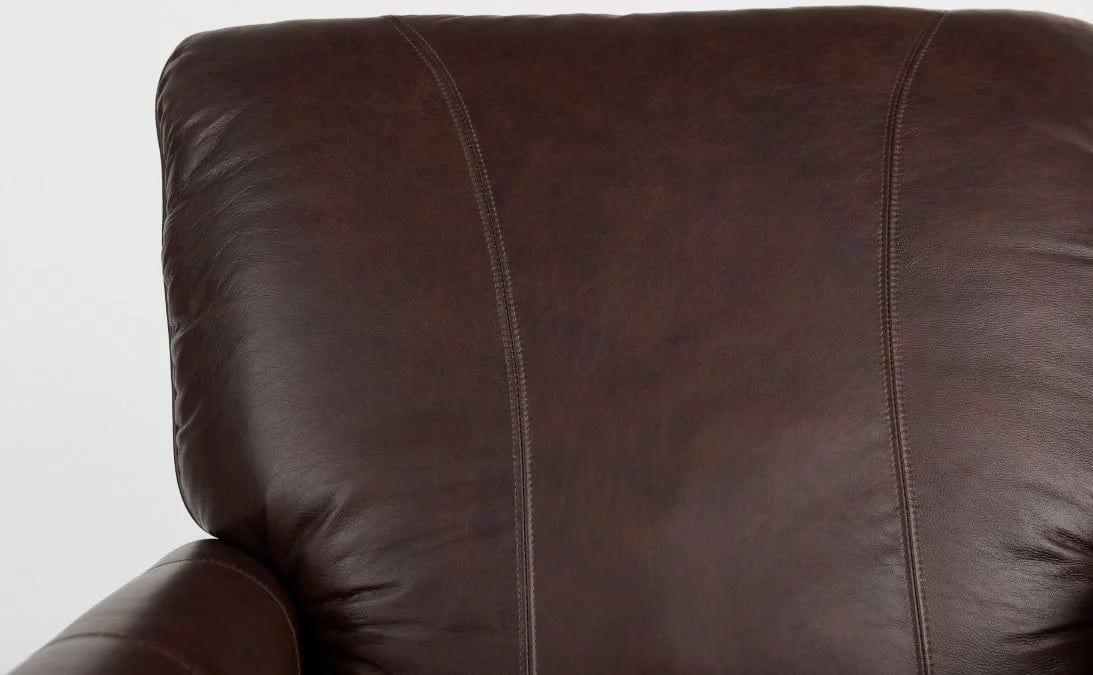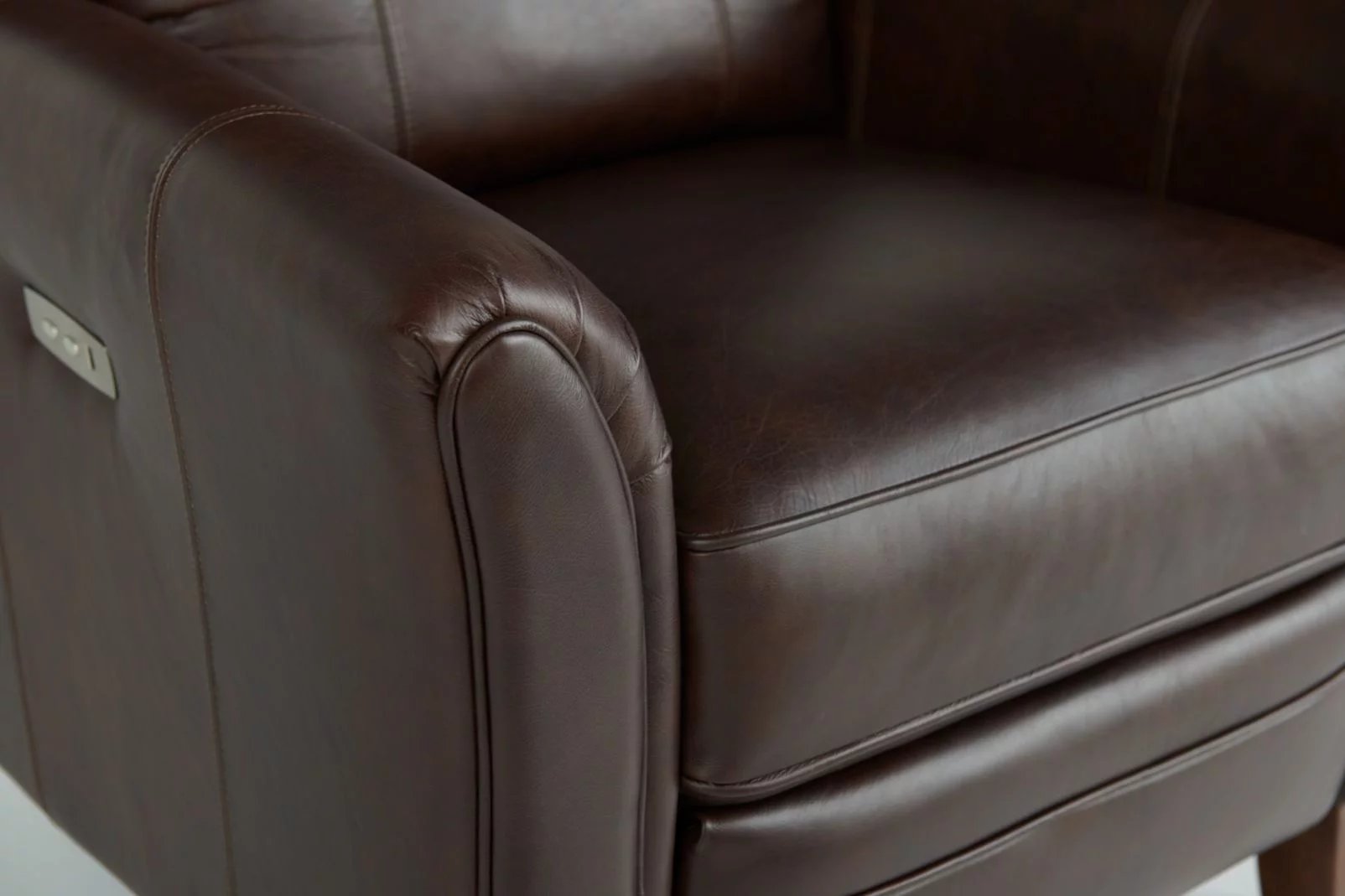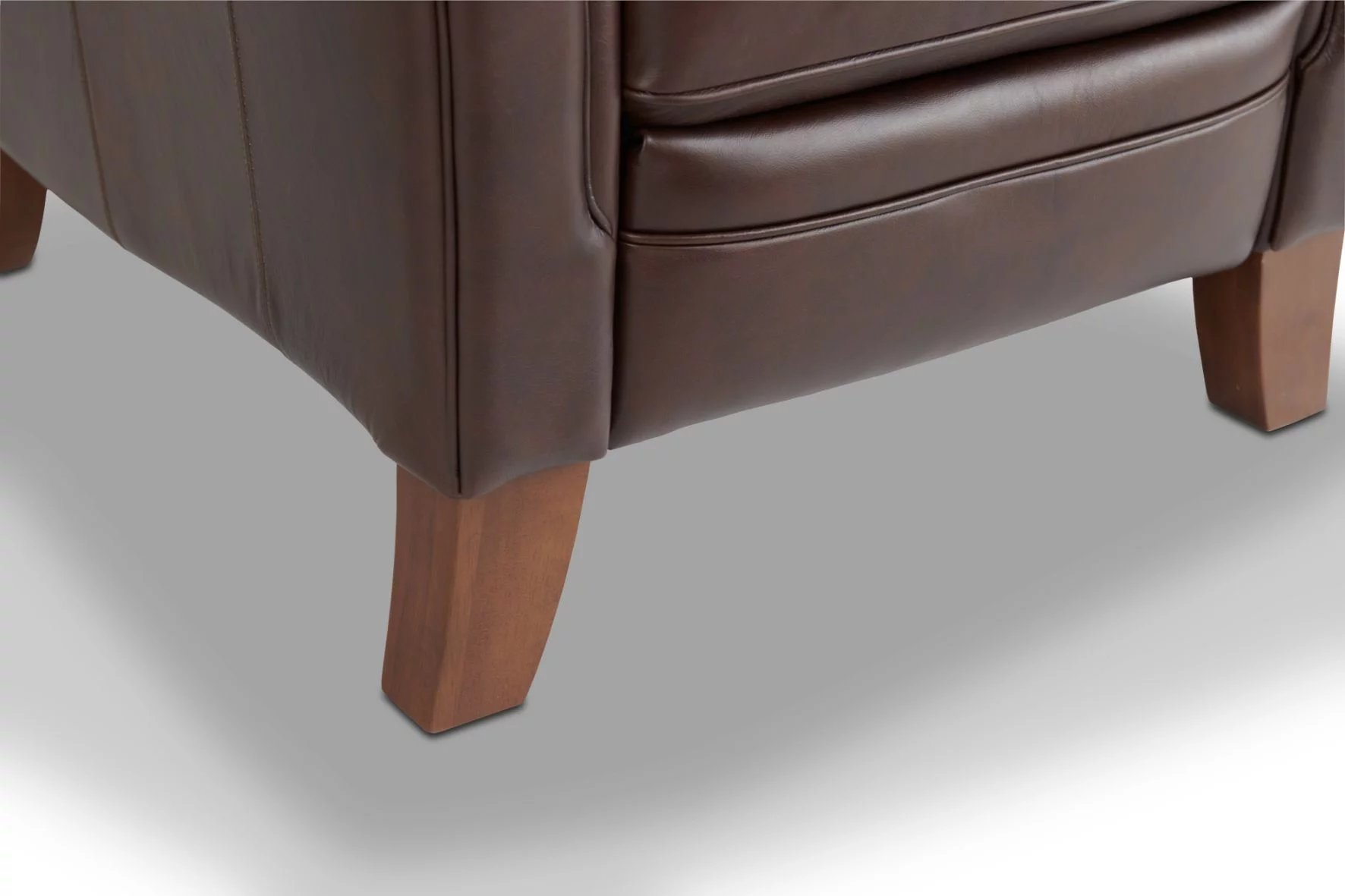 The size and dimensions can tell you a lot about a furniture item. To ensure that the Riley Recliner can fit in your home, it is always important to
measure your space
.
The Riley Recliner from La-Z-Boy is a generously proportioned chair that can accommodate individuals of medium to large size. It is particularly well-suited to those who are of average to tall height, typically ranging from 5'4" to 5'9".
While your height can be a considerable factor, it is important to note that height guidelines are NOT set in stone. The way you sit in a furniture item can drastically affect how someone might find a seat comfortable.
For more tips, take a look at the article How to Find a Recliner That is the Best Fit For You?
For reference, below are the dimensions of the Riley Recliner:
Recliner Weight: 78 lbs

Body Depth: 37 in.




Body Height: 41 in.




Body Width: 35.5 in.

Seat Depth: 19 in.




Seat Height: 21 in.




Seat Width: 22.5 in.
Options & Upgrades
At La-Z-Boy, everything is customizable. With a variety of options and upgrades available, you can make the Riley Recliner uniquely yours!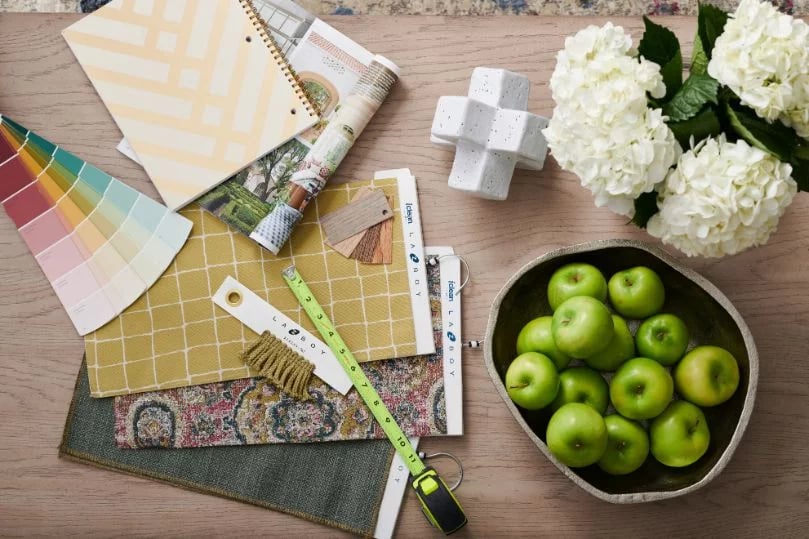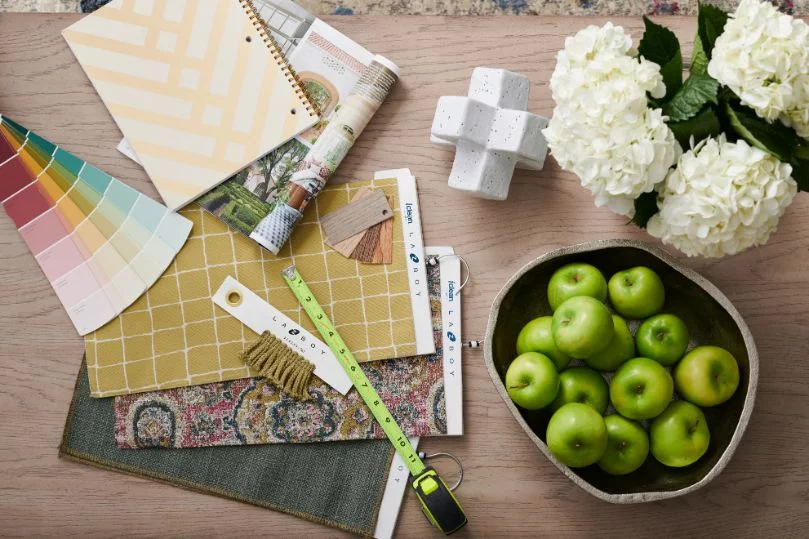 La-Z-Boy has over 800 covers to choose from, making the experience of personalizing your furniture seemingly endless.
When selecting the fabric or leather for your Riley, the cost will vary based on the grade you choose. Each grade offers different qualities and characteristics, allowing you to find the perfect balance between your desired style and budget.
For a comprehensive understanding of La-Z-Boy's upholstery grades, check out this article.
*Please note that this article's leather or fabric options may be discontinued or unavailable without prior notice. We recommend contacting your local Ottawa or Kingston La-Z-Boy store by phone or in-person to confirm availability. We apologize for any inconvenience caused by any changes to our upholstery selection.
Alongside our extensive range of covers, the Riley is also available in specialty fabrics that offer unique features and benefits…
Stain Resistant Covers
Innovative iClean Technology surrounds each fabric and leather fibre, creating a barrier that repels spills before turning into stains.
Tested and formulated to withstand the scratches and wear that a pet can cause to ensure a durable and easily washable fabric.
Antimicrobial properties surround each cover to protect against mould, mildew, and odour-causing bacteria.
Performance
Superior stain and fade resistance properties make fabrics easy to clean and incredibly durable.
Eco-Friendly
Conserve Sustainable Fabrics are soft, durable and made from recycled water bottles.
Energy Restoration
Restore by Nanobionic® features a mineral-based fabric coating that transforms natural body heat into energy using infrared technology.
Stain Resistant Cover
Innovative iClean Technology protects the surface of the leather to repel spills before they turn into stains.
Crypton Leather
Similar to high-performance fabrics at La-Z-Boy, our Crypton leathers repel dust, dirt and stains. It also protects against harmful UV damage and replenishes natural oils.
As with antimicrobial fabrics at La-Z-Boy, antimicrobial leathers help protect the surface from mould, mildew, and odour-causing bacteria to appear.
Power Upgrade
The Riley is also available as an upgrade in a Power Recliner, which offers a convenient alternative to the traditional manual recliner. Instead of having to push back on the arms to recline, the power recliner features a 4-button control panel for easy adjustment.
This control panel provides you with multiple reclining positions to recline and raise your feet. In addition, each power recliner comes equipped with USB charging ports for convenient electronic device charging.
Control Panel Options
If you're a left-handed user and are disappointed that the control panel is on the right side, fear not! Left-handed users can request that the control panel can be placed on the left side of the frame.
Cordless Battery Pack
An additional upgrade to the Power Riley Recliner is a Go Cordless Battery Pack. Without having to be plugged into a wall, you can enjoy the Riley power features anywhere in a room.
Cushion Upgrade
At an additional cost, the Riley cushions can also be upgraded to include firmer cushioning, meaning over time, your furniture will remember your unique figure and enhance the comfort of your furniture.
This could be a great option for people with mobility issues, allowing you to get in and out of your furniture more comfortably.
For more information, view our Motion Collection catalogue and our in-depth Review of La-Z-Boy's Chair and Sofa Seat Cushions.
Please note that reclining furniture purchased prior to January 2021 had the option to upgrade to airform

cushions. This cushion includes a two-inch layer of premium quality memory foam added on top of the standard foam base within the seat, chaise and leg rest of the unit.
Contrasting Welt Trim
Welt trim provides a tailored look to Riley seat cushions. Especially if your Riley Recliner is meant to be an accent chair, you may consider opting for contrasting welt trim to add some personality and decorative detail.
Finish Options
La-Z-Boy is all about customization, including customizing the legs of your recliner. The legs can come in one of two finish options:
Brown Mahogany

(Standard Finish)

Coffee (Additional Cost)*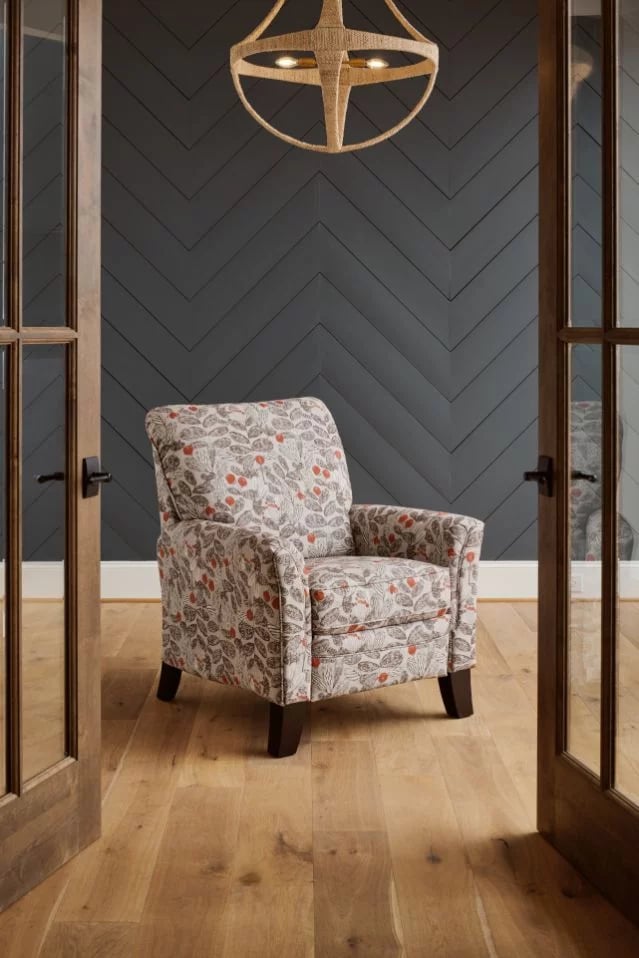 Please note that La-Z-Boy prices listed in this article are subject to change without notice. Information is current as of May 2, 2023. Contact your local Ottawa or Kingston location by phone or in person for up-to-date pricing.
Riley High-Leg Recliner

Manual

Starting at




$1,779

Power

Starting at




$2,079
Warranty
The Riley High-Leg Recliner comes with La-Z-Boy's Limited Lifetime Warranty, which covers the repair or replacement of the frame, spring systems, and mechanism, given that they are quality-crafted and built for long-lasting comfort.
While still quality-crafted, other aspects of the product, such as fabrics, leather, and cushion, are not meant to last a lifetime. However, these parts are still covered by the La-Z-Boy Manufacturer's Warranty for a given time.
To learn more about the warranty at La-Z-Boy, take a look at the article Are La-Z-Boy Recliners Guaranteed for Life?
To further protect your purchase, La-Z-Boy offers an extended warranty plan at an additional cost.




Is the Riley Recliner Right For You?
The Riley Recliner can be a beautiful addition to any room, but is it the right choice for you?
Racha says that the Riley is a great choice for someone who is looking for a stylish, yet comfortable, addition to a room. Unlike some other recliner styles that appear traditionally bulky, the Riley Recliner is classic and sophisticated.
The Riley is considered to be a part of the Comfortably Casual style at La-Z-Boy. With this, the Riley can fit with many styles of decor depending on your own personal customizations and might work very well for someone looking for an accent chair.
Racha adds that while the Riley Recliner may appeal to a woman with an eye for style, the square headrest and sharp edges also give off a masculine appeal. The Riley may be the perfect compromise for couples negotiating their taste and preferences when it comes to home decor.
If the Riley has caught your eye but it is not just right, you may consider similar models such as the Haven High Leg Recliner Chair or the Midtown Chair. These styles have slightly varying features while still balancing style with comfort, so you may find what you are looking for in these models.
For even more options, take a look at our 5 Best Selling La-Z-Boy Recliners in Ottawa & Kingston.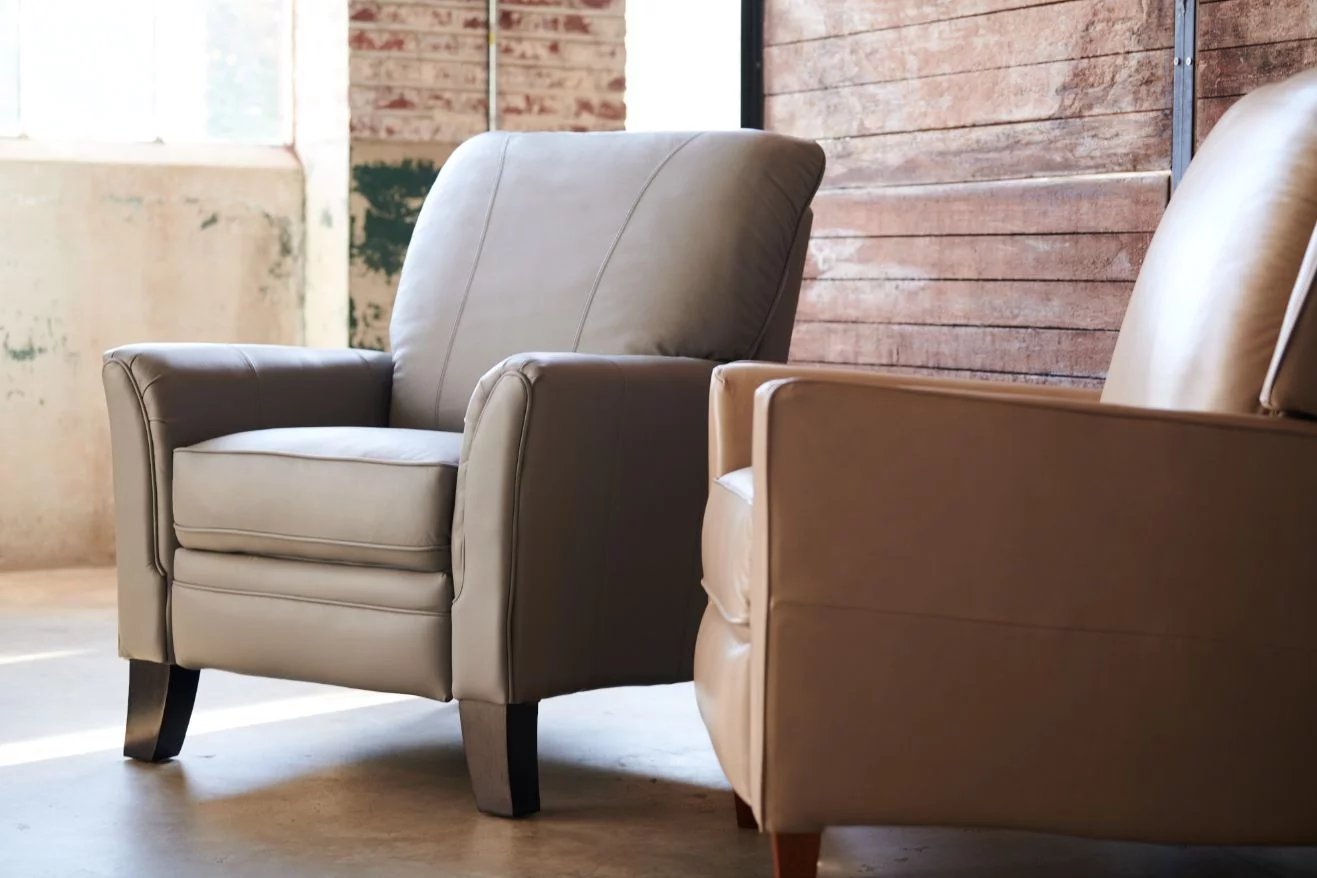 Product Info Request
Please provide us with your name and email and we'll get back to you as soon as possible regarding this item.