Review of La-Z-Boy's Haven High-Leg Recliner Chair
February 14, 2022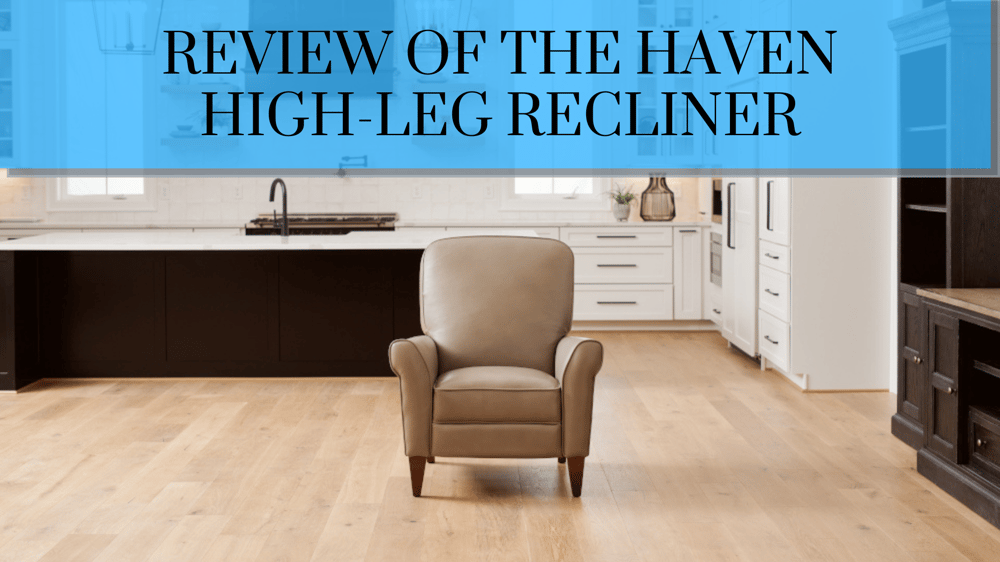 The perfect recliner doesn't exi–
Oh wait… maybe it does! It seems as though there is a favourite chair among the La-Z-Boy family, and no one can get enough of it.
The Haven High-Leg Recliner is the perfect example of traditionally designed furniture taking on a modern twist.
Updated to fit any traditional or contemporary household, the Haven includes uniquely sculpted rolled arms, a tight back, tapered wood legs, and decorative welt trim on the back seat and arms of its design.
Racha Pharaon, Interior Designer at La-Z-Boy Kanata, praises the Haven Recliner, calling it an up-and-coming best-selling chair at La-Z-Boy. "It is so versatile, yet so simple," she says.
You might be wondering, just how great can the Haven be?
This article will review the Haven in detail. From the unique features to the added upgrades to what other customers have to say about it, you'll know everything you need to know about this popular reclining chair to determine if it is right for you!
In This Article…
Unique Features
Every chair at La-Z-Boy has something different for everyone, but what makes the Haven stand out from all the rest?
According to Racha, if interior designers have a hard time finding an accent chair to match a certain living room, they always know they can rely on the Haven to save them in a tricky selling situation.
The Haven is considered a High-Leg Recliner, meaning the legs of the chair are taller than other accent chairs. The legs are taller because the recliner is released from inside the frame, giving it the room it needs to reach the front of the chair when in the reclining position.
Speaking of the reclining feature, you wouldn't know it was a reclining chair if you were to just look at it.
High-Leg Recliners look like any other stationary furniture piece, except it does not function the same. The user simply pushes back into the chair to access two possible reclining positions.
These accent chairs are typically referred to as Secret Recliners because they camouflage themselves as stationary chairs but recline like any other furniture. This makes it the perfect chair to match any reclining or non-reclining furniture. A true chameleon!
You can learn more about Secret Recliners by checking out our article about them.
The Haven also has a high back, which might sound concerning considering it is also a high-leg chair. However, the Haven is the right size for anyone with an average height.
It also has an excellent headrest for maximized comfort when reclining. On the subject of reclining, the Haven has two reclining settings, one for regular reclining and the second one in an almost perfect sleeping position.
Size & Dimensions
According to Racha, Haven's size is not very bulky, making it pretty easy to fit well in any room. It might need more space than other recliners because it is not considered a wall recliner, but it is still versatile for any living area.
You can learn more about Wall Recliners by checking our comparison article on Rocking Recliners and Wall Recliners.
Further, the dimensions of the recliner are ideal for those between the heights of 5'4" to 5'9". The best way to know if the Haven Recliner is the right fit for you is to visit a La-Z-Boy showroom and take a sit test with the help of a design consultant.
Haven Weight: 76lbs

Body Depth: 37 in




Body Height: 40 in




Body Width: 35 in

Seat Depth: 21 in




Seat Height: 19.5 in




Seat Width: 21.5 in
Options & Upgrades
The Haven, as with any La-Z-Boy furniture, comes with a variety of options or upgrades to help customize your furniture to however you see fit.
Remember that options and upgrades come with additional prices, meaning initial pricing of the Haven is subject to increase.
Power (Not Available)
Though the Haven Recliner is a best-seller, it is interestingly one of the few recliners at La-Z-Boy that does not offer a power upgrade. This may be surprising to some because Power options are a popular choice when customers look to upgrade their furniture.
In this case, however, sometimes power isn't always the best. You can learn more about comparing Manual vs. Power Recliners with our review article.
Upholstery/Cover Options
The Haven is one of La-Z-Boy's designer's choice options, explaining why interior designers and salespeople think highly of this furniture piece.
The Haven has many different personalization options to choose from, which is why it is on that designer's choice in the first place.
La-Z-Boy has over 800 fabrics to choose from, making your furniture as unique and special to you as possible. This selection includes specialty fabrics, which come at an additional cost.
Stain Resistant
Innovative iClean Technology surrounds each fabric fibre, creating a barrier that repels spills before turning into stains.
Tested and formulated to withstand the scratches and wear that a pet can cause to ensure a durable and easily washable fabric.
Antimicrobial
Antimicrobial properties surround each fibre to protect against mould, mildew and odour-causing bacteria.
Performance
Superior stain and fade resistance properties make fabrics easy to clean and incredibly durable.
Eco-Friendly
Conserve Sustainable Fabrics are soft, durable and made from recycled water bottles.
Leather
Similarly, leather options are also available for the Haven but also come at an additional cost. Haven's leather is made of recyclable leather, making it more sustainable and worth the extra spending.
You can learn more about comparing Fabric vs. Leather by reading this article.
Welt Trim
Customers can also choose a contrasting welt trim to accentuate the chair's design. Pattern welt trim options are also available to make an aesthetically pleasing accent chair.
Cushion Options
La-Z-Boy cushions are all made with high-grade foam, meaning your cushions will maintain their comfort and appearance for a very long time.
You can also upgrade your Haven cushions to a firmer cushion option that will ensure comfort in your Haven even after hours of sitting in it. This cushion upgrade will add an extra $150 to the initial price.
For more information please see our stationary furniture collection catalogue and our in-depth Review of La-Z-Boy's Chair and Sofa Seat Cushions.
Please note that furniture purchased prior to January 2021 had the option to upgrade to ComfortCore

GEL seat cushions. This cushion has seven layers of comfort technology that includes gel-infused memory foam that provides exceptional support as it conforms to your body.
Finish Options
La-Z-Boy is all about customization, and that includes customizing the legs of your high-leg chair. Haven can come in one of three finish options:
Mahogany

Coffee (additional cost)

Graphite (additional cost)
Here are just some of the many different upholstery options that the Haven can come in!
Cost
The Haven is considered in the mid-price range for recliner precision. The Haven "can be a convenient price for most customers looking for cheaper options", says Racha.
Currently, the Haven's base price starts at $1,489. This does not include any additional options and upgrades.
*All La-Z-Boy prices listed in this article are subject to change. We aim to update all cost-related articles twice per year. This article was last updated on March 14, 2022. Please visit lzb.com and select an Ottawa or Kingston La-Z-Boy store location to view the most up-to-date pricing.
Warranty
The Haven is covered by La-Z-Boy's Limited Lifetime Warranty, which covers the repair or replacement of the frame, spring systems, and the mechanism, given that they are quality-crafted and built for long-lasting comfort.
While still quality-crafted, other aspects of the product, such as fabrics, leather, and cushion, are not meant to last a lifetime. However, these parts are still covered by the La-Z-Boy Manufacturer's Warranty for a given time.
To learn more about the warranty at La-Z-Boy, take a look at the article Are La-Z-Boy Recliners Guaranteed for Life?
To further protect your purchase, La-Z-Boy offers an extended warranty plan at an additional cost.
Customer Reviews
As mentioned before, the Haven is enjoyed by everyone, employees and customers alike. According to Haven's review section, it is ranked 4.7/5 for customer reviews.
Numbers can only tell you so much. Here are some reviews from satisfied customers.
Is the Haven High-Leg Recliner Right for You?
Racha says the style of the Haven seems to fit right in the middle of modern and classic, making this high-leg recliner the perfect chair for any urban aesthetic.
Without the apparent appearance of a recliner in the home, it'll fit seamlessly with any stationary furniture you have, enhancing the overall look of your room.
According to Racha, even without an urban aesthetic in the mix, this particular chair is a best seller for a reason. It is a very comfortable chair that goes with any style of any living room.
Height and size are also versatile with the Haven, meaning most people will look and feel great when sitting down on this comfortable recliner.
"Comfort, style, and budget; all of it in one chair!" says Racha. A great choice indeed!
With that being said, the Haven High-Leg Recliner is not suitable for everyone. In order to recline in the Haven, back and leg force is required to push the chair into a reclining position. This force is also required to return to an upright position. This may prove a hindrance to some individuals with mobility issues.
If you are someone suffering from mobility issues, a high-leg recliner offered in power may be more suitable given you can recline in a variety of positions at the touch of a button.
What's Next?
Now that you know everything you need to know about the Haven High-Leg Recliner, why not get yourself one of these chairs today?
Visit one of our La-Z Boy Ottawa & Kingston stores today and experience the Haven firsthand! You can also schedule a visit online before coming in.
Our design consultants are always eager to lend a helping hand. Take advantage of our complimentary interior design services to see how the Haven could fit in your home.
If the Haven isn't what you were looking for, take a look at our other Recliners by browsing these articles below.
Related Articles:
Top 5 La-Z-Boy Power Recliners with the Headrest & Lumbar Upgrade
Product Info Request
Please provide us with your name and email and we'll get back to you as soon as possible regarding this item.