The La-Z-Boy Bellevue High Leg Swivel Chair: In-Depth Review
March 5, 2021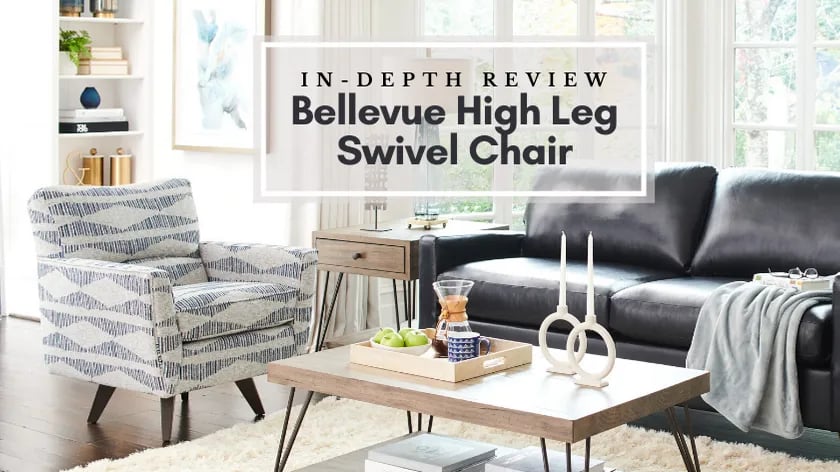 PLEASE NOTE: The Bellevue High-Leg Swivel Chair was formerly part of the Urban Attitudes Collection which has now been discontinued. Any reference to the features and benefits of this collection is no longer available.
You know about our famous La-Z-Boy recliners, but are you familiar with our swivel accent chairs? A swivel chair not only looks good but can rotate 360 degrees to the left and the right so that you can have a full view of everything and everyone in the room!
La-Z-Boy offers several swivel chairs in Canada, but today we're going to be discussing the Bellevue High Leg Swivel Chair. The Bellevue is a relatively new swivel on the scene and already one of Ottawa and Kingston's most popular accent chairs.
This article will discuss the Bellevue's features and benefits, what our customers like and dislike about it, and who it fits best.
Mary Lee Smyth is an interior designer in Kingston. Since starting at La-Z-Boy in 2017, she's helped hundreds of clients find their perfect chair that swivels and is our go-to expert for this review.
In this Article...
Unique Features
Part of our Urban Attitudes® collection, this retro-inspired chair is reinventing mid-century style.
The low-profile design features subtly flared track arms and a softly scooped, tight back. Welt trim along the outside arms and loose seat cushion highlight Bellevue's organic lines, while angled wood legs add a vintage flair.
Fun and functional, with a 360-degree swivel base, this playful chair keeps you at the center of all the action. Choose your favourite fabric and wood finish for a custom look.
Size & Dimensions
The size and dimensions can tell you a lot about a furniture item. To ensure that the Reese Loveseat or Sofa can fit in your home, it is always important to measure your space.
Generally, for a younger more style-seeking consumer the Bellevue would best fit a larger or taller person and may require a bit more space in the room. More specifically 5"10' to 6'2".
While your height can be a considerable factor, it is important to note that height guidelines are NOT set in stone. The way you sit in a furniture item can drastically affect how someone might find a seat comfortable.

This is why we highly recommend coming in-store and taking a sit test to determine if the Reese is right for your unique body type. To learn more, take a look at our article How to Find a Recliner That is The Best Fit For You.
Swivel chairs need a bit of movement room. Watch table placement against the side so that the corners don't interfere with the swivel motion. Mary Lee likes to place a round table with a swivel chair. There are no corners to catch, and the round shape echoes the movement of the chair.
High Leg Swivel Chair Weight: 68 lbs

Body Depth: 36 in.




Body Height: 37.5 in.




Body Width: 33 in.

Seat Depth: 20 in.




Seat Height: 22 in.




Seat Width: 23.5 in.
Options and Upgrades
Take some time to investigate your options so that your new chair doesn't just suit your home; it fits your way of living. The La-Z-Boy Bellevue swivel chair has various customization options available.
Fabric & Leather Options
La-Z-Boy has over 800 covers to choose from, making the experience of personalizing your furniture seemingly endless.
When selecting the fabric or leather for your Bellevue, the cost will vary based on the grade you choose. Each grade offers different qualities and characteristics, allowing you to find the perfect balance between your desired style and budget.
For a comprehensive understanding of La-Z-Boy's upholstery grades, check out this article.
*Please note that this article's leather or fabric options may be discontinued or unavailable without prior notice. We recommend contacting your local Ottawa or Kingston La-Z-Boy store by phone or in-person to confirm availability. We apologize for any inconvenience caused by any changes to our upholstery selection.
In addition to the cover options mentioned above, the Bellevue comes in specialty fabrics that offer unique features and benefits…

Stain Resistant
Innovative iClean Technology surrounds each fabric fibre, creating a barrier that repels spills before turning into stains.
Tested and formulated to withstand the scratches and wear that a pet can cause to ensure a durable and easily washable fabric.
Antimicrobial properties surround each fibre to protect against mould, mildew and odour-causing bacteria.

Performance
Superior stain and fade resistance properties make fabrics easy to clean and incredibly durable.

Eco-Friendly
Conserve Sustainable Fabrics are soft, durable and made from recycled water bottles.

Energy Restoration
Restore by Nanobionic® features a mineral-based fabric coating that transforms natural body heat into energy using infrared technology.
Cushion Upgrade
For added comfort and optimal firmness, Premier furniture comes standard with patented ComfortCore® cushions. They support your derriere's every curve with the perfect balance of firmness and luxurious softness.
At an additional cost, firmer seat options are available, plus you can choose to upgrade both the seat and back cushions. For more information please see our stationary furniture collection catalogue and our in-depth Review of La-Z-Boy's Chair and Sofa Seat Cushions.
Please note that furniture purchased prior to January 2021 had the option to upgrade to ComfortCore

GEL seat cushions. This cushion has seven layers of comfort technology that includes gel-infused memory foam that provides exceptional support as it conforms to your body.
Contrasting Welt Trim
Customers have the option to choose a contrasting welt trim to accentuate the design of the furniture. Furthermore, patterned welt trim options are available, which can enhance the aesthetics of the furniture frame.
Finish Options
La-Z-Boy is all about customization, and that includes customizing the swivel base. Bellevue can come in one of three finish options:
Mahogany Brown (Standard Finish)*
Coffee (additional cost)*
Graphite (additional cost)*
Driftwood (additional cost)*
Cost
The Bellevue chair price comes in at the mid to high range for swivel chairs available on the market today. The quality of materials, premier construction, and the customization of fabrics are among the reasons for the higher price tag.
Currently, we have the Bellevue chair starting at $1,459.
Please note that La-Z-Boy prices listed in this article are subject to change without notice. Information is current as of May 12, 2023. Contact your local Ottawa or Kingston location by phone or in person for up-to-date pricing.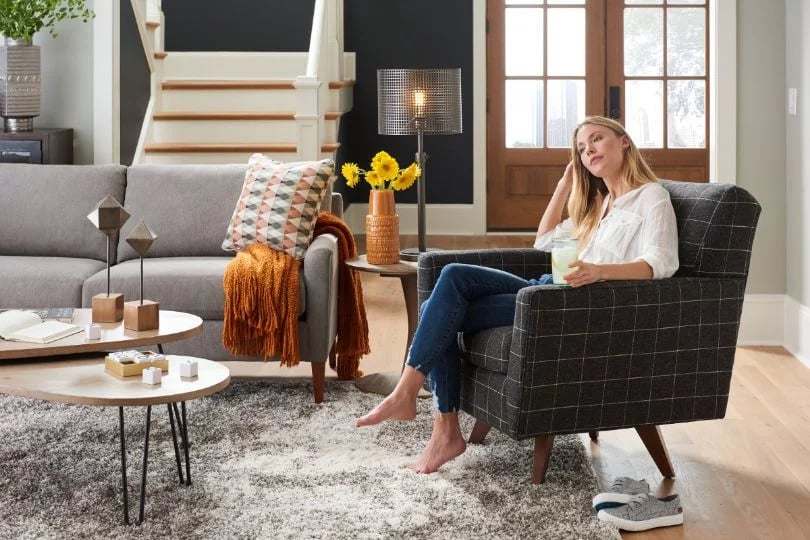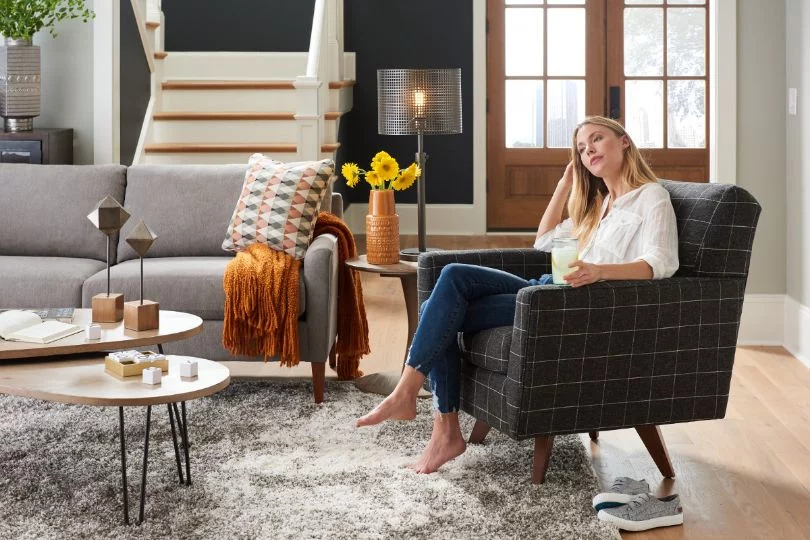 Warranty
The Bellevue chair is backed by a Limited Lifetime Warranty assuring the protection of your investment and overall satisfaction.
The Limited Lifetime Warranty covers the repair or replacement of the frame, given that it's quality-crafted and built for long-lasting comfort.
Other aspects of the product, such as fabrics, leather, and cushion, are not meant to last a lifetime. However, these parts are still covered by the La-Z-Boy Manufacturer's Warranty for a given period of time.
La-Z-Boy Ottawa/Kingston provides coverage options extending beyond the one-year manufacturer's warranty. We offer a five-year comprehensive service plan for the labour parts and in-home service.
If the chair covered by this plan becomes damaged or stained and you are not able to remove the stain yourself, La-Z-Boy will cover the cost of cleaning. La-Z-Boy will also provide the parts and services that may be necessary to maintain the proper operation of the chair.
To learn more about our protection plan check out Is La-Z-Boy's Furniture Protection Plan Worth it?
Customer Reviews
The Bellevue chair currently has a 4.9-star rating in North America. Read what customers are saying in the following reviews. Click the link below to see even more reviews.

Going Mid-Century
Our mid-century swivel chair looks great with our decor. Though delivery time was long due to COVID, it was well worth the wait to have a top quality, beautiful chair. [sic] Lawrence D.

So comfortable!
We ordered two of these so that we could swivel to watch tv or enjoy the fire. They are exceptionally comfortable and very nice quality. I would order again. [sic] Sally B.

We created a wonderful kitchen hang-out spot with these 2 beautiful La-z-boy swivel chairs, and this small end table.[sic] Bruce G.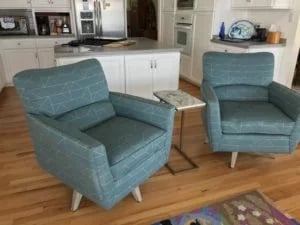 Is the Bellevue High Leg Swivel Chair Right For You?
If you're considering the Bellevue, it's important to evaluate whether it is the right fit for you.
One factor to consider is your budget, as the Bellevue falls within the

mid to high range

. While it may require a slightly larger investment, it offers numerous features that may make it worth the price.
In terms of style, the Bellevue is mid-century inspired, adding a touch of timeless elegance to any space. Additionally, the chair's size is best suited

for taller individuals, ensuring that your feet won't tangle or hang uncomfortably off the edge

.
Finally, the Bellevue's functionality is worth noting—it's a swivel chair that allows you to be in the center of the action. However, it's important to consider the space required for swiveling,

ensuring you have enough room to maneuver comfortably

.
Taking into account these factors, the Bellevue can be a great choice if you're looking for a stylish, comfortable chair that offers both aesthetic appeal and functional versatility.
What's Next?
In a very short time, the Bellevue has become the number three most popular accent chair in Ottawa & Kingston after the Allegra and the Reegan chairs!
Its low overall height makes the Bellevue perfect for placement in front of a window to take in both the view outside and your company in the room.
La-Z-Boy has over 90 years of experience in furniture. The quality of the Bellevue or any other La-Z-Boy accent chair will ensure you find the perfect match for your needs.
We encourage you to come into the store and try the Bellevue for yourself at any one of our La-Z-Boy furniture stores in the Ottawa and Kingston area.
Or schedule an appointment and take the sit test. Our design consultants are experts at finding the perfect chair for you.
Learn all about what to expect and what's included in our full-service home furnishings and décor experience.
We look forward to helping you find your perfect chair.
Related Blog Articles:
Product Info Request
Please provide us with your name and email and we'll get back to you as soon as possible regarding this item.