Review of the New Restore by Nanobionic® Fabric at La-Z-Boy Ottawa & Kingston
February 21, 2023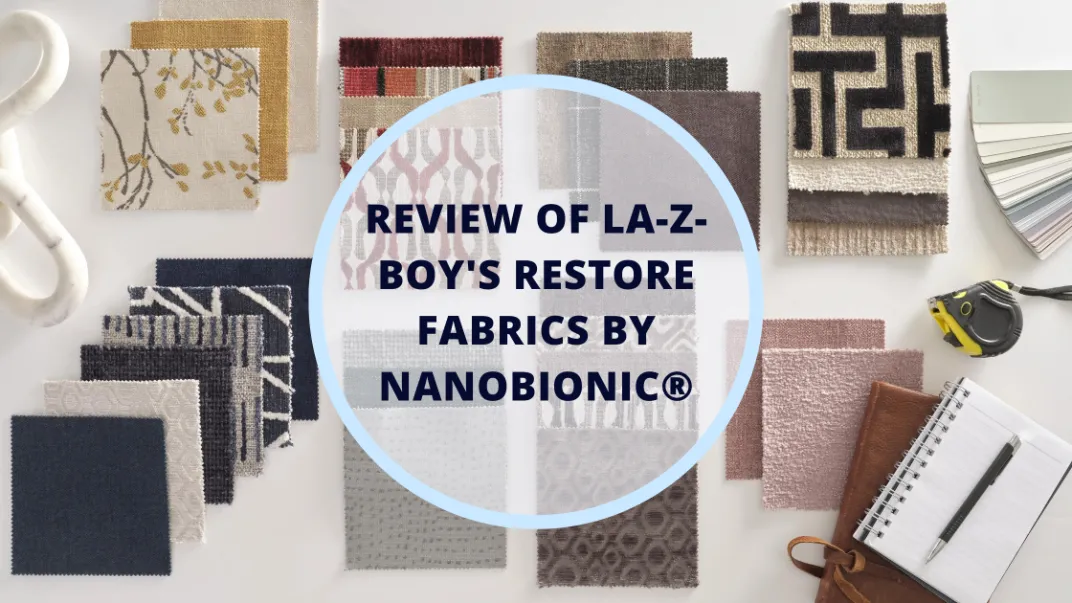 Est. Reading Time: 5 Mins
True to La-Z-Boy's tagline - live life comfortably - at La-Z-Boy Ottawa & Kingston, we are obsessed with helping our customers find the perfect furniture for their homes!
We strive to ensure furniture purchased will benefit the individual and their overall way of living. Given this motto, we could say we want our customers to also live life healthily, but that doesn't have the same ring to it!
With the inclusion of our popular Eco-Friendly Fabrics, and the more recent introduction of our Antimicrobial Fabrics and Leathers, La-Z-Boy continues to be conscious of technological advancements in the health and wellness field.
Hence another unique specialty fabric has been introduced to the La-Z-Boy family that will change how you use furniture. Restore Fabrics by Nanobionic® Fabrics are revolutionary upholstery that helps restore the burning energy inside your body.
But how in the world does furniture fabric keep you energized? What are Restore fabrics made of, and how will they benefit you? These are all valid questions answered in this in-depth review article.
In This Article…
What Are Restore Fabrics?
Since most will question what Restore Fabrics and Nanobionic are, let's get right to the point of explaining both. To put it simply, Restore Fabrics are newly introduced specialty covers created by Nanobionic.

Their website defines Nanobionic as the "next generation in performance and lifestyle apparel, combining science, technology and nature" for everyday living. Products range from tracksuits to jogging shoes to mattresses and even pet wellness beds.
Nanobionic apparel and bedding are considered "Wellness Products" because they recycle and enhance the body's wasted energy.
Returned energy stimulates local blood flow to keep you energized, improve everyday performance, and enhance wellness for better recovery. Nanobionic coating can also be applied to most textile products, such as clothing, bedding, foam, leather, and, in La-Z-Boy's case, fabric.
Speaking of La-Z-Boy's involvement, this new partnership with Nanobionic is the first of its kind. Announced in November 2022, La-Z-Boy is the first company to offer this new technology in furniture textiles.
A new selection of La-Z-Boy fabrics, the Restore Fabric collection, with Nanobionic coating technology, is available to custom order on furniture frames.
How Does It Work?
Furniture that can help you get your energy back!? It seems a little out of the ordinary. So, how does this Nanobionic technology work? How can your furniture restore your energy?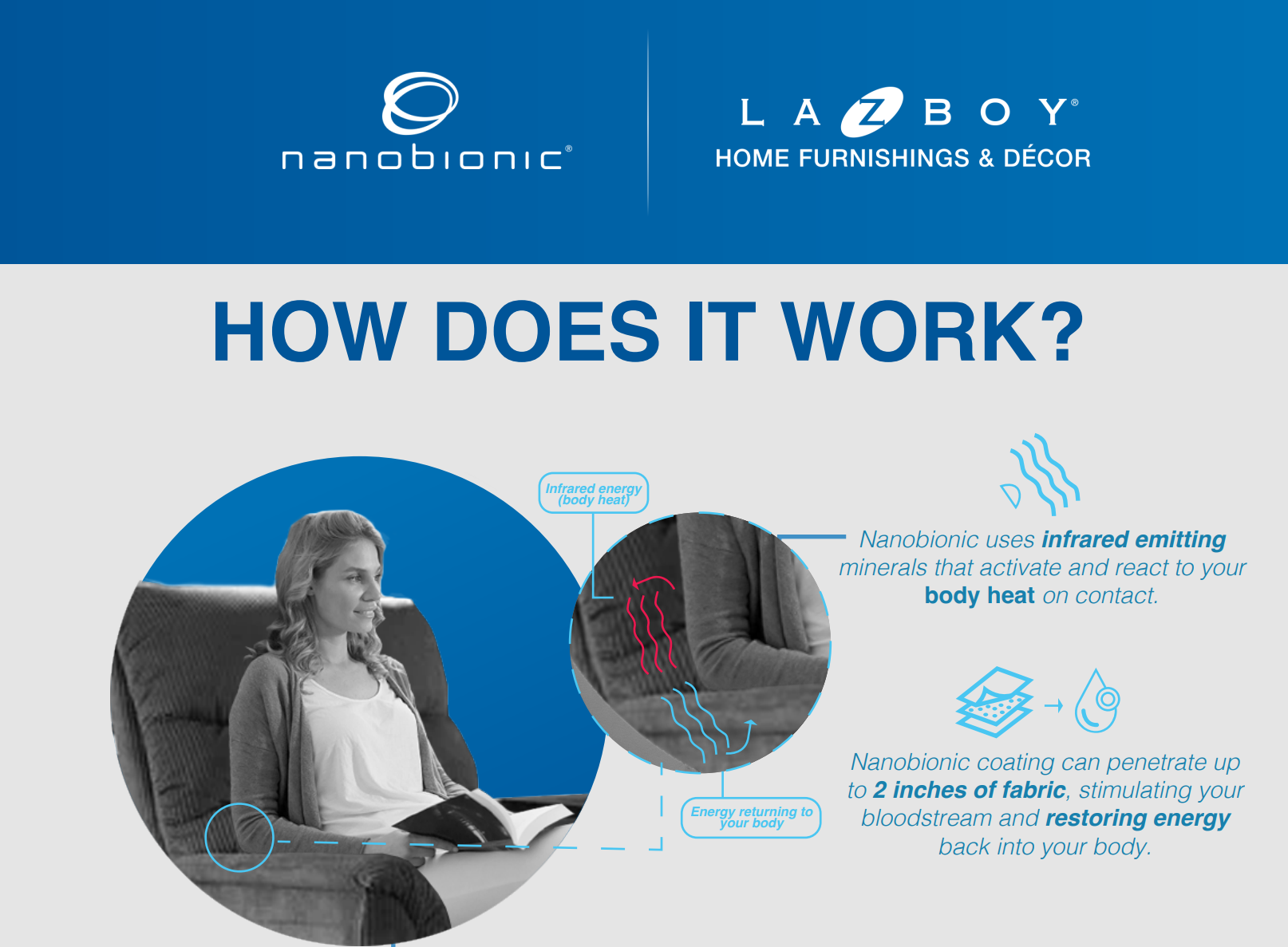 Throughout the day, your body produces an average of 110 watts of energy. Nanobionic is a soft coating on textiles made of infrared-emitting minerals activated by your body heat.
The coating is created by melting ground, ethically sourced infrared-emitting minerals with the proprietary formula to create a liquid applied directly to textiles like Restore Fabrics.
Shortly after the first few minutes of relaxing in your La-Z-Boy furniture, the Restore by Nanobionic® fabric gets to work, returning invisible waves of energy back into your body and stimulating local blood flow. This energy can have a wide range of benefits, including:
Aiding in relaxation

Helping to reduce muscle tension

Enhancing faster recovery by assisting in reducing inflammation

Increasing general wellness

Boosting the body's energy

Increasing and enhancing performance
These infrared rays can penetrate approximately 2 inches of material, so they can easily pass through clothing. It also allows your body to balance temperature better, so you will not feel warm or hot.
While you cannot see or necessarily feel the technology at work, Restore fabric continues working while you relax. Therefore, the longer you sit, the more energy your furniture will recycle and restore to your body.
Are Restore Fabrics Safe?
As mentioned above, infrared rays penetrate your skin and convert unused energy back into your body. As some may already know, infrared rays can harm the human body if exposed to intense doses.
However, other studies have shown that infrared rays can also be beneficial when exposed to the right intensity. For example, the Restore Fabrics at La-Z-Boy use a non-invasive method of using infrared rays, which means it does not have any side effects when sitting on your furniture.
Infrared rays are also known to have regenerative properties, which is why some spas are starting to include treatments like infrared saunas and infrared therapy.
The non-invasive Nanobionic technology has been validated through several independent scientific studies and recognized by NASA iTech as a top 10 finalist that could impact space exploration.
Available Covers at La-Z-Boy
Now that you know how the technology works, let's switch gears and refer to what is available regarding Restore Fabrics at La-Z-Boy.
Restore Fabrics, though innovative, are still stylish and comfortable. Therefore, you should expect the same comfort and durability you would get from any of our other furniture covers.
Currently, Restore Fabrics come in 3 distinct textures with 14 different colours. Since these specialty fabrics are a new introduction to our furniture cover selection, La-Z-Boy may release more options in the coming months.

As for leather upholstery, there are currently no Restore leathers. However, La-Z-Boy has an extensive Leather Program that includes many different leather colours and textures.
Cost of Restore Fabrics Upgrade
The current lineup of Restore fabrics is offered on two furniture frames, the Mateo and Ezra, as a select cover option. Select covers are chosen to complement a specific furniture frame and are typically a lower-grade fabric, often representing the item's base or starting price point.
Even though they are a select cover for two frames, these specialty fabrics are considered an upgrade and the cost of your furniture will increase if you add a Restore fabric.
The cost of your Restore fabric depends on a few factors, including fabric grade, additional specialty fabric features and furniture frame.
Fabric Grade
Believe it or not, there are varying degrees of how expensive a fabric cover is to make, which La-Z-Boy identifies by using a fabric grading system.
Each grade is designated with an alphabetical letter, starting at grade A, the least expensive. Durability, the complexity of the weave, the type of fibre, the construction of the fabric, and the thread count also impact the fabric's grade.
Since Restore fabrics have a "Q" fabric grade, the cost to add a Restore fabric will be higher than adding lower-grade specialty fabric covers.
Additional Specialty Covers
At La-Z-Boy, we offer a large selection of specialty fabrics with unique features and benefits. Often more than one of these special performance features is represented in a given upholstery cover. Such is the case with the first 12 Restore fabrics that are also stain-resistant, given innovative iClean technology, and pet-friendly.
These additional performance features will ultimately increase the overall total cost of your fabric upgrade.
Furniture Frame
Lastly, furniture frames vary in size and functionality, so your chosen frame will affect the price. Furniture frames can be either an accent chair, a recliner, a loveseat, a sofa or a sectional. It also depends if the furniture is Stationary or Reclining.
Since Restore fabrics at La-Z-Boy have a "Q" fabric grade, one of the highest grades at La-Z-Boy, the starting price of your furniture frame with this specialty fabric will increase by 25% - 60%.
*All La-Z-Boy prices listed in this article are subject to change. We aim to update all cost-related articles twice per year. This article was last updated on February 2nd, 2023. Please visit lzb.com and select an Ottawa or Kingston La-Z-Boy store location to view the most up-to-date pricing.
Warranty
Like all of our fabrics, Restore fabrics are covered under La-Z-Boy's manufacturer's warranty.
La-Z-Boy's warranty protects your products from manufacturing defects, not accidents or normal wear associated with everyday use. Although La-Z-Boy upholstery, especially specialty performance covers, are high-quality and durable, nothing lasts forever. With regular use, they are susceptible to normal wear over time.
With this, the Restore covers have 1 to 3 years of coverage. Restore receives the standard 1-year warranty, while a Restore Fabric that includes iClean will receive 3 years of warranty.
If you wish to have additional coverage that extends beyond the manufacturer's warranty, you may consider La-Z-Boy Ottawa & Kingston's Furniture Protection Plan. At an additional cost, this plan extends your warranty coverage for 5 years. Within these 5 years, La-Z-Boy will cover the cleaning or repair of accidental damage and stains.
To learn more, check out Is La-Z-Boy's Extended Warranty Service Plan Worth it?
Are Restore Fabrics Right For You?
Now that you know more about La-Z-Boy's new Restore fabrics, you might still wonder if this is the right fabric for you. To help you decide, here are a couple of factors you should consider.
First, as mentioned before, Restore are higher-grade fabrics making them more expensive than other available covers. La-Z-Boy's furniture prices fall within the mid to high-end range of the market, given the high quality of materials used to make our furniture. Adding Restore specialty fabric may have the final price pushing the limits of your furniture budget.
La-Z-Boy furniture is an investment as craftsmanship and quality materials used in construction are intended to provide longevity. If you're planning to use your furniture for a long time, you might benefit from spending more initially than overtime having to replace deteriorating furniture.
If you want to experience the health benefits of Restore fabric and are conscious of price, check out our Affordable Sofas and Affordable Chairs articles.
Another thing to consider is if you are in need of the restorative properties provided by Restore fabrics. According to Nanobionic, the technology benefits you more the longer you sit on the furniture fabric.
That being said, if you sit on your furniture for long periods of time, this specialty fabric might be right for you. If you're the type of person that doesn't lounge around on their living room furniture, this type of specialty fabric may not be worthwhile.
Restore fabrics would provide further health benefits to those purchasing a lift chair as this frame is often subject to extended use and assists with someone's mobility.
What's Next?
Now that you're armed with detailed information about La-Z-Boy's Restore Fabrics by Nanobionic®, you can decide whether to consider them as a cover for your new furniture purchase.
Remember, these fabrics have just launched, so more options may be available as it is just the beginning!
If you're interested in seeing these fabrics in person, come visit one of our stores today! Visit us at a local Ottawa or Kingston La-Z-Boy showroom, or schedule your visit to view our current Restore cover selection.
With over 800 custom fabric and leather cover choices, our expert design consultants will help you get fitted for your perfect furniture frame and assist in your upholstery selection - quite possibly a Restore fabric colour!
You may also consider taking advantage of our interior design services. One of our talented interior designers can help you incorporate any Restore fabric you can eye.
If you're interested in our other specialty fabrics, take a look at these articles:
Related Articles:
Review of La-Z-Boy's Seat Cushions
Fabric vs. Leather: Which Upholstery Cover is Right for You?
Product Info Request
Please provide us with your name and email and we'll get back to you as soon as possible regarding this item.