Is La-Z-Boy Furniture Toxic: Common Toxins in Furniture & How to Stay Safe
March 4, 2022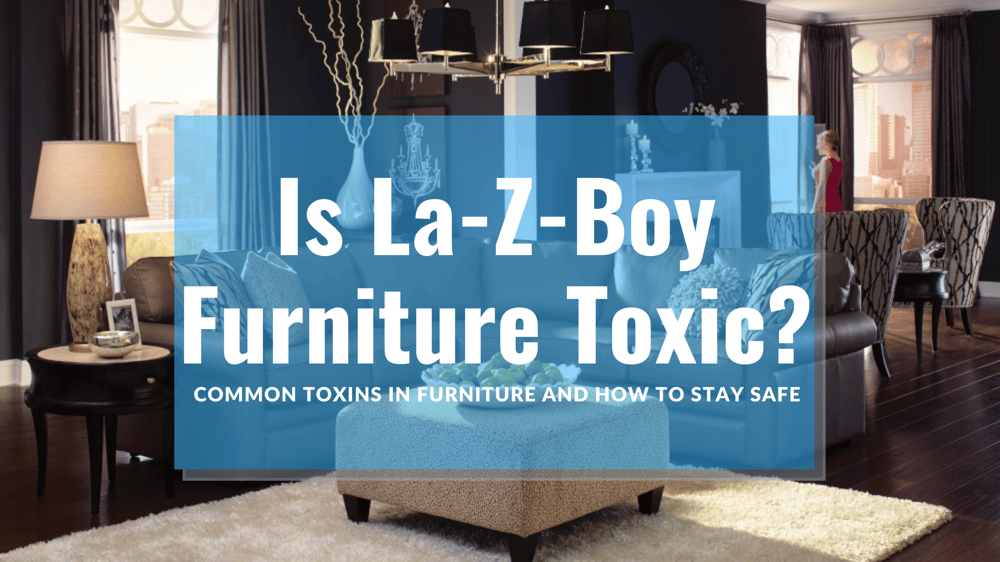 Est. Reading Time: 11 mins
For over 90 years, La-Z-Boy has been committed to creating high-quality, sustainable, and safe furniture, bringing thoughtful customer service to anyone who walks in our doors.
It's not a secret that La-Z-Boy furniture is an investment compared to some other brands out there. That is because we carefully craft our furniture with the best materials possible so that they do not break or fail on you, making your investment worthwhile.
So, you might be wondering, it's a no-brainer that La-Z-Boy's furniture isn't toxic, right? Well, how much do you really know about the materials used in our furniture? What kind of chemicals can you find in regular furniture? And what is our process in making sure our furniture is safe for any household?
This article will inform you on what materials La-Z-Boy's furniture is made with and if our furniture is truly toxic or not.
If you choose not to shop at La-Z-Boy, the information in this article will also help you know what to look out for when seeking non-toxic and safe furniture.
In this Article…
6 Common Toxins Found in Furniture
Before diving into the specific materials used to make La-Z-Boy furniture, it is important to gain an understanding of the common toxins found in furniture industry-wide.
Whether you are shopping at La-Z-Boy or another furniture store, keep an eye out for the following toxic ingredients.
It is important to note that there are many chemicals found in furniture, which are not all listed here. If you wish to learn about the various types of toxic chemicals that are used to make furniture, visit the Government of Canada's webpage on Pollutants from Furniture and Building Materials.
You should also keep in mind that, though these chemicals might sound scary to read about due to their side effects, they're all subjected to strict regulations that are put in place by federal authorities to keep everyone safe.
Keep in mind that there are also ways to mitigate certain side effects caused by the chemicals found in furniture. You can learn more about all of these preemptive measures later in this article.
1. VOCs (Volatile Organic Compounds)
Ever wondered why furniture has a smell when you first purchase it? You might be wondering where that smell could be coming from.
Well, when you open up a piece of furniture out of its packaging for the first time, the chemicals used to make the furniture are released after sitting in an enclosed area for so long.
Some chemicals used in furniture can become airborne, which are commonly known as Volatile Organic Compounds (VOCs). VOCs are common in indoor environments as opposed to outdoor environments because they are emitted from furniture in your house or other man-made products.
Shockingly, there can be up to 50 individual VOCs in the air of your house at any given time! Depending on the type of VOC in the air, they can produce a low or high level of odour. This is what the smell in your furniture is coming from.
At high concentrations, VOCs can be toxic and can have serious health risks to humans, including chronic diseases and even cancer.
Needless to say, La-Z-Boy has regulations in place to reduce the risks that VOCs and other chemicals that might cause harm, which you can learn about in our Certifications section of this article.
2. Formaldehyde
You might be thinking to yourself "I thought formaldehyde was just used in hospitals." Well, you are correct! However, this isn't the only use that Formaldehyde has.
This colourless gas is also found commonly in glues and adhesives, pressed-wood products, and permanent-press fabrics. Though the short-term effects like nose, eye and throat irritation are mild, long-term effects can cause cancer, since Formaldehyde is considered a carcinogen.
3. Benzene
Benzene is known for being associated with vehicle exhaust and fumes, but can also be found in detergents and furniture dye.
There are many side effects that can come from Benzene ranging from skin irritation to blood disorders, to even increased leukemia in rare incidences.
4. Hexabromocylododecane
Better known as its abbreviation, HBCD, this persistent chemical is used to minimize the spread of flames if your house catches on fire.
Flame retardants have been used to limit the spread of house fires for a while now, but some of them, like HBCD, are known to cause some serious health conditions.
According to the Environmental Protection Agency (EPA), this chemical accumulates in its environment for long periods of time, attaching itself to anything edible. Its side effects are known to cause reproductive, developmental, and neurological defects.
5. Phthalates
This class of chemicals is actually found in most consumer products, including plastic wrappings, furniture upholstery, carpet backing, and even packaging.
Phthalates are considered to be a major disruptor in hormone production, causing hormone imbalances and affecting children's development. Prenatal exposure to certain Phthalates can potentially cause genital birth deformities.
6. TDI (Toluene Diisocyanate)
Most foam cushions and mattresses are made with a specific chemical called TDI (Toluene diisocyanate).
TDI is used to make the foam in furniture more flexible so that there is more bounce to them. TDI is also a carcinogen, meaning, if used carelessly, there can be some serious health hazards for individuals exposed to this chemical.
However, this chemical is used for almost every piece of furniture made with cushioning. This chemical is also approved for safe use by every regulation in Canada and the United States.
How to Mitigate the Health Risks of Toxic Furniture
Yes, some toxins listed in this article have some scary side effects. Even though there are certifications put in place to help reduce chemical risks, you might still be worried about them entering your home.
However, not all hope is lost. There are still some ways to help reduce chemical risks when considering the health and safety of your family.
Using an Air Purifier
Using an air purifier is a perfect way to eliminate unwanted toxins or chemicals in your house, especially if you currently live in colder temperatures or if you don't have any big windows.
Air purifiers are typically useful in smaller spaces, like apartment buildings, when the air is more isolated and, or in spaces where furniture is abundant.
Good Ventilation in Your House
It is always important to know if you have good airflow or ventilation in your house. Even without toxins floating around in your house, unclean air can cause side effects like sore throats and irritation.
Without proper ventilation, dust particles can also circulate within your area which isn't the best-case scenario. So, always make sure your ventilation is working at its peak.
Some may already know this but replacing your heating and A/C filters every 1-3 months helps bring less unclean air in your house.
Owning House Plants
Funny enough, plants are effective in getting rid of toxins found in furniture. This is great news for plant lovers because they have an added bonus of getting rid of certain furniture toxins if they have plants in their house.
Many studies have shown that plants are able to absorb certain chemicals in the air. If you do have plants in your house, a great way to get rid of more toxins in the air is to disperse them by every 100 square feet of living space; that way they can cover more ground and remove toxins effectively.
Open Your Windows Often
Similar to an air purifier, letting in new air by opening up your windows every now and then does wonders! If you are living in hotter climate temperatures and have bigger windows, this technique is an ideal one for you. Keeping your window open is not only good for eliminating toxins, but it is also overall healthier for yourself and others since you're letting clean air in and letting bad air out.
Clean Regularly
Regardless of toxins in your home or chemicals in your furniture, you should be cleaning your living space regularly. This includes getting rid of any spec of dust you see in your living space since dust carries a lot of particles that are not healthy to inhale in our bodies.
Vacuuming, wet mopping, and dusting are great ways to limit the dust in your home.
What is La-Z-Boy Furniture Made With?
Whether you are furnishing a nursery, a living room, or a basement rec room, you want to ensure that the furniture you choose, and the materials it is made with, are safe for your family.
As with any kind of furniture, there are many different materials that are used, specifically upholstery, wood, and foam.
All materials are used to construct La-Z-Boy furniture, including our upholstery selection and our selection from Hammary, Kincaid, and American Drew.
These are the materials we will assess throughout the article in terms of toxins.
Fabrics & Leathers
La-Z-Boy has over 800 different fabrics and leathers to choose from, including a range of specialty fabrics.
La-Z-Boy's specialty fabric selection includes …
When it comes to leather, there are multiple different types that La-Z-Boy sells, including…
Top Grain Leather, which is made with the uppermost layer of cowhide;

Split Grain Leather, which consists of the underside or side layer to cowhide;

and Bonded/Faux Leather, which consists of recycled leather shavings leftover from other leathers.
If you would like to learn more about La-Z-Boy leather, take a look at our article 6 Common Problems with Leather Furniture.
All Upholstered furniture is made with fire-resistant materials in order to reduce the spread of a house fire. You can learn more about this in our Certifications section in this article.
Foam
When looking for non-toxic furniture, one of our consumers' main concerns has to do with cushions and what they are made out of.
Certain foam materials can cause allergies for some individuals, making them react when they sit on furniture or even if they are near them in severe circumstances.
At La-Z-Boy, we make our furniture with two different types of foams. For reclining furniture, La-Z-Boy cushions are made with Contoured-cut Polyurethane High-Resilience Foam, designed to easily bend and mould into a reclining shape.
This cushion design is not the traditional type of padding that other companies use. In fact, the contour-cut foam includes many benefits that our competitor's foam does not have, including a greater level of comfort, an extended lifespan, and a more sharp and full appearance.
When it comes to Stationary furniture, La-Z-Boy uses patented ComfortCore® or ComfortCore® Gel cushions for added support for your spine, hips and calves.
ComfortCore® cushions are built with a 7-layer zoned cushion, which features four different foam densities. Each layer provides maximized comfort and support throughout the lumbar spine and neck.
The optional Gel upgrade enhances the comfort even more with gel-infused density memory foam.
Wood
The wood materials used at La-Z-Boy are also of good quality. La-Z-Boy utilized a variety of wood materials including OSB, maple, rubber board, MDF board, and plywood.
The upholstery furniture from La-Z-Boy is mostly made out of Oriented Standard Wood (OSB), which is yet another unique material that La-Z-Boy's manufacturers engineered to meet our performance requirements.
OSB is the primary material used for most of our furniture's frame and has many benefits including, superior strength, outperforming plywood, and has no possibility of warping or separating.
You can learn more about the Quality of Wood Used at La-Z-Boy by reading this article.
La-Z-Boy Furniture Health& Sustainability Certifications
La-Z-Boy furniture, along with all other competing furniture companies, must go through strict regulations that are put in place in order to keep families safe when purchasing home furniture.
UFAC
All La-Z-Boy furniture is passed by the Upholstered Furniture Action Council (UFAC), which examines upholstery furniture to make sure they do not cause house fires.
According to the UFAC, 90% of furniture-based house fires are from smouldering materials that aren't fire-resistant. In turn, the UFAC carefully assesses the materials and chemicals used to make furniture to avoid the spread of fire.
If you see a Make Life Safer tag on your furniture, you can tell that the UFAC has made sure the materials in that furniture are more resistant to fires. The work of his non-for-profit organization has resulted in a 73% decrease in home fires caused by upholstery furniture.
The UFAC has the toughest and most stringent regulations in the furniture industry because they follow California guidelines. The California guidelines set a strict protocol, in which the materials for furniture must be specifically picked in order to prevent the spread of a potential fire in a house.
Though these regulations are only nationwide in the United States, La-Z-Boy's furniture goes through this process along with Canadian regulations because La-Z-Boy is originally an American company.
Proposition 65
Proposition 65 is a list of chemicals that provides warnings to companies of serious health issues that could arise if certain products are made with these chemicals.
Some furniture is made with some of the chemicals found on this list and these serious health risks can range from causing cancer, birth defects, and reproductive harm.
This list was originally made in California and because La-Z-Boy furniture is manufactured there, it goes through this list to make sure the chemicals listed are not harmful to anyone owning said furniture.
Proposition 65 has a long list of chemicals that are considered extremely harmful. If you like to know what is included within Proposition 65's list, follow this link.
UL Green Guard
La-Z-Boy has been dedicated to keeping families safe from harmful toxins that could potentially come from the furniture. This is why furniture is now certified under the UL Green Guard Certification program.
The UL Green Guard Certification program is designed to lower chemical emissions that could be hidden in our furniture.
Underwriter's Laboratories (or UL) is a global organization that helps multiple manufacturers around the world with testing, evaluating, and certifying different types of materials, including those for making furniture.
UL's Green Guard Certification specifically helps reduce the possible airborne chemical exposures that can come from materials used to make furniture, like VOCs. Along with reducing indoor air pollution, it also lowers the risk of chemical exposure that these organic compounds may expose to households.
Approximately 700 La-Z-Boy products are certified under a Green Guard Gold status. This means that certain La-Z-Boy products are tested at higher levels for chemicals and toxins. These kinds of products include larger pieces of furniture like sectionals and sofas.
Not only does the gold status tests emissions of over 30 common detectable chemicals like the regular program, but the gold is also proven to limit over 360 VOCs and chemical emissions.
La-Z-Boy's Commitment to Sustainability
As mentioned at the beginning of this article, La-Z-Boy has always been dedicated to ensuring that the sustainability of furniture is at its highest standard. The sustainability of furniture is determined by a number of factors: the materials used, the type of manufacturing, mode of transportation, and the longevity of the furniture.
Focusing on the sustainability of a product may make furniture more expensive, but from an environmental aspect, it greatly reduces the carbon footprint.
While we have already discussed the materials used in La-Z-Boy's furniture, it is important to note that La-Z-Boy prioritizes the sustainability of the manufacturing of our products as well. A big part of this is creating high-quality and durable furniture that is built to last for decades.
Believe it or not, 8/10 pieces of furniture are low-quality with a short life span, ultimately ending up in landfills across the country creating furniture waste.
This is why quality and sustainability matter in your furniture, because it will last a long time, and you won't throw it out as frequently as lower quality furniture.
What's Next?
Now that you've learned about what goes into making La-Z-Boy furniture, why not get yourself a piece of furniture today?
You can take a look at our furniture online, or you can visit our Ottawa & Kingston locations. You can also schedule an appointment online to talk to one of our design consultants about any questions or concerns you may have about our furniture.
We hope to see you soon!
Related Articles
Where to Find High-Quality Furniture in Ottawa?
Product Info Request
Please provide us with your name and email and we'll get back to you as soon as possible regarding this item.