The Quality of Wood Used to Make La-Z-Boy Furniture
July 30, 2021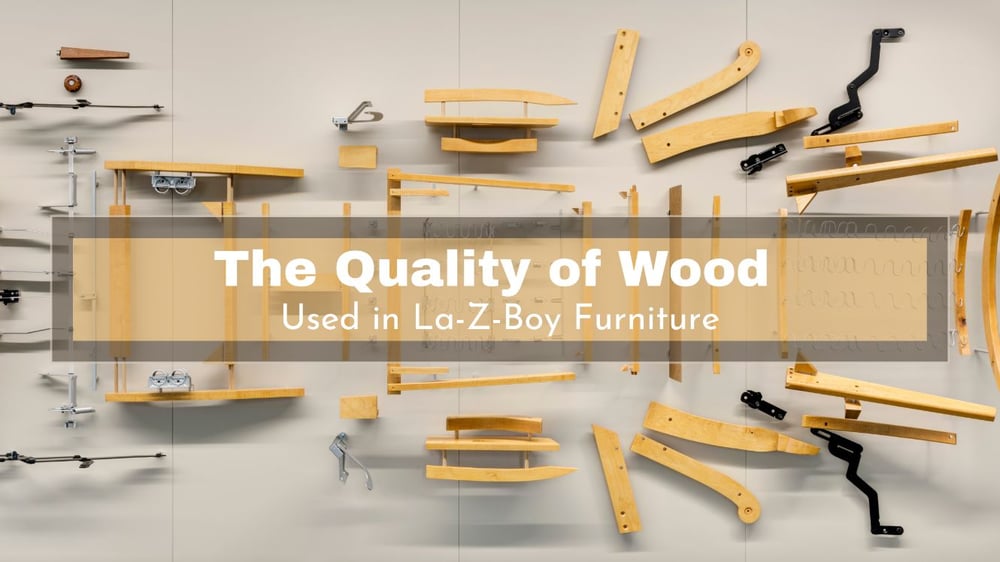 Just like a tall sturdy tree, quality wood is at the root of all long-lasting furniture.
In fact, when made with high-quality materials and solid construction, beautiful wood furniture can last for decades and often become a meaningful family heirloom.
At La-Z-Boy, we pride ourselves on our dedication to quality, and that is reflected in the selection and construction of the wooden materials used in our products. As such, we are known for creating comfortable and durable furniture that is built to last years.
Whether it be our upholstery or case-good selection, this article will provide a detailed explanation of the quality of wood used to make La-Z-Boy furniture.
But before we drill into La-Z-Boy, let's discuss the characteristics to look for when identifying high-quality wood furniture.
Material
The material of wood furniture refers to the wood species used to build it, often classified as either hardwood or softwood.
Every wood species offers unique characteristics that ultimately indicate quality, style, and how well it will fare with age.
Quality furniture is generally made out of hardwood which comes from deciduous trees like oak, maple, mahogany, teak, walnut, cherry, and birch. Alternatively, coniferous trees, such as pine, fir, redwood, and cedar, produce softwood materials. By nature, these wood species are lower in quality as they require more care and are prone to scratches and dents.
Further, the wood species in use will either be air-dried or kiln-dried in order to remove the moisture.
When it comes to quality, kiln-dried wood is better than air-dried products as the moisture content is lower and, in turn, most of the natural shrinkage will occur during the drying process rather than installation. Kiln-dried wood is also lighter than air-dried wood and it is well-sanitized from mold, mildew fungi, and insects.
As you inspect the wood species used in the making of furniture, keep in mind that solid wood furniture is largely a thing of the past. It is more common to find furniture constructed with a combination of wood species, plywood, and engineered wood.
While solid wood furniture sounds appealing, and it is, these combination wood materials shouldn't be dismissed as they are proven to provide strength, prevent splitting, and avoid warping. It can make the product sturdy, long-lasting, and visually attractive.
Construction
The construction of wood furniture is crucial in determining its beauty, functionality, and longevity.
In fact, an industry expert, says that "construction is just as important as the materials and it is oftentimes what really separates the good from great furniture."
At first glance, any exposed parts of construction should be sanded smooth and well fitted. This attention to detail, or lack thereof, is a good indication of the level of craftsmanship.
As you look closer, the joinery and sturdiness of a wood piece is also a good indicator of overall construction quality.
Mortise & tenon and dovetails are two quality furniture assembly techniques as they make for the strongest and most visually appealing joints.
Quality joints can also have dowels or screws but stay away from staples. Further, ensure that any glue used in construction is not visible outside of the joint.
In wooden drawers, chests, or desks, look for dust panels or thin sheets of wood between the drawers and the body of the piece. This not only makes the structure stronger, but it also protects your belongings from damage and dust.
As you examine a piece of furniture, don't be afraid to touch it and move it around. Drawers should glide effortlessly and doors should swing with ease. Try to rock or jostle the piece to test sturdiness. Play around with the hardware listening for squeaks and feeling for twists or wobbles.
Lastly, ensure that the furniture is level with the floor.
Finish
The finish of wood furniture refers to the final stages of wood furniture construction. This involves the sanding and staining of the piece.
A well-sanded piece of furniture will be smooth with absolutely no rugged patches. Further, properly sanded wood is sanded in the direction of the grain. If it is sanded against the grain, you will notice unattractive results such as dark lines and scratches. Lastly, improper sanding will not take well to a stain. Inspect the furniture's finish from many angles to spot blotchiness or scratches.
When it comes to stain, a good stain should enhance the natural beauty of the wood, adding to its colour and character. High-quality staining will appear even and free of dark spots. The furniture should have the same tone from one end to the other.
Signs of a poorly finished wood include:
A rough surface

A very glossy or cloudy surface that hides the wood grain

Splintered edges

Scratches, dents, or dust specs

Dull spots

Teardrops around the edges
With this being said, distressed or "rugged" style furniture is an exception. In these cases, the wood finish often appears beaten, battered, and worn out on purpose, ultimately adding to its rustic character.
Quality of Wood Used in La-Z-Boy Upholstery Furniture
At La-Z-Boy, we are predominantly known for our iconic recliner chair and upholstery selection, such as accent chairs, loveseats, sofas, sectionals, and ottomans.
As you examine the quality of these plush and comfortable-looking products, you may initially focus on the fabric and cushioning, but there is more to the quality than meets the eye.
A large indicator of La-Z-Boy quality is the interior wooden foundation.
Wood Materials
When it comes to materials, La-Z-Boy uses a range of high-quality wood materials in the making of our furniture frames. Further, Jonathan shares that La-Z-Boy is committed to continually improving our products as trends change and new materials and processes become available.
The most recent material improvement to La-Z-Boy upholstery furniture is oriented strand board (OSB). This OSB is unique to La-Z-Boy incorporated and was specifically engineered to meet our performance requirements.
With this, OSB is the primary material on several components of the frame including body side panels, bottom rails, rear rails, front posts, and back rails.
OSB has many benefits contributing to overall quality:
Consistent and uniform material

Does not warp or separate

Does not have knots, knot holes, voids, or splits

Superior strength

Test results show OSB is equal to, and often outperforms plywood for strength, durability, and retention of adhesive and fasteners

Engineered material = a controlled material to our specific requirements
Aside from OSB, the seat of La-Z-Boy upholstery products is constructed with maple. The maple seat is assembled to the frame with screws and the OSB is joined by a metal corner bracket for additional strength.
The wood arms are made from a hardwood laminate made of rubberwood. Similarly, the rocker blocks used in rocker recliner chairs are also made from rubberwood. This engineered rubberwood is tested to be stronger than Oak.
The swivel base in swivel recliner chairs is made from an MDF board. Alike OSB, MDF is a La-Z-Boy engineered wood, built strategically for strength.
Finally, plywood is used in portions of the frame of La-Z-Boy lift recliner chairs.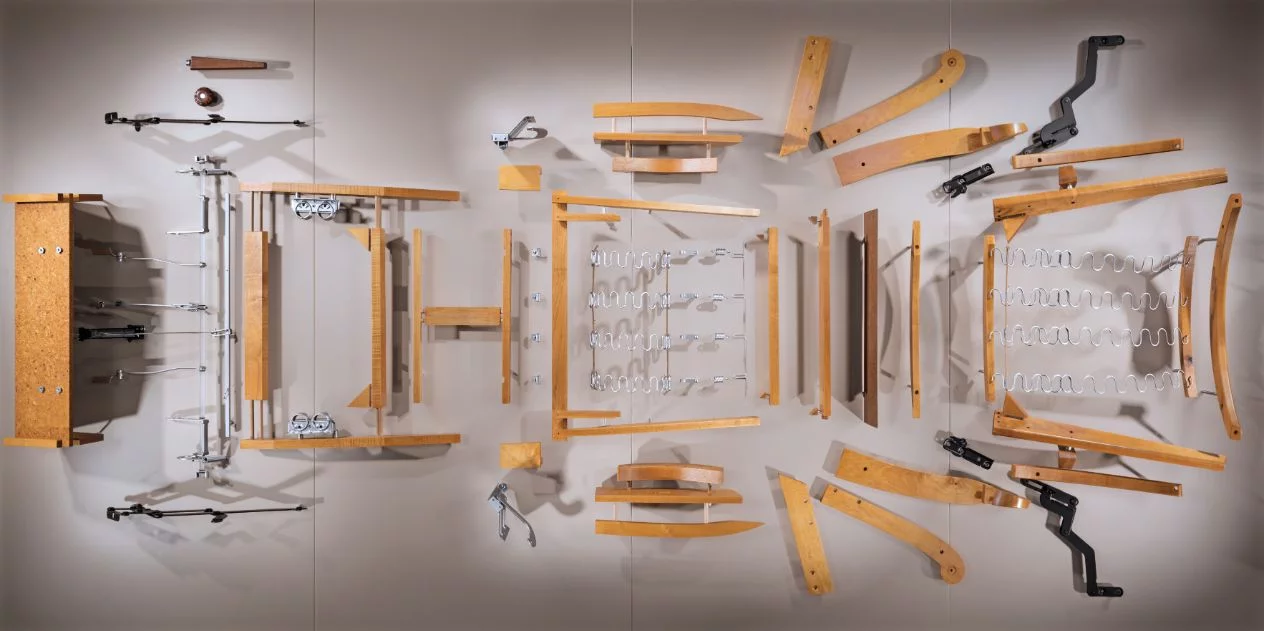 Wood Construction
The lumber used in La-Z-Boy products is kiln dried to 6 and 8 percent moisture content.
Once dried, finished, and assembled, our La-Z-Boy frames go through extensive testing. This includes, but isn't limited to, horizontal arm testing, vertical arm testing, backtesting, and rocker block retention. Our La-Z-Boy mechanism is tested to withstand up to 300 pounds.
According to an industry expert, this testing allows us to use different woods throughout the frame and identify the best wood for each component.
When it comes to La-Z-Boy recliners, there are 7 specific methods of construction that are unique to La-Z-Boy. Check out the article 7 Features Exclusive to La-Z-Boy (The La-Z-Boy Only's).
Further, stationary upholstery and items from the Duo Collection and Urban Attitudes Collection are made with Premier Construction Methods, unique to La-Z-Boy.
The quality of construction can be further inspected in-store by a trained La-Z-Boy consultant to ensure the product you purchase meets our standards. A consultant will flip the chair or sofa upside down to inspect the internal construction of the frame.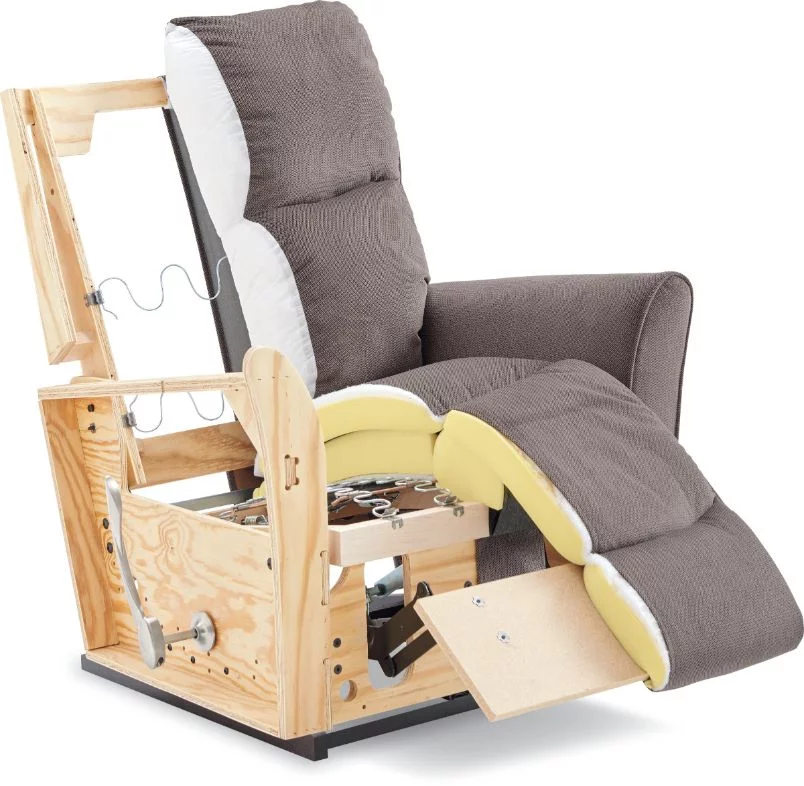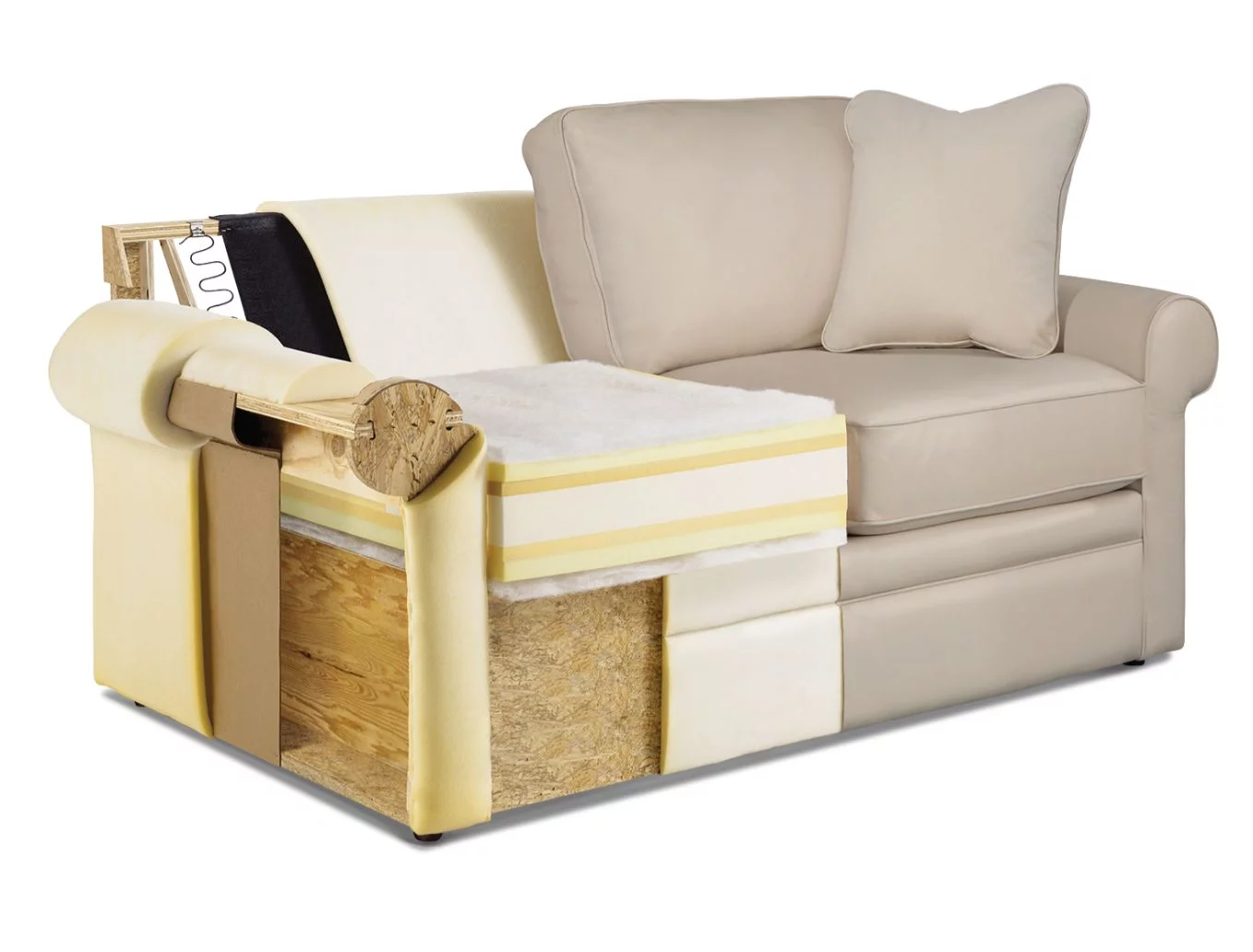 Quality of Wood Used in La-Z-Boy Casegoods, Bedroom, & Dining Furniture
Given the popularity of La-Z-Boy recliners and upholstery, many are surprised to learn that La-Z-Boy also offers a variety of furniture beyond just the living room.
American Drew, Hammary, and Kincaid are sub-divisions of La-Z-Boy incorporated that manufacture a selection of stylish case goods, occasional tables, bedroom furniture, and dining room furniture.
Much of this furniture selection is made from wooden materials, and in turn, the quality of wood is obvious and impacts the overall look and feel of each product.
American Drew
American Drew is a leading manufacturer of bedroom, dining room, and living room furniture that creates timeless furniture re-imagined for today's fashions.
This includes a wide selection of stylish and quality constructed wooden products.
According to an industry expert, American Drew is among the higher-end furniture on the market in terms of quality, and consequently, price.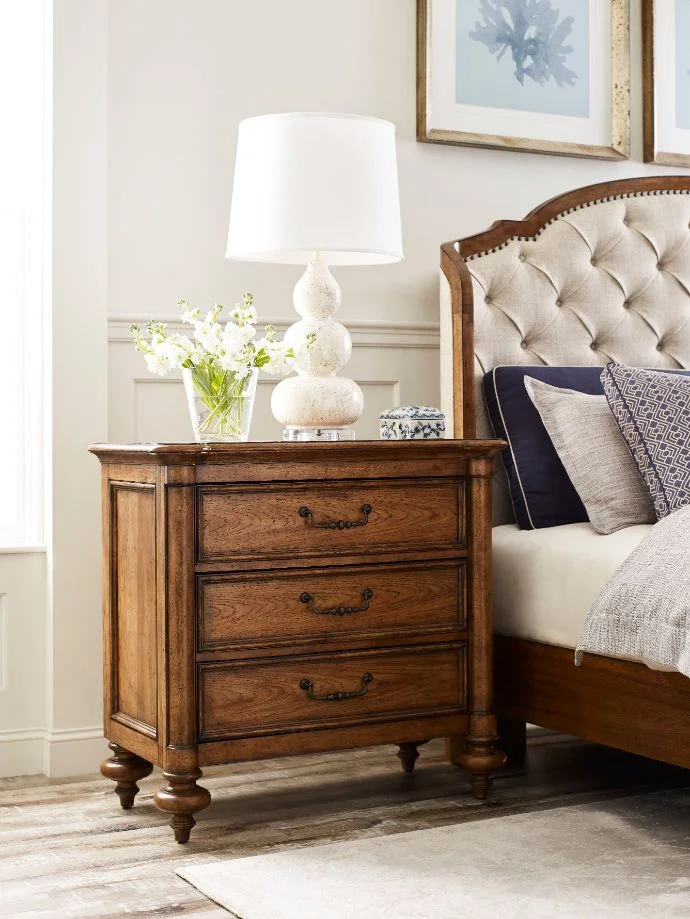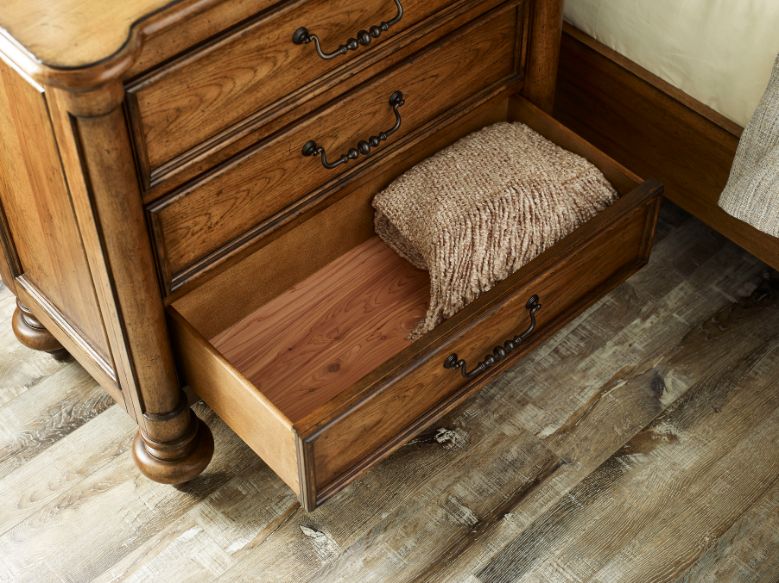 Wood Materials
American Drew has a large product selection and therefore, uses a variety of many different wood species.
The following wood species are used as primary materials and veneers in American Drew products …
| | | | |
| --- | --- | --- | --- |
| Acacia | Alder | American Oak | Rustic Alder |
| Ash | Birch | Cherry | Chinese Birch |
| Elm | European Beech | Oak | Linden |
| New Zealand Pine | Pecan | Poplar | Primavera |
| Maple | Dutch White Cedar | Rubberwood | Mahogany |
An industry expert says "every wood species offers certain benefits and characteristics. The wood selection for a specific piece of furniture depends on quality, desired style, and the current availability".
Wood Construction
"What sets American Drew apart from its competitors who may use similar materials, is the engineering and effort that goes into the joinery finishing, and finer details such as hardware, drawer glides, and partitions", says an industry expert.
American Drew uses the following construction techniques to ensure the quality of their wood furniture:
Mortise and Tenon Joinery

: This features a time-honoured joinery technique where front and side pieces with a corner-like puzzle are applied with screws for extra strength.

Drawer Partitions

:

Act as a protective element between drawers helping to prevent items from falling through. Drawer partitions also keep your belongings organized.
Case Support

: The interior case frame and drawer supports are reinforced with cleats and corner blocks.

Built-In Leveler Solution

:

The built-in feet levelers can be used with just a quick wheel turn adjustment system. This allows the case legs to sit securely on any uneven floor.

Bottom Wood Bracing

: The case bottom is reinforced with multiple external bracing supports.

Premium Soft-Close Drawer Glides

: Not only are they long-lasting, but they also feature adjustable tension and drawer leveling controls.

Finished Interiors

:

These drawers are finished on all sides, from top to bottom, to protect the contents of the drawer and your belongings.

Cedar-Lined Drawer Bottoms

: bottom drawer lining of bedroom pieces.
Hammary offers a variety of styles in living room tables, chairside tables, home office furniture, and home entertainment furnishings. Also, its unique Hidden Treasures® collection is an assortment of one-of-a-kind accent pieces inspired by incredible furniture designs from around the world.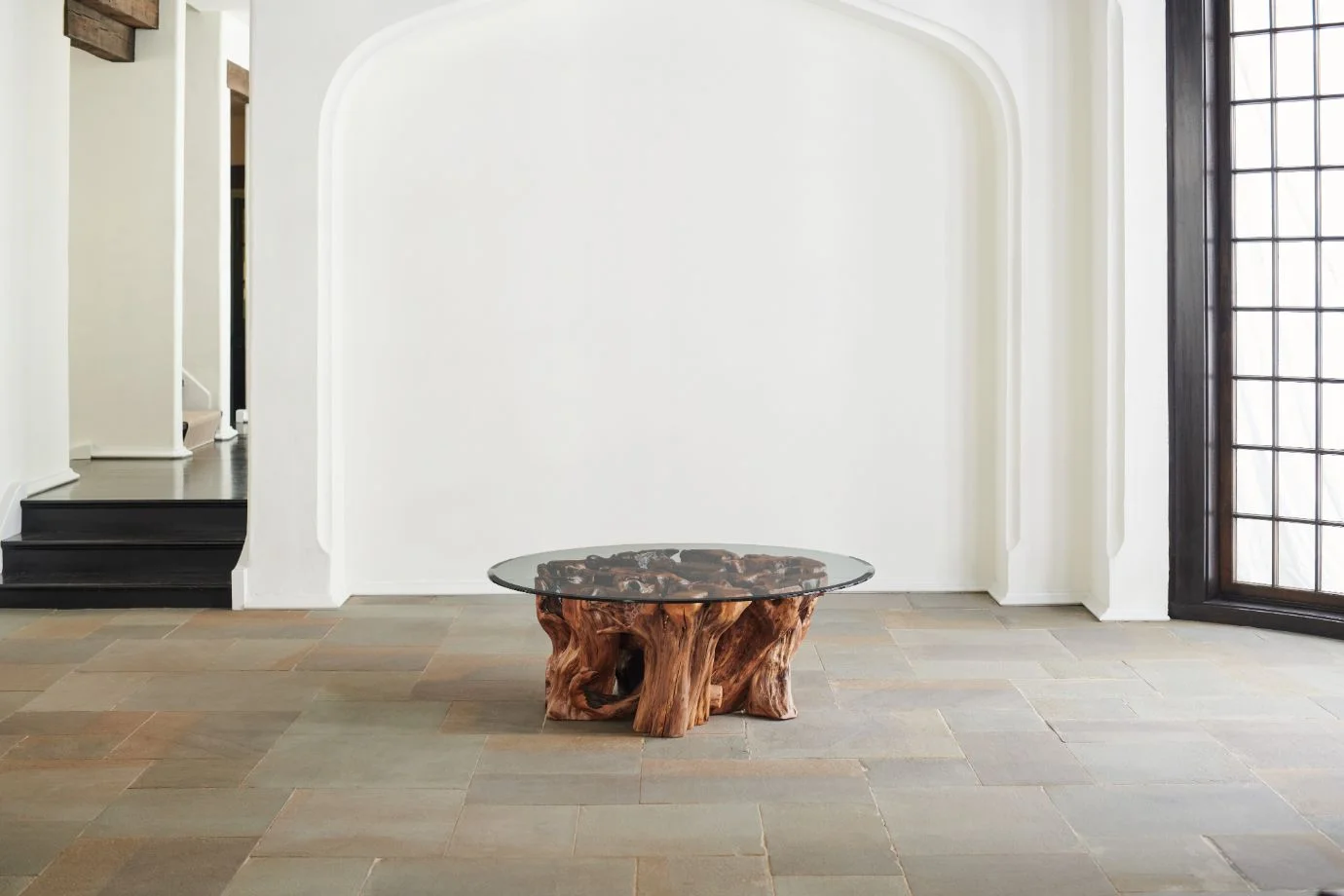 Wood Materials
Hammary has an extensive selection of products and is constantly utilizing many materials in order to achieve a great range of styles.
When it comes to wood, Hammary uses the following solid wood species as primary materials and veneers:
| | | |
| --- | --- | --- |
| Oak | Pine | Maple |
| Hickory | Ash | Acacia |
Wood Construction
Hammary wood products are crafted with thoughtful and detailed craftsmanship. In fact, Hammary furniture is constructed with the intention of lasting generations.
An industry expert says that Hammary applies the same overall quality standards and guidelines to their wood products as American Drew.
Kincaid
Kincaid is an industry-leading manufacturer of solid wood furniture for the bedroom, dining room, and living room. The company aims to provide honest value and heirloom quality in its products.
An industry expert states that "the solid wood construction places Kincaid in a very small list of furniture manufacturers that place great emphasis on quality".
In fact, less than 10% of the furniture sold in the US uses a true solid wood construction. According to an industry expert, solid wood construction requires an added emphasis on lumber grading and selection as well as conditioning.
"While there are certain styles and designs that cannot be achieved in solid wood, the styles that Kincaid does focus on are those that expose and leverage the natural character of the solid wood used in construction", says an industry expert.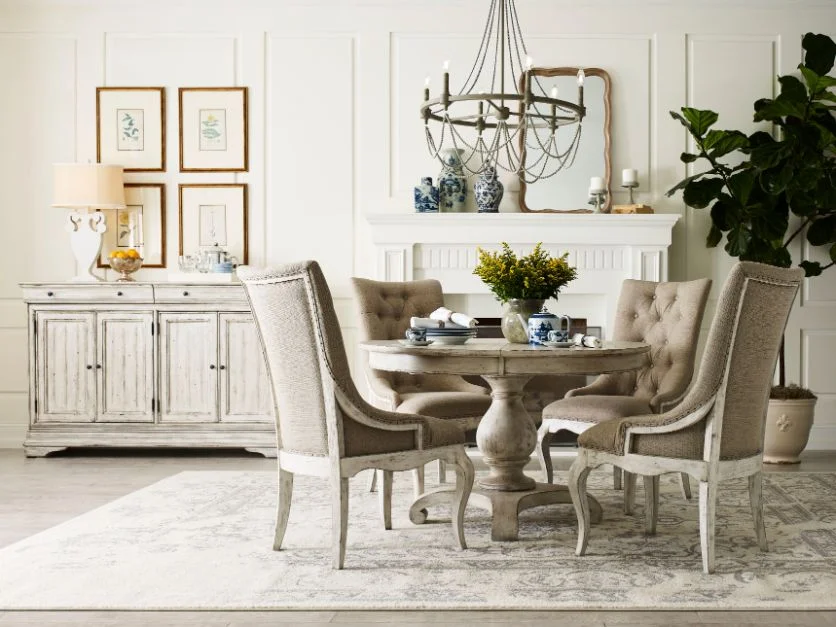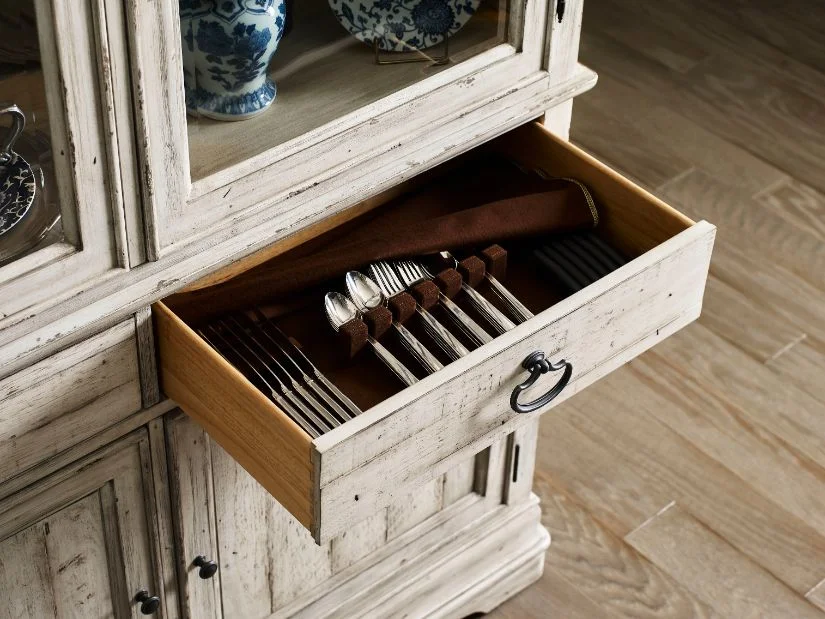 Wood Materials
When it comes to specific materials, Kincaid uses the same list of wood species as American Drew.
Wood Construction
Kincaid also utilized many of the same construction methods as American Drew and Hammary, such as mortise & tenon joinery, built-in leveller solution, and adjustable drawer glides.
Additional, Kincaid uses the following unique construction techniques to ensure the quality of their solid wood furniture:
Front Posts

: Where design allows, heavy front posts are used for additional case stability and strength.

Floating Panels

:

Raised panel doors and bed panels utilize a floating, self-centering construction technique.
Finger Joints

:

Chairs are crafted using a glue and screw technique across a finger-jointed corner, adding strength to the chair while minimizing flex across the joint.
Solid Wood Edges

: Shaped edges are constructed of solid wood, unlike many other manufacturers who use banded veneers. Solid wood is a superior choice for premium quality and durability.

Floating Tops

:

Fully floating tops, end panels, bed panels, etc. incorporated into every Kincaid product to allow normal expansion and contraction of the solid wood components as the humidity changes in your home.
Dovetailing: Dovetail drawer construction utilizes English dovetails on the drawer front and back to create a tight fit and add exceptional strength.


Product Info Request
Please provide us with your name and email and we'll get back to you as soon as possible regarding this item.