5 Best Selling La-Z-Boy Accent Chairs
March 16, 2020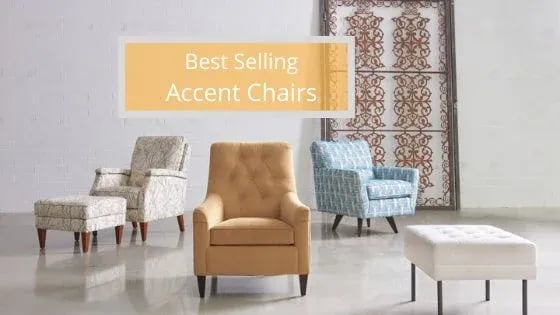 Are you considering an accent chair for your living room? Perhaps you're looking for that final piece to tie your room together.
Also called an occasional chair or stationary chair, an accent chair is meant to provide extra seating but can also complement the decor in a living room or bedroom. The chair's colour and style can connect elements in your room and invigorate your space. Try a funky new pattern or a splash of colour and your occasional chair can serve as the room's focal point.
Upon walking into one of our stores, you might not expect to see the versatile non-reclining chair options La-Z-Boy offers. Yes, it's true, La-Z-Boy is more than just recliners, and when style meets comfort, it's a beautiful thing! From traditional to contemporary and even retro, these chairs will complement any decor.
As inventors of the reclining chair back in 1927, you can rest easy knowing a La-Z-Boy chair possesses 90 years of design innovation. At La-Z-Boy Ottawa and Kingston, we've helped hundreds of clients find the perfect chair. Although there are dozens of choices available, in this article, we'll outline our top-selling accent chairs for 2022.
Before checking out our current best-sellers, you may also be interested in our best-selling accent chairs from 2021 ...
1. The Haven High Leg Reclining Chair
Traditional transformed, the Haven recliner is a cool combination of classic design and laid-back reclining comfort. Updated styling includes uniquely sculpted rolled arms, a tight back, tapered wood legs and decorative welt trim on the back seat and arms.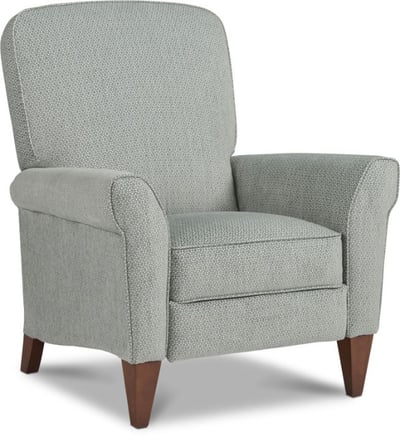 Check out our In-Depth Review of the Haven Recliner.
2. The Scarlette High Leg Recliner Chair
With its fresh, clean silhouette, our new Scarlett High Leg Reclining Chair offers many possibilities to enhance your room. This versatile chair features casually tapered arms and tall wooden legs. Simply push back to enjoy two positions of instant reclining comfort.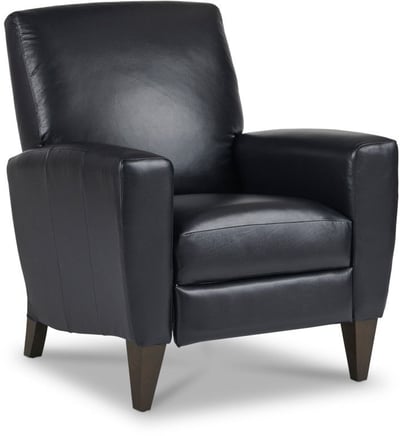 3.
The Reegan High Leg Swivel Chair
Perched upon a 360-degree swivel base elevated by tall tapered wood legs, Reegan is no ordinary swivel chair. Its casual yet contemporary styling complements any décor. Flared arms frame Reegan's box border seat and soft pillow back as welt trim accentuate its tailored lines.
Both functional and versatile, Reegan features Premier Construction with standard ComfortCore® cushions for lasting quality and comfort. When it comes to swivel chairs, it's time to raise your expectations.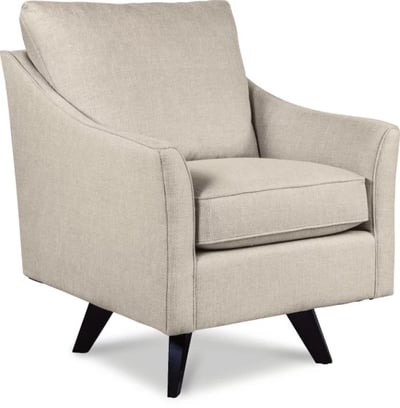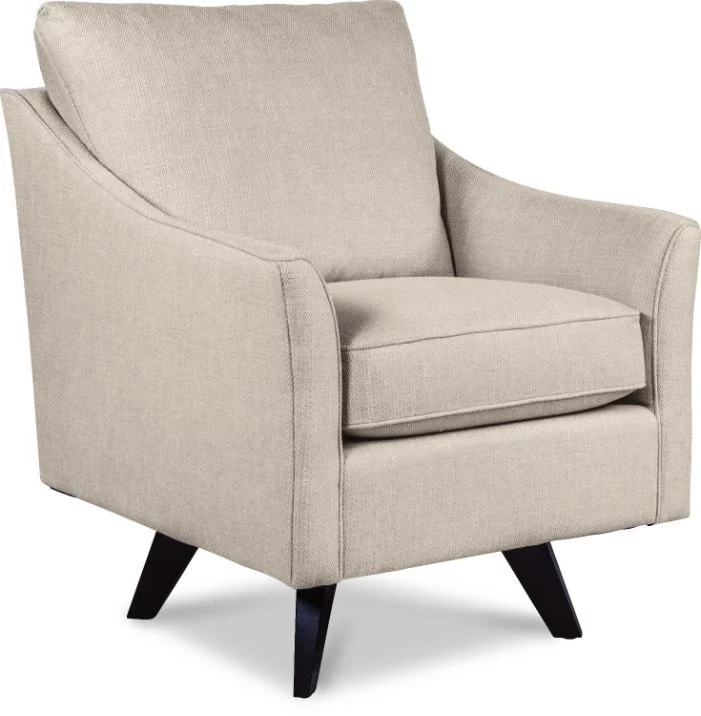 Check out our in-depth review of the Reegan high leg swivel chair
4. The Riley High Leg Recliner
An artful, sculptured shape with a sophisticated flair, Riley is perfectly at home paired with your contemporary sofa or left to showcase a corner entirely on its own. Comfortable too, you'll appreciate the inviting curves and luxurious cushioning. Manually push back to easily recline.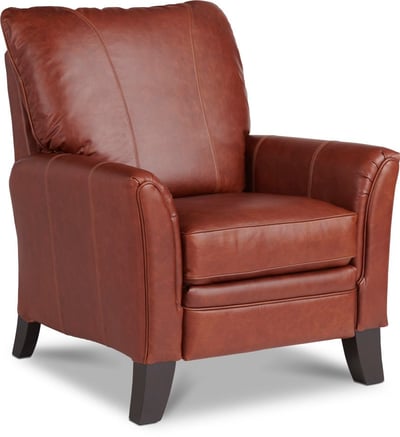 Check out the In-Depth Review of the Riley High-Leg Recliner.
5.
The Rheeves High Leg Recliner
The Rheeves has a classical look with welt trim and decorative legs. Further, the foam back of the Rheeves only enhances its comfort . And, no one would ever suspect this handsome chair is also a recliner. Simply push back to enjoy two positions of instant reclining comfort.
For more detailed information, take a look at the Review of the Rheeves High Leg Recliner.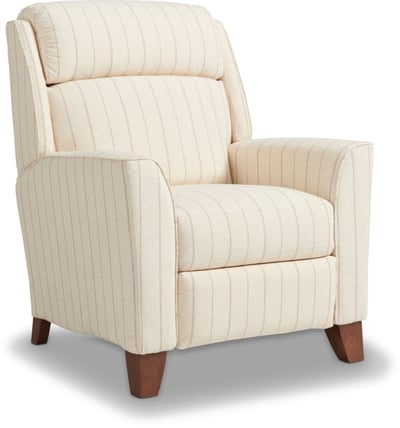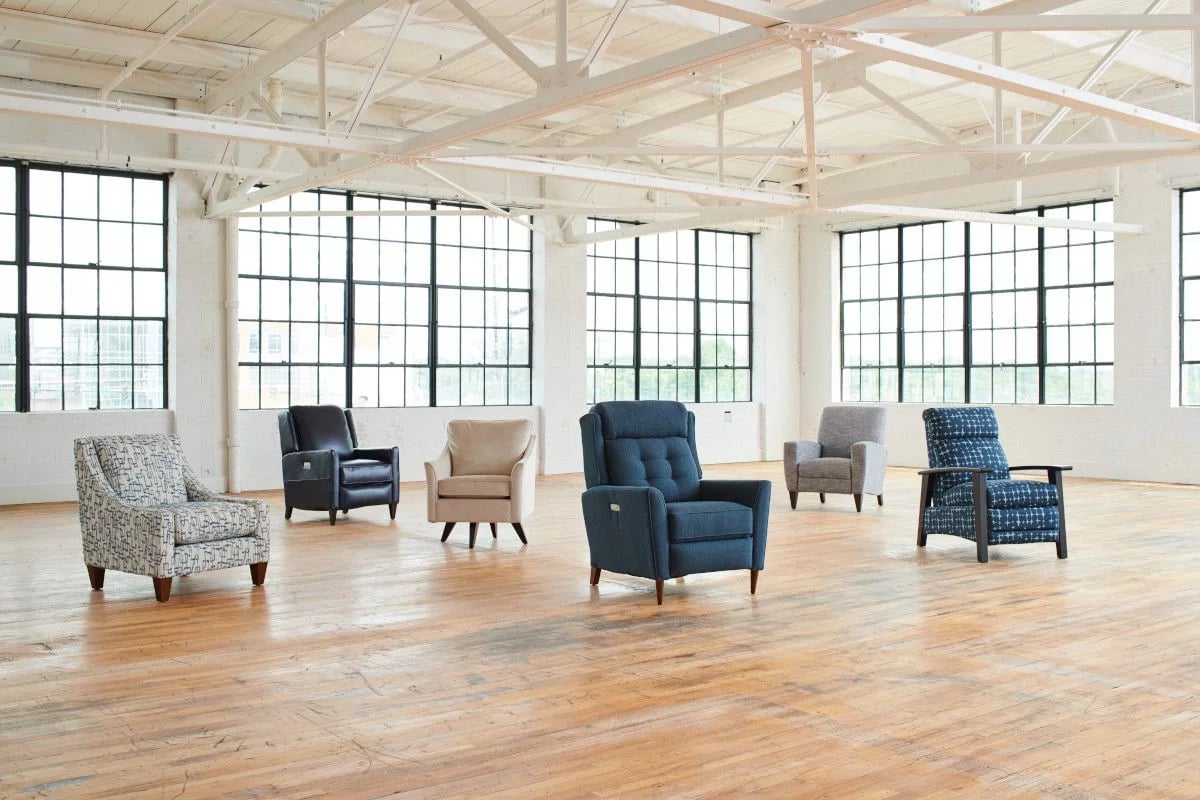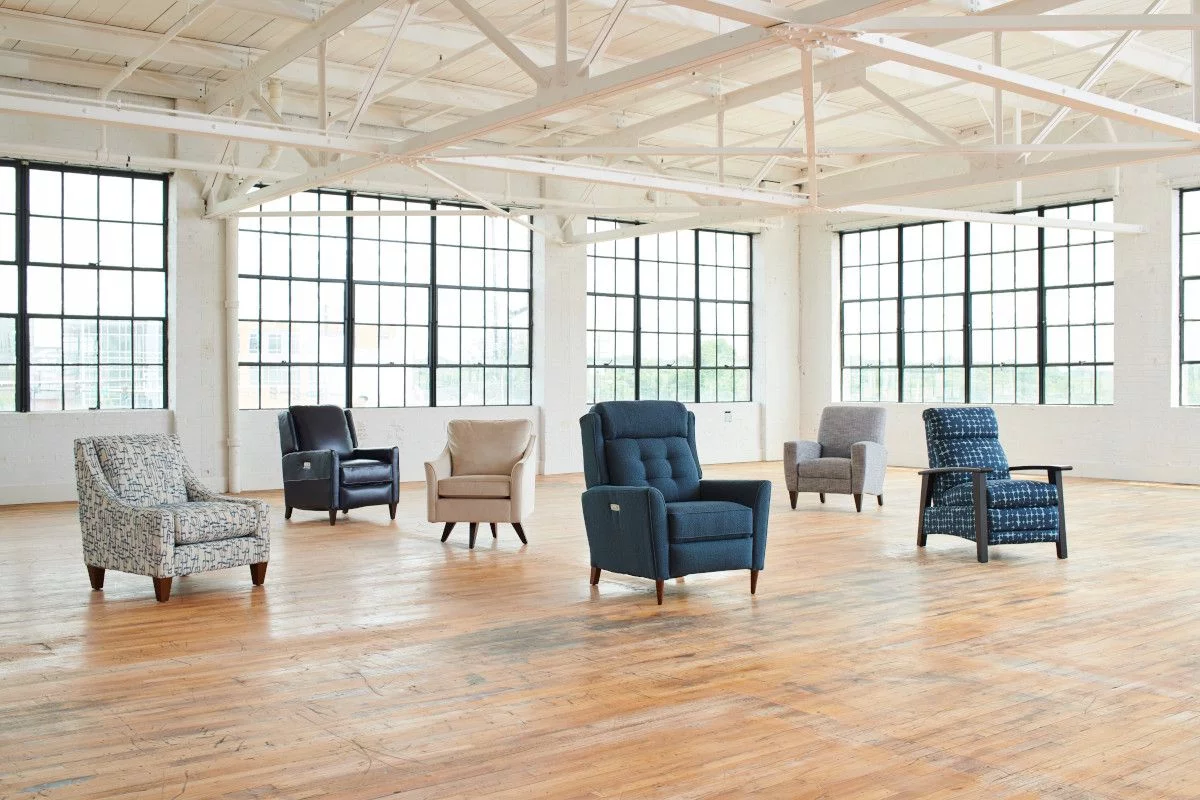 Next Steps:
These five best-selling accent chairs offer a good overview of La-Z-Boy features and options available. Some may swivel, some may glide, and some do nothing but cradle you in comfort. With contrasting welts and several wood finish options, one thing's for sure; these chairs have personality!
La-Z-Boy's extensive line of accent chairs provides many opportunities for those who wish to improve comfort while still complimenting their design style.
Once you select your preferred chair style, choose from over 900 upholstery and leather options, including stain-resistant iClean™ fabrics, and make it your own. From modern high-leg recliners to sophisticated chaises and roomy chair-and-a-half, our versatile chairs let you add seating or simply make a statement.
The quality, style and variety La-Z-Boy has to offer will ensure you find the perfect match for your needs. We are happy to help you navigate all the options and tailor an accent chair that is just right for you at any one of our Ottawa and Kingston La-Z-Boy locations.
Imagine how exceptional a newly designed space for your occasional chair could be if you collaborate with an expert in design! We offer a complimentary in-home design service to help you achieve your vision. Our in-home designers have the expertise to guide you through the process and help you create that space you've always wanted.

*Last updated on April 27th. 2022.
Related Links
Secret Recliners: Recliners that don't look like recliners
Product Info Request
Please provide us with your name and email and we'll get back to you as soon as possible regarding this item.