Secret Recliners! Recliners That Look Like Chairs
October 13, 2021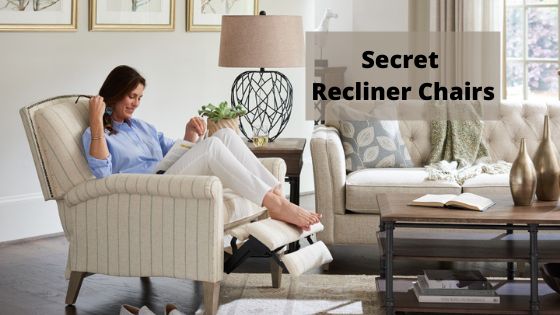 "Recliners that Don't Look Like Recliners"
Or how about something like
This…….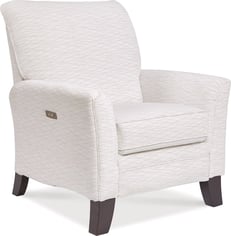 No? Well, SURPRISE!
They may not look like "recliners," but they are what we at La-Z-Boy like to call:
Secret Recliners
!
For 90 years, La-Z-Boy has defined comfort; now, we're setting the bar for style. First, with modern silhouettes and designer details, we offer recliners in looks you'd never expect. Then, add your personal touch with fabrics, finishes and trim.
Prefer a modern recliner look? Our designer choice line of chairs includes high & low leg chairs with rich velvet fabrics and unexpected colours and prints.
Only genuine La-Z-Boy recliners put your comfort first with quality that's built to last. No wonder we're the industry standard for comfort and style.

Read on to find out more about our secret recliners:
Recliner Chair Features that don't Look Like Recliners
Traditional and contemporary style meets La-Z-Boy comfort with recliners you'd never expect. Perhaps in one of our luscious leathers with the added glamour of nailhead trim in your living room.
Maybe you would like to be able to put your feet up at the end of the day, and you don't have space for an ottoman. Choosing one of La-Z-Boy's high-leg reclining chairs lets you push back and relax. Or, add the convenience of power and recline to your desired position at the touch of a button.
When you are not reclining, the footrest folds discreetly away; this is what makes it a secret recliner.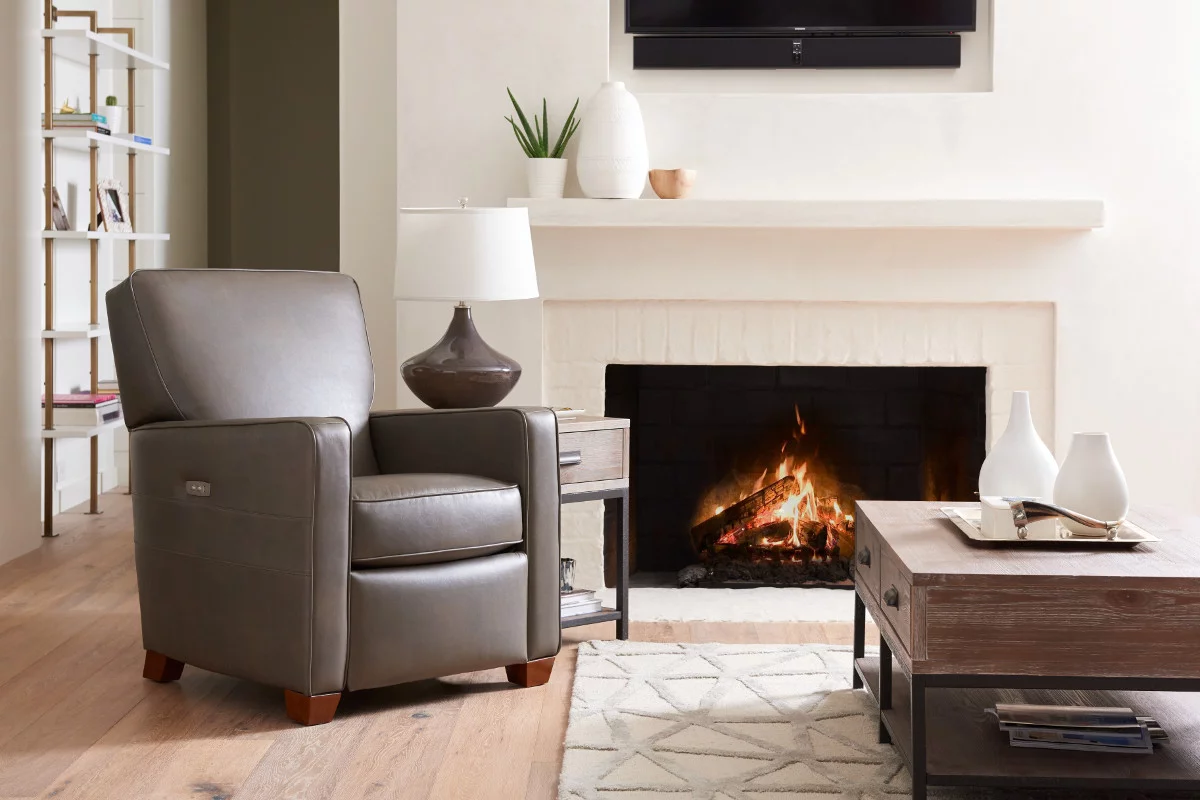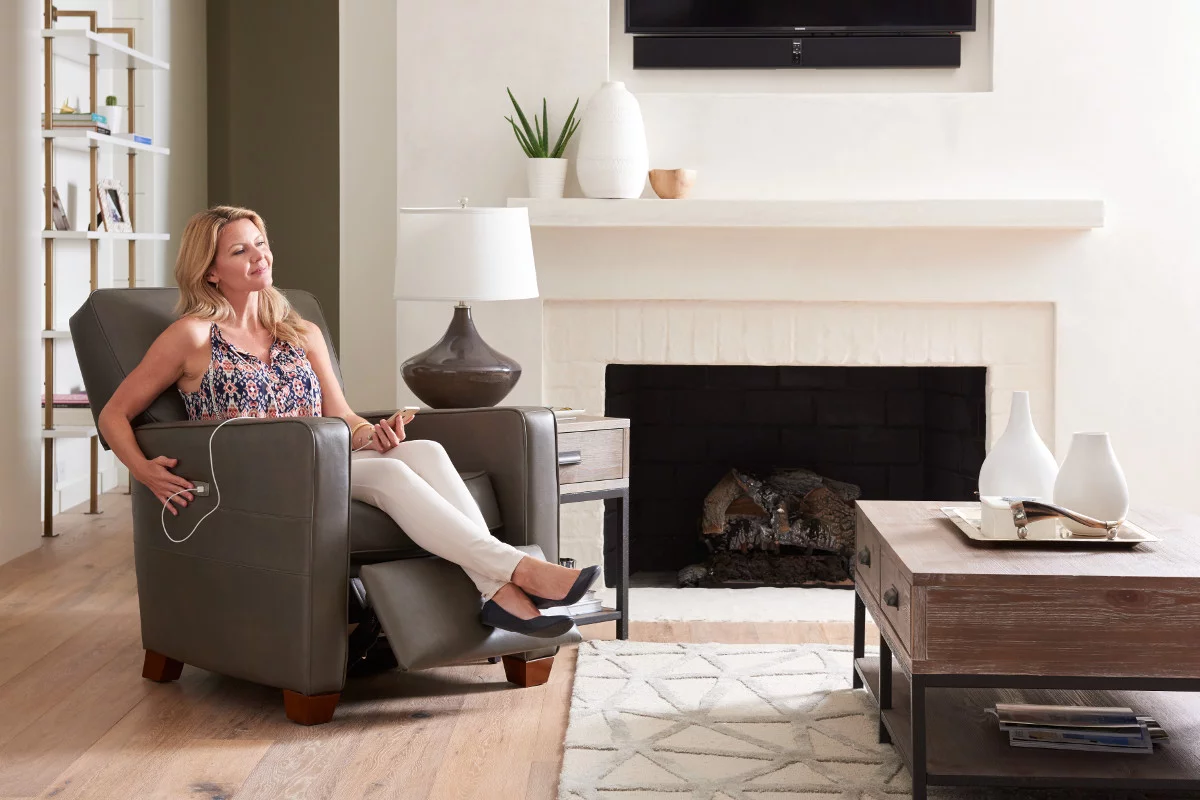 High and Low Leg Recliners
High and low leg recliners are "the real" secret recliners! Of course, you would never know they were recliners. Our customers know them as push-back recliners or high leg loungers. These beauties were designed to complement stationary sofas and sectionals in your living room. People love these recliners because they look like stylish accent chairs, and secretly, they recline!
La-Z-Boy has taken the bulk out of these chairs but left in the comfort. Great for small spaces where you don't have room for an ottoman. These chameleon chairs have clean lines; there's no handle to recline; you just use your body weight to push back or press the button on the power chairs.
A design consultant in our Kingston location, Barbara Patton, says, "people are amazed to see we have this kind of chair!" She recommends ordering a kidney-shaped pillow for behind the neck. It adds comfort when you recline and style when you're not in the chair.
High Leg Recliners
People love the high leg (sometimes called wing back) recliners because the chair is up off the floor, creating space underneath. It can make a small room look neater and more spacious, making for easier vacuuming and dusting. The Riley high leg, the Scarlett(pictured below) and the Chandler are examples of the high leg recliner style.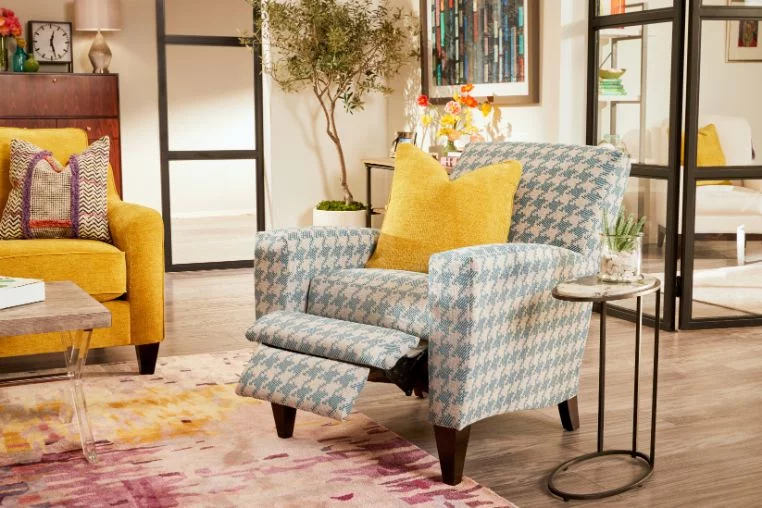 Low Leg Recliners
People love low leg recliners because of their low profile and modern design, a decidedly upscale look. The Nouveau (pictured below), the Midtown and the Cabot are examples of the low leg recliner.
We carry dozens of different styles and sizes of high and low leg recliners, they all have several things in common:
Available in hundreds of fabrics and leather covers
Wooden legs that come in a standard brown mahogany finish (additional leg colour options available to match wood furniture in your room.)
Upgrade from the standard seat cushion* to memory foam for extra comfort.
*Standard La-Z-Boy reclining seat cushions feature contoured-cut polyurethane high-resiliency foam seats. These cushions provide you with superior support by reducing pressure points in all upright and reclined positions. The upgrade is "airform™ provides responsive cushioning and contoured support so you can enjoy the ultimate in comfort.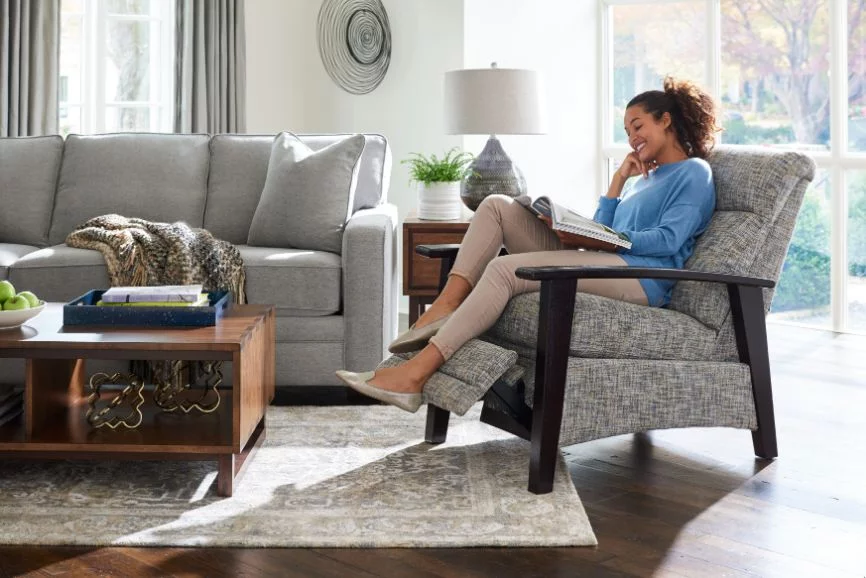 Urban Attitudes Reclining Chairs
Each sofa style from the Urban Attitudes collection can be paired with any of the five designer reclining chairs which also happen to be high leg recliners. Each recliner coordinates flawlessly with the rest of the collection, helping you create vibrant and eye-catching combinations without sacrificing comfort.
No one would suspect these secret recliners, simply push back to enjoy instant reclining comfort. Make it yours with your choice of fabrics, finishes and other available upgrades.
The five reclining chairs from the Urban Attitudes Collection Include:
Brentwood high leg reclining chair
Cambridge reclining chair
Ferndale press back reclining chair
Chandler high leg reclining chair
Albany reclining chair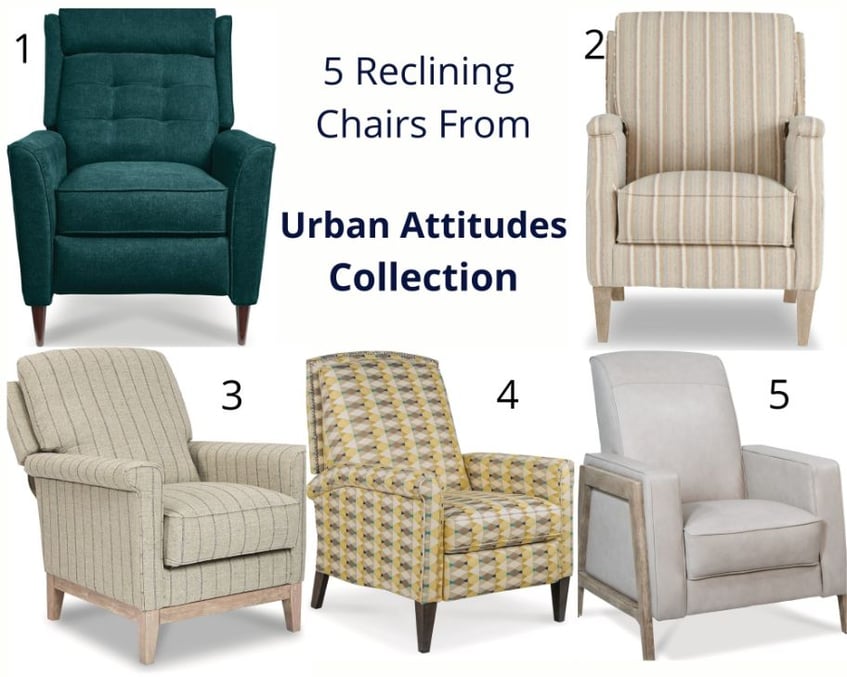 Duo® Power Reclining Chairs
These four secret recliners are part of our Duo® collection. At first glance, all you see is an accent chair. But, look closer, and you'll find that these sophisticated lines also have the power to recline.
Manufactured with premier construction
Patented ComfortCore cushions support your every curve with the perfect balance of firm support and luxurious softness.
Even when placed inches from a wall, the duo reclines with ease.
Go cordless: optional hidden battery pack lets you place duo anywhere in your room.
Powered backs and leg rest provide limitless reclining positions on both sides, all at the touch of a button.
Edie Duo

® Reclining Chair & a Half
Bennett Duo® Reclining Chair
MacKenna Duo® Reclining Chair
Colby Duo® Reclining Chair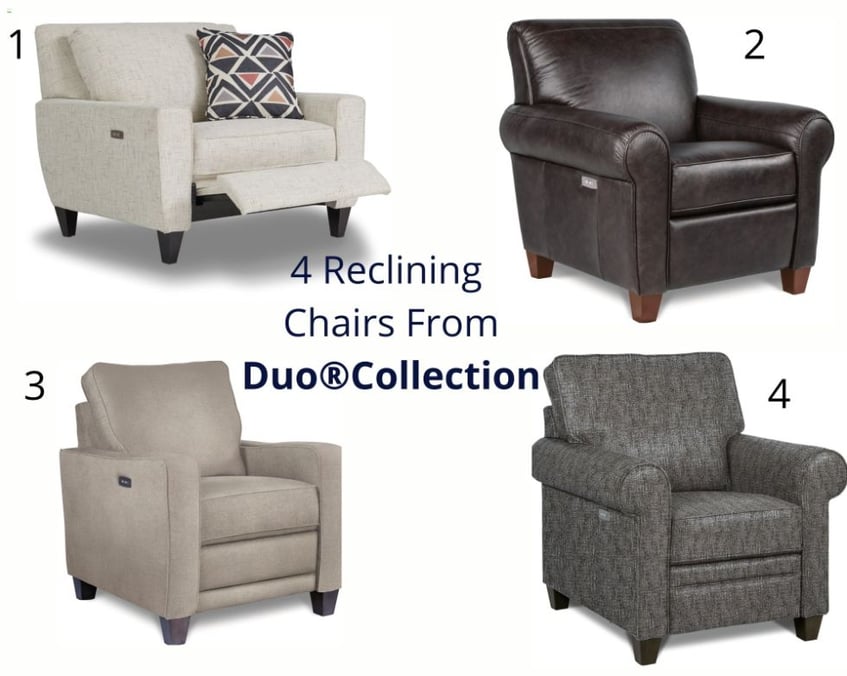 Shop La-Z-Boy
Duo
®
reclin
ing chairs OR read an
in-depth review of the Duo Collection
Elegant, sophisticated and oh so comfortable, you can customize these secret reclining chairs with wood finish, contrasting welt trim, nailhead trim and a myriad of covers just right for your space. Most of these recliners are available in our
stain-resistant iClean fabric
as well.
A
s inventors of the reclining chair back in 1927, you can rest easy knowing your recliner possesses 90 years of innovative design experience. The quality of the La-Z-Boy recliner will ensure you find the perfect match for your needs.
If you're still unsure which one to choose, you can check out our
recliner buyers guide
or contact us today.
We'd love to help you find a stylish, unrecognizable recliner for your home.