Review of the La-Z-Boy Bennett Duo® Furniture Family: Chair, Loveseat & Sofa
November 4, 2022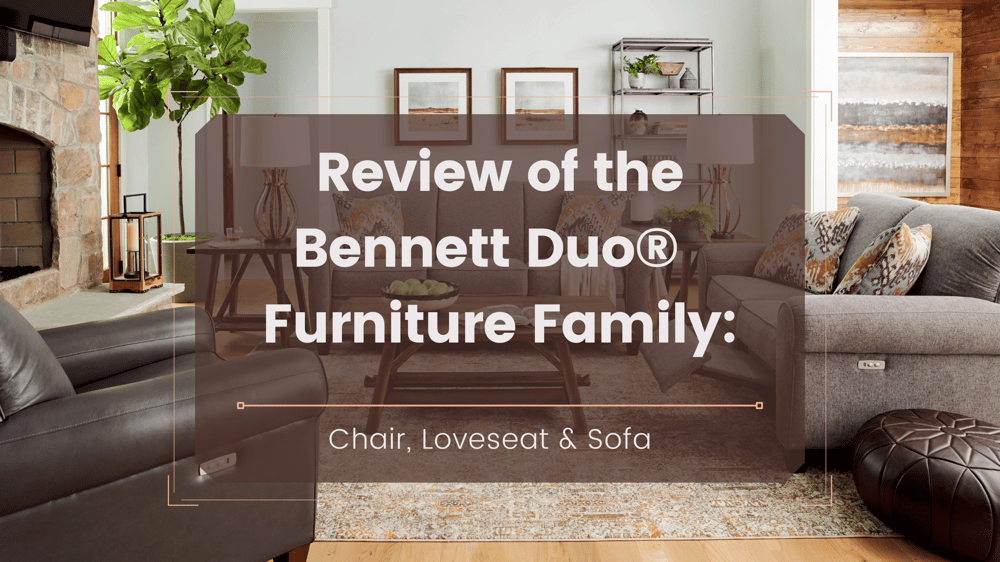 Est. Reading Time: 8 Mins
Stationary or Reclining? Sometimes the decision to choose one over the other can be challenging. However… what if you didn't need to choose one or the other? What if there was a furniture item that had the best of both worlds?
Well, at La-Z-Boy, we have the Duo Collection, which features furniture that appears stationary yet has the ability to recline! One particular product in the Duo Collection, the Bennett, doesn't get as much love as the other products.
Caroline Siziero, a design consultant at La-Z-Boy Hunt Club, says, "The Bennett doesn't get as much attention because it's not in the showroom."
Unfortunately, some La-Z-Boy products don't get shown in our showrooms. However, this does not mean we should count them out.
This article will shine a light on the Bennet Duo Furniture Family by detailing its unique features, size & dimensions, options & upgrades, cost and if this furniture family is right for you.
In This Article…
Bennett Furniture Family (Available Frame Options)
Firstly, let's discuss what furniture frames that are available in the Bennett Furniture family.
Bennett Duo
®

Reclining Chair
The Bennett Duo® Reclining Chair delivers just the right amount of individualized comfort. Simply use the side-mounted control panel on the side to recline with ease.
Bennett Duo
® Reclining Loveseat
Instead of having a single seat, like the Bennett Chair, the Bennett Duo® Reclining Loveseat allows you to share an extra seat. With this, you can sit next to that special someone, a friend, or a family member.
Bennett Duo
® Reclining Sofa
If you're looking for a more family-friendly seating arrangement, the Bennett Duo® Reclining Sofa sets the tone for guests or a family movie night.
Unique Features
Let's discuss the Bennett Furniture Family in detail with its unique features.
First, you might be thinking, "How can something have the features of both stationary and reclining furniture?" Well, the Duo Collection is actually a recliner collection disguised as stationary furniture.
At first glance, you might think that these furniture pieces are stationary because of their clean lines and structured appearance. Plus, there is no big and bulky reclining lever in sight. That said, once you see that they can recline, it creates the perfect combination of stationary and reclining furniture.
Caroline says, "The Bennett pairs well with both stationary and reclining furniture items because it blends in with both. That's what people love the most about it."
La-Z-Boy also has other Secret Recliners that you can learn about with this article.
Other than its secret ability to recline, Bennett also features rolled cigar arms, tapered wood legs, and crisp welt detailing. "It's really stylish furniture," Caroline says.
All of Bennett's products come in Power Reclining options only, meaning each furniture frame uses a 2-button side-mounted control panel to recline in multiple positions. The control panels also have built-in USB ports that you can use to charge your electronic devices.
Caroline also says that the Bennett also comes with firm seating, meaning those who are looking for firmer cushions will enjoy these furniture pieces.
Sizes & Dimensions
To ensure that any new furniture item, including the Bennett, can fit in your space, be sure to Measure Your Room.
Caroline says that Bennett's overall size is "average for furniture pieces. 82.5" for a body width of a sofa is pretty standard, but anything over 85" is gonna be bigger."
Given that the Bennett is in the sweet spot of 82.5" as a sofa, this means the rest of the furniture pieces will be average sizes as well.
Given that the seats are considered deeper, the Bennett seats those with a taller scale most comfortably, preferably those between the heights of 5'10" - 6'2". If you want to learn more about Recliners for Tall People, take a look at this article.
We recommend always coming in for a sit test to see if the Bennett is comfortable for your body type. To learn more, take a look at How to Find a Recliner That is The Best Fit For You. If you think the Bennett is worth a seat test, we recommend asking for any other furniture item related to the Duo Collection.
Below is a breakdown of Bennett's furniture frame size & dimensions.
Bennett Chair Dimensions (Inches)
Chair Weight: 107 lbs.

Body Depth: 39"




Body Height: 39.5"




Body Width: 37"

Seat Depth: 22.5"




Seat Height: 21"




Seat Width: 21.5"
Bennett Loveseat Dimensions (Inches)
Loveseat Weight: 155 lbs.

Body Depth: 39"




Body Height: 39.5"




Body Width: 60"

Seat Depth: 22.5"




Seat Height: 21"




Seat Width: 44"
Bennett Sofa Dimensions (Inches)
Sofa Weight: 220 lbs.

Body Depth: 39"




Body Height: 39.5"




Body Width: 82.5"

Seat Depth: 22.5"




Seat Height: 21"




Seat Width: 66.5"
Options & Upgrades
The Bennett Duo® furniture family has many different options and customizations to choose from.
Please note that by choosing some of these options & upgrades, the price of your furniture is subject to increase.
Fabric & Leather Options
La-Z-Boy has over 800 fabrics and leathers to choose from, making the experience of personalizing your furniture seemingly endless.
Caroline reveals that the Bennett comes in 5 different select fabric options. Select fabrics are chosen to compliment Bennett's specific furniture frame. In turn, these fabric options do not increase the base price of your Bennett.
You will be subjected to an additional fee if you choose to purchase any fabric that is not included as a select cover.
Caroline also says that you can choose leather covers for your Bennett. However, there are no select leathers to choose from for this furniture frame. To learn more about our leather selection, take a look at this article.
In addition to the cover options mentioned above, the Bennett is offered in specialty fabrics with unique features and benefits …
Stain Resistant Fabric
Innovative iClean Technology surrounds each fabric fibre, creating a barrier that repels spills before turning into stains.
Tested and formulated to withstand the scratches and wear that a pet can cause to ensure a durable and easily washable fabric.
Antimicrobial properties surround each fibre to protect against mould, mildew, and odour-causing bacteria.
Performance
Superior stain and fade resistance properties make fabrics easy to clean and incredibly durable.
Eco-Friendly
Conserve Sustainable Fabrics are soft, durable and made from recycled water bottles.
Cushion Upgrade
At an additional cost, Bennett's cushions can also be upgraded to include firmer cushioning, meaning over time, your furniture will remember your unique figure and enhance the comfort of your furniture.
​For more information, view our Motion Furniture Collection catalogue and our in-depth Review of La-Z-Boy's Chair and Sofa Seat Cushions.
*Please note that reclining furniture purchased before January 2021 had the option to upgrade to airform™ cushions. This cushion includes a two-inch layer of premium quality memory foam added on top of the standard foam base within the seat, chaise, and leg rest of the unit.
Finish Options
Finally, Bennett's wood leg finish can also be customized. Any Bennett furniture item comes in one of three finish options:
Mahogany (Base Price)
Coffee (Additional Cost)
Graphite (Additional Cost)
Cost
Regarding cost, Caroline notes that the Bennett furniture products fall within the mid-high price range at La-Z-Boy. This price range is because the Bennett furniture is only offered in power, according to Caroline. Power Furniture is always slightly more expensive than manual furniture," she says.
To learn more about the difference between Manual vs. Power Reclining Furniture, take a look at this article.
While the cost of the Bennett furniture is considered mostly standard at La-Z-Boy, it is also important to note that La-Z-Boy furniture is considered more expensive on the market. This cost is reflected in the high quality of materials and craftsmanship of our products.
Bennett Reclining Chair

Bennett Reclining Loveseat

Bennett Reclining Sofa

Starting at




$2,729

Starting at




$4,159

Starting at




$4,229
*All La-Z-Boy prices listed in this article are subject to change. We aim to update all cost-related articles twice per year. This article was last updated on October 4th, 2022. Please visit lzb.com and select an Ottawa or Kingston La-Z-Boy store location to view the most up-to-date pricing.
Warranty
The Bennett Duo® furniture family is covered by La-Z-Boy's Limited Lifetime Warranty. This warranty covered covers the repair or replacement of the frame, spring systems, and mechanism, given that they are quality-crafted and built for long-lasting comfort.
While still quality-crafted, other aspects of the product, such as fabrics, leather, and cushion, are not meant to last a lifetime. However, these parts are still covered by the La-Z-Boy Manufacturer's Warranty for a given time.
To learn more about the warranty at La-Z-Boy, take a look at the article Are La-Z-Boy Recliners Guaranteed for Life?
To further protect your purchase, La-Z-Boy offers an extended warranty plan at an additional cost.
Customer Reviews
Many La-Z-Boy customers enjoy the Bennett furniture family. This table shows how our customers have rated each piece of furniture out of five.
| | |
| --- | --- |
| Bennett Duo® Chair | 4.7 |
| Bennett Duo® Loveseat | 4.7 |
| Bennett Duo® Sofa | 4.8 |
Star reviews can only tell you so much. Here is what some customers honestly say about the Bennett Duo® furniture family…
Is the Bennett Furniture Family Right For You?
Now that you know everything you need to know about the Bennett Furniture Family, the question still remains if this furniture family is the right one for you. To help answer this question, let's take a look at your budget, functionality preferences, and style.
First, the cost of the Bennett furniture family is a little bit more pricy due to the furniture only coming in power. If you are ready to invest in long-lasting and stylish power reclining furniture, the Bennett may be the right choice for you.
In contrast, if you are looking for simpler and more temporary furniture with a lower price tag, the Bennett may not be the right investment.
In terms of functionality, the Bennett is ideal for those who can't decide between reclining furniture or stationary furniture, as previously mentioned. It is also ideal for tall users since the Bennett sits at a taller scale.
If you are below the height of 5'10", this furniture family might not be the right choice for you. If you're looking for Recliners for Short People, take a look at this article.
Finally, when considering your personal style, Caroline mentions that this furniture family draws the attention of those looking for traditional furniture pieces. "The Bennett is very transitional," she says, "But what makes it traditional are the arms."
If you're looking for modern furniture items, this furniture family might not be right for you. Other Duo Collection furniture items have modern looks to them. Make sure to check out both the Colby and Edie Furniture Families to see which Modern Recliner you prefer.
What's Next?
After reading this article, you have now gained more knowledge about the Bennett Duo® furniture family at La-Z-Boy.
There's no doubt that the Bennett Duo® furniture is very versatile in appearance and features. With that being said, why not learn more about it with a design consultant today?
Our design consultants are always eager to lend a helping hand. Take advantage of our interior design services to see how the Bennett furniture could fit in your home design.
As you may already know, La-Z-Boy has a wide selection of furniture to choose from. You can start shopping by visiting one of our local showrooms located in Ottawa or Kingston. You can also schedule a visit online before coming in.
If the Bennett wasn't what you were looking for, take a look at some of our other furniture family reviews:
Related Articles:
Cost to Furnish a Small Living Room
Product Info Request
Please provide us with your name and email and we'll get back to you as soon as possible regarding this item.