The 5 Best La-Z-Boy Recliners for Tall People
June 7, 2021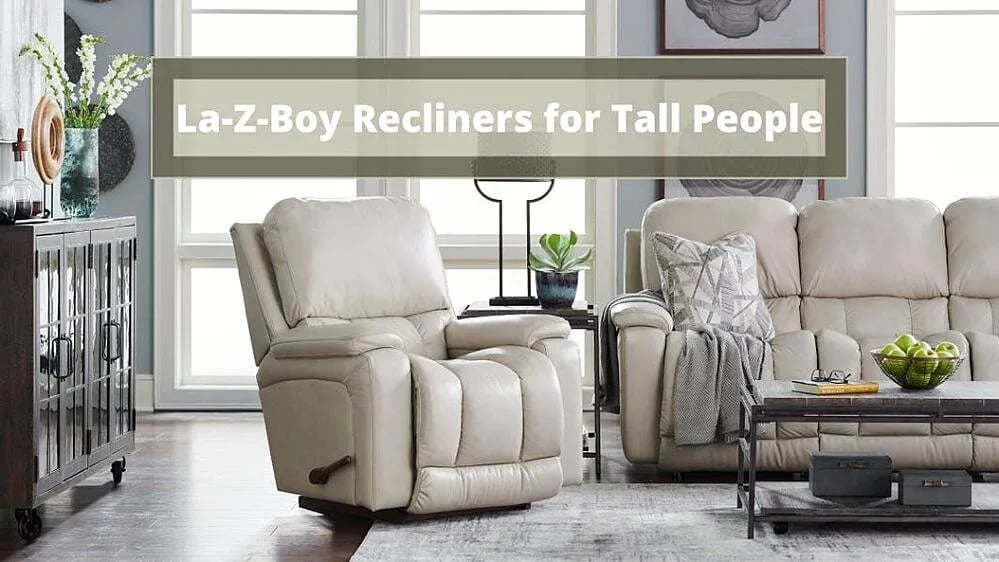 When you think of La-Z-Boy Recliner, you likely think of laid-back comfort! But it isn't that easy.
In order to get the utmost comfort and enjoyment from your recliner, it is crucial that its dimensions fit your body size and shape.
Getting fitted for a recliner is comparable to getting fitted for new shoes. Although you may be going for style, if the shoe doesn't fit your foot just right, it can lead to blisters, sore feet, and even potential back pain. Just like an uncomfortable shoe, an ill-fitting recliner can lead to unnecessary aches and pains.
As inventors of the reclining chair in 1927, we at La-Z-Boy have a wide variety of recliners suited for clients of all shapes and sizes.
As a tall person, a man or woman that is 5'10" and up, it is key to choose one of our recliners that is the right match for your uniquely long body type to enjoy your chair with ease and relaxation.
More specifically, a tall person typically requires a recliner that features a deep seat and a tall back in order to achieve proper knee and lumbar support.
Finding a recliner that is the perfect fit isn't always easy. It often requires the help and expertise of a trained La-Z-Boy design consultant.
To get you started, Kim Wade, the manager of La-Z-Boy Hunt Club, has helped narrow down your choices by putting together a list of the best La-Z-Boy recliners for tall clients.
1. The Greyson Recliner

The Greyson Recliner is known for its exceptional comfort and exquisite design.
Kim likes to refer to the Greyson as the "Cadillac bucket seat" as it hugs and cradles someone offering notable leg and back support. The extra-deep chaise seat and legrest offer a continuous zone of comfort in the reclining position and is perfect for someone with long legs.
The Greyson is also available as a rocking and wall recliner, as well as a reclining loveseat and sofa. You can learn more about the Greyson Furniture Family with this article.
Body Depth: 41"

Body Height: 43"

Body Width: 38.5"

Seat Depth: 23"

Seat Height: 20"

Seat Width: 20"
2. The Talladega Recliner
The Talladega Recliner is a La-Z-Boy product with several unique features. It boasts a neat and tailored appearance and is one of the larger recliners available.
Talladega's ultra-plush chaise seat and legrest create a continuous zone of comfort in the reclining position, while the padded arms and tall foam back provide unparalleled support for the head and neck.
The recliner also features a clean look with unique race-stripe top-stitching for a neat and tailored look. To activate the legrest, simply use the handle located on the outer arm.
The Talladega is available as a rocking and wall recliner, as well as a reclining loveseat and sofa. You can learn more about the Talladega Furniture Family with this article.
Dimensions:
Body Depth: 39.5"

Body Height: 44.5"

Body Width: 38"

Seat Depth: 21"

Seat Height: 20"

Seat Width: 21"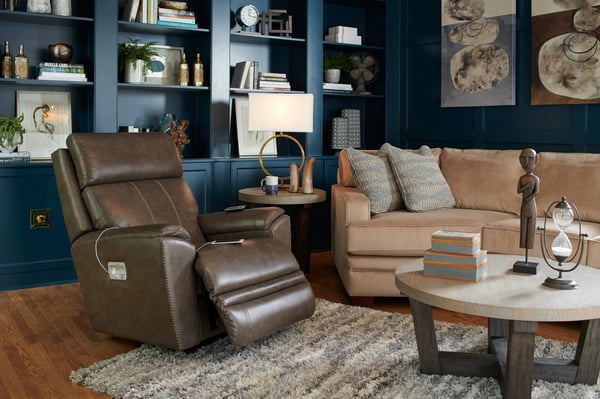 3. The Astor Recliner

The Astor Recliner is designed especially for larger users bringing relaxation to new heights. With this, Kim calls the Astor "the classic big man's chair". In fact, the Astor is La-Z-Boy's tallest recliner ever, featuring a deep, wide seat, and comes standard with a tall base available as an option for other recliners.
According to Kim, the Astor is a gentleman's favourite with its generous wide-body and comfortable tri-pillow back detail. The tall pillow back has three separate cushions that can adjust to your body's contours, while the chaise seat and padded flare arms provide the ultimate comfort.
Kim says the Astor Recliner is "definitely a chair for reclining and relaxing".
The Astor recliner is available as a rocking and wall recliner, as well as a Platinum Power Lift Recliner. You can learn more about the Astor Recliner with this article.
Body Depth: 41"

Body Height: 44.5"

Body Width: 37.5"

Seat Depth: 21"

Seat Height: 21"

Seat Width: 21"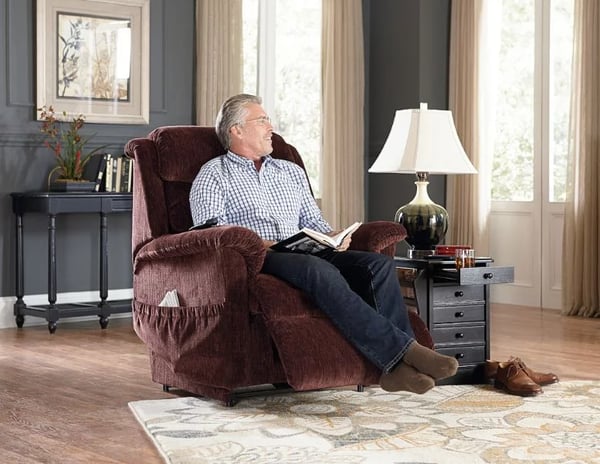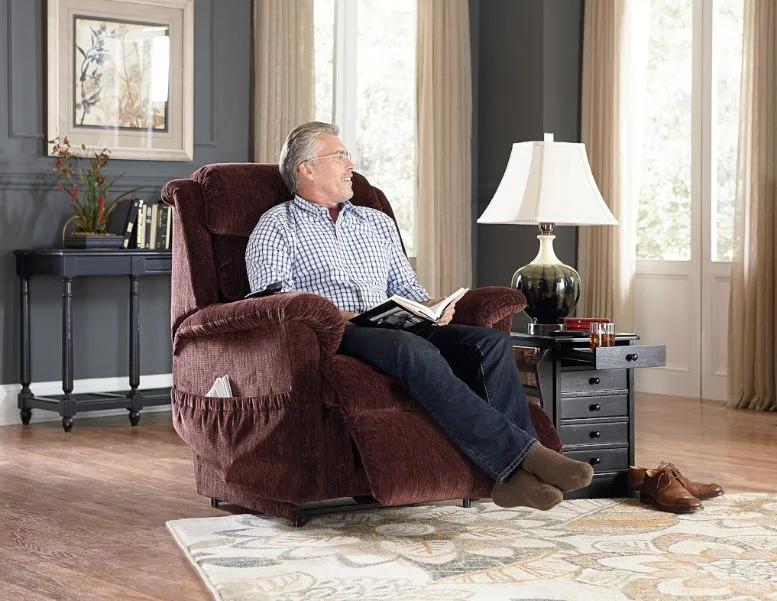 4. The Redwood Recliner

The Redwood Rocking Recliner is a chair that's been designed with the comfort of taller users in mind.
Not only does it have a rugged and stylish appearance, but it also includes several features that are popular with taller individuals, such as a tall base, elongated handle, deep chaise seat, higher-density foam, and an updated design with an extra-long legrest.
Adjusting the chair to your desired position is effortless with the handle located on the outer arm. When you're not reclining, the Redwood transforms into a relaxing rocker with a smooth, graceful motion, making it a great addition to any room.
The Redwood is also available as rocking and wall recliner. You can learn more about the Redwood Recliner with this article.
Body Depth: 45"

Body Height: 46.5"

Body Width: 44"

Seat Depth: 23.5"

Seat Height: 21.5"

Seat Width: 24"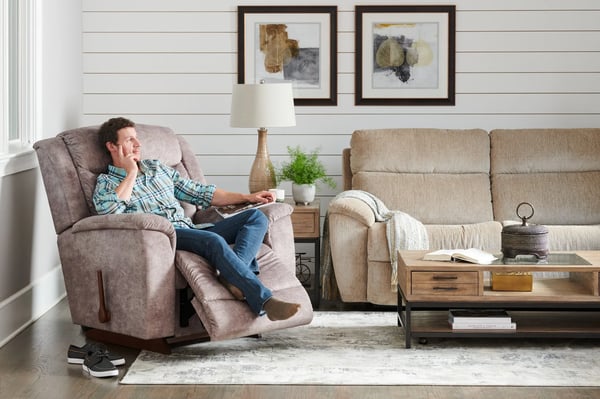 5. The Stratus Recliner

Designed for tall users, the Stratus Recliner elevates your comfort and style to a whole new level. Stratus features a tall foam back, padded arms, and a tall base for oversized luxury.
Kim compares the dimensions of the Stratus Recliner to the Astor Recliner, but the Stratus differs in its lower arm and lumbar cushioning. Its wide and deep bucket seats with cushion detail are supportive of a tall client's hips and back.
The Stratus is available as a rocking and wall recliner. You can learn more about the Stratus Recliner with this article.
Body Depth: 39.5"

Body Height: 45"

Body Width: 38.5"

Seat Depth: 22.5"

Seat Height: 22.5"

Seat Width: 22"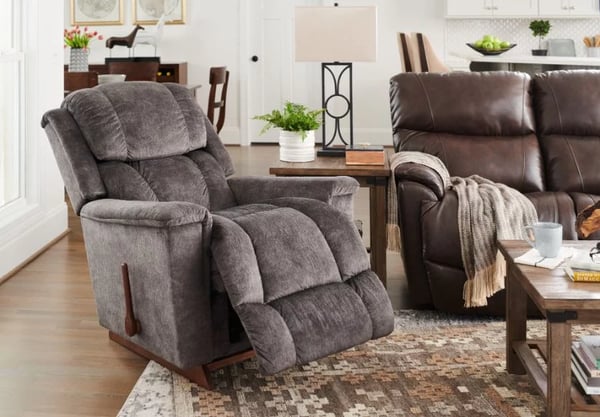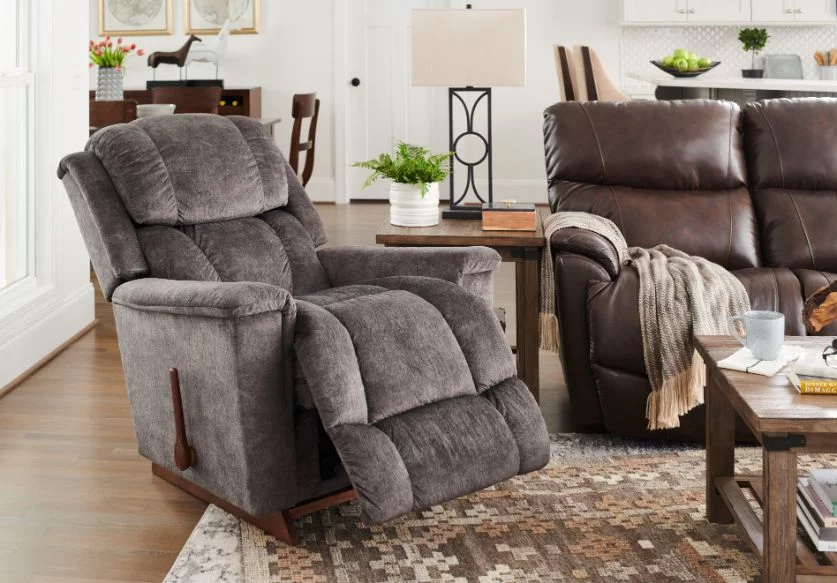 How to Know Which Recliner Fits You Best …
With a list of the five best recliners for tall individuals, you have successfully narrowed down your search among the countless options available at La-Z-Boy.
But your search for your ideal recliner does not end there.
As you evaluate these five choices, you will want to determine which recliner's dimensions properly fit your unique height and size. In order to do so, a trained design consultant at La-Z-Boy will help you get properly fitted for a recliner …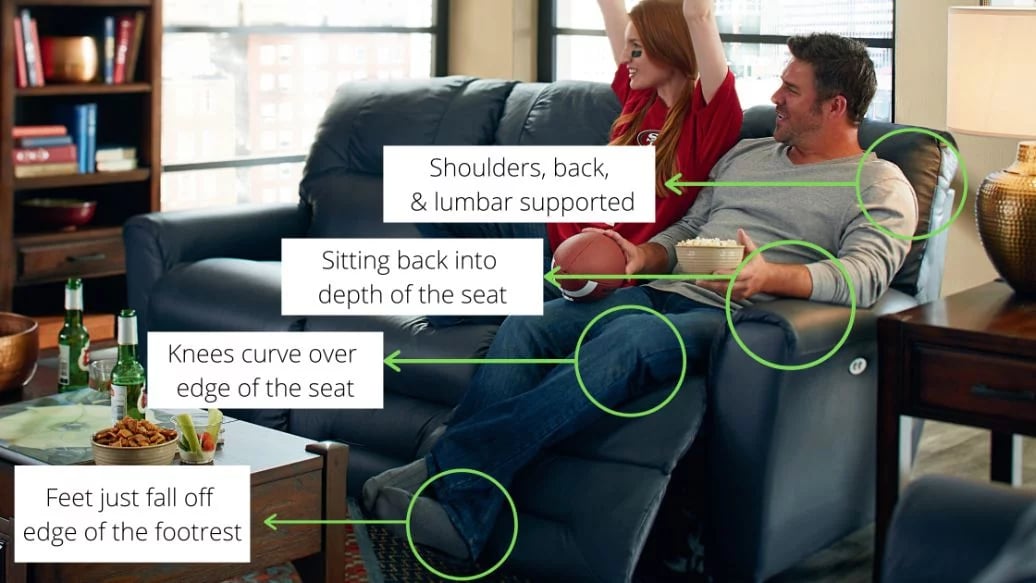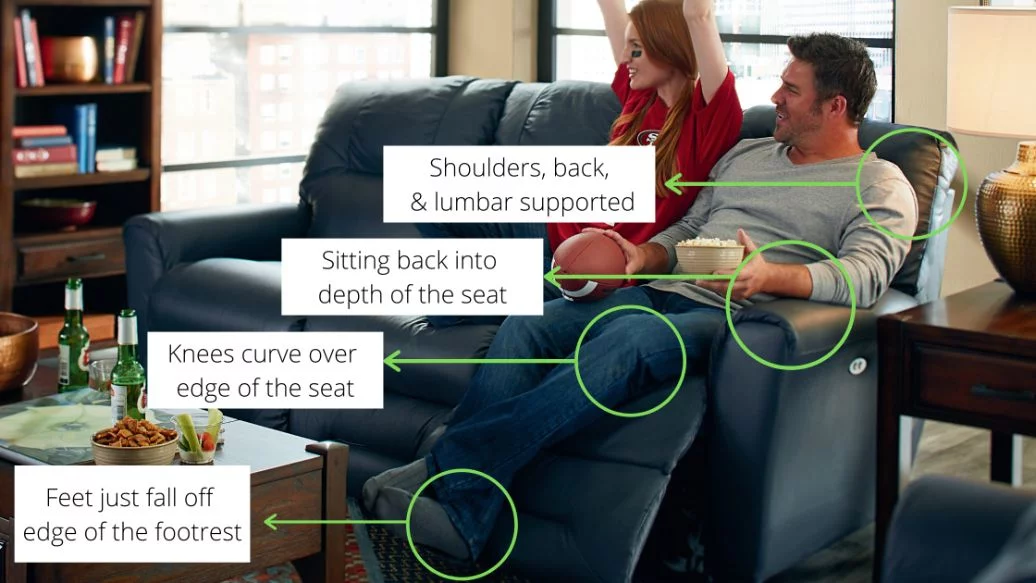 Step One – When you sit back into the depth of the seat, make sure that your knees are bent at a 90-degree angle and your feet are comfortably reaching the floor.
Step Two – As you lay back, your shoulders should naturally lay at the seam where the two back cushions meet.
Step Three – It is important that your chair provides good lumbar support. Resting into your chair, you want to ensure that the middle cushion provides enough lumbar support to your lower back. The cushion should support the natural curve in your back ensuring that it does not cave inwards and cause tension.
Step Four – As you rest your head, the cushion that supports your head and neck should not cause extension or strain forward. Your neck should rest comfortably aligned with your spine and your head should naturally relax into the cushion. When in a reclined position, your feet should not dangle too far over the edge of the chair … the heels of your feet should just fall off the edge of the footrest.
Benefits of a Properly Fitted Recliner:
Once you have chosen a recliner with the optimal fit for your tall physique, not only will you experience exceptional comfort in your chair, but you will also enjoy some additional health benefits.
Zero Gravity Position
In a fully reclined position, most La-Z-Boy recliners achieve a zero-gravity position.
In this position, the pressure of gravity is relieved from all your muscles and joints. With this, your muscles enter a complete state of relaxation. All tension will then release from your back, neck, and abdominal muscles, giving your body a true chance of recovery after a long day. If you suffer from back pain, it is especially helpful to rest in your recliner for lower back pain relief.
Better Circulation
The zero-gravity position also promotes better circulation throughout the entire body. This optimal circulation allows for your blood to return to your heart faster, relieving each body system of strain leading to faster healing.
Improved Lung Health
Believe it or not, even your lungs will benefit from your recliner chair. When you recline back into a relaxed position, your diaphragm is able to expand to its maximum capacity, improving total lung function. Over time, the lung expansion experienced in your recliner chair will lead to overall deeper breathing.
Easier Digestion
Finally, the relaxed and reclined position actually promotes better digestion. While resting with ease, your digestive system is able to process your food fully. In no time, a belly full of food will feel nicely digested and you will be able to sleep more peacefully.
What's Next?
You are so close to finding the perfectly fitting recliner chair!
With this list in mind, height is only one part of the equation. It is also important to consider the functionality you require and the style you prefer when choosing a recliner chair.
Our team of design consultants at La-Z-Boy Ottawa & Kingston are not only trained to help you get fitted for the perfectly sized recliner but they are also skilled at helping you find a recliner that meets your lifestyle needs.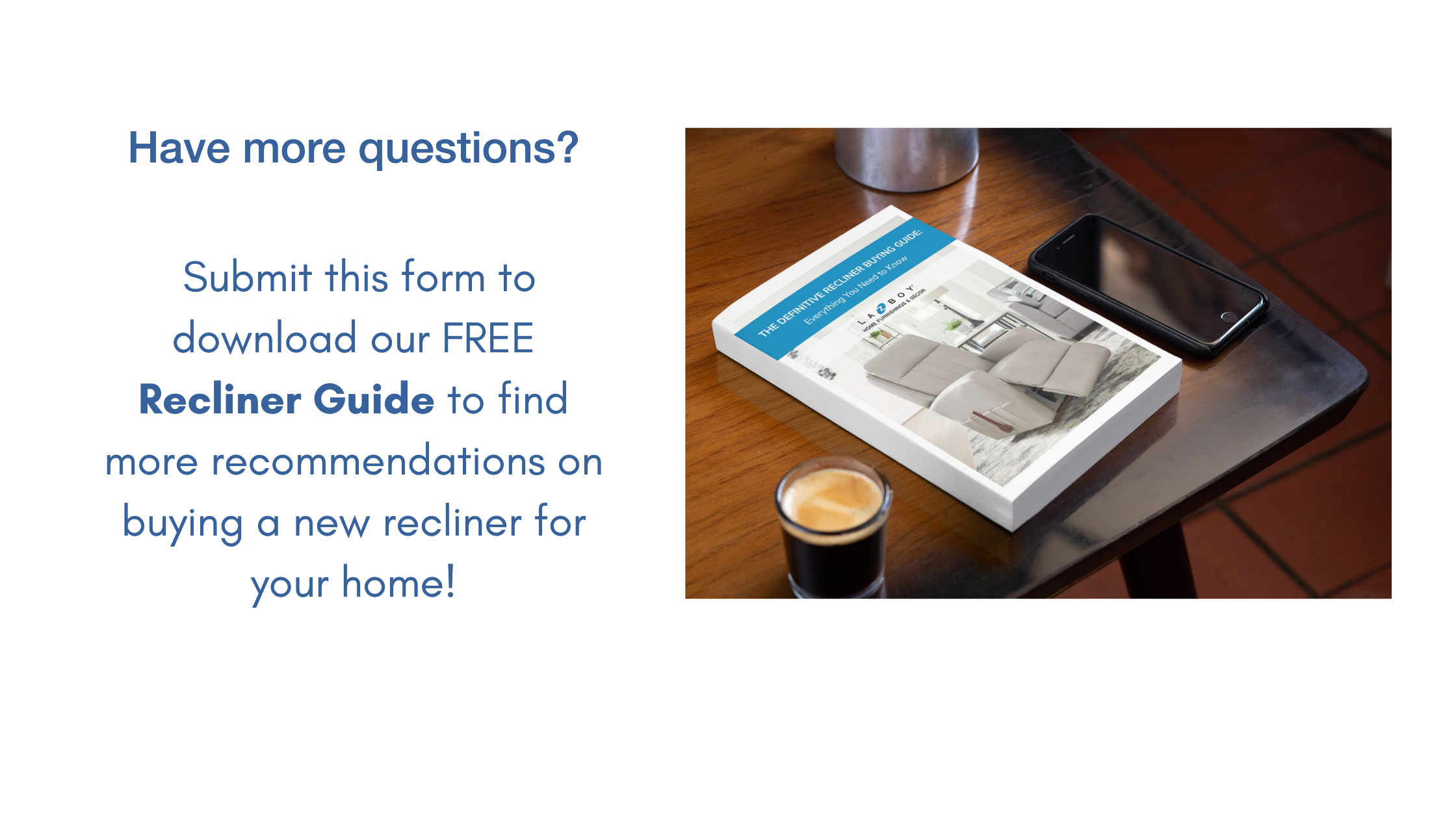 Further, everything at La-Z-Boy is customizable and we offer complimentary design services. Once you have chosen the ideal frame, a design consultant or interior designer can help you customize your recliner so that it fits seamlessly with your home decor and current furniture arrangement.
Get started today by visiting us at a local Ottawa or Kingston showroom. If you prefer to plan ahead, schedule a visit online.
We look forward to meeting you and helping you find a recliner that brings your expectation of comfort to new heights!
Product Info Request
Please provide us with your name and email and we'll get back to you as soon as possible regarding this item.