La-Z-Boy Astor Recliner - Review
January 14, 2020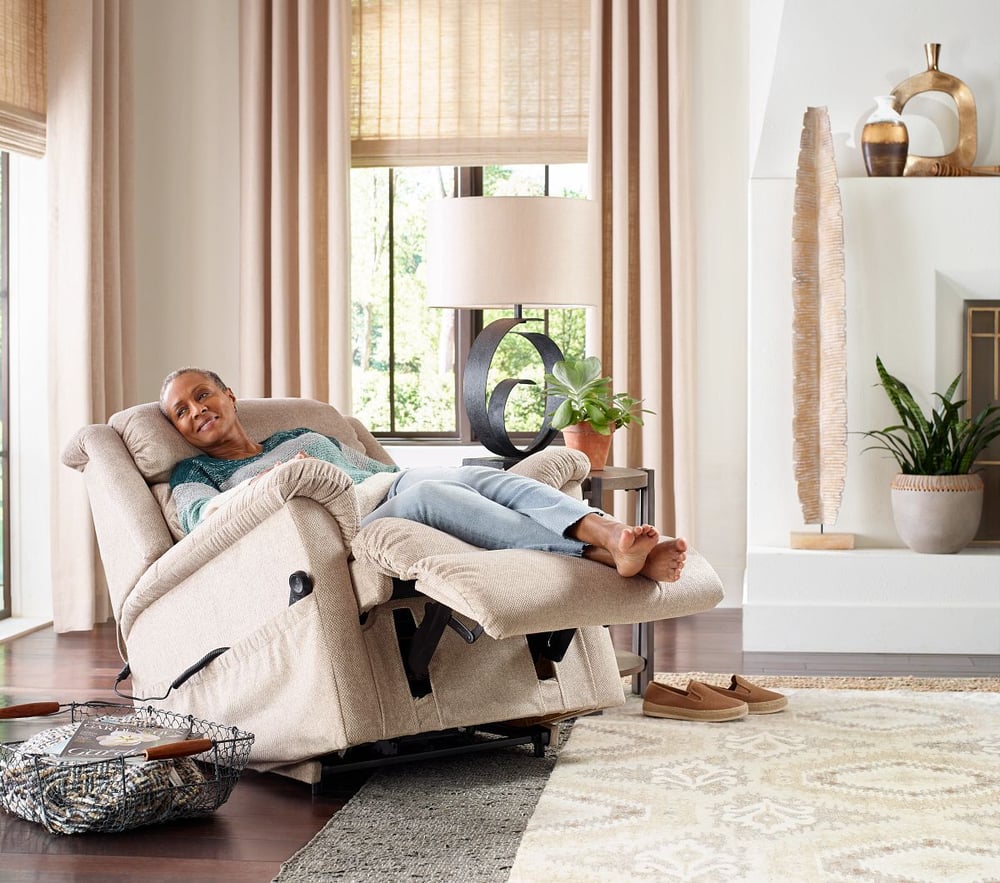 A Review of the La-Z-Boy Astor Recliner

In this review, find out why the Astor is one of the top 5 best-selling recliners in Ottawa and Kingston!
Michelle Larin has been a design consultant with La-Z-Boy for over five years and currently works at our Hunt Club location. She met a manager who introduced her to La-Z-Boy while attending a networking group as a business owner herself. Having fallen in love with the company's mission statement and philosophy, she says she never looked back.
Michelle succinctly describes the Astor recliner as a "big boy"!
This recliner is ideal and grouped for extra tall individuals at 6'3" and up. Michelle explains that with its very high back and size of chaise seat, it is a go-to recliner for anyone with long legs. Their feet will be well supported and not hang over the edge, promoting excellent circulation.
Besides those of taller stature, Michelle has found the Astor to be a perfect fit for those wanting a recliner roomy enough to share with a pet. Also, for someone comfortable tucking their feet up beside them when settling down to relax. If you're picturing yourself reclining with your furry friend, learn more about what fabric is best for pets.
As the tallest recliner ever, the Astor brings relaxation to new heights. It comes as a rocker or swivel. You can also buy a 'wall away' chair that fully reclines placed mere inches from a wall. The option to upgrade to several power styles is also available.
Features unique to the Astor recliner
The tall pillow back of the Astor features three separate cushions that can adjust to your body's contours. Moreover, the chaise seat and padded flared arms provide the ultimate comfort.
Features include:
• Comes standard with tall base
• three semi-attached cushions that can be adjusted for support
• Padded flared arms
• Chaise seat and leg rest
• Rocks and reclines for total comfort
• Adjust the leg rest with a convenient side-mounted handle
• 3-position locking leg rest for added safety and support
• Blown fibre fill for improved cushion thickness and shape retention
• High-grade foam seat cushions that maintain their comfort and appearance
• Premium grade fabrics and leathers tested to resist wear and fading
• Includes our Limited Lifetime Warranty on the frame, springs and mechanism
• Customize with your choice of fabrics and other available upgrades
Astor Recliner Dimensions
As our tallest recliner ever, the Astor features a deep, wide seat and comes standard with our tall base. In other cases, the tall base adds 1.5 inches to the overall height of a recliner and has an upgrade cost of $150.
The Astor is a generously scaled recliner and measures thirty-seven inches across from outside arm to outside arm. Similar to the Trouper recliner, this means you'll need significantly more width space in your home for the Astor than you would for other recliners.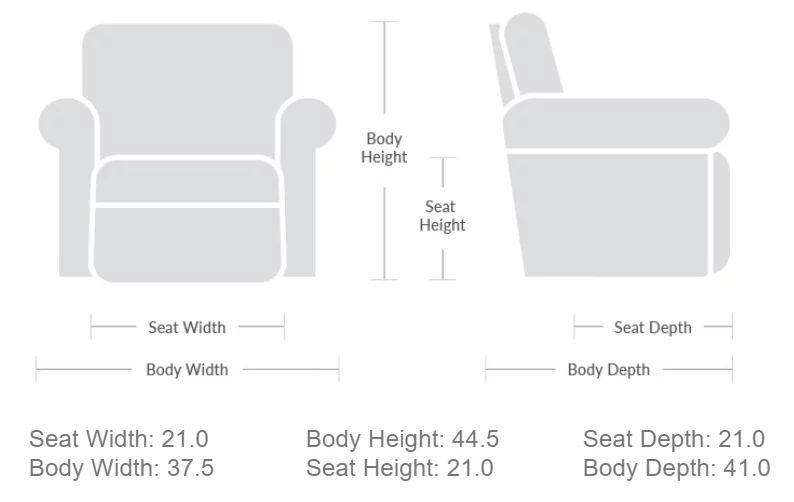 Different chair styles in the Astor:
The Rocker Recliner
The Astor rocking recliner is a basic non-power option. Use the convenient handle on the outside arm to raise the leg rest for reading, relaxing or watching TV. When you're not reclining, it's a relaxing rocker with a smooth, graceful motion.
The Wall Recliner (wall huggers)
The Astor Wall Recliner is the same as the rocker recliner, but you can place it inches from the wall to save space. There is no active motion like in a rocker; therefore, when not in a reclined position, you have a comfortable "stationary" chair.

Power Rocker & Wall Recliner
What could be easier than putting your feet up? How about doing it at the touch of a button. The Astor rocker and wall power recliners provide convenience and comfort simultaneously.
Simply use the side-mounted 4-button control panel to recline and raise your feet independently for a wide range of relaxing positions. There's even a built-in USB port to power your phone or tablet.
The Rocker & Wall with Headrest & Lumbar
On these power recliners, you can adjust the lumbar support and headrest tilt independently to fit your body to experience a complete custom fit!
The independent support for your head, neck and lower back provides you with an unlimited number of relaxing positions. It lets you maintain perfect viewing angles for activities such as reading, conversation, or enjoying TV.
Now available, is a new control panel with easy-to-use toggles. Its features include a home button, two memory settings, and a USB charging port. You can also upgrade to a wireless remote. Plus, if you lose it, don't worry, you can press a button on the side of the chair, and the remote will beep.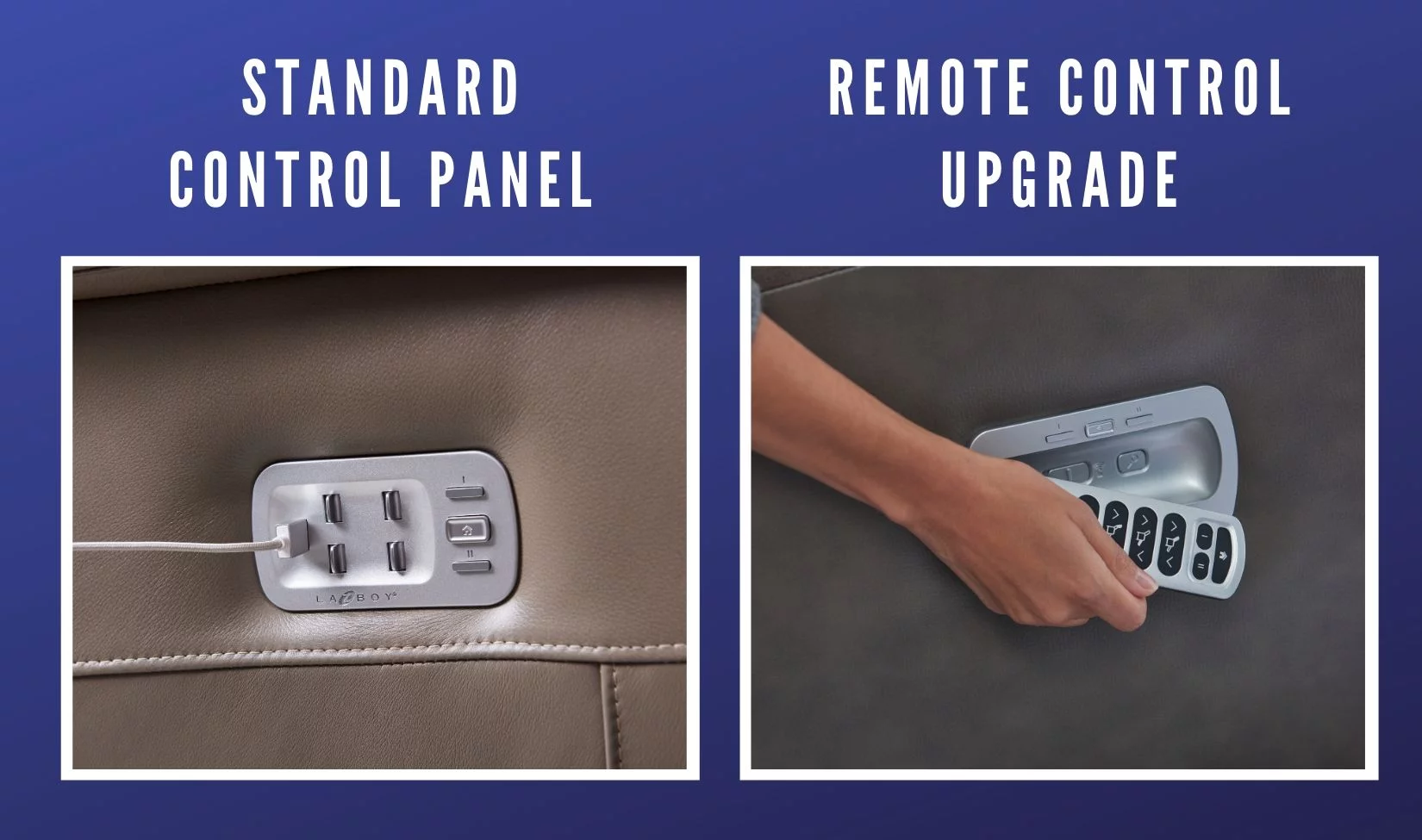 Platinum Power Lift (also with Massage & Heat and Headrest & Lumbar)
At the touch of a button, the lift chair lets you relax and fully recline — all the way back to the zero-gravity position. Exclusively engineered to provide the smoothest, most secure motion, it then assists you from sitting to a standing position.
The Astor lift chairs have slightly different dimensions due to the mechanism. The seat width is two inches smaller at 19-inches, so the Clayton lift chair at 23-inches wide might be a better choice.
Additional features of the Astor lift chair include:
• Power tilt
• Independent back and leg rest motion
• Easy-to-use wired controller
• Zero-gravity position alleviates pressure on the lower back and spine
• Can be placed 11 inches from a wall
• 350-lb. weight capacity
• Right side storage pocket
• Battery backup in case of power failure
• Leg rest autostop safety feature
For the ultimate in modern comfort, there is the Astor Power Lift with heat and massage. Use the handy wired controller to activate optional high/low heat and 6-motor massage for the back and thighs. Features include:
• 3-setting heat in the back and seat (high/low/off)
• 6-motor vibration massage (4 in the back, 2 in the seat)
• 3 massage modes (constant on/wave/pulse)
• Adjustable massage speeds (high/medium/low/off)
To learn more read our in-depth review of the Astor power lift recliner.
Product Options & Upgrades for the Astor Recliner
Choose a style, then customize it with your choice of fabric or leather, finishes, and other options. The Astor recliner is also part of our Hot Buy Recliner Program, which will make this purchase more economical and easy to match a different his or her frame.
Upholstery / Cover Options
Your choice of fabric or leather upholstery is a pivotal decision when selecting a recliner for your home. The Astor has over 900 hundred cover options so you can custom-create a look that's uniquely yours. Choose from the latest colours, patterns and textures.
There are options to suit every style and budget. Take advantage of free fabric swatch sets to find your inspiration.
Life can be hard on furniture, so our fabrics and leathers are wear-tested for quality and durability, ensuring they stay beautiful for years to come. Perfect for life's little mishaps, our stain-resistant iClean™ fabrics repel spills before they turn into stains.
Select iClean fabric colours included in the variety of fabrics available. These fabrics offer a barrier of protection that repels spills before they turn into stains.
If you have pets, you might consider taking advantage of our Pet-Friendly fabric that has a high level of cleanability and durability, including the iClean technology.
Another specialty fabric option at La-Z-Boy is the antimicrobial fabric. This fabric protects against mould, mildew, and odour-causing bacteria
A subset of covers is available in "conserve" fabric. Soft, durable, and sustainable "conserve" fabric is made out of recycled water bottles. We use as many as 110 recycled water bottles to create a sofa with this eco-friendly material.
As with conventional furniture fabrics, conserve covers are wear-tested for safety, quality and durability. So, they stay comfortable and beautiful for years after delivery. They come in a wide range of colours and patterns to complement your room.

Seat Cushions
High-quality polyurethane foam gives recliner cushions increased softness and support while providing exceptional durability.
Firmer seat options are available at an additional cost.
For more information view our Motion Furniture Collection catalogue and our in-depth Review of La-Z-Boy's Chair and Sofa Seat Cushions.
Please note that reclining furniture purchased prior to January 2021 had the option to upgrade to airform™ cushions. This cushion includes a two-inch layer of premium quality memory foam added on top of the standard foam base within the seat, chaise and leg rest of the unit.
Extra Options
Handle options on the manual Astor recliner include:
• standard wood
• left side handle
• elongated handle
• arc handle (silver)
• arc left side handle(silver)
• left elongated handle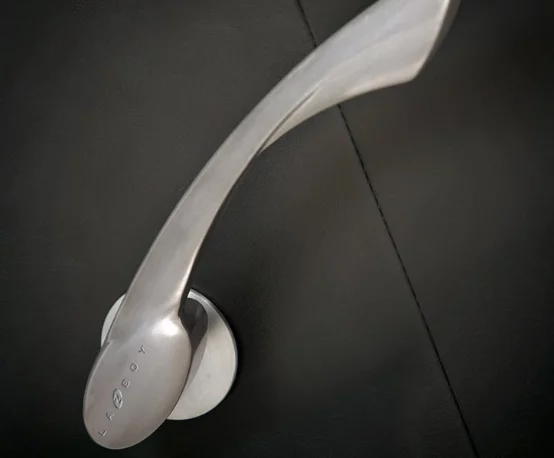 Brown mahogany wood finish comes standard on the Astor recliner. However, you can also choose a coffee colour to match your current décor or add striking contrast.
The swivel base option for the rocker recliner lets you rock and relax with a twist. Face any direction with a simple turn, so you're always part of the action.
There are seven different Astor power options: rocker, wall away, rocker with headrest and lumbar, wall away with headrest and lumbar, lift, lift with headrest and lumbar, and lift with massage and heat.
Astor Recliner Cost
The cost of a manual rocker recliner and wall away start in the mid-level cost range of recliners currently in the market.
Power recliners will cost several hundred dollars more than traditional manual recliners. The reason for this is due to the motor and mechanisms included in the construction.
The Astor falls within the mid-price range of La-Z-Boy recliners and the price of each style depends on the options chosen.
They start at $1559 for a rocker recliner, $1629 for a wall away, and $2059 and upwards for power and other options.
*All La-Z-Boy prices listed in this article are subject to change. We aim to update all cost-related articles twice per year. This article was last updated on March 2022. Please visit lzb.com and select an Ottawa or Kingston La-Z-Boy store location to view the most up-to-date pricing.
To get the answers to our most commonly asked power recliner questions, check out this article.
Recliner Hot Buy Program
The Astor is part of our Recliner Hot Buy Program, which currently includes 8 frames and 73 fabrics to choose from, including some iClean fabrics. You receive incredible savings due to the expanded selection of covers all available at the starting retail price.
From petite to extra tall, our recliners provide personalized comfort and support based on your height. Michelle says the program is ideal for couples that require different frames due to their height difference.
Different recliners can have the same fabric to pull them together in a room.
The savings on power upgrades also make this program attractive to budget-conscious buyers. Opting to have the power to recline at the touch of a button is $400 on frames included in the Recliner Hot Buy Program as opposed to the standard $600 upgrade. Alternatively, the added option of headrest and lumbar support costs $800 within the program, a savings of $400.
Customer Reviews

This recliner currently has a 4.7 out of 5 rating in North America. Find out what customers are saying in the following five-star reviews.


Excellent purchase!
This was a Christmas gift to my husband. He was beyond thrilled and delighted with the gift! It is very comfortable, easy to adjust positions, spacious for his size (6 ft, 220lb) and an attractive piece of furniture in our living room. I like it, too!?? Terri B.


Heaven
This must be what heaven is like! This is not my first power lift but boy you really did a great job getting older and wiser with design and comfort. Dawn F.


Comfortable Chair Fit for a King
This is a very comfortable chair and fits me very well. I am over 6 feet tall and there is great leg support just sitting without reclining. The seat is slightly taller than a lot of chairs and this makes it very easy to stand up from. I find you sit in this chair as opposed to sitting on this chair. We are seriously considering purchasing a second one. Dick/Linda W.


My rest place
The chair is what I have been looking for 65 years. It helps me with the damaged back, in that I can relax and get rid of plaging pains. Arnold Margerie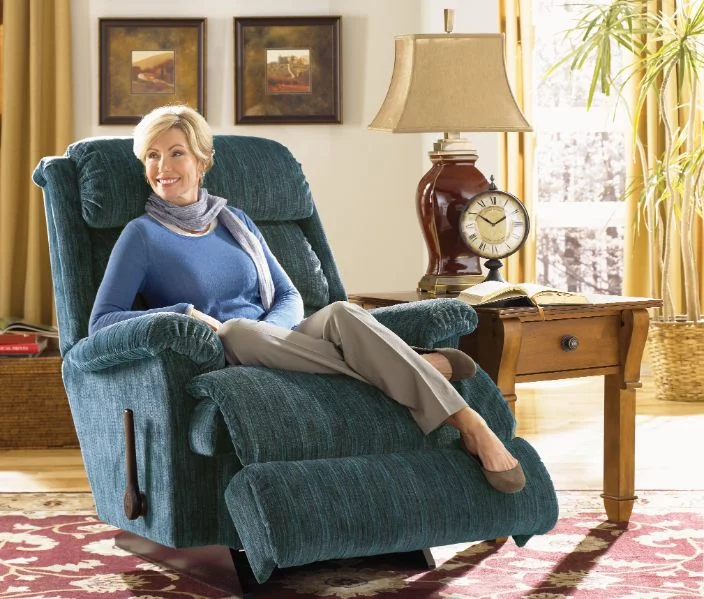 Next Steps:
The Astor recliner has been a staple on the La-Z-Boy showroom floor for many years, and its popularity has remained strong. It caters to taller individuals but can be a great fit for someone looking for a room to share the best seat in the house.
The Astor brings comfort and relaxation to new heights with its deep, wide seat and unique features. Including the standard tall base and three semi-attached cushions, you can adjust for comfort. It is worth a trip to one of our La-Z-Boy Ottawa and Kingston locations to give it a try!
As inventors of the reclining chair back in 1927, you can rest easy knowing your recliner possesses 90 years of innovative design experience. The quality of the Astor or any other La-Z-Boy recliner will ensure you find the perfect match for your needs.
If you're still not sure the perfect place to continue your recliner research is the Recliners Buyers Guide. It outlines everything you need to know before you purchase your new recliner.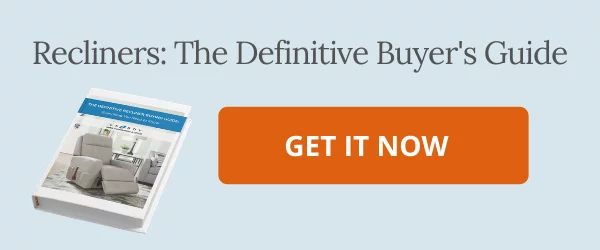 Product Info Request
Please provide us with your name and email and we'll get back to you as soon as possible regarding this item.