What to Expect When Shopping at La-Z-Boy as an Elderly Person or a Person with Mobility Issues
August 1, 2022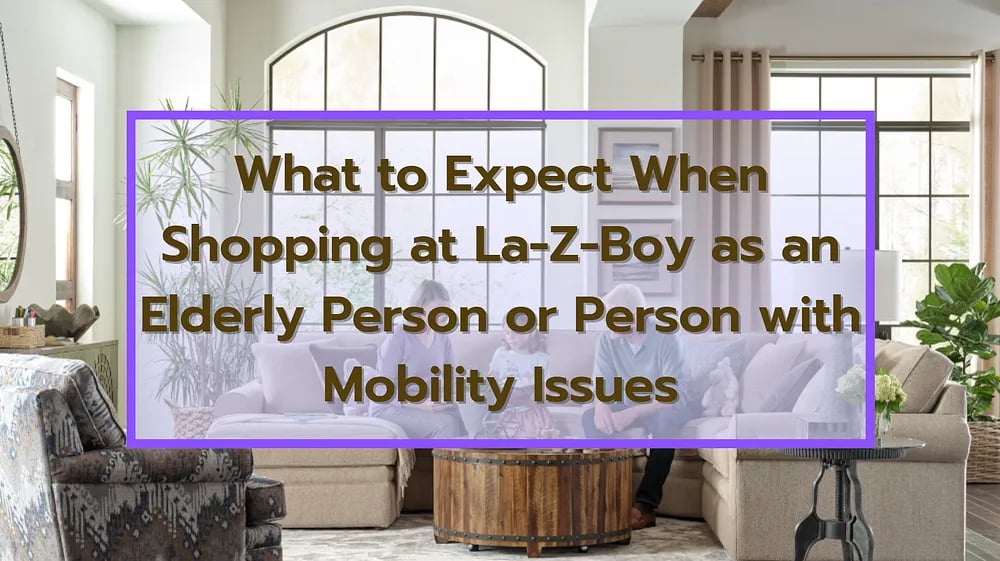 Est. Reading Time: 8 Mins
Mary Lee Smyth, an interior designer at La-Z-Boy Kingston, has been working at La-Z-Boy for over 4 years now. On her day-to-day work schedule, she assists elderly individuals in furniture shopping regularly.
"Most of the time it's people who are out of retirement and are looking for something to last them a long time. These people are usually in their early to mid-sixties," she says.
However, at a certain point, 60 turns into 80 and after 20 years of having the same furniture item, it might be time to change what they sit on. Over time, these people go through significant changes.
From 60 to 80, they may not be able to move as well as they used to. They might have a cane, a walker or even be in a wheelchair because their mobility may have declined.
So what does La-Z-Boy do to accommodate these elderly individuals with mobility issues? Or, what does La-Z-Boy do to accommodate anyone with mobility issues, young or old?
This article will outline everything you need to know when shopping at La-Z-Boy as an elderly person or a person with mobility issues in general. We will be taking you through the process of what salespeople are trained to do, as well as looking through good and bad examples of furniture for this particular group of people.
In This Article…
The Process of Shopping at La-Z-Boy as an Elderly Person/Person with Mobility Issues
First and foremost, whether you are an elderly person or a person with mobility issues, it is important to note that all La-Z-Boy Ottawa & Kingston locations are wheelchair accessible. You will not need to go up any stairs to get into the store or navigate around the store.
Further, if you require to use the bathroom, our bathroom facilities are also wheelchair accessible.
Shopping at La-Z-Boy as an Elderly Individual
"Showrooms are huge," Mary Lee comments. "Even I'm tired after a days work because i'm getting about 14,000 steps in a day on average, which is a lot for anyone."
Because showrooms are so large, elderly individuals or people with mobility issues might not be able to reach one side of the showroom to the other without some extra help. Luckily, Mary Lee says that each La-Z-Boy location has a wheelchair that people can use if their legs get tired.
In fact, because La-Z-Boy is accommodating to those with accessibility issues, every showroom has enough space for wheelchair users to move around furniture items easily.
Mary Lee also states that, specifically in the Kingston location, La-Z-Boy's lift chair selection is close to the front of the entrance. "Our lift chairs are laid out in a bit of a horseshoe shape so that they're evenly spaced out without looking too crowded."
Lift chairs are a popular grab for anyone who is a little bit older or for someone who has mobility issues, and this is because of their ability to lift you up after you have sat down.
"The fact that these chairs are at the front of the store makes it easier for those with mobility issues to easily try them out with very little traveling," she says.
If you are interested in purchasing a lift chair, check out our Best Selling Lift Chairs at La-Z-Boy Ottawa & Kingston. As you shop for a lift chair, remember that they are tax-deductible.
Shopping at La-Z-Boy with Mobility Issues


When it comes to people with mobility issues, accommodation depends on a number of things.
Mobility issues not only occur in older individuals; there are also younger individuals out there with illnesses like MS, ALS or people with permanent physical trauma that may not be able to move as well as others.
If this is the case, design consultants make sure that clients are accommodated however they feel comfortable shopping, whether it be sitting down or standing up.
One other thing that customers can do is book an appointment at any of our showrooms and inform the store know of their situation in advance. This allows the design consultant or interior designer who you will be working with to prepare for your shopping visit.
Say you are someone who suffers from mobility issues and feel as though too many people in the store might cause a hindrance for you. La-Z-Boy can make exceptions for you to visit the store at a non-busy time to avoid heavy store traffic.
Mary Lee even says that there are exceptions for people to make appointments before the stores open or after they close. These situations involve having just the design consultant there and the client, and it usually occurs if someone who is immuno-compromised requests this.
Mary Lee admits that this type of service actually got popular when the pandemic was at its peak in 2020, and people were afraid of catching COVID. You can learn more about our COVID-19 Response by checking out this article.
La-Z-Boy Training
All Design Consultants and Interior Designers that you see in our showrooms have specific training on how to accommodate anyone, even those with exceptionalities.
In fact, another one of our design consultants at La-Z-Boy Kingston, Darren Semchison, tells us, "We let our customers know we make sure to take our time with no pressure or rushing. We want to make sure we meet all their needs if possible."
Mary Lee adds on to this and says every salesperson you see on the floor is trained on how to properly match someone with a furniture piece that will perfectly complement their body."
"We try to be as transparent as possible," she says, "We don't want to see anyone leaving here with a furniture product that doesn't best suit them."
For example, sometimes a person may like a colour of a furniture piece, but the furniture frame does not compliment them. "It could be too high off the ground, too tall, too short, too big or small. It really depends on a lot of things."
If this situation does happen, salespeople try to direct clients to a furniture frame that does suit them, perhaps with the same colour they previously liked. Salespeople even walk the client through the process of ordering a colour for a furniture item, according to Mary Lee.
Further, being honest about a certain furniture item can also be because of safety. Some people with mobility issues may find that their balance might be off. If that's the case, Mary Lee suggests anything that is stationary or slowly reclinable, like a lift chair.
If they are looking at a furniture item that has motion, salespeople on the floor should gently encourage them to look for something that could be more suitable for them.
Relatability is also an important factor that goes into talking to a client. Once a customer enters the door, a design consultant asks them how they are doing and proceeds to ask questions to get to know the person.
These questions involve:
What does your living situation look like?

What are you looking for in a furniture piece?

Why is your current furniture insufficient?
*These conversations take on average 10 minutes or less.
Good design consultants, according to Mary Lee, should also mirror the energy that a customer has. If they are elderly and hard at hearing, design consultants should talk louder; if a person with mobility issues is joyful and making jokes, it's okay to joke back.
"What matters most is if the person is comfortable with you so you can get as much information about them as possible," says Mary Lee. This allows you to find them the ideal piece of furniture for their needs.
Mary Lee recounts an example of a person she was talking to who was elderly. "I had an elderly woman come in last week wanting a manual recliner. She couldn't fully close the recliner by herself so I recommended she gets that same recliner but in power. I usually recommend power recliners to elderly individuals with mobility issues instead of choosing a manual recliner that requires force to lift up and push back down."
Delivery to Retirement Homes
As an elderly person, you might not be living independently anymore. La-Z-Boy understands that not everyone has the same living situation, which is why we also deliver to any retirement home within Ottawa & Kingston.
All deliveries to retirement homes, like any delivery, are a white glove delivery service. All furniture items are brought into the lobby of the building or delivered to the deck of the room if they live on the first floor.
Since COVID-19, deliveries are done outside if there are outbreaks and residents who are receiving furniture must take a COVID test on the day of the delivery.
La-Z-Boy also delivers to suburban apartments, however far away from the city. Places considered out of town do have an additional delivery, however, so be cautious of this if you reside outside of Ottawa or Kingston.
Examples of Furniture Items for Elderly People/People with Mobility Issues
Now that we know what to expect when shopping at La-Z-Boy as an elderly person or person with mobility issues, here are some examples of furniture items that might be right for you if you fall into this group of people.
Lift Recliners
As mentioned before, Mary Lee says that lift recliner chairs are perfectly designed for those who suffer from mobility issues because they aren't fast-moving furniture items, and they have supreme comfortability.
Mary Lee also points out that these furniture items do not come in leather. "If they did, people would slide off of them, which we don't want!" she exclaims.
For popular lift chairs at La-Z-Boy, Mary Lee says she recommends the Astor Lift Recliner and the Pinnacle Lift Recliner because of their customizable options.
Power Recliners
Further, power recliners are more recommended than manual recliners because they require minimal effort to use. All you need to do in order to recline is push a button on the side-mounted control panel and you can recline in multiple relaxing positions.
If you want to learn more about How to Use La-Z-Boy's Power Controls & Remotes, take a look at this article.
There are also power recliners that don't need to be plugged into a wall, thanks to La-Z-Boy's Lithium-Ion Rechargeable Battery Packs.
Stationary Furniture
For those who are looking for a more simplistic approach to their furniture, Mary Lee says there's nothing wrong with sticking to stationary furniture.
She even recommends traditional-looking furniture families like the Kennedy or the Mackenzie since those furniture families appeal to the older age demographic more than younger individuals.
Younger people with mobility issues may enjoy furniture families like the Piper or the Meyer. You can learn more about the Piper Furniture Family and the Meyer Sofa by checking out these articles.
Examples of Furniture Items NOT Recommended for Elderly People/People with Mobility Issues
Some furniture items may not be the best idea for those who are elderly or who suffer from mobility issues, mostly because they may not be able to get up, or because it could create a safety hazard.
Mary Lee recommends staying away from the following furniture items…
Swivel Chairs
In contrast, to lift chairs or power recliners, swivel chairs may cause a hindrance to elderly people or those with mobility issues. This is due to the fact that the swivel motion might be too fast or unstable for those with mobility issues.
According to Mary Lee, some might feel dizzy if they swivel too fast, and can easily lose their balance, possibly suffering a fall, and risking their safety.
Mary Lee also says that people with mobility issues may not like certain chairs if they have a more slanted back. "Furniture items with a flat back alleviate more pain because your hips and legs are parallel to the floor."
If you would like to learn more about Swivel Accent Chairs, take a look at this article.
Manual Recliners
As previously mentioned, manual recliners may not be the best choice for elderly individuals or those suffering from mobility issues, simply because it requires more force to work the reclining mechanism.
Some may not be able to push down the recliner to get out of the seat, causing them to be stuck.
Because of this, high-leg recliners are also not recommended. High-Leg Recliners, also known as Secret Recliners, are reclining chairs that appear stationary, but when you push back on the arms of the chair, a recliner pops out from the frame.
This might also be hard for those with mobility issues to use because it requires more force than manual recliners since there's no lever.
If you want a more detailed comparison of Manual vs. Power Recliners, take a look at this article.
What's Next?
We hope that this article gave you a better understanding of how we are able to accommodate anyone elderly or suffering from mobility issues that walk into our stores.
If you feel as though you are more comfortable coming into any of our Ottawa & Kingston Locations, why not stop by?
As mentioned before, you can also schedule a visit online before coming in. While you're online, take a look at more furniture articles from our Learning Centre.
We have articles talking about all types of Traditional, Contemporary and Modern furniture that La-Z-Boy offers.
Our design consultants are always eager to lend a helping hand. Take advantage of our interior design services to see how any of our furniture items could fit in your home.
Related Articles:
Top La-Z-Boy Gift Ideas For Your Loved Ones
What is the Difference Between a Rocking & Wall Recliner
Product Info Request
Please provide us with your name and email and we'll get back to you as soon as possible regarding this item.