La-Z-Boy Meyer Sofa: An In-Depth Review - La-Z-Boy of Ottawa / Kingston
December 23, 2019
Whether you're designing a whole new room or adding a sofa or loveseat to existing pieces, Meyer blends right in. It has contemporary straight lines and you can dress it up or dress it down depending on your choice of fabric, pillows, and accessories.
Lina Najia is a design consultant at La-Z-Boy Cyrville. In her many years with the company, she has helped hundreds of customers find their perfect seat. She says the Meyer has a clean, modern look with nice wide arms and a deep seating area. It's wide enough to lie down on, perfect for napping and cuddling.
Lina says, "You melt into the sofa when you sit down because of the comfy deep seat."
In this review, find out why the Meyer Sofa made the cut in the top five-selling sofas in Ottawa and Kingston, and why the Meyer Loveseat is also one of the most comfortable furniture pieces in our selection.

In This Article...
Unique Features
Designed with three deep seat cushions and an extra wide stance, it effortlessly accommodates a crowd while leaving a lasting impression.
The sleek box border seats and backs, adorned with exquisite welt detailing, exude a crisp yet relaxed aesthetic that is further enhanced by its updated track arms.
Adding to its allure are the decorative wood legs that complement its overall appeal.
But the Meyer is not just about looks; it also boasts Premier Construction, ensuring unparalleled quality, durability, and long-lasting comfort.
The Meyer is also available as a sectional, to learn more about it read this article Review of the La-Z-Boy Meyer Sectional.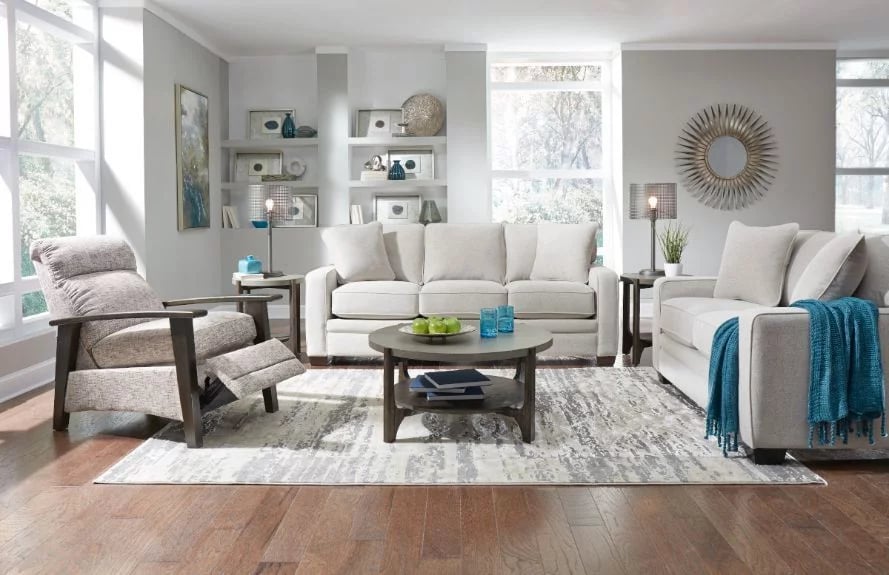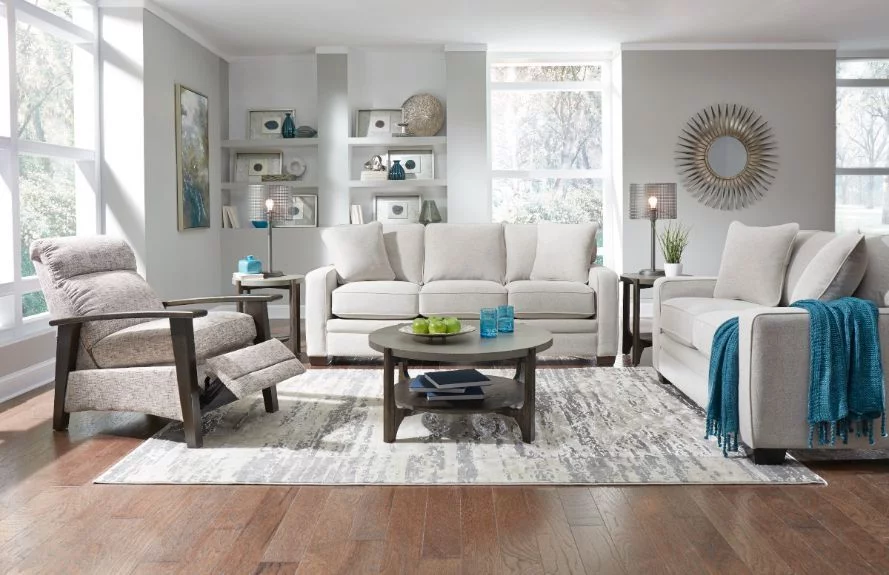 Size & Dimensions
The size and dimensions can tell you a lot about a furniture item. To ensure that the Meyer can fit in your home, it is always important to measure your space.
One size does not fit all when it comes to comfort. Based on its dimensions, the Meyer is a good fit for most average to taller height individuals. A shorter person may prefer a seat that isn't as deep such as the Bexley sofa.
While your height can be a considerable factor, it is important to note that height guidelines are NOT set in stone. The way you sit in a furniture item can drastically affect how someone might find a seat comfortable.

This is why we highly recommend coming in-store and taking a sit test to determine if the Meyeris right for your unique body type. To learn more, take a look at our article How to Find the Right Sofa Size For You?
Meyer Loveseat Dimensions (Inches)
Loveseat Weight: 132 lbs

Body Depth: 40 in.




Body Height: 38 in.




Body Width: 62 in.

Seat Depth: 22 in.




Seat Height: 22 in.




Seat Width: 48 in.
Meyer Sofa Dimensions (Inches)
Sofa Weight: 166 lbs

Body Depth: 40 in.




Body Height: 38 in.




Body Width: 86 in.

Seat Depth: 22 in.




Seat Height: 22 in.




Seat Width: 72 in.
When looking at Meyer's options and upgrades, there are plenty to choose from. It is important to remember that all options and upgrades come at an additional cost, meaning the price of your furniture is subject to increase.
Fabric Options
La-Z-Boy has over 800 fabrics and leathers to choose from, making the experience of personalizing your furniture seemingly endless. It is important to note that the Meyer only comes in fabric and not leather.
The Meyer comes in 12 different select fabric options. Select fabrics are chosen to compliment Meyer's specific furniture frame. In turn, these fabric options do not increase the base price of your Meyer.
Should you choose to purchase any fabric that is not included as a select cover, you will be subjected to an additional fee.
*Please note that this article's leather or fabric options may be discontinued or unavailable without prior notice. We recommend contacting your local Ottawa or Kingston La-Z-Boy store by phone or in-person to confirm availability. We apologize for any inconvenience caused by any changes to our upholstery selection.
In addition to the cover options mentioned above, the Meyer is offered in specialty fabrics with unique features and benefits…
Stain Resistant
Innovative iClean technology surrounds each fabric fibre, creating a barrier that repels spills before they become stains.
Tested to simulate the scratches and wear that pets can cause, fabrics identified as pet-friendly are durable and easily washable.
Antimicrobial properties surround each fibre to protect against mould, mildew, and odour-causing bacteria.
Performance
Superior stain and fade resistance properties make these fabrics easy to clean and incredibly durable.
Eco-Friendly
Conserve Sustainable Fabrics are soft, durable, and made from recycled water bottles. We use as many as 110 recycled water bottles to create a sectional with this eco-friendly material.
Cushion Upgrade
At an additional cost, Meyer's cushions can also be upgraded to include firmer cushioning, meaning over time, your furniture will remember your unique figure and enhance the comfort of your furniture.
This could be a great option for people with mobility issues, allowing you to get in and out of your furniture more comfortably.
​For more information on whether this upgrade is right for you, view our Motion Furniture Collection catalogue and our in-depth Review of La-Z-Boy's Chair and Sofa Seat Cushions.
*Please note that reclining furniture purchased before January 2021 had the option to upgrade to airform™ cushions. This cushion includes a two-inch layer of premium quality memory foam added on top of the standard foam base within the seat, chaise, and leg rest of the unit.
Finish Options
La-Z-Boy is all about customization, and that includes customizing the legs. Meyer can come in one of two finish options:
Mahogany Brown (Standard Finish)*
Coffee (additional cost)*
Contrasting Welt Trim
Welt trim provides a tailored look to cushions and pillows but takes on an entirely new dimension in a contrasting colour.
An unexpected touch, this decorative detail adds instant personality and highlights the sculptural lines of any silhouette. The Meyer has over 50 different colour and pattern choices for trim.
Pillows
Looking for that perfect accent piece? The Meyer comes with matching cushions.
But if you are going for a bolder look, you can opt to get them in a contrasting cover that will set your furniture apart.
Also, you can choose to add either a cord or fringe pillow edge treatment. Add down fill feathers and upgrade your pillows to FeatherLite Comfort.
Cost
The cost of the Meyer falls within the mid-price range at La-Z-Boy.
The starting cost of the Meyer Sofa is $2,529, while the cost of the Meyer Loveseat is $2,499.
While the cost of the Meyer is considered quite standard at La-Z-Boy, it is important to note that La-Z-Boy furniture is considered more expensive in the market. This cost is reflected in the quality of materials and craftsmanship of our products.
With this, the investment tends to be worthwhile if you are looking for long-lasting furniture.
Please note that La-Z-Boy prices listed in this article are subject to change without notice. Information is current as of November 20, 2023. Contact your local Ottawa or Kingston location by phone or in person for up-to-date pricing.
Warranty
The Meyer is backed by a Limited Lifetime Warranty assuring the protection of your investment and overall satisfaction.
The Limited Lifetime Warranty covers the repair or replacement of the frame, given that it's quality-crafted and built for long-lasting comfort.
Other aspects of the product, such as fabrics, leather, and cushion, are not meant to last a lifetime. However, these parts are still covered by the La-Z-Boy Manufacturer's Warranty for a given period of time.
La-Z-Boy Ottawa/Kingston provides coverage options extending beyond the one-year manufacturer's warranty. We offer a five-year comprehensive service plan for the labour parts and in-home service.
If the chair covered by this plan becomes damaged or stained and you are not able to remove the stain yourself, La-Z-Boy will cover the cost of cleaning. La-Z-Boy will also provide the parts and services that may be necessary to maintain the proper operation of the chair.
To learn more about our protection plan check out Is La-Z-Boy's Furniture Protection Plan Worth it?
Customer Reviews
The Meyer sofa currently has a 4.9/5 rating in North America, while the Loveseat also stands at 4.9/5 . Find out what customers are saying in the following five-star reviews.

"Our Sales Associate recommended the Meyer as it has a deeper seat than others—great for stretching out and napping! We also upgraded to the gel cushions and have been very happy with our choice. Definitely recommend.[sic]" Robin H

"This couch is very comfortable, solid, deep (but not too deep) and just a great anchor for our living room. I like the solid wide armrests that really accentuate the piece. We're pleased with our purchase.[sic]" Carmel B

"Very comfortable, we purchased this couch for our all-seasons porch.[sic]" T. W.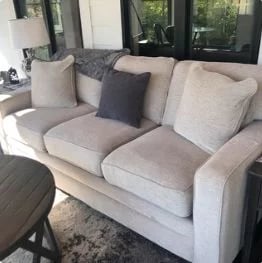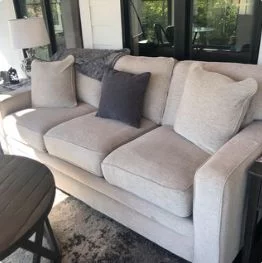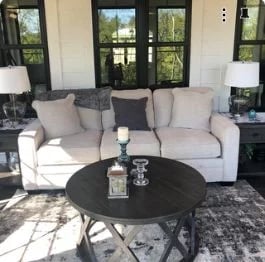 Included in the 2019 CHEO Dream home is the Meyer Sofa! As seen below in the finished basement of the home, the sofa is customized to accommodate a large number of TV viewers.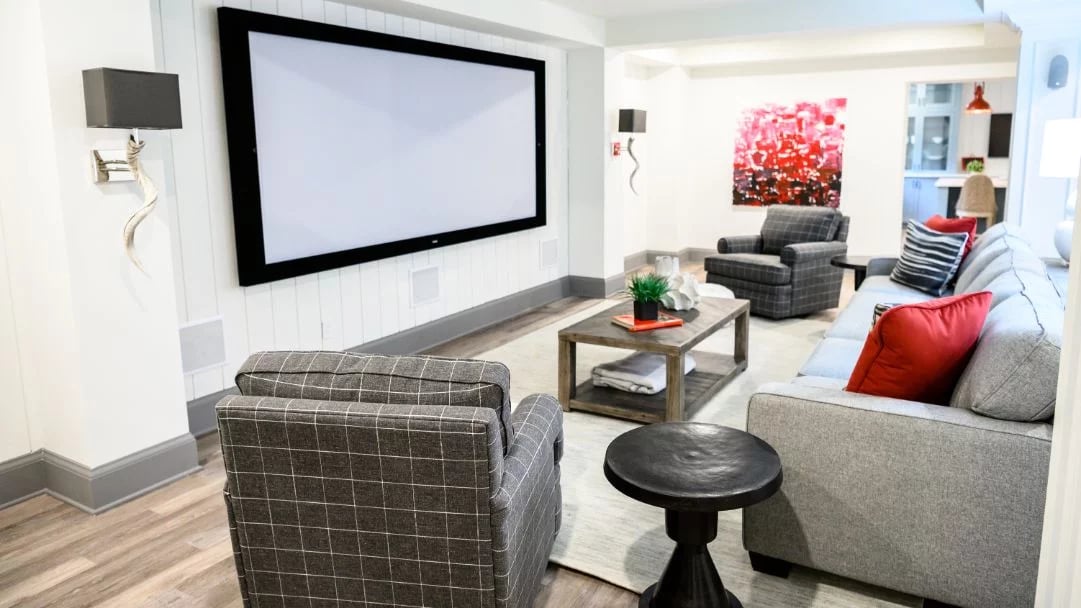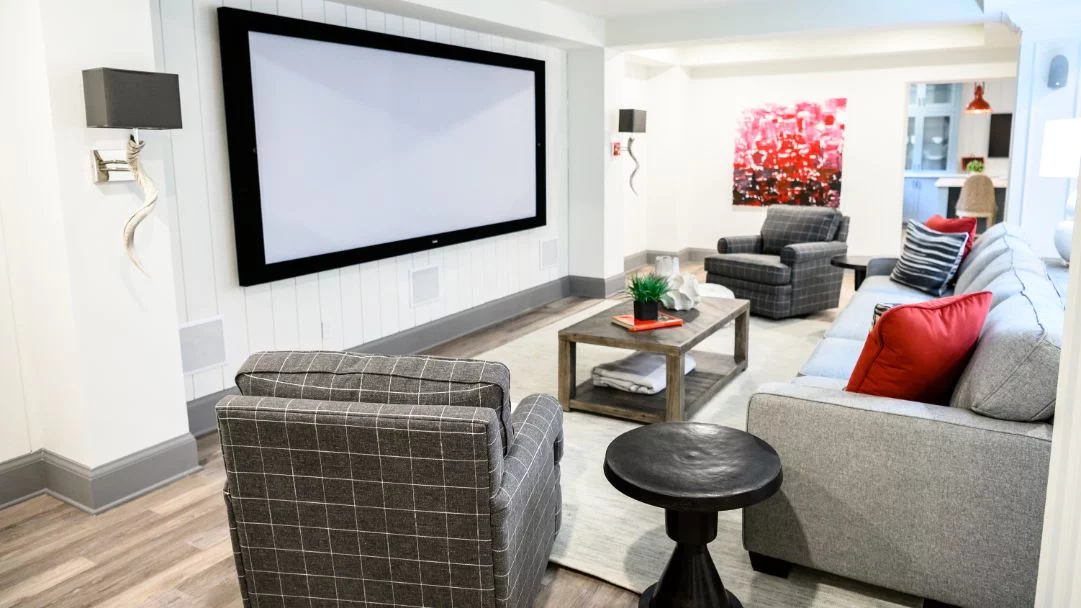 Is the Meyer Sofa & Loveseat Right For You?
When deciding if the Meyer sofa or loveseat is the right choice for you, there are several factors to consider.
Firstly, your budget plays a crucial role as the Meyer falls within the mid-range category. It strikes a balance between affordability and high-quality craftsmanship, making it a favourable option that doesn't break the bank like some higher-end choices at Lazy Boy.
Secondly, the size of the furniture is versatile enough to accommodate average to tall individuals, but it's also worth noting that shorter individuals may find it comfortable as well. To truly determine its suitability, it's recommended to try it out firsthand and assess if it provides the desired level of comfort and support.
Lastly, in terms of style and functionality, the Meyer boasts a modern aesthetic with its clean lines and attractive decorative wood legs. This design element allows it to effortlessly blend into any room, adding a touch of elegance and sophistication.
Ultimately, considering these aspects will help you determine if the Meyer aligns with your budget, size preferences, and desired style, ensuring a harmonious fit in your living space.
What's Next?
If the Meyer is what you are looking for, why not start shopping today?
Our expert consultants would be thrilled to ensure that the Meyer is the right fit for your space and the exact style you are looking for.
You may also consider taking advantage of our complimentary interior design services. Our talented designer experts can help you make fabric selections and customizations, seamlessly coordinating your Meyer with your home decor.
If the Meyer isn't exactly the right fit, you may find what you are looking for in one of the following:
Visit us at a local Ottawa or Kingston location to find what you are looking for today. If you prefer to plan in advance, schedule an appointment online.
Product Info Request
Please provide us with your name and email and we'll get back to you as soon as possible regarding this item.