5 Best-Selling Stationary Loveseats at La-Z-Boy
June 8, 2022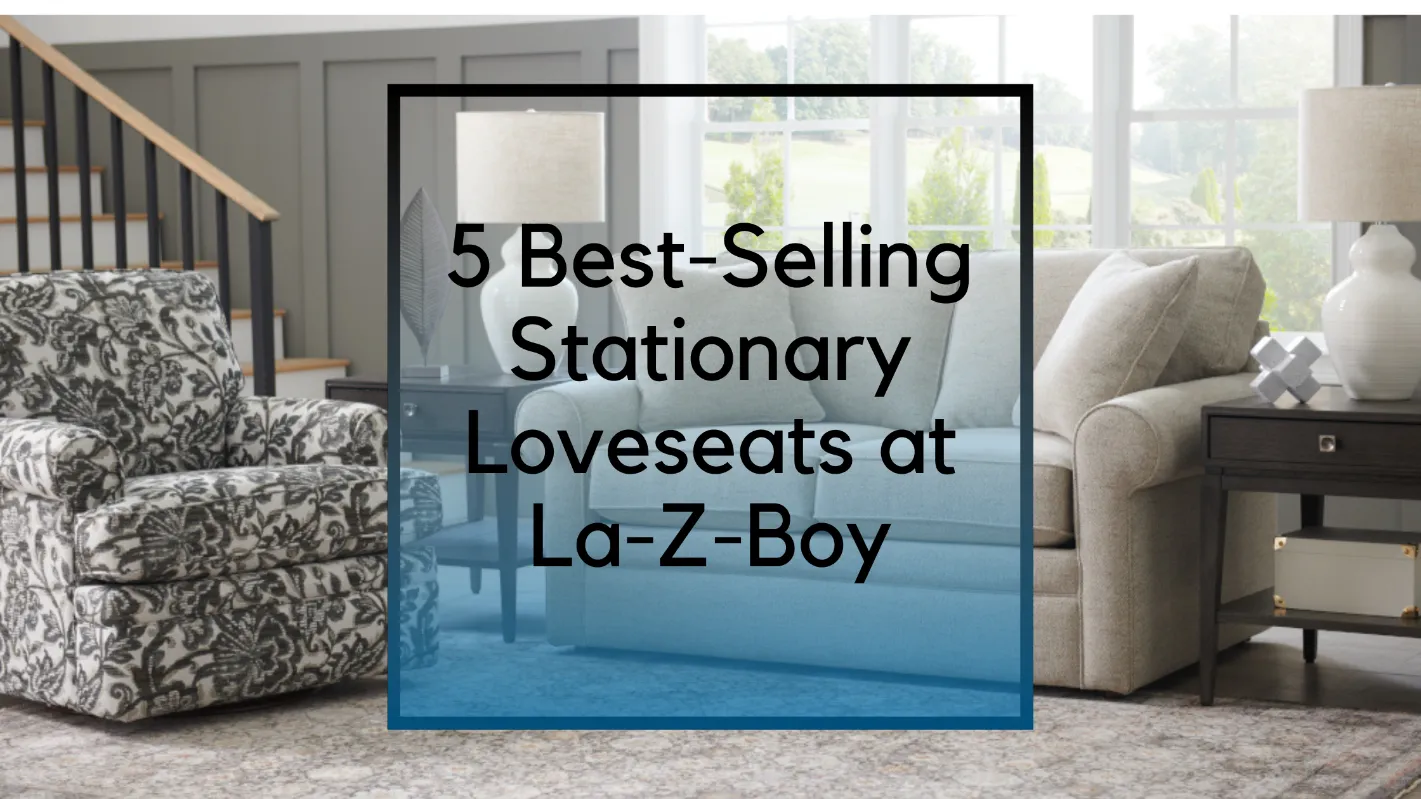 Est. Reading Time: 5 Mins
When looking for a smaller furniture item, some people feel stuck. Most sofas have three cushions and might be too big. Similarly, a sectional might be too long for your space. Perhaps a chair is too small. So, where does that leave you?
Consider a loveseat as your next furniture item. Not only are they perfect for snuggling up to that special someone, but they are great for small spaces and perfect for intimate gatherings.
At La-Z-Boy, we sell a wide variety of loveseats to choose from. Each loveseat has a unique style and functionality making your selections either easy or hard.
No need to fear, though! We have compiled a list of our top-selling stationary loveseats so you're selection doesn't have to be complicated.
Here to help with our furniture selection is interior designer, Magaly del Castillo, from our La-Z-Boy Cyrville location, who is very knowledgeable on all La-Z-Boy products.
In This Article…
1. The Bexley Stationary Loveseat
The first stationary loveseat on our list is the Bexley. The Bexley is a versatile loveseat that is designed to fit any decor. Its simple look boasts clean lines and a casual style, and it also features a few unexpected details.
The Bexley has two box-border seats that are framed by slightly flared arms with a unique key-shaped design. And, much like other loveseats at La-Z-Boy, a welt trim outlines its modern silhouette, while rich wood legs complete the look.
Although this loveseat looks good in most fabric covers, Magaly mentions that it looks brilliant in leather. If you are deciding between fabric and leather for the Bexley, check out our article comparing Fabric vs. Leather.
The Bexley is also available as a Sofa, Queen Sleep Sofa, and a Sectional.
*The Bexley was formerly part of the Urban Attitudes Collection, but Urban Attitudes had since been discontinued. With that being said, the Bexley furniture is still available.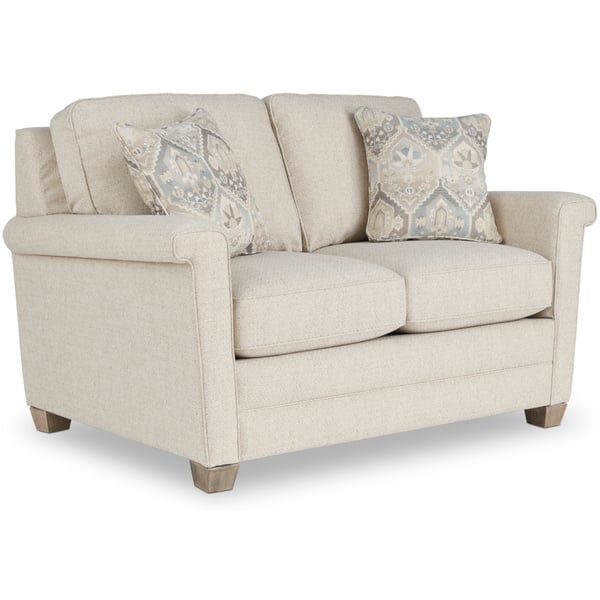 2. The Meyer Stationary Loveseat
The next best-selling stationary loveseat at La-Z-Boy is the Meyer. Although the Meyer Loveseat can be considered a small sofa, it is still technically a loveseat.
Meyer's deep seat cushions allow anyone to sink right into this comfortable furniture item. The loveseat's wide stance gives the user plenty of space to lounge or relax. Track arms and decorative wood legs frame Meyer's box border seats and backs, while the welt detailing enhances its crisp and casual look.
Moreover, on the subject of the back, the Meyer is slated back just a bit, meaning you naturally lean a little bit when sitting in it. Because of this, this stationary furniture piece might match well with an ottoman.
You can learn more about our Best-Selling Ottomans by checking out this article.
The Meyer is actually very similar to the Collins furniture frame, which we go more in detail with our comparison of the Meyer and Collins Furniture Families.
Meyer is also available as a Chair, a Sofa, a Sectional, and a matching Ottoman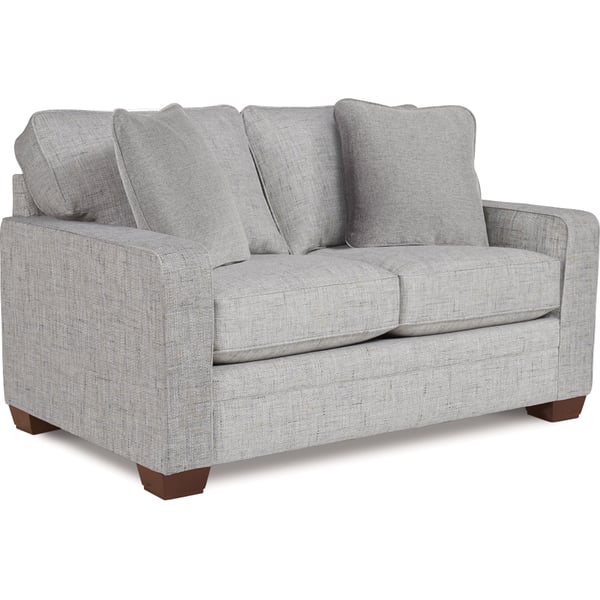 3. The Mackenzie Stationary Loveseat
The next stationary loveseat is the traditional Mackenzie. Described as timeless and on-trend, the Mackenzie Loveseat features a more sophisticated look, than the other loveseats on this list.
Although it is a more traditional styled loveseat, it can still blend easily with any existing living room furniture.
Mackenzie's rolled, pleated arms, foam back, decorative wood legs, and soft cushions deliver just the right amount of comfort and support for a short or long sit.
The Mackenzie also has a tight back, meaning the back cushions are attached to the furniture frame, making it a more clean design.
"It doesn't matter how tall or short you are, you will always feel comfortable in the lumbar area," according to Magaly. She also says that because of Mackenzie's traditional look, it would look well in a library.
This furniture style is also available as a Chair, a Sofa, a Queen Sleep Sofa, and a matching Ottoman.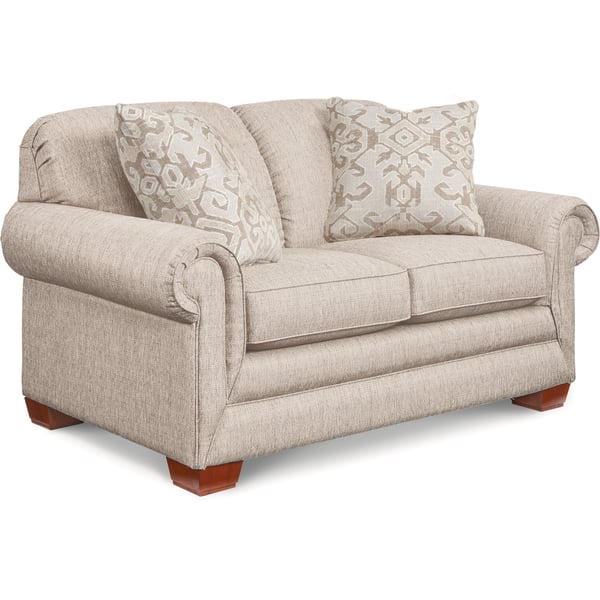 4. The Talbot Stationary Loveseat
Magaly describes this next loveseat as a "glamourous seat that loves to turn heads." The Talbot stationary loveseat is described as casual comfort at its finest.
With a clean and informal look, the Talbot breaks conventional styles with optional pillow accents, contrasting welt trim, and nailhead trims on fabric covers.
Magaly notes that the style includes an updated Prince William arm, which means the traditional style of the royal armrest is updated to look more modern to fit any environment, with a clean look.
Magaly also says that this loveseat qualifies as an apartment-sized sofa, because of its length. It's also an easy item to clean underneath because its legs prop it far enough off the floor.
The Talbot is also available as a Chair, a Sofa, and a matching Ottoman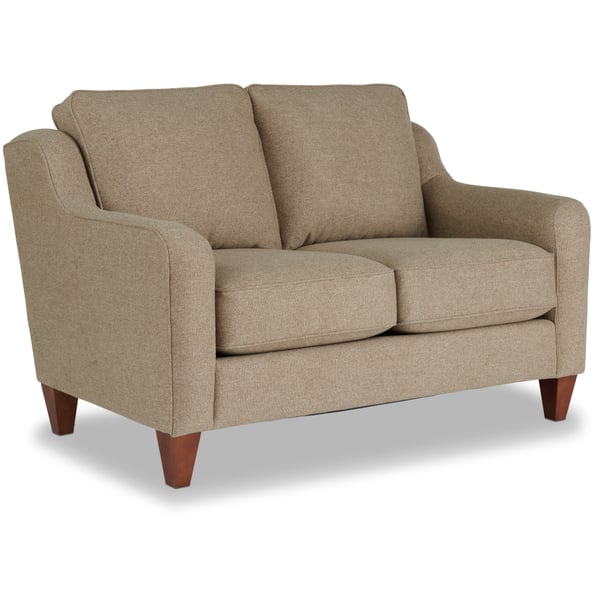 5. The Amy Stationary Loveseat
Last but not least on our best-sellers list is the simple yet stylish Amy Loveseat. Magaly says that this is the perfect entry-level furniture piece for any new homeowner looking for a higher-quality item.
"It always has that open welcoming arm that's just waiting to hug you," says Magaly.
Slightly flared arms with a welt trim frame, Amy has roomy seat cushions and a plush pillow back, while decorative wood legs complete the look. Amy's cushions also provide firm but soft support as you relax or watch TV.
Magaly also states that this loveseat complements the Allegra Chair, the Riley Recliner, and the Reegan Swivel Chair.
The Amy is also available as a Chair, a Sofa, a Queen Sleep Sofa, and a matching Ottoman.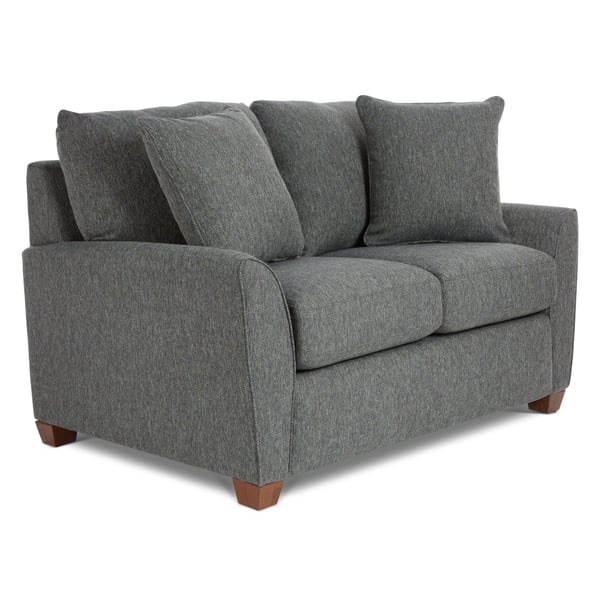 Honourable Mention - The Piper Stationary Loveseat
While not officially a part of our best-seller list (yet), the Piper is a newer furniture product from La-Z-Boy that is picking up a lot of steam.
Also known for its simple design, Piper's sleek, streamlined style fits in with just about any decor from ultra-modern to comfortable casual. The simple and smooth seats offer long-lasting comfort and support while the elegant modern arms and decorative wood legs bring just a touch of upscale vibe.
Moreover, on the arms, Magaly notes that they are similar to Amy's welcoming arms, but are much less pronounced in their look. She also says that because it is a simple furniture product, it works well with many different living areas, which is most likely why people are drawn to it.
The Piper is also available as a Sofa, a Queen Sleep Sofa, and a matching Ottoman. To learn more about the Piper, check out our review article about the Piper Furniture Family.
What's Next?
After reading this article, you have now gained more knowledge about La-Z-Boy's stationary loveseat selection, and then some!
If you are interested in a reclining loveseat, check out the Best-Selling Reclining Loveseats at La-Z-Boy as well.
So, now that you have read about some of our loveseats, why not try them out yourself? La-Z-Boy has a lot more loveseat styles to choose from.
Make sure to discover your next furniture piece by doing a sit test at any of our Ottawa & Kingston Locations. You can also schedule an appointment online.
Our design consultants are always eager to lend a helping hand. Take advantage of our interior design services to see how our loveseats could fit in your home.
Related Articles:
5 Best-Selling La-Z-Boy Reclining Loveseats
Loveseat vs. Sofa: Size, Cost, Function & How to Choose
Product Info Request
Please provide us with your name and email and we'll get back to you as soon as possible regarding this item.